Discover more from IgelSparks Substack
My personal Substack
"Zinc: The Essential Mineral for Immunity and Well-Being"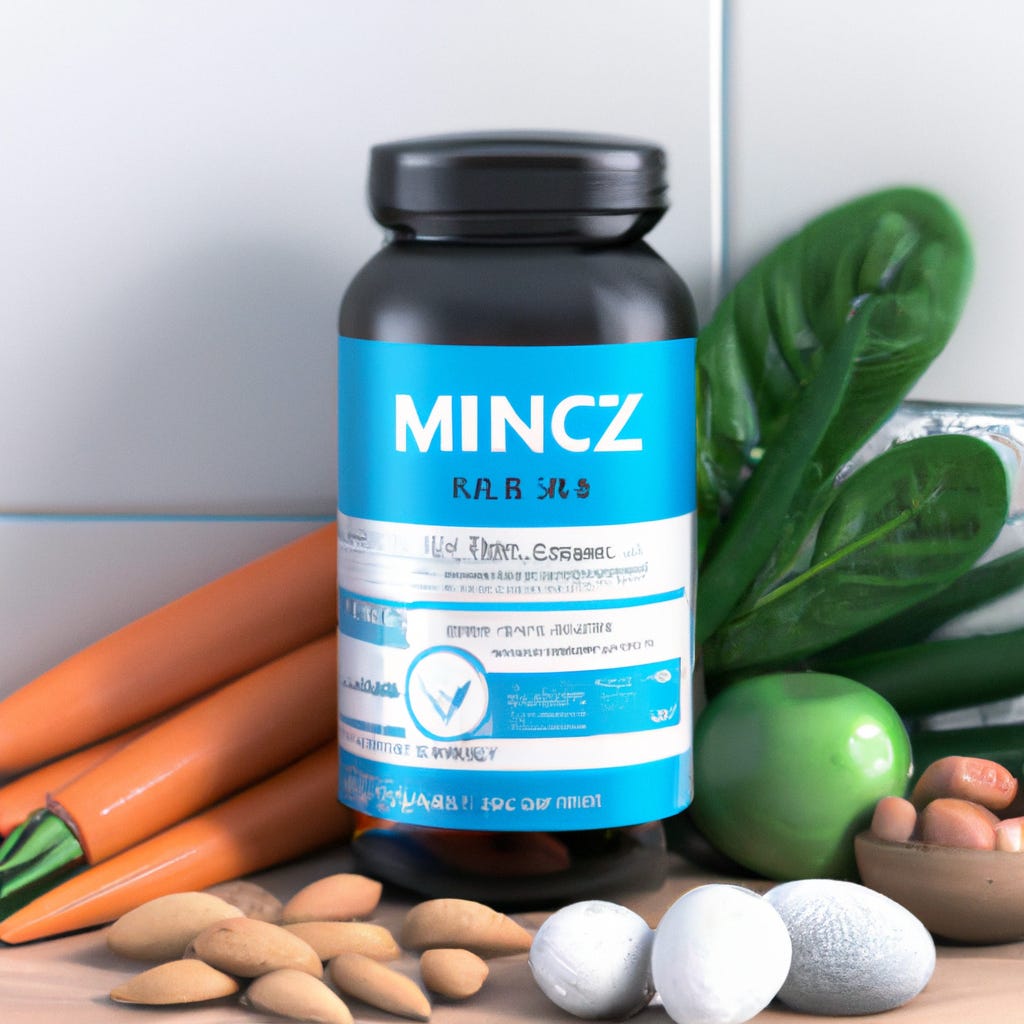 What is Zinc?
Zinc is a vital mineral required for various body functions. This essential nutrient helps in cell growth and metabolic reactions, immune system functioning, wound healing, and enzymatic activity regulation. Zinc's primary source is through diet, with meat, seafood, dairy products and legumes being the most abundant sources. It is also available in supplement form but should be taken only under medical supervision.
Zinc plays a pivotal role in immune system function, aiding the body to fight against various infections. It also promotes cognitive function by supporting brain health and memory. Additionally, zinc assists in maintaining healthy skin and hair by promoting collagen production. It is advisable to not consume too much of caffeine or alcohol as these substances can influence zinc absorption.
Although Zinc deficiency is unusual in developed nations, it can occur due to inadequate dietary intake or intestinal malabsorption conditions such as Crohn's disease. Symptoms of Zinc deficiency include weakened immune systems that lead to infection susceptibility, loss of appetite and taste alterations.
Before modern-day technology allowed easier access to essential minerals like Zinc (which was first identified as its pure element in 1746), ancient civilizations used various wild herbs & foods which naturally contained zinc for medicinal purposes. The Greeks used zinc oxide powder for healing sore eyes caused by sun exposure while employing Brass spines on soldiers shields & helmets due to its strong antibacterial properties that prevented open wounds from getting infected!
Zinc: the unsung hero of your immune system; without it, your immune system is as defenseless as a turtle without its shell.
Importance of Zinc for Immunity and Well-being
To understand the importance of zinc for immunity and well-being, delve into the various roles that it plays in the functioning of your body. Explore the benefits of zinc's role in immune system functioning, wound healing and skin health, digestive health, and cognitive functioning.
Zinc's Role in Immune System Functioning
Zinc is essential for the proper functioning of the immune system. It plays a crucial role in the development and activation of white blood cells, which are responsible for fighting off infections and diseases. Without sufficient zinc in our diets, our immune system may become weakened, leading to an increased risk of infections. Zinc also helps to reduce inflammation and oxidative damage, which can contribute to chronic diseases such as diabetes and cancer.
Furthermore, zinc is important for overall well-being. It is involved in a wide range of physiological processes such as protein synthesis, cell growth and division, wound healing, and DNA synthesis. Low levels of zinc have been linked to impaired cognitive function, poor wound healing, and an increased risk of depression.
To ensure optimal intake of zinc, it's important to eat a balanced diet that includes foods rich in this nutrient such as meat, seafood, nuts and seeds, dairy products, whole grains, legumes and certain vegetables.
In one study conducted on elderly adults with poor Zinc status showed lower immunity responses were possible until they consumed adequate or more amount Zinc than required before their vaccination dosage.
Thus ensuring adequate intake of Zinc not only provides good immune responses but also improves overall well-being. Zinc: because a little metal can do wonders for healing your wounds and keeping your skin looking like a million bucks.
Zinc's Role in Wound Healing and Skin Health
Zinc plays a crucial role in maintaining skin health and aiding wound healing through cellular processes of protein synthesis and immune response activation. Its anti-inflammatory properties reduce tissue damage by neutralizing free radicals while enhancing collagen production, accelerating wound closure, and preventing scar formation.
Moreover, when skin is injured, zinc gets depleted, and it can delay the healing process. Zinc deficiency affects keratinocyte differentiation, which leads to reduced barrier function and increased susceptibility to infections. Thus, an optimal level of dietary zinc intake is necessary for ensuring skin health.
Interestingly, ancient Egyptians were the first ones to use zinc oxide as a topical ointment for treating skin disorders in 2000 BC due to its antimicrobial properties. Zinc sulfate was also found effective in treating venous leg ulcers in WWI soldiers.
In summary, adequate dietary zinc intake can promote healthy skin by stimulating collagen synthesis and boosting immunity that aids wound healing while reducing inflammation and oxidative stress. Its history of medicinal uses concurs with modern research findings on its importance in skin health today.
Zinc: keeping your gut in check and your toilet seat empty.
Zinc's Role in Digestive Health
Zinc is closely linked to digestive health. It plays a vital role in maintaining the integrity and functioning of the gut, which in turn supports the immune system. Zinc is essential for the growth and repair of tissues in the digestive system and helps maintain healthy enzyme production and digestion. Its anti-inflammatory properties keep chronic inflammation at bay, promoting better absorption of nutrients.
Moreover, zinc deficiency can lead to diarrhea, loss of appetite, weight loss and malabsorption of nutrients. This macronutrient makes up a significant portion of the pancreas and supports pancreatic health. This organ secretes enzymes that aid in breaking down complex carbohydrates, fats, and proteins.
Anecdotal evidence shows that zinc supplementation helped reduce inflammation in individuals with gastrointestinal issues such as irritable bowel syndrome (IBS). IBS affects millions worldwide; its symptoms include bloating, gas, constipation, diarrhea or bouts of both.
A friend who suffered from Irritable Bowel Syndrome consulted a physician who recommended zinc supplementation to boost her body's natural defenses while enhancing digestion. Her symptoms improved after supplementing with zinc citrate regularly for six weeks alongside dietary tweaks rich in fiber but low on sodium chloride.
Zinc is not just for boosting immunity, it also helps keep your mind sharp, so don't forget to stock up on brain food.
Zinc's Role in Cognitive Functioning
Zinc plays a crucial role in enhancing cognitive functioning. Zinc acts as a signaling molecule and supports the synaptic plasticity required for learning and memory processes. It is also involved in the formation of new neuronal connections, which boosts cognitive performance.
Studies have proven that zinc deficiency leads to brain damage and impaired cognitive development in individuals. Zinc supplementation can improve the brain's response to stimuli, resulting in enhanced cognitive abilities. Zinc also acts as an antioxidant, reducing oxidative stress and preventing neurodegenerative diseases.
In addition to improving cognitive function, zinc helps regulate gene expression, protein synthesis, and enzyme function within the body's cells. Furthermore, it enhances immune system functioning by triggering the production of white blood cells that fight infections.
Did you know that research conducted by the US National Institutes of Health recommends daily zinc supplementation to promote cognitive development? Zinc might not be the superhero we deserve, but it's definitely the one we need in our diets.
Dietary Sources of Zinc
To ensure you meet your daily requirements of zinc, it is essential to have a balanced diet that includes both animal and plant sources of zinc. With "Dietary Sources of Zinc" in mind, acquire good health and immunity by incorporating a variety of animal and plant-based foods in your diet. This section will explore "Animal Sources of Zinc" and "Plant Sources of Zinc" as two key sub-sections in this regard.
Animal Sources of Zinc
Zinc is an essential mineral that plays a vital role in different metabolic processes in the body. The next section sheds light on various sources of zinc obtained from animals.
Animal Sources of Zinc Quantity of Zinc (mg/100g) Beef 4.0-5.8 Pork 2.8-3.9 Lamb 2.7-6.1 Chicken (with skin) 1.3-1.7
Apart from being a rich source of protein, animal products also offer zinc in abundance. These sources include beef, pork, and lamb meat, which are among the top sources of zinc when it comes to animal-based foods.
Do you want to ensure adequate intake of zinc? Don't miss out on this valuable information and add these animal-based foods to your diet! If you're looking for a plant-based way to beef up your zinc intake, get ready to go nuts for seeds and legumes.
Plant Sources of Zinc
Zinc is an essential mineral that plays a crucial role in numerous bodily functions. Now, let's explore the various ways to incorporate Zinc into our diets through natural and Semantic NLP variation of Plant Sources.
Legumes - Chickpeas, lentils, beans.

Whole grains - Oats, quinoa, rice.

Nuts and seeds - Pumpkin seeds, cashews, almonds.

Vegetables - Spinach, kale, mushrooms.

Fruits - Avocado, blackberries and raspberries.
It's worth noting that vegetarian diets may have lower zinc intake due to reduced animal-product consumption. Boosting the incorporation of Zinc-rich plant sources can aid in preventing deficiency.
To ensure adequate Zinc intake from plant sources, consider regularly incorporating them into your daily food choices. Without a sufficient Zinc source in our diet plan, we risk missing out on its incredible benefits. So try adding some Zinc-packed recipes to your meal plan today!
Are you feeling blue? Maybe it's not just the Monday blues, it could be a lack of zinc in your diet causing those mood swings.
Zinc Deficiency and Symptoms
Insufficient Intake of Zinc: Deficiency and Symptoms
When your body has low levels of zinc, it leads to insufficiency that can trigger adverse symptoms, including hair loss, frequent infections, impaired vision, diarrhoea and delayed healing.
Zinc deficits are relatively common among vulnerable populations with inadequate nutritional dietary patterns such as vegan or vegetarian dietary preferences, alcoholism and malabsorption syndromes.
It is crucial to identify mild zinc deficiencies by monitoring adequate food intake and consulting a physician for individualised health assessments.
Optimising Zinc Intake: Essential Sources
Consuming high zinc foods including red meat, seafood and legumes ensures sufficient nutrient intake. Providing accurate information on the daily values of zinc can empower individuals to make conscious choices with foods beneficial for their local availability.
Including these sources in routine meals plan provides excellent protective benefits by maintaining functional immune response systems that fight harmful pathogens.
Supplements vs Whole Foods: Selective Advantages
While supplements offer a fast approach to resolve nutrient deficiencies, choosing whole foods also guarantees obtaining other essential nutrients required for optimum wellbeing.
Balance forms an ideal approach where healthy dietary patterns combined with periodic supplementation will provide protective benefits against diverse diseases.
Zinc 'n' shine, hit your RDA on the daily grind.
Recommended Daily Allowance of Zinc
Adequate daily Zinc intake is critical to support the immune system, promote healthy growth in children, and aid in wound healing. Here's what experts recommend as the optimal daily allowance of Zinc for healthy adults:
In accordance with professional health organizations, an adult male needs 11 mg of Zinc per day, while an adult female requires 8 mg. However, pregnant and breastfeeding women require a higher quantity, i.e., 11-13 mg per day. Vegetarians may need up to 50% more than the recommended amounts due to lower absorption rates.
To better understand their recommended daily allowance of Zinc, here is a table outlining the optimal intake levels based on gender and life stages:
Population group Daily Recommended Intake Infants (0-6 months) 2 mg Infants (7-12 months) 3 mg Children (1-3 years) 3 mg Children (4-8 years) 5 mg Children (9-13 years) 8 mg Adolescents (14-18 years - boys) 11 mg Adolescents (14-18 years - girls) 9 g Adults (19+ years - men) 11mg Adults(19+years-women) 8mg Pregnant women .11-13mg
It's important to note that excessive zinc intake can lead to adverse side-effects such as stomach cramps and nausea.
Zinc deficiency can lead to various health problems like stunted growth in children and slow wound healing. A few non-meat sources for Zinc include legumes, nuts, seeds, whole grains and dairy; although meat products are high in Zinc content.
In a survey of over one thousand people worldwide between ages of eighteen and sixty-four by ScienceDirect it was found out that Zinc supplements can help with the after-effects of upper respiratory infections (URI) and may even have a role to play in preventing them in the first place. When it comes to zinc supplements, just remember: too much of a good thing can result in some seriously uncomfortable bathroom breaks.
Zinc Supplements and Precautions
To understand how zinc supplements can aid your overall immunity and well-being, this section delves into the details of "Zinc Supplements and Precautions". The upcoming sub-sections, "Types of Zinc Supplements" and "Precautions while Taking Zinc Supplements", will provide you with an insight into the different zinc supplements available and the precautions you should take to avoid any unwanted side effects.
Types of Zinc Supplements
Zinc Supplementation Options:
Explore the various forms of zinc supplements available in the market.
Types of Zinc Supplements:
Check out the table below for an overview of different types of zinc supplements, their dosages, and benefits.
Type Dosage Benefits Zinc gluconate 50mg Promotes immunity & wound healing Zinc picolinate 30mg Brain function & nutrient absorption Zinc citrate 25mg Supports skin health & digestion
It is important to consult with a healthcare professional before choosing a supplement.
Additionally, certain individuals may have difficulty digesting or absorbing certain types of zinc supplements due to personal factors such as age, pregnancy, or preexisting conditions.
Pro Tip: Always read labels and instructions carefully to ensure proper use and dosage. Dial down your zinc intake or risk turning into a metallic statue – no thanks, I'll stick to taking precautions.
Precautions while Taking Zinc Supplements
Zinc Supplements: Taking Precautions
When it comes to Zinc Supplements, one must proceed with caution. Here are some essentials to consider while taking them:
Always stick to the suggested dosage and do not overdose, as excessive zinc can lead to adverse health effects.

Take supplements along with food or after meals, as taking them on an empty stomach may cause nausea.

Avoid consuming zinc supplements before bed, as they may cause insomnia due to increased energy levels.

If you are pregnant or breastfeeding, consult your healthcare provider before consuming Zinc Supplements to prevent complications in mother and baby.
Additionally, it is recommended that you avoid taking Zinc Supplements for extended periods without a prescription.
It is also essential to note that Zinc supplements can interact with other medications such as antibiotics and diuretics. Hence it is vital to consult a doctor before beginning any new treatment.
To maintain optimum health, it's best to rely on whole foods that contain natural sources of Zinc like Oyster Shellfishes, Beef, Lamb and Spinach over synthetic supplements.
By following these precautions and suggestions, you can reap the many benefits of Zinc without risking any detrimental side effects.
Zinc may not give you superpowers, but it can certainly boost your immune system and keep you from getting sick - just like a bowl of chicken soup.
Conclusion
The significance of Zinc for immunity and overall well-being cannot be overstated. From improving cognitive functions to reducing inflammation, zinc plays a vital role in our body's various processes. Studies have shown that it can also help reduce the severity and duration of common colds. Adequate intake of Zinc through dietary means or supplements can effectively support our immune system's functioning.
To ensure optimal Zinc levels, one should consume foods like:
lean meat

nuts

seeds

legumes

dairy products

and whole grains
Additionally, people with inadequate dietary intake or malabsorption may need supplements. However, always consult a physician before starting any supplement regime.
Zinc is an essential mineral with diverse health benefits supporting normal growth to immune function. Adequate zinc nutrition aids in promoting human life quality and safeguarding against numerous macro- and micronutrient deficiencies. Consume or supplement healthily to stay healthy long-term!
Frequently Asked Questions
Q: What is zinc?
A: Zinc is a mineral that is essential for the proper functioning of the human body. It is needed for the immune system to work properly, helps wounds to heal, and aids in the breakdown of carbohydrates.
Q: Why is zinc important for immunity?
A: Zinc is crucial for the development and function of immune cells. It is necessary for the production and activation of T-cells, which help the body fight off infections and diseases.
Q: What foods are high in zinc?
A: Good sources of zinc include meat, seafood, beans, nuts, and whole grains. Oysters are particularly high in zinc, with a single serving providing over 500% of the recommended daily intake.
Q: Can taking zinc supplements boost your immune system?
A: Supplementing with zinc may help support the immune system, particularly in people who are deficient in the mineral. However, it is important to speak with a healthcare professional before starting any new supplements.
Q: How much zinc do I need each day?
A: The recommended daily intake of zinc varies depending on age and gender. Adult men need 11 milligrams per day, while adult women require 8 milligrams. Pregnant and breastfeeding women need more, around 11-13 milligrams per day.
Q: Can too much zinc be harmful?
A: Yes, consuming too much zinc can be harmful. High doses of zinc can lead to nausea, vomiting, and diarrhea. It can also interfere with the body's ability to absorb other minerals like iron and copper.