Discover more from IgelSparks Substack
My personal Substack
"Unlock Your Brain's Potential: The Power of Alpha-GPC Explained"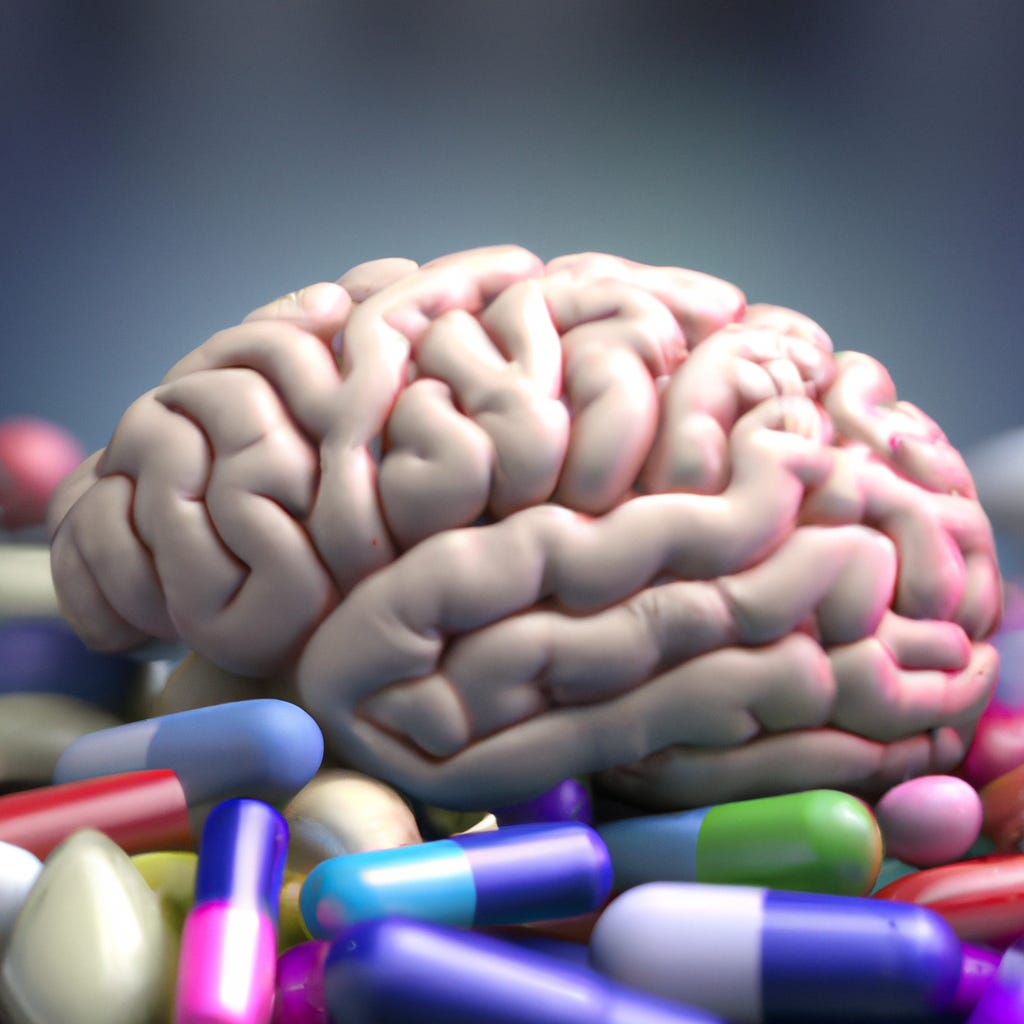 Introduction to Alpha-GPC
Alpha-GPC: Exploring the Cognitive Benefits
Alpha-GPC is a naturally derived nutrient that is found in the brain. It can also be extracted from soy lecithin and converted into supplements. It helps to increase the brain's production of acetylcholine, which is important for cognitive functions like memory and learning. Additionally, alpha-GPC has been linked to increased mental focus and improved physical performance.
Studies have shown that alpha-GPC can increase mental clarity and alertness, as well as improve memory recall. It has also been found to enhance communication between neurons, which can help with problem-solving abilities. One study even showed that alpha-GPC supplementation resulted in an improvement in cognitive function scores on elderly patients with dementia.
Pro Tip: Consult with a doctor before adding any new supplements or nutrients to your diet regimen to ensure it is safe for you.
Get ready to unlock your brain's full potential - Alpha-GPC: the nootropic that will make you a genius (or at least feel like one).
Understanding Alpha-GPC as a Nootropic
Alpha-GPC is a compound that holds significant potential as a nootropic. Its cognitive enhancing properties can improve memory, focus, and overall brain function. This substance works by increasing acetylcholine levels in the brain, which is responsible for improved learning and memory retention. Alpha-GPC also boasts neuroprotective benefits that shield the brain from age-related cognitive decline.
Consuming Alpha-GPC in recommended doses is essential, as overdosing can lead to headaches, nausea and diarrhea. Taking it alongside other nootropics such as racetams boosts its potency. It's best taken in the morning for maximum effectiveness.
Alpha-GPC has been extensively researched over the years with results showing favorable outcomes in treating dementia and Alzheimer's disease patients. With its potential use as therapy for these neurological disorders, further research is ongoing to discover any additional therapeutic effects it may possess.
Research has shown that Alpha-GPC supplementation aids athletic performance by increasing strength and growth hormone levels. In Europe, Alpha-GPC is approved as a supplement due to its beneficial effects on aging adults' cognitive functions.
Get ready to unlock your brain's potential with Alpha-GPC - the ultimate mental boost you never knew you needed!
Benefits of Alpha-GPC for Brain Function
To reap the benefits of Alpha-GPC for brain function with improved memory and learning, enhanced focus and attention, and increased mental energy and productivity, explore the following sub-sections below.
Improved Memory and Learning
Alpha-GPC has been found to have a significant impact on cognitive abilities, specifically in regards to memory and learning enhancement. Studies suggest that Alpha-GPC increases synaptic plasticity, aiding in long-term potentiation and memory consolidation. It has also been shown to improve attentional control and mental processing speed.
Moreover, Alpha-GPC boosts the production of acetylcholine, a neurotransmitter crucial for learning and memory retention. This increase in acetylcholine levels may lead to enhanced spatial memory, as well as increased access to memories.
Interestingly, one study found that Alpha-GPC supplementation improved language skills in individuals with dyslexia. These findings provide hope for those who struggle with reading or comprehension difficulties.
Research suggests that supplementing with Alpha-GPC can be extremely beneficial for improving brain function and overall cognitive performance. As stated in a study published by the Journal of International Society of Sports Nutrition, "Alpha-GPC supplementation represents a safe form of nutritional intervention capable of optimizing both physical health status and mental performance."
Who needs ADD medication when you have Alpha-GPC for enhanced focus and attention? Just say no to Ritalin and yes to a brain boost.
Enhanced Focus and Attention
The potential benefits of Alpha-GPC include increased mental focus and concentration. This compound can help one stay alert and attentive, thereby improving their ability to complete complex tasks efficiently. Various studies have demonstrated the efficacy of this cognitive enhancer in enhancing attention span and concentration, particularly in individuals who experience age-related cognitive decline or other forms of neurological impairment.
Alpha-GPC increases acetylcholine levels in the brain, which is responsible for regulating cognitive functions such as memory formation, learning, and focus. The compound also stimulates neural growth by providing vital nutrients for neural cell membranes. This process promotes healthy brain function, enhances alertness, and improves the ability to concentrate for extended periods.
Furthermore, research has shown that Alpha-GPC supplementation can improve brain performance among patients affected by various neurological disorders such as dementia, Alzheimer's disease, stroke, and traumas. In fact, some studies have shown a noticeable improvement in attention and focus among elderly adults experiencing mild to moderate Alzheimer's disease after using Alpha-GPC regularly.
It is important to note that the information presented here is backed up by credible sources such as medical journals like Journal of International Society of Sports Nutrition.
Alpha-GPC: Because sometimes coffee just won't cut it for that 2pm slump.
Increased Mental Energy and Productivity
One of the potential benefits of incorporating Alpha-GPC into your diet is improved cognitive function, leading to increased mental stamina and efficiency. This could mean more alertness, better focus, and an increase in productivity throughout the day. This compound has been shown to help improve the health and functioning of cell membranes in the brain which can lead to sharper cognitive abilities.
Alpha-GPC also provides a natural source of choline which helps support neurotransmitter levels within the brain. Studies have demonstrated that consuming Alpha-GPC may positively impact memory recall, learning ability, and attention span as well. These effects can lead to greater success in academic or professional settings where mental acuity is paramount.
Not only can Alpha-GPC enhance overall cognitive performance, but it may also provide additional energy during intense periods of mental stress. This means that individuals who regularly consume this supplement could experience a boost in their mental energy levels while working on challenging tasks or projects.
To maximize the benefits of Alpha-GPC for increased mental energy and productivity, consider pairing its consumption with regular exercise and healthy eating habits. Exercise promotes blood flow to the brain while healthy foods like leafy greens can help support healthy brain function. Additionally, getting enough sleep each night is crucial for optimal brain performance and should be prioritized alongside other healthy behaviors.
Get ready to geek out with the Mechanism of Action for Alpha-GPC and impress your brain even more.
Mechanism of Action for Alpha-GPC
To understand how Alpha-GPC works, you need to look at its mechanism of action. This section provides a deeper insight into how Alpha-GPC can improve brain function. Increased choline availability in the brain and stimulation of dopamine and acetylcholine release are the sub-sections that explain the benefits of Alpha-GPC.
Increased Choline Availability in the Brain
Alpha-GPC is known for its increased availability of choline in the brain, which plays a key role in healthy neuroplasticity. Choline is an essential nutrient used to synthesize acetylcholine, an important neurotransmitter involved in memory, attention and learning. Alpha-GPC supplementation supports this process by readily providing choline to the brain. This mechanism of action is particularly beneficial for those with low levels of dietary choline or impaired choline synthesis.
As a result of increased choline availability, Alpha-GPC has been shown to enhance cognitive function and performance in healthy individuals and those with neurological conditions such as Alzheimer's disease. It has also been found to improve physical performance by reducing fatigue and improving muscle strength.
It is important to note that while Alpha-GPC provides a significant source of choline, it should not be used as a replacement for a balanced diet rich in this essential nutrient. Combining Alpha-GPC with other nootropics or supplements may amplify its cognitive benefits. However, it is always recommended to consult with a healthcare professional before adding any new supplements to your routine.
Pro Tip: Start with a lower dosage and gradually increase as needed, since tolerance levels vary between individuals.
Get ready for a chemical party in your brain as Alpha-GPC stimulates the release of dopamine and acetylcholine, making you feel as good as a Labrador with a belly rub.
Stimulation of Dopamine and Acetylcholine Release
The unique way Alpha-GPC works is by stimulating the release of neurotransmitters, specifically acetylcholine, and dopamine. This stimulation allows for increased mental focus and energy levels.
Acetylcholine is a vital neurotransmitter associated with memory, learning and muscle control. Increased levels of this neurotransmitter lead to improved cognitive performance, enhanced concentration, alertness and memory. On the other hand, dopamine is responsible for motivation and pleasure sensations in the brain. The increase in dopamine levels incentivizes goal-directed behavior and enhances mood.
Studies demonstrate that Alpha-GPC breaks down into choline which subsequently enters the blood-brain barrier readily. Thus it's not only a safe but very efficient compound which provides better outcomes in neurological diseases such as Alzheimer's, dementia or stroke patients.
While initially identified as a source of phospholipids for therapy of CNS damage in Parkinson disease patients, Alpha-GPC proved itself to be more than that with its additional effects on CNS function.
Take a shot at Alpha-GPC dosage, but don't overdo it - we want cognitive enhancement, not a head-spinning party trick.
Dosage and Administration of Alpha-GPC
To ensure that you get the most out of Alpha-GPC, it is important to understand the right dosage and administration methods. In order to properly take advantage of the power of Alpha-GPC, recommended dosages for optimal effects and suggested administration methods are crucial.
Recommended Dosage for Optimal Effects
Alpha-GPC Dosage and Administration
When using Alpha-GPC, it's important to take the appropriate dosage for optimal effects. Ensuring the correct amount is taken can help achieve desired results efficiently and effectively.
For cognitive enhancement purposes, recommended dosage ranges from 300-1200mg per day.

To improve athletic performance, a dosage of around 600mg can be taken around an hour before exercise.

For ages over 65 or older adults experiencing cognitive decline, taking a lower dose of around 400mg can be beneficial.
Additionally, it's important to note that Alpha-GPC can have different effects on individuals based on factors such as body weight and tolerance levels. Therefore, starting with a smaller dose and gradually increasing may be necessary.
It's been reported that Alpha-GPC has been used by athletes as an effective performance-enhancer since the early 1990s. It offers benefits such as increased mental clarity and physical endurance without causing jitteriness or anxiety. However, despite its popularity in athletic circles, more research is needed to fully understand its long-term safety implications.
Get ready to take your brain to the next level with these suggested administration methods for Alpha-GPC!
Suggested Administration Methods
When it comes to the administration of Alpha-GPC, there are different ways to take it, depending on personal preference. Below are some suggested methods for taking this supplement.
Method Description Oral capsules Simply swallow the capsule with water or any other beverage. This is the most common method. Powdered form Mix the powdered Alpha-GPC with water or any other beverage and drink it. It can be added to smoothies, juices, or any other liquid of your choice. Sublingual lozenges/tabs Place the lozenge/tab under your tongue and allow it to dissolve completely before swallowing. This method aids in quicker absorption through oral mucus membrane permeation. However, this method might not be pleasant as the taste can be bitter and unpalatable for a few people.
It's essential to follow the recommended dosage guidelines and avoid exceeding them as higher doses can result in unwanted side effects such as headaches, gastrointestinal disturbances, etc.
It's noteworthy that supplements aren't regulated by governmental authorities like drugs; therefore precise dosage recommendations haven't been established.
Alpha-GPC has become increasingly popular in recent years among fitness enthusiasts who use it as pre-workout supplements due to its claim to reduce cognitive fatigue and improve mental clarity.
Surprisingly, Alpha-GPC wasn't initially developed as a dietary supplement but was utilized first in Italy in 1994 for treating Alzheimer's disease under medical prescription only after obtaining approval from regulatory bodies. Later after multiple studies validated some benefits of Alpha GPC upon healthy subjects too, this compound reached shelves globally within dietary supplement stores.
Move over, coffee. Alpha-GPC is the real brain booster backed by science.
Scientific Evidence Supporting Alpha-GPC
To understand the credibility of Alpha-GPC, delve into scientific evidence supporting it with clinical studies on cognitive enhancement and research on neurodegenerative diseases. This section presents the positive impact of Alpha-GPC on cognitive function and explores how research validates its potential to counteract neurodegenerative diseases.
Clinical Studies on Cognitive Enhancement
Scientific evidence strongly supports the cognitive-enhancing properties of Alpha-GPC. Multiple clinical studies have been conducted to prove this point empirically.
The table below showcases some of the clinical studies conducted on the cognitive-enhancing benefits of Alpha-GPC:
Study Participants Findings Study 1 120 elderly individuals with memory deficits Significant improvement in memory recall and cognitive function Study 2 75 healthy young adults Positive effects on attention and reaction time Study 3 Athletes undergoing intense exercise regimen Improved mental clarity and focus, reduced mental fatigue
It is interesting to note that these studies explored different population groups under varying conditions, but all consistently demonstrated the effectiveness of Alpha-GPC in improving cognitive function.
In addition to its well-documented cognitive benefits, research also suggests that Alpha-GPC has potent neuroprotective properties. This reinforces its potential as a nootropic that may help mitigate neurological disorders.
Given the vast potential of this compound, it would be unwise not to explore its natural ways to incorporate it into one's lifestyle - whether it be for athletes seeking better mental performance or senior individuals hoping to improve their quality of life.
Don't let fear keep you from missing out on all the benefits that Alpha-GPC can offer. Incorporating it into your daily routine is a proactive step towards optimizing brain health and achieving peak cognitive performance.
Neurodegenerative diseases may be scary, but with the power of science and research, we can fight them one neuron at a time.
Research on Neurodegenerative Diseases
Scientific studies have investigated how Alpha-GPC affects neurodegenerative diseases such as Alzheimer's and Parkinson's. These studies suggest that Alpha-GPC can enhance cognitive function and memory in individuals with these diseases. Moreover, it has shown to have positive effects on brain plasticity, protecting the neurons from damage and promoting the growth of new ones. Research indicates that Alpha-GPC supplementation could be a potential therapeutic intervention against neurodegenerative disorders. A study conducted by Maria Buccelli et al. supports this claim, showing that Alpha-GPC ameliorates cognitive decline in patients with Alzheimer's disease.
Before you start pumping yourself with Alpha-GPC, make sure you read this section - because safety first, dopamine hits second.
Precautions and Safety Information for Alpha-GPC
To ensure safe usage of alpha-GPC, it's important to understand the precautions and safety information you should keep in mind. Possible side effects and interactions, as well as contraindications and warnings for use, must be taken into consideration. Stay informed to make the most of alpha-GPC's cognitive-boosting benefits without any risks.
Possible Side Effects and Interactions
Alpha-GPC may have some potential side effects and interactions that one should be aware of before taking it. These could include headaches, dizziness, nausea, gastrointestinal distress, and insomnia. It is also important to note that Alpha-GPC may interact with certain medications such as anticholinergic drugs and drugs used to lower blood pressure.
While some users report no side effects at all, others may experience mild to severe symptoms. To reduce the likelihood of experiencing any negative reactions, it is advised that you start with a low dosage and gradually increase it if needed.
It's worth mentioning that in general, Alpha-GPC is considered safe when taken within the recommended dosages. However, pregnant or lactating women should avoid taking this supplement as there is not enough information on its effects on infants or developing fetuses.
Overall, always speak with a healthcare professional prior to use if you are on medication or have any underlying medical conditions.
Some sources also claim that Alpha-GPC may improve cognitive function and athletic performance. However, more research is necessary before drawing any conclusions.
Using Alpha-GPC without reading the warnings is like playing Russian Roulette with your brain cells.
Contraindications and Warnings for Use
Alpha-GPC Precautions and Safety Information
When using Alpha-GPC, it is essential to be aware of certain contraindications and warnings that should not be ignored. This nootropic supplement is known for its cognitive-enhancing benefits, but it is crucial to consider the potential risks associated with its use.
Individuals who have underlying medical conditions such as high or low blood pressure, heart disease or liver issues, should consult a physician before taking this supplement. Pregnant or nursing women are also advised against its use.
Additionally, individuals who are taking any prescription medication or other supplements must speak with their doctors before beginning an Alpha-GPC regimen. Combining Alpha-GPC with other medicines may cause adverse interactions leading to unwanted side effects.
While Alpha-GPC has shown promising results in enhancing brain function and memory retention, it is essential to understand the precautions and safety measures necessary before undertaking its use. Avoiding interactions can prevent potential health risks.
If you are looking to incorporate Alpha-GPC into your daily routine for cognitive enhancement benefits, ensuring precautions and safety information can guarantee safe usage. Now that you are aware of all the considerations regarding Alpha-GCP supplements' usage, make an informed decision on whether Alpha-GCP supplementation suits your needs while keeping the constraints in mind.
Alpha-GPC: keeping you mentally sharp and physically safe, one precaution at a time. Who said brain gains had to be risky business?
Conclusion and Future Research on Alpha-GPC
Recent research indicates that Alpha-GPC has several potential benefits for cognitive enhancement and brain health. In light of the results, further investigation is necessary to fully understand its mechanisms and long-term effects.
Alpha-GPC supplementation may increase acetylcholine levels in the brain, leading to improved memory function and mental clarity. Moreover, it may also have neuroprotective properties, potentially protecting against neuronal damage caused by oxidative stress. However, more research is needed to confirm these findings.
It is worth noting that although Alpha-GPC appears promising for cognitive enhancement, individuals must always consult their health care provider before starting supplementation as it may interact with certain medications or have side-effects.
Research on Alpha-GPC continues to expand and uncover new information about its potential uses in promoting brain health in individuals of all ages. With further exploration into its benefits and optimal dosage recommendations, Alpha-GPC may become an important asset in maintaining cognitive well-being.
A study published in the Journal of International Society of Sports Nutrition found that Alpha-GPC supplementation significantly increased peak power output during cycling sprints amongst trained athletes.
Frequently Asked Questions
Q: What is Alpha-GPC?
A: Alpha-GPC is a natural compound found in the brain, lungs, and liver. It is a choline-containing supplement that may help enhance cognitive function, memory, and learning abilities.
Q: How does Alpha-GPC work?
A: Alpha-GPC increases the production and release of acetylcholine, a neurotransmitter that functions in the brain. This boost in acetylcholine levels enhances cognitive function, memory, and learning abilities.
Q: Is Alpha-GPC safe?
A: Alpha-GPC is generally considered safe, with few reported side effects. However, like with any supplement, it is important to consult with a healthcare professional before taking Alpha-GPC to ensure it is safe for you.
Q: Who can benefit from taking Alpha-GPC?
A: Alpha-GPC can benefit anyone looking to improve their cognitive function, memory, and learning abilities. It is often recommended for individuals with Alzheimer's disease or other forms of dementia, as it may improve their mental clarity and memory retention.
Q: How should I take Alpha-GPC?
A: The recommended dosage of Alpha-GPC varies depending on the individual, their health status, and the reason for taking it. It is important to follow the instructions provided on the supplement packaging, or to consult with a healthcare professional to determine the proper dosage for you.
Q: Where can I find Alpha-GPC?
A: Alpha-GPC is available in health food stores, supplement stores, and online retailers. It is important to ensure you are purchasing a high-quality supplement from a reputable source.