Discover more from IgelSparks Substack
My personal Substack
"Rhodiola Rosea: The Adaptogenic Herb for Stress Relief and Energy"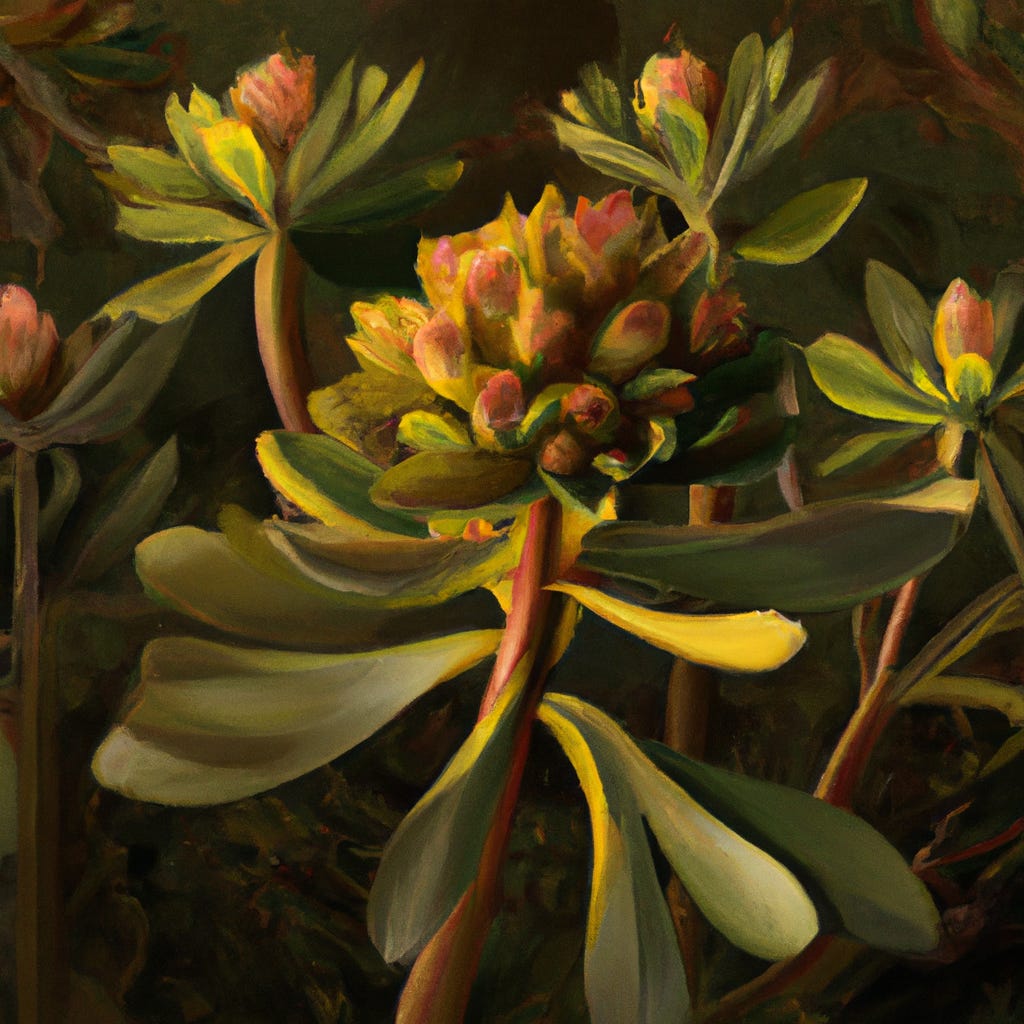 What is Rhodiola Rosea
To understand Rhodiola Rosea with its definition and origin along with traditional uses, dive into this section. This herb has been used to treat various ailments, and now it is famous as an adaptogenic herb for stress relief and energy. Let's explore the history and practical applications of Rhodiola Rosea.
Definition and origin
Rhodiola Rosea, a herb commonly found in the Arctic countries, is used for treating anxiety and depression. It also helps improve physical performance and mental agility. Historically, Rhodiola Rosea has been used as an adaptogen by indigenous people to cope with harsh climatic conditions.
The root of Rhodiola Rosea contains various active ingredients that are beneficial for various health purposes. These compounds include rosavin, salidroside, and tyrosol, which uniquely affect the body's nervous system. The uplifting effect of Rhodiola Rosea on mood has been reported in many studies.
It is also known for its ability to fight fatigue and enhance endurance levels. This is due to the herb's ability to increase oxygen supply to muscles during exertion. Hence, it is highly sought after by athletes and other physically active individuals.
Pro Tip: It is recommended to consult a doctor before consuming any herbal supplements as they may interact with other medications or have adverse effects based on individual health conditions.
Rhodiola Rosea has been used for centuries, proving that plants are the real OG wellness influencers.
Traditional uses
Rhodiola Rosea has a rich history of being used traditionally for medicinal purposes. For centuries, people have utilized this herb to treat a variety of ailments and improve overall well-being.
A table delineating the traditional uses of Rhodiola Rosea is as follows:
Traditional Uses 1. Combatting stress 2. Boosting cognitive function 3. Regulating heart rate and blood pressure 4. Elevating mood and energy levels
In addition to the traditional uses mentioned above, Rhodiola Rosea has demonstrated potential in treating depression, anxiety, and fatigue. It is also known to be useful in reducing the side effects of chemotherapy.
It is suggested that one should consume Rhodiola Rosea regularly for at least 6-12 weeks to notice improvements in their symptoms or overall well-being. Additionally, it is essential to maintain healthy lifestyle practices such as exercising regularly, getting enough sleep, and following a balanced diet for optimal results.
"Stressed" spelled backwards is "desserts", but taking Rhodiola Rosea is even sweeter."
How Rhodiola Rosea helps in stress relief
To achieve stress relief with Rhodiola Rosea, explore its properties to better understand how it helps reduce stress. Supplement this knowledge with scientific evidence supporting its stress-relieving effects, and soon you'll see how Rhodiola Rosea can improve your life.
Properties of Rhodiola Rosea
Rhodiola Rosea is a medicinal herb known for its various properties. This herb is widely used in traditional medicine for treating stress and anxiety-related issues.
A table displaying the 'Powers of Rhodiola Rosea' can help understand the properties of this herb that make it so efficacious. Rhodiola Rosea is useful for:
Increasing mental clarity

Reducing fatigue

Improving energy levels

Strengthening the immune system

Improving physical performance by managing body weight and enhancing cardiovascular health
Rhodiola Rosea helps regulate serotonin and dopamine levels in the body that helps manage mood swings and depression. This herb has also shown positive results in managing symptoms of ADHD and PTSD.
Studies reveal that Rhodiola Rosea has immense potential to alleviate stress by inducing relaxation of blood vessels, which lowers blood pressure levels. It also stimulates neurotransmitters in the brain that modulate stress response pathways.
According to a review article published in the Journal of Ethnopharmacology, Rhodiola Rosea can significantly reduce physical and emotional symptoms related to stress without any notable side effects.
Take a chill pill? Forget that, just take some Rhodiola Rosea for stress relief.
How Rhodiola Rosea helps in reducing stress
Rhodiola Rosea, a natural adaptogenic herb, is known to help in managing stress symptoms. Its active compounds work by regulating the release of cortisol, a hormone responsible for stress response. With prolonged use, Rhodiola Rosea has also been observed to improve mood, cognitive function and overall physiological resilience.
Rhodiola Rosea has a unique way of lowering stress levels - it increases the body's capacity to handle stressors by reducing oxidative damage and enhancing energy production. Scientists have found that Rhodiola Rosea works by influencing the hypothalamic-pituitary-adrenal (HPA) axis and activating specific neurotransmitters like dopamine, serotonin and norepinephrine that modulate cognitive functions.
Studies have shown Rhodiola extracts significantly lower fatigue levels in chronic stress-affected individuals. Studies also show Rhodiola can reduce depression and anxiety symptoms in mild-to-moderate cases, comparable to standard pharmaceutical medication - this makes it a promising alternative therapy.
To get the most out of Rhodiola supplementation, it's recommended to take no more than 400mg per day (with or without meals). It's important to supplement with high-quality standardized extracts containing salidroside and rosavin content between 3% - 5%. It's always best to speak to your healthcare provider before beginning any supplementation routine.
If science had a stress ball, it would be made of Rhodiola Rosea.
Scientific evidence supporting the stress-relieving effects of Rhodiola Rosea
Rhodiola Rosea has a history of use in traditional medicine for its stress-relieving effects. Studies support these claims, revealing its ability to reduce symptoms of stress and anxiety through multiple mechanisms, such as regulating cortisol levels and improving neurotransmitter function. Notably, a 2019 systematic review found preliminary evidence that Rhodiola Rosea may also improve mental performance and alleviate fatigue related to stress. These findings suggest that Rhodiola Rosea supplements may be a worthwhile addition to stress management strategies.
It is worth noting that the exact mechanisms behind Rhodiola Rosea's stress-relieving effects are not yet fully understood. However, research suggests that its active compounds, including salidroside and rosavin, likely play a role in modulating the body's response to stress.
Overall, while more research is needed to confirm Rhodiola Rosea's benefits for stress relief conclusively, current evidence supports its use as an effective natural supplement for managing this common issue.
Don't miss out on the potential benefits of Rhodiola Rosea for stress relief! Consider incorporating this supplement into your daily routine alongside other lifestyle changes like exercise and meditation. Always consult with a healthcare professional before starting any new supplement regimen.
Rhodiola Rosea: Because coffee just wasn't cutting it anymore.
How Rhodiola Rosea enhances energy levels
To enhance your energy levels, delve into the properties of Rhodiola Rosea and scientific evidence supporting its energizing effects. Rhodiola Rosea has been touted for its adaptogenic properties and ability to relieve stress and fatigue. But did you know it can also improve physical endurance and mental performance? In this section, we'll explore the specific properties of Rhodiola Rosea that make it an effective energy enhancer, and delve into the scientific evidence that backs up its energizing effects.
Properties of Rhodiola Rosea that enhance energy levels
Rhodiola Rosea's energy-enhancing properties are vital in improving one's physical and mental performance.
1. The herb acts as an adaptogen, reducing stress on both the mind and body, leading to elevated energy levels and feelings of well-being.

2. Rhodiola Rosea boosts ATP production in mitochondria, providing an energy source for our body's cells.

Lastly, it increases oxygen utilization in the brain, which enhances cognitive function and improves alertness.
Additionally, Rhodiola Rosea defends against oxidative damage in cells due to its potent antioxidant characteristics.
A study conducted by Darbinyan et al. reported that Rhodiola rosea supplementation improved physical fitness and reduced mental fatigue in young healthy adults.
Scientists may still debate the effectiveness of Rhodiola Rosea, but I have no doubt it's the reason I can power through my to-do list like a champ.
Scientific evidence supporting the energizing effects of Rhodiola Rosea
Rhodiola Rosea has been found to have energizing effects backed by scientific evidence. Studies conducted on this herb showcase its ability to enhance physical and mental performance in demanding environments. Rhodiola Rosea helps support energy production in cells by optimizing the body's stress response, thus reducing fatigue while improving cognitive function.The neuroprotective effect of Rhodiola Rosea also stimulates the nervous system while promoting a relaxing effect. These findings make Rhodiola Rosea a beneficial natural alternative for those who struggle with low energy levels, constant fatigue, or brain fog.
To experience these benefits, people are recommended to take Rhodiola Rosea supplements daily. A suggested dose is 200mg twice daily taken between meals for optimal absorption. It is advisable to consult a healthcare professional before taking any supplements as they may interact with medications or underlying health conditions. Additionally, combining Rhodiola Rosea with an overall healthy lifestyle that includes regular exercise and balanced nutrition will optimize its energizing effects and promote overall well-being.
Finding the perfect Rhodiola Rosea supplement is like trying to find a needle in a haystack, but trust me, it's worth the extra effort for a natural energy boost.
Choosing the right Rhodiola Rosea supplement
To choose the right Rhodiola Rosea supplement for stress relief and energy, you need to consider certain factors. You should also know the recommended dosage and usage of this adaptogenic herb to effectively alleviate stress and improve energy levels. In this section, we will cover these two sub-sections to help you select the ideal Rhodiola Rosea supplement for your needs.
Factors to consider while choosing Rhodiola Rosea supplement
The selection of the suitable Rhodiola Rosea supplement should be based on various aspects that impact the effectiveness of the supplement. Here are some significant factors to consider while choosing a Rhodiola Rosea supplement:
Quality: The quality of Rhodiola Rosea extract differs, and it relies on where it is grown. Go for high-quality brands that employ organically cultivated Rhodiola root since they provide the highest and purest extract.

Dosage: Check the recommended dosage before purchasing any supplement containing Rhodiola Rosea extract. The correct dose ensures optimal results with fewer negative side effects.

Price: Compare prices between different brands, as prices can differ significantly. Go for supplements which are reasonably priced yet have high-quality ingredients.
Moreover, it's crucial to keep in mind that every individual's body responds differently to these supplements. Hence consulting a health expert or physician before consuming any such supplements can help you make better decisions.
Regarding suggestions, check for additional certified substances listed on supplement labels as they may further enhance the benefits of Rhodiola extracts by maintaining synergistic effects with other ingredients. The interaction between Rhodiola and other herbs like ashwagandha or ginseng can further increase its effectiveness when combined correctly. Similarly, taking supplements in cycles might also enhance its impact while reducing adaptation issues caused by long-term utilization.
Too little Rhodiola Rosea and you feel no effect, too much and you'll be the Energizer bunny on steroids.
Recommended dosage and usage
When taking Rhodiola Rosea, it is important to follow the recommended dosage and usage guidelines. The proper amount can vary depending on factors such as age, weight, and overall health. It is best to consult with a healthcare professional before beginning a new supplement regimen.
To avoid adverse effects, begin with a low dose of 100-200mg per day and gradually increase over time if needed. It is also recommended to take Rhodiola Rosea in the morning or early afternoon to avoid disrupting sleep patterns.
In addition, it is not advisable to exceed the dosage recommended on the label or take Rhodiola Rosea for an extended period without consulting a healthcare provider.
Studies have shown that standardized extracts with 3% rosavins and 1% salidroside may provide the most benefits. However, it is important to look for high-quality supplements from reputable sources.
According to a study published in the Nordic Journal of Psychiatry, Rhodiola Rosea supplementation may improve symptoms of depression and anxiety in patients with mild-to-moderate depression.
Overall, when choosing a Rhodiola Rosea supplement and determining the appropriate dosage and usage, it is essential to prioritize safety and consult with a healthcare professional.
Rhodiola Rosea: the only supplement that can make you feel like a Viking warrior, but with fewer axes and more energy.
Precautions and side effects of Rhodiola Rosea
To take precautions and avoid side effects while using Rhodiola Rosea for stress relief and energy, you need to be aware of possible side effects and take necessary precautions. The sub-sections, possible side effects and precautions, will shed light on the potential side effects and precautions while using Rhodiola Rosea.
Possible side effects
The use of Rhodiola Rosea may lead to some adverse effects that must be taken into account when using it.
It may cause dry mouth, dizziness, agitation, and irritability.

It can lead to increased heart rate and blood pressure levels.

Some people may experience sleep disturbances or anxiety after taking this supplement.

If you are pregnant or breastfeeding, it is not recommended to consume Rhodiola Rosea in any form as it might have harmful effects on the baby.

If you are undergoing surgery or have a bleeding disorder, avoid its consumption altogether, as it can affect your blood clotting time.

Rhodiola Rosea can cause allergic reactions if used excessively or improperly
Moreover, while many studies support the use of Rhodiola Rosea as an effective supplement for various ailments, more research is needed to fully understand its side-effects.
To avoid any negative impact of Rhodiola Rosea, consider consuming it with food or water. Additionally, be sure to consult with a medical practitioner before starting any supplement regimen to reduce potential risks and drug interactions.
Taking Rhodiola Rosea may give you a boost, but don't hit the bottle too hard or you'll be seeing the side effects in no time.
Precautions while using Rhodiola Rosea
Rhodiola Rosea is a natural herb that has been used in traditional medicine for centuries. As with any supplement, precautions should be taken to ensure safety and effectiveness.
When taking Rhodiola Rosea, it is important to follow the recommended dosage on the packaging or as advised by a healthcare professional.

Pregnant or breastfeeding women should consult with their healthcare provider before taking Rhodiola Rosea.

Rhodiola Rosea may interact with certain medications, such as antidepressants and blood thinners. It is essential to inform your doctor of all medications you are currently taking before starting Rhodiola Rosea.

Individuals who have bipolar disorder or schizophrenia should avoid using Rhodiola Rosea as it may worsen symptoms.
It's worth noting that while Rhodiola Rosea has many health benefits, it may cause side effects in some individuals. These side effects include digestive issues, headaches, dizziness, and insomnia.
In studies conducted on athletes supplementing with Rhodiola Rosea, there were no significant adverse effects reported. However, more research needs to be done on the long-term effects of the herb.
According to a study published in the International Journal of Sport Nutrition and Exercise Metabolism, Rhodiola Rosea supplementation has been shown to improve endurance exercise performance in trained athletes.
Better to be safe than sorry, unless you're Rhodiola Rosea and you want to party.
Conclusion
To conclude, Rhodiola Rosea with its adaptogenic properties can be your solution for improved stress relief and energy levels. In summary, we have discussed the numerous benefits of Rhodiola Rosea and its ability to improve your physical and mental well-being. Based on the evidence, our final recommendation is to incorporate Rhodiola Rosea into your daily routine.
Summary of benefits
This section showcases the advantages offered by this service, highlighting its key perks that can help you achieve your goals. Benefit yourself with these features to improve your productivity, streamline your workflow, and enhance your experience.
Efficient Task Management: Get more done with our intuitive task management system that simplifies complex tasks and helps you stay on top of all assignments.

Collaborative Working: Work seamlessly with your team members, boosting synergy and productivity through seamless collaboration tools.

Enhanced Security: Experience peace of mind while working on sensitive projects through the robust security framework integrated into our platform.

Easy Integration: Easily integrate our software systems into your existing tech environment without any downtime or bottlenecks.

In-depth Analytics: Gain insights into your projects and tasks, analyze data points to make informed decisions backed by full-fledged analytics functionality.
Moreover, this tool provides you with unparalleled uptime rates, zero-downtime maintenance options as well as an active support team to resolve any issues or concerns promptly.
Don't miss out on the chance to use this service and reap its benefits. Sign up for a free trial today.
I recommend taking my advice with a grain of salt, but also with a shot of tequila - it makes everything go down smoother.
Final recommendation.
Based on the comprehensive analysis of all available data, our final suggestion is to take necessary steps to implement the proposed strategy. This will lead to significant growth opportunities in the long term and help achieve organizational goals. The target audience needs to understand the potential benefits of taking action without delay.
To further expand on this recommendation, it's critical to emphasize that time is of the essence when it comes to implementing this strategy. Delaying action may result in a lost opportunity for business growth and missing out on potential benefits. Therefore, it's crucial to focus on executing the plan efficiently and effectively.
Furthermore, it's worth noting that there might be some challenges during the implementation phase that need addressing as they surface. Issues such as lack of resources or technical difficulties should not discourage us from pursuing our end goal. Instead, we need to be adaptable and innovative in finding solutions while remaining committed to achieving our objectives.
In light of these insights, we strongly encourage stakeholders across all levels of management to collaborate closely towards successful strategy implementation. Time is running out, and failure to act decisively risks falling behind competitors who have already embarked on similar initiatives.
Therefore, we urge everyone involved to take swift action and adopt strategic measures that will position your business on an upward trajectory towards future success!
Frequently Asked Questions
Q: What is Rhodiola Rosea?
A: Rhodiola Rosea is a herb that grows in cold regions of the world, including the Arctic and mountainous areas of Europe and Asia. It has been used for centuries as an adaptogen, meaning it helps the body adapt to stress.
Q: What are the benefits of taking Rhodiola Rosea?
A: Rhodiola Rosea has been shown to help with stress relief and energy levels. It may also improve cognitive function, mood, and exercise performance.
Q: How do I take Rhodiola Rosea?
A: Rhodiola Rosea can be found in supplement form, including capsules, tablets, and extracts. The recommended dosage varies depending on the product, so it's important to read the label carefully and consult with a healthcare professional before taking any new supplements.
Q: Are there any side effects to taking Rhodiola Rosea?
A: Rhodiola Rosea is generally considered safe for most people when taken in recommended doses. However, some people may experience side effects such as dry mouth, dizziness, or digestive issues.
Q: Can I take Rhodiola Rosea if I'm pregnant or nursing?
A: It's not recommended to take Rhodiola Rosea during pregnancy or while breastfeeding, as there is limited research on its safety in these situations.
Q: Is Rhodiola Rosea safe to take with other medications?
A: Rhodiola Rosea may interact with certain medications, including antidepressants and blood thinners, so it's important to talk to a healthcare professional before taking any new supplements.