Discover more from IgelSparks Substack
My personal Substack
"Curcumin: Unleashing the Anti-Inflammatory Power of Turmeric"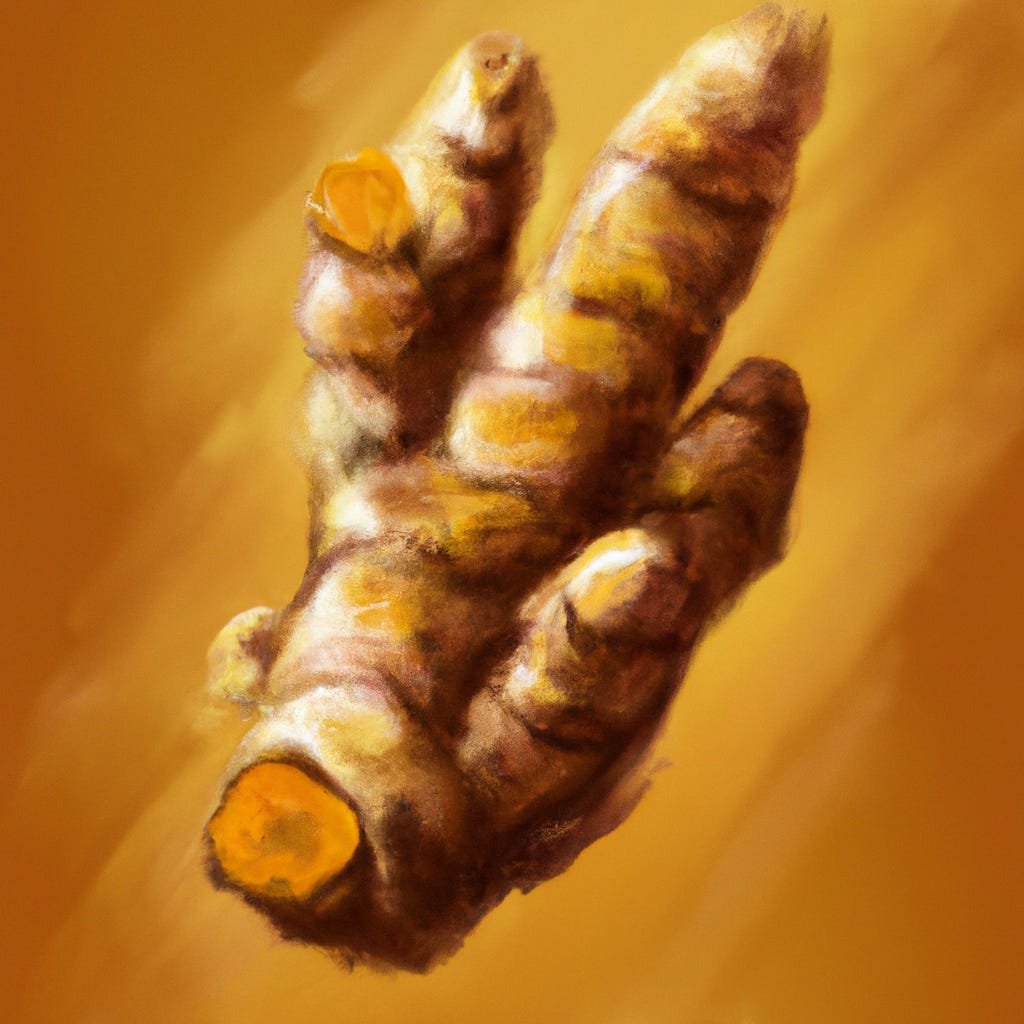 Introduction to Curcumin
Curcumin: Unleashing Turmeric's Anti-Inflammatory Power
Turmeric is a spice and medicinal herb that has been used for centuries in Ayurvedic medicine. Curcumin, the main active compound found in turmeric, has been extensively studied for its anti-inflammatory and antioxidant properties.
Curcumin can suppress various molecules that play a role in inflammation, making it a promising supplement for reducing chronic inflammation. Additionally, curcumin may also increase the production of antioxidants in the body.
Due to its potent anti-inflammatory effects, curcumin has been studied as a potential treatment for numerous health conditions such as arthritis, depression, Alzheimer's disease, and even cancer.
Historically speaking, turmeric has been used for medicinal purposes in India since ancient times. It was only recently when scientists identified curcumin as the primary active compound behind turmeric's therapeutic benefits. Curcumin's anti-inflammatory powers make it the superhero of the spice world, ready to fight off inflammation one teaspoon at a time.
Anti-Inflammatory Properties of Curcumin
Curcumin of turmeric has potent anti-inflammatory properties. It can inhibit various molecular targets involved in inflammation, reducing the production of pro-inflammatory cytokines and enzymes, thereby suppressing inflammation. Curcumin's effectiveness in reducing inflammation is well-supported by studies that show it to be comparable to non-steroidal anti-inflammatory drugs but without the side-effects.
In addition to blocking inflammatory pathways, curcumin has also been found to enhance antioxidant defenses, scavenging free radicals and preventing oxidative damage. This dual action makes curcumin a promising natural remedy for the prevention and treatment of various chronic diseases associated with inflammation and oxidative stress.
Research also suggests curcumin may modulate gut microbiota by promoting the growth of beneficial bacteria and inhibiting harmful ones, further exerting an anti-inflammatory effect on the body.
Indian Ayurvedic medicine has used turmeric as a medicinal herb for centuries due to its healing properties. In fact, ancient Indian texts mention turmeric as a potent anti-inflammatory agent for treating various ailments such as arthritis, digestive disorders, wounds and infections. The wisdom of traditional medicine meets modern science in recognizing the importance of curcumin's anti-inflammatory power in maintaining health.
Looks like curcumin is pulling a superhero move - fighting inflammation like a boss!
Benefits of Curcumin
Curcumin: Unleashing the Potent Anti-Inflammatory Power of Turmeric
Curcumin is a powerful compound extracted from turmeric, known for its various health benefits. Let's take a closer look at how curcumin can be beneficial for our health.
Supports Joint Health: Curcumin acts as a potent anti-inflammatory agent that reduces inflammation in the body, leading to decreased joint pain and stiffness.

Boosts Brain Function: Studies suggest that curcumin may increase levels of brain-derived neurotrophic factor (BDNF), which is responsible for new neuron growth in the brain, leading to improved memory and cognitive function.

Promotes Heart Health: Antioxidants present in curcumin protect the heart by reducing oxidative stress and inflammation, both of which are major causes of heart disease.

Aids Weight Loss: Curcumin helps in boosting metabolism and reduces potential blood sugar imbalances. A regular intake can help shed an extra pound or two faster than expected.

Anti-Cancer Properties: Several studies suggest that curcumin may have anti-cancer properties due to its ability to reduce inflammation, block tumor growth and even contribute to killing cancer cells.
When it comes to choosing a supplement that contains curcumin, there are different varieties available in the market containing varying percentage of curcuminsoids. Choose wisely based on purity, potency, dosage frequency and authenticity.
Don't miss out on this potent supplement with numerous benefits! Incorporating curcumin into your daily routine could lead to drastic improvements in your overall well-being.
Spice up your life and your health by adding a dash of curcumin to your daily routine - your taste buds and inflammation levels will thank you.
Ways to consume Curcumin
To harness the anti-inflammatory power of turmeric, one needs to explore various ways to consume curcumin. For consuming curcumin, one can choose from a wide range of options that can be incorporated in their daily routine. Below is a table showcasing different ways to consume curcumin along with their benefits:
Ways to Consume Curcumin Benefits Turmeric powder Boosts immunity and eases joint pain Supplements Lowers cholesterol levels and reduces inflammation Golden milk Helps with digestion and promotes healthy sleep Topical application Reduces acne breakouts and improves skin complexion
It is essential to note that the amount of curcumin used in each form should be as per the requirement. One should consume turmeric extract supplements only after consulting with a healthcare professional. Apart from these methods, another way to incorporate curcumin in the diet is by adding it as a spice while cooking. It not only adds flavor but also has health benefits. For an entertaining story about consuming turmeric, a friend once mixed turmeric into her pancake batter, which turned them bright yellow. Her kids loved it and enjoyed eating colorful pancakes for breakfast. Remember, when it comes to curcumin, a little goes a long way, but don't be afraid to turmeric it up a notch...unless you're allergic, then it's best to just keep calm and curry on.
Dosage and Precautions
When incorporating turmeric or curcumin supplements, it is essential to pay attention to the recommended dosage and precautions to ensure maximum benefit and minimize side effects. It is recommended to consult a healthcare professional before taking any supplement as the appropriate dose would depend on several factors such as age, health conditions and medication use.
Taking high doses of curcumin supplements for extended periods may lead to gastrointestinal issues such as nausea, diarrhea, or indigestion. Additionally, curcumin can interact with certain medications affecting their efficacy, making it important to be aware of any possible drug interactions.
Furthermore, curcumin's blood-thinning properties can cause excessive bleeding during surgery, so individuals taking anticoagulant medications or scheduled for surgery should stop taking these supplements two weeks prior.
To avoid these risks, it is suggested that individuals start with a low dose of 500-1000mg per day and gradually increase as needed. It is also important to choose high-quality supplements from reputable brands that have been tested for purity and potency.
Turmeric may not solve all your problems, but it sure knows how to spice up your anti-inflammatory game.
Conclusion
The potential health benefits of curcumin have been extensively researched, revealing its anti-inflammatory and antioxidant properties. Turmeric, the spice it derives from, has long been used in traditional medicine for its healing properties.
Curcumin's potential to alleviate symptoms of arthritis, asthma and even cancer means that it could revolutionize medical treatments. Moreover, its ability to boost brain function and reduce the risk of heart disease makes it an increasingly popular supplement. Ultimately, curcumin holds great promise as a natural alternative medicine.
A study conducted at the University of Arizona found that turmeric was effective in reducing inflammation in overweight women with osteoarthritis.
Frequently Asked Questions
1. What is curcumin?
Curcumin is a natural compound found in the root of turmeric, a member of the ginger family. It is responsible for the vivid yellow color of turmeric and is known for its potent anti-inflammatory and antioxidant properties.
2. What are the health benefits of curcumin?
Curcumin has been shown to have a wide range of health benefits, including reducing inflammation, improving brain function, and promoting heart health. It has also been found to have potential in fighting cancer and Alzheimer's disease.
3. How can I consume curcumin?
You can consume curcumin through dietary supplements or by incorporating turmeric into your diet. Turmeric can be added to soups, curries, and other dishes for a flavorful and healthy boost.
4. Is curcumin safe?
Curcumin is generally considered safe when consumed in recommended doses. However, excessive consumption can cause gastrointestinal issues, so it's important to stick to suggested dosages and consult with a healthcare professional if you have any concerns.
5. Can curcumin interact with medications?
Curcumin has been known to interact with certain medications, particularly blood thinners and other drugs that affect blood clotting. If you are taking any medications, it's important to talk to your healthcare provider before starting curcumin supplements or significantly increasing your turmeric intake.
6. What should I look for in a curcumin supplement?
When purchasing a curcumin supplement, look for products that have a high concentration of curcuminoids, the compounds responsible for curcumin's health benefits. It's also important to choose a reputable brand that uses quality ingredients and has appropriate dosage recommendations.