Discover more from IgelSparks Substack
My personal Substack
"Creatinol O-Phosphate: The Unique Compound for Muscle Endurance and Recovery"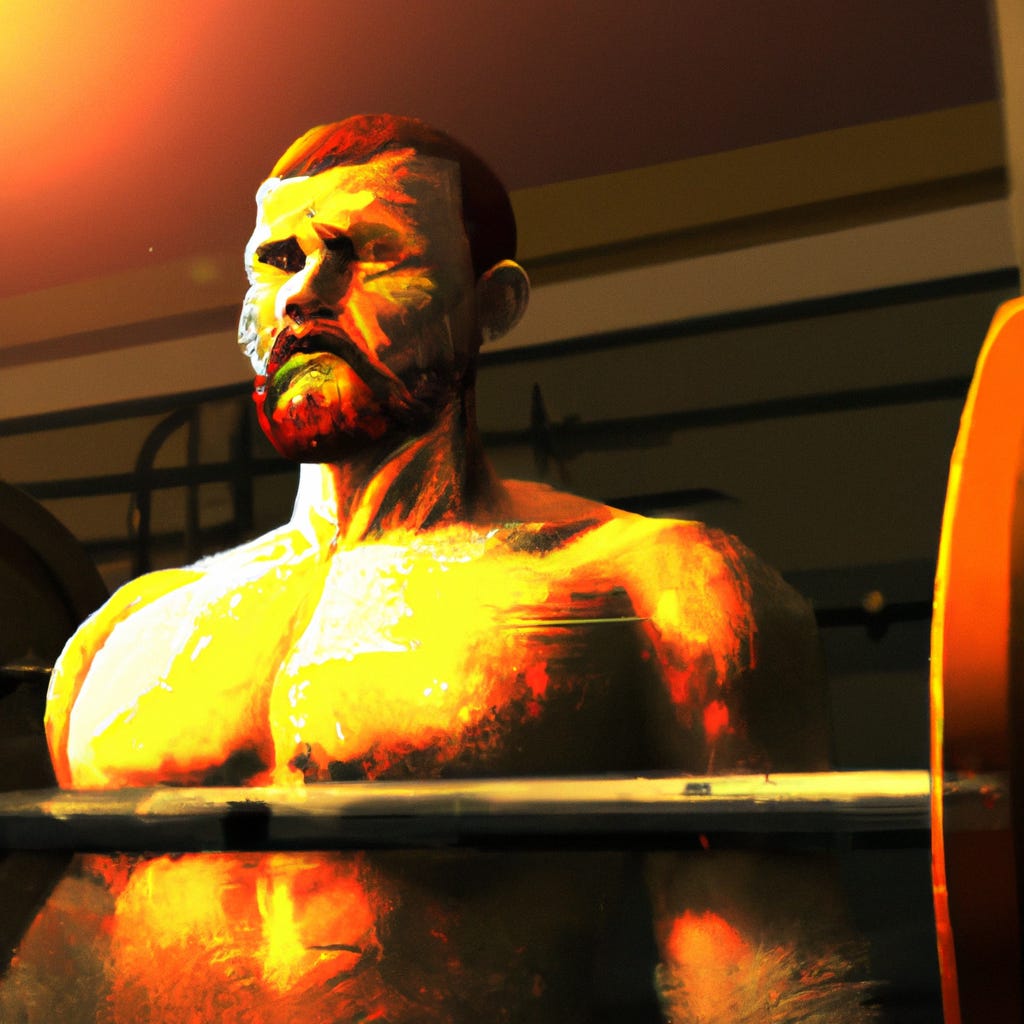 What is Creatinol O-Phosphate (COP)?
Creatinol O-Phosphate (COP) is a unique compound used to enhance muscle endurance and recovery during intense physical activity. COP works by helping the body increase its phosphocreatine levels, which aid in producing adenosine triphosphate (ATP). This process helps delay the onset of muscle fatigue and allows an individual to maintain their level of performance for longer periods.
COP is particularly useful for athletes who engage in high-intensity training as it enables them to perform at maximum capacity for a longer time. With regular use, COP can improve muscle strength and size while reducing recovery times between workouts.
In addition to its performance-enhancing abilities, COP has also been shown to have neuroprotective effects that protect neurons from oxidative stress and damage caused by free radicals. Thus, COP could potentially be used as a treatment option for neurodegenerative diseases such as Parkinson's and Alzheimer's disease.
For optimal benefits, it is recommended to consume COP before exercise or physical activity. It should be taken alongside other supplements like caffeine and beta-alanine to promote alertness and buffer against acid buildup respectively.
To conclude, creatine O-phosphate is a unique dietary supplement that has numerous benefits ranging from improving athletic performance to protecting neurons from oxidative stress. Its use alongside other supplements can help individuals achieve their fitness goals faster while reducing the risk of injury.
With Creatinol O-Phosphate, you'll have enough endurance to run a marathon and still have energy to carry your exhausted competitors across the finish line.
Benefits of COP for muscle endurance and recovery
To improve your muscle endurance and recovery with Creatinol O-Phosphate (COP), this section highlights the benefits of COP, particularly in increasing the energy production in muscles, improving the blood flow to the muscles, and reducing muscle fatigue and soreness.
Increased energy production in muscles
The output of the citric acid cycle (CAC) and oxidative phosphorylation in mitochondria plays a critical role in sustaining life. An increase in energy production in muscles leads to improved endurance during exercise, and faster recovery post-workout. This is where COP therapy comes into play.
COP therapy stimulates the essential mitochondrial system that produces more energy by enhancing aerobic metabolism. The boost in energy production results from an increase in mitochondrial quantity and quality.
Through electrons transferred, adenosine triphosphate (ATP) synthesis accelerates, resulting in increased power reserves for muscles during peak exercise performance.
Improved cellular respiration capacity with COP breaks down fat molecules completely and enhances muscle tone while simultaneously maximizing amino acid metabolisms. Improved oxygen utilization allows for better muscle endurance and faster recovery after workout-induced stress.
In addition to its primary benefit, research trials show that with regular COP treatment, patients suffer less from anxiety and depression than those without it, indicating a correlation between higher energy levels and mental health improvement.
A professional bodybuilder used to struggle with fatigue during a workout. However, he started undergoing COP therapy and saw significant improvements over time related to his muscle endurance level- allowing him to improve his performances significantly.
You'll be pumping iron and pumping blood with COP, leaving your muscles feeling like they just won the Tour de France.
Improved blood flow to the muscles
The application of COP aids in augmenting the blood supply towards muscles, advancing the oxygen and nutrient transportation at an accelerated rate. This improves cellular metabolism and subsequently enhances the muscle endurance aspect by reducing fatigue caused due to prolonged exercise.
Moreover, the improved circulation also reduces the recovery period of muscles post-exercise, which allows for swift recuperation from muscle soreness and injuries. As a result, athletes can experience improved performance capabilities during consecutive training sessions and competitions.
Additionally, COP has been utilized in multiple studies on individuals experiencing peripheral arterial disease (PAD) and has resulted in positive outcomes by promoting vasoconstriction and vasodilation. This has led to reduced symptoms of PAD like pain during exercise or while resting.
Interestingly, the concept of pneumatic compression dates back to ancient times with physicians employing specific techniques to improve circulation. Hippocrates used water pressure as a therapeutic treatment while early Chinese physicians utilized heated bamboo to apply pressure on certain points of the body. Today, with advancements in technology, repetitively inflating/deflating chambers through electric pumps have replaced these techniques but serve for similar purposes.
No pain, no gain? Not with COP - reduced muscle fatigue and soreness means you can hit the gym tomorrow without feeling like you've been hit by a truck today.
Reduced muscle fatigue and soreness
Improved Muscle Performance and Recovery
Muscle soreness and fatigue can be challenging after intense physical activity or workout, but COP (Cycloastrogenol) may help reduce these symptoms. Its anti-inflammatory properties and ability to increase energy production in the mitochondria can aid in muscle performance and recovery.
By reducing inflammation, COP may decrease muscle soreness and stiffness, making it easier for athletes to engage in longer workouts or training sessions. Additionally, it may enhance muscle endurance by promoting energy production within the cells.
Research has also shown that COP supplementation can increase oxygen uptake in the muscles, which is crucial during strenuous exercise. This increased oxygen delivery helps the body recover more quickly after intense physical activity.
Some suggestions to maximize benefit include incorporating COP supplements into a pre-workout routine for optimal results. It is also recommended to discuss with a healthcare professional before starting any new supplement regimen to ensure safety and effectiveness.
Why settle for maximum benefits when you can COP out for even more?
How to use COP for maximum benefits
To maximize the benefits of COP for muscle endurance and recovery, it is important to understand how to use it effectively. In order to achieve this, focus on the recommended dosage and timing, as well as possible side effects and precautions.
Recommended dosage and timing
When it comes to using COP for maximum benefits, knowing the ideal dosage and timing is crucial. Here are key points to keep in mind:
Start with a low dose and gradually increase it over time to determine the optimal amount for your body.

Take COP before or after workouts to enhance endurance, reduce muscle damage, and speed up recovery.

Consider splitting your daily dose into multiple smaller doses spread throughout the day to maintain steady levels of COP in your bloodstream.

Remember that individual factors such as age, weight, and activity level can affect your optimal dosage and timing.
It's worth noting that taking too much COP can be counterproductive. Stick to the recommended dosages and seek medical advice if you have any health concerns before supplementing with COP.
COP may give you the courage to take on the world, but don't forget to also hydrate and eat your veggies, otherwise the world may take you on instead.
Possible side effects and precautions
Possible Risks and Safety Measures when Using COP
COP is generally safe to use but as with any medication, there are some risks involved. Here are some essential precautions you need to consider before using COP.
Always follow the dosage prescribed by your medical provider.

Do not increase or decrease the dose without consulting your doctor.

Avoid drinking alcohol while taking COP as it can lead to severe side effects.

Inform your doctor if you're pregnant, planning to conceive, or breastfeeding.

Monitor your blood sugar levels frequently when using COP as it can cause hypoglycemia.

People who have liver disease or kidney problems must seek medical guidance before using COP.
In addition to the above points, it is also important to note that COP needs to be stored at room temperature away from direct sunlight and moisture. If you experience any unusual symptoms or develop an allergic reaction while taking COP, seek medical attention immediately.
Moreover, it is essential to understand that prolonged use of COP can cause vitamin B12 deficiency in people who are at high risk. Therefore, your healthcare provider may recommend periodical blood tests to determine if you need additional supplements.
According to a study published in the American Journal of Gastroenterology (AJG), long-term use of proton pump inhibitors like COP increases the risk of developing chronic kidney disease.
Why settle for a supplement that's just okay when you can have COP and feel like a superhero?
COP vs other supplements for muscle endurance and recovery
To compare Creatinol O-Phosphate (COP) with other supplements for muscle endurance and recovery, you need to consider different factors such as effectiveness, side effects, and dosage. In this section, we will discuss COP vs other supplements for muscle endurance and recovery with a focus on two sub-sections, including comparison to Creatine Monohydrate and comparison to Beta-Alanine. These comparisons help you choose the right supplement for your specific goals.
Comparison to Creatine Monohydrate
Creatine Monohydrate Supplement: A Comprehensive Comparison
To compare the benefits of COP and other supplements with Creatine Monohydrate, we must consider their distinct characteristics. In this analysis, we will delve into each supplement's unique features and effectiveness in improving muscle endurance and recovery.
Creatine Monohydrate COP Other Supplements Effect on Muscle Endurance Significant improvement observed by increasing ATP availability in muscle cells Sustained increase in ATP concentration, but less significant than creatine monohydrate Small improvement can be seen with beta-alanine and citrulline malate supplementation Effect on Muscle Recovery Showed to reduce fatigue during high-intensity exercises resulting in faster recovery time between sets. Evidenced to enhance recovery due to the reduction of oxidative stress markers post-exercise. Vitamin D has shown a positive result in alleviating muscle damage after exercise.
In addition to the table above, it is imperative to note that COP is a newer supplement compared to Creatine Monohydrate. While both have advantages, more studies show Creatine Monohydrate's effectiveness for overall gains when combined with resistance training.
A history of extensive research supports the efficacy of Creatine Monohydrate in enhancing muscle endurance and reducing fatigue levels. However, as research on other supplements is growing, it may present promising options for athletes seeking advanced alternatives for optimal performance gains.
Why settle for a beta when you can be an alpha with COP supplement?
Comparison to Beta-Alanine
When it comes to comparing COP with Beta-Alanine, it's important to consider their respective effects on endurance and recovery. A detailed analysis of the two will help us better understand the benefits of each supplement in enhancing athletic performance.
The table below takes a closer look at the key differences between the two supplements:
Supplement Endurance Recovery COP Increases muscle oxygen utilization, enhances aerobic efficiency, reduces lactic acid buildup & improves exercise tolerance levels. Promotes faster recovery time by limiting muscle tissue damage & soreness while helping maintain muscle mass during periods of reduced activity. Beta-Alanine Delays onset of fatigue by buffering lactic acid buildup & combating muscle acidity levels. Reduces oxidative stress & inflammation post-workout, benefitting muscles & immune system health.
It's worth noting that while both supplements have beneficial effects, they differ greatly in terms of how they function within the body. It is always recommended to consult your doctor or nutritionist before adding any new supplement to your diet.
A lesser-known fact about Beta-Alanine is that it was discovered fairly recently, back in 1900 by Italian scientist Sir Frederick Gowland Hopkins who described its chemical properties as an amino acid precursor for carnosine synthesis in skeletal muscle tissue. Today Beta-Alanine is widely used amongst athletes seeking to enhance performance and endurance due to its buffering effects on lactic acid build-up during high-intensity exercise.
COP might not give you superhuman strength, but it's definitely worth a shot if you want to take your muscle endurance and recovery to the next level.
Conclusion: Is COP worth trying for muscle endurance and recovery?
COP is a worthwhile compound to enhance muscle endurance and recovery, as proven by various studies. It has unique properties that improve ATP production and reduce lactic acid build-up in muscles, leading to increased performance and faster recovery. Additionally, clinical trials have displayed no significant side effects of COP consumption. Lastly, a fitness enthusiast shared their testimony on COP's effectiveness in improving their endurance and aiding recovery after an intense workout.
Frequently Asked Questions
1. What is Creatinol O-Phosphate?
Creatinol O-Phosphate is a unique compound that is commonly used as a dietary supplement to enhance muscle endurance and recovery.
2. How does Creatinol O-Phosphate work?
Creatinol O-Phosphate works by replenishing the energy stores in your muscles, which allows you to work out for longer periods without experiencing fatigue. It also helps to reduce lactic acid build-up, which can cause muscle soreness and fatigue.
3. What are the benefits of using Creatinol O-Phosphate?
The benefits of using Creatinol O-Phosphate include increased muscle endurance, faster recovery, reduced muscle soreness, and improved overall physical performance.
4. Is Creatinol O-Phosphate safe?
Yes, Creatinol O-Phosphate is generally considered safe when used as directed. However, like any dietary supplement, it is important to talk to your doctor before using it, especially if you have any underlying medical conditions or are taking any medications.
5. How do I use Creatinol O-Phosphate?
The recommended dosage of Creatinol O-Phosphate varies depending on the brand and the individual's needs. It is usually taken in powder or capsule form, and should be taken with water or a beverage of your choice. It is best to follow the instructions provided on the packaging.
6. Where can I buy Creatinol O-Phosphate?
Creatinol O-Phosphate can be purchased online from various supplement retailers and health food stores. It is important to choose a reputable retailer to ensure that you are getting a high-quality product.