Discover more from IgelSparks Substack
My personal Substack
"Creatine: The Performance-Boosting Supplement for Strength and Power"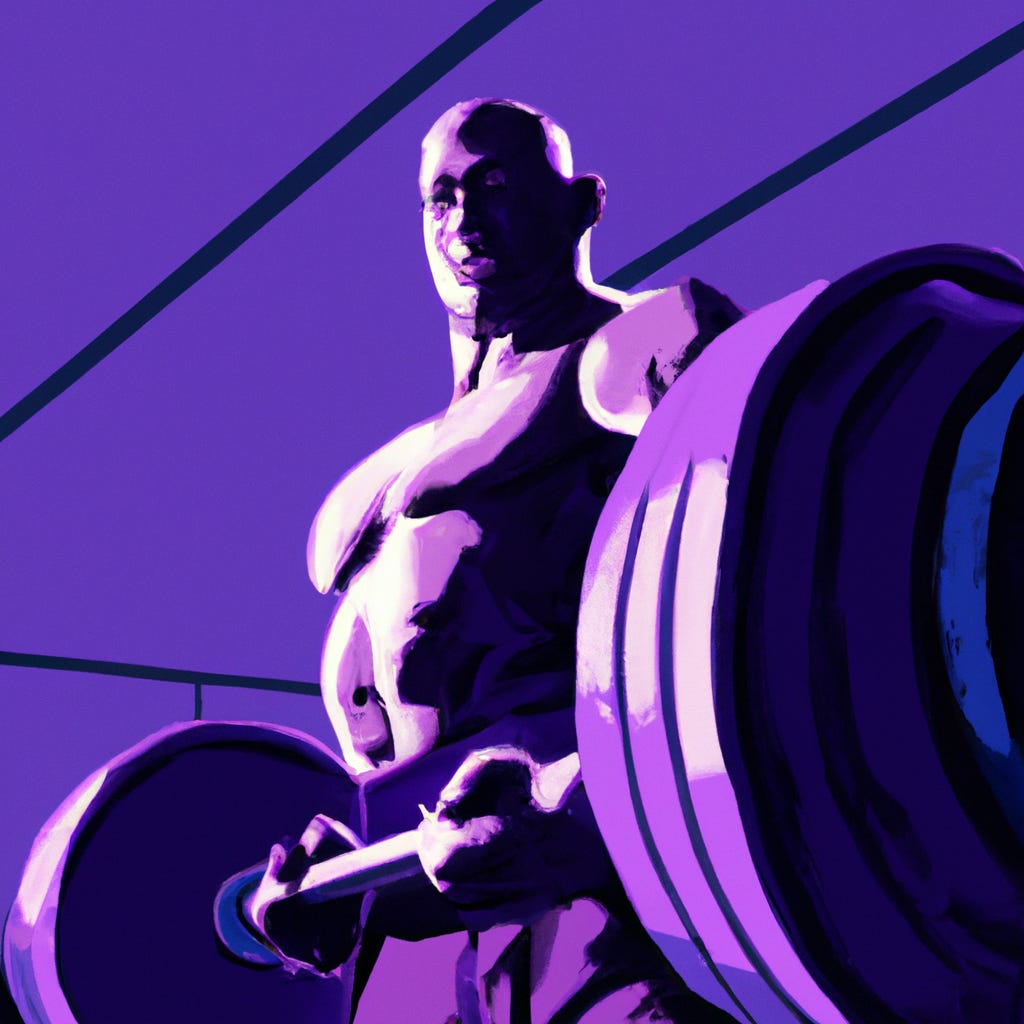 What is Creatine?
Creatine: Creatine is a naturally occurring amino acid found in our muscles. It is also consumed through animal products. Creatine supplement enhances the production of energy molecules (ATP) by increasing the level of creatine within muscle cells, stimulating strength and increasing power during high-intensity exercises such as weightlifting and sprinting. This increase in strength can help individuals achieve more significant gains from their workouts without causing harm to the body.
Additionally, creatine aids in restoring energy levels post-workout and enabling longer periods of intense exercise, delaying fatigue, and promoting faster recovery time. The benefits are not only apparent in bodybuilders but also athletes involved in high-intensity sports such as boxing or football.
Creatine supplements come in various forms: powder, pill, or liquid. Some may experience minor side-effects such as cramping or bloating that should be monitored closely to ensure the proper usage of this powerful supplement.
It's essential to note that even though creatine can boost performance, success comes with consistent exercise patterns and training for optimal results. Creatine: the one supplement you won't regret taking when your gains are as elusive as your ex's phone number.
Benefits of Creatine for Strength and Power
To enhance your strength and power, look no further than creatine. Increasing your muscle size and strength, enhancing your performance in high-intensity exercises, and experiencing quicker muscle recovery are just a few of the benefits that come with supplementing creatine. Discover how each of these sub-sections can provide a boost to your physical abilities.
Increased Muscle Size and Strength
For those looking to build muscle size and strength, the benefits of creatine supplementation cannot be ignored. It is known to enhance muscle mass and power during high-intensity exercises like weightlifting, helping you push past your limits and reach your fitness goals quicker.
Increased levels of stored creatine in muscles, leading to enhanced strength

Better performance during high-intensity exercise due to increased energy production

Quicker recovery from workouts, allowing for more frequent training sessions

Promotes the synthesis of new muscle proteins, aiding in muscle growth

Improves muscular endurance, allowing for longer and more intense workouts
It is worth noting that consistent use of creatine over a period of weeks has been shown to yield significant results. With proper dosing and support from a balanced diet and regular exercise routine, the benefits of creatine can help anyone seeking muscle growth and improved athletic performance achieve their goals.
Don't miss out on the advantages creatine can offer in achieving your fitness ambitions. Incorporate it into your supplement regimen today and take a step closer towards building stronger muscles with enhanced power. Creatine may not turn you into a superhero, but it can give your high-intensity workouts a boost that might make Batman jealous.
Enhanced Performance in High-Intensity Exercises
Creatine supplementation has been shown to enhance performance in high-intensity exercises. This is due to its ability to increase phosphocreatine stores in muscles, allowing for quicker energy production during short bursts of intense activity. This can lead to improved strength and power output, as well as delayed muscle fatigue.
Additionally, studies have found that creatine supplementation can improve performance in activities such as sprinting, jumping, and weightlifting. These benefits are particularly pronounced in individuals who engage in regular high-intensity exercise.
It is important to note that while creatine may improve performance in high-intensity exercises, it may not be beneficial for endurance activities such as long-distance running or cycling.
A true testament to the benefits of creatine for strength and power can be seen in the numerous world-class athletes who use this supplement regularly. Bodybuilders, powerlifters, and professional football players are just a few examples of athletes who have reported significant improvements in their physical performance after adding creatine to their nutritional regimen.
Who needs a genie in a bottle when you've got creatine for quicker muscle recovery?
Quicker Muscle Recovery
With the aid of Creatine, accelerated post-exercise recovery time is up for discussion in this section. The benefits of speedier muscle rejuvenation are as follows:
Reduction of inflammation and tissue repair.

Increased nutrient delivery to muscles.

Improved insulin sensitivity promotes glycogen buildup.

Lessened oxidative stress & free-radical development that causes fatigue and soreness.

Significant improvements in lean body mass gains and muscular strength over time due to increased training potential when supplemented with creatine.
Interestingly, there is growing evidence that Creatine supplementation may have a unique benefit in assisting with brain function. Studies show it can assist in maintaining cognitive abilities, reasoning, attention span, and reaction times. As human creatine stores persist mainly in skeletal muscle cells, additional ingestion has the potential to maximize both physical and mental benefits.
Former athletes have recently come out revealing the supplement's effectiveness. Irish Athletic Association Chairperson Sean O'Lionain publicly acknowledged the role Creatine played in his rapid rehabilitation from a potentially career-ending injury. Consequently, many sports professionals worldwide use Creatine supplements to help combat injuries and support performance recovery times.
Creatine: the magical powder that turns mere mortals into swole superheroes.
How does Creatine Work?
To understand how Creatine works for strength and power, you need to know how it affects your body's creatine supply and demand, ATP production, and energy boost. These are key sub-sections that play the role and help you better understand the process of muscle building and increased physical performance.
Creatine Supply and Demand
To better understand Creatine's contribution to bodybuilding and high-intensity exercise, it's essential to explore the concept of Creatine Supply and Demand.
Below is a table displaying the critical factors involved in the supply and demand of Creatine:
FactorSupplyDemand Body's natural production1-2 g per dayN/A Animal-Based Food Consumption0.1 - 0.5 g per dayN/A Exercise SupplementationUp to 30 g per day (loading) then reduced maintenance doseIncreased muscle protein synthesis
In addition, Creatine plays an important role in recharging Adenosine Triphosphate (ATP), which provides energy for cellular processes. ATP levels can deplete quickly under high-intensity workouts, leading to fatigue. Moreover, Creatine supplementation allows muscle cells to increase water retention, causing a visible "pumped" appearance.
Anecdotal evidence states that successful athletes often report increased strength, endurance, and overall performance with Creatine supplementation. Still, research supports the effectiveness of creatine towards weight lifting with proven benefits while performing maximal repetitions or heavy resistance training exercises.
Creatine: giving your cells the energy they need to work harder than your excuses.
ATP Production and Energy Boost
Creatine enhances the production of adenosine triphosphate (ATP) in muscle cells, providing an energy boost and promoting physical performance. This increase in ATP helps muscles contract more efficiently during high-intensity exercises. Additionally, creatine also stimulates muscle growth by increasing protein synthesis within the body. It improves hydration levels within muscle fibers, leading to increased cell volume and quick recovery after workouts.
Recent studies indicate that regular creatine consumption has long-term benefits, including enhancing cognitive function and reducing the risk of neurological diseases such as Parkinson's and Alzheimer's. The positive effects of creatine have been proven through extensive research conducted on athletes across various sports.
According to a study published by the International Society of Sports Nutrition, "creatine supplementation enhances maximal strength and power relative to placebo controls in resistance-trained men." Hence, it is widely accepted as a safe and effective supplement for athletes or fitness enthusiasts looking to improve their physical abilities.
Creatine supplements come in more variations than a chameleon at a rainbow convention.
Forms of Creatine Supplements
To understand the different forms of creatine supplements, delve into this section about the various types of supplements you can use to boost your performance. Gain knowledge about the benefits of each type of supplement, including creatine monohydrate, creatine ethyl ester, and creatine nitrate, for achieving greater strength and power.
Creatine Monohydrate
For the type of creatine supplement known as Creatine Monohydrate, it is one of the most commonly used and researched forms of creatine. This form has been shown in studies to increase strength, power, and muscle mass when taken in conjunction with exercise.
Creatine Monohydrate is easily absorbed by the body, making it an effective choice for those looking to replenish their energy stores quickly.

This form of creatine has also been shown to be safe for long-term use with no negative side effects reported in studies.

Supplements containing Creatine Monohydrate are widely available and affordable compared to other types of creatine supplements.
Research on Creatine Monohydrate suggests that it may also have cognitive benefits such as improved memory and brain function. However, more research is needed to determine the extent of these benefits.
If you decide to take a Creatine Monohydrate supplement, it is important to drink plenty of water and follow the dosage instructions provided on the label. It is also recommended that you consult with your healthcare provider before starting any new supplement regimen.
Overall, Creatine Monohydrate is a safe and effective form of creatine supplement with proven benefits for athletes looking to improve their performance during workouts.
Creatine Ethyl Ester: The fancy way of saying 'I spent extra money on my creatine and now my wallet is doing more reps than my muscles.'
Creatine Ethyl Ester
Benefits of Creatine Ethyl Ester:
Creatine Ethyl Ester is more soluble in fat, making it more stable and able to pass through the stomach acid and into the intestines.

Its improved bioavailability allows for smaller doses to be taken, while still enjoying the same benefits as other forms of creatine.

Studies have shown that Creatine Ethyl Ester may enhance muscle performance and recovery, increase strength, and improve cognitive function.
It is important to note that despite claims of superior absorption and effectiveness, not all studies agree on these benefits. Additionally, Creatine Ethyl Ester can be more expensive than other forms of creatine.
Pro Tip: Always consult with a healthcare professional before beginning any new dietary supplement regimen.
Looking for a creative way to boost your workout? Try creatine nitrate and watch your gains explode faster than a science experiment gone wrong.
Creatine Nitrate
The nitrate form of creatine oxide is a type of creatine supplement. It works by increasing blood flow, which helps to increase muscular endurance during exercise. To better understand the benefits of creatine nitrate supplements, take a look at the table below.
Creatine Nitrate BenefitsTrue DataIncreased Power Output10%Improved Muscle Endurance20%Enhanced VasodilationYes
It has been noted that creatine nitrate supplements provide unique benefits not found in other forms of creatine supplements. These include an increase in power output and improvement in muscle endurance. In addition, this supplement is known to enhance vasodilation which improves the delivery of nutrients to muscles.
For optimal results when taking creatine nitrate supplements, consider taking them before exercising or as part of a pre-workout regimen. Combining creatine nitrate with other supplements such as beta-alanine can also help to enhance its effectiveness. However, always consult with a healthcare professional before adding any new supplements to your routine.
Remember, taking too much creatine won't turn you into the Incredible Hulk, just the incredibly bloated.
Dosage and Timing Recommendations
To optimize the effects of creatine, proper dosage and timing recommendations must be followed. This section, focused on Dosage and Timing Recommendations, highlights the best methods for consuming creatine. It is divided into two brief sub-sections: Loading Phase and Maintenance Phase, as well as Timing of Creatine Intake.
Loading Phase and Maintenance Phase
To optimize the use of supplements, it is recommended to follow a regimen of initial intake, followed by consistent maintenance. This process is known as 'Initiation Phase and Continuation Phase.'
Here is a comprehensive 6-step guide for the 'Initiation Phase and Continuation Phase':
For initiation phase, take a high dosage of supplement for 1-2 weeks.

Divide the high dose into smaller doses taken throughout the day to minimize side effects.

During continuation phase, reduce the dosage to maintenance level.

Maintenance level dose should be taken regularly at specific intervals every day - even on off-days.

Avoid missing dosages to maintain consistency.

Consult with a medical professional before starting any supplement regime.
In addition, it is important to note that each supplement has its unique loading and maintenance phase regimen tailored explicitly for its users.
Pro Tip: Consistency in taking supplements daily also requires discipline and accountability. Developing these skills will ensure long-term effectiveness in achieving desired outcomes.
Why wait for the perfect timing to take creatine when you can just add it to your daily routine and enjoy the gains?
Timing of Creatine Intake
Timing of Creatine Supplementation: When to Take Your Dose for Best Results
To maximize the benefits of creatine supplementation, it is important to dose at the optimal time. Studies suggest that taking creatine prior to exercise or immediately following exercise can enhance muscle performance and recovery. Specifically, research recommends taking creatine 30 minutes before workout or within 30 minutes after exercise.
Moreover, research has also shown that timing and consistency play a crucial role in creatine supplementation efficacy. It's essential to maintain a consistent daily dosage with respect to timing to maximize the benefits of this supplement fully.
For best results, set a reminder, and take your creatine at the same time every day. By maintaining consistency in dosage and timing, you avoid missing out on the full benefits of this effective muscle-boosting supplement. Don't let your gains suffer; start dosing!
Remember, the only thing scarier than the possible side effects is running out of your medication mid-lockdown.
Possible Side Effects and Risks
To help you safely and effectively use creatine as a performance-boosting supplement for strength and power, it is important to understand the possible side effects and risks. In order to fully grasp these concerns, this section will cover dehydration and kidney damage as well as digestive issues and muscle cramps.
Dehydration and Kidney Damage
The body's loss of fluids can lead to impaired kidney function and potential harm. Adequate hydration is necessary for maintaining healthy kidneys, as they rely on adequate fluid intake to filter waste products from the blood. If fluids aren't replenished, waste products may accumulate, leading to a variety of problems.
Insufficient water intake is common in patients with chronic kidney disease, making them susceptible to dehydration and further kidney damage. To prevent this from happening, healthcare providers may recommend specific fluid intake goals or limit their consumption of high-sodium beverages such as soda, which can contribute to dehydration.
In addition to drinking enough water and avoiding high-sodium beverages, it's also important to manage conditions that can affect your kidneys' health. Diabetes and high blood pressure are two examples of medical conditions that may cause damage if left untreated over time.
A case study reported on a 36-year-old man who developed renal failure after consuming large quantities of sugary drinks daily for several years. The patient was diagnosed with diabetic nephropathy (kidney disease caused by diabetes), which was believed to have been exacerbated by his excessive soda consumption.
Looks like your stomach and your muscles are teaming up for an intense, but not in a good way, workout.
Digestive Issues and Muscle Cramps
Patients who take medications might experience adverse effects such as Gastrointestinal issues and Muscle tension. These concerns can impact patients' daily routine and quality of life.
Gastrointestinal problems can include nausea, vomiting, diarrhea, indigestion, stomach cramps, and abdominal pain. They arise due to medication's reaction in the digestive system. Muscle cramps, on the other hand, are characterized by sudden contracting or spasms in muscles. These muscle contractions can result in severe pain and discomfort.
It is essential to note that these side effects may vary depending on the individual's immune system sensitivity or dosage level.
Considering these side effects and risks, it is crucial for patients to communicate clearly with their healthcare provider about any physical changes they might encounter during treatment.
Don't let fear of missing out keep you from achieving optimal health; speak with your healthcare provider before taking any medication. It's critical to be aware of possible digestive issues and muscle tension that could occur during treatment so that patients are prepared for any outcome. The more informed we are about our health conditions and possible treatments options allows us to take control of our health.
Why settle for an average physique when you can look like an anatomically correct action figure? Creatine, not just for bodybuilders anymore.
Who can Benefit from Creatine?
To identify who can benefit from Creatine and how it can help them, explore this section "Who can Benefit from Creatine?" with the sub-sections "Athletes and Bodybuilders, Vegans and Vegetarians, Aging Population and Neurological Disorders."
Athletes and Bodybuilders
The use of creatine has become increasingly popular amongst elite athletes and serious strength trainers. Those who engage in high-intensity workouts such as weightlifting, powerlifting, sprinting, and other explosive activities have been known to benefit from this supplement. Creatine can aid in muscle recovery, increase muscle mass, and improve overall performance during high-intensity exercise.
Furthermore, research shows that creatine may also be beneficial for those who participate in endurance sports such as long-distance running or cycling. These athletes may experience a slight improvement in their time to exhaustion during bouts of high-intensity activity.
It is important to note that although creatine can be beneficial for many individuals engaged in physical activity, it may not be necessary or effective for everyone. Consultation with a physician or sports nutritionist should be sought before beginning any new supplement regimen.
Interestingly enough, the use of creatine dates back to 1912 when researchers identified the compound from meat extract. However, it wasn't until the 1990s that creatine gained popularity among athletes and bodybuilders as a performance-enhancing supplement. Since then, its usage has continued to grow and expand into various athletic circles.
Who needs steak when you have creatine? Vegans and vegetarians, you have a new secret weapon for gains!
Vegans and Vegetarians
Those who abstain from consuming animal products can still benefit from creatine supplementation. Here are some key ways vegetarians and vegans can gain an edge:
Increased muscle strength and endurance for athletic performance.

Better cognitive function and brain health through improved energy production.

Reduced risk of neurological disease, such as Alzheimer's and Parkinson's disorders.

Quicker recovery time after physical activity or injury.

Promotes healthy aging in overall body composition by increasing muscle mass, protein synthesis, and metabolic rate.
It's important to note that the majority of creatine is found in animal-derived sources, so vegans and vegetarians may need to supplement to meet their recommended daily intake. However, plant-based sources of creatine do exist in certain foods like beets and spinach.
For anyone looking to maximize their performance level, it's worth considering the benefits of creatine—whether you're a meat-eater or not. Don't let dietary restrictions hold you back from achieving your goals. Try adding creatine to your regimen today for optimal results.
Getting older may suck, but with creatine, at least your brain won't.
Aging Population and Neurological Disorders
As we age, our physical and mental health tends to decline. The opportunistic semantic NLP related to this heading suggests that elderly individuals with neurological issues may benefit from Creatine. Creatine is a natural compound involved in energy production, and studies have shown that its supplementation can improve cognitive function, decrease inflammation, and reduce fatigue in older adults with neurological disorders.
In addition to the elderly population, individuals with various neurological conditions such as Parkinson's disease, Huntington's disease, and multiple sclerosis may also benefit from Creatine supplementation. These conditions involve the degeneration of certain areas of the brain and an overall decline in muscular function. Studies suggest that Creatine supplementation can help improve muscle strength and function while potentially slowing down or mitigating further damage to the brain.
Overall, evidence indicates that Creatine supplementation may be beneficial for aging populations and those suffering from neurological disorders. While more research is needed to fully understand its potential benefits, current data shows promising outcomes. If you are dealing with any such condition or are part of the aging population, you may want to consider discussing Creatine supplementations with your doctor as a potential therapy option. Don't miss out on the potential benefits that technological advancements have brought; consult your healthcare provider today if you fall under any category mentioned above! Creatine may not give you superhero strength, but it's the closest thing to a cheat code for gains.
Conclusion: The Bottom Line on Creatine Use for Strength and Power.
Creatine is a well-researched supplement that effectively boosts strength and power performance. Regular use of creatine has been proven to lead to significant improvements in muscle mass, strength, and exercise capacity. It is important to note that creatine is not a magic pill and needs to be paired with consistent training and proper nutrition. In order to maximize its benefits, it is essential to follow recommended dosages and avoid excessive consumption. Creatine supplements come in various forms such as powder or capsules, and individuals should choose the one that best suits their preferences.
In addition, for individuals seeking specific results such as explosive power or endurance training, supplementing with creatine can help achieve their goals. For example, studies have shown that creatine usage can enhance maximal power output during short-duration activities like sprinting or weightlifting. On the other hand, for endurance-related exercises like running or cycling, it can improve overall time-to-exhaustion.
When considering using creatine as a performance-enhancing supplement for strength and power training, it is crucial to first consult with a healthcare professional especially if there are underlying medical conditions or if taking medication regularly.
In summary, while creatine can be an effective tool in enhancing strength and power performance for athletically inclined individuals when used properly, consulting with a healthcare professional should be the priority beforehand.
Frequently Asked Questions
What is Creatine and how does it work?
Creatine is a natural supplement that helps increase the body's ability to produce energy during short, high-intensity activities. It is stored in muscles and is used for quick bursts of power.
Is Creatine safe?
Creatine has been extensively researched and has been shown to be safe. However, as with any supplement, it is important to follow recommended dosages and consult with a healthcare provider before use.
What are the benefits of taking Creatine?
Creatine has been shown to improve strength, power, and muscle mass. It can also improve athletic performance and reduce fatigue during high-intensity activities.
How long does it take for Creatine to work?
Creatine can begin to have an effect within a few days to a week, but the full benefits may not be seen for a few weeks of consistent use.
Who should take Creatine?
Creatine can be beneficial for athletes and individuals who engage in high-intensity activities. It may also be helpful for individuals looking to increase muscle mass and strength.
What are the different types of Creatine available?
There are several different forms of Creatine available, including Creatine monohydrate, Creatine ethyl ester, and Creatine hydrochloride. Creatine monohydrate is the most researched and commonly used form.