Discover more from IgelSparks Substack
My personal Substack
"Copper: The Essential Trace Mineral for Overall Health and Vitality"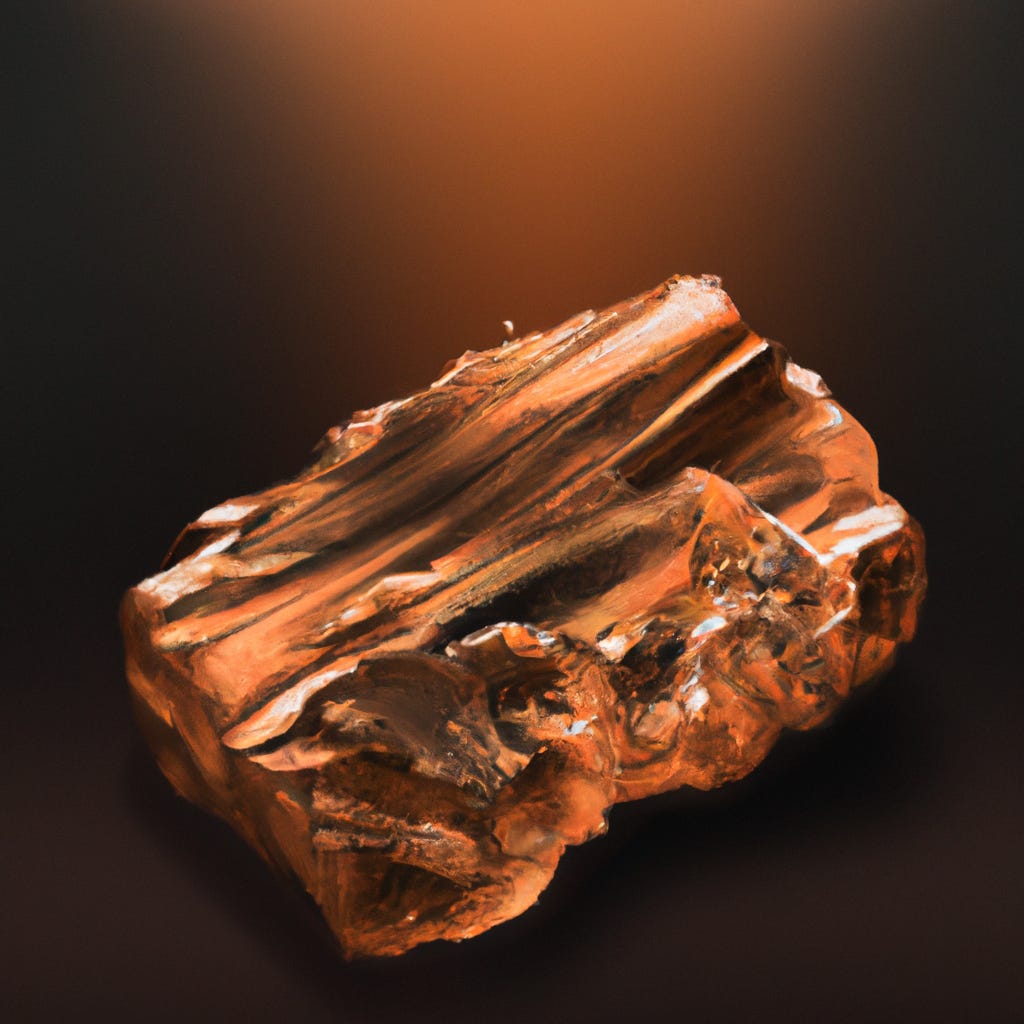 Importance of Copper in Human Health
Copper is a crucial trace mineral required for optimal human health and vitality. Its various essential functions include iron utilization, formation of connective tissue, and nerve function regulation. A scarcity of this mineral can lead to severe health issues such as anemia and osteoporosis.
In addition to its vital role in overall health, copper has the power to boost our immune system and enhance our body's natural defense mechanism against infections. Moreover, Copper helps maintain the structure of blood vessels by improving their elasticity, reducing the risk of cardiovascular disease.
Interestingly, Copper's role in red blood cell production promotes rapid healing of open wounds and injuries. Its anti-inflammatory properties enable it to relieve arthritis pain and inflammatory bowel syndrome.
Without adequate copper consumption daily, we run the risk of developing various health disorders that could potentially affect our everyday life drastically. Therefore, it is imperative that we make sure we are incorporating copper-rich foods such as nuts, seeds, whole grains, legumes, shellfish in our everyday meals.
By incorporating natural sources of copper into our diet every day will thus guarantee us optimal well-being by promoting good bone structure, thick hair growth as well as boosting collagen development. Hence providing robust support for healthier organ structures - overall securing better physical and mental fitness for years to come!
Who needs a lucky penny when you can get your daily dose of copper from cashews, dark chocolate, and beef?
Sources of Copper
To ensure you get enough copper in your diet, your best bet is to look at dietary sources of copper as they are considered the most effective way to boost your copper intake. Copper supplements can also be an option, but it's important to understand these choices first. In the following subsections, we will explore the benefits of dietary sources of copper and the considerations you should keep in mind when taking copper supplements.
Dietary Sources of Copper
Copper is an essential mineral for the human body and can be obtained through various dietary sources. Here are some natural sources of copper that can be included in your diet.
Food Copper Content (per 100 grams) Liver (beef) 12 mg Oysters 3 mg Mushrooms 1.5 mg Pistachios (roasted) 1.3 mg
Other sources of copper include nuts, seeds, seafood, whole grains, beans, and chocolate. It is recommended to consume 900 mcg of copper per day for adults.
It is important to note that excessive intake of copper may lead to health problems such as nausea, vomiting, and liver damage. Therefore, it is essential to consume copper within the recommended limits.
Notably, including liver in your diet is one of the best ways to boost your copper levels naturally. One hundred grams of beef liver provides 12 mg of copper which is more than ten times the daily recommended value.
If you're looking to add some shine to your life, forget diamonds, copper supplements are the new best friend.
Copper Supplements
Copper is an essential element that our body needs for various functions. To supplement copper, there are several options other than dietary intake. Copper-infused products, copper water bottles and glasses are some popular options.
Moreover, copper supplements in the form of tablets or capsules are also available in the market. These supplements contain a regulated dose of copper that can help individuals who do not meet their daily copper requirement through diet alone.
It is important to note that excessive consumption of copper supplements can be harmful to health. Therefore, it is advisable to consult a healthcare professional before incorporating them into your routine.
Copper from dietary sources like nuts, seeds, seafood and organ meats is considered safer than supplements. However, it may be challenging for vegans and vegetarians to get sufficient amounts from food alone.
According to research conducted by the United States Department of Agriculture (USDA), the highest sources of dietary copper include oysters, liver, cocoa powder and beans.
Copper: the metal that not only gives your pennies their worth, but also keeps your body functioning properly.
Functions of Copper in the Body
To understand the importance of copper in maintaining overall health and vitality, dive into the functions of copper in the body with a focus on its role in energy production, skin and hair health, and bone health. These sub-sections will explore the different ways copper contributes to the proper functioning of these bodily systems.
Copper's Role in Energy Production
Copper's essentiality in metabolic processes is beyond imagination. Energy metabolism, one of its primary functions, includes mobilizing iron, activating enzymes like cytochrome c oxidase and superoxide dismutase that catalyze the electron transport chain, contributing to ATP production. Copper also regulates mitochondrial respiration and glucose-sensing pathways to aid energy production in hepatic cells.
Moreover, with sufficient Cu intake, hepatocyte proliferation for DNA synthesis occurs. Also, cuproenzymes like tyrosinase and ceruloplasmin help regulate oxygen transfer and oxidation-reduction reactions in various physiological pathways.
A scientific study by the National Institutes of Health discovered that copper's primary function in humans primarily involves energy metabolism, neurotransmitter biosynthesis, immune function regulation and collagen formation.
Fun fact: The recommended dietary allowance for copper is 900 μg/day while infants need only 200μg/day to support crucial enzymatic activity! Why settle for silver lining when you can have copper glowing skin and luscious hair?
Copper's Role in Skin and Hair Health
Copper is a vital mineral that plays an essential role in maintaining the health of our skin and hair. It acts as a catalyst for collagen and elastin production, two proteins that provide structure and elasticity to the skin and hair follicles. Copper also protects the skin from free radicals, promotes wound healing, and regulates melanin production.
Furthermore, copper peptides are known to boost skin regeneration, reduce fine lines, wrinkles, and hyperpigmentation. The mineral also strengthens hair shafts, prevents hair thinning and loss. Copper-infused skincare products have become ubiquitous in the market due to their anti-aging properties.
It's worth noting that excessive copper intake may harm your health by preventing iron absorption or causing liver damage. Hence, it's essential to maintain adequate copper levels through a balanced diet rich in whole grains, nuts, shellfish, dark leafy greens while avoiding supplements.
Incorporating copper into your beauty routine can yield promising results for healthy-looking skin and luscious hair. Keep up with this trending beauty ingredient before you miss out! Looks like copper not only keeps you pennywise, but also bone strong.
Copper's Role in Bone Health
Copper plays a pivotal role in maintaining the health of bones. The human body utilizes copper to support various bone functions, including the development and maintenance of bone tissue. Additionally, copper influences collagen formation and enhances bone strength and flexibility. Furthermore, copper helps prevent bone fractures and other related conditions.
Moreover, adequate levels of copper intake through diet or supplements are necessary for maintaining osteoporosis prevention in postmenopausal women since copper stimulates the growth of bone cells which aid in preventing bone loss. Considering this importance of copper, it is strongly recommended to consume Copper supplements only after consultation with a healthcare professional.
It is worth noting that excessive intake can lead to fatal toxicity leading to liver damage or death.
According to the National Institutes of Health (NIH), an average adult should have an intake between 900 mcg/day -1300 mcg/day; however, varying factors like age, gender, pregnancy status should be considered regarding its required dosage.
Without copper, your body might as well be a car without an engine - useless and going nowhere.
Effects of Copper Deficiency
To understand the detrimental impacts of copper deficiency on your overall health and vitality, delve into the Effects of Copper Deficiency section. The sub-sections Anemia, Osteoporosis, and Neurological Disorders touch upon the significant health consequences of not getting enough copper in your body.
Anemia
Iron Deficiency in Blood
When our body lacks enough copper, it can lead to a decrease in the production of red blood cells or hemoglobin. This condition is commonly known as iron deficiency anemia. Copper plays a vital role in making sure that there is enough iron in the body to produce the right amount and type of red blood cells.
The low level of copper in our body causes abnormal red blood cell size and shape which makes them less efficient at carrying oxygen throughout the body. Moreover, it may also negatively impact the absorption of iron from food into the bloodstream.
A person with anemia should consume copper-rich foods like oysters, whole grains, beans, fruits such as pomegranates, blackberries and raspberries, leafy vegetables such as spinach and kale. Copper supplements are also effective for those who are not able to take sufficient amounts through diet. However, one must consult a doctor before taking any supplements because too much copper may lead to harmful side effects like vomiting, diarrhea or even coma-like symptoms.
"I guess you could say copper deficiency really 'bones' up your chances of avoiding osteoporosis."
Osteoporosis
A deficiency in copper can lead to weakened bones, which could increase the risk of fractures. This condition is called Copper Deficiency Osteoporosis. When there isn't enough copper present in the body, it cannot form cross-links between collagen and elastin fibers, which results in brittle bones. Copper plays a significant role in bone health, and a lack of it can lead to mineralization deficits.
Research has shown that patients with Menkes disease, a genetic disorder that prevents copper from being properly absorbed and metabolized by cells, often suffer from osteoporosis. However, even people who don't have Menkes disease but have low levels of copper can experience similar symptoms. Regular supplementation with copper is highly recommended for those who may be at risk.
Copper absorption can be enhanced by consuming foods high in vitamin C or zinc such as citrus fruits or nuts; this encourages better utilization of the mineral within the body. Reducing alcohol consumption also helps since excessive drinking reduces the amount of copper absorbed into the bloodstream. Exercise such as weight-bearing activities can also help improve bone strength over time.
Without copper, your brain may start to rust, leading to neurological disorders that make even the most absent-minded professor seem like a genius.
Neurological Disorders
The effects of copper deficiency are not limited to one's physical health. The lack of the mineral can have severe implications on the nervous system, resulting in what is commonly referred to as neurological disorders. These disorders include impaired cognitive function, loss of coordination, and even seizures. Copper is an essential element for proper brain function and a deficiency can lead to devastating consequences.
Furthermore, research suggests that the symptoms of neurological disorders may worsen with continued copper deficiency. This reinforces the importance of adequate copper intake in one's diet. However, excessive copper intake can also result in toxicity and should be avoided. Therefore, it is crucial to maintain a balance and obtain copper through safe sources, such as whole grains or nuts.
A unique detail worth highlighting is that copper has been found to play a role in the treatment of some neurological disorders. Studies have shown that increasing copper levels through supplements or dietary changes may improve cognition and reduce symptoms in patients with certain neurodegenerative diseases.
According to a study published by the National Institutes of Health, "copper is an essential nutrient for fetal brain development." This further emphasizes the significance of maintaining sufficient copper levels throughout all stages of life.
If you're considering overdosing on copper, just remember - you can't hide from the police with green skin.
Risks of Copper Overdose
To avoid copper overdose risks when taking copper as a supplement, you need to know its symptoms and associated health conditions. Preventing copper toxicity helps maintain overall health and vitality. Symptoms of Copper Overload and Health Conditions Associated with Copper Overload, as sub-sections, will provide you brief about the copper overdose risks and the importance of taking copper supplements in moderation.
Symptoms of Copper Overload
Excessive Copper: Signs and Symptoms
Copper is an essential mineral that our body needs for healthy functioning. However, too much of it can be dangerous. When your copper intake exceeds the recommended daily limit, you may experience a range of symptoms indicating an overload.
The signs and symptoms of copper overload are associated with several systems within the body. These include:
digestive issues such as nausea, vomiting, and abdominal pain;

neurological problems such as headaches, dizziness, tremors, and depression;

skin changes such as rashes, acne, or itching; and

even internal organ damage including liver failure.
Experiencing any of these symptoms necessitates immediate medical attention to avoid serious consequences.
Of note is that some conditions can predispose individuals to copper toxicity. For instance, people with Wilson's disease have a genetic predisposition to accumulate excessive amounts of copper in their liver and other organs. Thus prompt medical diagnosis is crucial for all affected people.
In an incident reported in 2005 in India's Rajasthan province? At least 29 children succumbed to acute poisoning due to contaminated drinking water with high levels of copper sulfate used in local industries. The occurrence demonstrates how vital it is to monitor environmental factors that influence our health status.
Looks like too much copper isn't just a penny for your thoughts, it could lead to a whole host of health problems.
Health Conditions Associated with Copper Overload
It is essential to be aware of the potential dangers of excessive copper intake. Excessive amounts of copper can lead to various health complications associated with copper overload.
Copper toxicity can cause liver damage, leading to cirrhosis and hepatitis. It can affect brain function and trigger seizures, confusion and other symptoms seen in Wilson's disease. Copper toxicity can also impact kidney function, causing problems like tubulointerstitial nephritis.
Additionally, it is important to realize that certain types of food or supplements contain high levels of copper, which could create a risk of overdosing if consumed regularly or excessively. Therefore, monitoring your dietary intake and taking supplements only under medical supervision are crucial steps to mitigate the risks associated with copper overload.
To minimize the chances of getting a copper overdose, decreasing consumption through diet or supplements should be recommended under medical guidance. Simple dietary changes such as reducing food sources that are rich in copper like beef liver and oysters or getting regular blood tests to monitor levels can help keep you on track.
Looks like I need to cut back on my copper intake, or risk turning into a copper statue – not the kind of immortality I was hoping for.
Daily Recommended Intake of Copper
To ensure that you are meeting your daily requirement of Copper for your overall health and vitality, this section provides insights on the Daily Recommended Intake of Copper. Reaching the recommended amount is crucial and this section will introduce the Recommended Daily Allowance of Copper and will suggest simple methods for Determining Copper Status.
Recommended Daily Allowance of Copper
To ensure a healthy amount of copper in our diet, we must be aware of the recommended daily intake. Copper plays an essential role in our bodies, from forming red blood cells to aiding in iron absorption and supporting the immune system.
A table detailing the recommended daily allowance of copper can give us guidance on meeting dietary needs. The average adult requires around 900mcg/day, but this varies based on age, gender, and other factors. As per the table below, infants require much less than adults while pregnant women need more.
AgeRecommended Intake Infants200-220 mcg/dayChildren340-440 mcg/dayAdult men900 mcg/dayAdult women900 mcg/dayPregnant women1,000 mcg/day
It is essential to note that consuming too much copper may lead to toxicity in individuals with specific genetic disorders or chronic conditions like liver disease.
A balanced diet rich in foods such as seeds and nuts, seafood, leafy greens, and whole grains can provide sufficient amounts of copper to meet daily needs. It is also advised not to cook acidic food like tomatoes or citrus fruits in copper pots as it may increase your exposure to copper significantly.
By being mindful of our daily intake of Copper and including the right foods in our diet, we can keep ourselves healthy naturally.
If you're wondering whether you have enough copper in your system, it's probably best not to turn to your local psychic for a reading.
Determining Copper Status
Assessing One's Copper Levels
Copper assessment involves various methods to ensure one's copper levels are optimal. A simple blood test is the most common method used to detect copper deficiency or toxicity. However, other tests such as urine and hair analysis may also be used for diagnosis.
To provide a better understanding, below is a table outlining the different testing methods for determining copper status:
Testing MethodAdvantagesLimitations BloodWidely UsedMay not reflect whole body stores UrineReflects Recent StatusFluctuations Depending on Diet HairReflects Long-Term StatusCan be affected by external factors
It is essential to note that each testing method has its advantages and limitations concerning reflecting overall copper status in the body.
It is interesting to know that copper has been part of human civilization since ancient times. It was widely used in coinage and jewelry due to its excellent ability to conduct heat and electricity. However, it wasn't until the early 20th century when researchers discovered its biological importance in our bodies.
Remember, without enough copper in your diet, you'll be tarnished in no time - both figuratively and literally.
Conclusion: The Importance of Adequate Copper Intake for Overall Health and Vitality
Copper plays an essential role in maintaining overall health and vitality by aiding in the production of red blood cells and collagen. Its deficiency can lead to various health issues such as anemia, osteoporosis, and cardiovascular diseases. Adequate intake of copper-rich foods such as nuts, seeds, legumes, and whole grains is crucial for optimal health.
In addition to its physical health benefits, copper has also been found to improve brain function and prevent neurodegenerative disorders like Alzheimer's disease. It has antioxidant properties that protect the body from harmful free radicals.
It is important to note that excessive consumption of copper can lead to toxicity. Therefore, it is recommended to achieve a balance between adequate intake and avoidance of overconsumption.
Studies have shown that drinking water from copper vessels also provides additional benefits of improving digestion, metabolism and immunity. However, caution must be taken as impure copper can lead to contamination of the water.
According to the National Institutes of Health (NIH), adults should aim for a daily intake between 700-900 micrograms per day. Pregnant and breastfeeding women require higher intakes. With its diverse range of benefits across physical and mental wellbeing, it is no wonder that copper remains an essential trace mineral for overall health and vitality.
Frequently Asked Questions
1. What is copper and why is it important for overall health?
Copper is an essential trace mineral that our body needs to maintain healthy skin, hair, and bones, as well as to support many vital physiological processes, such as energy production, nervous system function, and immune response.
2. What are some common signs of copper deficiency?
Some common signs of copper deficiency include fatigue, weakness, anemia, osteoporosis, skin and hair problems, and impaired immune function.
3. What are some good dietary sources of copper?
Some good dietary sources of copper include organ meats, shellfish, nuts and seeds, whole grains, dark leafy greens, and chocolate.
4. Is it possible to consume too much copper?
Yes, consuming too much copper can be toxic and lead to symptoms such as nausea, vomiting, and even liver damage. It is recommended to not exceed the daily recommended intake of copper, which is 900mcg for adult men and women.
5. What are some health benefits of copper supplementation?
Some potential health benefits of copper supplementation include improved bone density, increased antioxidant activity, and enhanced immune function.
6. Can copper supplementation interact with other medications or supplements?
Yes, copper supplementation may interact with medications such as zinc, iron, and vitamin C, which can affect the absorption and utilization of copper in the body. It is important to consult with a healthcare provider before starting any new supplement regimen.