Discover more from IgelSparks Substack
My personal Substack
"Collagen: The Protein for Skin, Joint, and Bone Health"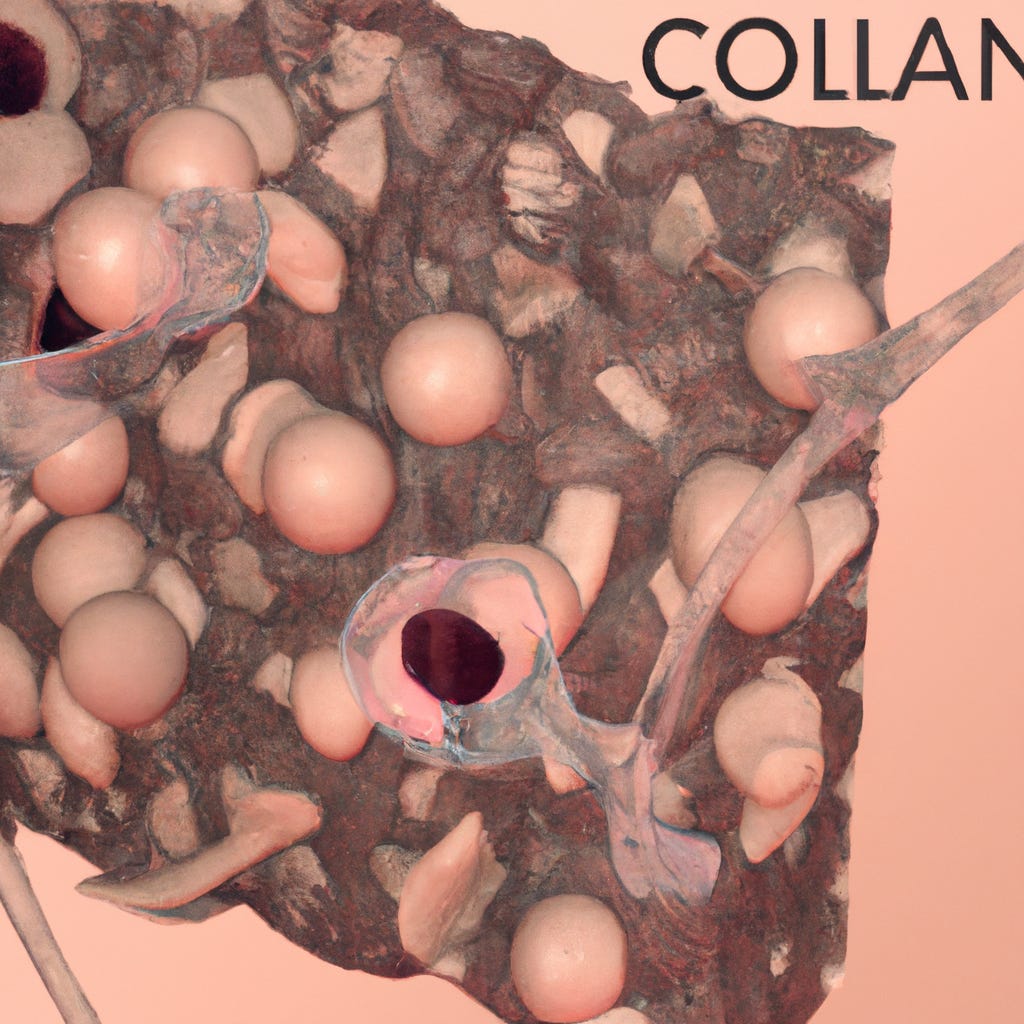 Introduction to Collagen
Collagen, a crucial protein for maintaining healthy skin, joints and bones. It's abundant in the human body as it forms an integral part of the connective tissue. Collagen production decreases with age, leading to visible signs of aging and weak joints. Lucky for us, collagen supplements are available in various forms such as powders and capsules. Incorporating them into our diet can effectively improve quality of life. Additionally, these supplements have been shown to benefit gut health and contribute to better muscle recovery after exercise.
Pro Tip: Consuming collagen with vitamin C may promote its absorption, leading to better results.
If only all relationships were as strong and flexible as collagen in our bodies, we'd have a lot less breakups and heartache.
Benefits of Collagen:
Improve your skin, joints, and bones by incorporating collagen into your wellness routine. To maximize the benefits of collagen, we will explore the sub-sections that focus on improving skin health, promoting joint health, and strengthening bones.
Improved Skin Health
Collagen's Impact on Dermis Quality
Collagen is one of the most well-known components for improving skin health. The link between collagen and the dermis, or the inner layer of the skin responsible for its elasticity, has been widely studied. Collagen works by promoting natural production within the body and reducing oxidative stress that can cause damage to skin cells.
Supplementing collagen-rich foods or taking collagen supplements stimulates and supports natural body processes, leading to better-quality dermis structure. Additionally, consuming foods high in vitamin C enhances collagen absorption. This results in firmer, more elastic skin without wrinkles or blemishes.
Importantly, increased collagen levels may reduce inflammation that triggers acne by supporting oil gland function. Other studies suggest that collagen supplementation may also support wound healing.
If you are looking to enhance your skin health naturally using collagen supplements or increasing consumption of collagen-rich foods could be beneficial to your goal. When incorporating supplements into your diet be sure to conduct thorough research and consider ingredients used, dosage guidelines, and potential side effects.
"You could bounce a quarter off my skin now that I've started incorporating collagen into my routine. Maybe I should start charging for entertainment."
Enhanced Skin Elasticity
Boosting Skin Flexibility with Collagen
Collagen, known for its ability to enhance skin elasticity, is a vital protein in the human body. It maintains the strength and suppleness of connective tissues, including joints, cartilage, and skin.
Collagen boosts fibroblast cells that support dermal structure while reducing wrinkle depth and promoting the production of new skin cells. As we age, our bodies produce less collagen leading to less flexible and thin skin. Supplementing with collagen peptides can stimulate natural collagen production in the body ensuring healthy supple skin.
Collagen works by reducing free radical damage such as UV radiation, pollution and smoking which lead to oxidative stress causing the breakdown of collagen fibers. Maintaining regular doses of hydrolyzed collagen powder promotes hydration in the epidermis keeping it supple.
Many individuals have experienced improved skin appearance after using hydrolyzed collagen supplements for some time; help improve nail growth or joint health issues and ultimately provide overall benefits.
Watching someone try to avoid their reflection after a collagen treatment is almost as satisfying as their new smooth skin.
Reduced Wrinkles and Fine Lines
Collagen Boosts Skin Health
Collagen has been touted as a powerful ingredient that helps to give aging skin a youthful glow. By reducing wrinkles and fine lines, collagen can help improve the appearance of the skin. Here's how:
Collagen stimulates the production of new skin cells, which can help reduce the appearance of wrinkles and fine lines.

It can also help improve skin elasticity and hydration, which are important factors in maintaining healthy-looking skin.

Studies have shown that collagen supplements may increase collagen density in the skin, leading to improved overall texture and tone.

Collagen can also help protect the skin from damage caused by environmental stressors such as pollution and UV radiation.
To get the most out of collagen's benefits for your skin, it's important to choose high-quality supplements or skincare products that contain bioavailable forms of collagen.
Pro Tip: Try incorporating foods like bone broth, egg whites, and fish into your diet to naturally boost your body's collagen production.
Who needs a partner when you have collagen to keep your joints feeling young and spry?
Promotes Joint Health
Promoting robust and agile joints is one of the significant characteristics of collagen dietary supplements. Here are a few ways in which this protein supports joint health:
Minimizes inflammation in the joints

Promotes bone density and enhances bone metabolism

Improves flexibility and elasticity of tissue in the joints

Enhances cartilage formation

Reduces joint pain and stiffness
Moreover, studies have shown that collagen may also relieve other joint-related disorders such as osteoarthritis, rheumatoid arthritis, and tendinitis.
Pro Tip: Combine collagen consumption with low-impact exercises like swimming, cycling for better results.
Say goodbye to joint pain and hello to looking like a graceful gazelle, thanks to the collagen jello.
Reduces Joint Pain and Inflammation
Collagen's Joint Benefits
Collagen promotes healthy joints by reducing inflammation and joint pain.
- It provides structural support to joints, improving their range of motion and flexibility.
- Collagen cushions the joints, reducing friction and preventing wear-and-tear that leads to joint pain.
- It can help rebuild cartilage in the joints, along with other connective tissues like tendons.
- Research has shown that taking collagen supplements can lead to a significant decrease in joint pain among athletes and those with arthritis.
- Collagen also contains amino acids that may help reduce inflammation throughout the body.
Notably, regular collagen intake can support overall joint health and prevent future issues.
To further benefit from collagen's joint-reducing properties:
Supplement with hydrolyzed collagen peptides for improved absorption

Incorporate collagen-rich foods like bone broth into your diet

Exercise regularly to keep joints flexible and maintaining circulation around them
Who needs a chiropractor when you have collagen? Say goodbye to creaky joints and hello to flexibility and mobility.
Increases Joint Flexibility and Mobility
Collagen is known for its positive effects on joint health, particularly in improving flexibility and mobility. This fibrous protein is a part of the connective tissues that hold our joints together, allowing them to move freely.
Here are six ways that collagen can increase joint flexibility and mobility:
Stimulates the production of elastin, which adds elasticity to cartilage

Helps to rebuild damaged joint cartilage

Reduces inflammation, which can relieve joint stiffness

Increases the body's natural production of hyaluronic acid, which lubricates joints

Strengthens bones and muscles surrounding the joints

Enhances overall mobility by reducing pain associated with arthritis or injury
It's important to note that not all forms of collagen supplements are created equal. Some studies have shown that types I and III collagen - commonly found in bovine and marine sources - are particularly effective at improving joint function. However, it's always best to consult with a healthcare professional before making any changes to your diet or supplement routine.
In addition to taking collagen supplements, there are other ways you can improve joint flexibility and mobility. Maintaining a healthy weight reduces pressure on your joints while regular exercise helps improve physical strength. Taking breaks during prolonged periods of sitting or standing also gives your joints time to rest and recover.
Ultimately, incorporating collagen into your routine alongside other lifestyle changes can lead to better overall joint health.
Collagen - the secret ingredient that turns milk into almond milk while strengthening your bones.
Strengthens Bones
Collagen, a structural protein found in the human body, plays an essential role in ensuring bone health and strength. Research shows that collagen enhances bone mineral density and reduces the risk of fractures. A higher collagen intake can also boost calcium absorption, which is crucial for maintaining healthy bones.
Not only does collagen enhance bone strength, but it also promotes joint health by lubricating joints and reducing inflammation. In addition, it helps rebuild cartilage and fights osteoarthritis.
It's important to note that our body's natural collagen production decreases as we age. Therefore, incorporating collagen peptides into your diet through supplements or food sources such as bone broth or fish can be beneficial. Moreover, maintaining an active lifestyle with weight-bearing exercises can improve bone health and strengthen muscles around your bones.
Incorporating these suggestions into your daily routine not only improves bone strength but also overall wellness. So why not prioritize those bones?
Who needs milk when you have collagen? Prevent bone loss and osteoporosis, and still have strong bones for all your milk-free cereal needs.
Prevents Bone Loss and Osteoporosis
Collagen boosts bone density and prevents the onset of osteoporosis. The protein makes up around a third of our total body's proteins providing structure and strength to bones.
Collagen peptides have been shown to stimulate cells called osteoblasts, which help build new bone. Additionally, collagen helps maintain a healthy level of calcium in our bones, allowing them to stay strong and avoid degeneration.
Studies suggest that supplementing with collagen can slow down age-related bone loss and reduce the risk of fractures. Some people may find it hard to consume enough collagen solely through their diet; however, supplements come in different forms such as capsules or powders, therefore making intake more accessible.
According to research from 1987 investigating the effects of dietary collagen supplementation on osteoporosis, patients who received hydrolyzed collagen demonstrated an improvement in bone mineral density at the conclusion of the study compared to the placebo group.
The only thing more solid than your bone density after taking collagen supplements? Your excuse for skipping leg day.
Improves Bone Density
Collagen Supports Strong Bones
Collagen plays a vital role in maintaining bone health and density. Here are 4 points that explain how collagen improves bone strength:
Collagen provides the necessary structure and support to bones, making them less prone to fractures and breaks.

As we age, our natural collagen production decreases, leading to weaker bones. Supplementing with collagen can help slow down this process and improve bone density.

Studies have shown that consuming collagen peptides can increase bone mineral density in postmenopausal women.

Collagen also stimulates the growth of new bone tissue, promoting overall bone health over time.
It's worth noting that incorporating a healthy diet rich in vitamins and minerals essential for bone health is key alongside supplementing with collagen.
Pro Tip: Combine your intake of collagen supplements with weight-bearing exercises like running or lifting weights to maximize its benefits on your overall bone health.
Make no mistake, collagen may come from animal sources, but it's still more organic than your aunt's three-day-old salad.
Food Sources of Collagen:
To explore food sources of collagen for your skin, joint, and bone health, you need to know about animal-based collagen and plant-based collagen boosters. Animal-based collagen is obtained from animal-derived products while plant-based collagen boosters can help to stimulate your body's collagen production.
Animal-Based Collagen
Animal-Derived Sources of Collagen
Collagen is a vital protein found in abundance in the human body. It is responsible for keeping tissues flexible and strengthening bones, tendons, ligaments, and cartilage. Animal-based sources are some of the best dietary options for obtaining collagen.
The following table lists some of the most nutrient-rich animal-derived sources of collagen:
Type of Food Serving Size Collagen Content Beef 3 oz 3389mg Chicken breast 3 oz 988mg Pork skin 1 oz 5320mg Fish (cod) 1/2 fillet 1470mg
Besides these primary sources, bone broth and gelatin are two other excellent sources to obtain collagen in your daily diet. Bone broths can be produced from animal bones like chicken, beef, or fish by boiling them over several hours.
Gelatin can also be an excellent source of collagen, making it ideal for making dessert recipes like jellies or gummies. Pasture-raised animals are believed to produce better quality gelatin.
Historically speaking, communities around the world have consumed traditional meals that are rich in animal-based foods since ancient times. With evidence further underpinning the benefits associated with these types of foods to one's overall health and well-being, including vitality, hormone regulation, cognitive function amongst just a few benefits - it's no surprise as to why many people consider animal meat-based diets as being healthy.
[End]
Who needs animal products when you can get your collagen fix from these plant-based powerhouses?
Plant-Based Collagen Boosters
There are numerous ways to boost collagen production in plant-based diets. These options provide benefits that can lead to healthier skin, stronger bones and muscles, and improved joint health.
Leafy Greens - Dark leafy greens contain high levels of vitamins and minerals, which are essential for collagen production.

Nuts - Almonds, cashews, and walnuts contain omega-3 fatty acids, antioxidants, fiber, and protein essential for healthy skin.

Seeds - Chia seeds are rich in Omega 3 although it can also be found in hemp seeds which is great for vegetarians according to research.

Fruits - Vitamin C helps produce collagen hence consuming tropical fruits like Kiwifruit, mango could be beneficial.

Veggies - Garlic boosts a higher level of sulfur which stimulates collagen and keratin production. Green beans also aid this process naturally.
Furthermore, including these suggested foods regularly into your diet will not give quick results but overtime you'll begin to experience the benefits of a diverse diet approaching an anti-inflammatory regime.
As a suggestion try making a smoothie with kale or spinach with some mixed berries such as strawberries and raspberries (also high in Vitamin C) or add boiled collard greens lemon-lime or orange juice for added extra taste boost at lunch. These recipe suggestions serve as the perfect daily preventative measures amongst environmental factors affecting your skin and overall health of body tissues while relatively slowing down aging if consumed regularly.
Not a fan of swallowing pills? Time to get chewy with some collagen supplements.
Supplements:
To optimize the benefits of collagen for your skin, joint, and bone health, consider taking supplements. In order to help you choose the right supplement, this section delves into the different types of collagen supplements along with dosage and recommendations.
Types of Collagen Supplements
Collagen Supplement Varieties:
Collagen supplements are a popular anti-aging option that promotes skin elasticity, joint health and bone strength. Here is a brief description of available types of collagen supplements.
Table: Types of Collagen Supplements
Type Source Benefits Type I Bovine, Fish Helps with skin, bones, tendons and organ tissues Type II Chicken, Egg Shells Boosts joint health and immune system function Type III Bovine Good for muscle growth and cardiovascular health Type IV Eggs and Milk products Beneficial for skin support
Not just limited to the few mentioned in the table above, there are other types as well. They may contain different forms of amino acids that can affect how they work.
For maximum absorption, take collagen supplements on an empty stomach. Pairing them with vitamin C or a diet rich in vitamin C may also enhance its effectiveness.
Get ready to beef up your beauty routine with Hydrolyzed Collagen - because who needs wrinkles when you can have a juicy steak?
Hydrolyzed Collagen
Hydrolyzed Collagen is a popular supplement in the fitness industry. It is a type of protein that has been broken down into smaller peptides through hydrolysis, making it easier for the body to absorb and use.
Hydrolyzed Collagen can help improve skin health by reducing wrinkles and increasing elasticity.

It may also aid joint health as collagen is a vital component in cartilage formation.

This supplement can boost muscle growth and recovery as it provides essential amino acids required for repairing muscles after exercise.

Additionally, Hydrolyzed Collagen may aid weight loss efforts as it promotes feelings of fullness, reducing overall calorie intake.
It is essential to note that not all Hydrolyzed Collagen supplements are created equal. Before purchasing, ensure that the product contains high-quality collagen from a trusted source.
As with any supplement, consulting with a healthcare provider before taking Hydrolyzed Collagen is recommended.
If incorporating Hydrolyzed Collagen into your diet, consume around 15 grams per day consistently for optimal results. Alternatively, add this supplement powder to smoothies or coffee for an easy and convenient way to increase daily protein intake.
Get ready to turn heads with collagen peptides, because who needs plastic surgery when you can just add powder to your morning coffee?
Collagen Peptides
Collagen Peptides are a popular type of protein supplement that are derived from collagen, a structural protein found naturally in the body. These unique and versatile supplements offer numerous benefits to the skin, hair, joints, and bones. Here are six important points to consider when it comes to Collagen Peptides:
Collagen Peptides can help improve skin hydration and elasticity.

They may also promote healthier hair growth and reduce the appearance of wrinkles.

Collagen Peptides may support joint health by increasing cartilage production.

They can also help strengthen bones and prevent osteoporosis.

The bioavailability of Collagen Peptides makes them an excellent source of fast-acting protein for post-workout recovery.

This type of supplement is generally safe for most people to use, but it's always best to consult with a healthcare professional first.
It's worth noting that not all Collagen Peptide supplements are created equal. Look for products that are made from high-quality sources and have undergone third-party testing to ensure their purity and potency.
A true fact about Collagen Peptides is that they have been shown in studies to improve skin texture and appearance, such as decreasing the visibility of cellulite. (Source: J Clin Aesthet Dermatol. 2015 Jun;8(6):19-23.)
Remember, just because your friend takes enough supplements to stock a pharmacy, doesn't mean you should too. Stick to the recommended dosage and save money for more important things, like therapy.
Dosage and Recommendations
Determining the most appropriate amount of supplements to consume may seem challenging, but understanding the recommended dose and usage can simplify it. It's important to seek professional advice before consuming any nutritional supplements or vitamins, as dosages are often dependent on age, gender, weight and other health factors.
To ensure optimal absorption, it's best to consume supplements with meals that contain healthy fats (i.e. avocado, nuts) which assist in breaking down fat-soluble vitamins. Also, try taking your supplement at the same time each day to establish a routine and avoid overdosing - too much can lead to health complications.
One should not rely on their friend's recommendations for supplement intake, even if they have had great results themselves. Every individual has unique needs for nutrient intake that relies on various factors such as diet choices and allergies.
A close acquaintance once relied heavily on prescription-grade supplements after being diagnosed with irritable bowel syndrome (IBS). While an excellent way of preventing flare-ups from the digestive tract issue, she started experiencing vitamin toxicity due to her excessive supplement intake. It was only when she consulted her primary care physician that she learnt about her vitamin overdose and how to cut back accordingly.
Skip the facelift and embrace kale: these lifestyle habits will have you glowing from within and radiant enough to make a skincare salesperson jealous.
Lifestyle Habits to Boost Collagen:
To boost collagen for a healthier you, incorporate essential lifestyle habits. In order to maintain optimal skin, joint, and bone health, you need to adopt a healthy diet. Exercise and physical activity are also important factors to increase collagen production. Lastly, don't forget about skincare and sun protection to keep your skin looking youthful and radiant.
Healthy Diet
Incorporate Nourishing Foods for Collagen Boost
High-quality nutrients in your diet are essential for overall health and well-being. Consuming foods rich in vitamins, minerals, and antioxidants can promote collagen production.
Incorporating foods like leafy greens, citrus fruits, nuts, and lean proteins that are high in vitamin C, E, and A can help improve the elasticity and firmness of your skin.
Moreover, including collagen-specific foods like bone broth and salmon in your diet can also enable the body to produce collagen naturally. These protein-rich foods contain vital amino acids that play a crucial role in collagen synthesis. To maximize the benefits of these nourishing foods, limit your consumption of sugary beverages and processed foods that may deter your body's ability to create natural collagen.
Indulging in a balanced mix of nutrient-dense whole-foods is vital for healthy skin. The incorporation of these dietary habits should become all-encompassing as it promotes optimal cellular regeneration throughout every part of your body.
It is believed that ancient civilizations used food as medicine to heal various diseases. Up-to-date studies support the therapeutic value of nutrient-rich diets such as the Mediterranean diet or Japanese Okinawan diet associated with improved life expectancy rates. Consuming nourishing food rich in vitamins and minerals has been linked to promoting optimal health from inside out since time immemorial.
Get your sweat on to get your collagen on - exercise isn't just good for your heart, it's good for your skin too!
Exercise and Physical Activity
Regular physical activity is essential for boosting collagen production. Regular workout sessions, active lifestyle and physical exercises are some of the ways to maintain healthy levels of natural collagen. Muscles support skin and keep it tight, thus reducing fine lines, wrinkles and sagging.
Moreover, participating in weight-bearing activities such as running, jumping rope or dancing helps stimulate bone growth, providing support to our body's structure. High-impact activities like these also promote the body's natural production of collagen.
Engaging in yoga or stretching exercises can reduce stress levels and trigger natural collagen production in the body. This, in turn, helps maintain skin elasticity and maintains its youthful appearance.
It's worth noting that excessive or intense workouts can break down collagen cells; hence moderate exercise is recommended.
According to a study published by the Journal of Cosmetic Dermatology, regular exercise improves skin health by increasing blood flow to the skin surface. The report states that an increase in blood flow nourishes the skin cells with essential nutrients such as amino acids that are vital for collagen production.
Nothing ages you faster than the sun, except maybe for a lifetime of bad decisions.
Skincare and Sun Protection
When it comes to maintaining collagen, protection from the sun is crucial. Adequate skincare and use of SPF are two essential factors that can help prevent damage to collagen fibers. Proper hydration and antioxidants can also aid in this process, as they reduce inflammation caused by exposure to UV rays.
Regular exfoliation is another key facet of skincare that helps promote collagen production. It removes dead skin cells from the surface, making way for new and fresh cells to grow in their place. Additionally, incorporating Vitamin C serums or retinoids into your routine can further enhance collagen synthesis and protect against environmental stressors.
Incorporating probiotics into your diet may also support a healthy balance of gut bacteria, which have been shown to improve skin health and overall wellbeing.
Pro Tip: Aim to apply SPF daily, even when you're not spending prolonged periods outside. Collagen preservation requires continuous attention and protection.
Collagen may not be the fountain of youth, but it's definitely the architect of a more youthful complexion.
Conclusion: Importance of Collagen for Overall Health
Collagen is a vital protein that promotes skin, joint, and bone health. It has numerous benefits for overall well-being since it makes up about 70% of our skin's protein content. Additionally, collagen improves muscle strength, digestion, and mental health due to its amino acid content. As we age, collagen production decreases resulting in various medical conditions such as osteoporosis and arthritis. Therefore taking collagen-rich foods like bone broth or supplements can improve your overall health and reduce the symptoms of age-related illnesses.
Furthermore, supplementing with hydrolyzed collagen or consuming collagen peptides can help increase collagen synthesis in the body rapidly. Collagen supplementation not only enhances joint mobility but also reduces wrinkles and fine lines by keeping your skin hydrated. Including collagen in your daily routine can be beneficial for people practicing sports or experiencing mild back pain.
Pro Tip: Consuming vitamin C alongside collagen helps boost its absorption into the body's tissues. Therefore make sure you take foods high in vitamin C to maximize the effects of your collagen intake.
Frequently Asked Questions
Q: What is collagen?
A: Collagen is a protein found in our bodies that is responsible for maintaining the health of our skin, joints, and bones.
Q: What are the benefits of collagen?
A: The benefits of collagen include improved skin elasticity, reduced joint pain, and increased bone density.
Q: How can I consume collagen?
A: Collagen can be consumed through supplements, bone broth, and certain nutrients found in foods such as fish, chicken, and egg whites.
Q: What are the different types of collagen?
A: There are several types of collagen, with type I being the most common and found in the skin, tendons, ligaments, and bones. Type II collagen is mainly found in cartilage, while type III is found in muscles and blood vessels.
Q: Can collagen help with anti-aging?
A: Yes, collagen can help with anti-aging by reducing the appearance of fine lines and wrinkles, improving skin texture, and increasing skin hydration.
Q: Are there any side effects to taking collagen supplements?
A: Generally, collagen supplements have few side effects, but some people may experience digestive issues such as bloating or diarrhea. It is always best to consult with a medical professional before taking any new supplements.