Discover more from IgelSparks Substack
My personal Substack
"Coenzyme Q10: The Cellular Energy Booster and Antioxidant"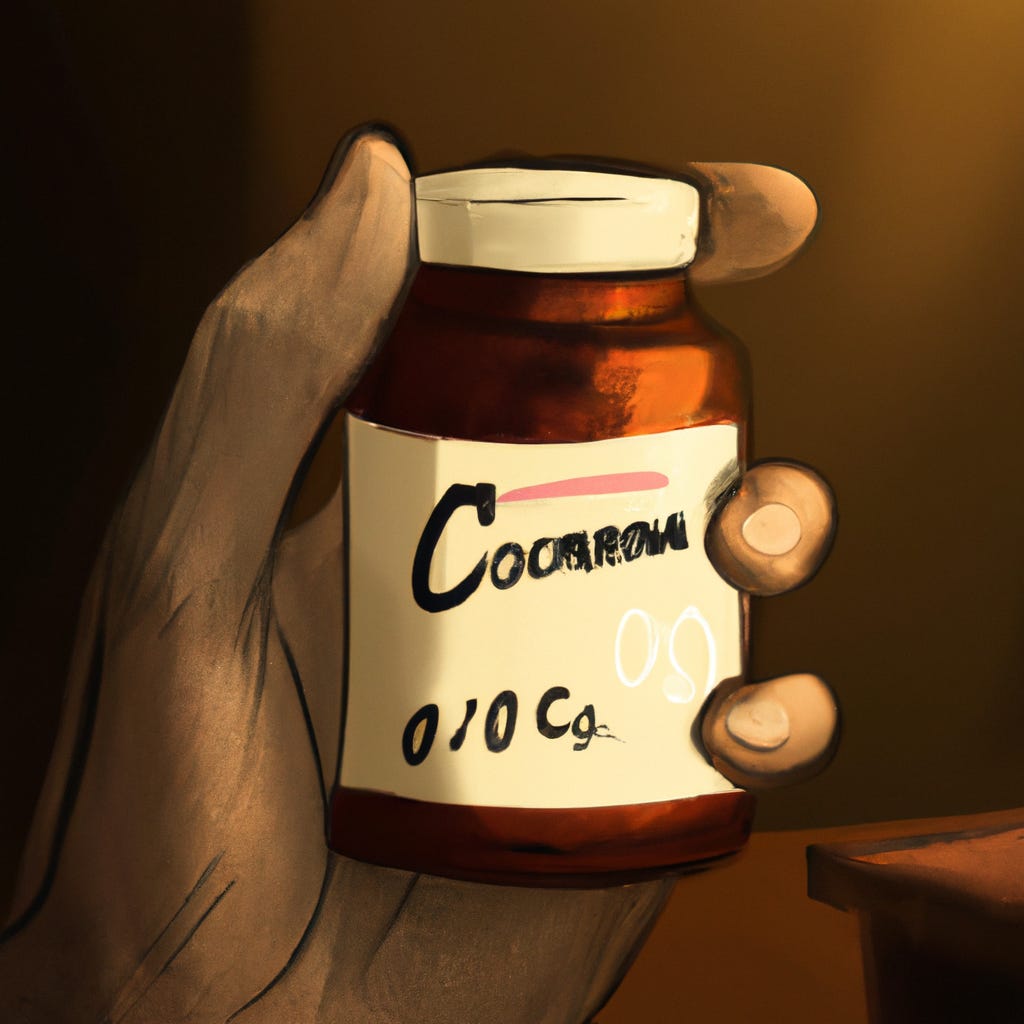 Introduction to Coenzyme Q10
Coenzyme Q10, also known as ubiquinone, is a naturally occurring antioxidant. It plays a vital role in cellular energy production by facilitating the transfer of electrons in the mitochondria. The human body produces CoQ10 naturally, but the levels decrease with age. It is found in high concentrations in organs that require large amounts of energy such as the heart and liver. CoQ10 supplements are available for those who have low levels or cannot produce enough naturally.
CoQ10 has numerous health benefits due to its ability to increase cellular energy production and act as an antioxidant. It aids in treating heart failure, reducing muscle damage caused by exercise, improving blood sugar control, and some neurological disorders.
Its use may also help with fertility problems due to its role in energy production within cells.
A friend of mine once started taking Coenzyme Q10 when he was experiencing fatigue and muscle weakness after undergoing chemotherapy treatments. After three months of daily supplementation, he noticed increased energy levels and better overall wellbeing - proof that it can truly be a game-changer for those who need it.
Don't just boost your cellular energy, become an antioxidant superhero with Coenzyme Q10!
Benefits of Coenzyme Q10
To discover the benefits of Coenzyme Q10, dive into boosting cellular energy, acting as an antioxidant, supporting heart health, improving exercise performance, and reducing migraine frequency. Each sub-section highlights different solutions that Coenzyme Q10 provides to help improve your physical health and wellbeing.
Boosts cellular energy
Cellular energy production can be boosted significantly with the help of Coenzyme Q10. This vital nutrient supports the body's natural production of ATP, which is quite essential for various metabolic functions.
CoQ10 helps in improving overall physical performance and endurance levels.

It aids the recovery process of cells from oxidative stress and damage.

This nutrient improves oxygen utilization by mitochondria, which further enhances cellular energy production.

CoQ10 has antioxidant properties that protect cell membranes, including mitochondrial membranes, from damage caused by free radicals.

It plays a crucial role in maintaining heart health and reducing the risk of cardiovascular diseases.

The regular intake of CoQ10 supplements might also aid in managing migraines and supporting brain health.
Furthermore, this substance may also boost immune function and could potentially play a role in enhancing male fertility alongside improving sperm count.
Research suggests that consuming CoQ10 supplements daily for multiple weeks or months may also have a positive impact on individuals suffering from various chronic conditions like fibromyalgia, Parkinson's disease, or type 2 diabetes.
Interestingly enough, according to an article published in Medical News Today, researchers found that those who took CoQ10 supplements had fewer migraines compared to those who did not take any supplements.
Say goodbye to free radicals and hello to a healthier you with Coenzyme Q10, the ultimate wingman against oxidative stress.
Acts as an antioxidant
Coenzyme Q10, also known as CoQ10, is a potent antioxidant that helps to protect cells from oxidative stress. It works by neutralizing free radicals in the body, which can cause damage to cell membranes and DNA. In addition to its antioxidant properties, CoQ10 also plays a critical role in energy production in cells, making it essential for overall health and well-being.
As an antioxidant, CoQ10 has been shown to have significant benefits for cardiovascular health. Research has found that supplementation with CoQ10 can help to lower blood pressure and reduce the risk of heart disease. It may also help to improve symptoms of heart failure by boosting energy production in the heart muscle.
CoQ10 has also been studied for its potential anti-aging effects due to its ability to protect against oxidative stress. It may help to reduce signs of aging such as wrinkles and fine lines by preventing damage from UV radiation and other environmental factors.
Incorporating foods rich in CoQ10 into your diet, such as fatty fish and organ meats, or taking supplements may be beneficial for those looking to boost their overall health and well-being. However, it's important to speak with your healthcare provider before starting any new supplement regimen.
Who needs a romantic partner when you have Coenzyme Q10 to support your heart health and keep that ticker ticking?
Supports heart health
Coenzyme Q10 is a vital nutrient that plays a significant role in maintaining heart health. It works by protecting cells from oxidative stress and reducing inflammation, which are two key factors that contribute to cardiovascular disease.
Studies have shown that Coenzyme Q10 can help reduce blood pressure, improve blood flow, and support healthy cholesterol levels - all of which contribute to better heart health. Additionally, it has been found to enhance the beneficial effects of other medications used to treat heart conditions.
What's more, Coenzyme Q10 is a potent antioxidant that helps reduce damage caused by harmful free radicals. As the heart is one of the most highly oxygenated organs in the body and therefore vulnerable to oxidative stress, supplementing with Coenzyme Q10 may provide added protection against heart disease.
Pro Tip: Speak with your healthcare provider before taking any supplements, especially if you have an underlying medical condition or are taking medication.
CoQ10 may not give you abs of steel, but it could help you get closer to your fitness goals.
May improve exercise performance
To enhance physical strength and performance, coenzyme Q10 can be effective. Here are some ways in which it can help:
Increased energy production: CoQ10 facilitates the production of energy in cells, such as those found in muscle tissue. With more energy available, you may find that you can push yourself harder during workouts.

Reduced oxidative stress: Exercise generates free radicals (unstable molecules) that can damage cells and impair recovery. CoQ10 is an antioxidant that can neutralize these free radicals, reducing the damage they cause.

Improved heart health: A healthy heart is vital for exercise performance. CoQ10 has been shown to support cardiovascular health by improving blood vessel function and reducing inflammation.

Enhanced recovery: Following exercise, your body needs time to recover and repair muscle tissue. Studies suggest that CoQ10 may improve recovery time by reducing oxidative stress and supporting the growth of new muscle cells.
It's worth noting that individual results may vary depending on factors like age, fitness level, and overall health. Nonetheless, incorporating CoQ10 into your regimen could lead to better exercise outcomes over time.
Anecdotal evidence supports this idea as well - many athletes and fitness enthusiasts have reported improved performance when taking CoQ10 supplements before workouts. For example, one runner noted feeling less fatigued at the end of long runs after adding CoQ10 to their routine. While more research is needed to confirm these benefits conclusively, they're certainly encouraging!
Say goodbye to migraines and hello to Q10, because who needs headaches when you can have coenzyme fun?
Could reduce migraine frequency
Research suggests that Coenzyme Q10 may have the potential to decrease the frequency of migraines in individuals who suffer from them. The antioxidant properties of Coenzyme Q10 target inflammation, which is known to be a contributing factor to migraine headaches. By reducing inflammation, Coenzyme Q10 has been shown to potentially reduce the number of migraines experienced by individuals.
Furthermore, studies have found that supplementing with Coenzyme Q10 for 3 months or more has resulted in a significant reduction in the frequency and severity of migraines. These findings suggest that Coenzyme Q10 could potentially act as a natural remedy for migraine sufferers looking for an alternative solution to traditional medications.
It's important to note that while Coenzyme Q10 appears to be a promising remedy for migraines, further research is still needed before it can be recommended as a stand-alone treatment option. However, incorporating this supplement into a well-rounded holistic approach may offer significant relief for those suffering from migraines.
One woman reported experiencing debilitating migraines for years until she discovered the benefits of Coenzyme Q10 and began taking it regularly. She found that her headaches became less frequent and intense, allowing her to live a more fulfilling and enjoyable life.
Eating your way to more Coenzyme Q10 can be deliciously easy, with foods like salmon, sardines, and pistachios topping the list of sources.
Food sources of Coenzyme Q10
To learn about food sources of Coenzyme Q10, you need to rely on certain categories that can provide you with the solution. In order to replenish your CoQ10 levels, include meat and poultry, fatty fish, vegetables and legumes, nuts and seeds in your diet. This section will introduce these sub-sections briefly without discussing them in detail.
Meat and poultry
The group of animal products that come from domesticated mammals and birds are a rich source of Coenzyme Q10 (CoQ10). These food sources have been known to be high in nutritional value, including various vitamins and minerals.
Meat and Poultry contain a significant amount of CoQ10 per serving, as shown in the following table:
Food Type CoQ10 Content (mg) Beef 3.0 - 3.5 Pork 0.7 - 0.9 Chicken 1.0 - 2.6
It is important to note that the level of CoQ10 can vary depending on how the meat is prepared, with grilled or broiled meats containing higher levels than boiled or roasted meats.
For those looking to add more variety to their diet, wild game such as venison or buffalo also provide a good source of CoQ10.
Research has shown that grass-fed animals tend to have higher levels of CoQ10 compared to conventionally raised animals fed on a grain-based diet.
One true fact is that organ meats such as heart, liver and kidney are particularly rich sources of CoQ10, with liver having one of the highest concentrations among all food sources.
Incorporating these animal-based foods into your diet can help increase your daily intake of Coenzyme Q10, providing numerous health benefits for your body's overall function and vitality.
Fish may be brain food, but fatty fish is heart food - Coenzyme Q10 included, so eat up before your heart gets too broken.
Fatty fish
Fatty fish such as salmon, tuna, sardines and mackerel are rich in Coenzyme Q10. These fish have high levels of Omega-3 fatty acids which are essential for brain function and heart health.
Additionally, these fish are also a great source of Vitamin D which plays a critical role in improving bone density and regulating calcium levels in the body. Including fatty fish in your diet can significantly lower the risk of cardiovascular diseases.
It is worth noting that consuming too much fatty fish may lead to toxicity due to high levels of mercury.
Therefore, it is recommended to consume them in moderation.
Don't miss out on the many benefits that come with including fatty fish in your diet. Try incorporating it into your meals at least twice a week to improve your overall health and wellbeing.
Who needs a multivitamin when you can get your daily dose of CoQ10 from veggies? Looks like Mom was right about eating your greens.
Vegetables and legumes
Spinach

Broccoli

Sweet potatoes

Lentils

Kidney beans
Some studies suggest that cooking these vegetables and legumes with dry heat could reduce the levels of CoQ10 present. Hence, it's advisable to consume them raw or steamed instead.
A pro-tip would be to indulge in colorful salads that incorporate various vegetables containing CoQ10 for a wholesome meal plan.
Who needs a magic lamp when you've got nuts and seeds to rub for a boost of Coenzyme Q10?
Nuts and seeds
Nuts and kernels provide wholesome nourishment and are a nutrient-rich food source. They offer benefits such as high protein, healthy fats, and fiber content.
Walnuts: They are a valuable source of healthy fats like monounsaturated and polyunsaturated fats, fiber, protein, magnesium and Vitamin E.

Almonds: These crunchy nuts have been known to help control blood sugar levels due to their low glycemic index value. They are also packed with Vitamin E, healthy fats and magnesium.

Sunflower Seeds: They contain antioxidants such as Vitamin E which protects cells from damage caused by free radicals.

Sesame Seeds: Sesame seeds help in reducing inflammation in the body due to high levels of copper, selenium and omega-6 fatty acids.
Interestingly, a study published in the Journal of Agricultural Food Chemistry found that pistachios had more Coenzyme Q10 (CoQ10) content than any other nuts or seeds analyzed.
So grab some nuts or seeds for a quick snack on-the-go to get your daily dose of essential nutrients including Coenzyme Q10.
Who needs a partner when you've got Coenzyme Q10 supplements to boost your energy and heart health?
Supplements containing Coenzyme Q10
To explore the benefits of Coenzyme Q10 supplements, dive into the section about supplements. With the titles "Forms of Coenzyme Q10 supplements, Dosage recommendations, and Potential side effects and interactions" further analyzed, gain an insight into the different forms of supplements, the suggested dosages, and probable side effects of consumption with other medications or supplements.
Forms of Coenzyme Q10 supplements
Coenzyme Q10 comes in various forms for consumption as supplements. These alternatives can be classified into unique categories to suit individual preferences and needs. Below is a table showcasing the different Forms of Coenzyme Q10 supplements with corresponding details about their nature, use, and other relevant information:
Form Description Ubiquinone Stable and common version of CoQ10 which requires conversion inside the body to become usable. Often used for general health maintenance. Ubiquinol Advanced form of CoQ10 that does not require internal conversion. Ideal for individuals with absorption issues or those seeking immediate effects. Liposomal Enhanced form that encapsulates CoQ10 in a protective layer, making it easy to digest and absorb by the body. Best suited for those who have trouble taking pills or capsules. Water-Soluble A modified version best used as a liquid formulation designed for people suffering from digestive difficulties including malabsorption generally found in older age groups.
It is worth noting that different brands could develop other variations based on these classifications. Therefore it is helpful to check the packaging label when buying. To ensure optimum usefulness from any supplement chosen, make sure correct dosage and timed intake occur under expert recommendations only. Missing out on healthier living due to inadequate knowledge of proper supplementation can hamper wellness goals significantly. Make that step today towards better health by consulting with professionals for clarity on the best dosage strategy available! Remember, taking too many Coenzyme Q10 supplements won't make you a superhero, it'll just make you pee a lot.
Dosage recommendations
Supplements containing Coenzyme Q10 are a popular choice among people looking to improve their overall health. To optimize the benefits, it is crucial to understand the appropriate dosage amount.
For general health, a daily dose of 100-200 mg of CoQ10 is recommended.

If you're taking CoQ10 as a supplement for heart health, then around 200-300 mg per day will be effective.

Individuals taking statins may require higher levels of CoQ10—around 400 mg per day—to mitigate potential side effects.

Those suffering from migraines can take up to 100 mg of coenzyme Q10, twice daily

Pregnant or nursing women should not take supplements containing coenzyme Q10 without consulting their healthcare provider beforehand.
It's worth noting that while CoQ10 isn't regulated by the FDA, and there is limited evidence that overdosing has negative impacts on the body.
One thing to consider when taking supplements containing coenzyme Q10 is that it has low bioavailability. This fact means that only a small proportion of the dose ingested may enter into our bloodstream.
According to clinical trials conducted in New Zealand in 2019, short-term consumption of high-potency CoQ10 supplements was found to have no adverse effect on healthy young individuals.
Looks like Coenzyme Q10 isn't just the hero we deserve, it may also be the villain we didn't know we needed.
Potential side effects and interactions
One should be aware of the possible adverse effects and interactions that supplements containing Coenzyme Q10 could present. These supplements are commonly used for heart conditions, but can interact with blood-thinning medications and cause lower blood sugar levels. Additionally, they may cause gastrointestinal problems such as stomach upset, nausea, indigestion and diarrhea. It is recommended to consult with a healthcare provider before taking these supplements.
It is important to note that not all potential side effects and interactions have been mentioned here. It is imperative to read through labels carefully and do thorough research before consuming these supplements to avoid any negative consequences.
Don't miss out on important information about the use of Coenzyme Q10 supplements. Always seek professional advice from a healthcare provider before taking them to ensure the utmost safety and efficacy.
Coenzyme Q10: because sometimes all we need is a little supplement boost to help us feel superhuman.
Conclusion: Overall importance of Coenzyme Q10 in promoting health and well-being
Coenzyme Q10, a cellular energy booster and antioxidant, plays a crucial role in promoting overall health and well-being. It has been shown to improve cardiovascular health, increase energy levels, protect against oxidative damage and promote healthy aging. In addition to these benefits, Coenzyme Q10 has also been linked to improved brain function and immune system support. This makes it an essential nutrient for those looking to maintain optimal health and fitness levels.
Moreover, the body's natural production of Coenzyme Q10 decreases with age, making supplementation all the more necessary. While certain foods like organ meats and fatty fish contain small amounts of Coenzyme Q10, many people opt for supplements to meet their daily needs. In this modern-day lifestyle where stress is chronic, it becomes even more important to incorporate such supplements in the diet that help our body come up with it.
Research shows that taking 100-300mg of Coenzyme Q10 per day can provide significant health benefits. Additionally, co-administering CoQ10 with other antioxidants like vitamin E can further enhance its effects.
A study conducted by the University of Maryland Medical Center stated that "Coenzyme Q10 may help reduce muscle damage linked to statin use". This made a strong case for statin users to consider using CoQ10 supplements as a way to offset potential muscle damage caused by statins.
Frequently Asked Questions
Q: What is Coenzyme Q10?
A: Coenzyme Q10, also known as CoQ10, is a naturally occurring substance that plays a critical role in the production of energy in the body's cells. It also functions as a powerful antioxidant, protecting cells from damage caused by free radicals.
Q: What are some potential benefits of taking a CoQ10 supplement?
A: CoQ10 has been studied for its potential to improve heart health, reduce symptoms of chronic fatigue syndrome, improve exercise performance, and even reduce the frequency of migraines. It is also sometimes used as a supplement to support fertility and reproductive health.
Q: Who might benefit from taking CoQ10?
A: CoQ10 is naturally present in the body, but some people may have lower levels due to aging, certain medical conditions, or medications. People who are looking to support their energy levels, heart health, or overall antioxidant status may benefit from taking a CoQ10 supplement.
Q: How is CoQ10 different from other antioxidants?
A: CoQ10 is unique in that it plays a direct role in cellular energy production, making it critical for overall bodily function. It also has the ability to regenerate other antioxidants in the body, like vitamin E, making them more effective at protecting against cellular damage.
Q: Are there any side effects associated with taking CoQ10?
A: CoQ10 is generally considered safe and well-tolerated, but some people may experience digestive upset or mild headaches. It may also interact with certain medications, so it's always a good idea to speak with a healthcare provider before beginning any new supplements.
Q: What is the recommended dosage of CoQ10?
A: The optimal dosage of CoQ10 can vary depending on the individual's age, health status, and reason for taking the supplement. However, a common recommended dosage range is 100-200mg per day for general antioxidant and energy support.