Discover more from IgelSparks Substack
My personal Substack
"Clove: The Spice with Antimicrobial and Oral Health Benefits"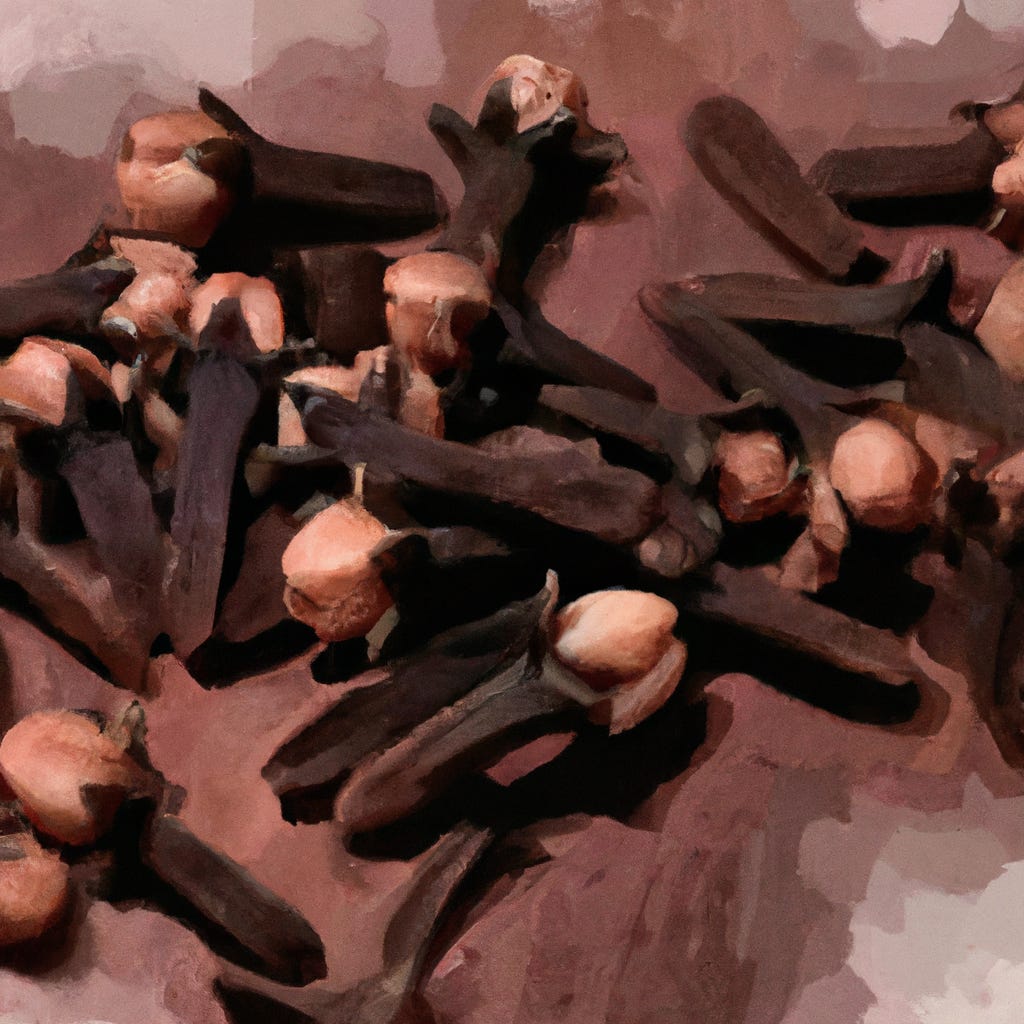 Introduction to Clove as a spice
Clove's Usage as a Spice with Antimicrobial and Oral Health Benefits
Clove, an extensively used spice in cooking, is recognized for its aromatic and flavorful properties. It is native to Indonesia, but now widely consumed globally. Besides enhancing the flavor of food, clove has medicinal significance due to its antimicrobial and antioxidant properties.
Clove has been traditionally used to treat toothache and bad breath because of its significant oral health benefits. It contains eugenol that helps relieve pain and inflammation in the mouth. Moreover, it promotes overall dental hygiene by fighting bacteria and preventing gum diseases.
Furthermore, incorporating cloves into your daily diet can enhance your digestive system's overall health by improving metabolism and reducing gastrointestinal infections. To reap maximum benefits from cloves, try incorporating them while brewing tea or using them in curries or marinades.
If you want to keep your mouth cleaner than a dentist's office, next time skip the toothpaste and reach for some cloves instead!
Antimicrobial Benefits of Clove
Clove's Remarkable Power against Microorganisms
Clove is a spice that has demonstrated its therapeutic potential in traditional medicine for centuries. Its essential oil contains many active compounds which have shown great potency against various microorganisms.
Clove oil, a natural antimicrobial, has shown effectiveness in inhibiting the growth of many pathogenic bacteria and fungi.

Its active compound, eugenol, has shown antiviral properties against herpes simplex virus.

Clove oil's antibacterial properties have been found effective against Streptococcus mutans, a major contributor to dental caries.

Research has also demonstrated its effectiveness in fighting antibiotic-resistant bacteria, making it a promising alternative to conventional antibiotics.
Clove has been shown to possess various health benefits, but its powerful antimicrobial potential is not to be overlooked.
For optimal oral health benefits, we suggest adding a drop or two of clove oil onto your toothbrush before brushing. For fast relief from toothache, apply a few drops of clove oil to the affected area. If you're experiencing gum inflammation, add a drop of clove oil to a glass of lukewarm water and use as a mouthwash. These remedies work due to the antimicrobial properties of clove oil, which helps prevent and treat oral infections.
Looks like microorganisms picked the wrong spice to mess with - clove's antimicrobial powers are no joke!
Mechanism of action of Clove against harmful microorganisms
Clove possesses antimicrobial properties, which enable it to fight against harmful microorganisms. It can be harnessed to inhibit the growth and proliferation of various pathogenic bacteria, fungi, and viruses.
The phenolic compounds in cloves are responsible for creating an unfavorable environment for microbial survival. They impair the permeability of microbial cell walls, interfere with DNA replication and protein synthesis, leading to cellular damage. Additionally, clove essential oil exhibits scavenging activity by eliminating free radicals produced during oxidative stress.
Hence it can be concluded that clove presents a potent mechanism of action against harmful microorganisms by affecting multiple cellular processes simultaneously without causing toxicity in the host organism. By including cloves in our diet or using them as a natural remedy, we can harness their antimicrobial benefits to protect ourselves from infections caused by resistant strains of microorganisms. Don't miss out on this natural remedy's vast potential to boost your health and well-being today!
Good news for germaphobes: Clove can take down bacteria, viruses, and fungi like a boss.
Examples of microorganisms that Clove can combat
Clove possesses several antimicrobial benefits that make it a popular remedy for various ailments. Its ability to combat microorganisms is vast, and it can be used to treat several infections.
Examples of microorganisms that Clove can combat include bacteria like Staphylococcus aureus, Escherichia coli and Klebsiella pneumoniae. It can also address fungi like Candida albicans, Aspergillus flavus and Cryptococcus neoformans. Furthermore, viruses like Herpes simplex virus type 1 (HSV-1) and Influenza A also fall within its purview.
Clove has been known to reduce dental pain caused by tooth decay due to its antibacterial properties capable of killing the Streptococcus mutans bacteria responsible for causing cavities. Besides being useful as a natural remedy for infections, Clove oil has also been utilized in food preservation due to its reported antibacterial effects against gram-positive bacteria.
An anecdotal evidence includes a story from ancient Persia where physicians would use clove oil along with other herbs as an antiseptic during surgical procedures, which aided in cleaning wounds and preventing infection.
Want to keep your dentist at bay? Clove is the way!
Oral Health Benefits of Clove
Clove's Positive Impact on Oral Health
Clove is more than just a spice to enhance the flavor of dishes. It has been used, for ages, for medicinal purposes due to its remarkable antimicrobial properties. Moreover, it has been found to have numerous positive effects on oral health.
Clove has anti-inflammatory, antiseptic, and anesthetic properties that can improve oral health. It helps fight tooth decay and gum diseases by reducing plaque and preventing bacterial growth in the mouth. Along with reducing bad breath, clove oil can alleviate toothaches, sore gums, and mouth ulcers.
Interestingly, clove oil's primary compound, eugenol, has been approved by the FDA for use as a dental analgesic and antiseptic. It is often used in dental procedures such as root canals to relieve pain and prevent infections.
Considering clove's many benefits for oral health, dentists recommend incorporating the spice into daily oral care routines. Adding a drop of clove oil to a glass of warm water can be used as a natural mouthwash to maintain healthy gums and teeth.
Incorporating clove into a daily oral hygiene routine can help prevent dental issues and promote overall dental health. Don't miss out on the many positive effects of this spice by using it sparingly in your cooking routine. Give your teeth a break from all the sugar and let clove spice things up with its antimicrobial powers.
Clove's role in preventing tooth decay and gum disease
Clove has been found to possess active antibacterial and anti-inflammatory properties that can help in preventing oral diseases like tooth decay and gum disease. Its eugenol content is responsible for its powerful antiseptic benefits, making it an essential ingredient in many oral healthcare products.
Regular use of clove oil or cloves can also alleviate symptoms of toothache and dental sensitivity. The natural analgesic compounds present in clove oil make it effective against pain caused by tooth infections, inflammation or trauma.
Additionally, clove leaves can be chewed as a traditional remedy for bad breath, as they help to eliminate harmful bacteria responsible for halitosis.
It's important to note that excessive use of clove can lead to side effects such as burning sensations and tissue damage when not properly diluted. Therefore, it's recommended to only use oral healthcare products containing clove in safe amounts.
A patient suffering from severe periodontitis had experienced a lack of relief from conventional treatment methods due to the advanced stage of their condition. However, switching to using cloves as a mouthwash proved to be an effective alternative therapy method for reducing ulceration and promoting healing within two weeks.
Say goodbye to bad breath and toothaches with clove - your oral cavity's new best friend!
Clove's effectiveness in treating common oral problems such as bad breath and toothaches
Clove, a popular spice, has been found to be efficient in managing common oral issues including halitosis and toothache. Clove has significant oral health benefits that make it an excellent natural solution for maintaining your mouth's health.
Clove helps in treating bad breath by eliminating harmful bacteria from the mouth. It contains eugenol, an antiseptic compound that acts as a potent antibacterial agent.

Clove oil can manage toothache pain. Its analgesic properties provide relief from tooth pain with regular use.

The anti-inflammatory compounds present in clove help to reduce swelling and other symptoms of gum disease like gingivitis and periodontitis.
Interestingly, clove's essential oil is not only beneficial on its own but several commercial oral-care products also include this ingredient.
Pro Tip: To use clove for dental care purposes, you can apply clove oil directly to the area of concern or use it diluted with water as a rinse. However, consulting with your dentist before self-medicating with any natural remedies is always recommended.
Adding clove to your cooking not only tastes great, but also guarantees a numbing sensation in your mouth that makes you forget about that pesky toothache.
Culinary Uses of Clove
Clove's Role in Culinary Delights
Clove has been an essential spice in cuisine since ancient times, bringing a unique flavor and aroma to a variety of dishes. Its culinary uses are diverse, ranging from savory dishes such as stews, curries, and marinades to sweet desserts like fruit pies, cakes, and pastries.
Commonly used to flavor rice, meat, vegetables, and soup

Mixed with cinnamon and nutmeg, it creates a delightful aroma in baked goods like cookies and bread

Ground clove is a popular ingredient in spice blends like pumpkin spice and garam masala

Adds depth of flavor to fruit compote, mulled wine, and chai tea

Used as a pickling spice, clove enhances the natural flavors of vegetables and fruits
Moreover, clove's unique flavor profile can elevate alcohol-based beverages like cocktails, wines, and spirits. Its versatility makes it a popular choice in many cuisines worldwide, from Asia to the Middle East to Europe and the Americas.
Did you know that clove was used in ancient Chinese medicine for thousands of years to treat a variety of ailments, including toothaches and digestive issues? (source: Journal of Traditional and Complementary Medicine)
Clove - adding a little spice to your dish and a little disinfectant to your breath.
How Clove is used in various cuisines around the world
Clove finds its place in various cuisines worldwide owing to its distinct taste and numerous health benefits. A look into the techniques of how this spice is utilized in different regions would shed light on its widespread popularity globally.
A table showcasing the culinary applications of clove across various geographies reveals insightful information. In Asian kitchens, Cloves are commonly used in curries, rice dishes, and sweet desserts. In European cuisines, it is utilized for seasoning cakes, cookies, meat dishes, and drinks like mulled wine. Across South American countries like Brazil, clove plays a vital role in flavoring festive delicacies like Christmas turkeys.
While research demonstrates that clove's richness in essential oils has both antiseptic and anti-inflammatory properties that help fight infections and sore throats, there lies much more beneath its usage claims.
Apart from being a palate pleaser with its robust taste profile, Clove also delivers an enormous array of health benefits attributed towards several essential nutrients present in it. This natural fungicide helps lower blood sugar levels, promotes healthy skin appearance while calming stress levels as well.
The utilization of cloves in modulating the spices' aroma over time presents a complex spectrum of flavors accessible to chefs worldwide. Hence including cloves can elevate not just food's palatability but also your nutritional journey towards holistic wellness!
Clove is the superhero of spices - not only does it pack a punch of flavor, but it also comes with a laundry list of health benefits.
Tips for cooking with Clove to maximize its health benefits
Clove is a spice known for its medicinal properties and rich flavor. To make the most of its health benefits, consider the following tips when cooking with clove:
Use whole cloves instead of ground cloves to enhance its flavor and potency

Add cloves to marinades, rubs, or dressings to infuse dishes with its unique aroma and flavor

Balance the strong taste with complementary spices such as cinnamon or nutmeg
For an added twist, you can also use clove in baked goods for a warm, festive touch. However, keep in mind that excess consumption may result in adverse effects such as stomach upset.
To further explore clove's culinary potential, try experimenting with different cuisines from around the world that utilize this versatile spice. From Indian curries to Moroccan tagines, there are endless possibilities to elevate your dishes with the addition of clove.
One woman's passion for cooking drove her on a quest for the perfect spices which lead her to discover the wonders of using clove. By incorporating it into her favorite recipes, she found that not only did it enhance their flavor but also provided numerous health benefits. Watch out, too many cloves can turn your breath into a weapon of mass destruction.
Side Effects and Precautions with Clove
Clove Safety and Precautions: A Professional Insight
While clove exhibits various health benefits, it is also essential to understand its safety and precautions. It is recommended to avoid large doses of clove oil as it could cause skin irritation, liver and kidney damage, and shortness of breath. Also, people who are allergic to clove should avoid it, or it may lead to severe allergic reactions.
Additionally, it is advised to consult a healthcare professional before using clove oil during pregnancy or breastfeeding. Moreover, clove oil should not be applied directly to the skin, and it is better to dilute it. Hence, it is crucial to follow recommended dosages and use under medical supervision.
Interestingly, clove's active compound eugenol has shown effective analgesic properties in dental procedures, and its antimicrobial properties have been beneficial in maintaining good oral health.
Notably, a study published in the Journal of Contemporary Dental Practice reported that clove oil was as effective as benzocaine gel in relieving pain caused by needle insertion in patients undergoing dental procedures.
Looks like too much clove can leave you with a bitter taste in your mouth - and not just metaphorically.
Potential adverse reactions to Clove consumption
Clove consumption may lead to potential adverse reactions, causing mild to severe harm depending on the dose and individual sensitivity. Here are six possible side effects of clove intake:
Stomach discomfort, nausea, and vomiting;

Allergic reactions like itching, swelling or difficulty breathing;

Bleeding disorders such as bruising, nosebleeds or increased risk of bleeding after surgery;

Liver toxicity when used in excessive amounts for a prolonged duration;

Interaction with blood-thinning medicines like aspirin or warfarin;

Difficulty sleeping and restlessness due to its high caffeine content.
In addition, it is advisable to avoid using clove oil on the skin directly as it may cause irritation or an allergic rash. Pro Tip: If you experience any adverse effects from consuming clove, consult a doctor immediately.
Clove: the spice that adds flavor to your food and punches to your health routine.
Recommended dosages and precautions when using Clove as a home remedy or a dietary supplement
When using Clove as a home remedy or dietary supplement, it's important to consider the recommended dosages and precautionary measures. Take note of the following points:
Recommended dosage varies depending on the intended use, so it's best to consult a healthcare expert before taking clove.

Clove oil should not be ingested or applied directly to the skin without dilution. This can result in severe side effects.

Certain medications such as blood thinners, diabetes drugs, and anticoagulants may interact with clove and cause adverse effects on the body.

Clove supplements are not safe for pregnant women or individuals who have bleeding disorders or liver diseases due to high eugenol content in clove.
Moreover, one must take note that long-term use of cloves can lead to several side effects including allergic reactions, mouth sores, nausea, headaches, and liver damage. Hence, it's essential to monitor one's intake and follow recommended dosages.
Lastly, do not miss out on considering the potential risks that come along with using clove as a home remedy or supplement. Always prioritize consulting healthcare professionals beforehand in order to ensure maximum benefits with minimal risk.
Frequently Asked Questions
Q: What is a clove?
A: A clove is a spice that comes from the flower buds of the clove tree, which is native to Indonesia.
Q: What are the antimicrobial benefits of cloves?
A: Cloves contain a compound called eugenol, which has antimicrobial properties that can help prevent the growth of bacteria, viruses, and fungi.
Q: How can cloves benefit oral health?
A: Eugenol, the compound found in cloves, can help reduce inflammation and pain in the gums and can also help prevent tooth decay and bad breath.
Q: How can I use cloves for oral health benefits?
A: You can chew on whole cloves, make a clove tea or infusion, or use clove oil in your oral care routine (diluted with a carrier oil).
Q: Are there any side effects of using cloves?
A: Clove oil can be irritating to the skin and mucous membranes if not properly diluted. Ingesting large amounts of whole cloves or clove oil can also be toxic. It is always best to use caution and start with small amounts.
Q: Can cloves be used for other health benefits?
A: Yes, cloves have been used for centuries in traditional medicine to treat a variety of health conditions, including digestive issues, respiratory infections, and inflammation.