Discover more from IgelSparks Substack
My personal Substack
"Clary Sage: Aromatic Herb for Relaxation and Hormonal Balance"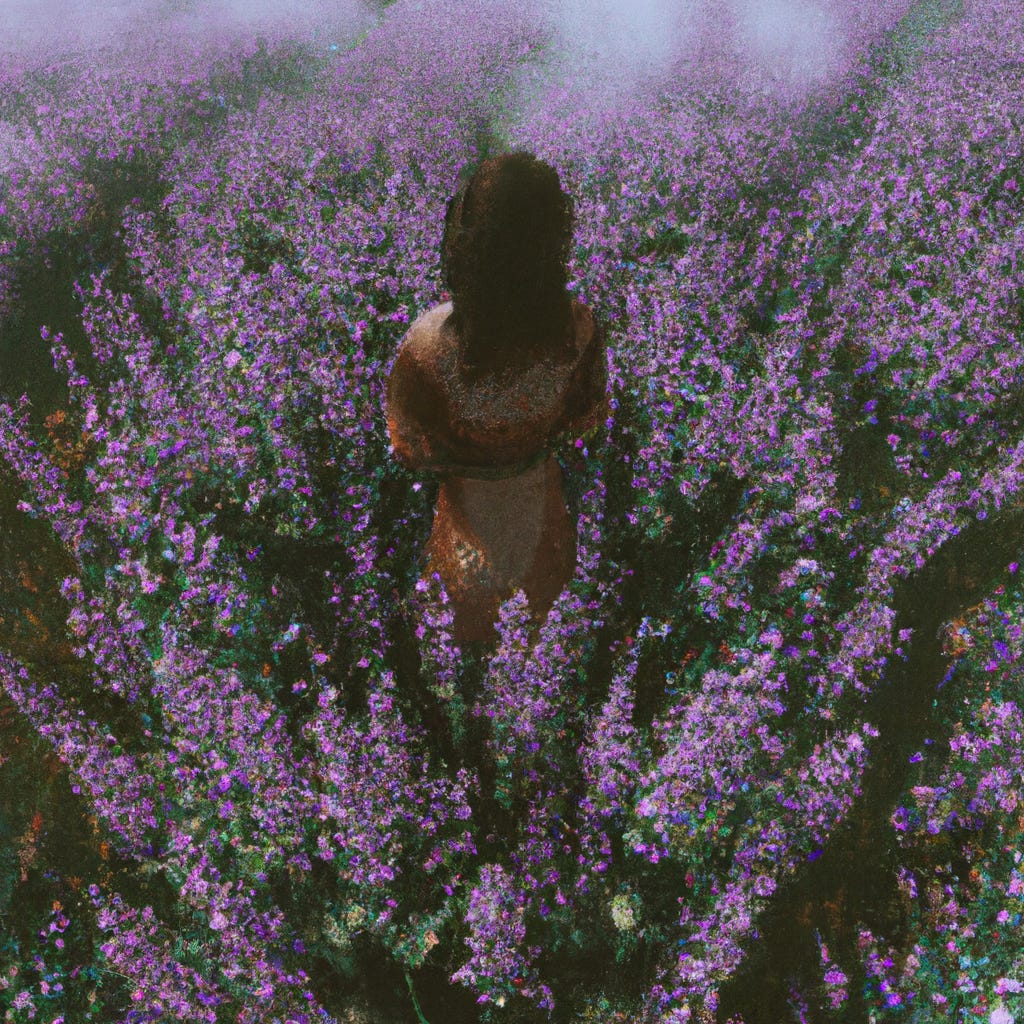 Introduction to Clary Sage
Clary Sage, a fragrant herb commonly used for aromatherapy, possesses numerous benefits including relaxation and balancing hormones. The ancient Greeks and Romans considered Clary Sage to be a sacred herb owing to its extraordinary medicinal properties. With its woody, musky scent, this essential oil has become increasingly popular in modern times. The plant is perennial and belongs to the Salvia family which consists of over 900 species of herbs and shrubs.
Clary Sage has a calming effect on the mind and body, making it useful in managing stress-related conditions such as anxiety and insomnia. Its benefits are not limited to emotional wellness; the oil is well known for treating menstrual cramps due to its ability to regulate estrogen levels. It also supports uterine health during childbirth by promoting contractions.
The unique aroma of Clary Sage made it a popular ingredient in perfumes for centuries. Interestingly enough, the plant's name comes from the latin word 'clarus,' meaning clear or bright. There's a story about how early botanists discovered that combining Clary Sage with alcohol results in an intoxicating mixture–one that caused temporary blindness when used excessively! These days, however, we know better than to use too much of anything without first consulting our healthcare providers.
If you want to achieve hormone balance and relaxation, just say 'Clary Sage' three times fast and inhale deeply.
The Benefits of Clary Sage
To reap the benefits of clary sage, you can focus on its use for relaxation and hormonal balance. In order to achieve a calming and soothing effect, clary sage can be used for relaxation. Additionally, clary sage is known to help balance hormones, making it a popular choice for those with hormonal imbalances.
Relaxation
The soothing properties of Clary Sage promote a sense of calm and tranquility, which can help to reduce stress levels and promote relaxation. Its pleasant aroma can also create a calming environment ideal for unwinding after a long day. In addition to its relaxing properties, Clary Sage has been known to aid in sleep quality, leading to better overall well-being. This herb is an excellent natural choice for those seeking relief from anxiety and tension.
Research has shown that the compounds present in Clary Sage have a direct impact on the nervous system, with potential benefits ranging from reducing inflammation to improving mood. Unlike synthetic medications, the use of Clary Sage carries no harmful side effects or addictive properties, making it a safer alternative for long-term use. The essential oil extracted from this herb can be massaged into the skin or added to bathwater for maximum benefit.
Not only is Clary Sage an excellent stress-reducing aid, but it can also provide relief from menstrual cramps and hot flashes associated with menopause. The anti-inflammatory properties of its essential oil are particularly useful in easing muscle tension and promoting relaxation during menstruation.
A working mother had been dealing with significant stress as she was struggling to balance her job responsibilities with family duties. Unable to find sufficient relief through synthetic medication options, she turned towards natural remedies such as Clary Sage essential oil diffused at work and home. Within days of using this herb's pleasant aroma helping her relax and cope better with stress sparked noticeable improvement in her mental state and improved overall productivity.
Inhaling Clary Sage is like having a handy mood stabilizer in your pocket. Say goodbye to your emotional rollercoaster, and hello to hormonal bliss.
Hormonal Balance
Clary Sage is known for its ability to maintain stability in the endocrine system, which is responsible for hormonal balance. It contains phytoestrogens that help balance out estrogen levels in the body, making it especially useful during menopause. Clary Sage has also been found to stimulate the pituitary gland, which regulates hormone production overall.
Aside from hormonal balance, Clary Sage offers a wide range of other benefits. It is known for its natural antimicrobial and anti-inflammatory properties, making it useful in skincare and wound healing. In aromatherapy, Clary Sage is often used for relaxation and stress relief due to its calming effects on the nervous system.
It's important to note that while Clary Sage can be beneficial for many people, it may not be suitable for everyone. Pregnant women should avoid using this essential oil as it can stimulate contractions. As with any natural remedy, it's also important to do your own research and consult with a medical professional before use.
Pro Tip: When using Clary Sage oil topically or in a diffuser, be sure to dilute it with a carrier oil such as coconut or jojoba oil to avoid skin irritation or allergic reactions.
Who needs a vacation when you have clary sage? This herb will take you from stressed to blessed in just a few whiffs.
Using Clary Sage for Relaxation
To achieve relaxation and hormonal balance, using clary sage as an aromatic herb can be effective. You can try aromatherapy with clary sage essential oil or making clary sage tea. Both methods are great solutions for different needs.
Aromatherapy with Clary Sage Essential Oil
Aromatic relaxation with the Clary Sage Essential Oil is an excellent way to relieve stress and anxiety. The oil has a sweet, earthy fragrance that works by calming nerves and inducing feelings of tranquility. Its therapeutic effects can be achieved through diffusing, inhaling or adding it to bathwater.
When using Clary Sage for aromatherapy, it is crucial to dilute the oil with a carrier oil like coconut or avocado before application. It can also be blended with other essential oils like Lavender for a more potent relaxation effect. For safe usage, seek advice from a qualified aromatherapist.
Clary Sage also has antifungal, anti-inflammatory and antibacterial properties that aid in digestion and improve mood. Its use in skincare products as a toner helps rid the skin of excess sebum.
Pro tip: Always buy pure Clary Sage Essential Oil from certified vendors who provide detailed information on its origin, extraction process and composition to guarantee quality.
Skip the chamomile and grab some Clary Sage tea - it's the herbal equivalent of a spa day.
Clary Sage Tea for Relaxation
Clary Sage is an herb with numerous medicinal properties that can help to calm the mind and promote relaxation. Its Tea form is undoubtedly a great way to use it for this purpose.
The essential oil present in Clary Sage tea helps to relieve stress.

It helps to reduce anxiety, nervousness and promotes calmness and relaxation.

It also has active compounds that induce sleep, making it ideal for those with insomnia or sleep disturbances.

The consumption of Clary Sage Tea is known to reduce agitation, thus promoting mental clarity.

The anti-inflammatory properties of Clary Sage Tea make it an excellent choice for reducing pain levels.

Clary Sage Tea's consumption helps regulate hormone levels inside the body causing relatively lesser mood swings.
One should avoid using hot tea as it can affect the flavor and effectiveness of Clary sage.
Interestingly, the popularity of Clary sage dates back to ancient times. Historically, its usage dates back at least 2,000 years in Europe, where herbal medicine was much more prevalent than today. Even during World War I, it was frequently employed as a topical agent applied on wounds due to its antimicrobial properties.
Get your hormones in check with Clary Sage, because nobody wants to be a moody mess.
Using Clary Sage for Hormonal Balance
To find balance in your hormonal health, turn to clary sage. Harness the power of this aromatic herb with the sub-sections Clary Sage Oil for Menstrual Cramps and Clary Sage Oil for Menopausal Symptoms. By utilizing clary sage, you'll be able to alleviate the discomfort and side effects of hormonal imbalances in a natural, calming way.
Clary Sage Oil for Menstrual Cramps
Clary Sage Oil for Alleviating Menstrual Discomfort
Clary Sage oil is a useful natural remedy widely recognized for its therapeutic properties. When it comes to menstrual cramps, Clary Sage essential oil is an excellent option that can provide much-needed relief.
It has anti-inflammatory properties that can help reduce swelling and inflammation associated with menstrual cramps.

The antispasmodic properties of Clary Sage oil can help relax the muscles in the uterus, relieving pain due to menstrual cramps.

The calming effects of this oil on mood can relieve premenstrual tension, anxiety and insomnia which often lead to a more comfortable period.
Additionally, Clary Sage essential oil has been used for thousands of years to manage hormonal imbalances.
It's important to note that while there are no major side effect risks when using Clary Sage oil, as with all consumable products including essential oils, pregnant women should consult their doctor before use.
Don't miss out on the natural benefits of Clary Sage Oil - try adding a few drops to your bath or diffuser during your period to experience relief from menstrual discomfort.
Menopause got you hot and bothered? Clary Sage oil might just be the cooling fan you need.
Clary Sage Oil for Menopausal Symptoms
Using Clary Sage oil can effectively alleviate symptoms of hormonal imbalance during menopause through its hormone-regulating properties. The oil's active compound, sclareol, regulates estrogen levels and reduces hot flashes, night sweats, and mood swings experienced by menopausal women. Additionally, Clary Sage oil has sedative effects that promote overall relaxation and healthy sleep patterns.
It is important to note that Clary Sage oil should be used in moderation and diluted with a carrier oil before being topically applied or diffused. It should also be avoided during pregnancy as it can stimulate contractions.
Pro Tip: Combine Clary Sage with other essential oils like lavender and bergamot for a soothing aromatherapy blend to alleviate menopausal symptoms.
Remember, too much Clary Sage might not only balance your hormones, but also your ability to form coherent sentences.
Precautions when Using Clary Sage
As with any essential oil, it is important to take precautions when using Clary Sage to ensure safe and effective use. Here are some things to keep in mind:
Do not use Clary Sage during pregnancy or while breastfeeding as it may cause contractions.

Always dilute Clary Sage with a carrier oil before applying topically to avoid skin irritation.

Avoid ingesting Clary Sage as it can be toxic if too much is consumed.
It's worth noting that everyone's body reacts differently to essential oils, so it's important to do a patch test before use and consult with a healthcare practitioner if you have any concerns.
One unique detail to remember is that Clary Sage has estrogen-like properties, so individuals with hormonal imbalances or who are undergoing hormone therapy should exercise caution when using this oil.
When using Clary Sage, consider diffusing it into the air for an aromatic experience. Alternatively, add a few drops of the oil to bathwater for a relaxing soak. These methods can help promote relaxation and balance hormones naturally.
By following these precautions and suggestions, anyone can safely incorporate the benefits of Clary Sage into their holistic wellness routine. Relax, Clary Sage has got your hormonal imbalances covered. Just don't forget to inhale, exhale, and repeat.
Conclusion and Summary
This article has explored the benefits of Clary Sage, an aromatic herb that is widely used for relaxation and hormonal balance. By analyzing its chemical properties and medical properties, researchers have found that Clary Sage can reduce stress, anxiety, and negative emotions. Additionally, Clary Sage has been shown to manage menstrual cramps and hot flashes in menopause. It is recommended to use Clary Sage with a carrier oil or in a diffuser for optimal results.
Pro Tip: Always dilute essential oils before using them topically or internally.
Frequently Asked Questions
Q: What is clary sage?
A: Clary sage is a herbaceous plant native to the Mediterranean Basin and Central Asia. It is also known by its scientific name Salvia sclarea. The plant has a pleasant, floral scent and is commonly used to promote relaxation and hormonal balance.
Q: How is clary sage used?
A: Clary sage can be used in a variety of ways. It can be diffused using an essential oil diffuser to create a calming atmosphere. It can also be added to a carrier oil, such as coconut or jojoba oil, and applied topically to the skin. Additionally, clary sage can be taken internally in the form of a tea or capsule under the guidance of a healthcare professional.
Q: What are the benefits of using clary sage?
A: Clary sage is well-known for its ability to promote relaxation and ease anxiety. It can also be used to alleviate menstrual cramps, regulate hormones, and promote healthy sleep patterns. Additionally, clary sage has been shown to have anti-inflammatory and antioxidant properties.
Q: Are there any risks associated with using clary sage?
A: Clary sage is generally considered safe when used in moderation. However, it should not be used by pregnant women as it can stimulate contractions. Additionally, clary sage should not be used by individuals with low blood pressure as it can lower blood pressure levels even further.
Q: Can clary sage be used by children?
A: While clary sage is generally considered safe for adults, it should not be used by children without the guidance of a healthcare professional. Essential oils can be too potent for young children and may cause adverse reactions if not used appropriately.
Q: Where can I purchase clary sage?
A: Clary sage essential oil and dried clary sage leaves can be purchased at most health food stores and online retailers. It's important to purchase from a reputable source to ensure the quality and purity of the product.