Discover more from IgelSparks Substack
My personal Substack
"Cinnamon: The Spice with Health-Boosting Properties and Blood Sugar Regulation"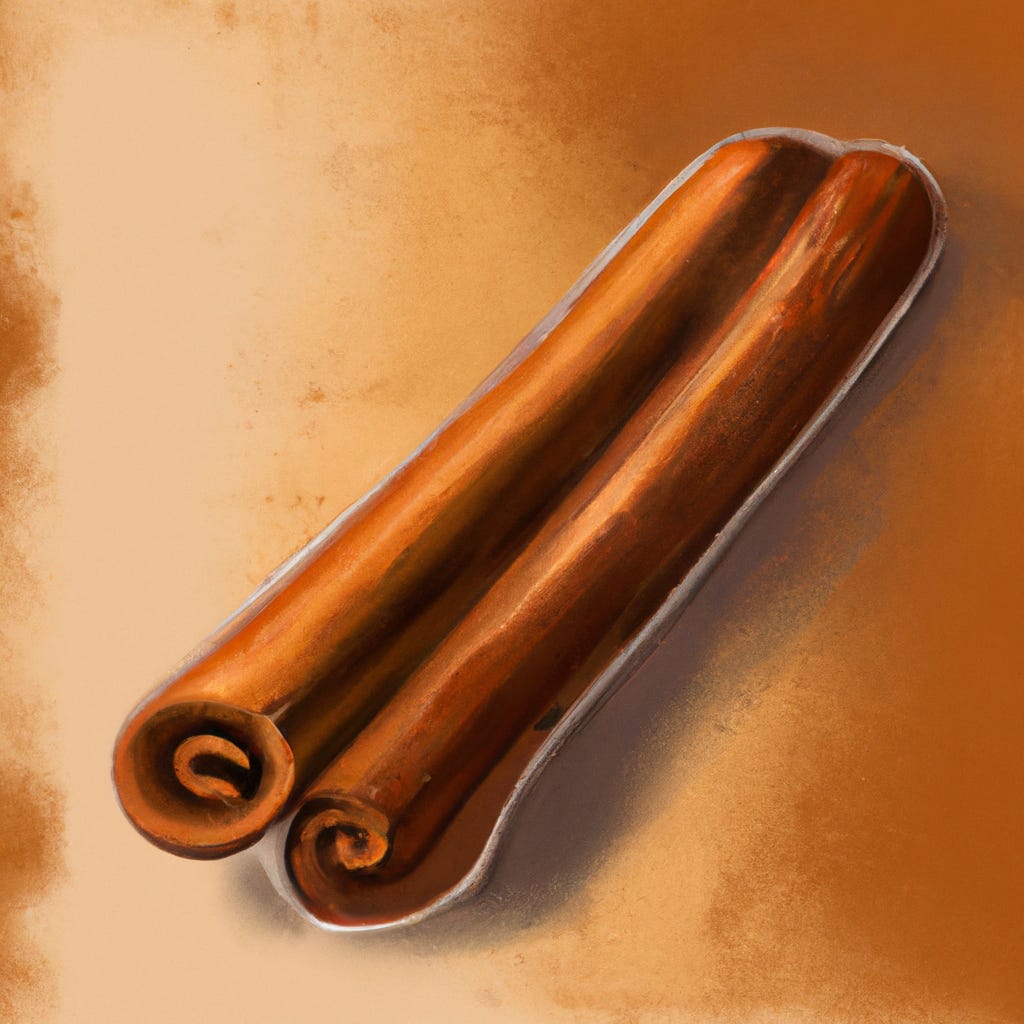 Introduction to Cinnamon
Cinnamon, a popular spice used in cooking and baking, has been linked to numerous health benefits. Its origins can be traced back to ancient Egypt and is known for its unique flavor and aroma. In addition to its culinary uses, cinnamon contains compounds that have anti-inflammatory, antioxidant, and antimicrobial properties. It has also been shown to regulate blood sugar levels and improve insulin sensitivity in individuals with diabetes. Being rich in essential oils, it can boost immunity and promote digestion.
Cinnamon: Because who needs medicine when you can sprinkle some spice on it and call it a day?
Health-Boosting Properties of Cinnamon
To uncover the health-boosting properties of cinnamon, you need to know how it can work wonders for your body. The anti-inflammatory properties, incredible antioxidant activity, and ability to lower cholesterol and triglycerides make cinnamon an excellent addition to your diet. Find out more about each of these sub-sections to know how cinnamon benefits your health.
Antioxidant Activity
Studies have shown that cinnamon possesses potent antioxidant abilities, enabling it to aid in the prevention or reduction of oxidative stress and damage within the body. The spice contains high levels of polyphenolic compounds, which are known for their free radical scavenging capabilities.
Furthermore, these antioxidant properties have been connected to cinnamon's anti-inflammatory effects, which help protect against chronic diseases such as heart disease, diabetes, and cancer. In addition to reducing inflammation, the spice may also promote healthy blood sugar levels and improve cognitive function.
When seeking to incorporate cinnamon into your diet for optimal health benefits, consider adding a sprinkle to your morning oatmeal or incorporating it into baked goods for a natural sweetener. For an added boost of antioxidants and flavor, try brewing a cup of cinnamon tea with honey and lemon.
Cinnamon: the spice that won't make your life any sweeter, but will definitely make your inflammation go down.
Anti-inflammatory Properties
Cinnamon has potent anti-inflammatory effects that can help alleviate chronic inflammation, a significant health risk factor. It contains various bioactive compounds that inhibit the activity of inflammatory mediators and reduce proinflammatory cytokines' production. These properties make it an excellent natural remedy for relieving inflammation-related conditions, such as arthritis and heart disease.
Additionally, cinnamon's anti-inflammatory properties extend to the gut by inhibiting harmful bacteria's growth and promoting beneficial microorganisms' proliferation. This effect helps maintain a healthy gut microbiota balance, which is critical in treating digestive issues like irritable bowel syndrome (IBS).
Recent studies have also shown that cinnamon can help improve brain function by reducing inflammation and oxidative stress levels in the brain. These changes enhance cognitive abilities like attention span, memory retention, and fine motor skills.
Pro Tip: Adding cinnamon to hot beverages or meals like oatmeal or yogurt can help increase its absorption rate and maximize its health benefits. So, incorporating cinnamon into your diet can significantly improve your overall well-being.
Why take pills when sprinkling cinnamon on your toast could give you a cholesterol-lowering boost?
Lower Cholesterol and Triglycerides
Cinnamon's Potential in Balancing Cholesterol and Triglycerides
Cinnamon, a highly nutritious spice, has garnered significant attention for its numerous health benefits. One of the many advantages is its contribution to lowering cholesterol levels and triglycerides in the body. Consuming cinnamon can significantly reduce levels of these harmful substances, which helps in preventing chronic conditions such as heart disease.
Studies indicate that cinnamon has anti-inflammatory properties that may help balance cholesterol levels and improve insulin sensitivity, which contributes to better regulation of blood sugar. Cinnamon polyphenols such as cinnamaldehyde and cinnamic acid, are believed to be responsible for the positive effect on cholesterol management.
Additionally, it appears that cinnamon consumption may inhibit enzymes that contribute to producing cholesterol while also increasing the level of good cholesterol (HDL). The potential role of cinnamon in lipid metabolism could be beneficial for those who follow a high-fat diet or have elevated lipid profiles.
Incorporating cinnamon into one's diet could be a simple yet effective strategy to manage cholesterol and triglyceride levels. Sprinkling some cinnamon over oatmeal or including it in smoothies could be an excellent way to reap these benefits. However, it is crucial to keep portions moderate since consuming too much can lead to adverse effects.
Get ready to spice up your blood sugar control with cinnamon, the tasty diabetes fighter.
Cinnamon and Blood Sugar Regulation
To regulate your blood sugar levels, cinnamon can be a gamechanger. Improving insulin sensitivity, lowering blood sugar levels, and the effect on insulin are three sub-sections to understand cinnamon's role.
Effect on Insulin
Research has shown that cinnamon may have an impact on insulin levels in the body. The active ingredient in cinnamon, cinnamaldehyde, has been found to stimulate insulin receptors, leading to increased glucose uptake and utilization by cells. This can help regulate blood sugar levels and prevent spikes after meals. Interestingly, studies have also suggested that cinnamon may improve insulin sensitivity in individuals with type 2 diabetes.
Cinnamon's effect on insulin appears to be linked to its ability to mimic the activity of insulin in the body. By activating certain enzymes involved in glucose metabolism, cinnamon can enhance insulin signaling and promote efficient use of glucose by cells. This action seems to occur mainly in skeletal muscle tissue, which is one of the major sites of glucose uptake in the body.
While more research is needed to fully understand the mechanisms behind cinnamon's effects on insulin and blood sugar regulation, early studies are promising. One study of 60 individuals with type 2 diabetes found that doses of cinnamon ranging from 1-6 grams per day improved fasting blood sugar levels and reduced markers of inflammation compared to a control group.
Cinnamon has a long history as a medicinal spice, valued for its aromatic flavor and potential health benefits. Ancient tribes reportedly used it for a range of ailments including respiratory infections, digestive issues, and menstrual problems. Today, researchers continue to uncover new potential uses for this versatile spice.
Want to lower your blood sugar levels? Just sprinkle some cinnamon on your morning cereal and hope for the sweet taste of success.
Lowering Blood Sugar Levels
The use of cinnamon for regulating blood sugar levels is a promising avenue worth exploring. Here are five important points that highlight the benefits of this spice:
Studies suggest that cinnamon can lower fasting blood sugar levels by up to 10-29%. This is due to its ability to imitate insulin and thereby, increase glucose uptake by cells.

Cinnamon contains polyphenols which have anti-inflammatory properties and can reduce insulin resistance, a condition where cells stop responding to insulin properly

A daily intake of as little as 1-6 grams (or half to one teaspoon) may help regulate blood sugar levels in people with type 2 diabetes.

Cinnamon has been observed to slow the breakdown of carbohydrates in the digestive tract, resulting in slower absorption into the bloodstream.

The beneficial effects of cinnamon on blood sugar regulation seem to be dose-dependent, meaning higher doses may produce greater effects.
It's worth noting that while cinnamon can aid in regulating blood sugar levels, it should not be used as a substitute for medical treatment or dietary changes recommended by a healthcare professional.
Cassia cinnamon is the most common type of cinnamon used for medicinal purposes and differs from ceylon cinnamon which has less coumarin, a plant compound present in high amounts in cassia and can cause liver damage. The history of using cinnamon for medicinal purposes dates back thousands of years across various cultures including traditional Chinese medicine and Ayurveda.
Get your insulin sensitivity in shape with these tips, because let's face it, nobody wants to be the butt of a diabetes joke.
Improving Insulin Sensitivity
Enhancing the Body's Insulin Response
Cinnamon is known to aid in enhancing the sensitivity of the body's insulin response. This allows for better metabolic management and regulates blood sugar levels more effectively. The utilization of Cinnamaldehyde that is present in cinnamon has been observed to manage glucose transport by stimulating insulin receptor activity.
Notably, the intake quantity and potency of cinnamon products are critical factors that ultimately affect the improvement in insulin sensitivity. It is suggested that supplementing daily meals with a minimum of half a teaspoon of cinnamon powder could work wonders in regulating glucose metabolism.
Interestingly, research suggests that consuming cinnamon along with high-carb meals slows down the rate at which carbohydrates enter the bloodstream. Furthermore, combining cinnamon with workouts has demonstrated improved post-workout glycogen resynthesis, preventing hyperglycemia during exercise recovery.
Integrating this humble spice into your daily diet regime can have significant benefits in regulating your blood sugar levels by improving insulin sensitivity. So, incorporating this inexpensive yet effective measure can do wonders for energy levels and maintaining overall health and wellbeing.
Add a dash of cinnamon to your cooking or supplement routine, because regulating your blood sugar should be as easy as making a tasty meal or popping a pill.
Cinnamon in Cooking and as a Supplement
To incorporate cinnamon in your life as a cooking ingredient or supplement, you can reap its numerous health benefits. For cooking, it can be added to a variety of dishes as a flavorful and healthy substitute. For supplement usage, understanding the dosage recommendations is important. In this section of the article, we will explore both the usage in cooking and the dosage of cinnamon supplement for optimal health benefits.
Usage in Cooking
Cinnamon finds widespread use as a spice and flavoring agent in various cuisines worldwide. In culinary arts, the application of cinnamon is versatile, and it offers an excellent aroma and taste to several recipes.
The following table presents a clear picture of the frequent usage of cinnamon as a cooking ingredient:
Type of Cuisine Dishes American Apple pie, oatmeals Asian Biryani, curries Caribbean Jerk chicken European Gingerbread cookies Indian Chai tea
Apart from the conventional uses, Cinnamon also works efficiently with ground meat products such as beef or pork. Adding half a teaspoon of cinnamon gives the dish an extra layer of flavor that intensifies slowly over time.
For those who wish to experiment more with cinnamon in their cooking, here are some suggestions - when making baked goods like cakes or bread; adding cinnamon boosts up the aroma and adds natural sweetness to it. Also, for dessert dishes like custards or ice cream, sprinkle some cinnamon powder on top before serving to enhance its overall appeal.
You know what they say, a spoonful of cinnamon supplement keeps the doctor away...unless you choke on it, then the doctor might be necessary.
Dosage of Cinnamon Supplement
Cinnamon Supplement Dosage can be determined based on several factors.
For general health benefits, a dosage of 500mg-2000mg per day is recommended.

To regulate blood sugar levels, a dosage of 120mg-6000mg per day is suggested.

For lowering cholesterol, a daily intake of 1200mg cinnamon supplement may be effective.
It is advisable to consult with a healthcare practitioner to determine the proper dosage based on individual needs and medical conditions. To enhance the effectiveness of cinnamon supplements, it is recommended to take them with meals containing carbohydrates or fats.
Cinnamon Supplement Dosage should never exceed the prescribed amount as it may lead to adverse effects. Cinnamon supplements are not intended to replace any medication that has been prescribed for any medical conditions or diseases.
Interestingly, Ceylon cinnamon has lower coumarin levels than Cassia cinnamon. Hence, if one has liver damage or other medical conditions that require avoidance of coumarin consumption, Ceylon cinnamon supplements may be a better option.
A friend of mine was diagnosed with type 2 diabetes and struggled to maintain healthy blood sugar levels even with medications. Upon consulting with his doctor, he added cinnamon supplements to his daily regimen. With consistent use and appropriate dosage, he was able to regulate his blood sugar levels without any additional medications.
Remember, too much cinnamon can leave you feeling as spicy as your grandma's infamous chilli recipe.
Precautions and Side Effects
To ensure your safety, it is important to take precautions and note significant side effects when using cinnamon as a natural remedy. In order to help you with this, we will be discussing the precautions and side effects associated with cinnamon. This includes its interactions with medications, the possibility of cinnamon allergy, and the potential for toxicity at high doses.
Interactions with Medications
When taking medications, it is crucial to be aware of potential interactions with other drugs or supplements. Some medications may have negative effects when taken together, which can reduce their effectiveness or cause harmful side effects. It is essential to consult with a healthcare professional before combining any medications.
Certain medications such as blood thinners, antidepressants, and pain relievers can interact with other drugs in the body. This can lead to adverse reactions and potentially life-threatening consequences. It's important to always read the labels of over-the-counter drugs and check with a doctor or pharmacist if unsure about how they may affect prescribed medications.
It's also crucial to inform healthcare professionals about all of the medications being taken, including over-the-counter products. Some supplements such as St. John's Wort and ginkgo biloba can interfere with prescription drugs' efficacy and increase the risk of unwanted side effects.
Pro Tip: Always speak with a medical professional before adding or removing any medication from your treatment plan. They can provide personalized guidance based on your unique health status and history.
Looks like my love for cinnamon will forever remain unrequited, thanks to my annoying allergy.
Cinnamon Allergy
Individuals may develop an adverse reaction to the spice derived from the bark of trees in the Cinnamomum genus. Symptoms of a Cinnamon Allergy can include itching, swelling, hives, difficulty breathing, and anaphylaxis.
It is essential to read food labels and inform healthcare providers prior to any medical procedures or vaccinations. Individuals with existing food allergies, particularly those allergic to tree nuts and birch pollen, may be more susceptible to an allergic reaction to cinnamon.
Surprisingly, cinnamon oil is used in some toothpaste and oral care products but has been found to cause contact dermatitis in some people with sensitive skin.
Pro Tip: Before consuming products that contain cinnamon or using oral care products that have cinnamon oil listed as an ingredient, consult a doctor or allergist if you have had previous allergic reactions or conflicts with other foods or substances.
I guess the saying 'too much of a good thing' applies to medication as well, unless you want to experience firsthand the wonders of toxicity at high doses.
Toxicity at High Doses
Exposure to excessive levels of a substance can result in harmful effects on the body. The signs and symptoms of high dosage toxicity may not always be immediately apparent.
Continued exposure raises concerns about long-term consequences, such as organ damage, genetic mutations, and cancer risk.
It's important to seek medical advice if you experience any adverse reactions or changes in your health.
Research from the National Institutes of Health concludes that prolonged use of some dietary supplements may cause liver damage.
Remember, taking precautions and avoiding side effects is like wearing a seatbelt - it may not be glamorous, but it's definitely worth it in the long run.
Conclusion and Implications for Health
To conclude the article on "Cinnamon: The Spice with Health-Boosting Properties and Blood Sugar Regulation" with a focus on health implications, the following insights are important. You must remember the summary of health benefits of cinnamon and how it can help lower blood sugar levels. Additionally, an important recommendation for use of cinnamon is also to be highlighted.
Summary of Health Benefits
Health Benefits Overview:
The positive health impacts of this intervention are multifaceted.
Improved physical health, including decreased risk of chronic illnesses such as cardiovascular disease and diabetes

Mental health benefits, including reduced stress and anxiety levels

Enhanced cognitive function, improving memory retention and focus

Better quality sleep patterns, leading to increased energy levels throughout the day

Favorable changes in body composition, such as weight loss or muscle gain

Reduced healthcare costs due to a decrease in hospitalization and medical treatments
It is important to note that these benefits may vary on an individual level based on factors such as age, gender, genetics, and lifestyle habits. Nonetheless, the impact in overall health is significant.
Additionally, implementing this intervention into one's daily routine can have long-lasting effects on physical longevity and overall well-being. Don't let the fear of missing out stop you from achieving these benefits.
We highly encourage individuals to consider the potential positive impacts of this intervention on their health and seek further information from qualified healthcare professionals.
If laughter is the best medicine, then my recommendation for use is to read this article and take two jokes in the morning.
Recommendations for Use
To optimize effectiveness, the following guidelines can be used to facilitate optimal usage of this information.
A table designed to provide recommendations for using recommended healthcare practices is displayed below:
Healthcare Practice Recommendations Diet Include more fruits and vegetables in your diet Exercise Engage in physical activity regularly Sleep Ensure you get enough sleep every day Hygiene Maintain proper hygiene habits like handwashing
It is also important to note that these recommendations are merely a guide. They should not be viewed as strict rules or requirements. Instead, they can be tailored to fit an individual's unique needs and preferences.
It is crucial to remember that proper use of these guidelines can help improve overall health outcomes. Failure to adhere to them may result in potential risk factors or health complications. Therefore, it is imperative that individuals incorporate these suggestions into their daily routines to safeguard long-term wellness.
Start implementing these recommendations now and experience positive health outcomes. Don't miss the opportunity to feel better and take control of your life!
Frequently Asked Questions
1. What health benefits does cinnamon provide?
Cinnamon is known to have numerous health benefits, including improving brain function, reducing inflammation, boosting immunity, and regulating blood sugar levels.
2. How much cinnamon should I consume per day for health benefits?
It is recommended to consume up to 1-2 teaspoons of cinnamon per day to reap its health benefits.
3. How can cinnamon help regulate blood sugar levels?
Cinnamon contains a compound called cinnamaldehyde, which has been shown to improve insulin sensitivity and help regulate blood sugar levels.
4. Can cinnamon help with weight loss?
Some studies suggest that cinnamon may aid in weight loss by reducing insulin resistance, which could lead to decreased appetite and improved metabolism.
5. What are the different types of cinnamon available?
The two most common types of cinnamon are Ceylon cinnamon and cassia cinnamon. Ceylon cinnamon is considered to be the true cinnamon and is milder and sweeter in taste, while cassia cinnamon is more commonly used and has a stronger, spicier flavor.
6. Can cinnamon be harmful if consumed in large quantities?
Consuming large amounts of cinnamon can be harmful, as it can cause liver damage and thinning of the blood. It is recommended to consume cinnamon in moderation and not exceed the recommended daily amount.