Discover more from IgelSparks Substack
My personal Substack
"Chinese Hawthorn: The Fruit with Heart-Healthy Benefits"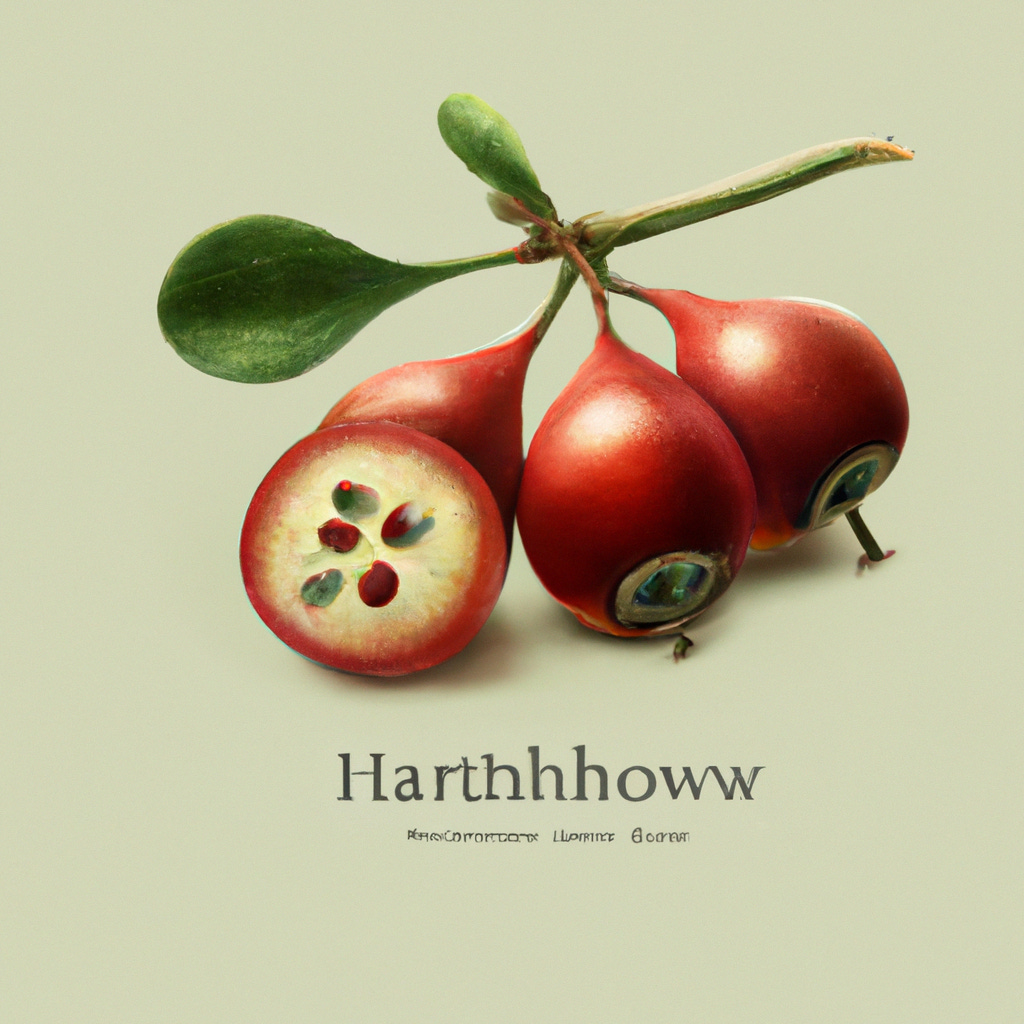 Introduction to Chinese Hawthorn as a Heart-Healthy Fruit
The Chinese Hawthorn fruit is a heart-healthy nutrient powerhouse that has been recently recognized for its healing properties. Its high flavonoid and antioxidant content reduces the formation of plaque in arteries, lowering blood pressure, cholesterol, and the risk of heart disease. Consuming this fibrous fruit also aids digestion and controls blood sugar levels. Chinese Hawthorn can be consumed fresh or dried, or as tea or supplement capsules.
Adding to its nutritional value, Chinese Hawthorn has been used in traditional medicine for various illnesses such as indigestion, coughs, and diarrhea. The fruit is believed to prevent free radical damage due to its anti-inflammatory properties. Its Vitamin C content boosts immunity, iron absorption and promotes skin health. With its sweet-sour taste profile, hawthorn berries make a delicious snack on their own or can be added to salads, sauces, jams or pies.
Pro Tip: For best results when consuming dried hawthorn berries alone or as supplements - soak them in water overnight before consumption to improve digestibility.
Eat your heart out, apples! Chinese hawthorn steals the nutritional spotlight with its impressive array of vitamins and antioxidants.
Nutritional Profile of Chinese Hawthorn
To understand the importance of nutrients and antioxidants found in Chinese Hawthorn, and to compare its nutritional profile with other common fruits, delve into the section "Nutritional Profile of Chinese Hawthorn". This section will provide you with the benefits of consuming Chinese Hawthorn and how it compares with other fruits in terms of nutritional value.
Importance of Nutrients and Antioxidants found in Chinese Hawthorn
The nutrient and antioxidant composition of Chinese Hawthorn offers various health benefits. Here are some key points:
It contains high levels of Vitamin C, Potassium and Fiber which help in managing various disorders such as heart diseases, digestion problems and high blood pressure.

Hawthorn berries have powerful antioxidants that protect against cell damage, inflammation and oxidative stress.

Chinese Hawthorn has anti-inflammatory properties that reduce the risk of chronic diseases including cancer and diabetes.

It is also effective in reducing cholesterol levels by increasing the elimination of fatty acids from liver cells.

The flavonoids found in Chinese Hawthorn increase blood flow to the heart muscles which alleviates chest pain because they possess cardioprotective properties

Hawthorn berries have been used traditionally to treat anxiety disorders and improve mental health due to their calming effects on the nervous system.
Interestingly, Chinese Hawthorn has been used in Traditional Chinese Medicine for centuries. It is considered a powerful herb for regulating qi (prana or life energy), strengthens digestion & intestines function.
Some people shared their health stories that demonstrated how consuming Chinese hawthorn helped treat abdominal distention, acid refluxes and boost of appetite after long term illness.
Move over, apples and oranges, Chinese hawthorn is here to win the nutritional race.
Comparison of Nutritional Profile of Chinese Hawthorn with Other Common Fruits
A Nutritional Analysis of Chinese Hawthorn compared to other common fruits is significant. The table below shows the comparison of nutritional values.
Fruit Type Calories per 100g Carbohydrates per 100g Fiber per 100g Vitamin C per 100g Apple 52 kcal 14 g 2.4 g 5 mg Banana 89 kcal 23 g 2.6 g 8.7 mg Pear 57 kcal 15 g 3.1 g  4 mg Kiwi fruit 61 kcal 15 g 3.0 g 26 mg Chinese Hawthorn 56 kcal 16.6 g 4.5 g 36 mg
Chinese Hawthorn is unique as it contains heart-healthy nutrients, including flavonoids, which help regulate blood pressure and cholesterol. It also has antioxidant properties that promote good health.
According to research by the USDA National Nutrient Database, Chinese Hawthorn is a rich source of minerals such as iron, magnesium, potassium, and calcium.
Want to give your ticker some love without sacrificing taste? Add Chinese hawthorn to your diet and feel your heart skip a healthy beat.
Impact of Chinese Hawthorn on Heart Health
To understand how Chinese Hawthorn can improve your heart health with scientific evidence backing it, explore the impact of Chinese Hawthorn on Heart Health. Scientific evidence supporting the heart-healthy benefits of Chinese Hawthorn, and the mechanisms behind those benefits, will be introduced as sub-sections.
Scientific Evidence Supporting the Heart-Healthy Benefits of Chinese Hawthorn
Numerous scientific studies have been conducted on the heart-healthy benefits of the Chinese hawthorn, revealing its positive effects. The phytochemical components of this fruit work by dilating blood vessels, reducing cholesterol levels and regulating blood pressure leading to improved cardiovascular health. Moreover, supplementation with Chinese hawthorn extract has been found to improve heart function and reduce angina symptoms in patients with coronary heart disease.
In addition, Chinese hawthorn contains antioxidants that protect the heart from damage caused by harmful molecules called free radicals. Furthermore, it has been suggested that daily consumption of a beverage made from this fruit can effectively reduce the risk of developing cardiovascular diseases.
To maximize the health benefits of Chinese hawthorn, it is recommended to seek professional advice before taking any supplements or remedies. Where possible, purchase fresh fruit from reliable sources or choose standardized extracts for concentrated benefits. A consistent intake for several months may effectively enhance cardiovascular health by enhancing nitric oxide production, thereby improving circulation and lowering blood pressure levels.
Chinese hawthorn may do wonders for your heart, but please don't try to use it as a substitute for love.
Mechanisms behind the Heart-Healthy Benefits of Chinese Hawthorn
Chinese Hawthorn's Cardiovascular Benefits - An Insight into the Mechanisms
The heart-healthy benefits of Chinese Hawthorn arise from various underlying mechanisms. This fruit modulates blood lipid levels, reduces oxidative damage, and enhances endothelial functions. It has been observed to have positive effects on hypertension, atherosclerosis, ischemic heart diseases, and heart failure.
Here is a table showcasing detailed information about the mechanisms behind the cardiovascular benefits of Chinese Hawthorn:
MechanismDescription Lipid-lowering effectReduces total cholesterol, LDL-C, triglyceride levels Antioxidant propertyScavenges free radicals; attenuates oxidative stress Nitric oxide enhancementElevates NO bioavailability; improves endothelial function Vasodilation activityIncreases coronary blood flow & resistance vessels dilation Anti-inflammatory actionInhibits pro-inflammatory cytokines & adhesion molecules
Chinese Hawthorn also contains flavonoids like 2"-O-galloyl hyperin that exhibit beneficial cardiovascular effects.
Pro Tip: Including Chinese Hawthorn in one's diet may supplement the management of cardiovascular disorders due to its multi-level beneficial impact on the cardiovascular system.
Get ready to have a heart-to-heart with Chinese Hawthorn, because this fruit is about to show you some tough love.
Preparation and Consumption of Chinese Hawthorn
To prepare and consume Chinese Hawthorn with ease and convenience, two factors are important- its popular cultivation and availability, and different recipes to include it in your diet. This is particularly relevant for harnessing its heart-healthy benefits. In the next sections, we will briefly introduce you to both these sub-sections.
Popular Cultivation and Availability of Chinese Hawthorn
Growing Chinese Hawthorn is a favored practice amongst farmers and horticulturists. It has gained immense popularity worldwide due to its numerous health benefits. Chinese hawthorns are found in various areas, including Asia, Europe and North America.
The following table shows the Popular Cultivation and Availability of Chinese Hawthorn:
Location Common Varieties Asia Crataegus pinnatifida var. major, Crataegus scabrifolia Europe Crataegus monogyna, Crataegus laevigata North America Crataegus crus-galli, Crataegus marshallii
Chinese Hawthorn is widely regarded for its antioxidant properties which help maintain a healthy cardiovascular system. The fruits of this plant have high levels of flavonoids that are beneficial to human health.
One suggestion that people appreciate is consuming Chinese hawthorn juice. Daily consumption of the juice gives the body necessary nutrients such as Vitamin C and fiber that help fight off numerous diseases. It can also be enjoyed as an herbal tea to improve digestion.
Get ready to rock your taste buds with these hawthorn-infused recipes that'll leave you feeling somewhat healthy...until you add the extra sugar.
Different Recipes for Incorporating Chinese Hawthorn into Diet
To incorporate Chinese Hawthorn into your diet with different recipes, consider the following options.
Use a table to display different types of recipes for consuming Chinese Hawthorn:
Recipe Name Ingredients Method Chinese Hawthorn Tea 1-2 tsp dried Chinese Hawthorn berries, water, honey (optional) Boil the berries in water for 10 minutes. Strain and add honey according to preference. Chinese Hawthorn Jam Fresh Chinese Hawthorn berries, sugar, lemon juice Wash and chop the berries. Mix with sugar and lemon juice in a pot and simmer until thickened. Chinese Hawthorn Smoothie Fresh or frozen Chinese hawthorn berries, banana, yogurt, honey (optional), almond milk Blend all ingredients together until smooth.
Apart from these recipes, another way to consume Chinese hawthorn is by using it as a seasoning on dishes like roasted meats or vegetables. Its tart flavor can add a unique twist to dishes.
Lastly, try incorporating Chinese hawthorn into baked goods such as pies or muffins. It can be used in place of traditional fruits like apples or cranberries.
All of these recipes offer ways to add the nutritional benefits of Chinese hawthorn into your diet while also introducing new and interesting flavors. Try experimenting with each one to find your favorite way to prepare and consume it.
Add some tang to your taste buds and health to your diet with Chinese Hawthorn, the fruit that's a sweet and sour sensation in every bite!
Conclusion: Chinese Hawthorn as a Delicious and Healthy Addition to Diet
Chinese Hawthorn: A Nutritious and Delicious Fruit for a Healthy Diet
Chinese hawthorn is not just a tasty fruit, but it also contains numerous health benefits. Here are five reasons why Chinese hawthorn should be included in your diet:
Chinese hawthorn can help improve digestion due to its high fiber content

It can help lower blood pressure and cholesterol levels

The fruit contains natural antioxidants that help protect against cardiovascular diseases

Eating Chinese hawthorn regularly can boost the immune system

The fruit's anti-inflammatory properties make it helpful for treating respiratory problems such as coughing and asthma.
Take note that the Chinese hawthorn's benefits aren't limited to what has been discussed above. In fact, this fruit provides a wide range of nutrients with different advantages that are still under research.
If you're planning to incorporate Chinese hawthorn into your diet, here are a few suggestions:
Add sugar or honey if you find the taste too sour.

The natural tartness of the fruit is perfect for use in sauces or marinades for meats and seafood.

You can dry them out and soak them in water to create a tea-like drink or add them to granola bars or trail mix.
Incorporating Chinese hawthorn into your diet is an easy way to enhance your overall health while enjoying something delicious at the same time!
Frequently Asked Questions
Q: What is Chinese Hawthorn?
A: Chinese Hawthorn is a fruit that is known for its medicinal properties. It is commonly used in traditional Chinese medicine to treat cardiovascular diseases and aid digestion.
Q: What are the health benefits of Chinese Hawthorn?
A: Chinese Hawthorn has numerous health benefits. It can lower cholesterol levels, improve digestion, reduce inflammation, and strengthen the cardiovascular system.
Q: How can I incorporate Chinese Hawthorn into my diet?
A: Chinese Hawthorn can be eaten fresh, dried, or made into tea or juice. It can also be used in baking and cooking, such as in pies or jams.
Q: Is Chinese Hawthorn safe for everyone to consume?
A: As with any new food or supplement, it is important to consult with a healthcare professional before adding Chinese Hawthorn to your diet, especially if you are pregnant, breastfeeding, or taking medication.
Q: Where can I buy Chinese Hawthorn?
A: Chinese Hawthorn can be found at most Asian supermarkets, health food stores, or online retailers.
Q: Does Chinese Hawthorn have any side effects?
A: In most cases, Chinese Hawthorn is safe to consume and has few side effects. However, consuming large amounts of Chinese Hawthorn may cause stomach discomfort or diarrhea.