Discover more from IgelSparks Substack
My personal Substack
"Chaste Tree: Hormonal Balance and Women's Health"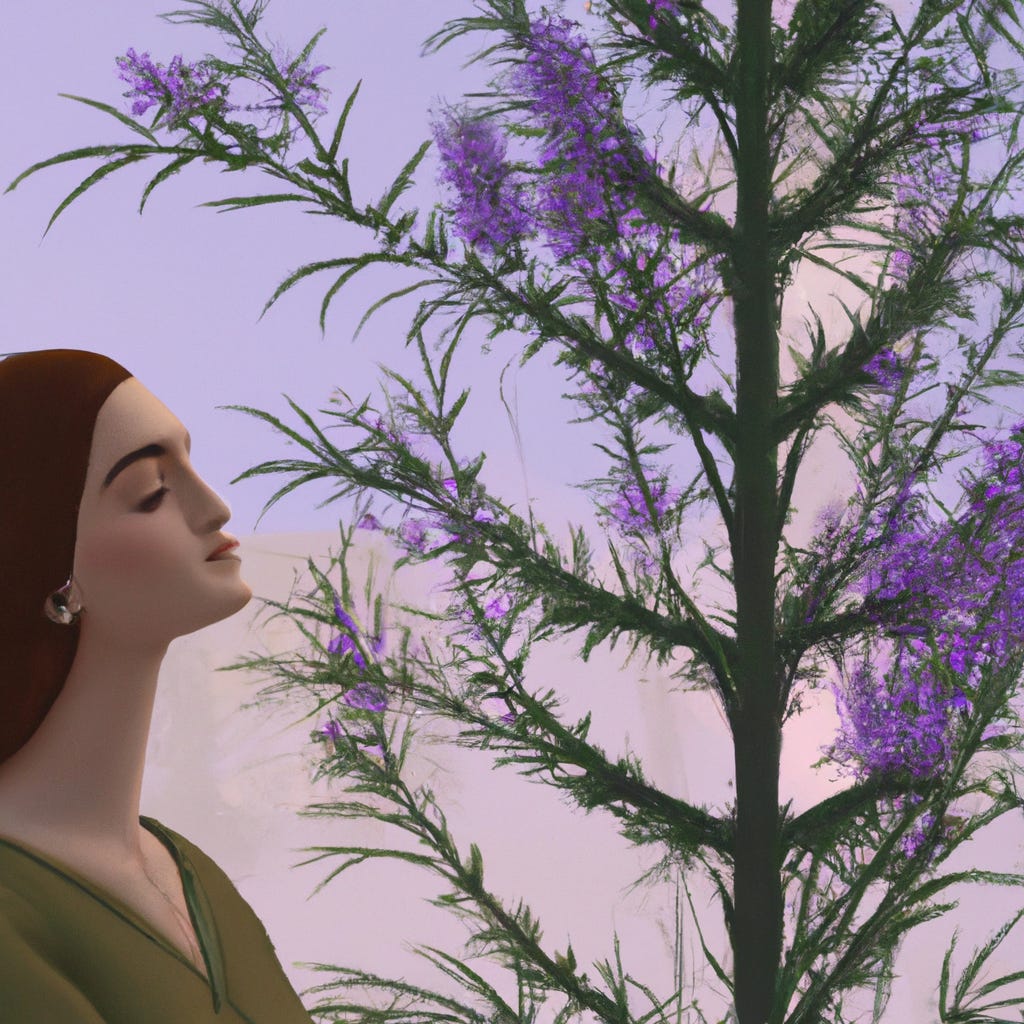 Introduction to Chaste Tree and its benefits for women's health
Chaste Tree supports women's health by regulating hormonal imbalances. Its active compounds affect the pituitary gland, enhancing progesterone and alleviating PMS symptoms. Women with endometriosis and PCOS may also benefit from its anti-inflammatory properties. Chaste Tree extract is commonly used in supplements for women's wellness.
Source: American Family Physician
Understanding hormonal imbalance in women is like trying to solve a Rubik's cube blindfolded, hungover, and with one hand tied behind your back.
Understanding Hormonal Imbalance in Women
To gain a deeper understanding of hormonal imbalance in women, you need to comprehend the causes and symptoms. Chaste Tree can be useful in maintaining hormonal balance. In order to identify if Chaste Tree can be beneficial to you, let's explore the causes and symptoms of hormonal imbalance.
Causes of Hormonal Imbalance
Hormonal imbalance can be caused by various factors such as stress, aging, and lifestyle changes. When the endocrine system gets affected negatively, it leads to disruptions in hormone production and regulation. These imbalances irregularly disrupt the normal physiological functions of the body systems.
Environmental toxins such as pesticides, heavy metals, and plastics also contribute to hormonal imbalances. Additionally, certain medications may cause hormonal disbalance. Medical conditions like diabetes, thyroid conditions and polycystic ovary syndrome are known to affect the sensitivity of receptors that regulate hormones levels, leading to dysregulation.
Hormonal imbalances differ from person-to-person depending on their lifestyle choices and genetic tendencies. In some cases, hormonal fluctuations might happen premenstrually or pregnancy related. Factors like nutritional deficiencies or excesses may trigger or worsen hormonal imbalances.
Whether a woman is experiencing stress-related hormonal issues or other unique medical conditions causing imbalance in their hormonal levels, a few simple dietary supplements - vitamin D3 and adaptogen herbs- can help balance their hormones.
Ample restorative sleep combined with regular exercise helps combat stress hormones thus maintaining a healthy hormone balance for women. Andromedical treatments like hormone replacement therapy comes handy when complications posed by hormonal discrepancies warrant medical intervention after consulting their respective physicians.
Who needs mood rings when you can have hormonal imbalance? Unpredictability and emotional rollercoasters at their finest!
Symptoms of Hormonal Imbalance
A hormonal imbalance can lead to various physical and emotional symptoms. It is crucial to recognize these signs as early as possible to avoid complications in the future.
Irregular menstrual cycles

Unexpected weight gain or loss

Constant fatigue

Hair loss or growth

Mood swings and anxiety / depression

Sleep disturbances
Apart from these, there are several other indications of the condition that affect women differently based on their age and health status. These symptoms could be subtle at first, but over time they may become more prevalent.
Women may need specialized treatments for balancing hormones such as hormonal medications or therapy sessions. Thus, it is essential to seek medical advice when experiencing multiple indications of hormone imbalance.
One example is that of a 28-year-old woman with irregular menstrual cycles who suffered from acne and unexpected weight gain. This woman was diagnosed with polycystic ovary syndrome (PCOS) closely associated with hormonal disturbance. With the help of treatment, she was able to regulate her hormonal balance and hence overcome related issues successfully.
Chaste Tree: Turning Your Hormonal Roller Coaster into a Kiddie Ride.
Chaste Tree's Effect on Hormonal Balance
To improve hormonal imbalances, turn to the chaste tree. Solution? The section on Chaste Tree's Effect on Hormonal Balance with the sub-sections discussing How the Chaste Tree Improves Hormonal Imbalance and Dosage and Administration of Chaste Tree.
How the Chaste Tree Improves Hormonal Imbalance
The Chaste Tree is known for its ability to balance hormones in a natural way. By regulating the function of the pituitary gland, this ancient herb helps in reducing premenstrual syndrome (PMS), painful menstrual periods, and menopause symptoms such as hot flashes and night sweats. Furthermore, it improves fertility by stabilizing ovulation cycles and increasing progesterone levels.
Research suggests that regular intake of Chaste Tree can lead to significant improvements in mood swings, bloating, breast tenderness, and fatigue. Additionally, it also reduces luteinizing hormone (LH) levels which signal the ovaries to produce testosterone - a hormone that can cause acne breakouts.
Moreover, Chaste Tree berry extract helps regulate prolactin levels which are responsible for producing breast milk in lactating women. This feature makes it helpful in treating irregular periods caused by excessive or insufficient prolactin secretion.
For best results, it is recommended to take Chaste Tree supplements or tea daily for at least three months while consulting with a physician. Other lifestyle modifications such as practicing yoga and meditation can help reduce stress levels that contribute to hormonal imbalances. A balanced diet consisting of leafy greens and whole grains along with avoiding alcohol and caffeine is also beneficial. Taking these steps towards hormonal balance can lead to an improved overall quality of life.
"Why take one pill when you can chaste your hormones with a tree?"
Dosage and Administration of Chaste Tree
To ensure optimal benefits and hormonal balance, it is essential to understand the correct dosage and administration of Chaste Tree. The recommended dose of Chaste Tree is approximately 400-500mg per day. It can be consumed in pill form or liquid tincture.
It is advised to start with a low dose and gradually increase it over time while monitoring any changes in the body. The optimum time to consume this herb is in the morning on an empty stomach, as it aids in better absorption. It must be taken consistently for several months for its effects to become noticeable.
Unique details about administering Chaste Tree includes avoiding concurrent usage of birth control pills as they may interact with each other and reduce the effectiveness of both medicines.
For maximum efficacy, one must consult a healthcare professional before consuming Chaste Tree for hormonal regulation as not doing so may result in unintended consequences. Don't miss out on the Chaste Tree's benefits with incorrect dosages - always take caution while consuming herbal remedies.
Who needs prince charming when you have Chaste Tree balancing out your hormones and keeping you feeling like a queen?
Benefits of Chaste Tree for Women's Health
To understand the benefits of chaste tree for women's health, let's explore how it can help regulate your menstrual cycle, reduce symptoms of PMS, boost fertility, and alleviate menopause symptoms. Whether you're struggling with irregular cycles or experiencing uncomfortable hot flashes, chaste tree may offer a natural solution for hormonal balance.
Regulating the Menstrual Cycle
The use of Chaste tree extract has been proven to effectively regulate the menstrual cycle in women. It works by regulating the levels of hormones produced in the body, particularly progesterone and estrogen. This natural remedy aids in reducing symptoms commonly associated with menstrual irregularities such as heavy bleeding, mood swings, bloating and breast tenderness.
Chaste Tree extract, also known as Vitex agnus-castus, has been used for centuries to treat menstrual disorders. The herb helps to balance hormone levels by increasing the production of luteinizing hormone (LH) and decreasing the secretion of follicle-stimulating hormone (FSH). This results in a more synchronized cycle that reduces pain and discomfort.
Interestingly, Chaste tree has also been shown to improve fertility rates in women due to its hormonal balancing properties. In addition, it is often recommended as a natural alternative to hormonal birth control methods due to its gentle yet effective regulation of menstruation.
Don't miss out on the benefits of Chaste Tree extract for your menstrual health. Consider incorporating it into your routine under professional guidance to see significant improvements in your overall well-being. Why suffer through PMS when you could be chillin' with some chaste tree?
Reducing Symptoms of PMS
The Chaste Tree is a natural remedy for alleviating symptoms of premenstrual syndrome (PMS) in women. Its anti-inflammatory properties work wonders on reducing inflammation in the body and relieving bloating and discomfort caused by PMS. Additionally, its hormonal-regulating effects balance hormones such as estrogen and progesterone, which leads to fewer mood swings, cramps, and other PMS symptoms.
Studies have shown that Chaste Tree supplementation can improve irritability, mood swings, breast tenderness, and bloating in women with PMS. It also helps regulate menstrual cycles in irregular periods, resulting in less pain during menstruation.
A unique benefit of the Chaste Tree is its effectiveness in reducing heavy bleeding in women with fibroids or endometriosis. This herb's natural ocular effect reduces prolactin levels in the body, decreasing menstrual blood loss over time.
True History: The Chaste Tree has been used historically as a remedy for promoting chastity and hence the name "Chaste Tree". However, modern medicine recognizes its wide range of benefits for women's health beyond chastity.
You don't need a magical fertility potion when you have chaste tree, but it certainly doesn't hurt to have one just in case.
Boosting Fertility
Chaste Tree helps with reproductive health, including menstrual cycle regulation and fertility. It supports hormonal balance, increasing progesterone levels to optimize conception chances. Additionally, it may help treat conditions that affect fertility like PCOS or endometriosis.
Interestingly, in ancient times, Chaste Tree was associated with celibacy due to its ability to reduce desire. However, this is not the case and women can reap the benefits of improved fertility by using this herb.
One woman shared her struggle with infertility due to PCOS and tried various treatments without success. After researching natural remedies, she came across Chaste Tree and decided to try it out. Following a few months of use, she conceived successfully and gave birth to a healthy baby girl.
Who needs a hot flash when you can have chaste tree to cool you down?
Alleviating Menopause Symptoms
Chaste Tree berries have been found to be effective in reducing the symptoms of menopause. This herbal remedy has been used for many years to balance hormones, and studies suggest it can help with hot flashes, night sweats, and mood swings.
Taking chaste tree supplements regularly can help women feel more comfortable during this transitional period. Its active compound helps regulate hormone production in the pituitary gland, which controls the menstrual cycle.
Furthermore, chaste tree may also aid in reducing painful menstrual cramps and alleviate PMS symptoms. It is important to consult a healthcare professional before taking any natural supplements to ensure they are safe and appropriate.
A study conducted by Kerman University of Medical Sciences found that women who took chaste tree extract experienced significant reductions in hot flashes and night sweats compared to those who did not.
Before you go wild with Chaste Tree, make sure to read up on the side effects and precautions - we wouldn't want your lady bits to go on strike.
Side Effects and Precautions while using Chaste Tree
Chaste Tree Usage Precautions and Possible Drawbacks
Chaste tree supplements have gained popularity owing to their pivotal role in regulating women's hormones. However, chaste tree usage has some potential drawbacks that must be considered before its usage.
Some people may develop nausea, itching, rash, anaemia or gastrointestinal issues when consuming this supplement.

The product can lower dopamine levels in the brain resulting in dizziness and fatigue.

Pregnant women should avoid consuming Chaste tree oils or supplements as it can lead to miscarriage or inhibit milk production.

Thyroid medication patients should seek medical consultation before consumption as the use of chaste tree might interfere with the effectiveness of such medications.

In rare cases, headaches may occur following ingestion of chaste berry extracts.

Individuals who suffer from hormone-sensitive health problems such as breast cancer or uterine fibroids must avoid using this supplement.
It is worth noting that exercise caution if one falls within any of these categories. In addition to these possible side effects and precautions, suppliers do not guarantee results as they are not FDA approved.
According to a recent study conducted by NCBI (National Center for Biotechnology Information), "The leaves and dried fruits contain compounds including flavonoids, iridoid glycosides, sesquiterpenes and essential oils". This leads us to believe that Chaste tree still holds massive potential yet uncharted water for medical researchers going forward towards discovering the vitals of hormonal stability in women's health. A little Chaste Tree can go a long way in keeping women balanced and happy.
Conclusion: Why Chaste Tree is Beneficial for Women's Health
The benefits of Chaste Tree for women's health are numerous. This herb promotes hormonal balance, helping with symptoms such as PMS, irregular periods, and infertility. Additionally, it can alleviate menopause symptoms and support lactation. Chaste Tree works by regulating the production of prolactin and progesterone in the body, reducing inflammation, and preventing the overgrowth of certain cells. Overall, this natural remedy is a safe and effective option for women seeking relief from hormonal imbalances.
Studies have also shown that Chaste Tree enhances overall mood and decreases anxiety linked to premenstrual syndrome or postpartum depression. This herbal remedy reduces cravings for alcohol or tobacco in some people as well. It is suggested that women should add Chaste Tree as an alternative therapeutic approach to their routines before trying out hormone replacement therapy (HRT) or synthetic medications.
If you want to incorporate Chaste Tree into your wellness regimen, consider consulting with your healthcare provider for dosage requirements. It may take time for this herbal remedy to take effect and relieve your symptoms completely so be patient during the process. Besides consuming it directly, Chaste Tree can also be consumed via tea or applied topically in creams and serums.
Frequently Asked Questions
Frequently Asked Questions
1. What is chaste tree and how does it benefit hormonal balance in women's health?
Chaste tree, also known as Vitex or agnus castus, is a plant that has been used in traditional medicine to address hormonal imbalances in women. It works by stimulating the production of luteinizing hormone (LH), which in turn regulates the production of progesterone and estrogen, helping to restore hormonal balance.
2. What specific women's health issues can chaste tree help with?
Chaste tree has been shown to be effective in addressing a range of women's health issues, including menstrual irregularities, premenstrual syndrome (PMS), acne, infertility, and menopausal symptoms.
3. How should chaste tree be taken?
Chaste tree can be taken in a variety of forms, including capsules, tinctures, teas, and extracts. It is recommended to follow the dosage instructions on the packaging, or to consult with a healthcare practitioner for guidance.
4. Are there any side effects or precautions to be aware of when taking chaste tree?
Chaste tree is generally considered safe for most people, but some individuals may experience side effects such as upset stomach, dizziness, or skin reactions. It is also not recommended for use during pregnancy or while breastfeeding.
5. Can chaste tree be used in conjunction with other medications or supplements?
It is always important to speak with a healthcare practitioner before using chaste tree in conjunction with other medications or supplements, as interactions can occur. Additionally, chaste tree should not be taken with hormone replacement therapy (HRT).
6. How long does it take for chaste tree to have an effect?
The effects of chaste tree may vary depending on the individual and the condition being treated. Some individuals may notice improvements within a few weeks, while others may require several months of consistent use to see results.