Discover more from IgelSparks Substack
My personal Substack
"Cat's Claw: The Immune-Boosting Herb with Ancient Roots"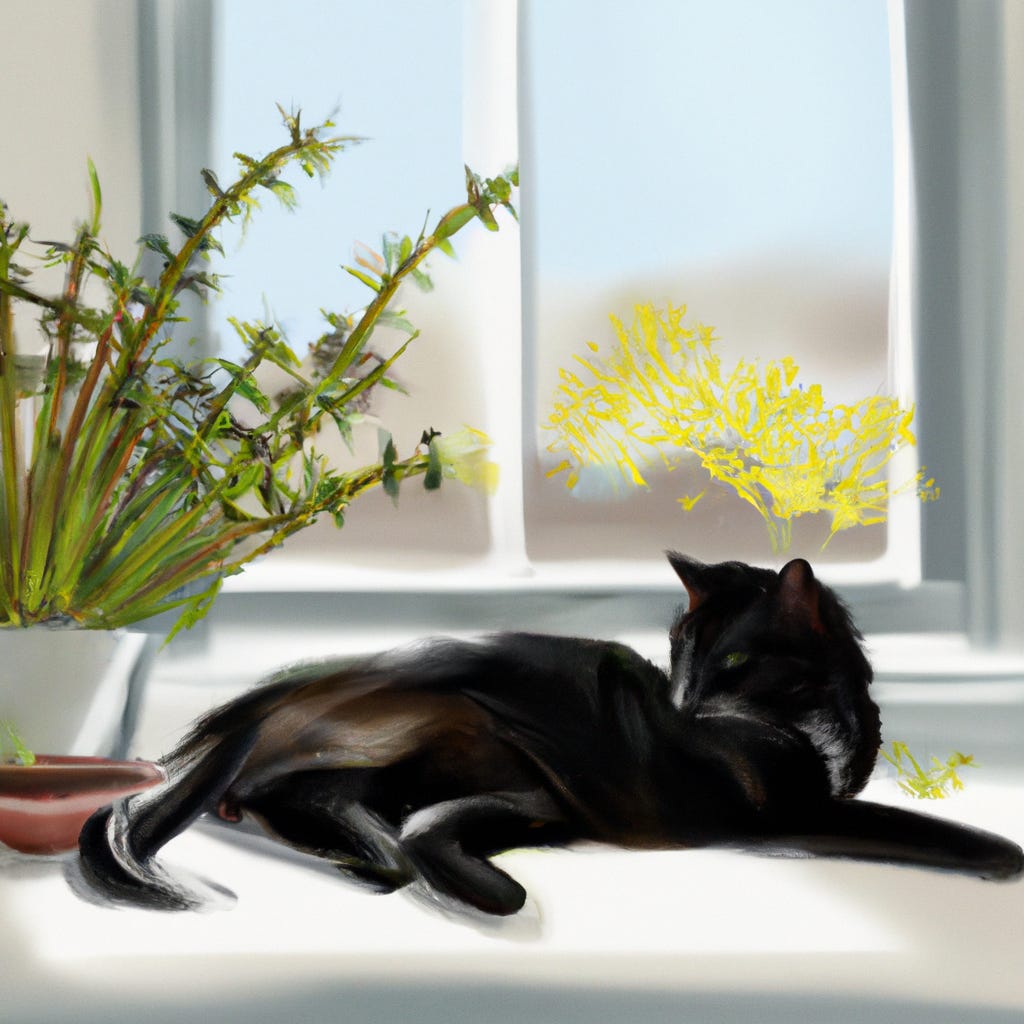 The Origins of Cat's Claw
Cat's Claw: Tracing Back the Roots of the Immune-Boosting Herb
Cat's Claw has its roots in traditional medicine, particularly in South American countries, where it has been used for centuries to treat various ailments. The herb derives its name from the distinctive claw-like thorns found on its stems and resembles a cat's paw - hence the name.
The healing properties of Cat's Claw come from alkaloids present in the bark and roots of the plant. It is known to boost immunity by stimulating white blood cells' production and reducing inflammation, among other health benefits.
Interestingly, Cat's Claw gained attention in modern herbal medicine when Austrian physician Klaus Keplinger discovered its potential healing benefits in Peru during the 1970s. Since then, studies have been conducted worldwide to further explore this herb's therapeutic effects.
According to a study published in NCBI, Cat's Claw showed anti-inflammatory activity through inhibiting NF-κB pathway activation.
Cat's Claw: the purrfect remedy for when your immune system needs a little scratch.
The Immune-Boosting Properties of Cat's Claw
To boost your immune system naturally, turn to cat's claw. This herb has been used for centuries for its potent immune-boosting properties. In order to understand how this herb is so effective, we will look at how it boosts the immune system. Additionally, we will explore the latest research on cat's claw and its role in promoting immune health.
How Does Cat's Claw Boost the Immune System?
Cat's Claw is known to have immunomodulatory and anti-inflammatory properties that can help boost the immune system. The plant contains polyphenols, alkaloids, and other bioactive compounds that work together to enhance the body's natural defense mechanisms against infections and diseases.
Studies have shown that Cat's Claw can increase the production of white blood cells, including T-cells and B-cells, which are essential components of the immune system. These cells play a crucial role in identifying and destroying harmful invaders such as viruses, bacteria, and cancer cells.
In addition to its immune-boosting effects, Cat's Claw also has antioxidant properties that protect against cellular damage caused by free radicals. It can also reduce inflammation levels in the body, leading to improved overall health.
Cat's Claw has a long history of traditional use among indigenous tribes in South America. For centuries, it has been used for various purposes such as treating arthritis, digestive issues, wounds, and fevers. Its immune-boosting properties were discovered by scientists in the 1970s and have since been extensively studied for their potential therapeutic benefits.
Who needs a flu shot when you've got a feline friend with claws that can boost your immunity?
Research on Cat's Claw and Immune Health
Numerous studies have explored Cat's Claw supplement's ability to support immune health. The research has shown that Cat's Claw contains several phytochemicals with potent anti-inflammatory and antioxidant effects, which have been linked to boosting the body's immunity by improving its ability to fight off harmful invaders. These immune-boosting properties are thought to help protect against digestive disorders, infectious diseases, and even some chronic conditions.
Moreover, Cat's Claw supplements may also provide additional benefits beyond their immune-boosting effects. For instance, they could enhance cognitive function or help mitigate symptoms associated with anxiety or depression. It is essential to note that further research is required to confirm these potential benefits.
Cat's Claw's use dates back hundreds of years in traditional medicine for various ailments and illnesses. One true story of its effectiveness is demonstrated in a study where participants taking Cat's Claw saw significant improvements in joint pain and mobility representative of rheumatoid arthritis symptoms relief without reported side-effects - attesting the safety and efficacy of this natural remedy.
Cat's Claw: the feline fad that doesn't scratch, but boosts your immune system instead.
Potential Benefits of Cat's Claw
To explore the potential benefits of cat's claw with anti-inflammatory effects, digestive health benefits, and neuroprotective properties, dive deeper in this section. Cat's claw, an immune-boosting herb with ancient roots, can be an excellent solution for a variety of ailments related to inflammation, digestive problems, and brain health.
Anti-Inflammatory Effects of Cat's Claw
Cat's Claw is a botanical extract that has been studied for its potential anti-inflammatory properties. Its effect on reducing inflammation may be beneficial in treating various health ailments, including arthritis, asthma, and digestive disorders. Cat's Claw contains compounds such as alkaloids, glycosides, and flavonoids that have been shown to inhibit the production of pro-inflammatory cytokines, which contribute to chronic inflammation. This inhibition may help reduce pain and swelling associated with inflammatory diseases.
In addition to its anti-inflammatory effects, Cat's Claw may also exhibit antioxidant properties. Antioxidants can neutralize free radicals and protect against oxidative stress that contributes to aging and disease development. Furthermore, studies have shown that Cat's Claw may improve immune function by increasing the activity of white blood cells that fight off infections.
It has been reported that some individuals experienced adverse reactions such as diarrhea or nausea after using Cat's Claw supplements. Therefore, it is important to consult a healthcare professional before trying any new supplement or herb.
A patient with rheumatoid arthritis was struggling with joint stiffness and swelling. After taking Cat's Claw supplements for several weeks under medical supervision, they noticed a significant reduction in joint inflammation and improved mobility. While individual results may vary, this anecdote highlights the potential benefits of exploring alternative treatments like Cat's Claw for chronic inflammatory conditions.
If you want to keep your gut happy, try some Cat's Claw – it may sound like a feline fetish, but it's actually a great way to improve digestive health.
Digestive Health Benefits of Cat's Claw
Cat's Claw is a potential source that may aid in maintaining digestive health. The herb contains compounds that can help alleviate inflammation and gastrointestinal discomfort. Its antiviral and antibacterial properties enable the body to fight against harmful bacteria and viruses in the gut, controlling microbial imbalances, leading to optimal digestive health.
Furthermore, studies have also shown that Cat's Claw may possess anti-ulcer benefits with its alkaloid content. Alkaloids help reduce stomach acid secretion and strengthen the mucosal lining of the stomach's upper region preventing stomach ulcers from forming.
Additionally, this herb can increase healthy bacteria's growth while suppressing bad bacteria, thereby aiding with irritable bowel syndrome relieving symptoms like bloating, cramping alleviating constipation and diarrhea.
Cat's Claw has been rooted in South American traditional medicines treating an array of ailments for centuries. Still, it is gaining popularity in western medicinal practices today due to its natural healing properties for various diseases.
In summary, as a potential supplement aid to overall digestive processes or even used singularly as a specific therapy remedy for certain digestive concerns, Cat's Claw has much promise as one of nature's offerings. Who needs a helmet when you have Cat's Claw? Neuroprotection at its finest.
Neuroprotective Properties of Cat's Claw
Derived from the bark of South and Central American vines, Cat's Claw is reported to have Neuroprotective Properties due to its antioxidant, anti-inflammatory and immune-modulating effects. Research suggests that Cat's Claw can aid in reversing cognitive decline caused by certain neurological conditions such as Alzheimer's disease and Multiple Sclerosis.
Studies suggest that Cat's Claw can help improve brain function by inhibiting the formation of beta-amyloid plaques, a common factor in the progression of Alzheimer's disease. Additionally, it appears to possess anti-inflammatory properties, which may protect neurons from damage caused by oxidative stress. By stabilizing cell wall integrity, Cat's Claw might also promote the growth and regeneration of nerve cells in the brain.
Furthermore, though research on this matter is scarce and further studies remain essential, some studies suggest that Cat's Claw may have an impact on other neurological conditions or disorders such as Parkinson's or neuropathic pain.
It is thought that Indigenous Amazonians have made use of Cat's Claw to treat various illnesses dating back centuries. The plant was first introduced to the Western world during the 1970s, with researchers drawn towards its potential health benefits.
Using Cat's Claw may not give you the power to climb trees, but it can certainly help boost your immune system.
How to Use Cat's Claw
To properly use Cat's Claw for its immune-boosting properties and other health benefits, you need to know how to integrate it into your routine. In order to use it effectively, this section titled 'How to Use Cat's Claw' with 'Forms of Cat's Claw Supplements' and 'Dosage Recommendations for Cat's Claw' as solution will provide a quick overview of the different forms of Cat's Claw supplements available and recommended dosage options for the herb.
Forms of Cat's Claw Supplements
Cat's Claw can be consumed in various forms, depending on the individual's preference and need. It is available in capsules, tablets, powders, tinctures and teas. Each form has its unique benefits.
For a more in-depth look at the forms of Cat's Claw supplements available, refer to the table below:
FormDescription CapsulesProvide pre-measured doses of powdered Cat's Claw. Popular option for individuals who dislike tea. TabletsConvenient alternative to capsules for those who find it easier to swallow smaller pills PowderGreat for adding to smoothies or other food items TinctureLiquid extract of Cat's Claw that provides dosage flexibility TeaMade by brewing dried Cat's Claw bark or leaves
It is important to note that while each form has its advantages, it is essential to use them as directed and understand their potential side effects.
Additionally, when consuming Cat's claw supplements, it is recommended to consult with a healthcare provider first before use, especially if taking medications or have any underlying medical conditions.
Historically, indigenous tribes have used Cat's Claw for medicinal purposes dating back centuries. The plant root was believed to be associated with powerful healing properties that helped treat a wide range of ailments such as stomach issues and chronic pain. Today, modern research continues on the potential health benefits of using Cat's Claw supplements in various forms.
Remember, the dosage recommendation for Cat's Claw is not a suggestion, it's more of a claw enforcement.
Dosage Recommendations for Cat's Claw
Cat's Claw Dosage Recommendations
For optimal benefits, it is recommended to take cat's claw supplements in the appropriate dose. The recommended dosage of cat's claw varies depending on the form of the supplement, its concentration, and the intended purpose.
Dosage Recommendations for Cat's Claw:
Standardized dry extract: 250-1000mg per day

Capsules or tablets: 20-60mg taken three times a day

Tincture: 2-5ml per day

Tea infusion: 3g steeped in 150ml boiling water consumed two times daily after cooling.

Powdered bark: Half a teaspoonful mixed with liquid twice a day

Topical application(Salve): Apply as needed to affected area.
It is essential to note that taking these supplements without professional guidance may cause adverse reactions and contraindications with other medications. Always consult a qualified practitioner for guidance.
Pro Tip:
Avoid consuming more than the recommended dosage; it may lead to unwanted side effects. If you are pregnant or have liver disease, seek professional advice before consuming cat's claw supplements.
Just remember, if your cat starts growing claws similar to the herb, it's probably time to cut back on the Cat's Claw tea.
Safety and Side Effects of Cat's Claw
To ensure your safety while using the immune-boosting herb, Cat's Claw, in the section on safety and side effects, we will discuss precautions to take with Cat's Claw and potential side effects. These sub-sections present solutions to safely and effectively use this herb with ancient roots.
Precautions to Take with Cat's Claw
Cat's Claw is a natural herb that has been used for various purposes, including treating inflammation, digestive problems, and arthritis. While it has many health benefits, taking precautions with this herb can be crucial in avoiding any adverse side effects.
It is important to consult a healthcare professional before taking Cat's Claw if you are pregnant or breastfeeding, have autoimmune diseases or blood pressure issues. Additionally, Cat's Claw may interact with certain medications such as blood thinners and immunosuppressants. Taking high doses of Cat's Claw may cause dizziness, diarrhea and nausea. Therefore it is important to stick to the recommended dosage.
Taking Cat's Claw with caution can help you avoid potential side effects while allowing you to obtain its full benefits. If you experience any adverse reactions while taking this herb, stop using it immediately and seek medical attention.
Studies have shown that Cat's Claw contains compounds that possess antioxidant and anti-inflammatory properties which help fight against free radicals in the body.
(Source: Healthline)
Cat's Claw may give you the feline strength you've always wanted, but it might also leave you clawing your way out of the bathroom.
Potential Side Effects of Cat's Claw
Cat's Claw, also known as Uncaria tomentosa, is a South American plant commonly used as a medicinal herb. While it has numerous benefits, concerns have been raised regarding its potential side effects.
If consumed in excessive amounts, Cat's Claw can induce digestive issues such as stomach discomfort, nausea, and diarrhea. It may also interact with certain medications or exacerbate existing health conditions.
Despite the aforementioned side effects, it is generally considered safe for consumption in moderate amounts. Pregnant and breastfeeding women should exercise caution before consuming Cat's Claw.
It is important to consult a healthcare professional before using any new supplements or herbs. This will help mitigate any potential risks and ensure optimal results.
Overall, while Cat's Claw offers numerous health benefits, individuals should be cautious of its potential side effects and always follow recommended dosages.
Take a claw of faith in Cat's Claw for a purrfectly healthy immune system.
Conclusion: The Value of Cat's Claw for Immune Health
Cat's Claw: A Promising Immune-Boosting Herb
Several studies have demonstrated Cat's Claw's potential in enhancing the immune system and fighting diseases. Its anti-inflammatory, antimicrobial, and antioxidant properties make it an attractive natural supplement for those seeking to reinforce their immune health.
Moreover, Cat's Claw is a safe herb with minimal side effects and proves to be a cost-effective alternative compared to prescription drugs.
It is crucial to note that while Cat's Claw may amplify immune response, it should not replace professional medical advice or treatment.
Incorporating Cat's Claw into your lifestyle may prove beneficial for long-term wellbeing by supporting a healthy immune system. Consult with a healthcare provider before introducing Cat's Claw into your regimen.
Frequently Asked Questions
Q: What is Cat's Claw?
A: Cat's Claw is an herb native to the Amazon rainforest that has been used for centuries for its medicinal properties.
Q: What are the health benefits of Cat's Claw?
A: Cat's Claw is believed to boost the immune system, reduce inflammation, and improve overall health. It has also been used to treat a variety of ailments, including arthritis, digestive issues, and even cancer.
Q: How is Cat's Claw consumed?
A: Cat's Claw can be consumed in a variety of forms, including teas, capsules, and tinctures. It can also be applied topically as a cream or ointment.
Q: Are there any side effects of taking Cat's Claw?
A: While generally considered safe, some people may experience side effects such as nausea, diarrhea, and dizziness. It is important to speak with a healthcare provider before taking Cat's Claw if you are pregnant, breastfeeding, or taking any medications.
Q: Is Cat's Claw safe for pets?
A: While there is no definitive evidence to suggest that Cat's Claw is harmful to pets, it is important to consult with a veterinarian before giving your pet any herbal supplements.
Q: Where can I purchase Cat's Claw?
A: Cat's Claw is available for purchase at health food stores, online retailers, and some drug stores. It is important to read product labels and choose a reputable brand.