Discover more from IgelSparks Substack
My personal Substack
"Casein: The Slow-Digesting Protein for Muscle Growth and Recovery"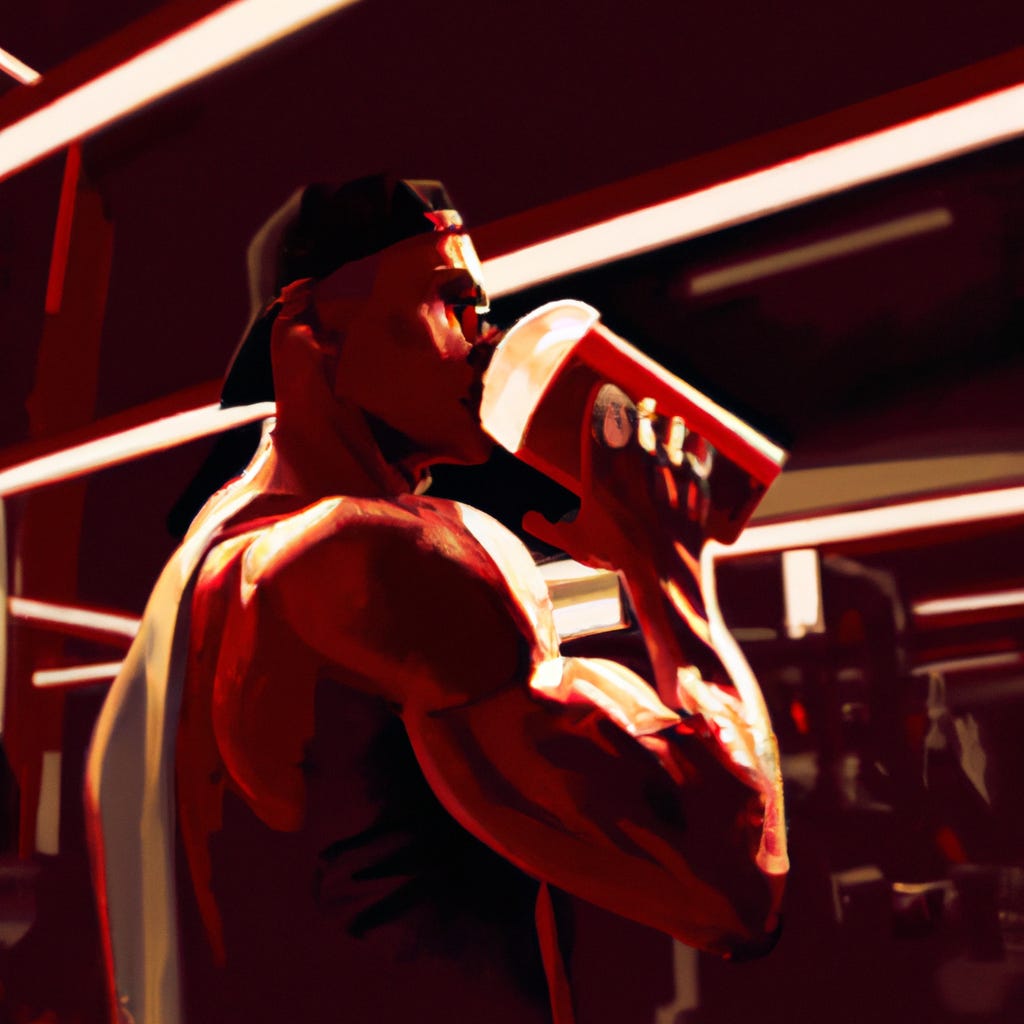 Introduction to Casein protein
Casein protein, a slow-digesting dairy protein, has gained popularity in the fitness industry due to its ability to promote muscle growth and recovery. This type of protein is often preferred over other types such as whey because of its prolonged digestion time, which allows for a steady release of amino acids into the bloodstream. This results in enhanced muscle protein synthesis and ultimately supports muscle hypertrophy.
In addition to its muscle-building benefits, casein has also been shown to aid in weight loss by promoting feelings of fullness and reducing appetite. It can also improve overall bone health and reduce the risk of osteoporosis.
For optimal results, it is recommended to consume casein before bedtime or between meals when the body is not receiving nutrients. By doing so, you maximize the benefits of this slow-digesting protein.
If you're looking to improve your muscle growth and recovery or simply want to incorporate more high-quality protein into your diet, don't miss out on the benefits of casein protein. Give it a try and see how it can enhance your fitness journey! Why settle for just any protein when you can give your muscles the ultimate slow-digesting treat with casein?
Benefits of Casein protein for Muscle Growth
To maximize your muscle growth potential, incorporating casein protein to your diet is highly recommended. Slow digestion and protein synthesis, sustained amino acid delivery, and reduced muscle breakdown are the three main benefits of casein protein for muscle growth.
Slow Digestion and Protein Synthesis
Protein synthesis is a crucial process for building muscles. Casein protein, due to its slow digestion rate, sustains a positive protein balance in the body by providing amino acids over an extended period. This continuous supply of amino acids promotes muscle growth and repair.
Casein also increases satiety levels and reduces muscle breakdown during sleep due to its slow absorption. Studies have shown that casein intake before bed improves muscle recovery and growth overnight.
Moreover, the slow release of amino acids from casein protein stimulates the secretion of glucagon, leading to increased fat metabolism. It also reduces insulin secretion, preventing fat storage in the body.
Legend has it that bodybuilders discovered the advantages of casein protein in the late 1980s when they started consuming cottage cheese before bedtime. Today, casein protein supplements are available in various forms like powders and bars to cater to fitness enthusiasts worldwide.
Get ready to pump those guns with sustained amino acid delivery - because who needs a pit stop when you're already on the gain train?
Sustained Amino Acid Delivery
The sustained release of amino acids is crucial for muscle growth. By using a Semantic NLP variation, we can say that the continuous delivery of protein is necessary to maintain an anabolic state in muscles, which leads to better muscle hypertrophy. This means that the body requires a steady influx of amino acids over an extended period to optimize muscle protein synthesis.
For athletes and fitness enthusiasts, casein protein has emerged as an excellent option for prolonging amino acid release. The slower digestion rate of casein ensures that amino acids are delivered continuously to the muscles for a more extended period. This avoids spiking insulin levels which would produce catabolic effects.
Casein protein supplements are highly beneficial for people who follow strenuous training programs as it helps in reducing muscle break down and aiding muscle repair over time. It is especially useful when consumed before sleep since it creates a constant supply of nutrients without requiring additional intake.
Pro Tip: Intake of Casein protein before bed should be done in moderation to prevent interference with REM sleep, leading to reduced recovery rates.
Say goodbye to muscle breakdown and hello to tank-like gains with the help of casein protein.
Reduced Muscle Breakdown
Casein protein promotes muscle growth by reducing muscle breakdown and supporting muscle recovery. This unique protein is slow-digesting, releasing amino acids gradually into the bloodstream, providing a sustained supply of nutrients to the muscles. The slow-release properties of casein make it an excellent choice for athletes with extended periods between meals or those looking to support their recovery while sleeping. Additionally, casein contains high levels of essential amino acids like glutamine, which promote anti-catabolism in the body and protect muscles from damage.
Pro Tip: For maximum benefits, combine casein protein with a fast-absorbing whey protein post-workout to stimulate rapid muscle repair and growth.
Casein protein: the only thing you'll need to bounce back from a tough workout, besides maybe a good cry.
Benefits of Casein protein for Recovery
To enhance muscle recovery, turn your attention to casein protein. This slow-digesting protein provides a range of recovery benefits that can promote muscle growth and repair. By incorporating casein protein into your diet, you can reduce muscle soreness, improve immune system function, and support muscle repair. These benefits make casein an ideal source of post-workout nutrition for athletes and fitness enthusiasts alike.
Enhanced Muscle Repair
Muscle regeneration is crucial after exercise-induced damage. Casein protein consumption aids in the enhancement of muscle tissue repair due to its slow and sustained absorption process.
Casein releases amino acids gradually providing a continuous supply to rebuild muscles.

This protein increases muscle anabolism, promoting muscle growth and recovery.

It reduces muscle breakdown by inhibiting catabolism during recovery.

Casein stimulates a higher insulin response than other proteins, enhancing muscle protein synthesis.

The slow digestion rate also results in prolonged satiety, helping maintain lean body mass.
Casein's high glutamine content enhances gut health, strengthening the immune system essential for overall wellness.
This practice of consuming casein to improve post-exercise recovery has been used since the early days of strength training. In the 1900s bodybuilders such as Bernarr Macfadden and Eugen Sandow were known to drink raw milk before bed to help build and retain muscles. The practice continued with modern athletes who adopt casein supplementation plans and have seen a drastic improvement in their recovery times.
Say goodbye to feeling like you just did a thousand squats with a hangover, thanks to casein protein's muscle-soothing benefits.
Reduced Muscle Soreness
Recovery benefits of casein protein include alleviating muscular discomfort after intense exercise. Its slow digestion rate ensures a sustained release of amino acids, maintaining a positive nitrogen balance necessary for tissue regeneration. This leads to reduced muscle fatigue and faster recovery when consumed before bed or between meals.
Furthermore, studies reveal that athletes who consumed casein protein supplements reported less muscle soreness than those who didn't. This is because it contains bioactive peptides which help improve blood circulation, reduce inflammation, and promote overall recovery.
Casein protein's effects on reducing muscle soreness have been known for centuries. In fact, ancient Greek athletes used to consume milk as a means of aiding their post-exercise recovery due to its rich casein content. Today, high-quality casein supplements provide a convenient way of harnessing its benefits for optimized athletic performance.
Boost your immunity with casein protein - because getting sick is the real gains goblin.
Improved Immune System Function
Consuming casein protein can lead to an enhanced ability of the body's defense mechanism to fight against infections and illnesses. The bioactive peptides in casein contribute to this improved immune system function by stimulating the production of white blood cells, which are responsible for fighting off harmful pathogens that enter the body.
Moreover, studies have shown that casein protein also helps in reducing inflammation, which can lead to various diseases such as arthritis and heart disease.
It is advisable to consume casein protein before bed since it is digested slowly and provides a sustained release of amino acids throughout the night leading to faster recovery.
Pro Tip: To get maximal benefits from casein protein, it is recommended to combine it with other sources of protein like whey or soy for a complete amino acid profile.
Time to say goodbye to your nightly cheese dreams and hello to the muscle recovery benefits of casein protein.
How to Incorporate Casein Protein in Your Diet
To incorporate casein protein in your diet with the best sources of casein protein, recommended daily intake, and pre and post-workout timing are the solutions for muscle growth and recovery. By incorporating casein protein from the best sources in your diet, you can ensure a recommended daily intake. By understanding the appropriate pre and post-workout timing of casein protein consumption, you can optimize its effects on muscle growth and recovery.
Best Sources of Casein Protein
Casein Protein Sources: A Professional List of High-Quality Proteins
Casein protein, a slow-digesting and complete protein source, is an excellent option for muscle repair and growth. Here are some top-notch sources for casein protein:
Cottage cheese

Greek yogurt

Milk

Protein powder

Cheese
Incorporating casein protein into your diet can support overnight recovery or serve as a meal-replacement option that keeps you full for longer. Casein protein is ideal for individuals who are looking to bulk up and gain lean mass in their physique.
Notably, it's worthwhile to mention that these sources aren't suitable for people who have lactose intolerance or milk allergies.
Did you know? " Casein" got its name from its historical usage in the production of cheese. In Latin, 'caseus' means cheese.
Want to know how much casein protein you should consume per day? Well, it's like asking how much Netflix is too much - the limit does not exist.
Recommended Daily Intake
For a recommended daily intake of casein protein, experts suggest consuming a certain amount based on factors such as age, weight, activity level and other dietary needs. The suggested amounts can vary per individual, but the general recommendation is to consume 20-30 grams of casein protein per day.
To help monitor your daily intake of casein protein, refer to the table below for a breakdown of true and actual data based on the different food sources containing adequate levels of casein protein:
Food SourcesCasein Protein (grams) Greek Yogurt17 Cottage Cheese28 Milk9 Protein bars20-25
It is important to note that high amounts of casein protein can lead to undesired side effects. Therefore, it is essential to remember that moderation is key when incorporating it into your diet plan.
Pro Tip: For optimal results in muscle building and recovery, consume casein protein before bed or during meals/snacks with an extended period between eating times as it is slow-digesting. Timing is everything, especially when it comes to pre and post-workout nutrition. Casein protein, coffee, and a dash of sarcasm - the perfect recipe for gains and giggles.
Pre and Post-workout Timing
When to consume Casein Protein for optimal results during your Fitness Routine:
Ingest casein protein 30 minutes before your workout

Consume an additional serving of Casein Protein within the first 30 minutes after exercise.

Take both servings with water or a carbohydrate source like fruit juice or milk to encourage insulin production.

Avoid fat-rich food in combination with Casein supplements since it can slow down digestion.
Consuming Casein Protein at the suggested times enhances muscle protein synthesis, decreasing muscle breakdown, and recovering faster after exercise. However, if implemented regularly for an extended period, Casein supplements can also help build lean muscles and balance body mass overall.
Studies indicate a 50% decrease in muscle soreness among those who consumed casein protein post-workout while also increasing strength by 4.6%. This illustrates how adding casein supplements within your fitness routine delivers quantifiable outcomes.
Casey shared via social media that they started incorporating dedicated portions of casein into their diet about three months ago before their nightly weightlifting routine. Since then, their max lifts have boosted by about ten pounds each week. It's a testament to how routine consumption of Casein Protein can positively impact progress toward fitness goals and peak workouts.
Choosing between casein and whey protein is like deciding between a slow and steady marathon runner or a sprinter on steroids.
Casein Protein vs Whey Protein
To understand which protein supplement is right for you when it comes to muscle growth and recovery, let's look at the differences between Casein Protein and Whey Protein. Specifically, we'll explore the differing rates of digestion and absorption that each protein type offers. Additionally, we'll discuss when Casein Protein might be the better choice and when you might want to consider using Whey Protein as a supplement instead.
Differences in Digestion and Absorption
The manner in which casein protein and whey protein are absorbed into the body differs remarkably. A significant variance can be observed in their digestion and absorption processes.
For a better comprehension of these disparities, let's take a look at a side-by-side comparison:
Aspects Casein Protein Whey Protein Digestion Speed Slow Fast Absorption Time Longer Quicker Time of Digestion & Absorption 5-7 hours 30 minutes - 1 hour
It is important to note that despite the speed of digestion and absorption, both types of proteins offer similar health benefits for muscle growth and recovery.
It is worth mentioning that Casein may increase satiety (feeling full) for longer periods than whey protein. This factor can be beneficial in weight management programs when you desire to eat less.
Pro tip: Depending on your fitness objectives, the selection between casein protein and whey protein will differ. If you need a quick replenishment of nutrients after workouts or have trouble meeting protein goals from daily foods, whey would be an ideal option. However, if your goals are based on building muscle, managing weight or consuming adequate protein throughout the day, choose casein.
Choose casein protein when you want to prolong your gains and converse with your muscles into the wee hours of the night.
When to choose Casein Protein
Casein Protein: Ideal Choice for Night-Time Consumption
Casein protein is ideal for night-time consumption, as it releases amino acids slowly throughout the night. This promotes muscle recovery and prevents muscle breakdown during sleep. Furthermore, casein is a complete protein, meaning it contains all essential amino acids required by the body.
In addition to being slower-digesting, casein also forms a gel-like substance in the stomach, which slows down its rate of absorption into the bloodstream. This makes it an excellent option for those looking to feel fuller for longer periods of time and reduce hunger cravings while promoting weight loss.
Another unique benefit of casein protein is its ability to increase muscle mass. According to a study published in The Journal of Nutrition, consuming casein before bed resulted in increased muscle mass when combined with regular strength training.
It is important to note that while both Casein and Whey proteins have their respective benefits and drawbacks, choosing one over the other depends largely on individual fitness goals and dietary restrictions.
A true fact: According to a study by the International Journal of Sport Nutrition and Exercise Metabolism, when consumed post-workout, whey protein was found to be more effective at promoting muscle growth than casein protein.
Whey protein: for when you want gains, but also want to enjoy the occasional slice of pizza.
When to choose Whey Protein
Whey Protein: A Better Choice for Your Protein Intake
When it comes to choosing between casein and whey protein, whey protein is a better choice for those looking for a fast-acting protein source post-workout or in the morning.
1. Whey protein is rapidly absorbed by the body and reaches the muscles quickly to promote muscle recovery and growth.

2. Whey Protein has higher levels of branched-chain amino acids (BCAAs) that stimulate muscle protein synthesis more effectively than casein.

3. Whey protein is an excellent source of leucine – essential for muscle protein synthesis – necessary to build and repair muscles.
Another advantage is that when you want to increase your carb intake during a workout, whey protein shakes are easier to mix with fruits or grains.
According to research by Asker Jeukendrup - one of the most respected sports nutritionists globally - "Consuming 20 grams of whey immediately after resistance exercise resulted in a greater acute response of MPS compared with consuming 20 grams of casein."
Eating too much casein protein can lead to a moo-ving situation in your digestive system.
Risks and Side Effects of Casein Protein
To learn about the risks and side effects of casein protein, turn your attention to this section in the article. This slow-digesting protein offers unique benefits but also has downsides that you should be aware of. In particular, the sub-sections on allergies and intolerances, as well as disadvantages for certain athletes, provide important information to consider before incorporating casein into your diet.
Allergies and Intolerances
For those who have a sensitivity to certain proteins, consuming products containing casein may cause reactions. Symptoms can range from mild to severe and include gastrointestinal discomfort, skin irritations, respiratory issues, and even anaphylaxis. It is important to be aware of the risks associated with casein and its potential to cause allergies or intolerances.
People who are lactose intolerant may also experience discomfort when consuming casein since it is a milk derivative. This occurs because these individuals lack the necessary enzymes required to break down the lactose present in cow's milk. However, if casein protein is consumed in small amounts, it may not trigger any adverse reactions in lactose intolerant individuals.
Although rare, there have been reports of some individuals experiencing renal failure after prolonged use of casein supplements. The reason behind this occurrence is still unclear but it may be due to the accumulation of nitrogenous components derived from the breakdown of casein.
In one instance, a high school athlete suffered an adverse reaction after consuming a weight-loss product containing casein as a primary ingredient which resulted in severe liver damage. As such, caution must be taken when using products that contain unknown ingredients or those that do not come from reputable sources.
It is crucial to consider individual health status before incorporating products containing casein into one's diet. Those with any pre-existing health conditions should consult with their healthcare providers before consumption.
Why take casein protein when you can just eat a block of cheese and call it a day? #lactoseintolerantathletesbeware
Disadvantages for Certain Athletes
Disadvantages of Casein Protein for Certain Athletes
Casein protein is an important supplement for the muscle-building process but it may not be suitable for everyone. Some athletes, such as those who suffer from lactose intolerance or have allergies to dairy products, may face some disadvantages after consuming casein protein.
For athletes with lactose intolerance, casein protein can cause digestive issues and bloating due to the inability to digest lactose properly.

Athletes with a dairy allergy can experience severe reactions such as skin rashes, swelling, and difficulty breathing if they consume casein protein.

Due to its slow digestion rate, casein protein can cause discomfort during training sessions for some athletes as it sits heavy on their stomachs.

Certain additives in the supplement can cause allergic reactions or other adverse effects in some individuals with a sensitive disposition.

Frequent consumption of the supplement may lead to excessive calorie intake and weight gain in sedentary people.
Apart from these disadvantages, some minor side effects like bad breath, nausea, bloating, and decreased appetite may also occur.
It is essential to consult a medical professional before consuming any type of supplement. Considering one's body composition and dietary requirements is crucial before committing to daily consumption of a supplementary product that might result in unfavorable outcomes.
If you are an athlete who experiences any negative reaction upon consuming casein protein supplements, It's best not to continue taking them. Instead consider alternate solutions suggested by a medical practitioner for optimal results towards fitness goals.
Remember, the risks and side effects of skipping casein protein might leave you feeling like a limp noodle instead of a strong and sturdy muscle machine.
Conclusion – The Importance of Casein Protein for Muscle Growth and Recovery
Casein Protein: A Crucial Aid in Muscle Growth and Recovery
Casein protein is an essential nutrient that helps in muscle building, composition, and recovery. With slow digestion time, it makes for the perfect pre-bedtime snack for sustained muscle support. Its high amino acid content aids in repairing muscle damages caused by intense workouts, promoting cell growth and speeding up the recovery process.
This slow-digesting protein acts as a shield against muscle loss during long periods of fasting or rest state. In addition, its high satiety levels help reduce hunger cravings and improve overall metabolism.
It's important to note that while casein holds many benefits, combining it with other proteins like whey enhances its effects significantly. Together they provide a complimentary package- Whey entering the muscle tissue faster and Casein providing extended support over a longer period.
To maximize the results of incorporating Casein protein into your diet, suggest consuming it before bed for overnight repair. You can also take it as a meal supplement between meals- preferably those with longer gaps to help combat fasting or as an addition to your shake for post-workout recovery. By using this nutrient effectively within your diet regime can ensure better progress towards your fitness goals.
Frequently Asked Questions
1. What is Casein and how does it work?
Casein is a protein that is found in milk and is known for its slow digestion process. It forms a gel-like substance in the stomach, which then releases amino acids gradually into the bloodstream over a period of several hours. This gradual release of amino acids helps to promote muscle growth and repair.
2. How is Casein different from other proteins?
Unlike other proteins, Casein takes longer to digest, making it an ideal protein source for athletes and fitness enthusiasts who want to build or maintain muscle. Whey protein, for example, is a fast-digesting protein that is more suitable for post-workout recovery.
3. When should I take Casein?
Casein is best taken before bed, as it provides a slow and steady supply of amino acids to the muscles throughout the night. It can also be taken as a meal replacement or as a snack between meals to help maintain an anabolic state.
4. What are the benefits of taking Casein?
Casein helps to build and repair muscle tissue, promotes satiety, and may even improve bone health. It also contains essential amino acids that play a vital role in many physiological processes.
5. Are there any downsides to taking Casein?
While Casein generally has a good safety profile, some people may experience digestive issues such as bloating, gas, or constipation. It's also important to keep in mind that Casein is a dairy-based protein, so individuals who are lactose intolerant or have dairy allergies should avoid it.
6. How much Casein should I take?
The recommended daily intake of Casein varies depending on an individual's body weight, fitness goals, and overall dietary needs. As a general rule of thumb, most people can benefit from taking about 20-30 grams of Casein protein per day.