Discover more from IgelSparks Substack
My personal Substack
"Capsaicin: The Spicy Compound with Health-Boosting Properties"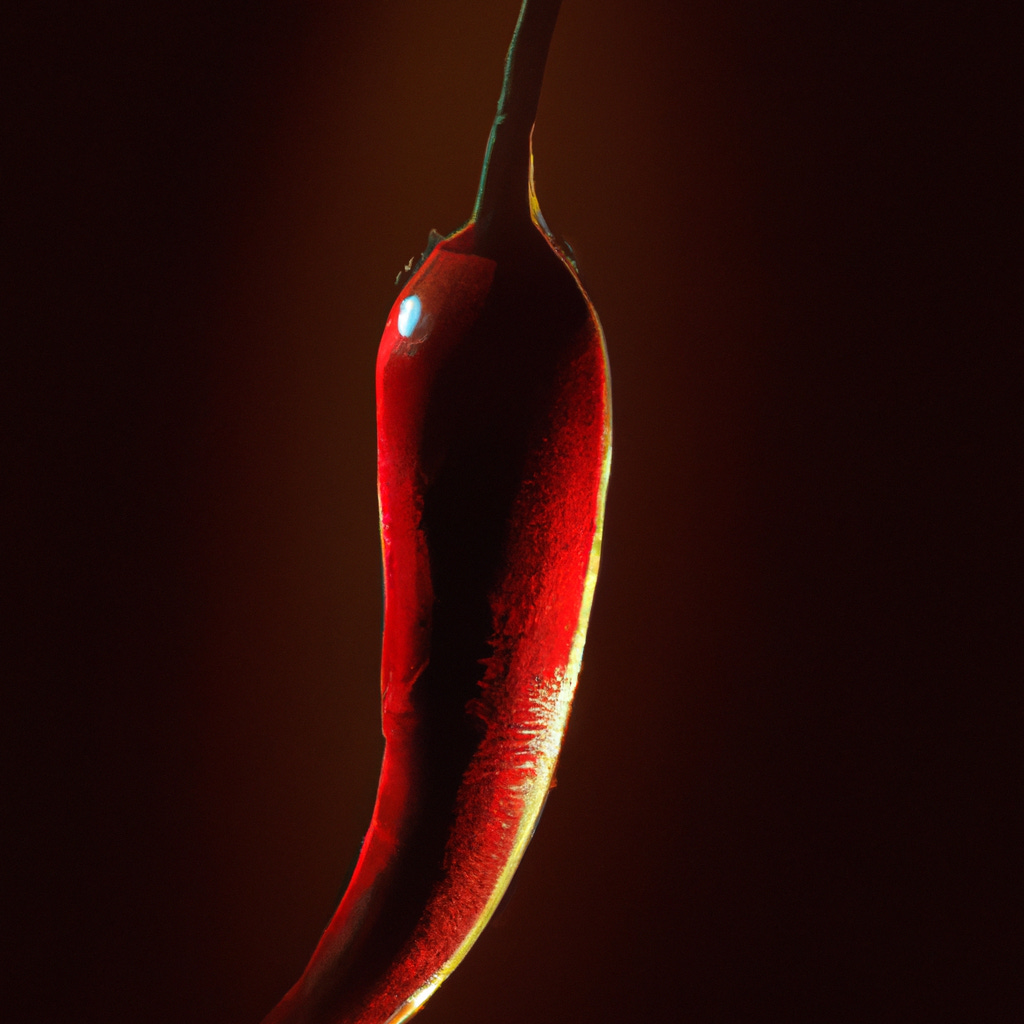 Introduction to Capsaicin
Capsaicin: The Natural Compound with Many Health Benefits
Capsaicin is a compound found in hot peppers that gives them their spicy taste. It has been shown to have various health benefits, such as reducing inflammation and pain, promoting weight loss, and boosting metabolism.
Research shows that capsaicin can also reduce the risk of chronic conditions like heart disease, diabetes, and certain types of cancers. In addition, it is believed to have anti-inflammatory and antioxidant properties that can help protect your body from numerous diseases.
Furthermore, capsaicin has been used for centuries in traditional medicine to treat a wide range of ailments, including headaches, arthritis, and digestive issues.
Pro Tip: Incorporating small amounts of capsaicin into your diet through hot peppers or supplements may provide significant health benefits.
Spice up your life (and your health) with capsaicin, the fiery friend that's also a disease-fighting superhero.
Health Benefits of Capsaicin
To explore the health benefits of capsaicin, this section with its sub-sections is here to show you the solution briefly. You'll learn about capsaicin's pain-relieving properties, how it can aid in weight loss, its potential as a cancer fighter, and how it can positively affect heart health.
Pain Relief Properties of Capsaicin
Capsaicin possesses pain-relieving properties that are beneficial for human health. The active ingredient stimulates the production of endorphins, which help to alleviate pain by obstructing pain signals in the nerves. Capsaicin is often used in topical ointments as a natural analgesic, providing relief from arthritis, neuropathy and other conditions that cause discomfort.
In addition to its pain-relieving properties, capsaicin also has anti-inflammatory effects that further contribute to its health benefits. It can reduce inflammation levels associated with chronic diseases such as diabetes, heart disease and obesity.
Capsaicin has been used in traditional medicine for centuries due to its medicinal properties. The Aztecs believed it had supernatural powers, while ancient Chinese and Ayurvedic medicine have also employed it for various ailments. Today, capsaicin is widely recognized and utilized in modern medicine due to its effectiveness as an analgesic and anti-inflammatory agent.
Whether you want to spice up your life or shrink your waistline, capsaicin has got you covered.
Capsaicin's Role in Weight Loss
Capsaicin, the compound which gives spicy peppers their heat, has been linked to weight loss. It works by boosting metabolism and inhibiting the production of new fat cells. Additionally, it helps reduce appetite and calorie intake by increasing feelings of fullness.
Studies have shown that capsaicin can increase the body's ability to burn fat while resting. Furthermore, it stimulates thermogenesis, a process where the body produces more heat and burns calories.
What's more is that capsaicin may also improve insulin sensitivity and reduce inflammation in adipose tissue (body fat), both of which may contribute to weight loss and metabolic health.
Incorporating spicy foods into meals can help one consume fewer calories while feeling satisfied. Therefore, adding capsaicin-rich peppers or hot sauce to meals may be an effective strategy for weight management.
Don't miss out on these potential benefits! Adding some spice to your meals could help aid weight loss efforts and support overall health. Add a little spice to your cancer-fighting arsenal with capsaicin - it'll make chemotherapy seem like a walk in the hot sauce aisle.
Capsaicin's Cancer-Fighting Properties
Capsaicin, a natural compound present in hot peppers, has anti-cancer properties. Its potent antioxidant and anti-inflammatory properties help regulate cell growth and prevent tumor formation. Capsaicin also induces apoptosis, which is the programmed death of cancer cells.
Various studies have suggested that Capsaicin can inhibit the proliferation of various types of cancer cells such as breast cancer, lung cancer, prostate cancer, colon cancer, and pancreatic cancer. Capsaicin also reduces the risk of metastasis, which is the spreading of cancer to other parts of the body.
Additionally, Capsaicin has been found to enhance chemotherapy drugs' effectiveness while reducing their side effects. It helps in improving blood flow to tumors and enhances cellular uptake of chemotherapy agents.
To benefit from Capsaicin's anti-cancer properties, one can include hot peppers like jalapenos or cayenne pepper in their diet. Alternatively, topical application or taking supplements containing Capsaicin could also be beneficial. However, it is essential to consult a healthcare professional before consuming supplements.
Just like a spicy romance novel, capsaicin can get your heart pumping and feeling alive.
Capsaicin's Effect on Heart Health
Capsaicin, a compound found in chili peppers, has been linked to various health benefits. One of these benefits includes its effect on cardiovascular health. Research has shown that capsaicin may help lower blood pressure and reduce the risk of heart disease and stroke by improving blood flow to the heart and decreasing inflammation in the arteries.
Additionally, capsaicin can help improve overall heart function by reducing oxidative stress and improving endothelial function. This compound also has anti-inflammatory properties that can have positive effects on the heart as chronic inflammation is linked to several cardiovascular diseases.
Furthermore, incorporating spicy foods into your diet that contain capsaicin such as chili peppers or cayenne pepper can be an easy way to reap these health benefits. However, if you have a sensitivity to spicy foods or any underlying medical conditions, consult with your healthcare provider before incorporating them into your diet.
Spice up your life with natural sources of capsaicin - just make sure to have some milk on hand for when things get too hot to handle.
Natural Sources of Capsaicin
To explore natural sources of capsaicin, a spicy compound with health-boosting properties, dive into the section titled "Natural Sources of Capsaicin". The solution lies in discovering the pepper varieties high in capsaicin and other foods and spices containing capsaicin, which will be briefly introduced as sub-sections.
Pepper Varieties High in Capsaicin
Some Varieties of Peppers with High Capsaicin Content
There are several kinds of peppers, each providing a different quantity of capsaicin. If you seek a powerful taste experience, consider the following options:
Habanero: this pepper is one of the most spicy kind you can find due to its high capsaicin levels. They range from 100,000 to 350,000 Scoville heat units (SHU).

Ghost Pepper: also known as Bhut Jolokia, it has been measured at over 1 million SHUs. It's native to India and Bangladesh and holds the Guinness World Record for being one of the spiciest chilies in the world.

Cayenne Pepper: these long and narrow red peppers are commonly used as spices. They have a lower level of capsaicin than some others on this list but still range from 30,000 – 50,000 SHUs.

Thai Chili Pepper: they come in green or red color and measure between 50,000 – 100,000 SHU. This tiny pepper adds significant heat if used in any recipe or dish.

Jalapeño Pepper: a familiar pepper that could be quite hot when ripe; generally measuring around 2,500 -8,000 SHUs. When used fresh it provides some spice but when pickled or canned taste mellows down.
If you're looking to experiment with cooking with these peppers varieties, start by adding just a small amount at first tasting them individually before incorporating them into your dish.
For those who find regular peppers too dull flavor-wise or simply love the sensation brought on by moderate-to-severe spiciness may enjoy using any of these fiery chilies in their meals occasionally. Bear in mind though; it's good practice to wear gloves when handling peppers. Capsaicin can irritate the skin and cause a burning sensation in case of contact with sensitive areas such as the eyes or nose.
Incorporating high capsaicin content peppers into your diet can bring many benefits, including improving metabolism, reducing inflammation, and acting as a natural pain reliever.
Who needs a spice rack when you can just eat a habanero for breakfast? Other foods and spices containing capsaicin better watch out!
Other Foods and Spices Containing Capsaicin
Capsaicin is a powerful compound found in various natural sources, including foods and spices. These sources can provide health benefits beyond adding flavor to your meals. Here are some of the other foods and spices containing capsaicin:
Peppers: Capsaicin is most commonly found in peppers like chili, cayenne, and jalapeno. Peppers are a great source of heat and flavor in many dishes.

Garlic: Known for its antimicrobial properties, garlic also contains trace amounts of capsaicin. This makes it an excellent addition to any dish for added spice and health benefits.

Turmeric: In addition to its vibrant color and earthy flavor, turmeric contains small amounts of capsaicin. This spice has anti-inflammatory properties that can benefit your overall health.
Although not as potent as peppers, these foods still contain enough capsaicin to make a difference in your diet. Try incorporating them into your meals for added variety and health benefits.
If you're looking for ways to incorporate more capsaicin into your diet, try sprinkling cayenne pepper on scrambled eggs or mixing turmeric into salad dressing. Garlic-infused oil with pepper flakes also makes an excellent addition to pasta dishes. Simply put, adding these natural sources of capsaicin could help enhance the taste while benefiting your overall well-being.
Warning: Capsaicin consumption may lead to excessive sweating, heart palpitations, and a newfound love for spicy food that will inevitably ruin your digestive system.
Side Effects of Capsaicin Consumption
To understand the potential side effects of consuming capsaicin, the spicy compound with numerous health benefits, delve into this section on Digestive Issues Caused By Capsaicin and Allergic Reactions to Capsaicin. This will give you an overview of the two common sub-sections and help you recognize any negative effects you may experience after consuming capsaicin.
Digestive Issues Caused by Capsaicin
Capsaicin consumption can lead to various digestive issues due to its ability to irritate the lining of the stomach and intestines. These issues can range from mild discomfort, such as nausea and abdominal cramps, to more severe conditions like ulcers and diarrhea. The severity of these symptoms depends on several factors, including the amount of capsaicin consumed and the sensitivity of an individual's digestive system.
Consuming capsaicin may also exacerbate existing digestive conditions like acid reflux or irritable bowel syndrome (IBS). Research suggests that it can cause flare-ups in individuals with these conditions, leading to increased symptoms like heartburn, bloating, and gas.
Despite these potential side effects, some studies suggest that capsaicin may actually have a protective effect on the digestive system by promoting healthy gut bacteria and supporting digestion. However, more research is needed to fully understand the relationship between capsaicin consumption and digestive health.
According to a study published in "Digestive Diseases and Sciences," individuals with irritable bowel syndrome reported worsening symptoms after consuming spicy foods containing capsaicin.
Looks like some people can't handle the heat - allergic reactions to capsaicin can turn up the spice factor to unbearable levels.
Allergic Reactions to Capsaicin
Capsaicin can lead to allergic reactions in certain individuals that include itching, swelling, and redness of the skin. These symptoms may also extend to the respiratory system, causing coughing, wheezing, and difficulty breathing. The severity of these allergies may range from mild to severe, depending on the duration and amount of exposure to capsaicin.
Exposure to capsaicin can also cause inflammation or irritation in sensitive areas like eyes, nose, and mouth. Irritation in the eyes may lead to temporary blindness whereas irritation in the nose may cause congestion. Inhaling capsaicin can make asthma worse for some individuals.
Although capsaicin consumption is generally safe for most people when used appropriately, special precautions should be taken for individuals with pre-existing conditions such as asthma or allergies. It is important to seek medical attention if any negative side effects become apparent after consuming or coming into contact with capsaicin.
In 1992 a case was reported where a comparison was drawn between chili ingestion by two brothers leading to an episode of bronchoconstriction in one brother who had previously suffered from asthma. The other brother who had no previous pulmonary dysfunction was not affected by the same amount of chili intake.
They say laughter is the best medicine, but apparently capsaicin comes in at a close second.
The Use of Capsaicin in Medical Treatments
To explore the role of capsaicin in medical treatments with a focus on neuropathic pain and cluster headaches, capsaicin cream and capsaicin nasal spray offer potential solutions. The benefits of each sub-section range from pain relief for neuropathic pain to a reduction in the number of cluster headaches experienced.
Capsaicin Cream for Neuropathic Pain
Capsaicin, sourced from hot peppers, is well-known for its pain-relieving properties. Its effectiveness in treating neuropathic pain has been drawing widespread attention among medical professionals. The topical application of capsaicin cream has been found to be quite useful in relieving neuropathic pain by desensitizing the affected nerves.
The cream works by depleting the reservoirs of substance P - a neurotransmitter responsible for pain transmission. Low levels of substance P reduce the ability of nerves to transmit pain signals across the spinal cord, thereby reducing the sensation of pain. Capsaicin creams are now being used as an analgesic agent in several chronic pain conditions.
Moreover, capsaicin promotes blood circulation and relaxes muscles by stimulating sensory neurons' receptors in the skin. This helps ease muscle spasms resulting from nerve damage and enhances mobility. It can also help relieve itching sensations caused by some skin diseases.
Medical practitioners recommend applying capsaicin cream two to three times daily on affected areas for optimal results. However, since it contains a potent ingredient, it's advisable to use it sparingly at first and avoid contact with your eyes or areas of broken skin.
In summary, capsacin creams have demonstrated efficacy in reducing neuropathic pain and enhancing mobility in chronic conditions. Regular use under medical supervision can lead to positive outcomes, but one must follow strict precautionary measures since misuse can cause adverse effects.
Finally a nasal spray that clears both your sinuses and your headaches, thanks to the fiery magic of capsaicin.
Capsaicin Nasal Spray for Cluster Headaches
Capsaicin-based remedies are becoming increasingly popular in the medical industry. Here are five essential points to know about using capsaicin nasal spray for treating cluster headaches:
Cluster headaches are a rare and excruciating type of headache that typically occur on one side of the head, with symptoms including severe pain and runny nose.

Capsaicin, a natural compound found in chili peppers, is one of the main ingredients used in capsaicin nasal sprays.

Studies suggest that capsaicin may reduce pain perception by desensitizing pain receptors in the nose and mouth.

Capsaicin nasal sprays have been shown to be effective at reducing the frequency and severity of cluster headaches, although their precise mechanism is not yet fully understood.

Treatment with capsaicin nasal spray typically involves administering it into each nostril once per day until symptoms subside.
While capsaicin nasal spray has shown promise as a treatment for cluster headaches, there are still many aspects that require further research and exploration. For instance, it is unclear whether capsaicin-based treatments can cause any long-term negative side effects. Therefore, it's important to weigh the risks and benefits carefully before starting any new treatments.
If you suffer from cluster headaches or are interested in exploring alternative treatments like capsaicin nasal spray, we urge you to speak with a qualified healthcare professional who can provide guidance and advice tailored to your unique needs. Don't let fear of missing out on potential relief keep you from getting the help you need – schedule an appointment today!
Move over vitamin C, capsaicin is the new health boosting superstar in town!
Conclusion: Capsaicin as a Promising Compound for Health-Boosting Properties.
Capsaicin is a promising compound with health-boosting properties. It has been found to have numerous benefits for human health, including:
pain relief

improved heart health

a potential role in cancer prevention

positive effects on weight loss and metabolism

improvement in digestive health
These benefits make capsaicin a valuable addition to any diet.
Moreover, many studies have demonstrated that capsaicin could be an effective treatment option for chronic pain conditions such as arthritis or neuropathy. Additionally, the compound's ability to boost the immune system suggests it may have potential applications in preventing infectious diseases.
Research shows that capsaicin can be found naturally in chilies and spicy foods worldwide. Furthermore, in several animal studies, capsaicin was shown to cause apoptosis (cell death) of multiple types of cancer cells alone or in combination with other treatments.
According to a study published by the National Institutes of Health (NIH), "capsaicin produces analgesia by selectively inducing neuronal TRPV1 desensitization," which reduces the sensation of pain. Capsaicin could hold significant promise for people looking for natural ways to manage chronic pain conditions.
Frequently Asked Questions
What is capsaicin?
Capsaicin is a natural compound found in chili peppers, responsible for their spicy flavor.
What are the health benefits of capsaicin?
Capsaicin has been shown to aid in pain relief, improve digestion, boost metabolism, and even have anti-cancer properties.
What forms is capsaicin available in?
Capsaicin is available in various forms such as creams, ointments, patches, and supplements.
Is it safe to consume capsaicin?
While capsaicin is generally safe for consumption, it may cause stomach irritation, sweating, and flushing in some individuals.
Can capsaicin aid in weight loss?
Studies have shown that capsaicin can boost metabolism and promote fat loss, making it a potential aid in weight loss efforts.
How can capsaicin be used in cooking?
Capsaicin can be added to dishes through the use of chili peppers, chili powder, hot sauces, or even capsaicin-infused oils and seasonings.