Discover more from IgelSparks Substack
My personal Substack
"Cannabis: Unveiling the Medical Potential of the Sacred Plant"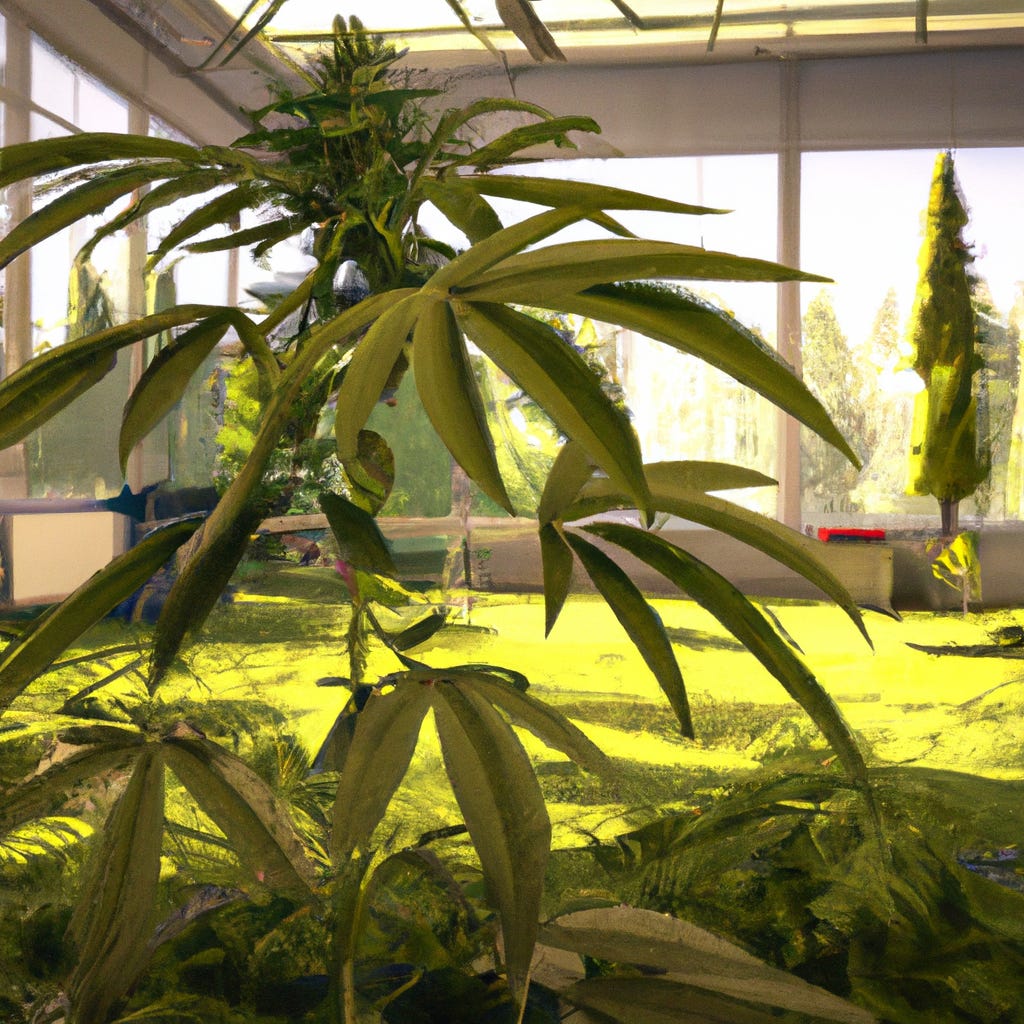 Overview of Cannabis as a Medicinal Plant
Cannabis, known as the holy plant to some, has been used for its medicinal properties since ancient times. Its therapeutic benefits come from cannabidiol (CBD) and tetrahydrocannabinol (THC) compounds found within it. These compounds can help provide relief to patients suffering from chronic pain, anxiety, seizures, nausea, and various other medical conditions. The use of cannabis in traditional medicine is being recognized more and more by the scientific community.
Studies have shown that cannabis can be effective in treating a wide variety of ailments. Medical professionals are exploring its potential for treating addiction, multiple sclerosis, Parkinson's disease and even cancer. In many cases, people using medicinal cannabis have reported significant improvements in symptoms and overall quality of life.
Moreover, CBD – one of the primary cannabinoids found in cannabis – has been shown to reduce inflammation in autoimmune conditions like Crohn's disease as well as reducing anxiety or depression-related disorders.
It is imperative to note that while research on cannabis' health benefits continue to expand and reinforce its high potential for mitigating patient concerns; there remains a need for further clinical trials before we can unlock the full spectrum of medicines this sacred plant offers us.
Don't miss out on the possible life-changing benefits of medicinal Cannabis - book an appointment with your physician today to get started on a journey towards holistic treatment options.
The history of cannabis as a medicinal plant dates back further than Cheech and Chong's first joint.
History of Cannabis as a Medicinal Plant
Cannabis has been used for medicinal purposes throughout history. The earliest evidence of its use dates back to ancient China, where it was used for pain relief and anesthesia during surgeries. In India, cannabis was considered a sacred plant and used in Ayurvedic medicine to treat various ailments. As recorded in Egyptian papyri, cannabis was also used as a remedy for inflammation and glaucoma.
Over time, the medical potential of cannabis has become more widely recognized and researched. The active compounds in cannabis, known as cannabinoids, have been found to have therapeutic effects for pain management, epilepsy, multiple sclerosis, anxiety and depression. THC is one of the most well-known cannabinoids, but CBD is also gaining popularity due to its non-psychoactive properties.
It is important to note that while there is evidence of the medical benefits of cannabis, there are also potential risks associated with its use. It can cause short-term cognitive impairment and may be addictive if used excessively.
Despite these risks, the medical potential of cannabis continues to be explored and utilized in many countries around the world. As new research emerges on the benefits and risks of cannabis use, it is important for healthcare professionals and patients alike to stay informed and make educated decisions regarding its use as a treatment option.
Why use synthetic pills when nature's medicine cabinet has a plant that can cure diseases and get you high at the same time?
Controversies around Cannabis as a Medicinal Plant
The medicinal use of cannabis is surrounded by complex debates and scrutiny from different sources. Some medical experts, policymakers, and stakeholders consider it quite risky to use for various reasons, whereas others argue that its benefits can outweigh risks in specific situations. Despite the controversies around cannabis as a medicinal plant, researchers have found evidence to show CBD's potential role in mitigating symptoms related to epilepsy, chronic pain, anxiety disorders and other medical conditions. Cannabinoids are increasingly gaining recognition in modern medicine due to their therapeutic effects on the human body.
However, some challenges arise concerning the legalization and commercialization of cannabis for medical purposes that may impact its utilization. Stakeholders still debate on how best to regulate cannabis-based medicine while ensuring safety and efficacy standards remain high. Finding a balance between strict regulations and access to beneficial therapeutic options still remains challenging.
Studies have shown that cannabis-based products such as Sativex spray might be efficacious among Multiple Sclerosis patients who experience spasticity or neuropathic pain. However, there is need for more clinical trial studies and intensive research programs on appropriate dosages than currently exists.
Research conducted by WHO suggests cannabinoid is not associated with severe acute adverse health hazards or increased risk of fatal overdose compared to other psychoactive drugs such as opioids or stimulants. In fact, overdosing on any form of cannabinoids does not lead directly lead to death but can cause severe side effects like anxiety attacks or elevated heart rate levels once consumed beyond an individual's recommended dosage requirements.
Why get high on life when you can get high on cannabis compounds and experience a whole new world of healing mechanisms?
Mechanisms of Action of Cannabis Compounds
When it comes to the effects of cannabis compounds on the human body, there are several important mechanisms at play. These mechanisms can include interactions with CB1 and CB2 receptors, modulation of neurotransmitter release, and activation of immune system responses.
To better understand these mechanisms, let's take a look at a table outlining the different compounds in cannabis and their specific effects:
CompoundMechanism of ActionTHCBinds to CB1 receptors in the brain and produces psychoactive effectsCBDModulates neurotransmitter release and has anti-inflammatory propertiesCBNMildly psychoactive and may have potential antibacterial propertiesTHCVMay reduce appetite and have anticonvulsant effects
It's worth noting that each strain of cannabis will have its own unique profile of compounds, which can impact the overall effect on the body. Additionally, individual differences in metabolism and genetics can also play a role.
As research continues to explore the complexity of cannabis compounds, it's becoming increasingly clear that this sacred plant holds immense medical potential. One particularly exciting area of study is the use of cannabinoids as pain relievers, which could offer an alternative to opioids. According to a study published in The Journal of Pain, vaporized cannabis was found to be an effective treatment for chronic neuropathic pain in patients with multiple sclerosis. This highlights just one example of how cannabis could provide much-needed relief for those suffering from chronic pain conditions.
Don't be surprised if your grandma tries to steal your stash - cannabis is proving to be a promising treatment for conditions like arthritis and glaucoma.
Medical Conditions Treated by Cannabis
Cannabis use in medicine has been found to be effective for treating various health issues. The sacred plant possesses chemicals that have the potential to manage medical conditions, including chronic pain, anxiety disorders and epilepsy. It also functions as a neuroprotective agent and reduces inflammation in several cases.
For chronic pain patients, cannabis extract components THC and CBD can help alleviate pain without causing adverse side effects. In cases of anxiety disorders, cannabis-derived medications such as nabiximols have been shown to improve symptoms by reducing fear and stress indicators. Meanwhile, CBD oil shows promise for patients battling treatment-resistant epilepsy with fewer side effects than anticonvulsants.
It's worth noting that despite its perceived benefits there is still much research work required to understand cannabinoid therapy fully. The plant remains prohibited under federal law in several countries despite evidence-based claims of its efficacy. Further research will uphold the belief that medical cannabis use deserves further exploration.
One such study features a young girl labeled 'Charlotte', who was born with Dravet Syndrome- an intense form of epilepsy—was nonresponsive to traditional anti-epileptic drugs until she began taking high-quality CBD oil making baby steps towards enjoying life near seizures-free since then. This astounding story illustrates how medicinal cannabis can radically alter lifestyle quality for people suffering from health complications that are untreatable by conventional therapies alone.
Whether you prefer to smoke it, eat it, or rub it on your skin, cannabis has more methods of administration than a high school chemistry lab.
Methods of Administration of Cannabis
Cannabis can be administered by various means to obtain its therapeutic benefits. Here are the different methods of consuming cannabis:
Method Description Inhalation Smoking or Vaporizing cannabis flowers or concentrates for quick effects Oral Ingestion Cannabis-infused foods and beverages that have slow onset but lasts longer Sublingual Tinctures/Sprays Liquid extracts containing cannabinoids, placed under the tongue for rapid absorption into the bloodstream through sublingual capillaries.
Cannabis strains with high CBD contents are typically preferred for users seeking symptom relief without the psychoactive effects of THC. The potency of cannabis products differs from one method to another, but dosages should be monitored to avoid adverse reactions.
A friend has a spinal cord injury and chronic back pain. He has been using cannabis tinctures and sprays to relieve his pain and inflammation effectively.
Remember, too much of anything can be dangerous, even the medicinal benefits of this holy herb.
Dosage and Safety Considerations
The Use and Safety of Cannabis for Medical Purposes
When using cannabis for medical purposes, it is essential to consider the proper dosage and safety considerations. A few factors that affect the dosage are age, weight, sex, and health conditions of a person. Considering these factors is crucial because cannabis can cause severe side effects if consumed improperly.
To give an idea about the safe consumption of cannabis, here is a table that summarizes cannabis dosage based on different delivery methods like smoking, vaporizing, and ingesting. The values indicated are standard unit measurements used in medical practice.
SmokingVaporizingIngesting Dosage1-2mg1-2mg10-30mg DurationInstantInstantSlow-release EffectivityImmediateRapid onsetProlonged
It is worth noting that users must always start with small doses and wait for at least two hours before consuming more. The effects of cannabis can take a while to manifest.
Moreover, it's best to consult with healthcare professionals or physicians before taking any medication containing cannabis. They will provide proper guidance on how much you should consume according to your health condition.
Some suggestions to ensure safe consumption include regularly monitoring your dose intake and choosing quality products from reputable sources only. By following these recommendations along with appropriate medications prescribed by doctors and healthcare professionals can showcase the full potential of medicinal cannabis safely. With all this research, future generations might find it hard to believe that we used to just smoke weed and play video games.
Future Directions in Cannabis Research
Many untapped potential opportunities pertaining to Cannabis research can provide insights that cure cancers, diseases, and other mental illnesses. Promoting cannabis education can open up new doors for innovation in the health industry. Given its diverse range of effects on the human body, directions in Cannabis research involve a lot of sectors of medicine. From cancer treatment to pain relief, and beyond lies a realm of possibilities. Research into CBD oil could potentially lead to groundbreaking results in neurological conditions too.
Moreover, one interesting aspect that scientists are looking at for future avenues is where cannabinoids such as THC can have psychiatric benefits. Could we harness psychiatric advantages from cannabis derivatives? First-hand accounts like Charlotte Figi's story illustrate the plant's potential to change people's lives profoundly. In short, we need to look beyond recreational uses and embrace the enormous potential for Cannabis in medical applications- after all, health should remain paramount over profits.
Don't worry, marijuana may be illegal in some places, but at least it's not as frowned upon as pineapple on pizza.
Legal Status and Regulatory Framework for Cannabis-Based Products
For the usage of Cannabis-based products, regulations vary from country to country. Some countries have legalized its use for medicinal purposes, while others have restricted it or completely prohibited it. In countries where it's legal, medical cannabis is tightly controlled, with strict guidelines around production, supply and distribution.
CountryLegal StatusRegulatory Framework CanadaLegal for Medicinal and Recreational UseFederal Regulations on Production, Distribution, Sale and Possession United States of America (USA)Limited Legalization for Medicinal and Recreational Use in some states;Varying State-wise Regulations on production, supply and possession AustraliaLimited Legalization for medicinal use only;Federal regulations permit licensed cultivation, manufacture and distribution GermanyLegalization for medicinal use only;Federal agency controls production, importation and distribution through pharmacies.
It's important to note that even if cannabis is legal in a specific area, the types of conditions that qualify for treatment may differ from jurisdiction to jurisdiction.
In addition to the different legalization frameworks in various nations across the globe, cannabis-based products are also subject to regulations on their composition. This is due because these products must contain varying concentrations not just of cannabinoids but also other compounds such as terpenes. It's crucial that they meet expected standards related to safety before public consumption.
If you're interested in trying out a cannabis-based product for any medical condition we recommend consulting your doctor first. Missing out on expert advice could result in improper usage and sometimes unintended risk. Ensure that you are aware of the regulations for their use within your area.
Move aside, aspirin, there's a new painkiller in town and it's called Mary Jane.
Patient Experiences and Case Studies of Cannabis Therapy
The therapeutic potential of cannabis has been explored through patient experiences and case studies. These accounts shed light on the efficacy of cannabis therapy in treating various medical conditions. Reported benefits include reduced pain, improved mood and sleep, and decreased inflammation. Additionally, these experiences highlight the importance of individualized treatment plans and cautious dosing. Further research is necessary to understand the full extent of the therapeutic potential of this sacred plant in modern medicine.
With its potential to quell pain, anxiety, and even epilepsy, it's no wonder cannabis is giving Big Pharma a run for their money.
Conclusion: Cannabis as a Promising Alternative Therapy
Cannabis presents a promising alternative therapy as it emerges as a potential cure for multiple ailments. Research shows that cannabis compounds, such as cannabidiol (CBD), can provide relief from anxiety, inflammation, chronic pain, and seizures. This opens the door to new possible treatments and less dependence on traditional medicines.
Studies have demonstrated that cannabis can also help alleviate symptoms related to chemotherapy and improve appetite in patients suffering from HIV/AIDS. Cannabis's psychoactive compound, tetrahydrocannabinol (THC), has shown promise in easing the symptoms of post-traumatic stress disorder (PTSD) and depression.
These results highlight the need to continue investigating how cannabis can impact various health conditions. The numerous therapeutic benefits of cannabis offer an alternative approach to traditional medical practices.
Pro Tip: Patients interested in alternative treatments should consult their doctors before starting any cannabis-based therapies.
Frequently Asked Questions
1. What is cannabis?
Cannabis, also known as marijuana, is a plant used for recreational and medicinal purposes. It contains chemical compounds called cannabinoids that interact with receptors in the body and produce various effects.
2. What medical conditions can cannabis treat?
Cannabis has been shown to have potential therapeutic benefits for a variety of medical conditions, including chronic pain, nausea and vomiting associated with chemotherapy, muscle spasms, and seizures in certain types of epilepsy.
3. Is cannabis safe for medical use?
Cannabis is generally considered safe for medical use when used under the supervision of a healthcare provider. However, it can have side effects such as dry mouth, dizziness, and impaired judgment, and may interact with other medications.
4. How is cannabis administered for medical use?
Cannabis can be administered for medical use in several ways, including smoking, vaping, oral ingestion, and topical application. The method of administration depends on the specific medical condition being treated and the individual's preferences.
5. Is cannabis legal for medical use?
The legality of cannabis for medical use varies by country and region. In some places, cannabis is legal for medical use with a prescription from a healthcare provider, while in others it is illegal or only available through special programs or exceptions.
6. What research is being done on the medical potential of cannabis?
Research on the medical potential of cannabis is ongoing, with studies exploring its potential benefits for a variety of conditions and its safety and effectiveness as a treatment. However, due to legal and regulatory restrictions, research in this area is limited.