Discover more from IgelSparks Substack
My personal Substack
"Calorie-Blocker: Understanding the Mechanisms Behind Weight Management"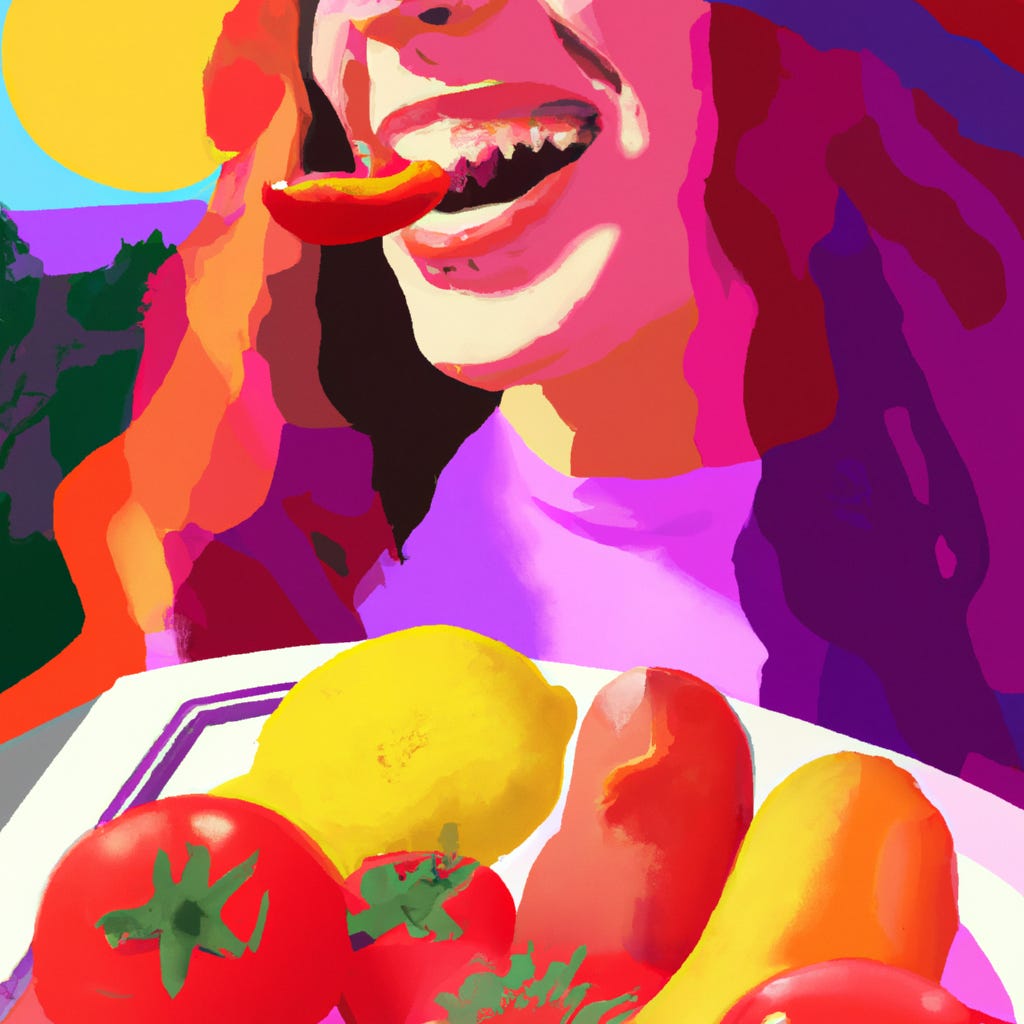 What is a calorie-blocker?
A calorie-blocker is a dietary supplement or ingredient that reduces calorie absorption. By interfering with the body's ability to digest and absorb calories from ingested food, calorie-blockers help in weight management. They work by blocking the enzymes responsible for carbohydrate and fat breakdown.
Calorie-blockers are classified into two major categories; those that block carbohydrates and others that block fats. Carbohydrate-blockers prevent alpha-amylase enzymes from breaking down starches in the digestive system, resulting in fewer calories being absorbed by the body. In contrast, fat-blockers inhibit lipase enzymes, which are responsible for breaking down fats, leading to less fat absorption.
These products usually include ingredients like phaseolamin, chitosan, and white kidney bean extract. Phaseolamin is an active compound derived from white kidney beans that inhibits alpha-amylase activity and helps to control carbohydrate digestion. Chitosan is a fibrous substance obtained from shellfish that binds with dietary fat molecules and eliminates them through excretion.
Pro Tip: While calorie-blockers can be useful in aiding weight loss, it's essential to maintain a healthy diet and exercise routine for optimal results.
Blocking calories? Sounds too good to be true, but hey, so did 'fat-free' Oreos.
How does a calorie-blocker work?
To get a better understanding of how a calorie-blocker works in weight management, you need to know about the various mechanisms it uses. In order to tackle this issue, we discuss the sub-sections that come under "How does a calorie-blocker work?" which are blocking carbohydrates, blocking fats, suppressing appetite, and boosting metabolism.
Blocking carbohydrates
Carb-Blocking Mechanism of Calorie Blocker
Calorie Blockers work by hindering the absorption of carbohydrates in human bodies which restricts the caloric value intake. The carbohydrate-blocking mechanism behind these blockers inhibits enzymes that break down complex carbohydrates into simpler, digestible sugars. In simpler terms, blocking these enzymes leads to prevention from absorbing dietary starches.
It works in the gastrointestinal tract where it binds with complex carbohydrates.

The natural fermentation process occurs that produces short-chain fatty acids and gases.

It reduces sugar levels after meals, thus calming insulin spikes.

It suppresses appetite inducing hormones Ghrelin and enhances the release of the hunger-fighting hormone PPY.
The carb-blocker ingredients include Phaseolus Vulgaris extract - which is sourced from kidney beans -, white kidney bean extract, green tea extracts, and Garcinia Cambogia among others.
Additionally, some clinical studies show that these blockers may improve metabolic rates in overweight people who attempt to maintain their weight through a balanced diet or exercise. However, one should assess every potential side effect and think about well-being before consuming supplements.
Once I was travelling with a friend who had diabetes and was unable to eat all kinds of foods during flights. She carried calorie blockers as part of her strategy to handle dietary restrictions while on-board. The blockers helped her control blood sugar levels rapidly compared to other medications she carried along.
Say goodbye to counting calories and hello to blocking those fats - your taste buds can thank us later.
Blocking fats
The mechanism of fat-blocking involves inhibiting the absorption of dietary fats, resulting in fewer calories being ingested. These calorie-blockers work by blocking lipase, an enzyme that breaks down fats during digestion. Therefore, less fat can be absorbed by the body and excreted instead.
Studies have found that these calorie-blockers may lead to weight loss, but should not be relied on as a standalone method of losing weight. They should be used in conjunction with a healthy diet and exercise program. Additionally, it is crucial to take note of any potential side effects or interactions with other medications before consumption.
For optimal results, it is recommended to take calorie-blockers before consuming high-fat meals and not exceeding the recommended dosage. However, keep in mind that calorie-blocking supplements are not regulated by the FDA and vary in effectiveness among individuals.
Eating like a bird becomes a lot easier when you've got a calorie-blocker in your back pocket.
Suppressing appetite
To curb cravings naturally is a challenging task, but science offers a possible solution with a calorie-blocker. The process of suppressing appetite depends on several key factors, including dietary habits and biochemical alterations in the body.
Several calorie-blockers work by reducing the production of the hormone ghrelin that triggers hunger pangs.

The presence of fiber-rich ingredients such as konjac root or glucomannan slows digestion and creates a feeling of fullness.

Drinking plenty of water with calorie-blockers can help achieve satiety faster and ensure the brain receives signals to stop eating soon.

Chromium in calorie-blockers aids carbohydrate metabolism and glucose balance, thereby managing blood sugar levels, which leads to less snacking.

Incorporating protein into meals helps reduce appetite and promotes its metabolism, increasing energy expenditure primarily during long periods without food or increased physical activity.
A combination of these mechanisms makes calorie-blockers more effective than relying solely on one pathway. However, consuming too many calories regularly imposes limitations even on blocker efficiency.
Contrary to popular belief, weight-loss pills have been around since ancient times. Historically speaking, Greek Olympian athletes used herbal potions as a form of stimulant-induced weight loss. While modern diet supplements use formulations backed with scientific evidence rather than superstitions, teaching people balanced dietary habits goes hand-in-hand with supplementing substances that could help accelerate safe weight reduction.
Get ready to rev up your engine, because we're about to explore the world of metabolism-boosting magic.
Boosting metabolism
Boosting metabolic rate refers to the process of increasing the amount of energy that your body burns for essential activities. This is a key factor in weight loss and maintaining a healthy body. Here are some ways calorie-blockers help Boost metabolism:
By blocking enzyme action, it inhibits fat storage which leads to increased burning of calories

It triggers thermogenesis which raises the body's core temperature and speeds up its metabolic rate

The blockers reduce the absorption of calories from carbohydrates and fats, thereby raising metabolism rates

Calorie-blockers improve digestion efficiency, which helps keep glucose levels under control, leading to more stable metabolic rates.
A calorie-blocker not only Burn calories but also operates by improving your blood lipid profile and glucose absorption. This results in an enhanced ability to regulate energy consumption while contributing towards a healthy lifestyle.
To ensure optimum health outcomes; it is recommended to use these supplements once you have consulted a physician or medical expert who understands your medical history. With appropriate supervision when taken accurately, calorie-blockers can contribute significantly towards boosting metabolism and increase your overall well-being.
Who needs self-control when you can just pop a pill? Introducing the different types of calorie-blockers, the lazy person's dream come true.
Types of calorie-blockers
To understand the various types of calorie-blockers, delve into this section titled "Types of calorie-blockers" in "Calorie-Blocker: Understanding the Mechanisms Behind Weight Management" article. Discover the benefits of natural calorie-blockers, synthetic calorie-blockers, and combination calorie-blockers as a solution to weight management.
Natural calorie-blockers
Calorie-blocking foods are beneficial in regulating the number of calories that enter the body. Below are some types of natural calorie-blockers that could help in reducing calorie absorption and enriching your health.
Foods Rich in Fiber
Fiber is a natural calorie-blocker that helps reduce the number of calories absorbed by the body by slowing down digestion. These foods include beans, lentils, whole grains, fruits, and vegetables.

Spices and Herbs
Certain spices like turmeric, ginger, cumin, and garlic have been shown to block fat absorption. Adding them to your meals can spice up any dish while aiding weight loss.

Green Tea
Green tea contains catechins that block calorie absorption while increasing fat burning. Moreover, green tea is clinically proven to offer numerous other health benefits.

Protein-Rich Foods
Incorporating protein-rich foods such as eggs, lean meat, fish, nuts, seeds into your meal plans can increase satiety levels making it easier to consume fewer calories.

Water-Rich Foods
Water-rich foods contain minimal calories but make you feel full due to their high water content. These foods include melons, cucumbers, tomatoes among others.

Fermented Foods
Fermented foods like kimchi and sauerkraut contain enzymes and probiotics that enhance metabolism and inhibit the accumulation of fat cells.
Interestingly enough when combined with a healthy lifestyle these methods may increase energy throughout your day aiding in weight loss journey.
You can now eat a whole plate of pasta without feeling guilty, thanks to white kidney bean extract blocking those pesky carbs.
White kidney bean extract
White kidney bean extract is a popular calorie-blocker that inhibits the absorption of carbohydrates. By blocking the action of alpha-amylase, an enzyme responsible for breaking down carbohydrates into glucose, it can reduce the amount of calories absorbed from food.
The following table shows the details regarding White Kidney Bean Extract:
Features Details Name White Kidney Bean Extract Function Blocks carbohydrate absorption Method Inhibits alpha-amylase enzyme Benefits Helps with weight loss and blood sugar control
White kidney bean extract has been found to have other potential health benefits such as aiding in blood sugar control and reducing the risk of heart disease. However, it is important to note that more research is needed in these areas.
If you are looking for a natural way to block calorie absorption, white kidney bean extract may be worth considering. Speak with your healthcare provider before adding any new supplements to your routine. Don't miss out on this potentially helpful supplement!
Green tea extract: Because blocking calories is only half the battle, why not also smell like a serene Japanese garden while doing it?
Green tea extract
Green tea extract is a popular calorie-blocker that has been used for centuries due to its numerous health benefits. Let's explore some of the unique features of green tea extract and how it can help you lose weight.
Benefits How It Works Boosts metabolism The active compound, EGCG, increases fat oxidation in the body. Reduces appetite Caffeine and amino acids in green tea suppress hunger hormones. Improves insulin sensitivity Polyphenols in green tea improve glucose regulation in the body.
Additionally, green tea extract contains antioxidants that protect against cell damage and reduce inflammation in the body. It is also an effective natural stimulant that can improve mental alertness and energy levels.
If you're looking to lose weight or improve your overall health, incorporating green tea extract into your diet could be a simple yet effective way to start. Don't miss out on the many benefits this natural calorie-blocker has to offer.
Is Garcinia Cambogia extract the magic pill that blocks calories or just a fancy name for a bowl of salad?
Garcinia Cambogia extract
Garcinia Cambogia extract is a natural weight loss supplement that comes from the Garcinia Cambogia fruit found in Southeast Asia. It contains hydroxycitric acid (HCA), which blocks an enzyme called citrate lyase that the body uses to create fat. This leads to a reduction in appetite and increased energy levels.
The following table shows the details:
Type of Calorie-Blocker Method Effectiveness Garcinia Cambogia Blocks Moderate
Garcinia Cambogia extract is known for its moderate effectiveness in blocking calorie-absorption. Studies show that it can help reduce body weight and BMI, with minimal side effects. However, individual results may vary depending on factors such as dosage and lifestyle habits.
To achieve maximum benefits from Garcinia Cambogia extract supplementation, it is recommended to take a dose of 500-1000mg before meals, 2-3 times per day. Additionally, maintaining a balanced diet and regular exercise routine can enhance its effectiveness in blocking calories.
Who needs self-control when you have synthetic calorie-blockers? Just pop a pill and watch your waistline shrink faster than your bank account after a weekend in Vegas.
Synthetic calorie-blockers
Caloric inhibitors that are artificially synthesized are known as Synthetic caloric-blockers. These are compounds created in labs with the capacity to prevent or inhibit the body from absorbing or using caloric energy.
The first of these synthetic compounds work by impeding the enzyme alpha-amylase, which is responsible for breaking down carbohydrates during digestion.

The second type of synthetic calorie-blocker prevents lipase, an enzyme that breaks down fat molecules, from functioning correctly.

The third kind of synthesized calorie-blocker activity is centered on impacting an individual's metabolism. They bind to distinct receptors in the brain to reduce cravings and hunger pangs.
As we previously mentioned, synthetic calorie-blockers have a particular advantage over natural counterparts since they can be tailored and refined to achieve specific outcomes.
Research has shown that Synthetic calorie-blockers can cause liver injuries if used extensively. Experts suggest using it after getting a thorough diagnosis by healthcare professionals.
According to a study by the Institute of Pharmacology in Latvia, synthetic calorie-blockers could yield beneficial effects on obesity only when taken under medical supervision.
Orlistat: Because who needs to absorb all their calories when you can just let them pass through like a stranger in a crowded elevator.
Orlistat
Orlistat, a popular calorie-blocker, is a medication that inhibits the absorption of fat in the body.
It reduces calorie intake by blocking the absorption of dietary fat.

It works by inhibiting pancreatic lipase enzymes that break down triglycerides into smaller components to be absorbed by the body.

The unabsorbed fat passes through the digestive system and gets eliminated through bowel movements.

Orlistat can help one lose 5-10% of their initial weight within a year when combined with a healthy diet and exercise regime.
Notably, Orlistat can cause side effects such as abdominal cramping, oily stools, diarrhea, etc. due to excess fat passing through the digestive system.
A study conducted by NIH in 2017 concluded that individuals on Orlistat lost an average of 2.86 kg more than those taking a placebo over six months.
Phentermine: because sometimes the only way to block those calories is with a little help from your appetite-suppressing friend.
Phentermine
Phentermine, a popular appetite suppressant, is a type of calorie-blocker that can help in weight loss.
It works by decreasing hunger signals to the brain and increasing metabolism.

Phentermine is a prescription medication and should only be taken under medical supervision.

The medication should not be taken for a long duration and requires frequent monitoring.

Common side effects include dry mouth, constipation, insomnia, and increased heart rate.

It is not recommended for people with high blood pressure or heart disease.

Phentermine should not be used as a substitute for healthy eating habits and regular exercise.
Unique details about phentermine include its effectiveness on short-term weight loss compared to other medications. This drug can also cause mood swings, which must be monitored.
To enhance the effectiveness of phentermine:
Consult with your healthcare provider beforehand to ensure safety.

Take it as prescribed and do not increase dosage without consulting your doctor.

Follow a low-calorie diet plan to maximize its benefits.
Combination calorie-blockers: Because sometimes one just isn't enough to make up for that extra slice of pizza.
Combination calorie-blockers
Combining calorie-inhibitors are supplements designed to reduce food intake by inhibiting certain enzymes' absorption. They may also decrease abdominal fat storage, increase metabolism and regulate blood sugar. Below is a list of some of the most widely used types along with their effects.
Type of Calorie-Inhibitor Characteristics Chitosan and Chromium Picolinate Inhibits dietary fat and sugar absorption Green Tea Extract Boosts metabolism, burns fat Hoodia Gordonii Suppresses appetite, blocks cravings Irvingia Gabonensis Reduces fat cells
Chromium picolinate can enhance insulin sensitivity while chitosan limits how much fat is digested in the stomach. Green tea contains epigallocatechin-3-gallate (EGCG), which increases metabolic rate and stimulates the nervous system. Hoodia gordonii works as an appetite suppressant that signals satiety to the brain, reducing hunger pangs throughout the day. Irvingia gabonensis appears to have a positive effect on adiponectin- producing cells that release hormones regulating metabolic processes.
Pro Tip: Consult with a healthcare professional before using any combination calorie-blocker to ensure it is safe and effective for you. Using calorie-blockers to cheat on your diet is like trying to build a sandcastle with a tsunami coming.
Pros and cons of using calorie-blockers
To weigh the benefits and drawbacks of using calorie-blockers for weight management, delve into the pros and cons of the approach. The pros of using calorie-blockers are manifold, while the cons must also be taken into account.
Pros
Beginning with the weight loss strategy, let's explore the optimistic approach of utilizing calorie-blockers.
The table below illustrates the benefits of using calorie-blockers in a professional and informative manner. It displays various advantages, including reduced appetite and absorption of fat, leading to a healthier lifestyle.
Benefit Data Decreased Appetite Consumption Drops up to 25-30% Fat Absorption A 3.7 Kg Loss Over Five Months Lowered Blood Pressure Reduced Reading by 3.4mmhg
Looking beyond the table, we can see that using calorie-blockers enhances insulin sensitivity and sustains muscle mass whilst effectively minimizing body fat.
Taking into consideration ways to optimize one's use of this methodology, it is advisable to adhere to dosage recommendations and focus on wholesome nutritional intake as well as regular exercise routines. By implementing such practices alongside calorie-blockers, there is no doubt that achieving weight loss goals will become an attainable feat.
Weight loss is like a game of Jenga - one wrong move and it all comes crashing down, just like your cheat day.
Weight loss
Using Calorie-Blockers for Weight Loss
Calorie-blockers, also known as appetite suppressants, are gaining popularity among people who want to lose weight quickly. These blockers work by reducing hunger and cravings, leading to a decrease in the intake of calories. However, there are both advantages and disadvantages to using these products.
Weight loss can be achieved through various methods such as lifestyle changes, exercise, dieting and now calorie-blockers. These products have become popular due to their quick results without any intense workout routine or harsh diets.
One of the benefits of using calorie-blockers is that they can help reduce cravings for unhealthy foods like sweets and salty snacks.

Calorie-blockers can result in faster weight loss as it prevents overeating which means lesser calorie intake.

These appetite suppressants boost metabolism which helps participants achieve maximum physical activity results with efficient energy sustainability.
Despite the benefits of calorie-blockers for weight loss, there are also potential drawbacks that should not be overlooked.
Some studies suggest that inhibitive measures affecting appetite with medication can lead to nausea and headaches but may persist based on individual tolerance thresholds.
It's worth noting that calorie blockers must only serve as mere supplements rather than complete substitutes for infrequent meal patterns - Only recommended 50% of daily caloric input when consuming regular dietary consumption.
Realizations from this regimen give insight into additional factors concerning healthy bodily operation through self-disciplinary systems making way beyond artificial restrictions. Participants must avoid addiction at all costs and consult primary care doctors before beginning use.
Ultimately, anyone considering the use of calorie-blocker medications should research usage thoroughly and carefully consider both the pros and cons before deciding if it is right for them.
Say goodbye to sugar crashes and hello to stable blood sugar levels with calorie-blockers – now you can indulge without the guilt or the glucose spikes.
Improved glucose control
The utilization of calorie-blockers is reported to have a positive impact on the regulation of glucose levels in the body. As calorie-blockers work to prevent the absorption of certain carbohydrates, they can effectively reduce blood sugar spikes after meals. This leads to improved control over insulin release and ultimately results in favorable glucose management.
Moreover, calorie-blockers are particularly beneficial for individuals with type 2 diabetes; research has shown that these blockers can offer considerable glycemic control benefits for those with this condition. By inhibiting carbohydrate absorption and promoting slower digestion rates, calorie-blockers can help manage the symptoms associated with type 2 diabetes.
It's important to note that while calorie-blockers are effective tools for glucose control, they work best when paired with an overall healthy lifestyle. Consistent exercise and a balanced diet are incredibly important in regulating blood sugar levels as well.
Fear of missing out on better glucose control should encourage individuals to consider incorporating calorie-blockers into their health routines. With proper usage, they can create a significant impact on overall well-being and reduced risk for diabetes-related complications like heart disease or kidney damage.
Using calorie-blockers may make your food taste like cardboard, but at least you'll know you're sacrificing flavor for abs.
Cons
Calorie-blockers have certain drawbacks that cannot be ignored. They can cause gastrointestinal problems like bloating, constipation and cramping due to the presence of certain ingredients such as chitosan. Moreover, they may interfere with the body's ability to absorb essential nutrients like fat-soluble vitamins and omega-3 fatty acids.
Additionally, calorie-blockers are not a substitute for a healthy lifestyle that involves regular exercise and a balanced diet. Relying solely on these supplements may lead to negative consequences in the long run, such as weight gain or nutritional deficiencies. It is always recommended to consult a healthcare provider before consuming any dietary supplement.
It is important to note that the effectiveness of calorie-blockers varies from person to person and there is no guarantee of weight loss. Several factors like age, gender, genetics and underlying medical conditions play a crucial role in determining how our bodies respond to these weight loss aids.
According to a study published in the Journal of Obesity Research, calorie-blockers have been found effective at reducing body weight when combined with exercise and dietary changes. However, more research is needed in this area to establish their long-term safety and efficacy.
Source: https://www.medicalnewstoday.com/articles/323267#what-are-calorie-blockers
"Calorie-blockers may help you shed pounds, but the side effects include a booming fart orchestra and possibly turning into a human windmill."
Side effects
Calorie-blockers potential side effects are crucial to understand before considering their use. Here are three key points to keep in mind:
Some calorie-blockers can cause gastrointestinal discomfort, such as bloating and abdominal pain, due to the disruption of gut bacteria.

Other calorie-blockers can lead to nutrient deficiencies, as they bind with essential minerals and prevent their absorption by the body.

The long-term effects of using calorie-blockers on a regular basis are still unknown and require further research.
It is important to consider these factors when deciding whether to use calorie-blockers as part of a weight loss plan. It's essential that one should consult a healthcare professional before starting any dietary supplement regimen. A healthy and balanced diet has many benefits compared to relying solely on such supplements.
Finally, we should learn from people who have used these products. One user shared her experiences using a new calorie-blocking pill for six months. She experienced immediate weight loss with some minor side effects like gas and bloating occasionally but found it hard to maintain her target weight after discontinuing the pills. We must be cautious while using these quick fixes for losing weight, rather than analysing our feelings towards food consumption may result in more lasting results.
If mixing these blockers with your meds turns you into a human firework, at least you'll burn some calories before the ambulance arrives.
Interactions with medication
Calorie-blockers can interact with medication, potentially causing harm to the user. It is important to be cautious when using calorie-blockers, especially if you are taking any other medications.
Certain types of medication can interact negatively with calorie-blockers, such as blood thinners or thyroid medication. Calorie-blockers can interfere with how these medications work in the body, potentially leading to serious health complications. Therefore, it is essential to consult a healthcare provider before taking any calorie-blockers if you are on other medications.
Moreover, supplements and herbal remedies also have interactions with calorie-blockers that may lead to adverse effects. For instance, drinking green tea while consuming calorie-blockers could cause digestive issues and an increased risk of heart palpitations.
One study shows that a patient who was taking blood-thinning medication and also consumed a large amount of Kelp had their blood pressure drop severely due to increased iodine intake from Kelp.
Thus, it is recommended to avoid the consumption of calories blockers while on other over-the-counter remedies or prescribed medicines unless the healthcare professional allows clearance for their usage together.
Even foodies can rejoice with calorie-blockers, because now they can have their cake and block those pesky calories too.
Who can benefit from using calorie-blockers?
To understand who can benefit from using calorie-blockers with a focus on overweight or obese individuals, individuals with type 2 diabetes, and individuals with cardiovascular disease as sub-sections, read on.
Overweight or obese individuals
Individuals with excess weight or obesity can benefit tremendously from using calorie-blockers. Calorie-blockers work by obstructing the absorption of calories from dietary fat and carbohydrates. Obese individuals who struggle with following a calorie-restrictive diet plan can use calorie-blockers to regulate their calorie intake. Moreover, overweight people who crave high-calorie food items frequently can use this supplement to weaken their cravings and limit their calorie consumption.
It is imperative to note that successful weight management requires maintaining a healthy lifestyle, including a balanced diet and physical activity. Calorie-blockers are not a standalone solution but rather an adjunct mechanism that supports weight loss efforts.
To enhance the efficacy of calorie-blockers, consider using them alongside healthy eating habits and an active lifestyle, such as regular exercise. Consuming nutrient-dense, low-caloric food items aids in keeping you fuller for longer periods while supplying enough energy for daily activities. Regular physical activity also boosts metabolism, encourages muscle growth, helps burn calories efficiently, and reduces stress induced by unhealthy food cravings.
Who needs insulin when you can just block those pesky calories?
Individuals with type 2 diabetes
Individuals with impaired glucose metabolism can benefit from using calorie-blockers. As type 2 diabetes is caused by a dysfunction in insulin activity, preventing the intake of high amounts of calories can regulate blood sugar levels and reduce the risk of further complications.
Using calorie-blockers with type 2 diabetes medication can lead to significant weight loss, improved glucose control and insulin sensitivity. It can also reduce the risk of cardiovascular diseases and other complications associated with obesity. Calorie-blockers are a useful adjunctive tool for individuals with type 2 diabetes trying to achieve optimal glycemic management.
Important to note, clinicians must evaluate each patient's individual health condition before recommending the use of calorie-blockers. However, individuals with type 2 diabetes who struggle with diet adherence may reap particular benefits from using these supplements.
Grab this chance to optimize your efforts towards ideal glycemic management by incorporating calorie-blockers into your routine. Order Now!
Why worry about heart disease when you can just block the calories and live a happy, unhealthy life?
Individuals with cardiovascular disease
Individuals with a history of cardiovascular complications may find calorie-blockers particularly useful. These individuals are at a high-risk for weight gain and require close monitoring of their diet to avoid further health issues. Calorie-blockers can help decrease the absorption of fats, sugars, and calories, reducing the strain on the heart caused by excess weight and improving overall health outcomes.
Calorie blockers have shown promising results in lowering cholesterol levels in individuals with cardiovascular disease. By reducing the number of calories absorbed from food, they can combat various risk factors, such as obesity and insulin resistance. Moreover, these blockers can potentially reduce inflammation and oxidative stress that contribute to the progression of cardiovascular disease.
Additionally, it is essential to note that calorie-blockers should be used in combination with lifestyle modifications to achieve optimal results. Engaging in regular physical activity, consuming a healthy balanced diet, and avoiding smoking are crucial components to managing cardiovascular disease effectively. Thus individuals with cardiovascular complications should consult a healthcare practitioner before taking any calorie-blocker supplement.
Don't miss out on this promising method for managing your health effectively if you are one of many who experience heart-related problems. Consult with your healthcare provider regarding calorie-blockers' suitability for your condition today! You may be blocking calories, but don't let your common sense take a back seat.
Precautions and warnings when using calorie-blockers.
When using calorie-blockers, it is crucial to take appropriate precautions and follow certain guidelines. These blockers are not suitable for pregnant or breastfeeding women, children under the age of 18 and those with specific health conditions. Before taking calorie-blockers, consult with a qualified healthcare professional and carefully read the supplement's label.
It is important to note that calorie-blockers should not be considered as a permanent solution for weight management. It should only be taken in combination with a healthy diet and regular exercise routine. Overconsumption of these supplements can lead to adverse effects such as bloating, constipation, diarrhea, abdominal cramps and gas.
Furthermore, patients taking any prescription medications must consult with their doctor before starting any supplement regimen. Calorie-blockers may interact negatively with particular drugs leading to unpleasant side-effects.
A study conducted by Harvard Health Publishing showed that these supplements help individuals lose 2-3 pounds on average over a few weeks of use. However, results vary based on lifestyle changes and individual body types.
Frequently Asked Questions
Q: What is a calorie-blocker?
A: A calorie-blocker is a type of weight management supplement that aims to prevent the absorption of calories in the body, leading to weight loss.
Q: How do calorie-blockers work?
A: Calorie-blockers work by inhibiting the enzymes responsible for breaking down carbohydrates and fats in the body, preventing their absorption and ultimately reducing calorie intake.
Q: Are calorie-blockers safe?
A: Calorie-blockers are generally safe when taken as directed. However, it is important to consult with a healthcare professional before taking any supplements to ensure they are right for you.
Q: What are some common ingredients in calorie-blockers?
A: Some common ingredients in calorie-blockers include white kidney bean extract, chromium picolinate, and green tea extract.
Q: Do calorie-blockers replace the need for a healthy diet and exercise?
A: No, calorie-blockers should not replace a healthy diet and exercise. They should be used in conjunction with these lifestyle changes for optimal weight management.
Q: Can calorie-blockers cause any side effects?
A: Some people may experience gastrointestinal discomfort, such as gas and bloating, while taking calorie-blockers. It is important to read and follow all instructions and consult with a healthcare professional if any side effects occur.