Discover more from IgelSparks Substack
My personal Substack
"Caffeine: The Energizing Stimulant for Focus and Performance"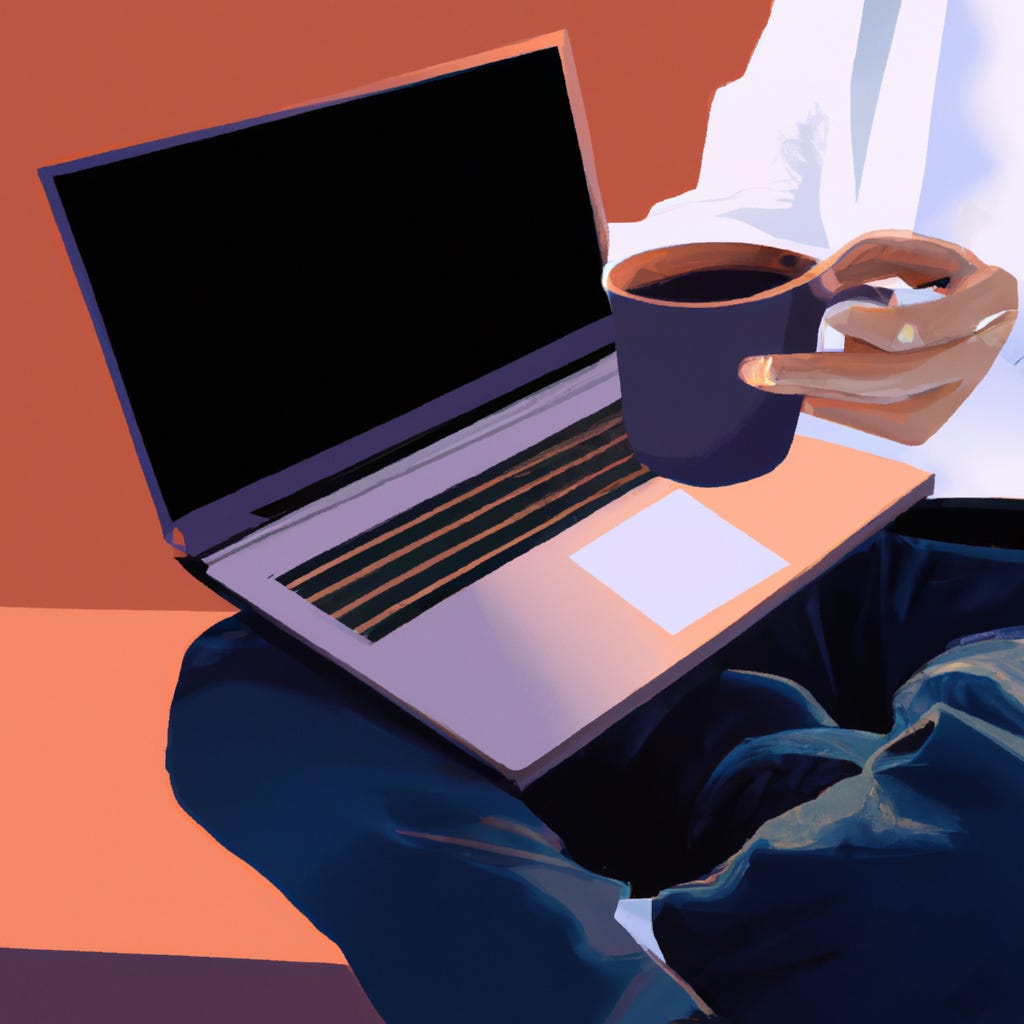 Understanding Caffeine
Caffeine: An Integral Stimulant for Productivity
Caffeine acts as a psychoactive stimulant, which is commonly found in coffee and tea. It has the potential to enhance cognitive performance by reducing fatigue and increasing mental alertness. Additionally, it can improve mood and reduce the risk of cognitive decline.
For centuries, caffeine has been used as a natural way to increase energy levels, boost metabolism, and promote focus. It stimulates the central nervous system by blocking adenosine receptors, which are responsible for causing drowsiness. Consequently, caffeine helps individuals perform better on tasks that require concentration, memory retention and motor skills.
It's essential to keep in mind that excessive caffeine consumption may have detrimental effects such as stomach irritation or trouble sleeping. However, moderate intake of up to 400mg per day can increase productivity without any adverse side effects.
If you're looking for an all-natural way to increase your focus and work progress, then look no further than caffeine! It's easy to add into your daily routine with a cup of coffee or tea. Start today with minimal intake and notice the difference in your energy levels. Don't miss out on its potential benefits!
"Who needs superpowers when you've got caffeine? It's the ultimate focus and performance enhancer that doesn't require a cape or a secret identity."
How Caffeine Works
Caffeine is a psychoactive drug that stimulates the central nervous system, promoting alertness and attentiveness. It works by blocking adenosine receptors in the brain, which leads to increased dopamine and norepinephrine activity. This effect can enhance cognitive processing, mood, and physical performance.
Furthermore, caffeine has been found to improve long-term memory retention and reduce the risk of age-related cognitive decline. It has also been shown to have potential benefits for endurance exercise, helping individuals work out for longer periods of time without experiencing fatigue.
Regular consumption of caffeine, however, can lead to tolerance and dependence. Pro Tip: To avoid tolerance build-up over time, limit daily intake to 400mg or less and take breaks from caffeine consumption periodically.
Without caffeine, I'm pretty sure my focus and performance would resemble that of a sloth on a rainy day.
Benefits of Caffeine for Focus and Performance
To up your focus and performance game with caffeine as the solution, we'll get into its benefits. Improving cognitive function, enhancing physical performance, and boosting alertness and concentration are the sub-sections you'll learn about. Let's explore each of these benefits and how they can help you achieve optimal focus and performance.
Improves Cognitive Function
Caffeine, the natural stimulant found in coffee and tea, has been shown to enhance cognitive performance. This psychoactive substance improves alertness, focus and mood by directly stimulating the central nervous system. The benefits of caffeine for cognitive function have long been recognized in academia and industry.
Research has indicated that caffeine can boost short-term memory, attention span and reaction time. It works by blocking adenosine receptors in the brain which regulate sleepiness and promote relaxation. Thus, caffeine can help you stay awake and alert during work or study hours. Furthermore, studies show that regular consumption of caffeine may reduce the risk of neurodegenerative diseases like Alzheimer's.
Not only does caffeine improve cognitive function but it also increases physical performance. Athletes use it to enhance endurance, reduce fatigue and increase metabolism. However, excessive intake of caffeine can lead to adverse effects like anxiety, insomnia and heart palpitations.
I remember studying all night for a critical exam until I felt my attention diminish around dawn. Upon drinking a strong cup of coffee I instantly felt an enhanced energy level which allowed me to continue studying with full concentration until the exam time arrived - where I was able to answer confidently what I had studied!
Move over, energy drinks. Caffeine is the real MVP when it comes to crushing your workouts.
Enhances Physical Performance
Caffeine has been proven to boost physical performance as it enhances the body's metabolism, increasing energy levels and reducing fatigue. This results in improved endurance and strength during exercise. In fact, according to studies, caffeine can improve performance by up to 11-12% in athletes.
Furthermore, caffeine also helps with muscle contraction and reduces the perception of pain during exercise, allowing individuals to work out longer and more efficiently. This is due to caffeine's ability to stimulate the nervous system, resulting in increased alertness and focus.
Moreover, caffeine is a natural stimulant that can be found in various food items like coffee, tea or chocolate. So consuming these items before engaging in any physical activity can aid in improving overall performance.
By incorporating caffeine into our workout routine, we not only improve our physical health but also increase our mental well-being as it boosts attentiveness and clarity of thought.
Don't miss your chance to enhance both your physical and mental abilities by incorporating caffeine into your daily routine!
You might think caffeine is my secret to laser focus, but really it's just the fear of failing without it.
Boosts Alertness and Concentration
Caffeine, a natural stimulant found in coffee and teas, has shown to improve cognitive functions such as focus and concentration. It increases brain arousal and helps combat fatigue, improving mental alertness. This results in a boost in productivity and performance.
Studies have also shown that caffeine can enhance memory retention and learning abilities. The increased neural activity caused by caffeine heightens the brain's ability to process information efficiently.
In addition to the cognitive benefits, caffeine may also have physical advantages such as reducing muscle pain and increasing endurance during exercise.
An avid coffee drinker, John always starts his day with a cup of freshly brewed coffee. He finds that it helps him stay focused throughout his work tasks without feeling lethargic or distracted. John attributes his high levels of daily productivity to the benefits of caffeine for cognitive function.
Where there's a will, there's a way to caffeinate - from coffee beans to energy drinks, caffeine sources are endless.
Sources of Caffeine
To explore the sources of caffeine for increasing your energy levels, turn to the section about "Sources of Caffeine". This section provides insight into various caffeine sources, including coffee, tea, energy drinks, and chocolate.
Coffee
Arabica and Robusta beans are the two primary types used for Coffee production.

The levels of caffeine vary depending on the type and roast of the bean.

A cup of brewed Coffee typically contains between 95 to 165 milligrams of caffeine.

Instant Coffee has lower caffeine content while espresso has higher caffeine content per volume.

Decaffeinated Coffee has negligible amounts of caffeine, but it may still have trace amounts present.

Coffee drinks mixed with sweeteners, milk, or syrups also contain varying amounts of caffeine.
Interestingly, Coffee is not just a popular beverage, but it has cultural significance and even ceremonial importance in some parts of the world. In some cases, drinking Coffee together signifies respect or friendship between people.
To avoid missing out on essential information about your daily beverage habits and potential health effects, maintaining an awareness of where your coffee comes from and what makes up its unique composition is important. Make sure to check labels for information on beans used in the blend if purchasing packaged Coffee products.
Tea: The perfect beverage for when you want to feel productive, but also like you're treating yourself to a hot cup of water with a weird leaf in it.
Tea
Here are some details on the caffeine content in different types of tea:
Type of Tea Caffeine Content (mg per cup) Black Tea 25-48 Green Tea 35-70 Oolong Tea 12-55 White Tea 6-55
Oolong tea is a semi-fermented tea with caffeine content that falls between black and green teas. Additionally, herbal teas, such as peppermint or chamomile tea, do not contain caffeine.
It is reported that blending black and green teas can result in coffee-like levels of caffeine.
An average cup of black or green tea contains roughly half the amount of caffeine compared to a cup of coffee.
Fun fact: Masala chai, an Indian spiced tea commonly mixed with milk and sugar, also contains caffeine.
Energy drinks: because who needs a stable heart rate when you've got deadlines to meet?
Energy Drinks
Semantically speaking, sources of caffeine that provide an instant boost of energy are present in a variety of beverages available in the market. These energy-inducing drinks are widely consumed across the globe by people of different age groups to aid in focus and concentration during work or recreational activities.
They often contain high levels of caffeine, sugar, and other stimulants, which can cause side effects if consumed excessively.

Energy drinks may have other additives such as guarana, taurine, and ginseng to enhance their performance-boosting abilities.

It is not recommended for children under 18 years to consume these drinks due to possible adverse health effects.

Mixing energy drinks with alcohol can be dangerous, leading to dehydration and impaired judgment.

Consuming natural sources of caffeine like coffee or green tea is a healthier alternative compared to processed energy drinks.
In addition, some energy drink brands offer low-sugar versions that substitute artificial sweeteners instead. As a word of caution, some individuals might experience adverse health effects even when consuming small quantities of these high-energy drinks.
To mitigate risks associated with consuming energy drinks,
It's crucial to read product labels thoroughly before purchasing any item from this category.

If you decide to consume energy drinks occasionally, limit your intake and avoid drinking them every day or over prolonged periods at once.

Avoid mixing them with alcohol or consuming multiple cans throughout the day. This can lead to serious health problems.
By adopting healthy habits like regular exercise and getting enough sleep, one can naturally maintain high levels of alertness without relying on artificially boosting substances like caffeine.
Who needs a boyfriend when you can have chocolate, which not only gives you a caffeine boost, but won't argue with you about which movie to watch.
Chocolate
Among the sources of caffeine, there is a certain sweet treat that is hard to resist. This substance comes in various forms and flavors and can give you a much-needed energy boost. Here are some points about this source:
This particular caffeine source comes from the cacao plant.

It primarily comes in the form of candy bars but can also be found in other desserts.

The amount of caffeine present in this substance varies depending on factors such as processing and brand.

Dark chocolate tends to contain more caffeine than milk chocolate due to its higher percentage of cacao solids.

Eating too much of this source of caffeine can lead to unwanted side effects such as nausea and restlessness.
It's worth noting that while this source of caffeine is enjoyable, it should be consumed in moderation as part of a balanced diet. Indulging too much in it can lead to undesirable health consequences.
If you're looking for an alternative way to get your caffeine fix, consider opting for a hot cup of tea or coffee instead. Not only do these beverages contain less sugar than their chocolate counterpart, but they also come with antioxidant benefits. Additionally, taking breaks throughout your day to stretch or engage in light exercise can help energize you naturally without relying on external sources like chocolate.
Remember, caffeine may not be a lethal dose for humans, but it can certainly turn your heart into a drum machine.
Dosage and Safety
To ensure safe and effective use of caffeine, you need to be aware of dosage and safety guidelines. In order to obtain the best results from caffeine, it is important to consider the recommended dose as a solution. Along with that, you should also be familiar with potential side effects as well as its interaction with other substances for a better understanding.
Recommended Dose
To ensure optimal safety and efficacy, it is recommended to follow the prescribed dose and usage instructions provided by your healthcare provider or listed on the product label. It is important to note that the recommended amount may vary depending on various factors such as age, weight, and medical history. Therefore, it is crucial to consult with a healthcare professional before adjusting your dosage. Inadequate doses may result in ineffective treatment while excessive amounts could lead to adverse effects. Always adhere to the recommended dose for maximum benefits.
Additionally, certain medications and supplements may interact with each other, increasing the risk of negative side effects. It is important to inform your doctor of all the medications you are taking before starting a new regimen. This includes over-the-counter drugs, herbal supplements, and vitamins.
It is also worth noting that some products may require special storage conditions such as refrigeration or protection from sunlight to maintain their effectiveness. Read the packaging instructions carefully before use.
Don't miss out on the potential benefits of your medication or supplement by not following proper dosage guidelines. Remember to always consult with a healthcare professional for personalized recommendations tailored to your specific needs and circumstances.
Side effects may include dizziness, nausea and regretting that fifth slice of pizza.
Side Effects
Side effects refer to the adverse reactions that a patient may experience when taking a medication. These effects can vary in severity and frequency depending on the drug's dosage, route of administration, and individual patient factors.
Common side effects may include nausea, headache, dizziness, and fatigue.

Less frequent but more severe side effects may include allergic reactions, organ damage, or suicidal thoughts.

Patients should notify their healthcare provider immediately if they experience any concerning symptoms while taking medication.
It is important to note that some medications may have unique side effects not mentioned above. Therefore, patients should always consult with their healthcare provider before beginning any new medication.
According to the FDA, over 2 million serious adverse drug events occur in the United States each year. It is crucial for both patients and healthcare providers to remain vigilant and informed about potential side effects when taking medication.
Mixing drugs is like playing a deadly game of Jenga, one wrong move and everything comes crashing down.
Interaction with Other Substances
The Safety of Dosage in Relation to Other Substances
It is critical that individuals who are taking medication understand the potential interactions with other substances. Combining medications with alcohol, drugs, or other supplements may lead to adverse reactions and harm.
When taking medication, it is important to notify your healthcare provider of any over-the-counter drugs, vitamins, supplements, or herbal remedies you are taking. Even something as seemingly innocuous as grapefruit can be incredibly dangerous when combined with some types of medication.
Furthermore, over-the-counter pain relievers such as ibuprofen or aspirin may increase the risk of side effects when taken with prescription blood thinners. Similarly, antibiotics may decrease the effectiveness of birth control pills.
Pro Tip: Always consult a medical professional before combining medications with other substances.
Before noon, caffeine is your friend; after, it's more of a frenemy.
Best Time to Consume Caffeine
To optimize the energizing effects of caffeine for your focus and performance, it's crucial to consume it at the right time. That's where the section on the best time to consume caffeine comes in, with sub-sections on pre-workout, during work, and post-workout. Each sub-section highlights the ideal timing for consuming caffeine to achieve maximum benefits.
Pre-Workout
Before engaging in physical activity, it is essential to understand the optimal time to consume caffeine. By consuming caffeine intelligently pre-workout, one can reap the benefits of heightened concentration and performance.
Consuming caffeine 30 minutes before exercise boosts performance levels.

The type of exercise impacts how much and when one should consume caffeine.

Caffeine is more effective when consumed through coffee rather than supplements.

Individuals sensitive to caffeine should limit their intake and opt for alternatives like green tea or decaf options.

It's imperative not to overconsume caffeine as it can lead to negative side effects like jitters and anxiety during exercise.

Caffeine metabolism varies depending on factors such as age, genetics, and diet.
For optimal results, individuals must consider their specific needs, body type, and tolerance levels before consuming any amount of caffeine. Understanding such nuances allows one to leverage caffeine's benefits without causing adverse effects.
Pro Tip: Although consuming coffee before exercising draws numerous advantages, avoid drinking more than four cups per day due to the potential drawbacks of excessive caffeine consumption.
Need some caffeine to power through that work day? Just remember, there's no such thing as too much coffee, only not enough toilets.
During Work
Consuming caffeine during office hours is highly beneficial. The ideal time to consume it depends on individual preferences and work routine. It can boost alertness and productivity, helping individuals stay focused when performing tasks that require concentration. However, consuming caffeine in the late afternoon may affect an individual's sleep pattern, leading to insomnia or restless nights.
It is recommended that individuals consume moderate levels of caffeine during the initial hours of work to reap maximum benefits. Caffeine's effects last for approximately four to six hours; hence consumption should be timed accordingly. Drinking coffee early in the morning or after lunch can be considered one of the best times, as the body's cortisol levels are low during these periods, maximizing its effectiveness.
The metabolism of caffeine differs from person to person depending on factors such as age, weight, and their dependency on caffeine intake. Therefore, finding the right balance is crucial for deriving maximum benefits without experiencing adverse effects.
A friend shared his experience on how he would consume more than five cups of coffee daily while working long hours at a law firm. It significantly impacted his sleeping patterns resulting in random episodes of insomnia and a disturbed routine. He realized that a healthy balance was essential for him to maintain focus and productivity throughout the day without compromising his physical health.
What's the best time to consume caffeine post-workout? Whenever you want to turn your sweat session into a sweeter session.
Post-Workout
Ingesting Caffeine After Your Training Session
If you're working out, consuming caffeine after your exercise has been shown to have beneficial effects. Here's why:
Post-workout caffeine ingestion can aid in muscle recovery by increasing glycogen synthesis.

Caffeine can also prevent post-exercise inflammation and reduce the amount of soreness experienced.

The energy boost from caffeinated beverages may help people focus on exercise regimens more attentively.

Creatine absorption and utilization might be improved with the aid of caffeine.

When taken after a workout, caffeine can help increase one's metabolic rate, resulting in sustained calorie burning.

Caffeine may help improve endurance and physical performance when taken before an endurance activity.
Moreover, it is best to consume caffeine within 30 minutes of the completion of your workout for optimal results.
In order to make the most out of your exercise regimen, consider adding a cup of coffee or tea as a post-workout routine. Don't miss out on these benefits!
Bottom line: Drink your coffee whenever you damn well please, just don't expect me to share mine before 10am.
Conclusion and Recommendations
After a thorough analysis of the effects of caffeine on focus and performance, it is recommended to consume it in moderation. Staying below 400mg per day is important to avoid negative side effects such as anxiety and restlessness. Additionally, combining caffeine with other stimulants or supplements should be done with caution, seeking advice from a healthcare professional beforehand.
It is worth noting that caffeine affects individuals differently based on factors such as genetics and tolerance levels. Therefore, it is crucial to listen to one's body and adjust consumption accordingly.
Pro Tip: Opt for natural sources of caffeine such as coffee or tea rather than relying on energy drinks or supplements that may have harmful additives.
Frequently Asked Questions
1. What is caffeine?
Caffeine is a natural stimulant found in coffee, tea, chocolate, and some other plants. It's commonly used to help people stay alert and focused.
2. How does caffeine affect the body?
Caffeine works by blocking the action of a substance called adenosine, which makes you feel tired. This results in increased alertness and a faster heartbeat.
3. What are the benefits of caffeine?
Caffeine can improve mental alertness, concentration, and overall cognitive performance. It can also increase endurance and reduce fatigue during physical activities.
4. How much caffeine is safe to consume?
The recommended daily limit for caffeine is around 400mg, which is roughly equivalent to four cups of coffee. However, it's important to note that caffeine affects everyone differently, so it's best to monitor your own tolerance and adjust accordingly.
5. What are the potential side effects of consuming too much caffeine?
Consuming too much caffeine can cause jitteriness, anxiety, increased heart rate, and trouble sleeping. It can also lead to dehydration, especially if consumed in the form of coffee or tea.
6. Can caffeine be addictive?
Caffeine can be habit-forming, and some people may experience withdrawal symptoms if they suddenly stop consuming it. However, it's not generally considered to be addictive in the same way that drugs like nicotine or alcohol are.