Discover more from IgelSparks Substack
My personal Substack
"Butcher's Broom: The Herbal Remedy for Circulation and Vein Health"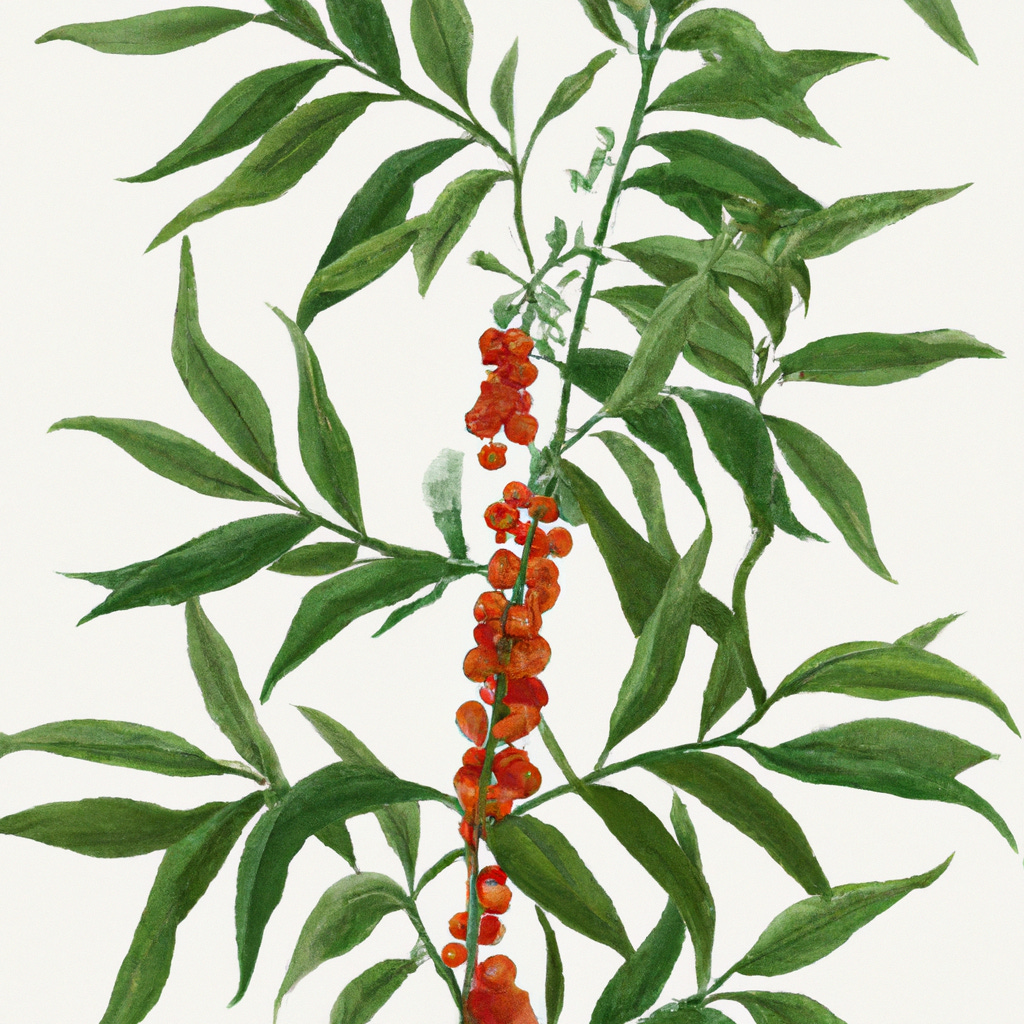 What is Butcher's Broom?
Butcher's Broom, also known as Ruscus Aculeatus, is a herbal remedy commonly used for circulatory problems and vein health. It is an evergreen shrub that mainly grows in Europe, North Africa, and parts of Asia. Butcher's Broom has been traditionally used to alleviate symptoms like pain, cramps, and swelling caused by poor blood circulation.
This herb contains several bioactive compounds, including ruscogenin and neoruscogenin, which are responsible for its medicinal properties. Butcher's Broom improves blood flow by constricting veins and strengthening capillaries. It also has anti-inflammatory properties that help to reduce inflammation in veins.
Moreover, Butcher's Broom can be taken orally or applied topically as an ointment or cream. Oral supplements come in various forms such as capsules, tablets, and tinctures. However, it is recommended to consult with a healthcare professional before taking any kind of supplement.
If you're looking for a natural remedy for circulatory problems and vein health, Butcher's Broom might be worth trying. Incorporating it into your treatment plan may provide significant benefits such as reduced swelling and improved blood flow. Don't miss out on the potential benefits of this herbal remedy!
Vein't no joke, Butcher's Broom is here to keep your circulation flowing smoothly.
Benefits of Butcher's Broom for circulation and vein health
To enhance your circulation and vein health, the solution lies in Butcher's Broom. Butcher's Broom has numerous benefits for improving blood flow. We will will focus on its benefits for circulation and vein health. The sub-sections of this topic include reducing inflammation and swelling, improving blood circulation, treating varicose veins, alleviating symptoms of hemorrhoids, and preventing blood clots.
Reducing inflammation and swelling
Using Butcher's Broom for Circulation and Vein Health - Reducing Swelling and Inflammation
Butcher's Broom is an effective remedy that can help reduce swelling and inflammation associated with circulatory problems. Here are some ways in which it can improve vein health:
Anti-inflammatory properties: The active compounds in Butcher's Broom have been shown to reduce inflammation by inhibiting the production of inflammatory molecules.

Vasoconstriction: Butcher's Broom contains substances that act as vasoconstrictors, narrowing blood vessels and reducing swelling and congestion.

Lymphatic drainage: This herb has also been shown to improve lymphatic flow, helping to remove excess fluid from the body tissues and alleviate puffiness.

Oxidative stress reduction: The antioxidant effects of Butcher's Broom may help reduce oxidative stress on the blood vessels, which can otherwise lead to damage and inflammation over time.
Apart from these benefits, incorporating Butcher's Broom into your daily routine may also bring about other positive effects such as improved circulation and reduced discomfort in the legs. To enjoy maximum benefits, consider taking a standardized extract of this herb under medical guidance.
As evidenced, relying solely on synthetic drugs might not be fruitful when dealing with circulation or vein health-related issues. One must consider all options available when attempting to get relief without experiencing side effects. Instead of artificially seeking symptomatic relief from pharmaceuticals, adopting natural remedies like Butcher's Broom could give sustainable long-term results with zero side effects.
Try consuming Butcher's broom supplements along with a healthy-balanced diet specifically rich in Vitamin C to reap its full health benefits. Ensure you follow the recommended dosage advised by your physician or nutritionist for better outcomes.
"I may not have a heart of gold, but with Butcher's Broom, at least I can have gold flowing through my veins."
Improving blood circulation
Increasing blood flow and promoting healthy veins
If you are looking to enhance your blood flow, look no further than Butcher's Broom. This plant has been consistently used in traditional medicine for its circulatory benefits. Its active compounds help to support capillary stability and increase the constriction and dilation of blood vessels, strengthening vein walls and reducing inflammation.
A 3-Step Guide:
Incorporate Butcher's Broom tea into your daily routine - It's as simple as brewing a cup of tea from the dried or powdered root of Butcher's Broom leaves.

Introduce physical activity - Regular exercise like brisk walking or swimming can reduce blood pressure, improve circulation, and maintain a healthy body mass index (BMI).

Adjust your diet - Foods that promote better circulation include leafy greens, fatty fish like salmon, nuts and seeds like chia or flax seeds rich in omega-3s.
Additional Benefits:
Butcher's Broom not only improves circulation but also contains potent antioxidants, which may slow aging caused by free radical damage. Moreover, it is an effective remedy for various ailments such as headaches, lymphedema, constipation by boosting lymphatic function.
Real-life example:
When Maria started feeling numbness and tingling sensation in her feet due to poor circulation after pregnancy surgery, she decided to try natural remedies instead of medication. With consistent supplementation with Butcher's Broom capsules for six months along with exercise, Maria experienced significant improvement in her peripheral neuropathy symptoms caused by poor blood flow to her legs.
I guess you could say treating varicose veins is a real pain in the... leg.
Treating varicose veins
Varicose veins can be managed effectively by using a combination of natural remedies and medical treatments. Butcher's Broom, a herb commonly found in Europe, has been traditionally used to treat poor blood circulation and inflammation. The herb contains compounds like ruscogenin that help in improving the strength and elasticity of veins. It also reduces inflammation which is one of the major causes of varicose veins.
Regular intake of Butcher's Broom supplements or applying its extract topically can significantly reduce the appearance of varicose veins and relieve pain as well. Apart from Butcher's Broom, regular exercise, maintaining a healthy weight and avoiding tight-fitting clothes are also recommended to manage varicose veins.
It's interesting to note that Butcher's Broom was named after its use by butchers who would use its stiff twigs to sweep their cutting boards clean. Despite being used for centuries as a medicinal herb, it was only in recent times that we have discovered the immense benefits it holds for vein health.
Whether you're a pain in the butt or just suffering from hemorrhoids, Butcher's Broom has got your back(side).
Alleviating symptoms of hemorrhoids
Butcher's Broom can be effective in easing discomfort and pain caused by a common ailment related to the rectal area. It has been researched and tested to improve hemorrhoids' symptoms, such as itching, swelling, and burning sensation during bowel movements.
The herb contains compounds that aid in constricting blood vessels, which reduces inflammation in affected areas, promoting smooth bowel movements. Additionally, it improves blood flow due to its ability to dilate blood vessels. This mechanism not only helps alleviate discomfort but also prevents further damage caused by hemorrhoids.
Furthermore, Butcher's Broom is considered a natural solution for various vein-related conditions that cause discomfort or pain. Examples include relieving varicose veins, spider veins, and other blood flow-related ailments.
Pro Tip: To maximize the effects of Butcher's Broom extract for hemorrhoid relief or vein health benefits, always consult a healthcare professional and take only the recommended dose. If your blood is prone to clotting, prevent it from becoming a real-life game of Minesweeper with Butcher's Broom.
Preventing blood clots
Preventing blood coagulation through natural means is crucial for a healthy circulatory system. Butcher's Broom has proven to be an effective way of achieving this.
Butcher's Broom reduces the stickiness of platelets, preventing clotting.

It improves circulation and prevents the formation of clots in arteries and veins.

The active compounds in Butcher's Broom boost blood flow, and reduce vessel inflammation in the lower extremities.

It enhances vein tonicity, which leads to healthier valves that help prevent backflow and pooling of blood.

It helps maintain healthy capillary strength, preventing fluid leakage into tissues.

Research suggests that Butcher's Broom can alleviate symptoms associated with venous insufficiency, including swelling, fatigue, and leg cramps.
Notably rich in flavonoids and saponins, Butcher's Broom has additional benefits beyond just promoting vascular health. It also possesses anti-inflammatory, analgesic properties and may even act as a diuretic.
Studies confirm that Butcher's Broom is incredibly beneficial for vein health. According to the Journal of Vascular Medicine, it has been shown to tighten blood vessels' lining while concurrently lessening weakness episodes in veins.
A study published in the Journal of Phytotherapy Research found that patients diagnosed with chronic venous insufficiency experienced significant improvements after eight weeks of treatment with butcher's broom extract.
Who needs a magic wand when you have Butcher's Broom for spellbinding circulation and vein health?
How to use Butcher's Broom for circulation and vein health
To improve your circulation and vein health, turn to Butcher's Broom - a natural remedy with numerous benefits. Dosage and forms of Butcher's Broom, precautions and side effects, and other natural remedies for circulation and vein health are all solutions that we'll explore.
Dosage and form of Butcher's Broom
For optimal circulation and vein health, knowledge of the right dosage and form of Butcher's Broom is essential. Here are some ways to use this herb:
FormDosageCapsules150-300mg, twice dailyTinctures30-60 drops, thrice dailyTea1-3 teaspoons in a cup of hot water, twice daily
It's important to note that the recommended dosage and form may differ depending on the individual's medical history or present condition. Please consult a healthcare professional before consuming Butcher's Broom.
Furthermore, Butcher's Broom can interact with medications such as blood thinners and antidepressants. Therefore it's essential to discuss its usage with your healthcare provider beforehand.
In addition to enhancing circulation and treating venous problems, consumption of this herbal supplement is also linked to easing digestive discomfort and reducing inflammation.
A friend shared with me her success story about using Butcher's Broom capsules regularly for varicose veins. She felt relief from heaviness in her legs within just two weeks of using them.
Be warned, excessive use of Butcher's Broom may cause you to become hooked... on good circulation.
Precautions and side effects
When using Butcher's Broom for circulation and vein health, it is crucial to be aware of potential risks and adverse effects. Care should be taken by those with high or low blood pressure, pregnant or breastfeeding women, and those undergoing surgery. Additionally, Butcher's Broom may interact with certain medications, so consulting a doctor is recommended.
To avoid any unwanted effects of Butcher's Broom, it is best to start with a low dose and gradually increase it as needed. Be sure to follow the recommended dosage instructions on the label of the supplement. In case of any unusual symptoms such as nausea, diarrhea or headaches discontinue use immediately.
It is noteworthy that Butcher's Broom must not be used as a substitute for medical treatment for venous disorders like varicose veins or chronic venous insufficiency. Receiving professional care and physical therapy will help alleviate inherent issues.
Considering all aspects of its use, if you are interested in taking Butcher's Broom supplements consult a doctor before doing so.
Taking precautionary measures while considering Butcher's Broom usage will assist to enjoy its benefits effectively without risking any harm that would lead to invoking complications in health later on.
Who needs a witch's brew when you have natural remedies for circulation and vein health?
Other natural remedies for circulation and vein health
For individuals seeking natural remedies for circulation and vein health, there are several options to consider. These remedies have been used for centuries as various cultures believed in the healing power of nature. Here are some alternative treatments to promote vein health and good circulation:
Ginkgo Biloba

Horse Chestnut

Cayenne Pepper

Bilberry Extract

Grape Seed Extract
There are many additional natural treatments that can be combined with Butcher's Broom for an even greater effect. For instance, adding a consistent exercise routine and a healthy diet plan can significantly boost overall vein function and blood flow. Ensuring to avoid long periods of sitting or standing while putting appropriate pressure on legs by elevating feet or wearing compression stockings is also significant.
A true fact about alternative circulation and vein health remedies is that according to the National Center for Complementary and Integrative Health (NCCIH), factors such as aging, genetics, being overweight, prolonged sitting or standing, leg injuries, smoking can increase the risk of developing varicose veins or other vascular problems.
Why settle for basic circulation when you can have veins that scream "I'm alive" with Butcher's Broom?
Conclusion and final thoughts
As we wrap up our exploration of butcher's broom, its benefits for circulation and vein health cannot be denied. This herbal remedy has been used for centuries and continues to show promising results in modern studies.
It's clear that butcher's broom can improve various ailments related to blood flow, such as varicose veins and leg swelling. Its anti-inflammatory properties also make it a potential treatment for inflammatory bowel disease and arthritis.
While there is still much to learn about this natural remedy, incorporating it into your daily routine may lead to significant improvements in your overall health. Don't miss out on the potential benefits of using butcher's broom regularly.
Make sure to consult with your healthcare provider before trying any new supplements or herbs. With their guidance, you can safely incorporate butcher's broom into your wellness routine and enjoy its many benefits.
Frequently Asked Questions
Q: What is Butcher's Broom?
A: Butcher's Broom is a shrub that grows in the Mediterranean region. Its roots and stems are used for medicinal purposes.
Q: What is Butcher's Broom used for?
A: Butcher's Broom is commonly used for improving circulation and vein health. It can also be used for reducing swelling and inflammation.
Q: How does Butcher's Broom work?
A: Butcher's Broom contains compounds called ruscogenins, which are believed to improve blood flow and strengthen blood vessels. It also has anti-inflammatory properties.
Q: Are there any side effects of taking Butcher's Broom?
A: While Butcher's Broom is generally safe, in high doses it may cause nausea, diarrhea, or high blood pressure. It should be avoided by pregnant or breastfeeding women and people with high blood pressure or other medical conditions.
Q: How do I take Butcher's Broom?
A: Butcher's Broom can be taken in capsule, tincture, or tea form. It is recommended to follow the dosage instructions on the packaging or consult with a healthcare provider.
Q: Is Butcher's Broom safe to take with other medications?
A: It is recommended to consult with a healthcare provider before taking Butcher's Broom with other medications, as it may interact with certain drugs.