Discover more from IgelSparks Substack
My personal Substack
"Bromelain: The Enzyme for Digestive Health and Inflammation"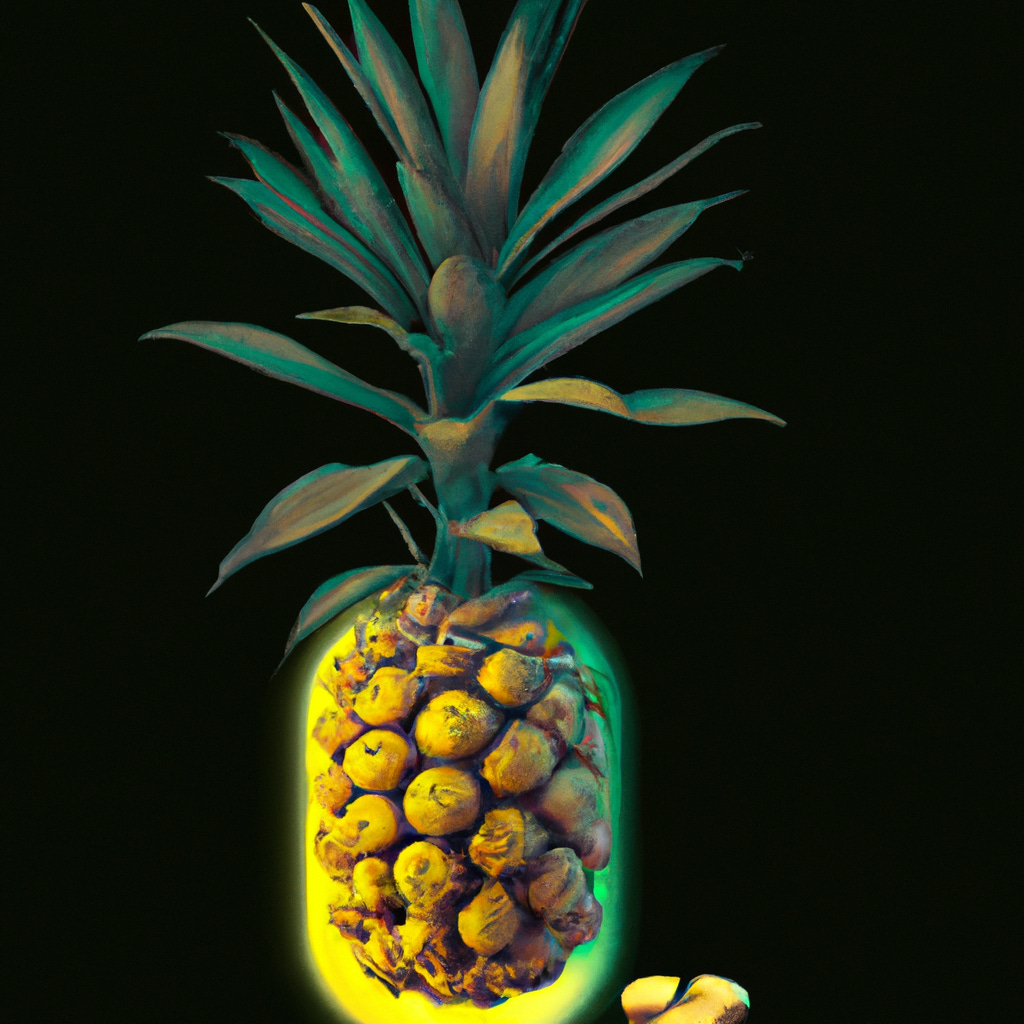 Introduction to Bromelain
Bromelain is a multi-functional enzyme extracted from pineapple stem and fruit. It has gained recognition as a safe and effective alternative medicine for digestive health problems and inflammation-related issues. This enzyme breaks down proteins into amino acids, thereby aiding the digestion process.
Furthermore, apart from its digestive benefits, bromelain has natural anti-inflammatory and pain-reducing properties that make it suitable for treating musculoskeletal injuries and reducing swelling or joint stiffness caused by osteoarthritis or rheumatoid arthritis.
However, individuals taking blood-thinners or aspirin should consult their healthcare provider before consuming bromelain supplements due to increased bleeding risk. Pregnant women are also advised against consuming high doses of bromelain.
To maximize the benefits of bromelain, it is recommended to take it with meals as a dietary supplement or apply it topically to affected areas in case of pain or swelling. Its effectiveness can further be enhanced by combining it with other natural anti-inflammatory agents like turmeric or ginger.
If you're feeling bloated and gassy, Bromelain is the pineapple-powered superhero you didn't know you needed for your digestive health.
Bromelain for Digestive Health
To optimize your digestive health, turn to bromelain. This natural enzyme, found in pineapples, is a powerful tool for easing digestive discomfort. In this section, we'll explore how bromelain helps digestion, as well as the benefits of using bromelain for optimal digestive health.
How Bromelain aids digestion
Bromelain, an enzyme found in pineapple, can assist with digestion due to its ability to break down protein molecules. This aids in the breakdown of food, making it easier for the body to absorb nutrients. Additionally, bromelain has been shown to reduce inflammation and assist with bloating and gas. It is recommended to consume bromelain supplements with meals in order to aid digestion effectively.
A study conducted by the Journal of Medicinal Food showed that bromelain can also help individuals with Irritable Bowel Syndrome (IBS) by reducing symptoms such as abdominal pain and bloating. Consumption of bromelain supplements for four weeks have improved bowel movements substantially, suggesting that it can act as a safe therapeutic agent for those suffering from IBS.
It is noteworthy that while bromelain can be beneficial for improving digestive health, excessive consumption may lead to some unwanted side effects such as diarrhea or vomiting. Therefore, it is important to consume supplements only as recommended by healthcare professionals or certified nutritionists.
A true fact is that Native Americans have been using pineapple primarily for medical purposes for hundreds of years before Columbus came to America.
If you're tired of feeling like a bloated balloon after meals, Bromelain might just be the digestive superhero you need.
Benefits of using Bromelain for digestion
Bromelain: Digestion Aid for Optimal Health
Bromelain is an enzyme extracted from the stem and fruit of pineapples, widely used as a digestive aid. Its numerous benefits make it an excellent supplement to maintain a healthy digestive system.
Bromelain aids in the breakdown of proteins, improving nutrient absorption and reducing discomfort.

It decreases inflammation in the gut by inhibiting the production of cytokines that cause inflammation.

Bromelain supports a healthy balance of gut bacteria by breaking down harmful microbes.

It helps relieve constipation and promotes bowel regularity by breaking down waste material and easing its passage out of the body.

Bromelain may help prevent gastric ulcers and heal existing ones by promoting mucus production in the stomach lining.
Bromelain can also have additional benefits for those with inflammatory bowel disease or other gut-related disorders. Consultation with a healthcare provider before using bromelain supplements is always recommended.
For optimal results, consider combining bromelain with a healthy diet rich in fiber and probiotics. Additionally, staying hydrated throughout the day can provide support to keep everything moving smoothly through your digestive tract.
In summary, incorporating bromelain into your routine could significantly improve your gut health while providing additional related health benefits.
Say goodbye to inflammation and hello to pineapple power with Bromelain - the ultimate superhero for your digestive system.
Bromelain for Inflammation
To understand how bromelain can reduce inflammation, turn to this section on bromelain for inflammation. The sub-sections - How Bromelain reduces inflammation and Benefits of using Bromelain for Inflammation will provide you with valuable insights. By exploring these sub-sections, you can learn about the unique abilities of bromelain in reducing inflammation and how it can benefit your health.
How Bromelain reduces inflammation
Bromelain actively reduces inflammation by inhibiting the release of pro-inflammatory cytokines and reducing leukocyte migration to the inflamed site. Furthermore, it can relieve symptoms associated with inflammation such as swelling and pain. Bromelain has also been shown to have anti-inflammatory effects on chronic conditions like osteoarthritis and asthma. Its effectiveness lies in its ability to target specific molecules involved in inflammation pathways.
In addition, studies have demonstrated that bromelain can also increase the production of anti-inflammatory cytokines, leading to a balanced inflammatory response in the body. Interestingly, it has also been found to aid in wound healing by reducing inflammation and increasing blood flow to the area. However, more research is needed to fully understand these mechanisms of action.
To effectively use bromelain for reducing inflammation, it is recommended to take it on an empty stomach or 30 minutes before a meal. The recommended dosage range varies depending on the condition being treated, but typically ranges from 400-2000 mg per day. It is important to note that individuals with allergies to pineapple or certain medications should avoid using bromelain without consulting a healthcare professional first.
Soothe the fire within with Bromelain - the inflammation-fighting superhero in a pineapple disguise.
Benefits of using Bromelain for inflammation
Bromelain's Potential Ability to Alleviate Inflammation
Using Bromelain may offer various therapeutic benefits for inflammation. Discover the benefits of using this potent enzyme in reducing inflammation, swelling and recovering from injuries with ease.
Reduces pain and swelling caused due to inflammation by inhibiting the production of inflammatory markers

Speeds up healing for injuries, post-operation, or those with rheumatoid arthritis symptoms

Relieves sinusitis symptoms effectively by breaking down mucus and reducing inflammation

Helps improve digestive health by reducing inflammation related to digestive problems.
Considering its anti-inflammatory properties towards various ailments, Bromelain appears as a promising alternative treatment method.
Adding a slice of pineapple as a source of Bromelain may not be sufficient for your daily intake. Therefore, consider consulting with a healthcare practitioner before adding Bromelain supplements or products in your everyday routine.
Looking for the ultimate bromance? Look no further than Bromelain sources!
Sources of Bromelain
To learn about natural sources of Bromelain and boost your digestive health and fight inflammation, dive into the section 'Sources of Bromelain' with 'Pineapple as the primary natural source of Bromelain' and 'Other fruits and vegetables containing Bromelain' as solutions. These sub-sections provide you with comprehensive information about Bromelain sources that aid in your digestion and reduce inflammation.
Pineapple as the primary natural source of Bromelain
Bromelain can be derived from various sources naturally, but the primary source remains pineapple. Here are a few notable points that explain why Pineapple is considered as the primary natural source of Bromelain:
Pineapple features one of the highest concentrations of Bromelain

It falls under the category of culinary fruits and is widely consumed globally

Bromelain is present in almost all parts of Pineapple, i.e., fruit, stem, and leaves

The quality and quantity of Bromelain present in Pineapple changes as per its maturity level

Pineapples are cost-effective due to their availability throughout the year

Bromelain extraction from Pineapple causes no harm or threat to human life or nature itself
Notably, research has shown that health supplements that include Bromelain have seen a considerable increase in demand over time. Additionally, cosmetics industries have recognized its potential use in skin care.
It is interesting to learn that before Bromelain was utilized medically, it was used to enhance beer production during World War II. This enzyme was discovered by examining workers responsible for extracting juice out of Pineapple. It's been evolving since then and has found its way into various fields where it is helping solve human problems through this natural source.
Don't forget to add some pineapple to your salad - it's not just for piña coladas, it's also a great source of bromelain.
Other fruits and vegetables containing Bromelain
Bromelain in Other Fruits and Vegetables
Fruits and vegetables are not just rich in vitamins, antioxidants, and other nutrients but also contain bromelain. This enzyme can be found in a variety of foods beyond pineapples.
Papaya: Papayas are a great source of bromelain, especially green papayas.

Mangoes: This sweet fruit is another source of bromelain that is easy to incorporate into your diet.

Bananas: Bromelain in bananas becomes more concentrated as the banana ripens.

Kiwi: Kiwis contain small amounts of bromelain that help their digestive functions.
Did you know that the roots of pineapples also contain large amounts of bromelain? Besides fruits, some vegetables such as ginger and turmeric also offer this powerful enzyme.
Be sure to add these fruits and vegetables containing bromelain to your diet for better digestion and nutrient absorption! Taking your bromelain in supplement form is like getting a pineapple punch, without the actual fruit punching you in the face.
Forms of Bromelain supplements
To learn about the forms of Bromelain supplements, with a specific focus on capsule, tablet, and powder forms, we've got the solution. In addition, we'll touch on the appropriate dosages for different health conditions, giving you the information you need to make informed decisions about your healthcare routine.
Capsule, tablet and powder forms
Bromelain supplements come in various forms, including encapsulated, tablet, and powdered formulations. The choice of supplement form depends on individual preferences.
To better understand the different forms of bromelain supplements, here is a table highlighting their unique characteristics:
FormsDescription CapsulesPre-measured doses that are easy to swallow and offer precise dosage control. Best for individuals looking for an easy way to incorporate bromelain into their routine without any taste or texture concerns. TabletsSimilar to capsules but may contain additional ingredients such as binders or fillers. Perfect for individuals who prefer a compressed format over liquid-filled capsules. PowderSuitable for those who prefer an unencumbered form with adjustable serving options and added versatility. It can be easily dissolved in water or other liquids and mixed with food.
It's worth noting that while bromelain supplements' form may affect absorption rates, this difference is negligible in comparison to factors like overall health status and diet.
If you're not sure which form of bromelain supplement might be best suited for your needs, don't hesitate to speak with a healthcare professional who can take into account your specific circumstances.
Don't miss out on the potential benefits that bromelain offers by adhering to a consistent supplementation plan that works best for you!
Remember, the only time you should be guessing your dosage is on a game show, not with bromelain supplements for your health.
Appropriate dosage for different health conditions
When it comes to using Bromelain supplements for various health conditions, knowing the appropriate dosage is crucial. The amount of Bromelain a person needs depends on their medical history, current health condition, and their body weight. An appropriate dosage can range from 200 to 2000 milligrams daily. Below is a table that provides detailed information on the correct dosage for different health conditions.
Health Conditions Appropriate Dosage (in milligrams) Digestive Issues 500-2000 mg/day Inflammation 400-1500 mg/day Muscle soreness after exercise 400-1000 mg/day Sinusitis 500-1000 mg/day Arthritis Pain/ Swelling Relief 500-1500 mg/day
It's important to consult with a medical professional before taking any Bromelain supplement, even if it's marketed over-the-counter. They can recommend a precise amount based on the individual's requirements. Also, consider the purity and quality of supplements bearing in mind that some products can have additives or contaminants that may affect absorption rates. Pro Tip: To increase the effectiveness of Bromelain supplemented diets, consume natural sources of bromelain such as fresh pineapple juice or slices containing bromelain enzyme before each meal. Taking Bromelain without precautions is like playing darts blindfolded - you might hit the target, but there's a good chance you'll miss and hurt yourself.
Precautions when taking Bromelain
To take care of your body when taking Bromelain with Contraindication with certain medications and Side effects of using Bromelain, read on. These sub-sections focus on the safety measures one should consider before taking this enzyme supplement to avoid negative interactions with medications and potential side effects.
Contraindication with certain medications
When taking Bromelain, caution must be practiced with the use of certain medications. Ingesting Bromelain can cause increased bleeding when used with anticoagulants such as Warfarin, Heparin and Aspirin. Furthermore, it can interact with antibiotics like Amoxicillin and other medications used to treat inflammation like Prednisone.
It is vital to consult a physician before ingesting supplements containing Bromelain, especially if one is on medication. Since the interaction between these drugs can lead to adverse effects, medical help is necessary. A healthcare professional will provide guidance on dosage, uses and potential side-effects that might arise due to interactions.
It is essential for individuals to share their medical history with a healthcare provider before taking Bromelain; this simple act could save lives. The physician will make decisions based on factors like individual health conditions, age and other lifestyle choices.
A true story regarding the contraindication of Bromelain involves a woman who mistakenly took natural supplements containing the enzyme along with blood-thinning meds. She bled profusely and was rushed to the hospital where she almost died due to severe anemia caused by the uncontrollable bleeding.
In summary, when taking Bromelain supplements or any other dietary supplement, always exercise caution concerning any medicine you are using simultaneously. Consult healthcare professionals for guidance every time since they are well-positioned to guide treatment options based on your unique circumstances and needs.
Using Bromelain may have some side effects, but hey, at least it won't make you grow a second head...hopefully.
Side effects of using Bromelain
Bromelain can cause adverse effects on health if not taken carefully. People who consume it may experience digestive problems, including vomiting or diarrhea. It can also cause skin rashes or difficulty in breathing in some cases. Thus, its intake should be under a doctor's supervision and medical history review.
Moreover, excessive consumption of bromelain can lead to allergies and blood disorders. This happens when the body produces too much histamine and causes blood clotting issues leading to severe medical emergencies.
It is essential to note that people who have been diagnosed with stomach ulcers or gastroesophageal reflux disease (GERD) should avoid taking bromelain. As it can worsen their conditions and increase the chances of bleeding in the gut.
Pro Tip: Always read labels before buying bromelain supplements, check for dosage instructions, discuss with a healthcare provider about any potential risks associated with its use.
Take Bromelain, but don't let it take you down with its digestive powers - stay safe with these precautions.
Conclusion
As highlighted earlier, bromelain, the enzyme found in pineapples, has numerous benefits for digestive health and inflammation. It is a powerful anti-inflammatory agent that can aid in reducing pain caused by conditions such as osteoarthritis and asthma. Additionally, it helps break down protein molecules, leading to better digestion and absorption of nutrients. This makes it an essential addition to any diet focusing on gut health and overall well-being.
Furthermore, beyond its digestive benefits, bromelin has also been shown to have potential anticancer properties and support wound healing. Its versatility is due to its ability to break down different proteins into their component parts.
It's important to note that while research surrounding the effects of bromelain is promising, more studies are needed to fully understand its potential uses. Nevertheless, with its long history of safe use and numerous reported benefits on human health over time make us confident about the potential that this natural yet powerful compound holds.
Source: https://www.ncbi.nlm.nih.gov/pmc/articles/PMC4998156/
Frequently Asked Questions
Q: What is bromelain?
A: Bromelain is an enzyme found in pineapples that has been shown to aid in digestion and reduce inflammation.
Q: How does bromelain work?
A: Bromelain works by breaking down protein molecules into smaller peptides and amino acids, which are easier for the body to absorb. It also has anti-inflammatory properties that can help reduce swelling and pain.
Q: What are the benefits of taking bromelain?
A: Taking bromelain supplements can help improve digestive health by aiding in the breakdown of protein, reducing bloating and constipation. It may also help reduce inflammation and pain associated with conditions like arthritis, allergies, and asthma.
Q: Are there any side effects of taking bromelain?
A: While bromelain is generally considered safe, some people may experience side effects such as digestive upset, allergic reactions, or skin rashes. It is important to talk with your healthcare provider before taking bromelain supplements, particularly if you have any health conditions or are taking medication.
Q: How do I take bromelain?
A: Bromelain supplements are available in capsule or tablet form, as well as in topical creams and gels for topical use. The appropriate dosage depends on the reason for taking it and should be discussed with your healthcare provider.
Q: Where can I purchase bromelain supplements?
A: Bromelain supplements can be found at most health food stores and online retailers. It is important to purchase supplements from a reputable source and to follow the instructions for use on the label.