Discover more from IgelSparks Substack
My personal Substack
"Brassinosteroids: Exploring the Plant Compounds for Health and Performance"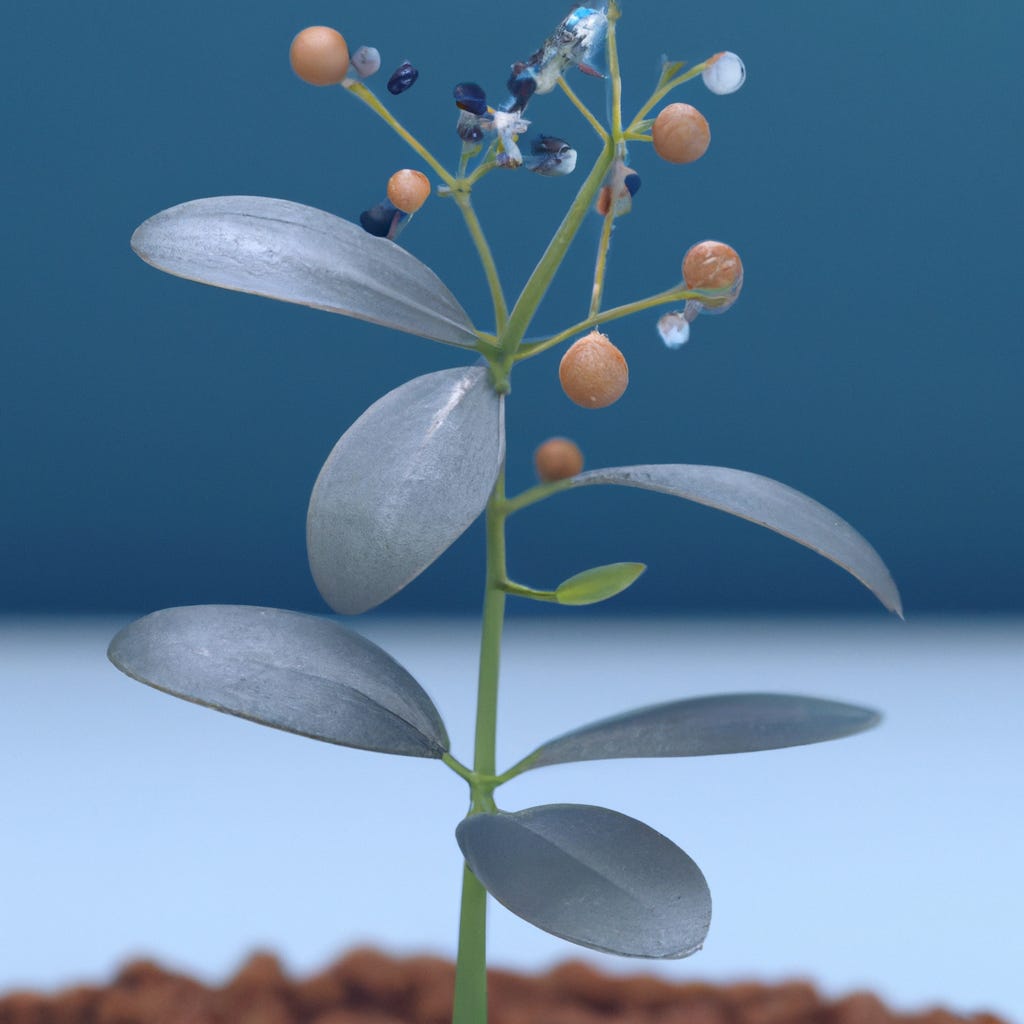 Introduction to brassinosteroids
Brassinosteroids are naturally occurring plant compounds that have remarkable health and performance benefits. These steroids are extensively used in the agricultural industry to improve crop yields and resistance against stress. They also have significant potential for human use in medicine, particularly for treating neurodegenerative diseases and enhancing athletic performance.
Research has shown that brassinosteroids can promote muscle growth, reduce inflammation and oxidative stress, enhance cognitive function, and improve cardiovascular health. These compounds work by interacting with specific receptors in the body, leading to a cascade of biological responses that ultimately result in these beneficial effects.
What sets brassinosteroids apart from other plant-based compounds is their unique chemical properties. Unlike many other phytochemicals, they are structurally similar to mammalian steroid hormones. This structural similarity is what gives them such potent effects on human physiology.
One way to incorporate brassinosteroids into your daily routine is through dietary supplements or fortified foods. Another option is to consume more brassinosteroid-rich foods like broccoli sprouts and mustard seeds. Regular physical activity has also been shown to increase levels of endogenous brassinosteroids in the body.
Move over kale, brassinosteroids are the new plant compound everyone should be obsessed with for their health.
Health benefits of brassinosteroids
To understand how brassinosteroids can positively impact your health and performance, let's explore the benefits of these plant compounds in this section. Enhances muscle growth and strength, improves cognitive function, increases immune system activity, manages diabetes and reduces cholesterol levels, and maintains bone health are some of the sub-sections we'll discuss.
Enhances muscle growth and strength
With the use of brassinosteroids, there is potential to increase physical performance beyond typical limits. This can have a notable impact on muscle growth and strength.
Brassinosteroids promote protein synthesis, leading to increased muscle growth.

They improve physical endurance and reduce fatigue levels during intense exercise, allowing for a longer and more effective workout.

In addition, brassinosteroids may stimulate testosterone production which is a key hormone for muscle growth and development.
Moreover, it's important to note that brassinosteroids not only help in building muscles but also aid in maintaining bone health. They can increase bone mass density by promoting osteoblast activity while reducing osteoclast activity. This balanced approach towards bone health makes them a promising therapeutic option for those suffering from conditions such as osteoporosis.
Looking back at history, early research on brassinosteroids was primarily focused on their effects on plant growth. However, studies revealed their potential medical benefits for humans and animals alike. Since then, numerous researchers have explored the possibilities of utilizing these plant-based compounds in sports supplements, bodybuilding products and even medical treatments.
Who needs a brain workout when you can just take brassinosteroids and improve your cognitive function from the comfort of your couch?
Improves cognitive function
By taking advantage of the health benefits of brassinosteroids, individuals can improve their cognitive abilities. Brassinosteroids can increase brain function by improving signaling pathways and increasing oxygen flow to the brain. As a result, these hormones may improve memory, attention span, and overall mental performance.
Studies have shown that brassinosteroids may have neuroprotective effects as well. They can protect the brain from damage caused by free radicals, which could reduce the risk of developing neurological disorders such as Alzheimer's and Parkinson's disease. Additionally, brassinosteroids can stimulate the production of new neurons in the brain, providing further protection against cognitive decline.
Moreover, incorporating brassinosteroid-rich foods into one's diet or taking supplements containing these hormones could positively impact cognitive function. Munching on cruciferous vegetables such as broccoli or drinking green tea - both rich sources of brassinosteroids - could be added to one's daily routine to enhance mental acuity. Taking specific natural-brassinolide supplements for optimizing cognitive performance could also be considered.
Who needs a flu shot when you can just stock up on brassinosteroids and let your immune system do the heavy lifting?
Increases immune system activity
Brassinosteroids have been shown to enhance the activity of the immune system. Through their interaction with plant receptors, they can activate signaling pathways that ultimately lead to increased disease resistance. In addition, brassinosteroids stimulate the production of defensive compounds in plants, such as phytoalexins and glucosinolates. This enhances their ability to fight off bacterial and fungal infections.
Moreover, brassinosteroids have also been found to promote the growth and development of plant organs involved in defense against herbivores and other pests. For instance, they regulate the production of trichomes on tomato leaves which produce chemicals that deter insects from feeding on them. Furthermore, they can induce changes in leaf thickness and shape that make it more difficult for herbivores to consume plant tissue.
Interestingly, researchers have found that brassinosteroids may also provide protection against environmental stresses such as drought and salinity. In one study, treatment with brassinosteroids led to improved water use efficiency and higher survival rates under water-limited conditions in maize plants.
Move over statins, brassinosteroids are the new cholesterol busters and diabetes tamers in town.
Manages diabetes and reduces cholesterol levels
Brassinosteroids have been found to aid in regulating blood glucose levels and lowering cholesterol. These plant hormones have the potential to manage diabetes and reduce the build-up of plaque on arterial walls, effectively decreasing the risks associated with cardiovascular disease.
Research has shown that brassinosteroids can increase insulin sensitivity, enabling cells to absorb glucose more efficiently.

Additionally, they may prevent inflammation, which is a contributing factor in the development of insulin resistance.

Studies indicate that these hormones can also decrease cholesterol levels by inhibiting the enzymes involved in cholesterol biosynthesis.

Furthermore, brassinosteroids can help regulate lipid metabolism by promoting fatty acid oxidation.
It's worth noting that while there is plenty of data demonstrating the potential benefits of brassinosteroids for managing diabetes and reducing cholesterol levels, much work remains to be done. Future research should explore any side effects or contraindications and elucidate exactly how these plant hormones impact metabolic processes.
For example, one individual with type 2 diabetes reported significant improvement in their symptoms after incorporating brassinosteroid-enriched foods into their diet. Although this account alone cannot serve as conclusive evidence for the efficacy of these hormones, it provides valuable insight into the range of potential applications for brassinosteroids.
You may not have a brass neck, but brassinosteroids can help maintain your bone health.
Maintains bone health
The consumption of brassinosteroids is associated with promoting bone strength and preventing bone loss. These are compounds derived from plant steroid hormones, which help in stabilizing calcium metabolism. Brassionsteroids stimulate the absorption of calcium, magnesium, and other minerals necessary for bone health. They also aid the differentiation of osteoblasts which promote bone formation. Moreover, they decrease oxidative stress in bones and improve circulation, thereby reducing inflammation in joints.
Pro Tip: Including foods like soybeans, cabbage, and lentils can increase the levels of brassinosteroids in your diet and promote healthy bones. Brassinosteroids may not turn you into Superman, but they'll certainly give your performance a boost.
Performance benefits of brassinosteroids
To boost your performance in sports and fitness, explore the potent plant compounds called brassinosteroids. The benefits of brassinosteroids for enhancing performance are immense. Endurance is boosted and fatigue is reduced, while the recovery time is shortened. Additionally, cardiovascular function is increased and nutrient absorption is improved to aid in performance.
Boosts endurance and reduces fatigue
Brassinosteroids have been known to improve physical performance and reduce exhaustion during exercise. This natural plant-derived hormone aids in promoting endurance and decreasing fatigue in the human body.
Increases energy levels

Boosts stamina and endurance

Reduces muscle damage

Lowers oxidative stress on the body

Delays the onset of fatigue during intense workouts
Brassinosteroids also help in increasing overall strength, flexibility, and power. The hormone's ability to enhance protein synthesis further aids in repairing damaged muscles post-workout, ensuring a speedy recovery period.
Many athletes credit their success to incorporating brassinosteroids into their daily supplement routine. Sprinter Mohammed Aman from Ethiopia reportedly used brassinosteroid supplements before his 800-meter race at the 2013 World Championships, where he won a gold medal.
Who needs rest days when you have brassinosteroids to speed up your recovery time? Time to hit the gym and leave those lazy Sunday afternoons behind.
Enhances recovery time
High-performance athletics can leave athletes with injuries, fatigue, and exhaustion. Brassinosteroids have been shown to improve an athlete's recovery time, meaning they can return to their training sooner.
Brassinosteroids work by reducing inflammation in the body, speeding up the healing process

They increase strength and endurance, which helps athletes recover quicker

The anabolic effects of brassinosteroids reduce muscle tissue damage during exercise

Bolstering physical performance allows for a more efficient use of energy, thereby increasing stamina and cutting down on recovery time

Regular doses over a sustained period help build a greater tolerance for exercise overall - allowing athletes to train harder and recover faster
Furthermore, brassinosteroids have also been found to help build lean muscle mass keeping athletes in top shape for upcoming events.
It is interesting to know that this discovery is not just limited to humans; coaches and trainers at the San Diego zoo started using a mixture of sea kelp extract and brassinosteroid analogs on their animals after realizing it could speed up their recuperation time.
What's clear is that brassinosteroids are a promising development on the horizon for professional athletes seeking new ways of improving performance while promoting better muscle health and recovery times. Looks like brassinosteroids are not only good for plants, but also for our hearts – who said we can't learn something from a vegetable?
Increases cardiovascular function
Brassinosteroids play a vital role in enhancing the function of the cardiovascular system. Research has shown that these substances contribute to decreased blood pressure, reduced heart stress and increased blood circulation. The presence of brassinosteroids stimulates vasodilation, which, in turn, improves the flow of oxygen and nutrients to various tissues in the body.
Furthermore, the consumption of food rich in brassinosteroids can help maintain a healthy heart and prevent cardiovascular diseases. Foods like broccoli, cauliflower, wheat germ and peanuts contain significant amounts of brassinosteroid compounds. Consuming these on a regular basis can significantly improve vascular function and reduce one's risk of developing cardiovascular complications.
It is essential to note that consuming excess brassinosteroids can have adverse effects on health. Therefore, it is crucial to regulate their intake through balanced diet plans or supplements prescribed by healthcare providers.
Eating foods rich in brassinosteroids is an excellent way to boost your cardiovascular function naturally. Still, it is recommended to consult with a doctor before making any significant changes to your diet plan or lifestyle. By incorporating these natural supplements as part of your routine, you can lead a healthier life and improve your overall wellbeing.
Don't just boost your ego, boost your nutrient absorption with brassinosteroids.
Improves nutrient absorption
The use of brassinosteroids is associated with improved absorption of nutrients in plants. This allows them to make the most of their available resources, resulting in better growth and reproduction. In addition, brassinosteroids have been shown to enhance the uptake of important micronutrients such as iron and zinc, which can be crucial for optimal plant health.
The increased nutrient uptake observed with brassinosteroid application is thought to occur primarily through effects on root architecture. Specifically, the hormones stimulate root growth and branching, increasing the surface area available for nutrient uptake. This improved root system also allows plants to more effectively extract water from the soil, reducing the risk of drought stress.
Moreover, brassinosteroids have been shown to improve plant tolerance to various forms of environmental stress such as high salt levels or extreme temperatures. By enabling plants to cope with adverse conditions more effectively, these hormones can encourage healthy growth even in challenging or suboptimal environments.
Therefore, incorporating brassinosteroids into agricultural practices may offer numerous performance benefits for crops and ultimately increase overall yield. If you are involved in agriculture or horticulture and are not yet using these powerful plant hormones in your growing processes - now is the time to start!
Who needs a dealer when you can find your brassinosteroids in the comfort of your own plant?
Sources of brassinosteroids
To explore sources of brassinosteroids and incorporate them into your diet, turn to food sources and supplements. Food sources provide a natural way to obtain brassinosteroids, while supplements offer a convenient and concentrated form of the compound.
Food sources
For those interested in exploring the sources of brassinosteroids, one possible avenue to consider is through dietary intake. Brassica vegetables, including broccoli and cauliflower, have been found to contain meaningful levels of brassinosteroids. Furthermore, milk is another food that has been shown to contain trace amounts of this hormone. When considering dietary choices for hormone optimization, it may be helpful to keep these sources in mind.
In the following table, we provide a comprehensive breakdown of common food sources that are known to contain brassinosteroids (BRs):
Food Type BR Content Broccoli 4-Deoxycastasterone Cauliflower Castasterone Spinach Castasterone Milk Typhasterol
It is worth noting that while some foods may naturally contain small amounts of BRs, consuming large quantities may not be practical or advisable for most individuals. Additionally, those seeking to optimize their hormonal balance through nutrition may want to explore other hormonal pathways as well.
When it comes to integrating hormonal optimization strategies into one's lifestyle, seeking professional guidance and support can be immensely valuable. Working with a healthcare practitioner specializing in hormone health can help ensure that nutritional choices align with individual needs and goals.
A friend once shared with me her journey of transforming her diet to include more brassinosteroid-containing foods and how it positively impacted her hormonal balance. Inspired by her story, I began conducting further research into these hormones and was amazed by what I learned about the potential benefits they offer for overall health and wellbeing.
Looking for a steroid alternative without the pesky side effects? Check out brassinosteroids - the natural supplement that won't shrink your...muscles.
Supplements
Seeds from plants rich in phytohormones can be used as supplements to increase brassinosteroid levels.
External sources, like fungi or bacteria, produce brassinosteroids that can be added as supplements.
Synthetic plant growth regulators with brassinosteroid-like effects can also be used as supplements.
Animal and human hormones like estrogen have structural similarity to brassinosteroids and thus can act as supplements.
It is worth noting that conventional agricultural practices often lack sufficient levels of natural brassinosteroids in their products. A better alternative would be to supplement crops with these hormones effectively.
Interestingly, the fungus B. cinerea secretes biologically active brassinolide, which can potentially help in controlling fungal infections.
Move over, Wheaties. Here's how to really get your daily dose of champions: consuming brassinosteroids!
How to consume brassinosteroids
To effectively consume brassinosteroids for health and performance, it is important to have a clear understanding of the recommended dosage and potential side effects. In this section, we will discuss everything you need to know about consuming brassinosteroids, including proper dosages and potential side effects. Additionally, we will highlight any precautions you should take when consuming these compounds.
Dosage
For optimal consumption of brassinosteroids, it is important to follow a precise and calculated dosage. The recommended dosage of brassinosteroid supplements varies depending on different factors such as age, sex, and overall health. It is essential to consult with a medical professional or nutritionist before consuming any supplements or herbs, especially if you have underlying health conditions or are taking prescription medications.
When taking brassinosteroids, it is best to start with a low dose and gradually increase to the desired level. If you experience any adverse effects while taking brassinosteroids, such as dizziness, nausea, or diarrhea, stop usage immediately. Maintain consistent intake patterns for maximum effectiveness and avoid skipping doses.
In addition to following recommended dosages, it is important to source your brassinosteroid products from reputable sources. Be wary of unregulated sources that could potentially contain harmful substances or not true steroidal compounds.
Interestingly, researchers initially discovered brassinosteroids in the pollen of rapeseed plants in 1979 and named them after the 'brasser' yeast they used in experiments to study plant hormones. They found that these steroids had powerful growth-inducing capabilities on plants and later discovered their potential therapeutic benefits in human consumption.
Remember, the side effects of brassinosteroids are nothing compared to the side effects of being basic.
Side effects and precautions
Brassinosteroids can have potential side effects and require precautions while consumption. It is essential to understand the possible risks associated with its use.
Consuming brassinosteroids may lead to hormonal imbalances, causing abnormal growth and development. It is advisable to consult a physician before intake, especially for individuals with pre-existing medical conditions or pregnant women.
Apart from this, it is important to follow the prescribed dosage as an overdose may increase the risk of adverse effects.
Notably, consuming brassinosteroids in moderate quantities under expert supervision can provide beneficial outcomes.
According to research conducted by the University of Saskatchewan, brassinosteroids found in certain plant species like Arabidopsis thaliana aid in crop production by enhancing plant growth and stress tolerance.
Adding brassinosteroids to your routine may not turn you into a superhero, but it's probably the closest thing you'll get without risking radioactive spider bites.
Conclusion: Importance of brassinosteroids for overall health and performance.
Brassinosteroids are incredibly important for maintaining overall health and performance. These plant compounds have been found to promote growth, increase stress tolerance, and improve immune function in both plants and animals. They also show promise for their potential anti-cancer effects.
Furthermore, brassinosteroids have been shown to enhance athletic performance by improving energy metabolism and reducing muscle damage. They may also aid recovery from injury or illness by reducing inflammation and promoting tissue repair.
It is important to understand the potential benefits of brassinosteroids for both human and animal health, as well as agricultural applications. Utilizing these compounds could lead to improved physical fitness, reduced healthcare costs, and increased crop yield.
To take advantage of the many potential benefits of brassinosteroids, more research is needed in order to fully understand their mechanisms of action and how they can be utilized in various fields. Don't miss out on the opportunity to harness the power of these amazing plant compounds for yourself or your business.
Frequently Asked Questions
Q: What are brassinosteroids?
A: Brassinosteroids are a type of plant hormone that regulate various physiological processes in plants, such as growth, development, and stress responses.
Q: Can brassinosteroids improve human health and performance?
A: There is some evidence that suggests brassinosteroids can have positive effects on human health and performance. Studies have shown that they may have anti-inflammatory, anti-cancer, and neuroprotective properties, as well as the ability to enhance muscle growth and endurance.
Q: How can I obtain brassinosteroids?
A: Brassinosteroids are naturally occurring compounds in plants, but they can also be synthesized in a laboratory. There are also supplements on the market that contain brassinosteroids.
Q: Are there any side effects of using brassinosteroids?
A: There is no definitive research on the long-term effects of using brassinosteroids in humans. However, some studies have shown that they may have negative effects on liver function at high doses.
Q: Are there any dietary sources of brassinosteroids?
A: Some foods that are high in brassinosteroids include rice bran, wheat germ, and mustard greens. However, the amount of brassinosteroids in these foods may not be significant enough to have a noticeable effect on human health and performance.
Q: Should I take brassinosteroid supplements?
A: If you are interested in taking brassinosteroid supplements, it is important to speak with a healthcare professional first. They can help you determine if the supplements are safe for you to take and if they are likely to have any beneficial effects.