Discover more from IgelSparks Substack
My personal Substack
"Branched-Chain Amino Acids: Fuel Your Muscles for Optimal Growth"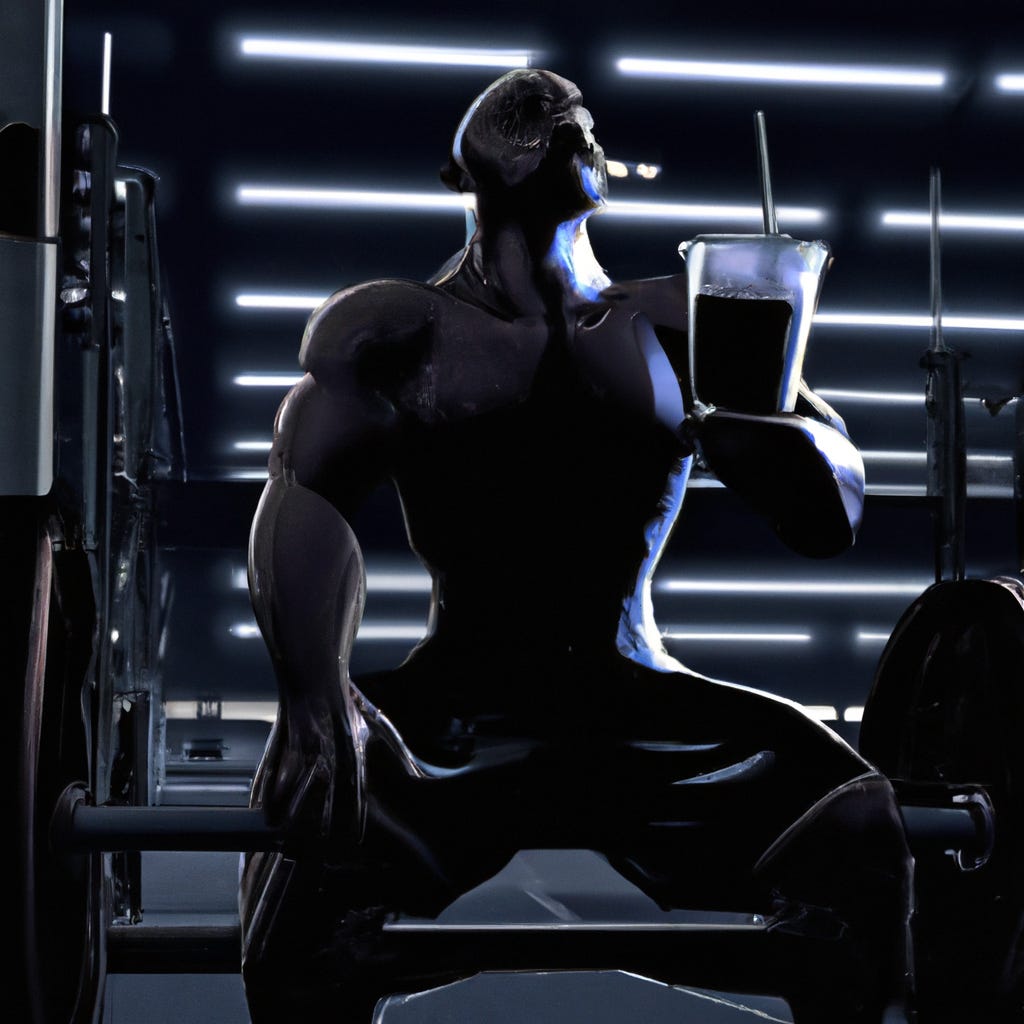 What are Branched-Chain Amino Acids (BCAAs)?
Branched-Chain Amino Acids (BCAAs) are essential amino acids that cannot be synthesized by the human body. They include leucine, isoleucine, and valine, which must be obtained through food or supplements. BCAAs are crucial for muscle growth and repair, as well as reducing muscle soreness and fatigue after exercise.
BCAAs work by stimulating protein synthesis in muscles, which promotes muscle growth and prevents breakdown. Leucine is particularly important in this process, as it activates a protein called mTOR that triggers protein synthesis. Isoleucine and valine also play roles in energy production during exercise.
It's important to note that BCAAs are not a substitute for a balanced diet and regular exercise. However, supplementing with BCAAs can enhance your workout results and aid in recovery.
Don't miss out on the benefits of utilizing branched-chain amino acids for optimal muscle growth. Incorporate them into your fitness regimen today!
BCAAs: the ultimate cheat code for those of us who want gains without the pains.
Benefits of BCAAs for Muscle Growth
To fuel optimal muscle growth with Branched-Chain Amino Acids (BCAAs), explore the benefits of BCAAs for muscle growth and understand increased protein synthesis, reduced muscle damage and soreness, and improved energy and endurance during workouts as solutions.
Increased Protein Synthesis
Profoundly, BCAAs benefit the growth of muscles by heightening the rate of protein synthesis. The branched-chain amino acids (BCAAs) stimulate protein synthesis, which leads to an increase in muscle mass over time. Known to be the building blocks of proteins, these components do not require digestion before absorption by the body and can immediately initiate muscle recovery after a strenuous exercise session.
During exercises that promote muscle hypertrophy, this phenomenon becomes more apparent. At the molecular level, BCAAs bind to specific receptors in cells that facilitate the stimulation of mTOR complex signaling pathways. This action initiates protein synthesis and enables efficient use of extra amino acids present in the body for muscle growth and repair.
Furthermore, recent studies reveal that BCAAs boost anabolic responses by as much as 22 percent when taken after a workout session. In comparison to other supplements such as whey protein or soy protein, BCAAs show higher leucine concentrations that effectively stimulate protein synthesis leading to increased oxidation of fats and utilization of glucose for energy requirements.
Pro Tip: For optimal results, it is suggested to take 5-10 grams before workouts and 5-10 grams after exercises for supporting better recovery and muscle development.
Finally, a legitimate excuse to skip leg day without feeling guilty - reduced muscle damage and soreness thanks to BCAAs.
Reduced Muscle Damage and Soreness
The use of BCAAs has been found to reduce the level of muscle damage and soreness in athletes after intense training sessions. BCAAs can prevent muscle breakdown during exercise by supplying the necessary amino acids required for muscle growth without causing any harm or strain to the muscles. The metabolic waste build-up that causes discomfort, pain, and inflammation is also reduced by taking BCAAs. This makes it easier for the athlete to perform optimally and recover quickly.
BCAAs do not only reduce muscle damage but promote overall muscle growth as well. Leucine, a significant component of BCAAs, enhances the protein synthesis process, which helps build more muscles in an athlete's body. Taking a sufficient amount of BCAAs boosts energy levels and reduces fatigue during workouts while providing enough endurance to achieve regular workout routines without feeling burnt out.
Adding other supplements with BCAAs can enhance its benefits further; pre-workout supplements containing caffeine can improve focus, decreasing muscular fatigue and leading to better results from your workout routine by keeping you motivated throughout your session.
Pro Tip: Always ensure that you take recommended dosages if you want maximum benefit from this supplement.
BCAAs give you wings... figuratively speaking, of course, but still enough to power through those grueling sets at the gym.
Improved Energy and Endurance during Workouts
During exercise, the body demands a lot of energy, and it's crucial to maximize this process for better muscle growth. BCAAs play an essential role in enhancing energy and endurance during workouts.
BCAAs increase energy production levels by allowing muscles to build up glycogen stores that help provide fuel for high-intensity exercises.

Increase in endurance and reduction of muscle fatigue allows individuals to exercise for longer durations with consistent intensity, leading to better muscle development.

BCAAs combat cortisol buildup in the body during workouts, which is a hormone responsible for muscle loss. By inhibiting cortisol, BCAAs preserve lean mass and promote muscle synthesis.
To further optimize energy levels during workout routines, it's essential to take BCAAs intraworkout as they are readily available to the body system. Experts note that athletes taking BCAA supplements before cardio exercises burn more fat than those who don't take them. In the late '90s, a study was conducted on elite wrestlers concerning taking casein protein or a combination of whey protein hydrolysate and branched-chain amino acids (BCAAs) while training. The results showed higher strength gains in wrestlers who entered recovery mode after training with casein supplementation than with whey protein hydrolysate plus BCAAs combined. Get your BCAAs from the best sources or your muscles may protest in ways that make even the most experienced gym-goer cry.
Best Sources of BCAAs
To help fuel your muscles for optimal growth with the best sources of branched-chain amino acids (BCAAs), turn to animal-based sources and plant-based sources. These two sub-sections offer unique options for meat-eaters and those following a plant-based diet.
Animal-Based Sources
Animal-Based Protein Sources for BCAA Intake
A great way to incorporate Branched Chain Amino Acids (BCAAs) in your diet is through animal-based protein sources. These sources are rich in all three essential amino acids; leucine, isoleucine, and valine.
Source BCAA Content (in grams per serving) Chicken Breast 6.8 g Salmon 4.7 g Tuna 5.9 g Eggs 1.2 g per egg (large) Greek Yogurt 2.0 g per 100g serving
Choose from the list of options above to ensure a high BCAA intake in your diet.
Incorporate these protein sources into your meals to prevent muscle breakdown, improve muscle growth, and regulate blood sugar levels.
Don't miss out on the benefits of a high-quality protein diet! Add animal-based protein sources to your daily meals now.
Who says vegans can't get swole? These plant-based sources of BCAAs will have you flexing on all the meatheads at the gym.
Plant-Based Sources
For those looking for amino acid supplementation from plant-based sources, here are some options to consider:
Lentils and chickpeas

Quinoa and whole grains

Nuts and seeds such as cashews, almonds, hemp seeds and chia seeds

Soy products including tofu, tempeh and edamame

Pea protein powder supplements

Brown rice protein powder supplements
It is important to note that while animal-based products are generally a more concentrated source of BCAAs, plant-based sources can still provide a valuable addition to the diet. For those following a vegan or vegetarian dietary lifestyle, incorporating these options could help increase their overall intake of amino acids.
On top of the benefits of increasing BCAAs from these plant-based sources, many also come with added nutritional bonuses. For example, lentils are not only rich in BCAAs but also high in fiber and iron. Quinoa offers a complete source of protein and magnesium. Nuts and seeds contain healthy fats as well as being good sources of vitamin E.
Incorporating these sources into your meals or using them as a supplement can be an effective way to support muscle recovery and growth. Lentils specifically have been shown to be one of the best plant-based sources with high levels of BCAA leucine.
Overall, while animal-based products remain the most popular when it comes to amino acid supplementation, plant-based options can still offer a valuable addition for those seeking out more holistic dietary options.
You can have too much of a good thing, but when it comes to BCAAs, there's always room for a little more muscle fuel.
Optimal Dosage of BCAAs
BCAAs Dosage: How to Consume the Right Amount of Branched-Chain Amino Acids
To maximize muscle growth, it is crucial to consume the right amount of BCAAs. Here are some tips on the optimal dosage of BCAAs:
For athletes, a daily dose of 5-20 grams of BCAAs is recommended.

The ideal time to take BCAAs is before and after your workout for maximum benefits.

If you want to use BCAA supplements, make sure they contain at least 2:1:1 ratio of leucine, isoleucine, and valine respectively.

You can also get an adequate amount of BCAAs from a healthy diet that includes poultry, dairy products, and legumes.

Individuals with liver or kidney diseases should consult a doctor before taking BCAA supplements.

Consuming excessive amounts of BCAAs can lead to negative side effects such as fatigue and loss of coordination.
Keep in mind that these are general guidelines for consuming BCAAs and may vary depending on individual fitness goals and body composition.
Pro Tip: To get the most out of your BCAA supplementation, combine them with resistance training for optimal results.
Before you load up on BCAAs, just remember: too much of a good thing can make you a bathroom regular.
Potential Risks and Side Effects of BCAAs
BCAAs are known for their muscle-building properties, but like any supplement, they come with potential risks and side effects. It is crucial to be aware of these before consuming BCAAs.
May cause nausea and stomach discomfort

Might imbalance blood sugar levels in diabetics

Could lead to fatigue if taken in excessive quantities

May reduce serotonin levels, leading to mood swings and depression

Might cause headaches and dizziness
While BCAAs are generally considered safe for healthy adults when consumed in recommended doses, caution should be exercised when taken in conjunction with certain medications or medical conditions. Consult a healthcare provider before use.
Pro Tip: Always buy BCAA supplements from reputable brands and check ingredients thoroughly to ensure your safety.
Remember, the only six-pack I care about is the one filled with Branched-Chain Amino Acids.
Conclusion and Final Thoughts
The significance of Branched-Chain Amino Acids (BCAAs) in muscle growth and repair cannot be overstated. These amino acids act as fuel for the muscles, especially during intense exercise sessions. By supplementing with BCAAs like leucine, isoleucine, and valine, athletes can optimize their muscle growth potential.
Moreover, BCAAs also help reduce muscle soreness after workouts by decreasing muscle damage caused by exercise-induced inflammation. Evidence suggests that taking BCAA supplements before or during exercise can minimize muscle breakdown while promoting protein synthesis and recovery.
It's worth noting that proper nutrition and regular exercise are still critical factors in achieving overall muscle growth. However, adding BCAA supplements to your routine can provide that extra edge needed to make gains more efficiently.
One physique athlete shared how incorporating BCAA supplements into his workout regimen allowed him to significantly increase his strength training capacity while reducing post-workout soreness. Despite being a competitive bodybuilder for several years, he experienced unprecedented results within a few weeks of supplementing with leucine and other essential amino acids.
Frequently Asked Questions
1. What are branched-chain amino acids (BCAAs)?
BCAAs are a group of essential amino acids that include leucine, isoleucine, and valine. They are commonly found in protein-rich foods such as meat, eggs, and dairy products. BCAAs are crucial building blocks for muscle growth and repair.
2. Why are BCAAs important for muscle growth?
BCAAs have been shown to stimulate muscle protein synthesis, which is the process by which the body builds new muscle tissue. They also help to prevent muscle breakdown during intense exercise and promote faster recovery after workouts.
3. How should I take BCAAs?
BCAAs are typically available in powder or capsule form, and can be taken either pre-workout, intra-workout, or post-workout. It's important to follow the recommended dosage instructions on the product label, and to consult with a healthcare professional before taking any supplements.
4. Can BCAAs help with weight loss?
Some studies suggest that BCAAs may help to reduce body fat and improve body composition. However, more research is needed to determine the extent to which BCAAs can aid in weight loss.
5. Are there any side effects of taking BCAAs?
BCAAs are generally considered safe when taken in recommended dosages. However, some people may experience digestive issues such as nausea, bloating, or diarrhea. It's important to discontinue use of BCAAs if any adverse effects occur.
6. Can BCAAs be consumed through dietary sources alone?
Yes, BCAAs can be consumed through protein-rich foods such as meat, eggs, and dairy products. However, athletes and individuals engaging in intense exercise may benefit from supplementing with additional BCAA sources to optimize their muscle growth and recovery.