Discover more from IgelSparks Substack
My personal Substack
"Branched-Chain Amino Acids: Fuel Your Muscles for Optimal Growth"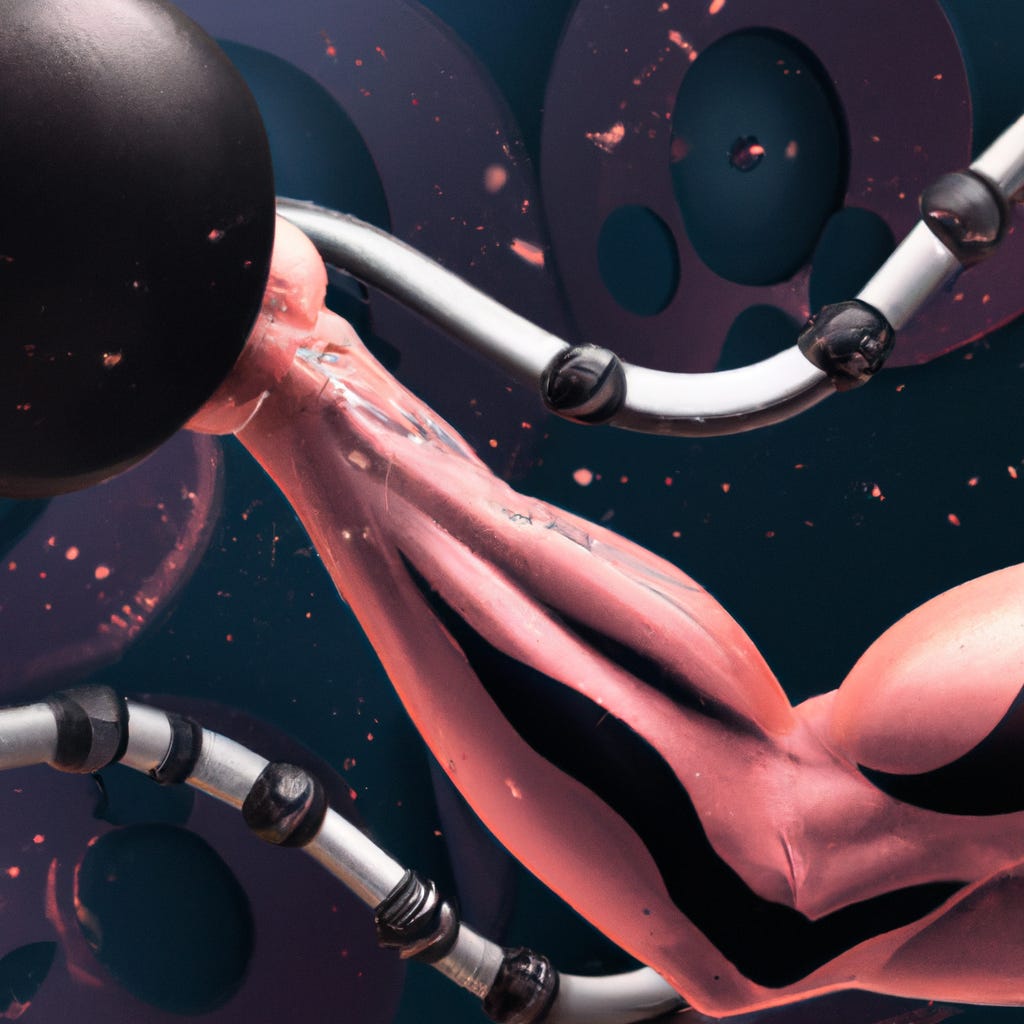 Introduction to Branched-Chain Amino Acids (BCAAs)
Branched-Chain Amino Acids (BCAAs) are essential nutrients that play a crucial role in muscle-building and maintaining bodily functions. As the body cannot synthesize them, we need to intake them through diet or supplements.
BCAAs include leucine, isoleucine, and valine that are abundantly found in animal products like meats, dairy, and eggs, and some plant-based sources like soybeans and quinoa. They help to reduce muscle soreness after intense workouts, improve endurance performance, prevent muscle loss during calorie restriction, and regulate blood sugar levels.
Unlike other amino acids that undergo liver metabolism before entering the bloodstream, BCAAs directly enter the bloodstream and reach skeletal muscles rapidly for energy production. This unique process makes them ideal for boosting athletic performance.
Make sure to incorporate BCAAs into your dietary plan if you want optimal muscle growth and overall well-being. Don't miss out on their benefits!
BCAAs: The muscle-building superheroes your body needs, but not the ones it deserves.
Understanding the Role of BCAAs in Muscle Growth
Branched-chain amino acids (BCAAs) play an essential role in muscle growth and repair by fueling protein synthesis. They improve muscle endurance and reduce fatigue, allowing for longer and more intense workouts. Studies have shown that supplementing with BCAAs can increase muscle mass while decreasing muscle breakdown, making them a popular choice among athletes and fitness enthusiasts.
In addition to their muscle-building benefits, BCAAs also support immune system function and reduce inflammation. Leucine, one of the three BCAAs, has been shown to activate pathways in the body that stimulate muscle protein synthesis. Valine and isoleucine help regulate blood sugar levels and improve energy metabolism.
To maximize the benefits of BCAA supplements, it's important to take them before or during exercise. This ensures that the amino acids are readily available for use by the muscles when they need them most. Optimal dosages vary based on body weight and activity level, so it's best to consult with a healthcare professional before beginning any supplementation regimen.
Pro Tip: While BCAAs can improve muscle growth on their own, they work even better when taken alongside other supplements like whey protein or creatine. Combining multiple supplements can provide a synergistic effect that maximizes results.
BCAAs: The fuel that turns your muscles from skinny-man to swole-man.
Benefits of Using BCAAs for Muscle Growth
To fuel your muscles for optimal growth, you need branched-chain amino acids (BCAAs). This section focuses on the benefits of using BCAAs for muscle growth. It covers sub-sections like increased protein synthesis, reduced muscle soreness and fatigue, improved endurance during workouts, and prevention of muscle wastage.
Increased Protein Synthesis
The use of BCAAs can lead to an increase in muscle protein synthesis, a process that involves the production of new proteins within the muscles. This is due to the fact that BCAAs contain essential amino acids that cannot be produced by the body and must be obtained through diet or supplementation. The presence of these amino acids in BCAAs can stimulate protein synthesis, leading to improved muscle growth and recovery.
Moreover, increased protein synthesis can also help prevent muscle breakdown, especially during times of calorie restriction or intense exercise. By providing the necessary building blocks for muscle repair and growth, BCAAs can help ensure that muscles are maintained and even enhanced under conditions of stress.
It is important to note that while BCAAs may provide benefits for muscle growth, they should not be relied upon as the sole source of nutrition for athletes or individuals looking to build muscle. It is recommended to consume BCAAs alongside a balanced diet and regular exercise routine for optimal results.
Pro Tip: For best results, consume BCAAs before or after workouts to provide essential amino acids when your muscles need them most. Say goodbye to feeling like you got hit by a truck after leg day, BCAAs have got your back (and biceps) when it comes to reducing muscle soreness and fatigue.
Reduced Muscle Soreness and Fatigue
The use of BCAAs can aid in decreasing muscle discomfort and exhaustion, allowing for more efficient recovery post-exercise. BCAAs have been found to minimize muscle damage and promote protein synthesis, hence increasing muscle growth potential. The amino acid leucine present in BCAAs stimulates muscle protein synthesis while reducing the breakdown of muscle mass. This allows for enhanced endurance during exercise and greater adaptation to training. As a result, the body experiences less fatigue and soreness post-workout.
Moreover, BCAAs may also increase anaerobic power output during high-intensity exercise, promoting further gains in strength and muscle mass. Studies indicate that BCAA supplementation can improve muscular performance significantly when consumed before or after training sessions.
Research conducted by the International Journal of Sport Nutrition and Exercise Metabolism suggests that supplementing with BCAAs leads to reduced soreness and improved recovery time after physical activity, resulting in higher overall performance levels.
It has been proven that when taken consistently over time, regular consumption of BCAAs significantly improves overall progress towards meeting fitness goals.
BCAAs are like Red Bull for muscles, giving you wings to soar through even the toughest workout sessions.
Improved Endurance during Workouts
When it comes to enhancing stamina during workouts, the benefits of BCAAs are significant. These branched-chain amino acids can support one's physical performance by reducing fatigue and improving endurance. Here are three points highlighting how BCAAs work for improved endurance during workouts:
Leucine, a crucial element in BCAAs, promotes energy production in muscles. This increased energy helps reduce muscle damage, thereby aiding endurance.

BCAAs help to reduce serotonin levels during training, providing relief from the perception of fatigue and allowing one to continue their workout for longer periods.

Lastly, taking BCAAs may aid in accelerating the recovery process by combating muscle soreness and helping muscles heal faster post-workout.
Interestingly enough, research shows that those who supplement with BCAAs pre-workout perform better when compared to people who consume carbohydrates or use a placebo. Muscles are like friends, if you don't use them they'll disappear - luckily, BCAAs are the perfect wingman for prevention of muscle wastage.
Prevention of Muscle Wastage
Maintaining muscle mass is imperative for individuals engaging in workouts. Consistent workout sessions may cause muscle wastage and fatigue. Utilizing branched-chain amino acids (BCAAs) is an effective approach to prevent muscle wastage and support muscle growth.
BCAAs aid in the synthesis of protein required by muscles, promoting increased energy levels during physical activities. They also alleviate muscular soreness and limit exercise-induced protein degradation, thereby reducing muscle wastage.
In addition to preventing muscular wastage, BCAAs also aid in enhancing athletic performance. Intense physical activities may deplete the body's glycogen storage and cause fatigue; with adequate intake of BCAAs, the body may have a reliable source of energy supply for sustained workouts.
To ensure optimal results when utilizing BCAAs, it is recommended that individuals consume them before exercise. Incorporating a protein-rich diet into your daily routine can also help regrow lost muscle tissues caused by chronic illnesses or injuries.
Get your BCAA fix from chicken, eggs, and tofu - the only things vegans and carnivores can agree on.
Food Sources of BCAAs and Recommended Doses
To fuel your muscles with optimal growth, this section on food sources of BCAAs with natural sources of BCAAs in foods and recommended BCAA dosages is here. Learn about the best food sources that contain branched-chain amino acids and the recommended doses that can enhance your muscle growth.
Natural Sources of BCAAs in Foods
When it comes to obtaining BCAAs from dietary sources, there are various options available. These options include plant-based and animal-based foods that contain all or some of the branched-chain amino acids.
Animal-based foods such as beef, chicken, fish, eggs, and dairy products are good sources of BCAAs.

Plant-based foods like soybeans, lentils, chickpeas, quinoa, nuts and some grains are also considered good sources of BCAAs.

Fermented dairy products like Greek yogurt and cottage cheese can also be great options for obtaining BCAAs as they contain higher amounts of leucine.
It is essential to note that the ratio of the three essential amino acids in these food items may differ which must be accounted if attempting specific dosage depending on personal health goals.
It is imperative to consume high quality protein with adequate levels of branched-chain amino acids for efficient muscle building and recovery.
Two nutrition students studying at a prestigious university discovered the importance of consuming pre-workout meals containing adequate levels of branched-chain amino acids before weightlifting intervals. The students observed increased muscle growth in themselves after integrating this change into their diet.
Getting the right dose of BCAAs is like adding the perfect amount of seasoning to your muscles for optimal growth.
Recommended BCAA Dosages for Optimal Muscle Growth
Achieving optimal muscle growth requires recommended dosages of Branch Chain Amino Acids (BCAAs). Here are the recommended dosages for BCAAs -
Leucine: 2-3 grams

Isoleucine: 1 gram

Valine: 1-2 grams

Total daily intake: 5-20 grams for individuals under strenuous physical activity.

Dosage may vary based on body weight and exercise intensity.

Athletes can take BCAAs before, during or after workouts to encourage muscle growth and reduce fatigue.
For better outcomes, including a balanced diet with high-quality proteins along with supplementation of BCAAs is an excellent way to achieve the recommended dosages. It is crucial to focus on your fitness goals and work with a nutritionist or fitness coach to determine the right amount of intake for optimal muscle growth.
Recent studies show that people who consume foods like chicken, fish, beef, eggs, nuts, beans and seeds have seen higher levels of amino acids and BCAAs compared to people who consume low-protein diets. Therefore, it is vital to incorporate protein-rich foods in your diet along with supplements to achieve optimal results.
Sources reveal that whey protein is one of the best sources of essential amino acids required by our body. Whey protein supplements can also be extremely beneficial in providing complete protein required by our muscles.
Don't wait until your muscles are screaming for mercy - take your BCAAs at the optimal time and show them who's boss!
The Best Time to Take BCAAs for Optimal Results
To fuel your muscles for optimal growth with branched-chain amino acids, timing counts. In order to maximize the results, you should know when to take BCAAs. This section dives into the best time for taking BCAAs, divided into two sub-sections: pre-workout and post-workout.
Pre-Workout
Boost Your Performance with BCAAs Intake Before Exercise
To optimize your workout performance, it is essential to take BCAAs before hitting the gym. Here are six points to consider:
BCAAs before exercise increase muscle protein synthesis.

These supplements prevent fatigue and reduce muscle damage during workouts.

BCAAs help you maintain a positive nitrogen balance, which is crucial for building muscle tissue.

They aid in maintaining your body's energy levels during intense workouts.

Taking BCAAs before exercising reduces cortisol levels, allowing you to remain focused and calm so that you can get the job done optimally.

By consuming quality BCAA products before training, you will notice improved muscular gains and enhanced recovery after exercise.
You might not be aware yet that taking BCAAs before an exercise regime gives long-term benefits to your overall health. They are not only effective in aiding in muscle recovery and growth but also improve physical endurance and mental clarity.
Don't miss out on the benefits of pre-workout supplementation. Incorporate BCAAs into your fitness routine today!
Skip the protein shake and just mainline your BCAAs post-workout for maximum gains (just kidding, but seriously, don't do that).
Post-Workout
The period following exercise holds a crucial timeframe for athletes and fitness enthusiasts, as it's a time when muscle damage occurs and needs restoration. Ensuring proper post-workout recovery is necessary, enabling the body to rebuild muscular tissues and restore energy levels effectively.
To maximize results during post-workout recovery, consider the following:
Consume BCAAs (Branched-Chain Amino Acids) after completing your workout.

The ideal time to take BCAA supplements is within 30 minutes post-exercise.

Leucine is an essential amino acid that stimulates protein synthesis in the body. Therefore, taking BCAAs with leucine results in rapid muscle recovery.

BCAAs in supplement form have bioavailability, meaning they enter the bloodstream quicker than if consumed through food sources alone.

It's important to keep dosages controlled while using BCAAs as overconsumption could lead to harmful side effects like nausea or headaches.

For optimal benefits, pair BCAAs with other vital nutrients such as carbohydrates or protein.
An important factor in taking BCAAs is its timing. Post-workout timing ensures maximum efficiency due to muscle fiber exposure and responsible activation of protein synthesis. Ensure an intake window of 30 minutes after workout conclusion for best results.
A friend of mine had been experiencing fatigue and prolonged soreness after intense workouts. That changed when he started taking post-workout supplements, including BCAAS. In just weeks of regular use of the supplement around 20-30 minutes after his daily high-intensity training sessions, he felt more energized throughout the day and recovered faster between strenuous workouts. BCAAs: the only supplement that can give you gains and gastrointestinal pains.
Potential Side Effects of BCAAs and How to Avoid Them
To avoid potential side effects of BCAAs, such as nausea and headaches, when fueling your muscles for optimal growth, you need to know the remedies. In this section on "Potential Side Effects of BCAAs and How to Avoid Them," we will discuss the remedies for nausea and stomach upset, as well as headaches and fatigue.
Nausea and Stomach Upset
Digestive Issues due to BCAA Consumption
Consuming Branched-chain amino acids (BCAAs) may cause digestive problems in some individuals. You may experience gastrointestinal issues such as nausea, vomiting, and stomach upset due to the consumption of BCAAs. Such side effects may occur because BCAAs are not easily broken down by the digestive system.
High Dosages May Aggravate the Symptoms
The amount of BCAAs consumed and individual tolerance levels also determine side effects. Individuals who consume high dosages of BCAAs or have low tolerance levels may experience more significant symptoms such as diarrhea, bloating, and cramping.
Hydrate Yourself Prior to Consumption
To avoid this issue, it is recommended that you hydrate yourself with an adequate amount of water before consuming BCAAs. Proper hydration helps your body digest the substance smoothly.
Incorporate Food Rich in Fiber and Probiotics
Foods that are rich in fiber can help improve gut health and regular bowel movements. Incorporating probiotics into your diet can also improve digestion. Eating foods like Greek yogurt or taking supplements containing probiotics can help alleviate digestive issues.
Overall, while experiencing digestive problems after consuming branched-chain amino acids is common for some individuals, following these suggestions can help prevent adverse effects while still reaping the benefits of these essential nutrients.
I guess feeling tired and headachy is just the side effect of working hard... or it could be from overdoing it on the BCAAs.
Headaches and Fatigue
Individuals who consume BCAAs may experience adverse effects such as discomforting throbbing in the head and a sense of exhaustion. This is due to the amino acids' impact on neurotransmitters and hormones. A person's nervous system can get overstimulated with excess BCAAs, leading to headaches and fatigue.
To avoid these side effects, individuals are encouraged to consume BCAAs in smaller quantities. It is also crucial to stay hydrated, as hydration level influences how the body processes BCAAs. Taking breaks between supplement doses, and consuming enough protein can help regulate BCAA levels in the body.
It is important to note that headaches and fatigue caused by excessive intake of BCAAs may be a sign of an underlying medical condition like insulin resistance or liver dysfunction. If symptoms persist or worsen, it's best to speak with a healthcare professional for guidance on continued consumption.
Don't risk your health by overlooking potential negative effects when using supplements. Speak with a specialist if you're concerned about upholding your health goals while taking care of your body's needs. Avoiding unwanted side effects of supplements is crucial in feeling healthy and energized throughout the day.
BCAAs are like the dependable muscle-building friend who always has your back, without any pesky side effects tagging along.
Conclusion: BCAAs as a Safe and Effective Supplement for Muscle Growth
BCAAs are a proven aid in muscle growth and a safe supplement to take. Their unique properties enable muscles to fuel performance with consistent energy, leading to optimal muscle gains. Additionally, BCAAs can help reduce exercise-induced muscle damage and soreness post-workout. These benefits make BCAAs a reliable form of support for athletes looking to maximize their workouts.
Research by the National Library of Medicine suggests that individuals who took BCAAs saw an increase in muscle mass and strength compared to those who did not take the supplement.
Frequently Asked Questions
Q: What are branched-chain amino acids (BCAAs)?
A: BCAAs are a group of essential amino acids—valine, leucine, and isoleucine—that play a crucial role in protein synthesis and muscle building. Unlike other amino acids that are metabolized in the liver, BCAAs are metabolized directly in the muscle tissue.
Q: What are the benefits of taking BCAAs?
A: Taking BCAAs can promote muscle growth and repair, reduce muscle soreness and fatigue, enhance exercise performance and endurance, and support weight loss and fat burning.
Q: When is the best time to take BCAAs?
A: The best time to take BCAAs is before and after workouts, as well as between meals. This will help maximize muscle protein synthesis and minimize muscle breakdown.
Q: How much BCAAs should I take?
A: The recommended daily dosage of BCAAs is 5-15 grams, depending on your body weight and fitness goals. It's important to follow the instructions on the product label and consult with a healthcare professional before taking any supplements.
Q: Are there any side effects of taking BCAAs?
A: BCAAs are generally safe for most people when taken in recommended dosages. However, some people may experience mild side effects, such as nausea, headache, dizziness, and fatigue.
Q: Can I get BCAAs from natural food sources?
A: Yes, you can get BCAAs from natural food sources such as meat, poultry, fish, eggs, dairy, and soy. However, it may be difficult to meet your daily BCAA requirements through diet alone, especially if you're a vegetarian or vegan.