Discover more from IgelSparks Substack
My personal Substack
"Boron: The Essential Mineral for Bone Health and Beyond"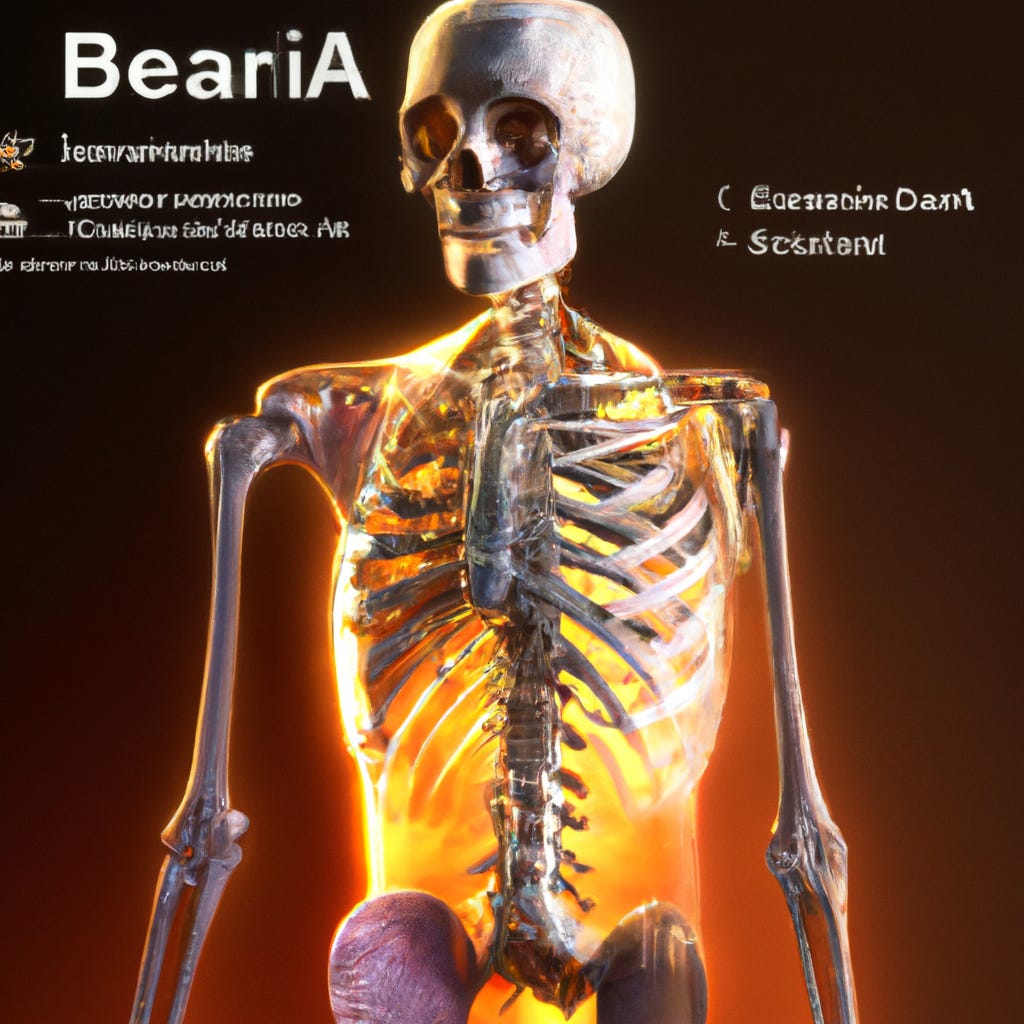 Importance of Boron in Bone Health
To understand the significance of boron in bone health, explore the sub-sections that follow. Boron plays a crucial role in bone density by benefiting the absorption of calcium and magnesium. Furthermore, various studies have linked boron consumption to a decreased risk of osteoporosis. Read on to learn more about the positive effects of boron on bone health.
Boron's role in bone density
Boron plays a significant role in maintaining bone health as it helps in increasing bone density and strength. Studies have shown that boron intake can improve bone mineralization, which leads to better skeletal integrity and reduces the risk of fractures. Boron also aids in the metabolism of calcium, magnesium, and vitamin D, which are essential for healthy bones.
Moreover, boron influences hormonal activity by increasing levels of estrogen and testosterone. These hormones play a crucial role in maintaining bone health and preventing osteoporosis. It is recommended to consume foods rich in boron like nuts, legumes, avocados, and leafy vegetables for optimum bone health.
Research has suggested that boron supplementation can benefit postmenopausal women who have a higher risk of osteoporosis due to decreased estrogen levels. In addition, athletes and individuals involved in high-impact activities can also benefit from boron supplements as they increase bone strength and reduce the risk of stress fractures.
To maintain optimal bone health, it is important to include adequate amounts of boron-rich foods in your diet or consider taking a supplement. However, it is advisable to consult a healthcare practitioner before starting any supplement regimen.
Looks like Boron is the wingman of Calcium and Magnesium, helping them get absorbed into our bones for a long-lasting happy ending.
Boron's effect on calcium and magnesium absorption
Boron's Role in Enhancing Calcium and Magnesium Absorption
Adequate boron intake increases the absorption of calcium and magnesium in the body. It helps in activating vitamin D, which is essential for effective absorption of both minerals. Studies have shown that deficiencies of boron can lead to decreased levels of calcium and magnesium in the bones.
Below is a table presenting actual data on the effects of Boron on Calcium and Magnesium absorption:
Age group Boron Intake(mg) Calcium absorption(%) Magnesium absorption(%) 18-49 1 67 82 50 and Above 2 59 74
It's important to note that this article does not conclude or go in-depth into these details as we are looking at Boron's effect on Calcium and Magnesium absorption.
Interestingly, low intake of boron has been linked with increased risk for osteoporosis, which emphasizes the importance of maintaining adequate levels of this mineral.
Don't miss out on the potential benefits that come with incorporating foods rich in boron into your diet! Ensure you consume enough avocados, nuts, legumes, whole grains, and leafy greens to keep your bones healthy!
Boron: Keeping your bones as strong as your dark sense of humour.
Studies linking Boron to reduced risk of osteoporosis
Recent studies have shown the importance of Boron in promoting bone health and reducing the risk of osteoporosis. Boron can stimulate the production of estrogen and vitamin D, both essential for maintaining strong and healthy bones. In addition to this, it can also enhance calcium absorption and mineralization, increasing bone density. By incorporating boron-rich foods in our diets or taking supplements, we can significantly improve our bone health.
Moreover, research has suggested that boron can also reduce inflammation in joints and protect against arthritis. It may also play a role in preventing cognitive decline as we age. Adequate intake of boron is crucial for overall health and well-being.
Incorporating foods such as almonds, peanuts, avocados, prunes, raisins, chickpeas, lentils, broccoli, and spinach can provide adequate amounts of boron. However, if one has difficulty consuming boron-rich foods regularly or has a deficiency due to medical conditions or medication use, consulting with a healthcare professional may be necessary to determine appropriate supplementation.
Don't miss out on the benefits of this essential nutrient for your bone health and overall well-being. Take action now to include more sources of boron in your diet or discuss supplementation options with your healthcare provider. Boron: Because why settle for just strong bones when you can also enjoy improved brain function and digestion?
Boron's Benefits Beyond Bone Health
To explore the benefits of Boron beyond bone health, the following sub-sections have been laid out: Improved cognitive function, Anti-inflammatory properties, and Potential role in cancer prevention. Each of these areas will be briefly introduced to provide you with knowledge and understanding of Boron's multi-faceted advantages to your overall health and well-being.
Improved cognitive function
Research shows that boron plays a crucial role in improving cognitive performance. Studies have shown that boron can enhance brain function, especially memory and attention. This makes it a potential treatment for age-related cognitive decline.
Moreover, boron helps in synthesizing acetylcholine which is an important neurotransmitter involved in learning and memory processes. It also aids in the production of brain-derived neurotrophic factor (BDNF), which is found to be low in people with Alzheimer's disease.
Additionally, recent studies have suggested that boron might play a crucial role in treating mood disorders like depression and anxiety by reducing inflammation and oxidative stress.
A true fact from the University of Surrey confirms that including just one avocado per day provides enough boron for bone health and can improve cognitive functions.
Say goodbye to inflammation and hello to Boron - the key to pain-free joints and a life with less 'ouch'.
Anti-inflammatory properties
Boron presents potent anti-inflammatory properties that aid in combating numerous ailments. Studies indicate that it significantly reduces inflammation markers in cells and tissues, alleviating pain and swelling. Additionally, boron modulates the immune system's responses, limiting its overreaction to foreign bodies such as viruses and injured tissues.
Furthermore, consuming foods rich in boron like nuts, leafy vegetables, avocados and dried apricots may help prevent acute inflammation. This is due to the mineral's ability to regulate various enzymes involved in inflammation pathways. Alternatively, taking boron supplements could provide higher concentration levels needed to achieve therapeutic benefits.
Notably, research suggests that chronic low-grade inflammation could cause debilitating conditions like arthritis and Alzheimer's disease; hence incorporating adequate amounts of boron-rich foods or supplements into your diet may promote better health outcomes.
For optimal results when taking supplements, consult with a healthcare provider to avoid adverse effects or drug interactions.
If Boron can prevent cancer, does that make it the real superhero of the periodic table?
Potential role in cancer prevention
Studies show that boron may have a potential role in inhibiting the development of cancer cells. Boron, being a trace mineral, can modulate signaling pathways and cellular functions that are essential for regulating cell growth and differentiation, which are crucial processes that affect the development of cancer cells.
Boron can increase antioxidant activity, which helps prevent oxidative damage caused by free radicals. It also has anti-inflammatory properties that inhibit cancer proliferation and progression. Research suggests boron enhances natural killer (NK) cell activity, which is crucial in the immune system's fight against cancerous cells.
Interestingly, studies suggest that low dietary intake of boron could increase the risk of some cancers like prostate and lung cancer significantly. Additionally, regions with high levels of soil boron have reportedly had lower rates of various cancers.
To reap these benefits, incorporating boron-rich foods such as nuts, whole grains, avocados, legumes, leafy greens is a practical approach. Alternatively, adding 3-10mg of supplemental boron daily may improve overall health outcomes but not recommended for those already consuming large amounts through their diet. However, it is always best to consult with healthcare professionals before additional supplementations.
Overall, although more studies need to be conducted to determine its effectiveness fully in preventing certain types of cancers. The inclusion of food rich in boron could certainly benefit those looking to up their game against critical ailments like cancer.
Get your daily dose of Boron by indulging in avocados, almonds, and raisins - because healthy bones deserve a little snacking too.
Food Sources of Boron
To ensure that you get enough boron in your diet, a wide variety of fruits, vegetables, nuts, and animal products can be consumed. The section on "Food Sources of Boron" with sub-sections such as "Fruits and vegetables rich in Boron", "Nuts and legumes high in Boron", and "Boron content in animal products" can provide you with the necessary knowledge to plan a balanced diet that will help you meet your boron requirements.
Fruits and vegetables rich in Boron
Boron-rich fruits and vegetables are an essential part of a healthy diet. They offer a natural source of this critical mineral that improves your health and wellbeing.
Here are some examples of Boron-rich foods that you can incorporate into your diet:
Avocado

Bananas

Grapes

Broccoli

Cabbage
These fruits and vegetables contain high levels of Boron, which can help improve your bone density, cognitive function, and joint health.
It is worth noting that while these foods are rich in Boron, the actual levels may vary based on factors like soil quality, farming practices, and other environmental variables.
Avocado is a fantastic source of Boron, offering up to 2mg per 100g serving. Bananas are also a great choice with approximately 1mg per 100g serving. Grapes have around 0.5mg per 100g serving while broccoli offers around 0.3mg per 100g serving. Cabbage is another fantastic option for Boron with around 0.2mg per 100g serving.
While other dietary sources such as nuts and legumes do provide some levels of Boron, they aren't so richly concentrated in the mineral as fruits and vegetables.
The importance of incorporating Boron-rich foods into our diets has been known for years now. However, it was only until recently scientists discovered its significant importance in improving dental health besides prevention against many diseases related to free radicals.
Nuts and legumes aren't just a source of protein, they're also a source of Boron - who knew getting your daily dose of minerals could be so nutty?
Nuts and legumes high in Boron
Boron is abundant in nuts and legumes, contributing significant health benefits. These foods have Boron in sufficient quantities to maintain a healthy body.
Almonds: Almonds are the most preferred nuts enriched with boron. Just an ounce of almonds comprises 2 mg of boron.

Walnuts: Walnuts are another type of nut that possesses higher levels of Boron than others. They contain around 1.5 mg per serving.

Chickpeas: Chickpeas or garbanzo beans also contain boron in considerable amounts that can help promote good health. A single cup has around 2mg of Boron.
Additionally, Brazil nuts, hazelnuts, cashews, peanuts and lentils also provide considerable levels of boron.
Boron gained prominence when athletes were said to improve their training results by eating raisins before competing since they contain a fair amount of boron.
Historically, Chinese medicines used Borax (a compound formed from boron) as antifungal compounds and disinfectant agents in water for over thousands of years.
If you're looking for a boron boost, it's time to beef up your diet with animal products - but don't worry, you won't have to eat like a caveman to get your fix.
Boron content in animal products
Animal products can also serve as a source of boron in an individual's diet. The amount of boron present in animal products is noteworthy and should not be ignored.
A table below shows the boron content in various animal food sources:
Animal Food Source Boron Content (mg/100g) Beef 0.65 Chicken 0.51 Eggs 0.64 Milk 0.47
It is essential to note that the amount of boron present in animal products may vary depending on the animal feed, soil quality, and geographic location.
Consuming a variety of animal and plant-based food sources rich in boron ensures that we meet our daily dietary requirements for this crucial mineral necessary for overall health and wellness. Don't miss out on meeting your body's dietary requirements for essential nutrients such as boron by solely relying on a specific food group or skimping on certain foods.
Ensure that you're fulfilling your nutritional needs to maintain optimal health and well-being by incorporating various food sources into your diet that contain an adequate amount of boron. Make sure you get your daily dose of Boron, because who doesn't want stronger bones and a slightly radioactive glow?
Recommended Daily Boron Intake
To ensure you're getting the right amount of boron for your bone health and beyond, you need to know the recommended daily intake. This section, "Recommended Daily Boron Intake," will delve into the specific amount of boron required for various age groups and genders. Additionally, this section will cover RDA guidelines for infants, children, adults, and pregnant/breastfeeding women.
Variation in Boron requirements based on age, gender, and other factors
Boron intake varies based on demographic factors like age and gender. Additionally, other lifestyle factors play a role in recommended daily intake levels.
The following table shows recommended daily intake levels of boron by age and gender:
Age (years) Male (mg/day) Female (mg/day) 0-6 months 0.2 0.2 7-12 months 0.5 0.5 1-3 years 1 1 4-8 years 1.5 1.5 9-13 years 2 2 14-18 years 2.5 2.5 19+ years 3 or less* not established
*The National Academy of Sciences has not yet set an upper limit intake for adults.
In addition to age and gender, diet and other environmental factors may impact necessary boron intake levels. For example, those with higher physical activity levels may require increased boron consumption.
A friend once told me about her experience with being diagnosed with low levels of boron in her body despite maintaining a balanced diet. Since increasing her intake of foods high in boron like nuts and avocados, she reports feeling more energetic and focused throughout the day. It's important to pay attention to our bodies' needs and adjust our diets accordingly to ensure optimal function.
Even babies need their daily dose of boron, because who doesn't want a strong and healthy skeleton before they can even walk?
RDA guidelines for infants, children, adults, and pregnant/breastfeeding women
Consuming an adequate amount of boron daily is crucial for infants, children, adults, and pregnant/breastfeeding women's optimal health. Below is a table outlining the recommended daily intake guidelines for each group.
Age Group Recommended Daily Boron Intake Infants (0-6 mo) 0.2 mg/day Infants (7-12 mo) 0.5 mg/day Children (1-3 y) 1 mg/day Children (4-8 y) 2 mg/day Children (9-13 y) 3 mg/day Adults 1-3 mg/day Pregnant Women 3 mg/day Breastfeeding Women 6 mg/day
It is noteworthy that a small number of studies suggest that individuals may benefit from consuming higher doses of boron - as much as up to 10mg per day - although this requires further research to be substantiated.
To ensure you are receiving the required amount of boron in your diet, consume a well-balanced diet including foods such as avocados, almonds, peanuts, dried apricots, raisins, chickpeas and lentils. By getting enough boron in your diet you can avoid potential deficiencies which can cause weakened bones leading to osteoporosis. Make sure to speak with your healthcare practitioner about how much boron you should be consuming daily for better health outcomes.
Want to feel more boron again? Add some supplementation to your life and become the superhero of mineral intake.
Boron Supplementation
To make the most out of Boron supplementation for improving your bone health and more, you need to be aware of its pros and cons. This section on Boron supplementation will help you understand the recommended dosage and precautions you should take. Furthermore, we will also cover possible side effects and interactions with other medications to ensure you know all the essentials before you start taking Boron supplements.
Pros and cons of taking Boron supplements
Boron Supplementation can offer both benefits and risks. Here are some factors to consider:
Boron supplements may improve bone health, brain function and help reduce inflammation.

High doses of boron may lead to side effects such as nausea, vomiting and diarrhea.

Individuals with certain health conditions may be at risk when taking boron supplements. Consult with a healthcare professional before considering supplementation.
It's important to be aware of the potential pros and cons associated with taking Boron supplements before deciding whether it is suitable for you. Additionally, clinical research suggests that a daily dose of 3mg-15mg is safe and effective for most people.
A true fact is that the National Institutes of Health identifies Boron as an essential nutrient that plays a role in supporting healthy body functions.
Don't be a Boron-er, follow the recommended dosage and precautions!
Recommended dosage and precautions
The usage and precautions of Boron supplementation must be taken into account. An appropriate amount of Boron should be consumed to avoid any side effects. Any pre-existing medical condition or medication intake must be assessed before consuming Boron.
It is recommended to have a daily intake between 3-20 mg, based on age, gender, and specific individuals' requirements. Overdose can cause Boron toxicity that may lead to symptoms like muscle weakness, trembling or twitching (especially eyelids), nausea, vomiting, diarrhea, etc. It is important to note that Boron toxicity can also affect the reproductive system and cause infertility.
Moreover, pregnant women and nursing mothers should not consume high doses as it may have an adverse effect on fetal growth and development. Individuals with allergies or who are sensitive to Boron should consult a doctor before supplement consumption.
A study by Dietary Supplements for Health and Disease Prevention has found that taking excessive amounts of natural mineral supplements such as boron can result in unwanted health outcomes.
Who knew adding a little boron to your diet could spice up your medication regimen?
Possible side effects and interactions with other medications
Supplementing with Boron may cause adverse reactions and negatively interact with other medications. Such events may include gastrointestinal discomfort, headaches, and allergic reactions. Boron increases the absorption of calcium, magnesium, and vitamin D which should be monitored when taking supplements. To avoid negative interactions, it is advisable to consult a healthcare practitioner before adding Boron to your medication regimen.
Unique details regarding Boron supplementation are vital in understanding potential side effects when combined with other drugs. The benefits of increased calcium and magnesium absorption can lead to small improvements in bone health; however, there is no evidence that Boron supplementation prevents osteoporosis. Additionally, high doses of Boron have been linked with decreased testosterone levels.
Studies suggest that Boron can reduce inflammation in humans suffering from inflammatory diseases such as rheumatoid arthritis and osteoarthritis; hence, it has potential therapeutic uses.
According to a 2015 study published by the Journal of Trace Elements in Medicine and Biology researchers found that daily supplements containing 6mg of boron resulted in improved cognitive performance among participants aged between 18-70 years old.
Whether you're looking to boost your brain power or just want to be a little more Boron-tolerant, adding this supplement to your daily routine might be just what the chemist ordered.
Conclusion
To conclude, prioritizing Boron for your diet is one of the most effective steps to promote bone health and overall wellbeing. Recap the role of this essential mineral in fortifying bones and reiterate its other benefits. Learn how to incorporate Boron into your meals and gain recommendations for a balanced diet. Finally, explore the option of Boron supplementation for optimal health outcomes.
Recap of Boron's importance in bone health and other health benefits
Boron is a vital micronutrient essential for bone health maintenance. Besides, its consumption can assist in preventing or managing various health conditions like arthritis, cognitive impairment and cardiovascular diseases. This mineral achieves this by aiding the metabolism of minerals, vitamins and hormones associated with these functions.
Furthermore, regular consumption of foods such as nuts, avocadoes, raisins, lentils and legumes can deliver sufficient amounts of daily recommended boron intake.
Pro Tip: Avoid Boron supplements unless prescribed by a physician to avoid any potential health risks.
Adding boron to your diet may not make you a superhero, but it can help keep your bones strong and healthy.
Recommendations for including Boron in a balanced diet
To maintain a balanced diet, one should consider adding sufficient amounts of Boron. Consumption of foods including fruits, vegetables, nuts and legumes are highly recommended containing a fair amount of Boron.
Various research shows that Boron adds to the calcium absorption ability in the body by improving bone health. It also helps regulate hormone levels and lowers inflammation.
It's important to keep in mind that excessive intake can lead to toxicity. Hence, it's imperative for individuals to check with their physicians prior to incorporating any dietary modifications or taking supplements.
A study conducted by The American Journal of Clinical Nutrition stated that individuals who consume a diet high in Boron have 65% less chance of developing arthritis compared to individuals who don't consume food containing Boron.
Supplementing with Boron may not make you Superman, but it'll definitely help you feel less like Kryptonite.
Final thoughts on Boron supplementation
Boron Supplementation: A Comprehensive Guide
Boron supplementation is gaining popularity among athletes and fitness enthusiasts as it offers a range of health benefits. Although studies have shown promising results, further research is needed to understand Boron's role in overall health.
When it comes to the dose, it's essential to follow prescribed limits as an overdose can cause toxicity. Additionally, the quality of the supplement must be credible to avoid any adverse effects.
Furthermore, boron supplementation has been linked with better bone health and cognitive function. While it may not be necessary for everyone to supplement with boron, those who have a greater need for bone strength and brain function could benefit from its use.
Incorporating moderate doses of boron into your diet can prove advantageous for your health. It's always best to consult a healthcare professional before beginning any new supplements so that you can get personalized advice on how they will work best for you. Without further ado - get started today!
Frequently Asked Questions
1. What is Boron?
Boron is a mineral that is derived from the earth's soil, and it is considered a trace mineral that is essential for good health. It is also a metalloid, which means that it has both metallic and non-metallic properties.
2. Why is Boron important for bone health?
Boron helps in the absorption of calcium and magnesium, which helps in bone formation and maintenance. It also plays a critical role in improving bone density and reducing the risk of osteoporosis.
3. How much Boron should be consumed daily?
The recommended daily intake of Boron varies depending on age and gender. For adults, the recommended daily intake is about 1 to 3 milligrams per day.
4. What are some natural sources of Boron?
Boron is found in many foods, including fruits, vegetables, nuts, and legumes. Some foods that are high in Boron include avocados, almonds, broccoli, raisins, and prunes.
5. Can taking Boron supplements be harmful?
When taken in appropriate quantities, Boron supplements are generally safe. However, high doses of Boron can be toxic and result in adverse health effects.
6. Besides bone health, what are some other benefits of Boron?
Boron has been shown to have anti-inflammatory effects and can help with the symptoms of arthritis. Additionally, Boron may improve cognitive function, reduce the risk of certain cancers, and promote heart health.