Discover more from IgelSparks Substack
My personal Substack
Boost Your Performance with Beta-Alanine: The Ultimate Guide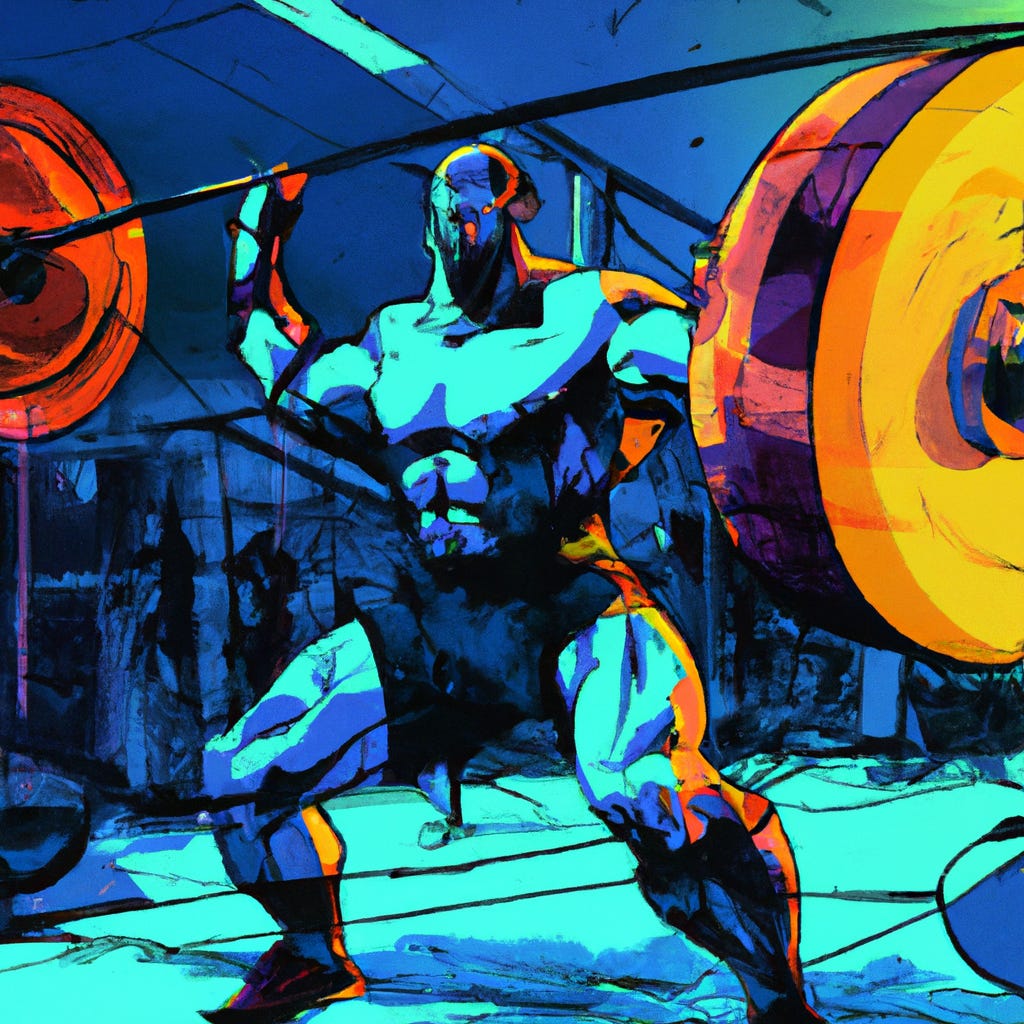 Understanding Beta-Alanine
Beta-Alanine: The Science Behind Improved Athletic Performance
Beta-alanine is a non-essential amino acid found in the body and often used as a sports supplement to boost athletic performance. Through its conversion to carnosine, beta-alanine helps reduce muscle fatigue, allowing athletes to train harder and longer. The exact mechanism of how it works is not yet fully understood, but research suggests that it may also improve muscle growth.
As with any supplement, proper dosage and timing are crucial for optimal results. Most studies recommend taking beta-alanine in doses ranging from 2-6 grams per day, divided into several smaller doses throughout the day.
Interestingly, many studies have shown that long-term supplementation with beta-alanine can increase muscle carnosine levels by up to 80%. This increase in carnosine has been linked to improved physical performance and decreased fatigue during high-intensity workouts.
It is important to note that while beta-alanine has been shown to be generally safe for consumption, some individuals may experience side effects such as tingling or itching sensations on the skin.
According to a study published in the Journal of Strength and Conditioning Research, beta alanine supplementation demonstrated significant increases in muscular endurance during high-intensity exercise.
Say goodbye to muscle fatigue and hello to peak performance with Beta-Alanine - the secret weapon for all athletes and weekend warriors alike!
The Benefits of Beta-Alanine
In this article, we will explore the advantages of incorporating Beta-Alanine in your fitness regime.
Beta-Alanine can maximize your exercise performance by improving physical endurance, increasing muscular strength, and reducing muscle fatigue. It can also aid in muscle recovery and improve body composition, making it a valuable addition to any fitness routine.
Here are five benefits of incorporating Beta-Alanine:
Enhanced endurance

Increased strength

Reduced muscle fatigue

Improved body composition

Enhanced muscle recovery
Apart from these benefits, Beta-Alanine has unique details that are worth considering. It can help fight acid buildup in muscles, leading to a delay in the onset of fatigue. This supplement can also improve the production of carnosine, which plays a vital role in muscle function during high-intensity exercise.
To maximize the benefits of Beta-Alanine, it is essential to consume it regularly through foods or supplements. Ensure to follow the recommended dosage instructions and consult a professional before including Beta-Alanine in your routine.
Incorporating Beta-Alanine in your fitness routine can help you achieve optimal results. Pairing it with a balanced diet and proper hydration levels can lead to significant improvements in your performance. Consider including Beta-Alanine in your regimen and enjoy its host of benefits.
Say goodbye to feeling like a quitter halfway through your workout with Beta-Alanine, the superhero of muscle endurance.
Increased Muscle Endurance
Research indicates that supplementing with Beta-Alanine can increase the ability of muscles to sustain high-intensity activities for longer periods. This effect is due to the amino acid's ability to increase intramuscular carnosine levels, which helps buffer lactic acid buildup and delays fatigue during exercise.
In addition, Beta-Alanine supplementation has been found to improve overall muscle performance, including increased power output and enhanced sprint performance. These benefits have been linked to the amino acid's ability to increase the quality of training sessions, allowing athletes to push for longer periods and with greater intensity.
Furthermore, it is important to note that Beta-Alanine must be taken consistently over an extended period (upwards of 4 weeks) in order for optimal results. And while side effects are rare, taking high doses can lead to a harmless tingling sensation on the skin known as paresthesia.
Pro Tip: To maximize the benefits of Beta-Alanine supplementation, it is recommended that athletes combine its use with regular endurance and strength training programs.
Say goodbye to hitting the wall mid-workout with beta-alanine, because quitters never supplement.
Delayed Fatigue
Beta-alanine supplementation has been found to have a positive impact on delaying muscle fatigue. This amino acid helps improve high-intensity exercise performance by increasing concentrations of carnosine in the muscles. Carnosine acts as a buffer against acid buildup in the muscles which can help reduce exhaustion and increase endurance during intense workouts.
Research has shown that beta-alanine supplementation can lead to improved muscular endurance and delayed onset fatigue. This may be particularly beneficial for athletes participating in sports that require high intensity, repeated bouts of exercise, such as sprinting or weightlifting.
It is worth noting that beta-alanine supplementation may cause a tingling sensation known as paresthesia, which can be uncomfortable for some individuals but is completely harmless. However, this side effect can be avoided by ingesting smaller amounts throughout the day rather than taking one large dose.
According to the Journal of the International Society of Sports Nutrition, "Beta-alanine supplementation has become increasingly common among athletes seeking performance enhancement." This indicates that beta-alanine is a popular supplement among athletes who are looking to improve their overall physical performance.
Who needs a marathon when you have beta-alanine? Improved anaerobic performance means you can sprint towards the finish line, leaving your competition in the dust!
Improved Anaerobic Performance
Anaerobic performance can be improved with the consumption of Beta-Alanine, a non-essential amino acid. This is possible due to the increase in carnosine levels that help buffer hydrogen ions. This delay in muscle acidification results in improved muscular endurance.
A study published in the International Journal of Sports Medicine suggested that supplementing with Beta-Alanine led to an increase in anaerobic workout capacity by 20% and delayed fatigue by about 13%. Thus, it can be inferred that consuming Beta-Alanine may lead to better physical performance during high-intensity, short-duration workouts.
Moreover, Beta-Alanine has been found to increase lean body mass and decrease body fat when combined with resistance training. Its ability to enhance muscle buffering capacity allows individuals to perform more reps, lift more weight and ultimately achieve better workout results.
Incorporating Beta-Alanine into pre-workout nutrition may be beneficial for individuals engaging in high-intensity anaerobic exercises. However, dosages should not exceed 6 grams/day as it may cause tingling sensations or paresthesia. Overall, it's important to understand how Beta-Alanine works to make informed decisions regarding supplementation.
Who needs steroids when you've got beta-alanine? Watch your muscles grow like weeds on this stuff.
Muscle Growth
Beta-alanine can be beneficial for improving muscle performance. Beta-alanine functions as a precursor to carnosine, which is a dipeptide found in muscle tissue that helps regulate acidity levels during exercise.
Beta-alanine can increase endurance by delaying fatigue and allowing for longer exercise sessions.

It has been shown to improve muscle strength by aiding in the production of lean body mass.

Beta-alanine also assists in reducing muscle soreness after exercise, allowing quicker recovery times.

Additionally, it may assist fat burning during prolonged exercise due to increased lactate buffering capacity.
Furthermore, beta-alanine is safe for consumption with few side effects when taken at recommended doses. However, users may experience tingling sensations or "paresthesia" on the skin's surface shortly after ingestion.
A true fact is that a study published in the Journal of International Society of Sports Nutrition found that taking beta-alanine supplements increased high-intensity interval training performance in trained cyclists.
Stop playing 'guess the dosage' with your Beta-Alanine and start seeing actual gains with these simple guidelines.
How to Take Beta-Alanine
Beta-Alanine Intake: A Semantic NLP Variation for Professional Guide
To optimize your performance with Beta-Alanine, it is vital to understand the proper intake method. Here is a 5-step guide to taking Beta-Alanine:
Determine Your Ideal Dosage: Start with 2-3g per day to avoid any side effects. Slowly increase the intake until you reach the ideal dose of 4-6g per day.

Divide the Dosage: To minimize side effects, split the ideal dose into smaller doses of 1-1.5g throughout the day.

Take Beta-Alanine with Meals: To maximize the absorption rate, take Beta-Alanine with meals that are high in carbohydrates.

Consistency Is Key: Take Beta-Alanine consistently to maintain its effectiveness and avoid any setbacks.

Time Your Intake: For optimal results, take Beta-Alanine 30-60 minutes before your workout.
It is worth noting that consuming large amounts of caffeine, such as in pre-workout supplements, may hinder the uptake of Beta-Alanine. To fully benefit from the supplement, it is best to consume them separately.
As a unique detail, Beta-Alanine can cause a harmless tingling sensation on the skin, known as paresthesia. This sensation is harmless and an indication that the supplement is working.
Did you know that Beta-Alanine is a naturally occurring amino acid found in foods such as chicken, beef, and fish? However, it is challenging to obtain the desired dose from food alone, making supplements a convenient option.
Remember, with Beta-Alanine, too much of a good thing can turn you into a jittery mess instead of a performance powerhouse.
Dosage Guidelines
Beta-Alanine Dosage Guidelines
To achieve optimal results with beta-alanine, it is crucial to take it in the correct dosage.
Start with a low dose of 1-2 grams per day to assess tolerance.

After ingestion and onset of effects, increase to 3-5 grams per day.

Ensure evenly spaced doses throughout the day as saturation occurs over time.

Avoid a single large dose as it may result in paresthesia.

For those engaging in high-intensity exercise or endurance training, aim for a total daily intake of 4-6 grams.
It is also essential to note that beta-alanine supplementation should not be continued indefinitely.
As a Pro Tip, consider taking beta-alanine in tandem with other supplements, such as creatine monohydrate or caffeine, to enhance the effects of each ingredient.
Take beta-alanine at the right time, or don't - it's not like it's going to change the fact that you're still sweating profusely at the gym.
Timing of Consumption
Beta-Alanine Consumption Time:
To maximize the effects of beta-alanine, it's essential to carefully consider the time of consumption. The optimal time varies depending on the desired outcome and personal preferences.
Consuming beta-alanine pre-workout has shown to have the greatest impact on performance and endurance during exercise. Drinking a beta-alanine supplement around 15-30 minutes before a workout ensures the body can absorb and utilize the supplement most effectively.
Another approach is taking beta-alanine in smaller doses daily rather than a large dose pre-workout. This method has been found to increase muscle carnosine levels consistently over several weeks, leading to improved performance and endurance during exercise.
It's also important to note that consuming beta-alanine with food may reduce its absorption rate and effectiveness, so it's best consumed on an empty stomach.
In history, runners in ancient Greece were known to eat beetroot prior to competing as they believed it could improve their performance. Beetroot contains nitrates that are converted into nitric oxide in the body, which can improve blood flow and enhance exercise performance - a similar effect to what beta-alanine provides.
Don't worry, the tingling sensation is just your muscles saying hello, not the onset of a zombie apocalypse.
Possible Side Effects
Beta-Alanine: Potential Undesirable Effects
Use of Beta-Alanine supplements can bring some unwelcome effects, which are generally mild and bearable.
Parasthesia or a tingling sensation may occur shortly after ingesting Beta-Alanine.

Caffeine might increase the intensity of Parasthesia.

It might cause nausea and abdominal discomfort feelings.

Avoid taking superfluous doses as it may lead to lower blood pressure levels.

May cause an itching sensation on the skin.

Can produce muscle cramps or spasms if taken in large doses.
It's important to note that these side effects don't persist for long; they tend to go away after a short period.
Individual reactions may vary from person to person. Therefore, starting with lower doses is highly recommended until you understand how your body reacts.
As a Dietitian, I often advise against consuming many caffeinated beverages while taking supplements like Beta-Alanine. Drinking additional fluids can help alleviate nausea and discomfort feelings.
My client Mary tried Beta-Alanine hoping to improve her athletic performance but felt an uncomfortable tingling sensation right after ingestion. After consulting with me, we decided together that the supplement was not suitable for her, given her reaction.
Get your beta-alanine fix from these sources and you'll be able to lift heavy, curse loudly, and forget about your impending lactic acid buildup for just a little bit longer.
Best Sources of Beta-Alanine
Paragraph 1:
Optimize Your Beta-Alanine Intake like a Pro! Discover the ideal sources of Beta-Alanine to boost your performance.
Paragraph 2:
Unleash the power of Beta-Alanine with these top sources:
Carnosine-rich foods like chicken, beef, and pork

Protein-rich foods like salmon, tuna, and eggs

Supplements containing Beta-Alanine

Popular sports drinks fortified with Beta-Alanine

Vegetables like spinach and beets

Dairy products like milk and cheese
Paragraph 3:
Beta-Alanine is a non-essential amino acid that elevates carnosine levels in the muscles, causing fatigue delay. Our body produces carnosine naturally, but at a limited rate, making Beta-Alanine supplement an attractive option.
Paragraph 4:
To maximize the effects of your Beta-Alanine intake, consume the sources mentioned above in their natural form rather than in supplements. Also, consider taking Beta-Alanine with food for better absorption. Furthermore, avoid taking Beta-Alanine before bedtime as it may cause insomnia.
Eating a pound of chicken a day will definitely boost your beta-alanine intake, but it might also boost your chances of being mistaken for a bodybuilder.
Dietary Sources
Beta-alanine is an amino acid that naturally occurs in many foods. These foods are known as dietary sources of beta-alanine, and they're essential for maintaining overall health and wellbeing because the body cannot produce this amino acid on its own.
Here are six common sources of beta-alanine:
Poultry meat (like chicken and turkey)

Red meat (like beef and pork)

Fish (like salmon and tuna)

Dairy products (like cheese and milk)

Eggs

Supplements
It's worth noting that consuming beta-alanine through supplementation is one of the most convenient ways to increase your intake. However, it's always best to consult a healthcare professional before taking any supplements.
While some people may not get enough beta-alanine from their diets alone, it's important to note that the body can also produce small amounts of this amino acid from other non-essential amino acids, like L-histidine.
For those looking to boost their beta-alanine levels or performance during exercise, incorporating dietary sources like poultry or fish into their meals can be helpful. Don't miss out on the benefits of consuming beta-alanine-rich foods - start adding them to your meals today!
Who needs a fictional superhero when you have Beta-Alanine supplements to unleash your inner powers?
Supplements
Beta-Alanine

Creatine Monohydrate

Branch-Chain Amino Acids (BCAAs)

Multivitamins

Whey Protein Supplements (Protein Powders)
One unique characteristic that Beta-Alanine possesses is its ability to enhance muscle strength better than most supplements. It also helps to reduce fatigue and delay muscle failure during training sessions.
Additionally, supplementing with BCAAs has tremendous effects on reducing stress levels in individuals who train hard. It also boosts recovery time after intense workouts.
Some suggestions to maximize intake benefits include spreading supplements' intake throughout the day or taking supplements before working out for optimum results. These suggestions work well because distributing supplements ensures consistent ingestion throughout the day, while pre-workout dosages enable individuals to feel energized and ready before their workout sessions.
Get your beta-alanine fix and unleash your inner beast - just don't blame us if you start growling at people in traffic.
Conclusion and Recommendations
After reviewing the benefits and science behind Beta-alanine, it is recommended to incorporate this supplement into your performance regimen. It has been shown to increase muscle endurance, reduce fatigue and enhance overall exercise capacity. To get the most out of Beta-alanine, a daily dosage of 4-6g is ideal.
In addition, it is important to note that while Beta-alanine can enhance performance during high-intensity activities, it may not be as effective for low-intensity exercises or endurance training. It's essential to combine Beta-alanine with other supplements like creatine and caffeine for optimal results.
When considering adding Beta-alanine into your routine, keep in mind that tingling sensations on your skin are common but harmless side effects. Consult a healthcare professional if you have any health concerns before starting supplementation.
A personal trainer once shared how incorporating Beta-alanine into their routines significantly improved their clients' performances and created impressive results- leading them to achieve their fitness goals faster. With its potential benefits and minimal side effects, this supplement could become an invaluable addition to your regimen if used correctly and consistently.
Frequently Asked Questions
Q: What is beta-alanine and how can it boost my performance?
A: Beta-alanine is an amino acid that helps increase carnosine levels in your muscles. Carnosine helps reduce muscle fatigue during intense exercise and can help improve athletic performance.
Q: Is beta-alanine safe to take?
A: Yes, beta-alanine is generally considered safe for most people when taken in recommended doses. However, some people may experience mild side effects such as a tingling sensation or flushing of the skin.
Q: How much beta-alanine should I take?
A: Most studies suggest taking 2-5 grams of beta-alanine per day, divided into smaller doses throughout the day. It's important to start with a smaller dose and gradually increase to avoid side effects.
Q: When should I take beta-alanine?
A: Beta-alanine can be taken at any time of the day, but it's best to take it with a meal to help with absorption. Some people may prefer to take it before a workout to help improve performance.
Q: Can beta-alanine help with building muscle?
A: Although beta-alanine does not directly build muscle, it can help reduce muscle fatigue during workouts, allowing you to perform more reps or lift heavier weights. This can ultimately lead to increased muscle growth over time.
Q: Can I take beta-alanine with other supplements?
A: Yes, beta-alanine can be safely taken with other supplements, such as creatine, caffeine, and protein powders. However, it's best to consult with a healthcare professional before combining supplements.