Discover more from IgelSparks Substack
My personal Substack
"Bladderwrack: Discover the Nutritional Power of Seaweed"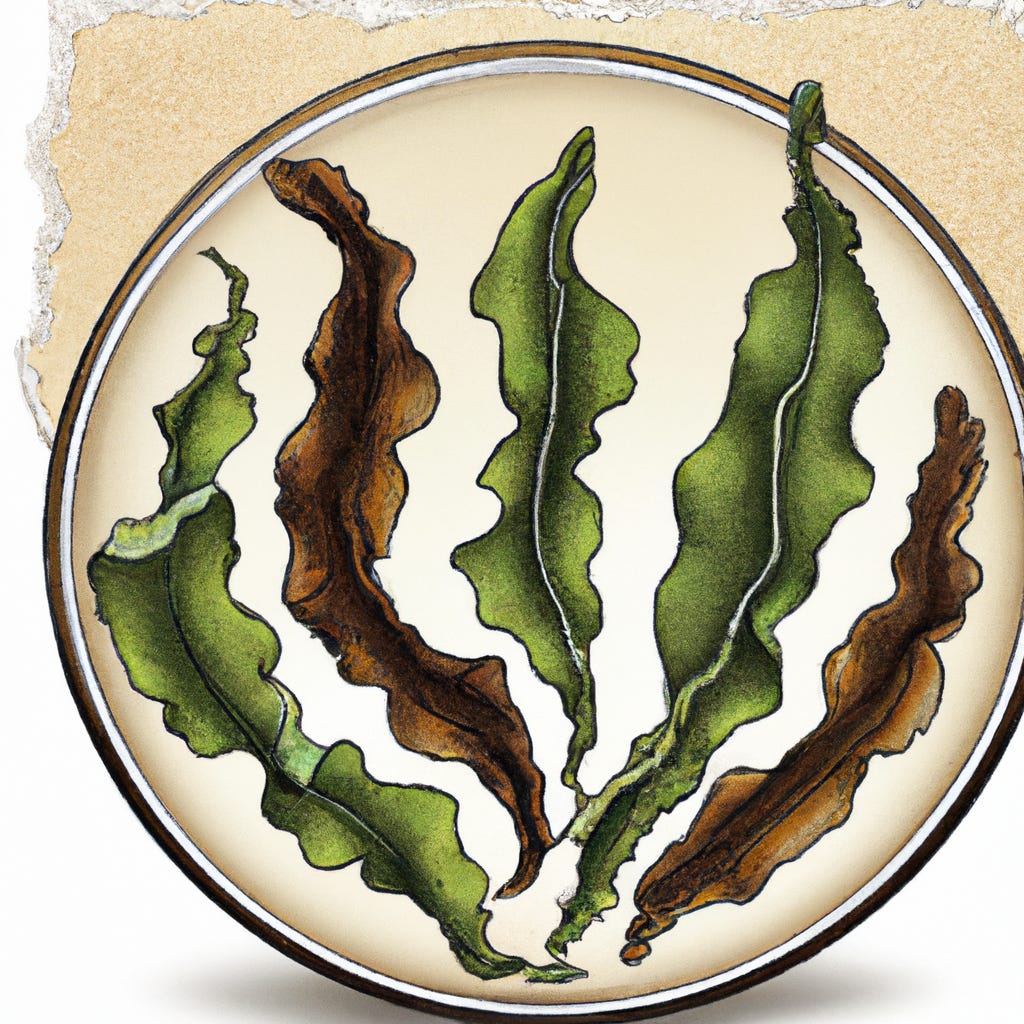 Overview of Bladderwrack
Bladderwrack, known as Fucus vesiculosus in scientific terms, is a seaweed that thrives on the rocky coasts of the North Atlantic and Northwest Pacific regions. It has been used for centuries in traditional medicine as well as food due to its nutrient-rich profile.
Bladderwrack contains high amounts of iodine, antioxidants, and several vitamins, including vitamin C and B12. Its impressive nutritional properties have been linked to various health benefits such as improving thyroid function, reducing inflammation, and assisting weight loss.
Additionally, bladderwrack also possesses antibacterial and antifungal properties that make it useful in treating skin conditions like eczema and acne. However, excessive intake can lead to an overdose of iodine resulting in thyroid dysfunction.
A few years ago, a woman suffered from extreme hair loss due to an underactive thyroid. After consulting with a professional nutritionist and consuming bladderwrack capsules for six months daily, the woman saw significant improvement in her hair growth and overall health. Bladderwrack proved to be a vital source of essential nutrients that assisted in her recovery journey.
Bladderwrack: the only seaweed that can make both your taste buds and your thyroid happy.
Nutritional Benefits of Bladderwrack
To discover the nutritional power of bladderwrack, learn about the varied benefits it offers. With its multiple uses, it is an excellent dietary supplement to improve your health. Rich in Iodine, Contains Essential Amino Acids, High in Vitamins and Minerals, and Contains Antioxidants are the four sub-sections of this nutritional section that you must understand and explore to better leverage the nutritive value of bladderwrack.
Rich in Iodine
Bladderwrack contains an abundance of iodine, a nutrient essential for thyroid hormone production and regulation. Consuming just a small amount of Bladderwrack can boost your iodine levels, preventing hypothyroidism and goiter formation. Along with regulating hormones, iodine also promotes healthy metabolism and neurological development.
Bladderwrack has been used for centuries as a natural remedy for various ailments such as digestive disorders, skin irritations and rheumatoid arthritis. Additionally, it is rich in antioxidants which protect our body from free-radical damage caused by environmental factors such as pollution and radiation.
A study conducted by the University of Maryland Medical Center showed that Bladderwrack may be effective in reducing lipid levels in individuals with type 2 diabetes.
Looks like bladderwrack is not just a seaweed, it's a sea-PROTEIN packed with all the essential amino acids!
Contains Essential Amino Acids
Bladderwrack is enriched with necessary amino acids, vital for our body's proper functioning. These acids are indispensable because they cannot be synthesized by the body and must be gained through the diet. What essential benefits does Bladderwrack provide thanks to these Amino Acids?
Bladderwrack contains all nine essential amino acids such as Histidine, Valine, Threonine, Isoleucine, Leucine, Lysine, Tryptophan, Methionine and Phenylalanine which support muscle repair and growth.

Amino acids in Bladderwrack provide energy to cells in the body for various metabolic processes.

These acids also produce neurotransmitters that influence cognition and mood levels in humans.

Moreover, Amino acid L-Tyrosine present in Bladderwrack helps in producing thyroid hormones needed for proper metabolism and weight loss management.
Consuming sufficient amounts of bladderwrack ensures that a human being's required amount of amino acids is being met. It aids in the maintenance of cell structures throughout the body.
Bladderwrack prevents a host of medical issues by serving as an antioxidant agent. As this seaweed restores optimal health in people struggling with hypothyroidism, it proved most helpful when Lisa Smith was told that she would no longer be able to walk as a result of hypothyroidism complications. Lisa had turned to conventional medicines without hope until her cousin mentioned bladder wrack's remarkable healing abilities used for thyroid gland activity regulation. After three months of using Bladderwrack supplements interchangeably with prescribed ones from a trustworthy physician monitoring her progress regularly! Lisa could move freely again without any concerns about mobility!
Bladderwrack: the ultimate multi-vitamin supplement that won't double as a sugar pill.
High in Vitamins and Minerals
Bladderwrack offers a wide range of nutritional benefits due to its high content of vitamins and minerals.
It contains high levels of iodine, which is essential for proper thyroid function.

Vitamin C and A can be found in significant amounts in Bladderwrack, contributing to maintain healthy skin and immune system functions.

The seaweed also has multiple B vitamins, especially folic acid, which supports neurological health.

Zinc, magnesium, calcium, and iron are present in the plant and may help maintain multiple physiological processes in the human body.

Polyphenols found in bladderwrack have antioxidant properties that tackle oxidative stress caused by free radicals.
Bladderwrack additionally promotes weight loss by increasing satiety. It stimulates the secretion of hormones that regulate glucose metabolism—potentially helping people manage diabetes symptoms.
In ancient times, Irish people used bladderwrack to give relief from joint pain. The Western Herbal medicine also recommends it against rheumatism and arthritis since Roman times. Its applications expanded beyond medical treatment when farmers used it as a fertilizer for their crops. Consequently, this "weed" has shown itself to be much more useful than expected!
Even on your worst day, bladderwrack's antioxidants have got your back.
Contains Antioxidants
Bladderwrack, a seaweed commonly found in the Atlantic region, has been discovered as a significant source of antioxidants. Antioxidants that are present in bladderwrack play an essential role in reducing inflammation and fighting against free radicals. As a result, bladderwrack can improve heart health, reduce the risk of chronic diseases and promote healthy ageing.
The following four points unveil how bladderwrack contains antioxidants:
Bladderwrack is loaded with polyphenols such as phlorotannins that can scavenge free radicals.

It also comprises of fucoxanthin - a carotenoid compound known for its antioxidant properties.

The presence of Vitamins A, C and E amplify the antioxidant potential of bladderwrack.

A recent study has shown that Bladderwrack extract enhances the natural synthesis of antioxidants enzymes within the body – catalase and superoxide dismutase (SOD).
Additionally, unique details reveal that daily supplementation with bladderwrack can offer optimal results to individuals looking to enhance their daily nutrient intake and boost their immunity. Bladderwrack consumption in supplement form shields people from cellular oxidative damage caused by environmental stressors.
Pro Tip: It's important to remember that while incorporating bladderwrack into your diet may help supplement your nutrient intake levels; it should not replace your regular meals or medications unless advised by your doctor.
Who needs a doctor when you have a seaweed that can cure you? Bladderwrack to the rescue!
Uses of Bladderwrack in Traditional Medicine
To explore the benefits of using bladderwrack in traditional medicine, let's take a look at its specific applications. If you suffer from thyroid disorders, joint pain, inflammation, or digestive issues, you may find relief from including bladderwrack in your diet. These sub-sections will reveal how bladderwrack may alleviate symptoms associated with these conditions.
Treatment for Thyroid Disorders
Bladderwrack has been used in traditional medicine to treat thyroid disorders, due to its high iodine content. Iodine is a vital nutrient required by the thyroid gland, and deficiency can lead to conditions such as goiter and hypothyroidism. Bladderwrack also contains compounds that have anti-inflammatory properties, which may help reduce inflammation in the thyroid gland and improve its function.
In addition to treating thyroid disorders, bladderwrack has been used for a variety of other health conditions such as obesity, joint pain, digestive problems and skin diseases. It is commonly consumed as a dietary supplement in capsule or powder form, or applied topically in creams or ointments.
Bladderwrack should be used with caution as excessive consumption can lead to adverse effects such as nausea, vomiting and elevated heart rate. It is best to consult with a healthcare professional before considering bladderwrack for any health condition.
Historically, during World War I when there was limited access to conventional medical supplies, soldiers suffering from goiter were given dried seaweed tablets made from bladderwrack. This method proved successful in reducing symptoms related to iodine deficiency and showcased the potential benefits of bladderwrack as an alternative treatment option for thyroid disorders.
Don't let joint pain bring you down, try bladderwrack and feel like a seaweed superstar.
Relief for Joint Pain and Inflammation
Bladderwrack, a type of seaweed commonly found on rocky shores, has been used in traditional medicine to alleviate joint pain and inflammation. The rich concentration of iodine in this herb stimulates thyroid function, which is crucial for maintaining healthy joints and preventing inflammation.
Bladderwrack is also packed with anti-inflammatory and antioxidant properties that help lower the levels of pro-inflammatory cytokines in the body, reducing swelling and pain. The herb can be consumed orally or applied topically as a poultice for quick relief from joint pain and inflammation.
Contrary to conventional medicines that only relieve symptoms, bladderwrack addresses the root cause of inflammation by removing toxins from the bloodstream. This herb also strengthens connective tissues and promotes collagen production around the joints, eventually restoring mobility. In addition to its medicinal properties, this herb has been used as sustenance by coastal communities worldwide since ancient times.
It's true that while bladderwrack might not be a panacea for all joint health problems, it is indeed an excellent natural supplement that provides relief from recurring joint pain and reduces swelling caused by general wear-and-tear or even arthritis. According to a study published in Phycologia by Hans G Baer et al., "...bladderwrack-based products are safe to use with very few side effects."
Finally, a solution for those of us who can't seem to process a burrito without feeling like a nuclear reactor - bladderwrack for digestive health!
Aid for Digestive Health
Bladderwrack has been recognized for its medicinal benefits for centuries. It has a wide range of applications, including aiding in digestive health. Here are three ways it can help:
Bladderwrack contains high levels of soluble and insoluble fiber, which can assist with digestion and prevent constipation.

Its anti-inflammatory properties can help reduce inflammation in the gut and improve overall gut health.

Bladderwrack can also stimulate the production of digestive enzymes, helping to break down food more efficiently.
In addition to these benefits, bladderwrack has been used in traditional medicine to treat thyroid disorders and skin conditions. It is a rich source of iodine, essential for healthy thyroid function.
While there are some risks associated with consuming bladderwrack, such as iodine toxicity and potential interactions with medication, when used properly it can provide significant health benefits.
Interestingly, bladderwrack was once so highly valued that people would collect it from dangerous coastal cliffs at great risk to their lives. In Ireland, where it was particularly prized, seaweed harvesters were known as "doolans," and their trade was passed down through generations. Today, bladderwrack continues to be an important part of traditional medicine practices around the world.
Who needs coffee when you can wake up with a nice cup of bladderwrack tea?
Preparation and Consumption of Bladderwrack
To prepare and consume bladderwrack in different forms, you can choose from some options such as dried bladderwrack, bladderwrack supplements, bladderwrack smoothies, and juices. Each form offers its unique benefits.
Dried Bladderwrack
Bladderwrack, a type of seaweed commonly found in rocky intertidal zones, can be harvested and dried for consumption. Here's how to prepare and consume dried bladderwrack:
Soak the dried bladderwrack in water for 10-15 minutes to rehydrate it

Rinse it thoroughly to remove any debris or sand

Cut it into small pieces if desired

Add it to soups, stews, or salads as a nutrient-rich ingredient

Brew it into tea by steeping the dried bladderwrack in hot water for several minutes

Use as a seasoning by grinding it into a fine powder and sprinkling over food
It's important to note that consuming excessive amounts of bladderwrack can lead to iodine toxicity. Additionally, those with thyroid conditions should consult a healthcare professional before incorporating bladderwrack into their diet.
In traditional Chinese medicine, bladderwrack has been used for centuries to treat various ailments such as goiter and thyroid disorders. Its use as medicine dates back as far as ancient Greek and Roman times.
Finally, an excuse to say the word 'bladderwrack' without sounding like a pirate or a toddler trying to swear.
Bladderwrack Supplements
Bladderwrack supplements are natural remedies used to promote overall health and wellness. These supplements contain copper, iodine, iron, manganese, and magnesium that can help boost the immune system and improve metabolism.
Bladderwrack supplements are beneficial for people with thyroid disorders as it helps regulate hormone levels.

The seaweed also has anti-inflammatory properties that aid in reducing joint pain caused by arthritis.

Research suggests that bladderwrack may have a detoxifying effect on the body because of its high alginic content, which binds to toxins and heavy metals in the gut.
In addition to these benefits, bladderwrack supplements may also aid in weight loss due to their high fiber content. However, it is essential to consult a doctor before consuming any dietary supplement.
If you decide to consume bladderwrack supplements, it is important to purchase them from reputable sources to ensure their safety and efficacy. Additionally, following the recommended dosage instructions is crucial as an excessive intake of this supplement can lead to adverse side effects such as nausea or increased heart rate.
Who needs a beach vacation when you can get your daily dose of seaweed in a bladderwrack smoothie?
Bladderwrack Smoothies and Juices
Bladderwrack in a Glass: Using Seaweed for Beverages
Bladderwrack smoothies and juices are a perfect way to get all the nutrients from seaweed while quenching your thirst. Here's how you can use this brown alga in your drinks.
Bladderwrack smoothie: Create a refreshing smoothie by mixing bladderwrack powder, banana, spinach, blueberries and coconut milk in a blender.

Bladderwrack juice: Add bladderwrack extract to fresh apple juice and lemon for an invigorating drink.

Bladderwrack tea: Steep dried bladderwrack in hot water, add honey and ginger for a detoxifying beverage.
Bladderwrack is loaded with nutrition such as iodine, potassium, vitamins A and C making it ideal for boosting immunity and energy levels. Remember that excessive consumption of bladderwrack may cause thyroid issues.
Bladderwrack has been used throughout history by cultures around the world for both food and medicine. The famous Greek botanist Theophrastus documented the use of bladderwrack in his works over 2000 years ago.
Warning: consuming too much bladderwrack may result in mermaid-like abilities, but also mermaid-like breath.
Precautions and Potential Side Effects of Bladderwrack
To ensure your safety while consuming bladderwrack, knowing the precautions and potential side effects is crucial. In order to make sure you get the most out of this seaweed, discover the interactions with thyroid medication, allergic reactions, and heavy metal contamination as possible solutions.
Interactions with Thyroid Medication
Bladderwrack is a seaweed that is sometimes used as a natural remedy for various health issues. However, it is essential to exercise caution while consuming it, especially if you are on thyroid medication.
Individuals taking medications to treat an underactive thyroid should consult their doctor before using bladderwrack supplements. This seaweed contains significant amounts of iodine, which can interfere with the absorption of thyroid medication, leading to negative effects.
Additionally, high doses of iodine can cause hyperthyroidism in individuals who have pre-existing autoimmune thyroid disease or those with subclinical hypothyroidism. Therefore, one must ensure that they do not overconsume bladderwrack supplements.
It is imperative to follow precautions and be mindful of potential side-effects when taking bladderwrack supplements. Doing so will help mitigate any adverse reactions and promote overall well-being.
If the only thing blooming after taking bladderwrack is a rash, you may be experiencing an allergic reaction.
Allergic Reactions
Bladderwrack can cause hypersensitivity as the iodine content may trigger allergic reactions. These reactions range from mild to severe. Mild symptoms include itching, rashes and hives, while severe symptoms include anaphylaxis and breathing difficulties.
There have been reports of anaphylactic reactions caused by bladderwrack supplements. Individuals who are allergic to seafood should avoid bladderwrack as it is a source of iodine, which can trigger an allergy. People with autoimmune thyroid disease are also advised against using bladderwrack supplements.
Bladderwrack has been linked to contact dermatitis among individuals who come in contact with it regularly. Therefore, it is important for users to avoid direct skin exposure.
It is recommended that individuals who are allergic to seafood or who suffer from autoimmune thyroid disease should consult a healthcare professional before using bladderwrack supplements. Those using bladderwrack supplements should monitor their body's reaction and discontinue use if they experience any adverse effects.
Well, looks like Bladderwrack isn't the only thing getting some heavy metal action.
Heavy Metal Contamination
This marine algae is an efficacious dietary supplement consumed for several therapeutic purposes. Still, its excessive consumption may lead to heavy metal toxicity. Heavy metals including cadmium, lead, and arsenic are often present in bladderwrack due to pollution and increasing industrialization. These toxic components can adversely affect human health by damaging organs like kidneys and liver.
The most common way of ingesting heavy metals is through the consumption of contaminated food products. Bladderwrack originating from heavily polluted regions contains elevated levels of these toxic elements since it absorbs the same contaminants from the surrounding water bodies. The accumulation of heavy metals can pose severe health risks that cannot be neglected.
It's essential to purchase bladderwrack supplements only from reliable sources and conduct thorough research before buying them. Additionally, individuals with high blood pressure or heart diseases must consult a medical practitioner before consuming such supplements.
Heavy metal contamination has made people skeptical about purchasing dietary supplements containing bladderwrack. Nancy's story encloses similar skepticism; after being diagnosed with hypertension, she started taking bladderwrack pills provided by a local dealer without consulting a doctor. Her condition declined drastically, after which it was found that the supplement contained high concentrations of arsenic due to impure seawater used in its processing. Thanks to medical intervention on time, Nancy's treatment was possible before any irreparable damage could take place.
Adding bladderwrack to your diet might sound fishy, but with the right precautions, it could be a seaweed worth trying.
Conclusion: Incorporating Bladderwrack into a Healthy Diet
Bladderwrack can be an important addition to a healthy diet. It boasts various nutrients, including iodine, iron and antioxidants that contribute to good health. Incorporating bladderwrack in the form of supplements or can be helpful for individuals with certain nutrient deficiencies. However, it is important to note that like with any supplement, bladderwrack should not be consumed excessively without medical consultation.
Bladderwrack supplements have been found to be beneficial for individuals with thyroid imbalances, which often result in weight gain, low energy and dry skin. Its anti-inflammatory properties may also help combat joint pain caused by rheumatoid arthritis. When consumed in moderation as part of a balanced diet, bladderwrack may aid digestion and improve gut health.
It is vital to seek medical advice if you plan on adding bladderwrack or any other supplements to your daily routine. Our bodies are unique and what works for one person may not work for another. A healthcare practitioner will be able to advise you on whether incorporating bladderwrack into your diet would benefit your health.
As we have explored the nutritional value of bladderwracks in this article, it's worth mentioning that seaweed has always played a significant role in various cultures worldwide as an essential food source. The Japanese and Korean diets include various seaweeds such as nori and wakame in their meals regularly. Seaweed consumption could be just one way of obtaining valuable micronutrients such as iodine that our body needs every day but cannot produce on its own.
Frequently Asked Questions
1. What is bladderwrack?
Bladderwrack is a type of seaweed that grows along the coasts of the Atlantic and Pacific Oceans. It is rich in nutrients such as iodine, iron, calcium, magnesium, and vitamins A, C, and E.
2. What are the health benefits of bladderwrack?
Bladderwrack has been traditionally used to treat a variety of health conditions such as thyroid disorders, joint pain, and digestive issues. It is also believed to boost the immune system, support healthy skin and hair, and improve overall vitality.
3. How do I consume bladderwrack?
Bladderwrack can be consumed in various forms such as capsules, powders, teas, and topical creams. It is important to consult with a healthcare professional before adding bladderwrack to your diet as it may interact with certain medications and supplements.
4. Is bladderwrack safe for everyone?
Bladderwrack is generally safe for most people when consumed in moderate amounts. However, it may not be suitable for women who are pregnant or nursing, individuals with thyroid disorders, and those with seafood allergies.
5. Where can I buy bladderwrack?
Bladderwrack products can be found in health food stores, online retailers, and pharmacies. It is important to read the labels carefully to ensure that the product is pure and free from any harmful additives.
6. Can bladderwrack be used topically?
Yes, bladderwrack can be applied topically to the skin for its moisturizing and anti-inflammatory properties. It is often used in skincare products to promote healthy and glowing skin.