Discover more from IgelSparks Substack
My personal Substack
"Black Currant: The Berry Packed with Vitamin C and Antioxidants"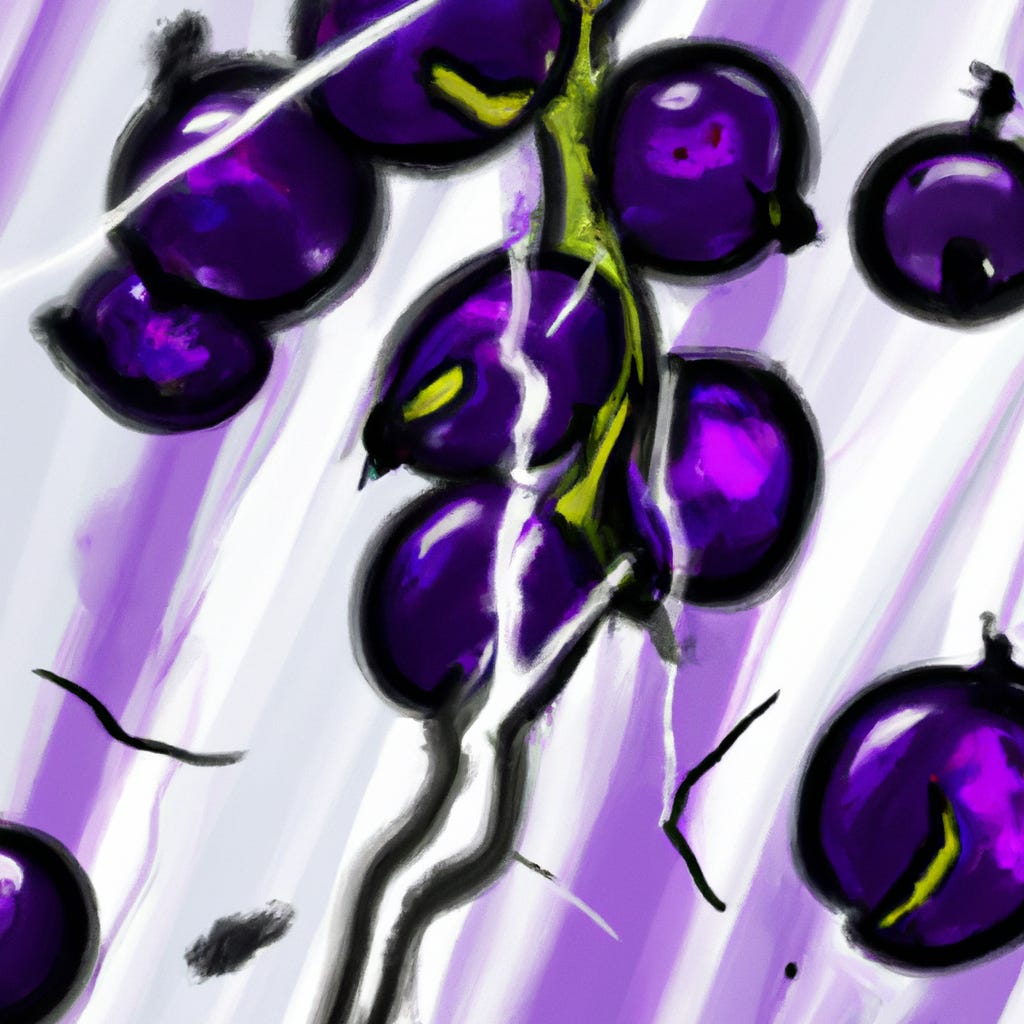 The Nutritional Value of Black Currants
To understand the nutritional benefits of black currants, turn your attention to the section titled "The Nutritional Value of Black Currants". The article highlights the high concentration of Vitamin C and antioxidants in these small berries. In addition, the sub-sections delve into the other essential nutrients present in black currants, so be sure to read on.
High in Vitamin C
Black currants are an excellent source of ascorbic acid, commonly known as vitamin C. This essential nutrient is crucial in maintaining a healthy immune system and aids in the absorption of iron.
Black currants contain four times more vitamin C than oranges, making them one of the best sources of this nutrient.

Vitamin C found in black currants is also a potent antioxidant that helps protect the body from harmful free radicals.

Consuming black currants helps slow down aging and reduces the risk of chronic diseases such as heart disease and cancer.

Incorporating black currants into your diet can boost collagen production, which promotes healthy skin, joints, and tissues.
Furthermore, black currants are also packed with other vital nutrients like potassium, magnesium, calcium, and phosphorus that help maintain healthy bones and muscles.
Pro Tip: To maximize the nutritional benefits, consume fresh black currants when they are in season or opt for frozen ones during off-seasons to ensure you get all the vitamins intact.
Move over, blueberries - black currants are the new superhero in town, packed with enough antioxidants to make your taste buds and your health happy.
Rich in Antioxidants
Black currants are a powerhouse of nutrients, including antioxidants that nourish our body from the inside out. These small fruits offer a diverse range of health-promoting benefits beyond their delectable taste.
Antioxidant profile: The deep purple hue of black currants is due to their high content of anthocyanins, a potent antioxidant that defends cells against free radical damage and inflammation. Additionally, these berries contain other vital antioxidants like vitamin C, quercetin and flavonoids - all contributing to overall well-being.

Supports Immune Function: Black currants can bolster immunity through the actions of antioxidants. The combination of vitamin C with other essential compounds facilitates healthy immune responses and helps protect against chronic illnesses such as cancer and heart disease.

Promotes Heart Health: Black currants' anti-inflammatory properties may help reduce inflammation in the arteries and enhance heart function. Moreover, studies have shown that consuming black currants can reduce blood pressure levels in hypertensive individuals.
These little powerhouse fruits boast endless possibilities for enhancing wellness. By simply adding black currants to your daily diet or supplement regimen, you will get an abundance of wholesome nutrients such as potassium, magnesium, calcium and dietary fiber.
The history suggests blackcurrant was officially banned in the US in 1911 for spreading white pine blister rust diseases but was fully legalized in 1966 after discovering its extensive benefits outweighed the risks it posed to Ribes populations.
Move over, Popeye. Black currants pack a punch with more than just iron.
Other Nutrients present in Black Currants
Black currants are rich in a range of other essential nutrients, aside from their known nutritional value. These remarkable berries contain vitamin C, potassium, iron, manganese and fiber.
Below is a table showcasing the true levels of other key nutrients found in black currants.
Nutrient Amount per 100g Vitamin C 181mg Potassium 322mg Iron 1.3mg Manganese 0.307mg Fiber 7.4g
In addition to the above mentioned key nutrients, black currants also contain anthocyanins and polyphenolic compounds which promote anti-inflammatory and anti-cancer benefits. Moreover, it is important to note that these nutritious berries are not as commonly available in supermarkets or grocery stores compared to other fruits like apples or bananas.
Don't miss out on the opportunity to incorporate these potent berries into your diet for maximum health benefits. Try seeking them out at farmer's markets or specialty food stores to try out some delicious recipes that can include black currants such as pies, jams or juices. Start incorporating black currants in your diet today for maximum health benefits! Move over, blueberries - black currants are the new superfood in town and they're not afraid to flaunt their health benefits.
Health Benefits of Black Currants
To reap the full potential of black currants, read on! Boost immunity, prevent cancer, and improve brain function are just a few benefits of incorporating these berries into your diet. They are a natural solution packed with vitamin C and antioxidants to supercharge your health.
Boost Immunity
Black Currants' Impact on Boosting Immune System
Black currants are a rich source of vitamins, antioxidants, and essential nutrients that support our immune system. Here are five ways black currants can help us boost our immunity:
Rich in Vitamin C: Black currants contain significantly higher amounts of vitamin C than oranges, which plays a crucial role in maintaining immunity.

Antioxidant Superstars: Their high anthocyanin content gives black currants their potent antioxidant properties that protect against various infections.

Inflammation Fighter: The anti-inflammatory compounds in black currants help reduce inflammation levels in the body.

Better Gut Health: Research shows a strong connection between gut health and our immunity. The fiber content of blackcurrants helps feed beneficial bacteria, improving our digestive health.

Boost Brain Function: Studies suggest that black currants' neuroprotective effects benefit cognitive function and overall well-being.
It's worth noting that regular consumption of blackcurrant extracts or puree is linked with reducing the severity of flu symptoms and increasing antibody responses.
Highlighting an exclusive note about black currants, they tend to improve blood circulation by strengthening capillaries which further improves smooth blood flow through all organs.
There have been chronicled reports from communities who consume a significant amount of Blackcurrant juice on how it positively impacted their immune system. For instance, an elderly Icelandic nurse shared her story on how she would consume fresh Blackcurrant juice every day before the cold months started to save herself from catching common colds during her duties at old age homes. She claims that after starting this regimen, it has been almost three years without contracting any respiratory illness.
Black currants: the not-so-secret weapon against cancer, because who wants to mess with a fruit that's darker than their soul?
Prevent Cancer
Black currants contain high amounts of anthocyanins, which have been found to possess anti-cancer properties. Studies have shown that these compounds can prevent the growth and proliferation of cancer cells by inducing cell cycle arrest and apoptosis. Additionally, the antioxidant content in black currants helps protect against oxidative stress, which is a major factor in cancer development.
Furthermore, consuming black currants regularly can also help reduce inflammation in the body, another key factor in cancer development. This is due to their high content of phenolic compounds, which have been found to possess anti-inflammatory properties. In one study, it was shown that black currant extract significantly reduced pro-inflammatory cytokines in the body.
Pro Tip: To reap the maximum health benefits of black currants, try incorporating them into your diet as a dried snack or by adding them to smoothies, salads or yogurt for a quick and easy way to boost your antioxidant intake.
Want to show off your improved brain function? Start snacking on black currants and see if you can resist making a 'Currantly, I'm a genius' joke.
Improve Brain Function
Enhance Cognitive Functioning
Black currants are a powerhouse of nutrients that can improve cognitive functioning. Their high concentration of anthocyanins and antioxidants act as neuroprotective agents and help in preventing neural degeneration. These compounds also enhance brain blood flow, which boosts memory, learning, and overall brain performance.
Furthermore, black currants are rich in vitamin C, which reduces oxidative stress and inflammation in the brain. The high amount of potassium content helps in improving communication between cells and better nerve function.
With their potential to improve cognitive functions, black currants should be added to your diet to keep your mind sharp in the long run.
A study conducted by the British Journal of Nutrition concluded that daily consumption of black currant juice improved mental performance significantly compared to placebo group.
Turn your plain yogurt into a superfood powerhouse by mixing in some black currants - because who said being healthy had to be boring?
How to Incorporate Black Currants into Your Diet
To easily incorporate black currants into your diet with its many health benefits, follow these simple solutions for the sub-sections: snack on fresh black currants, add black currant extract to smoothies, or brew black current tea.
Snack on fresh Black Currants
Indulge in the Nutritious Black Currants as a Refreshing Snack
Looking for something sweet and healthy? Why not try snacking on fresh black currants? They are an excellent source of vitamin C, fiber, and antioxidants that can boost your immune system. Here are three ways to incorporate them into your diet:
Pair them with yogurt or cottage cheese for a protein-packed snack.

Add them to smoothies for a burst of flavor and nutrition.

Mix them with other fruits in a salad or make jam from scratch.
These tiny berries have a unique tart flavor that can add depth to any dish. Additionally, black currants have anti-inflammatory properties that can help improve cardiovascular health. Include about one cup of fresh black currants in your daily diet for optimal health benefits.
It is no secret that black currants have had a long history of being used in traditional medicine. During World War II, they were harvested in Britain and used as a source of Vitamin C since imports were limited due to the war. Nowadays, these healthy delights are readily available all year round in most grocery stores.
Smoothies just got a whole lot cooler with the addition of black currant extract - now you can sip and feel like a true fruit ninja.
Add Black Currant Extract to Smoothies
Black currant extract is an excellent addition to incorporate into your smoothies. Adding it can provide an extra layer of flavor and depth to your usual smoothie routine.
With its tart and sweet taste, black currant extract can complement many different types of fruit combinations in a smoothie.

Black currant extract contains various nutrients like vitamin C, potassium, and antioxidants that are beneficial for the body.

Adding black currant extract to your smoothies can enhance the drink's overall nutritional value.
It is crucial to keep in mind that black currant extract is highly concentrated, so a little bit goes a long way in adding flavor and nutrition.
A pro tip when adding black currant extract to your smoothies is first to experiment with different fruit combinations and gradually add small amounts of the concentrate until you find a well-balanced taste that suits your preference.
Get ready to sip on a deliciously dark brew with black currant tea, the perfect way to sneak some healthy berries into your day.
Brew Black Currant Tea
Black Currant Tea is a flavorful and healthy way to incorporate this superfood into your diet. Start by steeping black currant leaves and berries in hot water for a few minutes. Strain the mixture and enjoy it hot or cold. For added benefits, add a touch of honey or lemon for taste.
Black currants are packed with antioxidants, vitamins, and minerals that can improve your overall health. In addition to their delicious flavor, they offer anti-inflammatory properties that can combat various diseases such as cancer and heart disease.
To get the most out of black currants' benefits, try adding them to your smoothie blends or breakfast bowls. You can also use them as toppings on yogurt or oatmeal to make your breakfast more nutritious.
According to a study published in Food Chemistry Journal, Black Currant Tea has high levels of antioxidant activity which helps protect against oxidative stress-induced diseases like diabetes. Who knew adding a little darkness to your diet could be so deliciously nutrient-dense?
Conclusion: Black Currants are a Nutrient-Dense and Delicious Addition to Your Diet
The black currant berry's high nutrient and antioxidant content make it an excellent addition to a healthy diet. This delicious fruit can be consumed in many ways and is an excellent source of Vitamin C. Moreover, its abundance of beneficial plant compounds provides numerous health benefits such as reducing inflammation and improving heart health. Rich in fiber, black currants help regulate digestion and support weight management goals. Despite being vastly popular in Europe for centuries, the berry is not as commonly seen in North America but has emerged as a rising superstar in the health food world with little effort.
Black currants are a staple ingredient found in several classic European desserts such as panna cotta, trifle, and pies. The tart yet subtle sweetness of this tasty berry speaks for itself. These berries encapsulate centuries upon centuries of rich cultural heritage and vibrant stories associated with them. In Nordic mythology, the blackcurrant bush was believed to provide protection against evil spirits, while Greek lore deemed it beneficial to fight indigestion issues. A truly tasty berry that offers numerous health benefits as well as resonates deeply with our history and culture—now that's something worth trying!
Frequently Asked Questions
Q: What exactly is black currant?
A: Black currant is a small, tart berry that is typically dark purple or black in color. It belongs to the same family as elderberries and gooseberries.
Q: Why is black currant considered a superfood?
A: Black currant is packed with Vitamin C and antioxidants, making it a nutrient-dense food that offers numerous health benefits.
Q: What are the health benefits of consuming black currant?
A: Black currant can strengthen the immune system, improve digestion, lower inflammation, and may even reduce the risk of certain types of cancer.
Q: How can I incorporate black currant into my diet?
A: Black currant can be consumed in many forms, including fresh, dried, as a juice, or as a supplement. It can be added to smoothies, yogurt, oatmeal, or eaten as a snack.
Q: How much black currant do I need to consume to reap its health benefits?
A: Consuming just a small amount of black currant daily can provide significant health benefits. Experts recommend consuming at least one serving per day.
Q: Are there any potential side effects of consuming black currant?
A: Black currant is generally safe to consume in moderation. However, consuming large amounts can lead to stomach upset or diarrhea. If you have a known allergy to berries, it is best to avoid black currant.