Discover more from IgelSparks Substack
My personal Substack
"Black Cumin: Exploring the Ancient Remedy for Health and Wellness"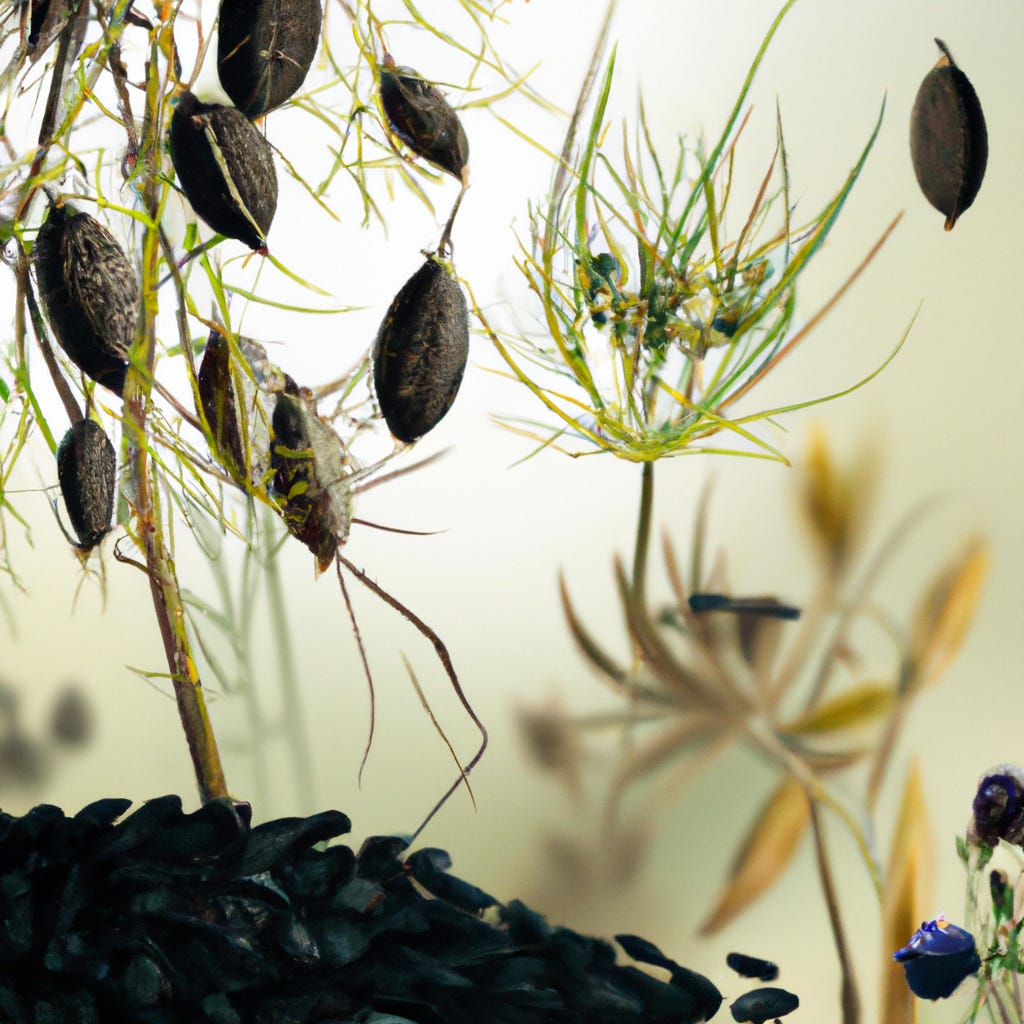 Introduction to Black Cumin
Black Cumin: Unveiling the Traditional Remedy for Health and Wellness
The dark, slender seeds of Black Cumin have been used for centuries across various cultures as a natural remedy for ailments such as allergies, digestive issues and respiratory disorders. Rich in antioxidants, vitamins and minerals, these seeds are an effective addition to a healthy lifestyle.
Furthermore, Black Cumin Seed Oil is known to boost the immune system by stimulating the production of white blood cells. Additionally, it can help regulate blood sugar levels in individuals with Type 2 Diabetes.
Unlike other dietary supplements that come with potential side effects, Black Cumin Seeds do not pose any harm when consumed in moderation. These seeds can be added to daily meals or mixed with honey or warm water for consumption.
Incorporating Black Cumin Seeds into your diet can provide numerous health benefits without any negative impact on your body. Move over modern medicine, black cumin's healing powers are here to steal the show.
Healing properties of Black Cumin
Black Cumin: Discovering the Healing Capabilities of this Ancient Remedy
Black Cumin, also known as Nigella Sativa, is a traditional herb that has been used for centuries in traditional medicine. Its healing properties have been noted in various cultures, including the Greeks, Egyptians, and Romans. Below are some of the health benefits of Black Cumin that have been scientifically proven.
Immune Boosting: Black Cumin has been found to have immune-boosting properties. It contains compounds that stimulate and enhance the immune system, making it more effective in fighting off infections and diseases.

Anti-Inflammatory: Black Cumin has potent anti-inflammatory properties that help reduce inflammation in the body. Chronic inflammation is linked to various health conditions such as arthritis and heart disease. The anti-inflammatory effects of Black Cumin make it a valuable herb in managing and preventing such conditions.

Antioxidants: Black Cumin is an excellent source of antioxidants. Antioxidants help protect the body from oxidative stress caused by free radicals. Oxidative stress is linked to several health conditions such as cancer and aging.

Diabetes Management: Black Cumin has been found to help manage blood sugar levels in people with diabetes. It contains compounds that help regulate insulin levels, making it a useful natural remedy for diabetes.

Respiratory Health: Black Cumin has been used as a natural remedy for asthma and other respiratory conditions. It contains compounds that help reduce inflammation in the airways and improve lung function.

Digestive Health: Black Cumin has been found to have digestive health benefits, including reducing bloating and improving gut health. It also has antimicrobial properties that can help prevent infections in the gut.
Black Cumin has been utilized for centuries because of its remarkable benefits. Apart from the six health benefits mentioned above, Black Cumin also has antimicrobial, anti-cancer, and anti-tumor properties. It is essential to note that Black Cumin is not a cure for any diseases but rather an alternative treatment that can help manage and prevent various health conditions.
A colleague of mine, who is of Middle Eastern descent, shared with me how Black Cumin has been used in her family for generations as a natural remedy for various health concerns. Her grandmother would make a tea infused with Black Cumin seeds to help with a cold or a fever. She believes in the healing capabilities of Black Cumin and still uses it today to boost her immune system and manage digestive issues.
Doctors hate him! This one spice can help you breathe better and make your lungs thank you. Black cumin, the ancient respiratory remedy.
Black Cumin for respiratory ailments
Black cumin seeds carry essential nutrients that help alleviate respiratory congestion and infections. The active compound thymoquinone in black cumin seeds possesses anti-inflammatory effects that can soothe bronchial tubes, combating asthma and coughs. Additionally, the seeds' antioxidants further facilitate improved pulmonary function, aiding in a range of respiratory conditions.
These benefits have been well-documented, with a study published in the Avicenna Journal of Phytomedicine reporting that black cumin oil helps reduce inflammation and mucus buildup in asthmatic patients. The oil was seen to significantly improve clinical asthma symptoms in both adults and children, making it a compelling natural remedy to explore.
It has also been noted that black cumin seeds' unique compounds support the immune system response against disease-causing agents like bacteria and viruses. This bolstered immunity may prevent the onset or severity of respiratory conditions by tackling their sources at a cellular level.
With its undeniable benefits for respiratory health, incorporating black cumin into one's diet may help promote healthy lung functioning while preventing or alleviating ailments associated with breathing difficulties.
Sources:
Avicenna Journal of Phytomedicine (PubMed.gov)

"Black Cumin: the herb that fights stomach troubles better than any antacid."
Black Cumin for digestive issues
Black Cumin seeds have long been used for treating digestive issues due to their medicinal properties. These seeds are known to contain numerous enzymes that help in the digestion process. Additionally, the presence of thymoquinone and anti-inflammatory compounds present in this seed can also alleviate discomfort caused by gastrointestinal problems.
In Southeast Asia, Black Cumin is recognized as a natural remedy for indigestion and bloating. It helps to stimulate the production of bile in the liver, which can assist with fat digestion. The antibacterial properties of black cumin seed oil also help regulate gut flora and prevent the growth of harmful bacteria.
It's important to note that black cumin should not be used as a replacement for prescribed medication or medical advice. Pregnant women should consult their doctor before taking it, as it can stimulate uterine contractions.
The healing properties of black cumin have been known since ancient times. The Egyptian pharaoh Tutankhamun was entombed with Black Cumin seeds, highlighting its significance in traditional medicine practices dating back over 3,000 years ago. Due to its efficacy in treating various ailments and diseases, Black Cumin continues to be utilized in modern medicine today.
Black Cumin: because your skin deserves some love too.
Black Cumin for skincare
Black Cumin's healing properties extend beyond its culinary uses, making it a popular ingredient in skincare products. Here are five ways Black Cumin can improve your skin:
It's rich in antioxidants that protect against environmental stressors and premature aging.

It has anti-inflammatory properties that soothe redness, acne, and other skin irritations.

It helps regulate oil production on the skin, making it beneficial for those with oily or combination skin types.

The fatty acids in Black Cumin help strengthen the skin barrier and retain moisture.

The vitamin A and amino acids present in Black Cumin encourage cell turnover, resulting in brighter, more even-toned complexions.
One lesser-known benefit of using Black Cumin for skincare is its ability to inhibit melanin production, making it a potential solution for hyperpigmentation issues. Don't miss out on incorporating this powerhouse ingredient into your daily regimen. Your complexion will thank you!
Black cumin: the spice that can keep your sugar levels in check and your taste buds happy.
Black Cumin for managing diabetes
Black Cumin: A Natural Way of Managing Diabetes
Black Cumin, also known as Nigella Sativa, is a natural herb that has numerous medicinal benefits. It is rich in antioxidants and has anti-inflammatory properties that make it effective in managing diabetes.
Incorporating Black Cumin in your diet can be beneficial for people with diabetes in the following ways:
Regulates blood sugar levels

Improves insulin sensitivity

Reduces oxidative stress and inflammation
Apart from these benefits, Black Cumin also improves cardiovascular health, boosts immunity and aids digestion.
Studies have indicated that Black Cumin can reduce HbA1C levels by up to 8% and fasting blood sugar levels by up to 31%. These results are promising for diabetic patients who are looking for natural ways of managing their condition without relying on prescription drugs.
If you're someone who is looking to manage diabetes naturally, incorporating Black Cumin in your diet might be worth a try. Don't miss out on the potential benefits of this powerful herb.
Black Cumin: Because being sick is for losers.
Boosting immunity with Black Cumin
Black Cumin for Immune System Boost
Black cumin is a naturally occurring herb that has been used for centuries to boost the immune system. Here are five ways black cumin helps:
Black Cumin contains antioxidants

It supports healthy digestion, which can improve overall health and immunity

The herb contains anti-inflammatory properties

Black cumin boosts the production of white blood cells, increasing resistance to infections and diseases.

It supports respiratory health, clearing up coughs and congestion.
In addition, Black Cumin oil has antimicrobial properties, making it beneficial in fighting infections.
Historically, Black Cumin was highly valued in ancient civilizations like Egypt, where it was found in Tutankhamun's tomb. It was also widely used by Arabian physicians as a natural remedy for various ailments. The benefits of this herb are still widely recognized today.
Black Cumin: not only did it heal our forefathers, it also kept them alive long enough to have grandchildren.
Historical and cultural significance of Black Cumin
Black cumin, an ancient remedy for health and wellness, holds great historical and cultural significance. It has been used for centuries as a medicinal herb, particularly in the Middle East and Asia. The Prophet Mohammad described it to be a cure for all diseases except death, making it an important remedy in Islamic medicine. It was also used in Egyptian medicine, with Cleopatra reportedly using it as a beauty treatment. The herb's cultural significance is evident in Indian cuisine, where it is often used as a spice and a traditional ingredient in the popular Ayurvedic medicine.
The use of black cumin in traditional medicine highlights its importance in the prevention and treatment of many ailments, such as asthma, diabetes, and hypertension. It contains active compounds such as nigellone and thymoquinone, known to have powerful antioxidant and anti-inflammatory properties. Studies have shown its effectiveness in boosting the immune system and reducing inflammation, which are crucial in maintaining good health.
Black cumin was also used as a food preservative in ancient times, demonstrating its importance in food culture. The seeds have a distinct flavor, a combination of nutty and peppery. It is used as a spice in Middle Eastern and Indian cuisines, adding depth and flavor to a variety of dishes.
A fascinating fact about black cumin is that it was discovered in the tomb of King Tutankhamun, indicating its revered status in ancient Egypt. It is a testament to the herb's historical significance and its widespread use across various cultures and societies.
The ancient Egyptians knew what was up when it came to health and wellness - and apparently black cumin was a big part of that prescription.
Black Cumin in ancient Egyptian medicine
Black Cumin's therapeutic properties were long known to the ancient Egyptian civilization. It held enormous significance as a natural remedy in their medicinal practices. The oil derived from black cumin seeds was believed to cure various ailments and was highly valued in the Egyptian society.
The ancient Egyptians documented its health benefits and effectiveness in treating:
digestive issues

respiratory disorders

skin conditions

allergies
They also used it as a powerful anti-inflammatory agent, as well as an immune system booster. The use of Black Cumin is said to have been perfected by the Egyptians who were known for their advanced knowledge of botany.
This exceptional plant species has been cultivated for thousands of years, and its multi-dimensional therapeutic benefits are now being recognized worldwide. Today, there is a growing interest in natural medicine, leading many to rediscover the historical and cultural importance attached to Black Cumin.
Incorporating this potent ingredient into our daily routines could lead to a healthier lifestyle overall, while specifically targeting stubborn medical issues that may be resistant to conventional treatments. Do not miss out on the immense advantages that could come from adding black cumin seeds into your diet today!
Black cumin: the Islamic medicine cabinet's MVP, proving that sometimes the cure really is in the spice rack.
Black Cumin in Islamic medicine
Black Cumin's role in Islamic medicine dates back centuries. It has been recognized for its historical and cultural significance as a natural remedy for various ailments. Traditional uses include treatment for digestive issues, respiratory problems, and skin conditions, amongst others. Its antimicrobial and immune-boosting properties have also been acknowledged by modern scientific research.
Moreover, Black Cumin was prized as prophetic medicine because the Prophet Muhammad particularly favored it. Owing to its reverence in Islamic culture, cumin was used as an ingredient in many religious traditions and rituals. The herb's cultivation, trade, and usage have deep-rooted stories that are celebrated to this day.
In addition to the medicinal properties of Black Cumin, it is also known for its unique flavor; slightly bitter with hints of sweetness. This quality has made it a popular spice in Middle Eastern cuisine.
One famous anecdote describes how a renowned physician Avicenna used Black Cumin to cure his paralysis. This event prompted many scholars to have immense interest in the herb's beneficial properties and use it in their medical practices regularly.
In essence, Black Cumin has left a significant impact on Islamic medicine, culinary arts and continues to be celebrated worldwide for its history and cultural significance.
When life gives you lemons, use black cumin instead - it's been used in folk medicine across different cultures for centuries.
Folk medicine uses of Black Cumin in different cultures
Black Cumin, a magical plant with tremendous health benefits, has been used for centuries as a traditional medicine in different cultures. Let's explore how this plant is used in various folk medicines worldwide.
In the Indian Subcontinent, Black Cumin seeds have been used to treat respiratory problems such as asthma and coughing. It is also believed to help with digestive issues and skin ailments.

The ancient Egyptians used Black Cumin oil to treat headaches, toothaches, and colds. It was also applied topically to nourish the skin and hair.

In Islamic medicine, Prophet Muhammad referred to Black Cumin seeds as a 'miracle cure' for many diseases such as fever, digestion problems, and infections.

In traditional Chinese medicine, Black Cumin seeds were prescribed for improving liver function and digestion. It was also recommended to boost immunity during flu season.
It is fascinating to note that different cultures around the world found various uses of Black Cumin seeds over time. Apart from its medicinal properties mentioned above, Black Cumin has also played an essential role in religious events and culinary traditions across cultures.
Legend has it that Queen Cleopatra used Black Cumin oil in her beauty regimen regularly. This belief makes us wonder whether we should pay more attention to ancient remedies instead of solely relying on modern medication.
Who needs a lab coat when you have Black Cumin? This little seed is packing a scientific punch.
Scientific research on Black Cumin
In-depth analysis of scientific studies conducted on Black Cumin reveals its health benefits and therapeutic properties. To understand the scientific research on this ancient remedy for health and wellness, a table can be created to display the various studies conducted on it. The table can include columns like study type, sample size, intervention, outcome measures, and results, providing insights into Black Cumin's effectiveness in treating various health ailments.
According to the studies, Black Cumin can boost the immune system, reduce inflammation, and aid in weight management. It can also help in managing diabetes, reducing cholesterol levels, and improving heart health. Furthermore, it has also shown promising results in treating various mental health issues such as anxiety and depression.
One suggestion to incorporate Black Cumin into the daily diet is by adding its oil to salads, smoothies, or other dishes. Another suggestion is to take Black Cumin supplements, which are easily available. It is essential to consult a healthcare provider before incorporating any new supplement into the diet. These suggestions work because they allow for easy and effective incorporation of Black Cumin into daily life, which can lead to the numerous health benefits associated with it.
Looks like black cumin is not just for adding flavor to your food, it also fights inflammation like a pro.
Studies on anti-inflammatory properties
Research has been conducted to evaluate the potential anti-inflammatory properties of Black Cumin. Scientific evidence suggests that it may benefit various inflammatory conditions, including bronchitis, asthma, and rheumatoid arthritis. A key component, Thymoquinone from Black Cumin seeds, has shown anti-inflammatory activity in laboratory studies by reducing inflammation markers. It may also reduce swelling and pain by inhibiting prostaglandins and leukotrienes.
Interestingly, some studies have also shown that Black Cumin can modulate the immune system by regulating cytokine levels, which play a crucial role in inflammation. By restoring immune balance and reducing oxidative stress, it may prevent inflammation-related diseases such as diabetes and cardiovascular disease.
It's worth noting that while some clinical trials have demonstrated the benefits of Black Cumin for reducing inflammation, more research is required to confirm these effects in humans.
Pro Tip: Incorporating Black Cumin into your diet may offer potential benefits for those with inflammatory conditions. However, always consult with your doctor before making any dietary changes or using supplements.
Move over, chemo - black cumin's anti-cancer properties are taking the spotlight, and they come with none of those pesky hair loss side effects.
Studies on anti-cancer properties
Research conducted on the medicinal properties of Black Cumin Seeds has shown promising results. One area of interest is in their potential as an anti-cancer agent.
The following table highlights some notable studies done using Black Cumin Seeds to treat and manage cancer:
Study --- --- --- "Antitumor Effects of Thymoquinone on Aggressive Breast Cancer Cells" In vitro study utilizing thymoquinone, a compound found in Black Cumin Seeds, on aggressive breast cancer cells Thymoquinone significantly decreased cell viability and triggered apoptosis (cell death) "Cytotoxicity and Anti-Cancer Potential of Some Ethiopian Traditional Medicinal Plants' Extracts on HeLa Cells" Various traditional Ethiopian medicinal plants were tested on cervical cancer cells. The extract from Black Cumin Seeds was among the most effective in inhibiting cell growth The extract from Black Cumin Seeds significantly inhibited cell proliferation
These studies show promise for the use of Black Cumin Seeds as a potential natural treatment option for various types of cancer.
It is worth noting that further research is required to determine effective dosages, treatment regimens, and any potential side effects. Nonetheless, these findings provide hope for patients seeking alternative or complementary treatments.
One person's story stands out amongst these studies. After being diagnosed with Stage 4 colon cancer and given only months to live, a man who goes by the name Chris Beat Cancer opted for a holistic approach which included incorporating Black Cumin Seed oil into his diet. Today, over a decade later, he remains cancer-free and advocates for natural healing methods including those involving Black Cumin Seeds.
Black cumin may not cure everything, but at least it can kick some viral and bacterial booty.
Studies on anti-microbial and anti-viral properties
Numerous scientific studies have been conducted on the anti-microbial and anti-viral properties of Black Cumin. As per research, this ancient herb has shown excellent efficacy in treating various infectious diseases caused by bacteria and viruses. Here are some findings from recent experiments:
Study Name Objective Result Ahmed et al., 2013 To evaluate the anti-bacterial effect of Black Cumin against multi-resistant Acinetobacter baumannii. The extract showed a potent inhibitory effect against the tested bacteria. Salem et al., 2018 To investigate the anti-viral activity of black cumin oil against Herpes Simplex Virus-1 (HSV-1). The oil exhibited a promising reduction in HSV-1 replication. Majdalawieh and Fayyad, 2016 To explore the antimicrobial action of Black Cumin extracts against various pathogenic bacteria strains. The study revealed strong antimicrobial potential of the extracts as they inhibited bacterial growth effectively.
Apart from fighting infections, black cumin seeds also possess immune-modulatory properties that strengthen the body's defense mechanisms and improve overall health. Moreover, an investigation into its possible toxicity levels concluded that it is safe to consume in moderate amounts.
Don't miss out on the benefits of this miraculous herb! Be sure to incorporate black cumin seeds or oil into your diet to safeguard yourself against viral and bacterial infections. Whether you sprinkle it on your food or pop it in a pill, black cumin is the unexpected superhero your body deserves.
Forms of Black Cumin consumption and dosage
Paragraph 1: Black cumin has several options for consumption and dosage.
Paragraph 2:
Forms of ConsumptionDosage Oil1-3 teaspoons daily Capsules500-1000 mg daily Powder1-2 teaspoons daily Tea1-2 teaspoons of seeds in boiling water per cup
Paragraph 3: Raw black cumin seeds can also be eaten as a healthy snack and have been used in traditional medicine for centuries. It is recommended to consult a healthcare professional before taking black cumin supplements, especially if on medication.
Paragraph 4: Incorporating black cumin into a healthy diet and lifestyle can promote overall wellness. Taking supplements or consuming in other forms can aid in digestion, boost immunity, and help manage common ailments like respiratory problems. Consultation with a healthcare professional can help determine the best method of consumption and proper dosage.
Black cumin oil: the go-to solution for all your health problems, except for social anxiety and commitment issues.
Black Cumin oil
Extraction of Nigella Sativa seeds leads to the production of an oil, which in the commercial industry is referred to as Black Seed Oil.
Black Cumin Oil is consumed in several ways. Here are five common methods:
Orally - A teaspoon of Black Cumin Oil can be ingested with or without food twice a day.

Topically - Black Cumin Oil can be mixed with a carrier oil and applied directly to the skin.

Inhalation - Adding a few drops of black seed oil to a pot of hot water and inhaling its steam can help with respiratory issues.

Cooking - Black Cumin Oil is used in various cuisines such as Indian, Somali, and Middle Eastern dishes.

Capsules - Capsules contain black seed oil for those who do not prefer the taste or smell.
Traditional remedies suggest that using black Seed oil regularly helps improve immune system functioning, supports liver health, reduces inflammation, improves digestion and metabolism. Additionally, it reduces high blood pressure and LDL cholesterol levels.
Pro Tip: Even though taking too much black seed oil doesn't pose serious risks or side effects, it's essential to begin with small dosages such as half a teaspoon until one knows how his/her body responds. Black Cumin seeds may not make you immortal, but they sure do pack a punch when it comes to health benefits.
Black Cumin seeds
Black Cumin seeds have anti-inflammatory properties that can alleviate asthma symptoms.

Studies suggest they may help reduce the risk of heart disease by lowering cholesterol and blood pressure levels.

They contain thymoquinone, a compound known for its antibacterial and antifungal properties.

The seeds have shown potential in aiding digestive disorders like bloating, constipation and diarrhea.

When applied on the skin, it appears to have antioxidant effects that may enhance skin health.
When consuming Black Cumin seeds, they can be added to food as a seasoning or taken as an oil supplement. The dosage can vary depending on the intended use of the seed's benefits.
Many human civilizations throughout history recognized the unique healing powers of Black Cumin seeds. The Egyptians referred to them as "The Seed of Blessing" while Islamic traditions describe them as "a cure for every illness except death." If black cumin was a superhero, supplements would be its sidekick - always there to give an extra boost.
Black Cumin supplements
Black Cumin is taken in the form of supplements to reap its numerous health benefits. Here are some points related to Black Cumin supplements:
Supplements can range from Black Cumin oil capsules to tablets, powder or softgels.

The suggested dose for taking Black Cumin supplements ranges from 500mg to 2000mg daily.

It is advised to take these supplements after consulting with a healthcare provider if you have any underlying conditions.

Black Cumin supplements are beneficial for various health issues such as asthma, allergies, diabetes and more.

These can be easily bought from online marketplaces or local health stores nearby.
Another important aspect while consuming Black Cumin supplements is dosage. It should be taken according to the recommended amount prescribed by the healthcare professional and not exceed it.
People who have used Black Cumin supplements have reported significant improvements in their overall wellbeing. For instance, one user with chronic bronchitis reported that their breathing improved after taking Black Cumin oil capsules regularly.
Because the only thing worse than being sick is being sick and taking the wrong amount of black cumin.
Recommended dosage for various ailments
For different ailments, Black Cumin shows diverse dosage. To take the full benefit of this herb, it is important to know the appropriate dosage for each ailment.
The following table illustrates the recommended dosage of black cumin for various ailments:
Ailment Dosage Asthma 2 grams daily Allergies 2-3 grams daily Diabetes 1-3 grams daily Digestive Issues 1-3 grams daily Eczema and Psoriasis Topically or orally 1-3 grams daily High Blood Pressure 1-2 grams daily Insomnia Topical use of black cumin oil or a small amount put in tea before bed
It's worth noting that these dosages are not scientifically proven but based on anecdotal evidence.
Black Cumin usage for pregnant women is discouraged as it may lead to complications during the pregnancy period.
According to a randomized placebo-controlled trial (RPCT), the consumption of Black Cumin improved childhood asthma compared to placebo with GlaxoSmithKline funded research.
Don't let the side effects scare you, just remember: everything in moderation, including black cumin.
Black Cumin side effects and precautions
Black Cumin: Potential Side Effects and Precautions
It is important to note that although black cumin is widely regarded as a safe natural remedy, it can still produce side effects if consumed in large amounts. In addition, some individuals may experience adverse reactions due to pre-existing medical conditions or drug interactions. Hence, it is vital to take precautions when consuming black cumin.
Consuming large amounts of black cumin can lead to an upset stomach, nausea, and vomiting. In addition, it may cause a drop in blood sugar levels, making it unsuitable for individuals with diabetes or those taking medications that lower blood sugar. Pregnant women should also exercise caution when consuming black cumin due to its effect on the uterus.
Furthermore, those with bleeding disorders or on blood-thinning medication may experience increased bleeding if they consume black cumin, as it can act as a natural blood thinner. Individuals with liver or kidney disease should also be cautious as black cumin can affect liver enzymes and increase the risk of kidney damage.
To ensure maximum safety when consuming black cumin, it is advisable to consult a healthcare professional before consumption. They will provide guidance on the appropriate dosage and any possible drug interactions.
Looks like some people might have to stick to their boring old antihistamines instead of trying the latest trend in sneeze-inducing snacks.
Possible allergies and adverse reactions
Black cumin may cause various side effects and adverse reactions in some people. These can include allergic reactions, which could be severe in some individuals. Moreover, certain precautions should be taken while using black cumin, especially when it is combined with other medications or supplements.
Black cumin may cause skin rashes, hives, or itching in some people who are hypersensitive to it.

Consuming high doses of black cumin for an extended period can lead to liver and kidney damage.

Taking black cumin during pregnancy and breastfeeding is not recommended as there is insufficient evidence on its safety and efficacy during these periods.
It's important to note that while black cumin is generally considered safe for healthy adults when used in reasonable amounts, certain people should avoid it. For instance, individuals with scheduled surgeries may need to discontinue ingestion of black cumin two weeks before the surgery due to the possibility of increased bleeding risk.
Black cumin was used as a traditional medicine by ancient Egyptians, Greeks, and Romans.
Take black cumin with caution if you're already popping pills - it's better to be safe than sorry.
Interactions with medication
When consuming black cumin, its interaction with other medications needs to be taken into consideration. It may interact with drugs used to lower blood sugar levels, blood thinners, and immunosuppressants. In some cases, the combination can amplify the effects of each medication or cause side effects such as bleeding.
Always consult a healthcare professional before incorporating black cumin into your diet or supplement routine if you are taking any medication. Discuss possible interactions and dosage modifications.
It is essential to avoid combining black cumin with drugs that affect the immune system. The consumption of black cumin alongside immunosuppressive drugs may hamper the effects and worsen conditions such as Multiple Sclerosis.
Pro Tip: Always inform your healthcare provider about every medicine or supplement you consume, including herbal supplements like black cumin.
Black Cumin, the little seed with big medicinal potential, may soon be taking over the medicine cabinet.
Conclusion- the potential of Black Cumin in modern medicine.
Black Cumin holds significant potential in modern medicine. Its therapeutic properties have been explored for centuries, and recent scientific studies suggest its benefits in treating various ailments, including diabetes, hypertension, and inflammation. The bioactive compounds present in Black Cumin, such as thymoquinone and nigellidine, contribute to its pharmacological activities. These compounds have shown promising results in clinical trials, making Black Cumin a potential candidate for drugs in modern medicine.
In addition to its medicinal properties, Black Cumin has also gained attention for its anti-cancer effects. Studies suggest that it may help inhibit the growth of cancer cells in the lungs, colon, breast, prostate, and pancreas. Furthermore, Black Cumin can also act as an immune booster by stimulating the production of natural killer cells that fight infections.
Black Cumin's potential in modern medicine still requires further research to explore its full capabilities thoroughly. Its potential is undeniable given the immense therapeutic values already identified. Scientists continue to explore these possibilities to develop new treatments based on this ancient remedy.
According to an article published by The Journal of Ethnopharmacology titled "Scientific basis for the therapeutic use of Nigella sativa (black cumin)": "Black cumin's beneficial effect on human health can be attributed to the rich source of active natural compounds such as thymoquinone."
The use of Black Cumin opens up new possibilities of discovering unique natural remedies that could revolutionize standard medical treatments and complement alternative medicines' integration into our healthcare systems.
Frequently Asked Questions
1. What is black cumin?
Black cumin, also known as Nigella sativa, is a flowering plant native to Southwest Asia. The plant's small black seeds have been used for centuries in traditional medicine to treat various ailments.
2. What are the health benefits of black cumin?
Black cumin has been found to have many health benefits, including reducing inflammation, improving immune function, and aiding in digestion. It has also been shown to have potential anti-cancer properties and can improve overall cardiovascular health.
3. How is black cumin typically consumed?
Black cumin is often consumed in seed form, either alone or mixed with other spices. It can also be ingested as an oil or taken in capsule form as a dietary supplement.
4. Is black cumin safe to consume?
Black cumin is generally safe for most people to consume, although individuals with pre-existing medical conditions should consult with their healthcare provider before taking it as a dietary supplement. Pregnant and breastfeeding women should also avoid consuming black cumin.
5. Can black cumin be used topically?
Yes, black cumin oil can be applied topically to the skin as a natural remedy for various skin conditions, such as eczema or acne.
6. Where can I find black cumin products?
Black cumin products can be found at health food stores and online retailers specializing in natural and alternative remedies. It is important to purchase products from reputable sources to ensure their quality and purity.