Discover more from IgelSparks Substack
My personal Substack
"Black Chokeberry: The Berry with Immune-Boosting Properties"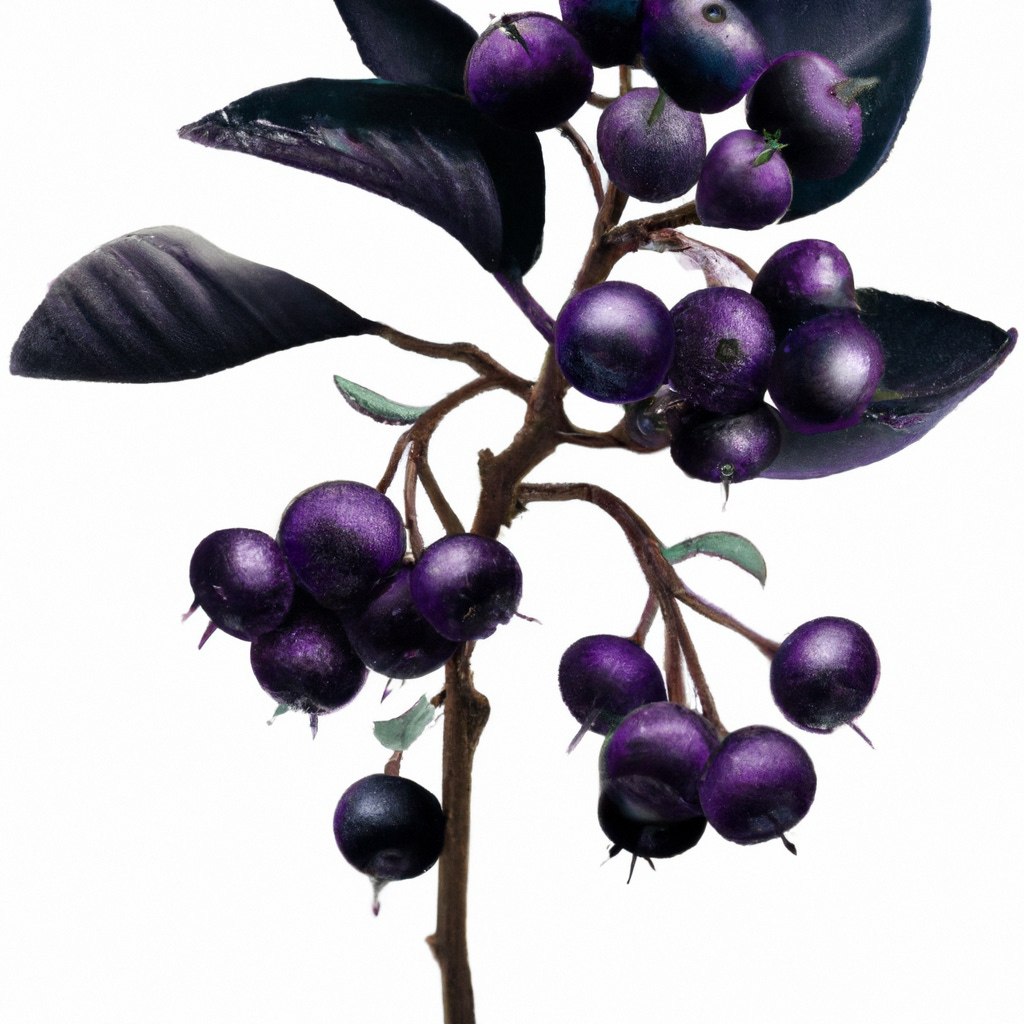 Introduction to Black Chokeberry and its Nutritional Value
Black Chokeberry: Exploring the Nutritional Value and Health Benefits of this Berry
Black Chokeberry is quickly gaining popularity in the health world due to its immune-boosting properties. Loaded with antioxidants, flavonoids, and vitamins, consuming Black Chokeberry can help lower blood pressure, improve cognitive function and support liver function. This dark purple fruit also contains high levels of polyphenols that protect against harmful free radicals.
Notably, studies have shown that Black Chokeberry can help regulate blood sugar levels in individuals with diabetes. Additionally, it has been linked to reducing inflammation and strengthening the digestive system.
Intriguingly, Black Chokeberries weren't always highly sought after for their health benefits. Native Americans used these berries for food and medicine, while early colonists used them for ink due to their deep coloring.
Overall, incorporating Black Chokeberry into your diet can greatly benefit your overall health and well-being.
Who needs a flu shot when you can have a handful of black chokeberries?
Health Benefits of Black Chokeberry
To learn about the health benefits of black chokeberry, turn your attention to its immune-boosting properties, anti-cancer properties, cardiovascular health benefits, and anti-inflammatory and antioxidant properties. This powerful berry has a range of healthful properties to offer, and each of these sub-sections will provide further insight into how it can help promote overall wellness.
Immune-Boosting Properties of Black Chokeberry
Black Chokeberry is a superfood with various immune-boosting properties. It contains high levels of antioxidants, which help to prevent cell damage caused by free radicals. These antioxidants also help to enhance the body's natural defenses against infections and diseases. Black Chokeberry has anti-inflammatory properties that help to reduce inflammation in the body, which can lead to chronic diseases. Additionally, it promotes healthy gut bacteria and boosts overall immunity.
Incorporating Black Chokeberry into your daily diet can have numerous benefits for your health, such as reducing your risk of heart disease, cancer and stroke. Its powerful anthocyanin compounds can lower blood pressure while improving circulation throughout the body.
Historically grown in Eastern Europe and Russia, Black Chokeberry has been used in traditional medicine for its antimicrobial effects on the body. In World War II, Soviet soldiers consumed Black Chokeberry juice to boost their immune system and energy levels during combat situations. Today it remains an important superfood for maintaining a healthy lifestyle.
You might want to add black chokeberries to your diet if you're planning on giving cancer the middle finger.
Anti-Cancer Properties of Black Chokeberry
Black Chokeberry's Cancer Defense Mechanisms
Black chokeberry has anti-cancer properties that make it a formidable force against cancer cells.
Here are four ways in which black chokeberry can help fend off cancer:
It contains anthocyanins, which have been found to target specific cancer cells.

Its polyphenols act as potent antioxidants, defending the body's cells from harmful free radicals.

By boosting the immune system, black chokeberry helps guard against various types of cancers.

Its procyanidin compounds inhibit tumor growth and prevent angiogenesis or the formation of new blood vessels that help tumors grow.
Did you know that Native Americans have been using black chokeberries for medicinal purposes since ancient times? This fruit also has other health benefits like improving heart health and controlling high blood pressure.
Pro Tip: Consume black chokeberries in moderation as they may cause stomach upset when consumed in excess.
Black Chokeberry - making hearts stronger and breaking arteries since forever.
Cardiovascular Health Benefits of Black Chokeberry
Black Chokeberry's Impact on Cardiovascular Health
Black Chokeberry, also known as aronia berries, has been found to be beneficial for maintaining cardiovascular health. Below are five ways in which it impacts the health of your heart and blood vessels:
Decreases bad cholesterol levels, hence reducing the risk of heart disease

Inhibits the formation and progression of atherosclerosis, preventing blockages in arteries

Reduces blood pressure, making it easier for the heart to pump blood

Decreases inflammation of tissues surrounding the heart and improves its function

Increases oxidation resistance of LDL, which reduces plaque formation on artery walls
Additionally, studies have shown that Black Chokeberry juice consumption can improve endothelial function- vital for regulating blood flow and clotting- improving overall cardiovascular health.
If you want to incorporate Black Chokeberries into your diet effectively; add them to smoothies or oatmeal bowls for breakfast or snack time. Try squeezing out their juice or brewing a flavorful tea during cold months. You'll not only enjoy an excellent-tasting beverage but will help boost your cardiovascular health naturally! Who needs a superhero when you have Black Chokeberry fighting inflammation and free radicals like a boss?
Anti-Inflammatory and Antioxidant Properties of Black Chokeberry
Black chokeberry possesses potent anti-inflammatory and antioxidant properties that benefit human health. These properties make it an essential addition to one's daily diet as it helps in reducing the risk of chronic diseases like cancer, heart disease, and stroke. The flavonoids present in this berry also help in strengthening the immune system while its high levels of polyphenols aid in preventing cell damage caused by free radicals.
Furthermore, black chokeberry has been found to have anti-cancerous effects due to its ability to suppress tumor growth. It also helps in managing diabetes by regulating blood sugar levels and insulin resistance. A review published in the Journal of Functional Foods suggested that consuming black chokeberry can improve circulation and reduce blood pressure, making it useful for managing hypertension.
Studies conducted on humans and animals have shown promising results regarding the benefits of black chokeberry on human health. According to a study published in Food Chemistry Journal, black chokeberry contains higher amounts of phytochemicals than other berry fruits like blueberries and cranberries. It is believed that these compounds are responsible for its numerous health benefits.
Source: https://www.ncbi.nlm.nih.gov/pmc/articles/PMC6150724/
Skip the flu shot, stock up on Black Chokeberry - your immune system will thank you.
Using Black Chokeberry to Boost Immune System
To boost your immune system with black chokeberry, you have different options. Using black chokeberry supplements, tea, juice, or recipes can provide you with the immune-boosting properties of this berry. In this section about using black chokeberry to boost immune system, we will explore the benefits of these sub-sections: black chokeberry supplements, black chokeberry tea and juice, and black chokeberry recipes.
Black Chokeberry Supplements
Black Chokeberry, a potent berry rich in antioxidants, can support the body's immune system. Here are 6 benefits of using Black Chokeberry Supplements to improve your health:
Reducing inflammation in the body

Promoting cardiovascular health

Lowering blood sugar levels

Detoxifying the liver and kidneys

Supporting healthy digestion and gut bacteria

Boosting cognitive function and memory retention
Interestingly, black chokeberry is consumed in traditional European cultures as a medicinal fruit for centuries. The unique blend of vitamins, minerals, and polyphenolic compounds make it an ideal supplement for people who struggle with chronic inflammation and other inflammatory conditions.
A friend of mine had struggled with allergies for years until she started taking black chokeberry supplements daily. She noticed significant improvements in her immunity and overall health, leading to fewer sick days at work. If you're looking for a natural way to boost your immune system and improve your overall well-being, incorporating black chokeberry supplements into your routine could be a great option.
Black chokeberry tea and juice - the perfect blend of immunity boost and bittersweet satisfaction.
Black Chokeberry Tea and Juice
Black Chokeberry as an Immune System Boosting Beverage
Black chokeberry tea and juice are popular drinks that contain high levels of antioxidants, vitamins, and minerals. These nutrients can help boost the immune system, prevent cell damage, and reduce inflammation in the body.
Black chokeberry tea is made by steeping the berries in hot water for several minutes. It has a slightly tart taste with a hint of sweetness.

Black chokeberry juice is made by pressing the berries and removing the pulp. It has a more concentrated flavor than the tea but can be diluted with water or other fruit juices.

The berries used to make black chokeberry tea and juice are also rich in anthocyanins, which have anti-inflammatory properties and may help lower blood pressure.

Drinking black chokeberry tea or juice regularly may improve cardiovascular health, boost digestion, and promote weight loss.

Adding honey or lemon to black chokeberry tea or juice can enhance the flavor and add additional health benefits like soothing sore throats or aiding in digestion.

Black chokeberry tea or juice can also be used as a natural food coloring for baked goods like muffins or cakes.
A lesser-known fact is that black chokeberries have been used in traditional medicine for centuries by Indigenous communities across North America. Long before their antioxidant properties became widely known, they were used to treat colds, flu, and other illnesses.
Pro Tip: For maximum nutritional benefits from Black Chokeberries, avoid consuming them alongside foods high in calcium or iron.
Get ready to add some berry deliciousness to your diet with these Black Chokeberry recipes!
Black Chokeberry Recipes
Black Chokeberry Delights to Boost Immune System
Looking to incorporate the power of Black Chokeberry into your diet? Try these delectable recipes that pair the immune-boosting berry with flavors both sweet and savory.
Chokeberry Muffins - add a tangy kick to your breakfast routine.

Chokeberry Smoothie - blend up a refreshing and nutrient-packed morning pick-me-up.

Chokeberry BBQ Sauce - enhance the flavor of your favorite grilled items with this smoky-sweet sauce.

Chokeberry Salad Dressing - brighten up your salads with a burst of tartness.

Chokeberry Salsa - create a unique and delicious topping for tacos, chips, or grilled meats.

Chokeberry Glazed Chicken - savor the combination of sweet and savory in this mouthwatering dish.
Incorporating Black Chokeberries into your daily meals does not have to be boring and repetitive. You can try different forms of Black Chokeberries such as dried berries, powder, jams, and even wine.
A well-known chef once shared her love for Black Chokeberries when she used them in her Valentine's Day cooking class. The use of this lesser-known ingredient added depth and complexity to her dishes, impressing both herself and her students alike.
Adding black chokeberry to your daily routine might just make you immune to excuses for not taking care of your health.
Conclusion: Incorporating Black Chokeberry into a Healthy Lifestyle
Incorporating Black Chokeberry into a healthy lifestyle can be advantageous for maintaining good health. Here are five ways to include Black Chokeberry in your diet:
Add it to smoothies, yogurts or oatmeals.

Use them as toppings for salads.

Make jam, jelly and juice out of them.

Include the berries in baked goods and desserts.

Consume supplements rich in anthocyanins found in chokeberries.
The immune-boosting properties of this superfood can assist people with weakened immune systems. Additionally, incorporating this berry into one's diet may aid individuals suffering from age-related diseases by reducing inflammation. Black Chokeberry has beneficial properties that improve overall well-being. Native Americans used the berries not only for taste but also for medicinal purposes, such as treating colds and fevers. This superfood was also said to ward off evil spirits according to Slavic folklore. Whether aiding the body's immune response or enhancing taste buds, Black Chokeberry is a versatile fruit with numerous benefits.
A delicious and healthy addition to any diet, chokeberries deserve a regular spot on your plate.
Frequently Asked Questions
Q: What is black chokeberry? A: Black chokeberry is a type of berry that is native to North America and is known for its rich antioxidant properties.
Q: How does black chokeberry boost immunity? A: Black chokeberry contains high amounts of vitamin C, which is known to boost the immune system. It also has anthocyanins and flavonoids, which have anti-inflammatory properties.
Q: Can black chokeberry help reduce the risk of cancer? A: Studies have shown that black chokeberry has the potential to reduce the risk of certain types of cancer due to its high levels of antioxidants.
Q: Is black chokeberry safe for everyone to consume? A: While black chokeberry is generally considered safe, it may interact with certain medications. It is important to speak with a healthcare provider before consuming it regularly.
Q: How can I incorporate black chokeberry into my diet? A: Black chokeberry can be consumed fresh, juiced, or dried. It can also be used in jams, jellies, and baked goods.
Q: What are some other potential health benefits of consuming black chokeberry? A: In addition to boosting immunity and reducing the risk of cancer, black chokeberry may also have benefits for heart health, digestion, and brain function.