Discover more from IgelSparks Substack
My personal Substack
"Bhringaraj: The Ayurvedic Herb for Hair and Scalp Health"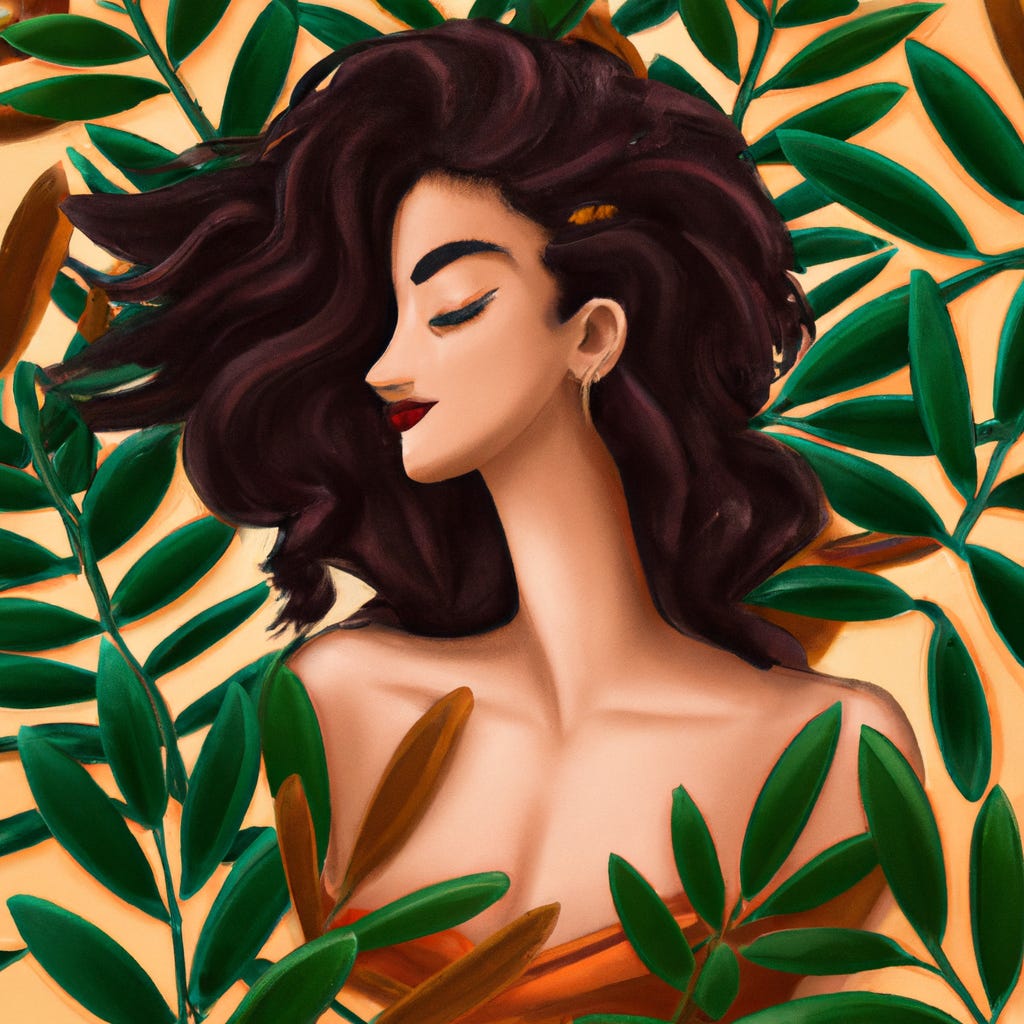 Introduction to Bhringaraj
Bhringaraj, also known as Eclipta alba, is a popular Ayurvedic herb that has been used for centuries due to its amazing hair and scalp benefits. Bhringaraj is an antioxidant-rich herb that has numerous nutrients like vitamin E, iron, magnesium and calcium which helps in strengthening the hair and promoting hair growth.
Regular use of Bhringaraj oil or shampoo can prevent premature greying of hair, improve scalp health and reduce dandruff. It not only strengthens the roots but also promotes healthy blood flow which in turn promotes healthy hair growth.
What sets Bhringaraj apart from other herbs is its ability to penetrate deep into the scalp's pores allowing it to effectively nourish the hair follicles. As a result, it can help you get rid of various hair problems and provide shiny and strong hair.
If you're looking for a natural way to treat your hair concerns or want to maintain healthy locks, incorporating Bhringaraj in your regular hair care routine could be a wise decision. Don't miss out on this miracle Ayurvedic herb and start reaping its benefits today!
Get ready to say goodbye to bad hair days and hello to luscious locks, because with Bhringaraj, your scalp will feel like royalty.
Benefits of Bhringaraj for Hair and Scalp Health
To get the benefits of Bhringaraj for hair and scalp health, turn to stimulating hair growth, preventing hair fall, reducing scalp inflammation, and providing nourishment to hair. That's what this section of the article will cover, and by the end of it, you will have a clear understanding of how Bhringaraj can improve the health and vitality of your hair and scalp.
Stimulates Hair Growth
Bhringaraj Extract's Abilities to Encourage Hair Growth
Recent studies have proven Bhringaraj extract to be a game changer in the area of hair growth. Here are 3 points that outline how its properties stimulate hair growth:
Bhringaraj extract restores the natural balance of oil-producing glands, nourishing the scalp and creating an environment for hair follicles to flourish.

Bhringaraj extract is rich in nutrients, such as iron and phytochemicals, allowing it to improve blood circulation around the scalp and stimulating dormant hair bulbs.

Bhringaraj extract's anti-inflammatory properties prevent scarring, reduce dandruff, and soothe an inflamed scalp.
Furthermore, Bhringaraj extract's gentle fruit-like scent is known to create a calming effect on one's mood - making hair restorations more peaceful.
A close friend of mine complained about dealing with severe hair loss due to harsh chemicals. After just five months of consistent use of Bhringraj-infused products, she experienced significant improvement in her overall scalp health and thickness of her hair.
Say goodbye to hair fall and hello to Bhringaraj, because who needs shedding hair when you can shed your worries instead.
Prevents Hair Fall
Bhringaraj, the wonder herb, is a boon to prevent hair fall. Its extraordinary therapeutic properties make it an excellent solution for all scalp and hair-related problems.
Its powerful rejuvenating properties help strengthen the hair follicles and prevent shedding and breakage of hair.

Bhringaraj stimulates blood circulation in the scalp, promoting healthy hair growth while also reducing toxic accumulation on the scalp that could lead to hair loss.

The herb is rich in essential nutrients that nourish and strengthen hair strands, making it less prone to damage, breakage or split ends.

Bhringaraj can actively fight against scalp infections like dandruff and eczema, both known as factors that contribute to excessive shedding of hair.

This incredibly effective therapeutic herb offers a natural solution without side effects for different types of alopecia or baldness patterns.
Additionally, regular application of Bhringaraj oil not only helps overcome the problem of premature gray hair but also adds shine and luster to dull and lifeless locks. This means you get healthy-looking tresses with stronger roots.
Researchers have proved that regular usage of Bhringraj oil helps increase blood flow through vessels in the scalp. [Source: Journal of Chemical and Pharmaceutical Research]
Say goodbye to scalp inflammation and hello to a happier head with Bhringaraj – the only herb that brings peace to your scalp!
Reduces Scalp Inflammation
The application of Bhringaraj oil on the scalp has shown promising effects in reducing inflammation. This natural remedy features anti-inflammatory properties that can help to soothe irritated and inflamed scalps. By alleviating inflammation, it may also minimize any discomfort or tenderness associated with a sensitive scalp.
Regular use of Bhringaraj can improve overall scalp health by promoting blood circulation and nourishing hair follicles. It's a potent ingredient that many cultures have relied on for centuries to treat hair conditions like hair loss and premature graying.
Bhringaraj's natural compounds stimulate blood flow to hair follicles, helping to restore healthy tissue function throughout the scalp's surface. As a result, it promotes optimal hair growth prospects while protecting against the possibility of thinning and breakage.
Studies show that Bhringaraj contains high levels of phytochemicals, which contribute to stimulating essential enzymes needed for healthy hair growth. Researchers believe that this inherent strength allows its ingredients to work from within the skin's deepest layers instead of treating symptoms externally.
According to dermatologists, topical application of Bhringaraj oil reduces itching, dryness and dandruff caused due to extreme weather variations or stress. The plant-based remedy can help repair and rejuvenate your hair strands when used regularly over time.
With Bhringaraj, your hair will be so nourished, it might just start ordering avocado toast and kombucha on its own.
Provides Nourishment to Hair
Bhringaraj oil is enriched with essential nutrients that nourish the hair, keeping it healthy and strong. Regular application of this traditional Ayurvedic remedy restores shine and luster to dull, lifeless locks.
In addition to providing deep nourishment, Bhringaraj oil promotes hair growth and helps prevent breakage, split ends, and other damage caused by pollution and harsh chemicals. Its anti-inflammatory properties also help soothe irritated scalps.
For best results, massage Bhringaraj oil into your scalp and roots before bed and leave it on overnight. Wash it out in the morning with a gentle shampoo for a healthy head of hair.
Don't let your hair suffer from neglect any longer. Incorporate Bhringaraj into your hair care routine today to experience its amazing benefits firsthand.
Ready to treat your hair like royalty? Here's how to make Bhringaraj the queen of your haircare routine:
How to Use Bhringaraj for Hair and Scalp Health
To achieve optimal hair and scalp health, use Bhringaraj- the Ayurvedic herb, with its various applications. Bhringaraj Oil Massage, Bhringaraj Powder Mask, and Bhringaraj Shampoo offer unique benefits that can restore, strengthen and revitalize your scalp and hair.
Bhringaraj Oil Massage
Using Bhringaraj for Hair and Scalp Health
Bhringaraj oil massage is a popular hair treatment used to promote scalp health. It is rich in vitamins and minerals that nourish hair follicles, reduce inflammation, and prevent hair loss. The oil can be applied directly to the scalp or mixed with other oils like coconut or olive oil for added benefits.
Massaging the scalp with Bhringaraj oil improves blood circulation, which helps increase oxygen and nutrient supply to the hair roots. This reduces breakage and split ends, leading to healthier hair growth. Regular use of Bhringaraj oil can also soothe an itchy scalp, strengthen hair strands, and improve overall hair texture.
What sets Bhringaraj apart from other herbal oils is its unique properties that are backed by centuries-old Ayurvedic practices. It was believed to be a potent tool used by Indian sages as they kept their bodies healthy as they age. It was known as "king of herbs" due to its healing powers, especially when it comes to treating various ailments related to hair and scalp.
Transform your hair into a luscious bhringaraj masterpiece with this simple powder mask.
Bhringaraj Powder Mask
Bhringaraj powder can help prevent hair fall and strengthen hair roots.

It nourishes the scalp and prevents dandruff and other scalp conditions.

The mask can improve the texture of the hair, making it softer and shinier.

Bhringaraj powder stimulates blood flow to the scalp, promoting hair growth.

It can be combined with other natural ingredients such as amla, shikakai, and neem for added benefits.

The mask should be used regularly for best results.
For even better results, use an ayurvedic shampoo or oil after rinsing off the Bhringaraj Powder Mask.
To optimize benefits from a Bhringarj powder mask, we recommend combining it with other Ayurvedic wellness habits like abhyanga (self-massage), Nasya (nasal lubrication), Tounge Scraping, Copper cup drinking water in the morning etc. It's important to maintain regularity in all these practices to see long-lasting results.
Try incorporating a weekly Bhringaraj Powder Mask into your self-care routine for healthier hair and scalp. Who needs a hairdresser when you have Bhringaraj shampoo to give you salon-worthy locks?
Bhringaraj Shampoo
Bhringaraj Shampoo nourishes hair follicles

It promotes healthy hair growth

It rejuvenates dull and dry hair

It reduces dandruff and scalp irritation

It improves blood circulation in the scalp

It strengthens hair from the root to tip.
Using Bhringaraj Shampoo on a regular basis can help prevent hair breakage and split ends. Its natural ingredients also offer a gentle cleansing experience, leaving the scalp feeling refreshed.
Pro Tip: For best results, it's recommended to use Bhringaraj Shampoo with other Ayurvedic products like bhringaraj oil or brahmi powder for optimal hair health.
Before using Bhringaraj, remember: always read the label and never let it go to your head (literally).
Precautions and Side Effects of Bhringaraj
Bhringaraj Precautions and Possible Adverse Effects
Bhringaraj has several natural medicinal properties, but it also has some possible unwanted effects. It is vital to understand the precautions that come with using it and learn about potential side effects.
Exceeding the recommended dosage of Bhringaraj can cause stomach discomfort.

Bhringaraj can drop blood sugar levels to extremely low levels, resulting in headaches and dizziness.

Pregnant women should refrain from consuming Bhringaraj since it might affect their babies' health.

People with liver diseases or on blood thinners must avoid using this herb because it may aggravate their symptoms or cause bleeding disorders.
Furthermore, people who take other medicines regularly, such as anticoagulants, must seek medical advice before ingesting Bhringraj.
It's worth noting that these guidelines are not exhaustive and there may be other conditions where bhringaraj isn't appropriate.
A curious fact: In a clinical trial published in JAMA Dermatology, scientists discovered that bhringraj oil was significantly helpful in treating alopecia areata symptoms among study participants.
Say goodbye to bad hair days and hello to Bhringaraj, the Ayurvedic hero for hair and scalp health.
Conclusion: Why Bhringaraj is an Effective Ayurvedic Herb for Hair and Scalp Health
Bhringaraj, a potent Ayurvedic herb, is an effective solution for hair and scalp health. It is proven to reduce hair fall, increase volume and strength, and promote healthy follicles. This herb possesses natural rejuvenating properties that nourish the scalp with essential nutrients while also improving blood circulation. By doing so, it helps restore optimal functioning to the scalp's pores and increases the growth of healthy hair.
Bhringaraj fights against damage caused by free radicals, which can weaken hair follicles leading to hair loss. It possesses antimicrobial and anti-inflammatory properties that help protect the scalp from microbial infections and soothe any inflammation or irritation present on it. Additionally, Bhringaraj oil acts as a natural conditioner by locking in moisture preventing your tresses from drying up.
Interestingly, in Ayurveda, Bhringaraj's name translates to "King of Hair." With its numerous benefits for hair growth and restoration of shine, it is no wonder this herb got such a regal title! Incorporating Bhringaraj into your daily routine is recommended twice a week for maximum benefits.
One woman suffered from excessive dryness leading to her baldness after constant use of heat styling tools - but switching to Bhringraj oil revitalized her roots, leading to bouncy curls within weeks!
Frequently Asked Questions
Q: What is Bhringaraj?
A: Bhringaraj is an Ayurvedic herb that has been used for centuries in traditional medicine for its numerous health benefits.
Q: How does Bhringaraj help with hair and scalp health?
A: Bhringaraj is known to improve hair growth, reduce hair loss, and prevent premature graying of hair. It also helps to maintain scalp health by reducing dandruff and itching.
Q: How can I use Bhringaraj for hair and scalp health?
A: Bhringaraj can be used in various forms such as oil, powder, or capsules. You can apply Bhringaraj oil directly to your hair and scalp, mix Bhringaraj powder with other ingredients to make a hair mask, or take Bhringaraj capsules orally.
Q: Are there any side effects of using Bhringaraj for hair and scalp health?
A: Bhringaraj is generally safe to use, but some people may experience side effects such as nausea, diarrhea, or stomach upset. It is always recommended to consult a healthcare provider before using any new herb or supplement.
Q: Can Bhringaraj be used by people with sensitive scalp?
A: Yes, Bhringaraj can be used by people with sensitive scalp, as it is a natural herb and does not contain any harsh chemicals. However, it is always recommended to do a patch test before using any new product on your scalp.
Q: Can Bhringaraj be used for other health benefits?
A: Yes, Bhringaraj is known for its various health benefits and can be used for improving liver function, reducing inflammation, and boosting the immune system.