Discover more from IgelSparks Substack
My personal Substack
"Beyond the Buzz: Understanding the Effects of Alcohol on the Body"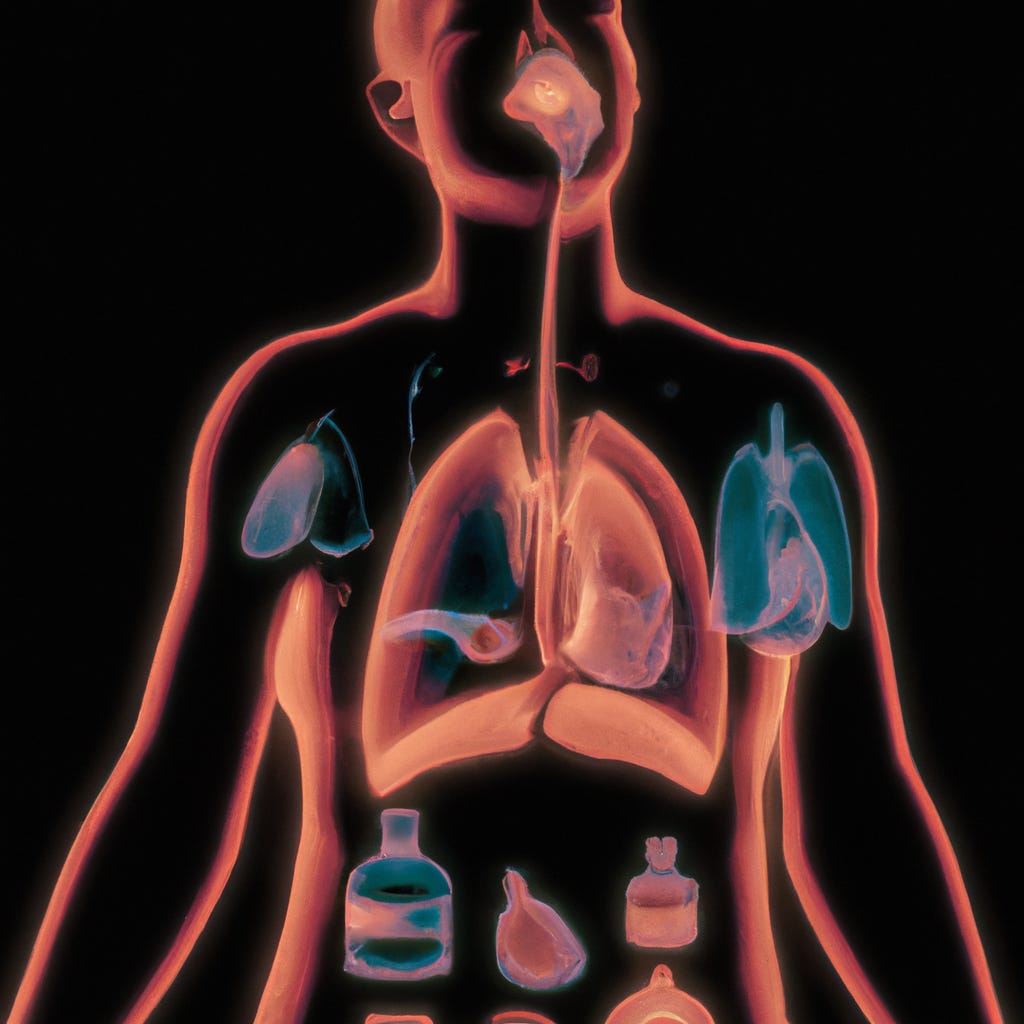 Effects of Alcohol on the Body
To understand the effects of alcohol on your body, dive into this section detailing an overview of alcohol and its effects and how it's processed in the body. Short-term effects of alcohol are also covered, like the immediate changes in behavior. Meanwhile, long-term effects of alcohol consumption are similarly detailed to provide you with a comprehensive understanding of the consequences of excessive or chronic drinking.
Overview of Alcohol and its Effects
Alcohol and its impact on the human body is a vast topic to explore. The consumption of alcohol affects every part of the body, starting from the brain to the liver, ultimately hampering bodily functions.
The effects can vary from one individual to another based on various factors, including age, gender, and medical history. Depending on how much alcohol is consumed, it can have short-term as well as long-term effects that are harmful to both physical as well as mental health.
It can result in addiction, liver disorders, cardiovascular diseases and increased risk of cancer. Additionally, excessive alcohol intake can lead to depression and anxiety.
Thus, it is essential for individuals to understand the effects of alcohol before they indulge themselves in drinking activities. Being mindful while consuming alcohol helps one avoid adverse health outcomes and ensure overall well-being.
"Why exercise when you can just let your liver do all the work processing alcohol?"
How Alcohol is Processed in the Body
Alcohol undergoes a complex metabolic process within the body. It is absorbed through the stomach and small intestine, traveling to the liver where it is processed into acetaldehyde by enzymes. This toxic substance is then broken down further into acetate, which can be used for energy or eliminated from the body through urine or exhalation.
As alcohol is metabolized, its effects on the body become more apparent. Intoxication occurs when alcohol levels in the blood exceed the liver's ability to process it, leading to impaired judgement, motor control, and coordination. Chronic alcohol consumption can lead to liver damage, high blood pressure, and increased risk of certain types of cancer.
It's important to note that everyone metabolizes alcohol differently due to genetic and lifestyle factors. Women typically have lower levels of dehydrogenase enzymes in their livers, resulting in slower metabolization rates than men. People who consume food before drinking may also experience slower absorption rates and longer lasting effects.
Pro Tip: To avoid negative effects of alcohol on your body, drink responsibly and pace yourself with water or non-alcoholic drinks between alcoholic ones.
Drinking alcohol is like borrowing happiness from tomorrow, except the hangover is the interest you have to pay.
Short-term Effects of Alcohol
Alcohol has immediate effects on the body that can be detrimental. The intoxicating substance can cause drowsiness, impaired judgement and coordination, increased heart rate and even unconsciousness. These short-term effects can vary in strength depending on the individual's natural tolerance levels and how much alcohol they consumed.
Even small amounts of alcohol can quickly enter the bloodstream and begin to have an impact on the brain and organs. Impaired motor skills are common with even moderate consumption of alcoholic beverages, leading to slurred speech and slowed reaction times. The negative effects can continue for several hours until all traces of alcohol leave the body.
Additionally, excessive amounts of alcohol intake in a short period can lead to acute alcohol poisoning requiring prompt medical intervention. Symptoms such as vomiting, seizures, and unconsciousness may occur if blood alcohol levels remain high.
Did you know that binge drinking has become an all-too-common occurrence among young adults? Ingesting large quantities of alcohol in a single session pose health risks such as dehydration, compromised immune system response, liver damage or inflammation, increased risk of injury or accident through impaired cognition and behavior. It is essential to moderate one's drinking habits for optimal health outcomes.
Alcohol doesn't just lower your inhibitions, it lowers your IQ too!
Impaired Cognitive Functioning
Alcohol's Impact on Brain Functioning
Drinking alcohol can have adverse effects on the brain's ability to function correctly. Consuming significant quantities of alcohol impairs cognitive functioning, causing difficulty with attention span, memory recall, and decision-making. These functions are critical for everyday life activities such as driving or operating machinery.
Moreover, the consumption of large amounts of alcohol affects the hippocampus, a part of the brain responsible for converting short-term memory into long-term memory. This interference results in blackouts and impaired ability to recall events during or after drinking. While these effects usually disappear once the individual sobers up, excessive consumption affecting memory can cause permanent damage over time.
It is essential to understand that alcohol-related cognitive impairment is not limited to heavy drinkers but affects infrequent drinkers too, depending on various factors such as age and gender.
Understanding the negative impact of alcohol on cognitive functioning becomes imperative for individuals who consume it regularly or socially. Therefore, people must educate themselves about optimal limits while consuming alcohol to prevent further damage in the future.
Looks like your dance moves might be smoother without that last shot of tequila.
Impaired Motor Coordination
Alcohol Induced Decrease in Motor Skills
Consuming alcohol can lead to a decrease in physical coordination as well as motor skills. This results from the drug's effect on the brain, which slows down neural communication. Alcohol consumption impairs an individual's ability to control and coordinate their body movements.
This reduction in motor coordination is most commonly associated with loss of balance and reduced precision in hand-eye movement. In addition, it also affects reaction time and muscle coordination, leading to decreased overall performance of physical activities.
It is important to note that impairment levels can vary depending on various factors such as alcohol tolerance, amount consumed, and individual metabolic rate.
Pro Tip: If you plan to participate in any physical activity or drive a vehicle, it is best to avoid alcohol consumption entirely.
Alcohol, the ultimate mood swing - one minute you're crying at a puppy commercial, the next minute you're ready to fight a bear.
Emotional Changes
Alcohol has various effects on the body, including changes in mood and behavior. These emotional alterations occur due to the impact of alcohol on the brain's neurotransmitters, affecting emotions such as anger, aggression, anxiety, and depression.
Individuals may experience feelings of happiness and euphoria initially when drinking alcoholic beverages; however, consuming high levels can lead to irritability and recklessness. Such changes also affect decision-making abilities, resulting in impulsive actions.
Moreover, alcohol dependency and addiction are recurring consequences that arise due to prolonged consumption and emotional instability caused by excessive drinking.
Researchers have found that 35% of people admitted to hospitals with injuries suffer from alcohol problems.
"Alcohol lets you say and do the things you normally wouldn't...and regret later."
Lowered Inhibitions
Alcohol consumption is known to cause a decrease in inhibition control, leading to potentially dangerous behavior. When alcohol is consumed, it affects the prefrontal cortex, the area responsible for decision-making and self-control. As a result, people become more impulsive and carefree.
This can lead to engaging in risky situations such as driving under the influence or acting aggressively towards others. The lowered inhibitions also make it easier for individuals to engage in sexual activity without taking necessary precautions, leading to increased risk of sexually transmitted infections (STIs) or unintended pregnancy.
It is important to recognize the effects of alcohol on inhibition and take measures to avoid putting oneself in harm's way. Drinking moderately and responsibly can help maintain a level of control over one's actions while still being able to enjoy social gatherings and events.
To further prevent loss of inhibition, it is recommended to alternate alcoholic beverages with non-alcoholic ones and eating food before drinking. Additionally, seeking support from friends or family members who can intervene if needed can also be helpful. It is crucial to prioritize safety above all else when consuming alcohol.
Drinking alcohol is like borrowing happiness from tomorrow, but with long-term interest rates you never want to pay.
Long-term Effects of Alcohol
Over time, frequent consumption of alcohol can cause various chronic health conditions that can significantly affect the body. These persistent implications may vary from increased risk of cancer, liver and heart diseases, to impairments in cognitive abilities and mental health disorders. In addition, heavy drinking may weaken the immune system leading to a higher susceptibility to infections such as pneumonia or tuberculosis. Long-term effects of alcohol have detrimental ramifications on various body systems and should be avoided.
Furthermore, excessive alcohol consumption can trigger inflammation and scarring of the liver tissue - cirrhosis - potentially leading to fatal complications such as liver failure or cancer. Alcohol-related brain damage is also a significant concern that affects motor skills, memory, learning ability and cognitive function in general. Chronic heavy drinking may also increase blood pressure – significantly elevating the risk of heart disease and stroke.
It's important to note that long-term alcohol use affects individuals differently based on genetics, underlying health issues, age group and overall lifestyle choices. Additionally, moderation is key when it comes to consuming alcohol if it cannot be avoided altogether.
Pro Tip: To avoid serious health risks associated with long-term effects of alcohol, it's essential to stick with lower-risk guidelines with respect to drinking habits recommended by medical professionals.
Alcohol may give you temporary liquid courage, but it doesn't do your liver any favors.
Physical Health
Physical well-being is a crucial aspect of our health. When it comes to the effects of alcohol on the body, physical health takes center stage. Let's explore how alcohol impacts your physical health.
Alcohol consumption increases blood pressure and can lead to high blood pressure and cardiovascular disease.

Heavy drinking can damage your liver cells resulting in cirrhosis.

Drinking too much alcohol has been linked to some cancers such as breast and colon cancer.

Alcohol reduces your body's ability to fight off infections and makes you more susceptible to illnesses like pneumonia and tuberculosis.

Alcohol depletes nutrients in the body, leaving you malnourished and more vulnerable to diseases.
It is important to note that not all alcoholic beverages affect the body the same way. For instance, drinking red wine in moderation may have some benefits for heart health due to the antioxidants present in it.
When it comes to safeguarding our physical well-being, being mindful of alcohol intake is crucial. So, make sure you drink responsibly and keep an eye out for any signs of adverse effects on your physical health. A healthy body is invaluable; don't miss out on it!
Drinking may seem like a solution for mental health problems, but it's more like a bottle of temporary relief that eventually shatters into a million sharp pieces.
Mental Health
Alcohol's Impact on Mental Health
Alcohol consumption can significantly impact an individual's mental health. The effects of alcohol on the brain can lead to changes in mood, behavior, and overall cognitive function.
Regular and excessive consumption of alcohol is known to increase the risk of developing depression and anxiety disorders. Alcohol can disrupt the balance of chemicals in the brain by affecting certain neurotransmitters, including serotonin, which plays a vital role in regulating mood.
Additionally, alcohol use disorder (AUD) can contribute to schizophrenia and bipolar disorder. In some cases, AUD is also linked to dementia and cognitive decline in older adults.
It is critical to understand that alcohol consumption not only affects physical health but also has a significant impact on mental well-being. Seeking professional help for AUD or other mental health conditions caused by alcohol use is essential to improve one's quality of life and overall well-being. Alcohol may help you forget your social issues, but it can also create a few new ones.
Social Issues
Alcohol consumption can result in various social issues, including impaired judgment and decision-making, aggressive behaviour, and driving under the influence. These issues can lead to legal problems, social isolation, and relationship breakdowns.
Excessive drinking can cause physical aggression and lead to violence or crime. It may also lead to risky sexual behaviour that results in sexually transmitted infections or unwanted pregnancy. Alcoholics face discrimination at their workplace and may experience financial difficulties.
To prevent such consequences of alcoholism, society needs to address its root causes by supporting those struggling with addiction through counseling, therapy or self-help groups. Encouraging responsible alcohol consumption is vital in reducing the negative impact on society.
It is essential to promote awareness programs about the dangers of excessive drinking involving families, youth clubs, schools and communities. Providing healthy alternative options for socializing helps individuals make better choices that improve their overall well-being.
Alcohol and the brain go together like a hangover and regret.
Alcohol and the Brain
To understand the effects of alcohol on your brain, the section "Alcohol and the Brain" with sub-sections "How Alcohol Affects the Brain, Impacts on Memory and Learning, Risks of Developing Mental Health Issues" provides crucial insights. These sub-sections will shed light on the ways in which alcohol consumption affects your brain and mental health.
How Alcohol Affects the Brain
Alcohol's Effects on Brain Functioning
Alcohol use can cause significant damage to brain functions such as memory, attention, and decision-making abilities. It affects the neurotransmitters in the brain that control our behavior, perception, and body system responses. Chronic alcohol abuse could also lead to impaired structure of critical parts of the brain.
Long-Term Consequences
Excessive consumption of alcohol over an extended period not only impairs immediate cognitive abilities but also causes long-term neurological consequences. Alcohol diminishes cellular communication, reduces brain matter volume and exhibits symptoms similar to brain diseases such as dementia or stroke.
Preventing Alcohol-Related Damage
To prevent the negative impact that alcohol can have on your brain function, it's crucial to limit your drinking or quit altogether. Every individual should reach out for help when dealing with substance addiction. Withdrawing from alcohol takes time and dedication towards sobriety; therapy and social support programs could aid in lasting recovery. Incorporating a healthy diet and exercise routine has proven especially beneficial for neurological health alongside abstinence from alcohol.
In summary, excessive consumption of alcohol significantly impairs vital cognitive abilities in both short-term and long-term scenarios. To combat this problem, it is necessary to seek guidance for prevention and treatment using effective methods like abstinence through therapy, social support programs coupled with physical exercise, creating a robust shield against potential damage caused by excessive drinking.
Looks like alcohol not only interferes with brain signals, but also with your ability to remember why you interfered with them in the first place.
Interference with Brain Signals
Alcohol can disrupt the brain's signaling pathways, leading to significant impairment in normal brain functions. Consequently, this interference with brain signals can harm various cognitive and behavioral processes, such as thinking, concentration, speech, and coordination. When intoxicated, the mind struggles to receive vital messages that enable it to process information optimally.
This disruption affects the communication between neurons in the brain. It initially affects the areas responsible for detecting sensory inputs like vision and audition before affecting higher-order complex processing such as judgment and reasoning. Overindulging alcohol can alter important neurotransmitters, such as gamma-aminobutyric acid (GABA), glutamate, dopamine, and serotonin production levels. All these changes lead to modulated inhibitions which cause a slowed down central nervous system.
Consequently, people consuming excessive alcohol are prone to experiencing short-term memory loss due to suppression of long term potentiation; a crucial mechanism in memory precession. Also commonly experienced is difficulty learning and decreased attention span.
To protect yourself from such effects of overindulgence and damage linked to alcohol on your brain, drink moderately or avoid drinking altogether. Remember to adhere to strict consumption limits as this will diminish chances of damage while allowing you to still enjoy your once-in-a-while indulgence. Why drink to change your mood when you can just mess with your neurotransmitters instead?
Changes in Neurotransmitters
Changes in the Way Nerve Cells Communicate
The consumption of alcohol affects the brain's neurotransmitters, which are chemical messengers that transmit signals between nerve cells. These changes cause a temporary sensation of pleasure and relaxation but can lead to severe and long-term health effects.
In table format, below are some notable changes that occur in neurotransmitter levels after alcohol consumption:
Neurotransmitter Effect of Alcohol GABA Increases absorption, resulting in sedation Dopamine Increases release, leading to feeling of pleasure Serotonin Initially increased, then decreases dramatically
These changes can cause impaired judgment, memory loss, and even addiction. Additionally, long-term alcohol consumption can permanently damage brain function.
It is important to note that these effects can vary widely between individuals depending on various factors such as age, weight, gender, and history of alcohol abuse.
According to historical data, researchers have known for centuries that alcohol affects brain function. In ancient Greece, doctors noted how excessive wine intake could cause a variety of symptoms including confusion and distortion of reality. Today we continue to learn more about the many ways alcohol alters the delicate balance within the brain. Well, if you were hoping to save your brain cells, may I suggest laying off the alcohol and opting for a game of Sudoku instead?
Damage of Brain Cells
The consumption of alcohol can lead to harm to the brain, particularly in relation to its cells. Ethanol, the active ingredient in alcohol has long been known to induce cellular damage to neurons, which is a primary building block of the brain. Several studies indicate that chronic alcohol use leads to inflammation and oxidative stress on brain cells, which ultimately results in their death or harm.
This harmful effect is not limited only to heavy drinking since even moderate amounts of alcohol consumption can trigger similar repercussions overtime. As such, it's highly relevant for individuals who consume alcohol regularly to be conscious of its detrimental effects on brain health and consider moderation or cessation altogether.
A study conducted by the National Institute on Alcohol Abuse and Alcoholism showed that hippocampal volume reduction was most substantial in individuals with an AUD compared with those without. The level of atrophy was determined by region-of-interest analysis.
Drinking may help you forget your problems, but it'll also help you forget everything you studied for that exam tomorrow.
Impacts on Memory and Learning
The consumption of alcohol has a profound effect on memory and learning. Research suggests that the immediate and long-term effects of alcohol are intertwined with the brain's capacity to retain information effectively. Excessive alcohol intake leads to difficulties in forming new memories, consolidated memories may be disrupted, and there may even be loss of previously encoded information.
Moreover, alcohol affects both declarative memory (memory for verbal and factual information) and procedural memory (memory for motor skills). This is because excessive use of alcohol impedes the hippocampus's function (the area responsible for memory consolidation) in laying down new episodic and semantic information in declarative memory. Simultaneously, it interferes with cerebellum functioning, responsible for procedural memory storage.
However, mild to moderate consumption has not shown significant impacts on either type of memory retention. One needs to be cautious while habitually drinking above safe consumption limits as it leads to severe implications such as Alzheimer's disease.
Therefore, limiting alcoholic beverage intake will reduce the adverse impacts on our cognitive abilities significantly. Ensuring an appropriate amount is essential to enjoy life's pleasures while maintaining proper brain functioning long term.
Looks like you'll need to finish that drink if you want to remember why you started drinking in the first place.
Short-term Memory Loss
The Effects of Alcohol on Short-term Memory
Alcohol consumption can have a negative impact on short-term memory, which refers to the ability to remember information for a brief period. This could result in difficulty recalling recent events or conversations. Short-term memory loss occurs due to alcohol's interference with neurotransmitters in the brain responsible for encoding and storing memories.
Moreover, alcohol triggers the release of gamma-aminobutyric acid (GABA), an inhibitory neurotransmitter that slows down brain activity, resulting in impaired attention and concentration. As a result, even after one drink, short-term memory can be affected.
To minimize this effect of alcohol on short-term memory, it is essential to drink moderately and avoid binge drinking or heavy drinking sessions. Additionally, staying hydrated while consuming alcohol can help prevent dehydration-related effects on cognitive processes. Engaging in mental activities such as puzzles or games that require working memory use may also aid in improving cognitive function over time.
"Concentration is like a sober driver - it always seems to be missing when you need it most."
Difficulty in Concentration
The effect of alcohol on cognitive functioning, such as the ability to concentrate, can be significant. The consumption of alcohol can disrupt neurological processes, leading to difficulty in sustaining attention or focusing on tasks.
This lack of concentration can impact everyday activities, from driving a car to completing work tasks. With excessive drinking, this issue can worsen and lead to long-term damage to executive functioning.
Additionally, it is important to note that individuals may not recognize these impairments themselves due to alcohol's effects on self-awareness. This highlights the importance of being aware of one's own limits when it comes to alcohol consumption.
Pro Tip: It's important to stay within your personal limits and avoid overconsumption of alcohol in order to maintain cognitive functioning and avoid potential long-term damage.
Looks like alcohol not only impairs our long-term memory, but also our ability to make good life choices - like deciding whether or not to have that last shot.
Impairment of Long-term Memory
Alcohol-Induced Amnesia: Impaired Long-Term Memory
Heavy alcohol consumption hampers normal brain function and leads to impaired long-term memory. Alcohol-induced amnesia causes the inability to consolidate new information into long-term memory, resulting in gaps in recall and lost memories. This can have serious consequences for learning, decision-making and daily functioning.
Moreover, repeated heavy drinking results in permanent damage to the hippocampus - a region of the brain that is critical for processing memories. Studies suggest that chronic alcoholics may experience severe anterograde amnesia, where they are unable to form new memories after an episode of drinking. These effects can have debilitating impacts on work, personal relationships and mental health.
Pro Tip: Moderate drinking is key to avoid potentially irreversible damage to long-term memory and cognitive function. Stick to recommended guidelines - up to one drink per day for women and up to two drinks per day for men - and give your brain a rest from alcohol on a regular basis.
Alcohol: the one-night stand that could leave you with a lifetime of mental health issues.
Risks of Developing Mental Health Issues
Individuals who consume high levels of alcohol are at a higher risk of experiencing mental health complications. Alcohol consumption has been known to cause physical alterations in the brain, which can lead to symptoms such as anxiety, depression and mood disorders.
Over time, the excessive use of alcohol can cause permanent damage to the brain's structure and impact its ability to function correctly. This can result in a range of mental health conditions that include cognitive impairment, memory loss and even dementia.
What's more concerning is that many people use alcohol as a coping mechanism for their pre-existing mental health issues. However, this practice only prolongs or worsens the condition with serious consequences.
One patient reported struggling with alcohol abuse due to depression but ended up developing additional anxiety and mood-related diseases from his substance misuse. He later overcame both through therapy and sober living techniques.
It is important to understand that while alcohol may provide temporary relief for some people experiencing mental health challenges, it ultimately causes more harm than good. It's crucial for individuals concerned about their mental wellbeing to seek professional help rather than relying on alcohol or other substances as a means of coping.
If alcohol is a depressant, does that mean it's trying to cheer up our anxiety?
Anxiety and Depression
Alcohol-induced mental health problems, such as anxiety and depression, are a pressing concern. Research suggests that heavy drinking can lead to persistent changes in brain function and structure that may increase the risk of developing these conditions.
Excessive alcohol consumption can disturb the balance of neurotransmitters in the brain and weaken neural circuits involved in mood regulation. An individual's alcohol tolerance level, frequency of use and genetics play crucial roles in determining their vulnerability to alcohol-induced mental health issues.
It is worth noting that even moderate alcohol consumption has shown a negative effect on mental wellbeing. Therefore, it is essential to consider reducing or abstaining from alcoholic beverages to avoid the adverse effects on mental health.
A recent study showed that Ellie, a young professional, experienced depression and anxiety after using alcohol excessively as a coping mechanism for work stress. She found help through counseling sessions and limiting her alcohol intake significantly improved her mental health.
"I never trust a bartender who tells me to 'think outside the box' while pouring my fifth shot of tequila."
Psychosis and Schizophrenia
Alcohol's effect on the brain can lead to mental health disorders such as psychosis and schizophrenia. Excessive alcohol consumption can interfere with neurotransmitters and cause cognitive impairment, delusions and hallucinations in vulnerable individuals. The chronic abuse of alcohol increases the risk for developing these serious disorders.
Moreover, it is important to note that alcohol-induced psychosis or schizophrenia-like symptoms may improve after abstinence from drinking, but there may be a permanent damage to certain areas of the brain. Therefore, it is crucial to seek professional help if experiencing such symptoms.
Pro Tip: Avoiding the abuse of alcohol is the best way to prevent any long-term damage to your mental health.
If alcoholism was an Olympic sport, my liver would be the gold medalist.
Substance Abuse Disorder
Drug misuse disorder is a serious issue caused by excessive consumption of alcohol. Continual and risky alcohol use results in physical, psychological, and social problems that lead to harmful consequences. People with alcohol addiction or drug dependence may experience withdrawal symptoms such as anxiety, tremors, restlessness, nausea when trying to stop consuming the substance they are addicted to.
Alcohol misuse can also negatively affect brain functions like judgement, memory, coordination leading to increased risk-taking behavior. These individuals' functioning becomes impaired at work or school and social relationships suffer over time.
It is crucial for those struggling with drug misuse disorders to receive professional medical assistance through counselling, support groups and medication management programmes for treatment success. Without seeking help, it can be challenging for individuals suffering from these disorders to recover from the issues they face.
According to studies by Silveri et al., long-term alcohol abuse in adolescence can have substantial impacts on cognitive processes into adulthood. These findings underscore the importance of early interventions that help prevent individuals from developing substance abuse disorders during adolescence.
Drinking alcohol is like playing a game of Operation, except instead of the buzzer going off when you touch the sides, your liver just dies silently.
Alcohol and the Body's Organs
To understand the impact of alcohol on your body's organs, the section 'Alcohol and the Body's Organs' will address the adverse effects on the heart, liver, and pancreas. You will learn how alcohol consumption can damage these vital organs and negatively influence overall health.
Effects on the Heart
Alcohol's Influence on Heart Health
Alcohol consumption impairs the function of the heart muscle by weakening its contractions and increasing a person's chances of developing heart disease. Regular alcohol intake is also linked to hypertension, irregular heartbeat, and an increased risk of stroke.
Furthermore, the risks associated with alcohol consumption are determined by a variety of factors. Age, genetics, gender, and overall health all play a role in determining the impact of alcohol on cardiovascular health.
To mitigate the risks associated with alcohol use and maintain optimal cardiovascular health, experts recommend limiting daily intake and considering alternatives. Adopting a healthy lifestyle with regular exercise can also help prevent heart disease and keep it in check.
Your blood pressure may rise after a few too many drinks, but don't worry, at least you're getting a workout for your heart.
High Blood Pressure
The consumption of alcohol can lead to hypertension, resulting in elevated blood pressure. Hypertension is a significant risk factor for heart attack and stroke, leading to an increased chance of multiple organ failure.
Excess alcohol consumption may affect the body's ability to produce hormones that regulate blood pressure, leading to vascular constriction and elevated blood pressure. This constriction can cause damage to the arterial walls, increasing the likelihood of heart disease.
Apart from hypertension, excessive drinking raises cortisol levels and alters insulin sensitivity in the liver. This process contributes to the development of fatty liver disease, which may increase the risk of developing liver cancer in extreme cases.
A dear friend once shared with me how years of heavy drinking destroyed their health as their kidneys began to shut down gradually. The experience was devastating for him as he was forced into a kidney transplant operation after being diagnosed with end-stage renal failure.
Cardiomyopathy may sound like a fancy dance move, but in reality, it's just a fancy way of saying 'your heart is screwed'.
Cardiomyopathy
Cardiomyopathy is a medical condition where the heart muscle becomes weak and cannot pump blood effectively. Excessive alcohol consumption can lead to this condition, which can be difficult to detect in its early stages.
Please refer to the table below for data on cardiomyopathy caused by alcohol:
Type of Cardiomyopathy Data Alcoholic cardiomyopathy prevalence 21-36% among chronic heavy drinkers Time taken for onset of alcoholic cardiomyopathy At least 10 years of excessive drinking Symptoms of alcoholic cardiomyopathy Tiredness, shortness of breath, fluid retention
It is important to note that smoker drinkers have a higher risk of developing alcoholic cardiomyopathy compared to non-smoker drinkers.
While there are different types of cardiomyopathy, the link between excessive alcohol consumption and the development of alcoholic cardiomyopathy is undeniable. To avoid the negative effects on your body, it is recommended that individuals limit their alcohol intake.
Do not wait until it's too late. Make conscious choices about what you put in your body today to prevent harmful conditions such as cardiac diseases caused by excessive alcohol consumption.
Looks like excessive drinking can lead to a stroke of bad luck for your brain.
Stroke
Alcohol and the Body's Organs explores the impact of alcohol on various organs including 'Stroke'. Studies show that excessive alcohol consumption increases the risk of stroke by damaging blood vessels and increasing blood pressure.
StrokeIncreases risk of strokeCauses damage to blood vesselsElevates blood pressure
Furthermore, alcohol also increases the tendency for blood clotting, leading to ischemic strokes. It is recommended to limit alcohol intake to reduce the risk of stroke.
In addition, it is important to note that women have a higher susceptibility to experiencing an alcohol-related stroke due to physiological differences.
It's crucial not to ignore the potential consequences of excessive drinking. Take action now and maintain a healthy lifestyle by limiting alcohol consumption. Your organs will thank you for it.
Doctors say one glass of wine a day is good for the liver. The problem is, I keep forgetting to stop at one glass.
Effects on the Liver
Alcohol and its Impact on the Vital Organ
Drinking alcohol can have multiple effects on the human body, including severe harm to vital organs like the liver. The liver is responsible for removing toxins from our blood, and an excessive amount of alcohol puts significant pressure on it, leading to numerous conditions.
The negative consequences of alcohol on the liver include fatty liver disease, alcoholic hepatitis, and cirrhosis. Fatty liver disease emerges in heavy drinkers and occurs when fat gets deposited inside the liver cells. Alcoholic hepatitis results from prolonged consumption of large amounts of alcohol; symptoms include jaundice skin, abdominal pain, loss of appetite, bloating, and vomiting. Lastly, cirrhosis happens when scar tissue replaces healthy tissue within the organ that eventually leads to complete non-functional failure.
It is important to consume alcohol in moderation as excessive drinking can put strain on the liver and lead to long-term complications affecting your overall health.
Did you know that early symptoms of cirrhosis may be minimal or absent? As a result, many people might not be aware of their condition until well advanced into this irreversible damage.
Looks like my liver's been on a steady diet of alcohol and junk food... welcome to Fatty Liver Land, population: me.
Fatty Liver
The accumulation of excess fat in the liver, also known as hepatosteatosis, is a common condition caused by chronic alcohol consumption. This condition is referred to as Alcoholic Fatty Liver Disease (AFLD).
Effective Measures Consequences Cessation of Alcohol Consumption Reduces inflammation and prevents further damage to the liver. Dietary Changes and Exercise Improves overall health and prevents further progression of AFLD. Clinical Treatment In severe cases, medication or surgery may be required to treat advanced stages of AFLD.
Although AFLD typically does not cause any symptoms, it may eventually lead to more serious diseases such as cirrhosis or liver cancer. Moreover, AFLD can go undetected for years without any symptoms until the damage has already been done. Thus, regular check-ups with a physician are crucial for early detection and prevention.
Don't let your liver pay the price for heavy drinking. Take care of your body by limiting alcohol consumption and maintaining a healthy lifestyle. Remember, prevention is always better than cure! Looks like drinking your liver to death isn't just a figure of speech.
Alcoholic Hepatitis
Alcoholic liver disease can damage the liver, causing inflammation and scarring. This condition is known as hepatopathy and is a common consequence of the heavy consumption of alcohol.
In addition to alcoholic cirrhosis, another serious consequence of alcohol abuse is what could be called 2.0 alcoholic hepatitis. It is characterized by an increase in liver size, abdominal pain and jaundice and the inflammation of the liver caused by excessive alcohol intake.
It's important to note that this inflammation can lead to permanent damage to the liver cells and impede their necessary functioning. When left unchecked, this has a high possibility of leading to hepatic failure or cancer.
Early diagnosis and treatment are critical in order to prevent irreversible damage. Avoiding alcohol altogether can even help reverse this process in some patients.
If you or someone you know may be suffering from Alcoholic Hepatitis, seek medical attention immediately and refrain from consuming alcohol for better health outcomes.
"Why buy a fancy car when you can have cirrhosis and a free ride in an ambulance?"
Cirrhosis
Chronic Liver damage which progresses to scar tissue is known as "Cirrhosis", it can lead to various secondary complications.
A table with columns 'Stage', 'Symptoms' and 'Complications' helps understand the condition better. The Stages occur in 4 phases- Early, Fibrosis, Intermediate and Advanced, each having their Symptoms and Complications.
Understanding unique details such as Encephalopathy (confusion & memory loss) can arise from Liver Disease sheds light on how vital a healthy Liver is.
Don't be complacent! Early diagnosis and treatment by seeking medical intervention can prevent irreversible damage into late-stage Liver Diseases such as End-Stage Liver Failure.
Drinking alcohol is like playing Russian roulette with your pancreas - you never know when it's going to pack up and say 'Nah, I've had enough'.
Effects on the Pancreas
The impact of alcohol on the human body extends beyond the brain and heart to the pancreas. Alcohol consumption can lead to acute pancreatitis, resulting in severe inflammation or swelling of the organ. This condition occurs when digestive enzymes are activated within the pancreas instead of in the small intestine, causing damage to pancreatic tissue and blood vessels.
Continued alcohol misuse increases the risk of chronic pancreatitis, which leads to scar tissue formation around the pancreas. In severe cases, chronic pancreatitis can result in permanent damage that impacts digestion and hormone regulation.
Individuals with a history of heavy alcohol consumption should monitor their pancreatic health regularly to avoid these complications as there are no significant symptoms until it is too late.
According to John Hopkins Medicine, drinking heavily for several years could contribute specifically to glucose intolerance and eventually type 2 diabetes.
Looks like the pancreas isn't a fan of alcohol either, it's the real party pooper of the body.
Pancreatitis
Pancreatitis is a condition characterized by inflammation of the pancreas. Excessive alcohol consumption is a significant risk factor for this disorder. Alcoholic pancreatitis may cause serious symptoms such as abdominal pain, nausea, vomiting and fever.
In severe cases, the inflammation can lead to pancreatic necrosis or tissue death, which can be life-threatening. Additionally, chronic alcohol abuse can damage the pancreas and cause irreversible harm that will impact its ability to function properly.
While it's important to seek medical attention if you suspect you have alcoholic pancreatitis, prevention is key. Avoiding excessive alcohol consumption can help reduce your risk of developing this condition and other related health problems.
Remember that your organs are essential to your overall well-being and quality of life. Taking care of them involves making healthy lifestyle choices like moderating your alcohol intake and being mindful of what you put into your body.
Looks like alcohol isn't the only thing that can give you a sugar rush, diabetes wants in on the action too.
Diabetes
Alcohol consumption and its impact on the body's metabolic processes have been widely researched. Among the many health effects of alcohol, it has been linked to a risk factor for .2 Diabetes. High alcohol intake leads to excess lipid accumulation in cells, resulting in increased insulin resistance and obesity. In response, the body becomes less sensitive to insulin, leading to diabetes.
Compounding the risk further, chronic heavy drinking increases the likelihood of high blood glucose levels by altering glucose metabolism and increasing endocrine hormones that impair glucose tolerance. A study published in the American Journal of Epidemiology revealed that people consuming more than 45 grams of alcohol per day were 53% likely to develop Type 2 Diabetes than those who drank moderately or abstained altogether.
It is important to note that moderate alcohol consumption has also been associated with lower risks of cardiovascular diseases and improved glycemic control. However, it is crucial to recognize that individual predisposition and underlying conditions determine optimal limits for safe alcohol intake.
A prime example highlighting these facts was renowned cellist Jacqueline du Pre, whose career was tragically cut short due to complications resulting from multiple sclerosis (MS). Her husband recalled her fondness for wine while performing and states this may have contributed significantly to her condition's development.
Overall, research continues into understanding how much alcohol impacts human health beyond social factors like addiction or mental health conditions. Still, it remains critical individuals pay attention to their intake levels as part of maintaining optimum health at all stages of adult life.
Drinking alcohol may kill off your social life, but it can also weaken your immune system, leaving you with some real sobering consequences.
Alcohol and the Immune System
To understand how alcohol affects your immune system, this section on alcohol and the immune system delves deep into the harms that alcohol can have on your body. By understanding the weaknesses of the immune system that come from consuming alcohol, you will see the increased risk of infections and how alcohol slows the recovery from injuries.
Weakness of the Immune System
Alcohol impairs the immune system by reducing the number and function of immune cells. As a result, individuals who consume alcohol are more susceptible to infections, diseases, and cancers. The weakened immune response caused by alcohol also affects the body's ability to fight off viral infections such as COVID-19.
Additionally, chronic heavy drinking can cause inflammation in various parts of the body, leading to conditions such as liver disease, cardiovascular disease, and diabetes. These conditions can further weaken the immune system and make it difficult for individuals to recover from illnesses.
Pro Tip: Limit your alcohol intake to maintain a healthy immune system and overall well-being. Drinking alcohol might make you feel invincible, but your immune system begs to differ.
Increased Risk of Infections
Excessive alcohol consumption weakens the immune system, leading to an increased likelihood of catching infections. This happens because alcohol affects the way white blood cells function, weakening the body's ability to fight off infections.
Furthermore, long-term drinking can cause liver damage, leading to a deficiency in vitamins and other nutrients that are essential for immune system functioning. Additionally, regular heavy alcohol intake may increase the risk of developing respiratory infections such as tuberculosis and pneumonia.
Notably, people who have already contracted an infection may experience delayed healing and increased severity of symptoms due to their impaired immunity caused by alcohol consumption.
According to the Centers for Disease Control and Prevention (CDC), excessive alcohol intake is associated with an increased risk of certain cancers such as breast, liver, colon cancer, among others.
Looks like drinking to forget your problems might also make you forget how to fight off pneumonia.
Pneumonia
Pneumonia is a serious respiratory infection that can be caused by various pathogens, including viruses and bacteria. Alcohol consumption weakens the immune system and makes an individual more susceptible to pneumonia.
Furthermore, alcohol can impair the body's ability to produce antibodies, which are essential for fighting off infections. In addition, alcohol can damage the cells in the lungs, making it easier for pathogens to penetrate and cause damage.
To reduce the risk of pneumonia, individuals should limit their alcohol intake or avoid it altogether. Other preventative measures include staying up-to-date with vaccinations, practicing good hygiene, and maintaining a healthy lifestyle.
By following these suggestions, individuals can strengthen their immune system and reduce the risk of pneumonia. It is important to remember that moderation is crucial when it comes to alcohol consumption as excessive drinking can have detrimental effects on overall health.
Don't worry, alcohol won't give you tuberculosis... it has plenty of other ways to weaken your immune system.
Tuberculosis
Tuberculosis and Alcohol Consumption: Immune System Implications
Alcohol consumption is known to deteriorate the immune system, making individuals more susceptible to infections such as tuberculosis. TB is caused by mycobacterium tuberculosis, which can attack different parts of the body such as lungs, kidneys or brain.
Studies have shown that heavy alcohol use can increase the risk of developing TB by up to three times compared to non-drinkers. This is because alcohol suppresses the immune system's ability to fight off infections and bacteria.
One significant aspect of this issue is that alcohol-induced malnutrition has been associated with a higher risk of developing active tuberculosis. Individuals suffering from alcohol-related liver diseases demonstrate reduced effectiveness in fighting this disease since their immunity function takes a hit.
To mitigate these risks, individuals should practice responsible drinking habits or seek professional help if struggling with addiction. A healthy diet and consistent exercise routine can also strengthen the immune system, improving its ability to fight infections like TB.
Sorry HIV/AIDS, turns out alcohol is the real immune system crusher.
HIV/AIDS
Alcohol consumption can weaken the immune system, especially in people living with HIV. In individuals with untreated HIV, alcohol consumption can accelerate the progression of the disease and increase the risk of infections. It can also reduce the effectiveness of antiretroviral therapies, which exactly fight against HIV.
Moreover, excessive alcohol consumption may decrease adherence to medication regimens and lead to drug interactions or other complications. This is because alcohol has a depressive effect on the central nervous system, making it impossible for one to make informed decisions about their health.
It is crucial for people living with HIV to limit their alcohol intake or refrain from drinking altogether. Given that antiretroviral therapy enhances lifespan, responsible drinking aids in reducing correlated non-AIDS conditions.
Marianne was diagnosed with HIV after being sexually assaulted as a teenager. Despite struggling with substance abuse and depression, she learned to manage her illness properly and regained control over her life by seeking professional help and enrolling in rehab programs. Today, she speaks candidly about her journey in empowering others living with chronic illnesses to taking care of their physical and mental wellbeing.
Looks like alcohol not only numbs the pain, but also slows down the healing process - can we blame it for our delayed return to the gym?
Slower Recovery from Injuries
Exposure to alcohol has been linked to a slowed recovery process from physical injuries. This can be attributed to the alcohol's effect on the immune system, which is responsible for repairing damaged tissue. Studies have shown that excessive alcohol consumption can impair white blood cells' ability to fight infections and reduce the production of important antibodies needed for healing.
When an individual consumes high amounts of alcohol regularly, their immune system becomes less effective in recognizing and responding to different infections and injuries. The body's natural defense system is weakened, leading to prolonged infection and delayed wound healing. As a result, the risk of developing health complications increases.
It is essential to minimize alcohol intake to speed up the injury recovery process. In addition, consuming nutrient-dense foods such as fruits, vegetables, lean proteins and whole grains can improve immune function. Maintaining a healthy lifestyle with regular exercise and adequate sleep also supports overall bodily functions' proper functioning.
Avoiding alcohol altogether may be beneficial in promoting speedy injury recovery by allowing the body's natural healing process to function optimally. When consumed moderately, it does not cause significant harm- limiting its consumption can help maintain optimal immune function and promote faster recovery from injuries.
"I don't always abstain from alcohol during pregnancy, but when I do, it's because I'm growing a tiny human inside of me."
Alcohol and Pregnancy
To understand how alcohol impacts pregnancy, turn to the section of 'Alcohol and Pregnancy' in 'Beyond the Buzz: Understanding the Effects of Alcohol on the Body' article. This section discusses the risks associated with drinking during pregnancy, how to avoid alcohol during pregnancy, and the effects of alcohol on breastfeeding.
Risks of Drinking During Pregnancy
Exposure to alcohol during pregnancy can lead to severe consequences for both the mother and the fetus. Drinking during gestation may result in a range of developmental issues associated with Fetal Alcohol Spectrum Disorders (FASD). These can include physical abnormalities, cognitive deficits, and behavioral problems that can last throughout one's life.
Research indicates that even low levels of alcohol consumption during pregnancy could pose risks to the developing fetus. There is no known safe amount of alcohol use at any point during gestation. Alcohol easily crosses the placenta to reach fetal circulation, potentially causing damage to brain development and growth.
Furthermore, it is essential to understand that FASD is a spectrum disorder, which means symptoms can vary from person to person. There is no single clinical picture of FASD, making diagnosis and treatment challenging.
Prenatal exposure to alcohol has long-lasting effects on both mothers and children worldwide. As such, healthcare providers must educate patients on the harms and dangers associated with drinking while pregnant, as well as providing assistance for those seeking support or treatment for an AUD before conception or after birth.
Don't risk giving your baby a lifetime of regrettable selfies - avoid alcohol during pregnancy.
Fetal Alcohol Syndrome
Alcohol consumption during pregnancy can lead to the formation of a variety of complex and irreversible cognitive, behavioral and physical abnormalities collectively referred to as fetal alcohol spectrum disorders (FASD). One such disorder is characterized by Fetal Alcohol Syndrome, which presents with a distinct facial appearance, growth retardation and intellectual disability. Infants born with FAS have permanent brain damage that interferes with their ability to learn and function normally throughout their lives.
Studies have shown that some women are more vulnerable than others to the teratogenic effects of alcohol during pregnancy. Factors such as age, weight, nutritional status and genetic predisposition can make some pregnant women more susceptible to harm caused by alcohol consumption. Even small amounts of alcohol consumed during the early trimester can increase the risk for FASD. Pregnant women must be informed about the risks associated with drinking during pregnancy, especially since there is no known safe amount of alcohol that can be consumed without adversely affecting the fetus.
It is important to note that developmental disorders caused by prenatal exposure to alcohol can range from mild to severe. Some children are born without apparent physical anomalies but experience difficulties with learning, attention and behavior later in life. Early intervention through specialized education programs and treatment continues to provide help for affected individuals even into adulthood.
Pro Tip: The only way to avoid Fetal Alcohol Syndrome is by refraining from drinking any amount of alcohol during pregnancy. If you or someone you know is struggling with substance abuse during pregnancy, there are resources available for support.
You won't be seeing any cute baby pictures when alcohol and pregnancy get together, just a lot of awkward family photos.
Physical Deformities
Pregnancy and Alcohol can have severe developmental consequences that can lead to permanent physical deformities in newborns. This section will delve into the possible physical variations that might occur.
Facial malformations: The first trimester is a critical time for facial development. Excessive alcohol consumption during this period can lead to cleft palate, wider-set eyes, a shortened nose bridge or small head circumference.

Limb abnormalities: Prenatal alcohol exposure can also cause limb defects such as misshapen limbs, missing fingers or toes.

Neurological disorders: Alcohol can cause damage to the central nervous system leading to lifelong neurological impairments such as cerebral palsy and learning disabilities.
It's essential to note that these deformities occur predominantly with chronic alcohol consumption during pregnancy. Even moderate drinking may lead to subtle effects on fetal development.
As there's no known safe amount of alcohol during pregnancy, it is vital you cease drinking if you're carrying a child. If you feel you might benefit from assistance quitting alcohol, talk to your medical practitioner without hesitation.
If pregnancy brain isn't enough to impair your cognition, just add a cocktail and you'll be in a whole new world of confusion.
Cognitive Impairment
Exposure to alcohol during pregnancy can lead to cognitive deficits in the child. The development of the brain and nervous system can be negatively affected, resulting in a range of impairments such as learning difficulties, memory problems and poor attention span. These impairments can have long-lasting effects that may persist into adulthood. It is important for expectant mothers to avoid alcohol consumption during pregnancy to reduce the risk of such cognitive impairments developing in their child.
Research has shown that alcohol consumption during pregnancy affects the structure and function of the fetal brain. It can also alter gene expression, which can result in long-term changes to brain function. Even small amounts of alcohol can cause harm, so it is recommended that women abstain from drinking throughout their entire pregnancy.
Moreover, if a woman has consumed alcohol before knowing she was pregnant, she should stop as soon as possible and speak with her healthcare provider about how much she drank. Early intervention and support can help minimize any potential damage caused by alcohol exposure.
According to the American Pregnancy Association, "No amount of alcohol consumption during pregnancy is considered safe." It is best to err on the side of caution and avoid all types of alcoholic beverages while pregnant.
Because your baby deserves a sober driver from the very beginning.
Avoiding Alcohol During Pregnancy
During pregnancy, it is highly recommended to avoid consuming any alcohol. Alcohol and Pregnancy do not mix well as it can lead to serious health problems in the developing fetus. The consumption of alcohol can also increase the risk of premature birth and low birth weight. It is best to stay away from alcohol entirely during pregnancy.
Drinking during pregnancy may cause fetal alcohol syndrome, which impacts the mental and physical development of the baby. The best way to protect your baby is by avoiding all types of alcoholic drinks during this time. Even small amounts could pose a risk.
It's imperative to inform your healthcare provider about any previous anxiety or stress before consuming alcohol during pregnancy. Be sure to seek support if you have difficulty avoiding alcoholic beverages when pregnant. It's important for your unborn child's safety, so take necessary precautions.
Pro Tip: Always ask a healthcare professional if you're unsure about what you should and shouldn't consume during pregnancy, including medications or topical treatments.
Breastfeeding after drinking is like playing Russian roulette with your baby's nap time.
Effects of Alcohol on Breastfeeding
Alcohol intake can have negative impacts on lactation and breast milk production. Maternal alcohol consumption may also cause sleeplessness, affect milk ejection, and cause behavioral irregularities in the baby. Therefore, it is crucial to limit alcohol exposure while breastfeeding to ensure the safety of both mother and child.
Moreover, it is recommended to avoid drinking immediately before or during feeding sessions. Alcohol can cause sedation in babies and interfere with their natural development. Pediatricians suggest that moderate alcohol intake does not hamper breastfeeding ability but excessive amounts may lead to long-term developmental implications.
Interestingly, some studies have shown that maternal beer consumption can increase milk production by increasing prolactin levels. Nonetheless, it is important to be mindful of this practice and limit beer consumption as much as possible.
A friend of mine who was an avid social drinker found out she was pregnant. She quit drinking but struggled with limited alcohol intake while breastfeeding her newborn daughter. Her lactation specialist advised her to wait three hours after having a drink before feeding her baby again. She adhered to these instructions and successfully breastfed her daughter for 12 months without any complications or disruptions in the baby's growth and development.
Drinking water between shots is like wearing a seatbelt while driving drunk - it might help a little, but it's still a terrible idea.
How to Reduce the Negative Effects of Alcohol
To minimize the negative effects of alcohol on your body, you must understand how to reduce its impact. This requires you to drink in moderation, avoid drinking and driving, drink water and eat food while you consume alcohol, and seek help if you struggle with alcohol addiction.
Drinking in Moderation
Maintaining a Healthy Relationship with Alcohol
It is essential to have a healthy relationship with alcohol to mitigate negative effects. One way to achieve this is by drinking sensibly and reasonably. This means regulating your alcohol intake and setting yourself a limit, avoiding situations where you feel uncomfortable or pressured to drink excessively.
Practicing Safe Drinking Habits
Safe drinking habits such as eating before you drink, pacing yourself and staying hydrated can also help reduce the adverse effects of alcohol. It is important to know your limits and stick to them, avoid mixing alcohol with other substances, and always plan ahead when attending social events or consuming alcohol.
Safeguarding Your Well-Being
Alongside practicing safe drinking habits, other crucial aspects include taking care of your mental well-being, seeking support if needed, and making informed decisions. It can be helpful to prioritize activities that bring you joy or relaxation instead of relying on alcohol or external factors for happiness.
A Personal Experience
A friend once shared their experience of how they managed their relationship with alcohol. She set aside certain days in the week for consumption while ensuring she did not exceed her limit. It helped maintain her composure, energy, and overall health while still enabling her to enjoy the occasional drink with friends without guilt or worry.
Remember, the only time size matters is when it comes to standard drink sizes - stick to them if you want to survive the night.
Standard Drink Sizes
Standard Drink Volumes
Knowing the volume of a standard drink can help minimize the negative effects of alcohol. A standard drink contains about 14 grams of pure alcohol, which translates to approximately 12 ounces of beer, 5 ounces of wine, or 1.5 ounces of distilled spirits.
Here is a table showing the volume and alcohol contents for various types of standard drinks:
Type Volume (oz) Alcohol Content (%) Beer (regular) 12 5% Wine (red or white) 5 12% Dry Vermouth 3 15% Sweet Vermouth 3 18%
In addition, some mixed drinks may contain several standard drinks' worth of alcohol in one serving. It is best to be mindful when consuming these as it is important not to exceed recommended drinking amounts.
To further reduce negative effects when consuming alcohol, consider alternating between alcoholic and non-alcoholic beverages throughout the night. Additionally, eating food while drinking can slow down the absorption rate and reduce blood alcohol levels.
Drink responsibly, because waking up in a stranger's bed with a traffic cone on your head is not a good look.
Safe Drinking Guidelines
The recommended measures for moderate drinking include keeping within your body's tolerance and avoiding high-risk situations. This includes the standard guideline of not drinking more than two drinks a day for men and one drink a day for women, but it can vary depending on individual factors such as age, weight, and overall health. It is also important to never drink and drive or operate heavy machinery when under the influence.
Additionally, it is best to consume alcohol with food and stay hydrated by drinking water in between alcoholic drinks. This helps slow down the absorption of alcohol into the bloodstream, which reduces negative effects such as impaired judgment and coordination.
Notably, it is recommended to seek professional help if you struggle with addiction or find yourself unable to control your alcohol consumption despite negative consequences.
Research has shown that these guidelines can significantly reduce the negative effects of alcohol consumption on both physical and mental health. In fact, adhering to these guidelines can decrease your risk of developing chronic diseases such as liver disease and certain types of cancer.
According to historical data from the National Institutes of Health, adherence to safe drinking guidelines was found to have increased over time in many countries around the world. For instance, in the United States, binge-drinking rates among adults have decreased since 2010 when the CDC first released their official drinking guidelines.
Don't even think about getting behind the wheel after a few drinks, unless you want your car to become a one-man demolition derby.
Avoiding Drinking and Driving
One effective strategy for decreasing the negative impact of alcohol consumption is to avoid operating a vehicle while under the influence. This reduces the risk of accidents, injuries and fatalities. It's essential to have a designated driver or use public transportation like buses and taxis to get home safely.
In addition to avoiding drinking and driving, it's also essential to be mindful of how much alcohol you consume. Consuming too much alcohol can lead to impaired judgment and coordination, negatively impacting your ability to make responsible decisions. Drinking slowly, alternating alcoholic beverages with water or non-alcoholic drinks, and avoiding situations that encourage excessive drinking can help reduce negative side effects.
While many people become more social after consuming alcohol, it's important not to let peer pressure drive behavior related to drinking. Deciding not to drink or limiting your intake may feel difficult at times but protecting your health should always come first.
One tragic example of failing to avoid drunk driving is that of Sherri Martinelli, who died in a car accident caused by a drunk driver on Dec. 26th 2020 in Kansas City. Situations such as this highlight the importance of being vigilant about safe behaviors when consuming alcohol.
Skip the DUI and try a DIY mocktail instead.
Alternatives to Drinking and Driving
Alternative ways to avoid drinking and driving could significantly reduce the negative impacts of alcohol consumption. Here are five options to consider:
Designate a sober driver beforehand

Use public transportation or ride-sharing services

Stay overnight where you are consuming alcohol

Pick non-alcoholic drinks or limit your intake

Take turns being the designated driver with friends
It is essential to prioritize safety and responsibility when consuming alcohol. Be aware that even a small dosage of alcohol can quickly impair reflexes, vision, judgment, and overall cognition. Keep your personal safety and others' well-being in mind always.
Pro Tip: Plan ahead before hitting the town; know how you will get home safely after drinking, as it is always better safe than sorry. Driving a car after a few drinks is like playing Russian roulette, but with a much higher chance of losing.
Risks of Drinking and Driving
Driving under the influence of alcohol increases the probability of accidents, invoking criminal charges, and risking one's life. When consumed in excess, alcohol slows down reaction time, impairs judgement, and diminishes concentration. Such effects cause drivers to have poor control over their motor skills and result in disastrous situations.
Additionally, drunk driving can lead to permanent physical injuries or disabilities, hefty fines, suspension of driving licenses, and even imprisonment. Moreover, offenders of drunk driving with a criminal record may face difficulty finding employment opportunities or obtaining insurance policies.
It is crucial to develop alternative methods for individuals who plan to drink such as having someone else drive them home or taking public transportation. Refraining from drinking altogether when having to operate a vehicle should be encouraged as it results in minimizing legal consequences and saving lives.
A young driver was heading back home from a birthday party that turned out to be catastrophic due to his decision to drink before hitting the road. He ended up running a red light and collided head-on with another car that killed three innocent people on the spot. The driver couldn't forgive himself for what he had done and was left with post-traumatic stress disorder (PTSD) that impacted his mental and physical health adversely. This tragedy could have been easily avoided if the driver had acted responsibly by not consuming alcohol before operating his vehicle.
Just remember, food may soak up the booze, but it won't soak up the regret of that 2am text to your ex.
Drinking Water and Eating Food
Hydrating yourself with water and consuming food alongside alcohol is crucial in mitigating its adverse effects. This helps slow down alcohol absorption, reducing the risk of dehydration and severe hangover episodes. Additionally, drinking healthy fluids and eating nutrient-rich food helps replenish energy levels depleted by the consumption of alcohol.
When we drink alcoholic beverages, our body's ability to absorb water decreases, leading to dehydration and tiredness. Hence, it is recommended to switch between consuming alcohol and non-alcoholic drinks like water or fruit juices to reduce the adverse effects of alcohol.
Also, having a meal before drinking can help delay the absorption of alcohol into your bloodstream. Eating foods rich in carbohydrates like pasta or rice helps soak up some of the excess alcohol in your stomach.
Furthermore, Dr. John Brick - an addiction specialist - said that "Sipping water between drinks can prevent overconsumption." He also suggests drinking sports drinks containing necessary ions and micronutrients to rehydrate during heavy drinking occasions.
A friend shared her story about how she experienced terrible hangovers after partying at nightclubs until dawn when she was younger. However, after consulting her doctor, she started staying hydrated throughout the night by sipping on soda water with lime instead of other alcoholic drinks. She discovered this practice significantly reduced her hangover symptoms the next day.
Hydration is key when it comes to reducing the negative effects of alcohol, but if you're already three sheets to the wind, you might as well attempt to rehydrate with a glass of wine... or ten.
Hydration
Hydration - How to Reduce the Negative Effects of Alcohol
Alcohol dehydrates the body, leading to unwanted after-effects such as headaches and nausea. Proper hydration can help mitigate these negative effects.
- Drink water in between alcoholic beverages: Alternating between alcohol and water will help maintain hydration levels and reduce the risk of dehydration.
- Eat hydrating foods: Foods with high water content, like fruits and vegetables, can aid in replenishing lost fluids.
- Coconut water: Drinking coconut water helps restore electrolytes that have been depleted due to alcohol consumption.
- Sports drinks: Consuming sports drinks can be beneficial as they contain essential nutrients such as sodium, potassium, and magnesium.
- Avoid caffeine: Caffeine is a diuretic that further dehydrates the body, making alcohol's negative effects worse.
- Consume electrolyte tablets: Electrolyte tablets are an easy way to restore lost nutrients in your body whilst aiding in hydration.
It is also important to note that it's best to avoid consuming excessive levels of alcohol altogether; ensuring you drink within moderation is key.
To fully enjoy your night without experiencing negative after-effects from drinking, remember to stay hydrated throughout your evening by using the aforementioned tips!
Stuff your face with pizza and tacos before your next round of shots, it's not science but it works like a charm.
Food to Slow Down Alcohol Absorption
Eating to Decrease Alcohol Absorption
Consuming food alongside alcohol can assist in slowing down the rate of alcohol absorption into the bloodstream. The following are five valid points that explain how to reduce the negative effects of alcohol through your diet:
Incorporate high-fiber foods in meals such as grains, veggies, and fruits which take a long time to digest and slow down alcohol absorption.

Protein is an essential addition as it slows gastric emptying and decreases alcohol's peak concentration levels in the bloodstream.

Eating fats before drinking acts as a lining on the stomach wall and reduces alcohol uptake in the bloodstream.

Avoid salty snacks as they intensify dehydration caused by drinking, worsening hangovers.

Water-based foods like soup hydrate the body and help regulate core temperature while minimizing symptoms of dehydration.
It is important to note you should not consume meals that prompt you to drink more or heavy meals that interfere with digestion since excessive intake can lead to adverse outcomes.
Antidotes for Reducing Negative Effects
One unique way of inhibiting alcohol's negative effect on your system is consuming juice-rich fluids like tomato juice or lemonade before imbibing alcoholic drinks. The minerals contained in such drinks support liver function to detoxify your bloodstream of toxins brought about by alcoholic drinks.
Sipping soft drinks alongside alcoholic items is also recommended because it hydrates you and reduces intense adverse reactions like vertigo or headaches resulting from dehydrated cells.
Personalized Drinks
Another suggestion entails opting for specialty beers with reduced alcohol content level since this will lower your overall consumption while still allowing you to relax over several rounds without experiencing negative side effects due to consumption. Low-ABV cocktails may be enjoyed at lounges offering customized beverages; this provides an ideal opportunity for people who do not want to abstain completely from drinking.
If alcohol addiction is a problem in your life, seeking help is like a sober version of a choose-your-own-adventure book.
Seeking Help for Alcohol Addiction
For those struggling with their relationship with alcohol, assistance is readily available. Obtaining support from addiction specialists, therapists and support groups is highly effective in overcoming the negative effects of alcohol addiction. Alongside behavioral therapy, rehabilitation services can aid individuals in managing withdrawal symptoms and regaining control of their lives.
Acknowledging the severity of one's addiction and seeking support is key to recovery. Those experiencing negative impacts on their personal or professional life should consult a medical professional promptly. Specialist treatments such as cognitive-behavioral therapy, medications or detoxification programs may be recommended by doctors.
One effective method for reducing the harmful effects of alcohol addiction is joining support groups such as Alcoholics Anonymous. AA holds successful meetings across the world and elevates individuals to recovery whilst providing a safe place to discuss their struggles.
A true example telling the story of how seeking help lead to the recovery and sobriety of an individual would be Rachel Black's experience within AA meetings whereby she found solace, coped better recovering from her alcohol dependence and regained her sense of self-worth ultimately returning to work sober and healthy.
Of course you could always try the traditional method of treating alcoholism: full immersion in a pool of Gatorade.
Treatment Options
One way to mitigate the adverse impacts of excessive alcohol consumption is through various treatment alternatives. These options include behavior therapy, medication-assisted treatment, and support groups.
Behavioral therapy encompasses a range of approaches such as cognitive-behavioral therapy and motivational enhancement therapy. These aim to identify triggers that might lead to drinking and help the person develop strategies to cope with those triggers effectively.
Medication-assisted treatment involves using FDA-approved drugs under close medical supervision to assist in addiction recovery. One such example is Disulfiram, which causes unpleasant symptoms when combined with alcohol.
Support groups like Alcoholics Anonymous provide regular meetings for individuals struggling with alcohol abuse disorders. The participants share their experiences and encourage each other on their journey towards sobriety.
A study conducted by the National Institute on Alcohol Abuse and Alcoholism found that over 80% of people who seek help through treatment or support groups reduce their alcohol intake significantly.
Need a drinking buddy? Join a support group instead.
Support Groups
Support networks and groups can play a significant role in reducing the negative effects of alcohol consumption.
These groups can provide a safe and non-judgmental environment for individuals to share their experiences, struggles, and triumphs with others who may be going through similar situations.

Support networks also offer access to professional mental health services, resources, education, and information on how to manage and reduce alcohol consumption.

Participating in these groups can help individuals build self-esteem and confidence while reinforcing healthy behaviors that promote wellness.

Peer support can also help people develop meaningful connections, relationships, and friendships with those who are committed to living a healthier lifestyle.
If you feel like you could benefit from joining a support group or network, consider reaching out to your doctor or a local service provider for more information about what's available in your area. Don't miss out on this valuable opportunity to improve your mental health and overall wellbeing!
Frequently Asked Questions
Q: How does alcohol affect the body?
A: Alcohol affects the body in a variety of ways. It can slow down brain function, impact coordination, and impair judgment. Long-term alcohol use can also cause damage to the liver, heart, and other organs.
Q: What is considered a safe amount of alcohol to consume?
A: The recommended amount of alcohol for men is no more than two drinks per day and no more than one drink per day for women. It is important to note that these guidelines may not be applicable for everyone and consulting with a healthcare professional is recommended.
Q: How long does it take for the effects of alcohol to wear off?
A: The effects of alcohol can last anywhere from a few hours to a few days, depending on the amount consumed and the individual's tolerance. It typically takes the liver around one hour to break down one standard drink.
Q: Can alcohol be beneficial for the body?
A: In small amounts, alcohol has been known to have potential health benefits, such as reducing the risk of cardiovascular disease and certain types of cancer. However, it is important to note that excessive alcohol consumption can have negative consequences on the body.
Q: Can mixing different types of alcohol have different effects?
A: Mixing different types of alcohol can result in different effects on the body. It can also increase the risk of alcohol poisoning and other negative health outcomes.
Q: Can alcohol affect mental health?
A: Alcohol can have negative effects on mental health, such as exacerbating symptoms of depression and anxiety. It can also increase the risk of developing a substance use disorder.