Discover more from IgelSparks Substack
My personal Substack
"Betalains: The Colorful Antioxidants That Benefit Your Health"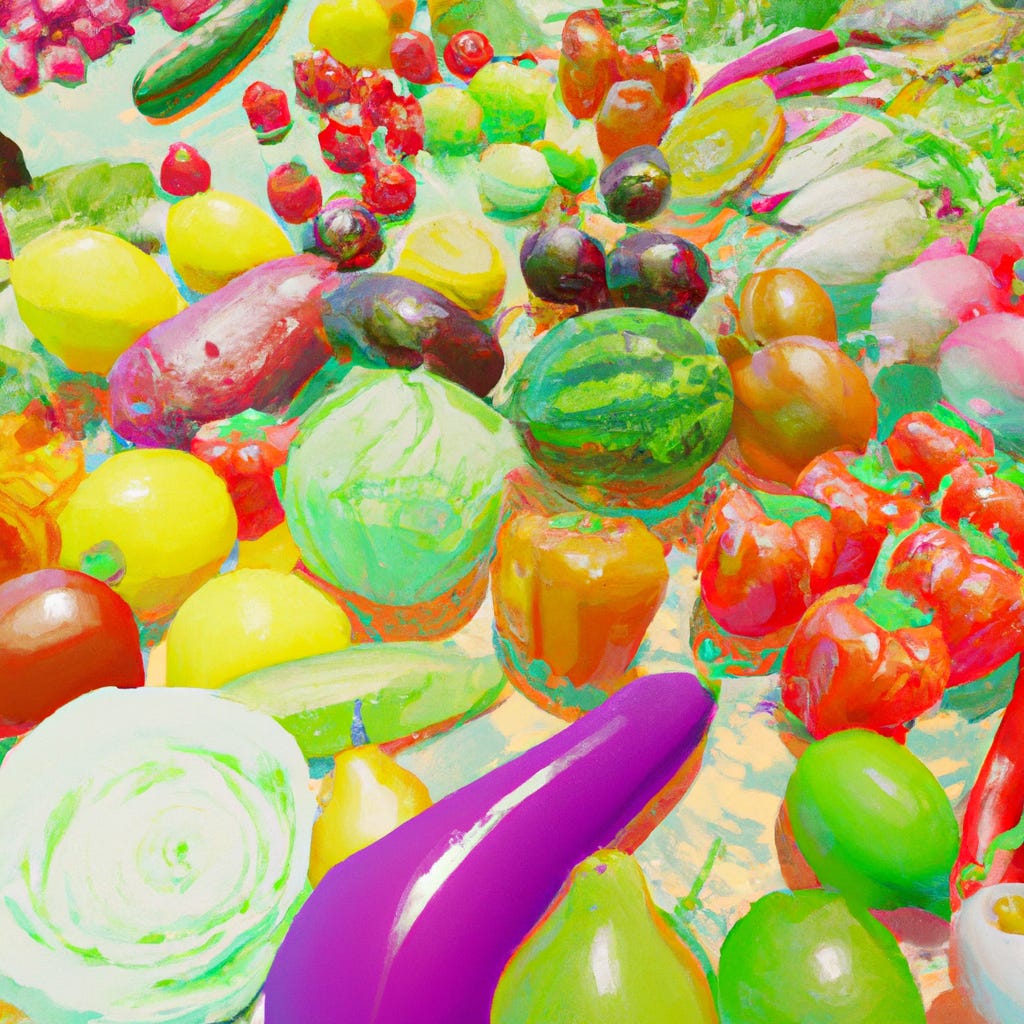 Introduction to Betalains
Betalains: The Fantastic Antioxidants with Multifold Health Benefits
Betalains are pigments that provide a range of antioxidant properties. In addition to skin and hair health, betalains have been used to improve neurological conditions and even exercise performance. Here's a quick rundown of what you need to know about betalains.
Property Description Color Betalains are responsible for the varying shades of red, pink, and violet in some fruits and vegetables. Structure Betalains are nitrogen-containing pigments that can be classified as either betaxanthins (yellow/orange) or betacyanins (red/violet). Health Benefits Betalains possess anti-inflammatory, anti-cancerous, cardiovascular-protective, and liver-health-enhancing actions.
Moreover, when compared to other antioxidants such as vitamin C or beta-carotene, studies indicate that betalain-rich extracts may provide greater benefits for specific treatments.
Interestingly, Native Americans utilized beets containing betalains medicinally for various ailments. In ancient North Africa and parts of Asia, they were used for decorative purposes because of their vibrant hues.
Overall, the health benefits and fascinating cultural history of these colorful antioxidants make them worth further research! Who knew antioxidants could be so colorful? Betalains bring a whole new meaning to 'eating the rainbow'.
Health Benefits of Betalains
To understand the health benefits of betalains, check out this section on the anti-inflammatory, antioxidant, cardiovascular, liver health, and anti-cancer properties of these colorful antioxidants. Learn how incorporating foods rich in betalains can give you a myriad of health benefits.
Anti-inflammatory properties
Betalains, the pigments present in beets and cacti, have potent anti-inflammatory properties that can positively impact one's health. These compounds suppress inflammation by inhibiting the production of pro-inflammatory substances like interleukins and cytokines. By reducing inflammation, betalains alleviate symptoms of inflammatory diseases like arthritis and asthma and may also lower the risk of chronic illnesses like cancer, diabetes, and heart disease. Additionally, their antioxidant activity protects cells from damage caused by free radicals, preserving overall health.
Pro Tip: Incorporating beets into your diet can promote optimal well-being by harnessing betalain's anti-inflammatory benefits.
Move over, blueberries. Betalains are the new superfood antioxidant with benefits so good, they'll make your cells wish they had a mouth to smile with.
Antioxidant properties
Betalains are pigments found mainly in beets and cactus fruits, with potent antioxidant properties that help in reducing the effects of oxidative stress on human cells. These antioxidants protect the body from free radicals and chronic inflammation, which cause deterioration or damage of cells. Betalains have been shown to improve heart health by reducing inflammation and lowering blood pressure. They also have a beneficial effect on liver function, promoting healthy liver enzymes and thwarting oxidative damage.
Studies have suggested that betalains possess potential anti-carcinogenic properties, thereby helping prevent the development of several types of cancers such as colon and lung cancer. Furthermore, these compounds may even aid in enhancing brain function and delaying age-related cognitive decline.
A study conducted by the National Institutes of Health showed that betalain-rich beetroot juice consumption lowered blood pressure in people with hypertension. This finding suggests that incorporating more betalain-rich foods into one's diet can promote good cardiovascular health. Who needs a cardiologist when you have beets? Betalains in beets are like a superhero for your heart.
Cardiovascular benefits
The powerful plant pigment Betalains has been found to offer substantial benefits for the health of the cardiovascular system. Studies have indicated that these compounds may help to lower blood pressure and decrease levels of bad cholesterol in the body, as well as improve overall endothelial function. As a result, individuals who consume foods rich in Betalains, such as beets or cactus fruit, may be less likely to develop conditions like heart disease over time.
Furthermore, researchers have uncovered additional evidence suggesting that Betalains may also act as potent anti-inflammatory agents within the arteries. This can help to reduce plaque buildup and prevent the onset of other potentially serious complications down the line. With its ability to boost heart health on multiple fronts, it's clear that Betalains are an ingredient worth adding to your diet if you're looking to maintain optimal cardiovascular wellness.
Pro Tip: For maximum nutritional benefits, consider incorporating freshly made beet juice into your routine on a regular basis. Not only does this delicious juice provide a concentrated dose of Betalains, but it also offers up a host of other important micronutrients that support overall vitality and wellness.
Beets may not make you a better musician, but with their liver-protective properties, they'll help you rock 'n' roll for years to come.
Liver health benefits
Betalains have various health advantages, and one of them is supporting liver function. As a natural detoxifier of the body, the liver plays a crucial role in improving overall health. Betalains offer protection against liver damage by preventing oxidative stress that can lead to inflammation of the organ. Additionally, they assist in promoting bile production that helps in keeping fats moving through the body and out of it.
Consuming betalain-rich foods such as beetroots, chard, and prickly pear may improve liver health. A study has shown that beetroot juice consumption for six days resulted in a decrease in serum alanine transaminase (ALT), an enzyme produced by damaged liver cells, with statistical significance. Detoxification process also gets supported by nutrients present in beetroot juice as studied on rats.
Moreover, incorporating these nutrient-rich foods into your diet will benefit you beyond just liver health. Betalains' properties promote anti-inflammatory effects throughout the body and are beneficial for reducing oxidative stress levels.
Don't miss out on adding betalain-rich foods to your diet; give your liver the support it requires to keep your system functioning efficiently!
Who needs chemotherapy when you can just eat your beets? Betalains bring new meaning to the phrase 'food is medicine'.
Anti-cancer properties
Current studies suggest that betalains may possess anti-tumor and anti-proliferative properties. Betalains, the pigments responsible for the coloration of beetroots, have been shown to inhibit the growth of cancer cells and induce cell death in a variety of cancers, including colon, liver, breast and prostate cancer. This can be attributed to their ability to scavenge free radicals and downregulate pro-inflammatory cytokines, which can promote cancer development.
Furthermore, betalains exhibit inhibitory effects on angiogenesis and provide protection against DNA damage induced by carcinogens. Their mechanism of action involves the modulation of signaling pathways involved in tumor progression and invasive behavior. Hence, incorporating betalain-rich foods into one's diet may offer chemopreventive benefits against various types of cancers.
Interestingly, research has also reported that betanin, a type of betalain pigment found in beets, can enhance the effectiveness of chemotherapy drugs while reducing toxicity levels. In a study conducted on human pancreatic cancer cells, betanin was found to synergize with gemcitabine - a commonly used chemotherapy drug - leading to increased apoptosis and reduced cell proliferation rates.
A harrowing story recently made headlines when 50-year-old leukemia patient George Prior decided to put beetroot juice's touted health benefits to the test by drinking 3 liters per day for six days straight. Shockingly, his urine turned bright red after just one serving. After six days (and several bathroom breaks later), George claimed he had much more energy than before and that his blood pressure had dropped significantly. His personal anecdote highlights the potential health perks offered by including betalain-rich foods like beetroot in our daily diets.
Get your daily dose of betalains by adding some colorful beets and prickly pears to your plate, because eating the rainbow has never been tastier.
Food Sources of Betalains
To explore food sources of betalains with beetroot and beetroot juice, other vegetables containing betalains, and betalain supplements as solution, we'll look into their benefits.
Beetroot and beetroot juice
Beetroot and its juice are considered as a significant source of betalains, which possess profound antioxidant properties. Here's why Beetroot and its juice are a must-have in your diet:
One cup of beetroot juice is equivalent to consuming two beetroots, providing ample nutrients for the body.

The high level of nitrates in beetroot juice can improve blood flow and reduce blood pressure levels.

The antioxidant compounds present in beetroot exhibit anti-inflammatory effects, contributing to better heart health.

Beetroot also contains vitamins and minerals like folate and potassium necessary for optimum physiological function.

Regular consumption of beetroot can aid in enhancing exercise performance by improving oxygen uptake during exercise.
Interestingly, research suggests that the betalain content in beetroot may have potential anti-cancer effects as they exhibit cytotoxicity against cancer cells while being non-toxic to healthy cells.
Pro Tip: Adding raw or juiced beetroot to your daily routine can provide a plethora of health benefits. To maximize its benefits, consume it without cooking or pickling it.
Who needs a rainbow when you can have a plate full of betalain-packed veggies?
Other vegetables containing betalains
As for other vegetables with betalains, some diverse options are available. Here are a few:
Swiss chard: An excellent source of betalains, Swiss chard is also packed with other nutrients and antioxidants.

Beets: Beets are well-known for their rich hue, which comes from the betalains they contain.

Rhubarb: This vegetable, commonly used in desserts, also contains impressive amounts of betalains.
It's worth noting that while these vegetables do contain betalains, they may not have the same concentration as those found in prickly pear or beetroot. With that said, adding them to your meals is still a great way to diversify your diet and get more phytonutrients.
Interestingly enough, some varieties of amaranth and quinoa also contain betalains. These grains could be an excellent option if you're looking to add more variety to your pantry.
One true fact is that Betanin is the most common type of betalain in red beetroots.
Who needs a pill when you can have a beet? Betalain supplements are just a fancy way of saying 'I'm too lazy to eat my veggies'.
Betalain supplements
Supplementing the Intake of Beneficial Betalains
Consuming betalain supplements may offer unique health benefits due to the pigments' potent antioxidant and anti-inflammatory properties.
Betalains were first discovered by Heinrich Hlasiwetz and Isidor Drechsel in 1855, who noticed crimson-red coloration while studying beetroot pigments. Since then, studies have shown that consuming plant-based foods rich in betalains may help to reduce oxidative stress, inflammation and support overall well-being.
Table for Betalain Supplements:
Betalain Supplement Source Benefits Beetroot Extract Beets Reduces Inflammation, Lowers Blood Pressure Prickly Pear Cactus Juice Cacti Helps in Weight Loss, Boosts Immunity
Beetroot extract, derived from beets, is a popular supplement that supports physical performance and improves cardiovascular health. Prickly pear cactus juice is also a source of betalains that exhibit anti-inflammatory properties and have been found to reduce symptoms of gastric ulcers and inflammation.
Adding some color to your plate has never been more satisfying - learn how to incorporate betalains in your diet and make your taste buds (and eyes) happy!
How to Incorporate Betalains in Your Diet
To incorporate betalains in your diet with recipes using beetroot, ways to consume other vegetables containing betalains, and dosage and precautions when taking supplements.
Recipes using beetroot
To explore the various ways of incorporating beetroot in your diet, we present some delicious recipes that are both healthy and flavorful.
For the heading 'Recipes using beetroot', we have created a table below:
Recipe Name Ingredients Method Beetroot salad Beetroot, arugula, feta cheese, walnuts Peel and grate the beetroot. Toss it with arugula and crumbled feta cheese. Sprinkle with toasted walnuts. Roasted beetroot hummus Beetroot, chickpeas, tahini paste, lemon juice Roast diced beetroot in a 400°F oven until tender. Blend it with chickpeas, tahini paste and lemon juice until smooth. Serve as a dip or spread. Beetroot soup Beetroot, onion, celery, vegetable broth Sauté finely chopped onion and celery until soft. Add peeled and diced beetroot and vegetable broth to the pot. Simmer on medium-low heat for 30 minutes. Purée the mixture until smooth and serve hot garnished with fresh cream or croutons.
Apart from these recipes using beetroot, you can also add grated or sliced beets to your morning smoothie or juice for an extra boost of essential vitamins and minerals such as folate and potassium.
Beetroot has been cultivated since ancient times by Romans as food as well as medicine due to its numerous health benefits like lowering blood pressure levels and reducing inflammation in the body. The deep red pigment of betalains found in beets not only makes them visually appealing but also provides powerful antioxidant properties making it an essential ingredient to include in your diet.
Eating your vegetables just got a lot more colorful - and we're not talking about the taste.
Ways to consume other vegetables containing betalains
Betalains, found in beetroots and other plants, have been deemed beneficial for health. Unlocking different ways to include vegetables containing betalains in one's diet can lead to a more nutritious diet.
Raw: Consuming raw beetroots or incorporating them into salads can maximize the nutrient intake of betalains.

Juicing: Juicing various vegetables with beetroot as a key ingredient can create a healthy and flavourful drink.

Cooked: Boiling or roasting beetroots and other root veggies like sweet potatoes or carrots allow for betalain consumption through meals.
Other plant sources with betalains include Swiss chard, rhubarb, and cacti.
Betalains are not only good for health but also have historical significance. They have been used as natural dyes by civilizations as far back as ancient Greece, Egypt and Rome. The red staining produced from betalain dyes were often used to colour textiles and cosmetics.
Just because they're supplements, doesn't mean you should pop them like candy. Follow the dosage instructions and avoid turning your insides into a technicolor dreamcoat.
Dosage and precautions when taking supplements
Supplements can be beneficial, but it's crucial to know the right dosage and precautions to avoid potential harm. Here are some essential points to keep in mind:
Consult your physician before starting any supplements.

Read the label carefully and follow the recommended dosage.

Do not exceed the suggested dose as it can cause adverse effects.

Avoid taking supplements with alcohol or other medications without consulting your doctor first.

Long-term use of supplements requires constant monitoring by a healthcare professional.
Additionally, individuals who are pregnant or nursing, have chronic health conditions, or take prescription medications regularly should be extra cautious when taking supplements.
When taking supplements, it's also important to note that natural doesn't always mean safe. Even natural ingredients can interact with other substances and cause unwanted results.
For optimal benefits, consider supplementing with specific nutrients based on your individual needs. It's best to focus on consuming a balanced diet rich in whole foods rather than relying solely on supplements as an alternative.
Incorporating Betalains in Your Diet: Suggestions for Safe Supplementation
To add Betalains naturally in your diet, consume fruits and vegetables like beets, dragon fruit, and prickly pear cactus. You can also take Betalain supplements but only after consulting with a dietitian or medical professional.
It's important to choose reliable brands of dietary supplements that provide accurate labels with complete ingredient lists. You can check the manufacturing standards and third-party testing reports of these supplement brands beforehand for added safety.
Lastly, stick to moderate amounts that align with recommended doses while taking necessary precautions for optimal health benefits of Betalains incorporation into your regular diet.
Add some color to your diet and reap the benefits - betalains are the new kale.
Conclusion: Benefits of adding betalains to your diet
Consuming betalains can have numerous benefits for your health. These antioxidants, found in brightly colored fruits and vegetables such as beets, can help fight inflammation, protect against oxidative stress, improve cardiovascular health, enhance exercise performance, support liver function and offer protection against cancer.
The following are some of the key benefits of consuming betalains:
Betalains help reduce inflammation in the body

They protect cells against oxidative damage

They improve cardiovascular health by lowering blood pressure and cholesterol levels

Consumption of betalains has shown to enhance exercise performance

Betalains also possess hepatoprotective properties which supports liver function

Their antioxidant properties make them effective at offering cancer protection
In addition to these benefits, betalains have been shown to have a positive impact on brain function by increasing blood flow to the brain and improving cognitive function. These attributes make betalain-rich foods an excellent addition to any diet.
Interestingly, the use of beetroot dates back centuries ago where it was used for medicinal purposes. Ancient Romans believed that beetroot juice could cure constipation and fevers while Hippocrates recommended beet leaves as treatments for wounds.
Considering the numerous potential benefits of adding betalains to one's diet, it is worth exploring more betalain-rich options in one's meals.
Frequently Asked Questions
Q: What are betalains?
A: Betalains are pigments found in fruits and vegetables that give them their intense red, purple, and yellow hues.
Q: What are the benefits of consuming betalains?
A: Betalains have powerful antioxidant and anti-inflammatory properties, which can help protect cells from damage and reduce inflammation in the body. They may also have potential benefits for heart health and exercise performance.
Q: What foods are high in betalains?
A: Beetroot, chard, and prickly pear cactus are all high in betalains. Other sources include rhubarb, amaranth, and certain varieties of sweet potato and corn.
Q: Can betalains help with weight loss?
A: There is some evidence to suggest that betalains may promote weight loss by reducing inflammation and oxidative stress, but more research is needed to confirm these effects.
Q: Are there any risks associated with consuming betalains?
A: Betalains are generally considered safe, but some people may be allergic or sensitive to them. They may also interact with certain medications, so it's important to talk to your healthcare provider before consuming betalain-rich foods or supplements.