Discover more from IgelSparks Substack
My personal Substack
"Beta-Carotene: The Antioxidant That Promotes Healthy Skin and Vision"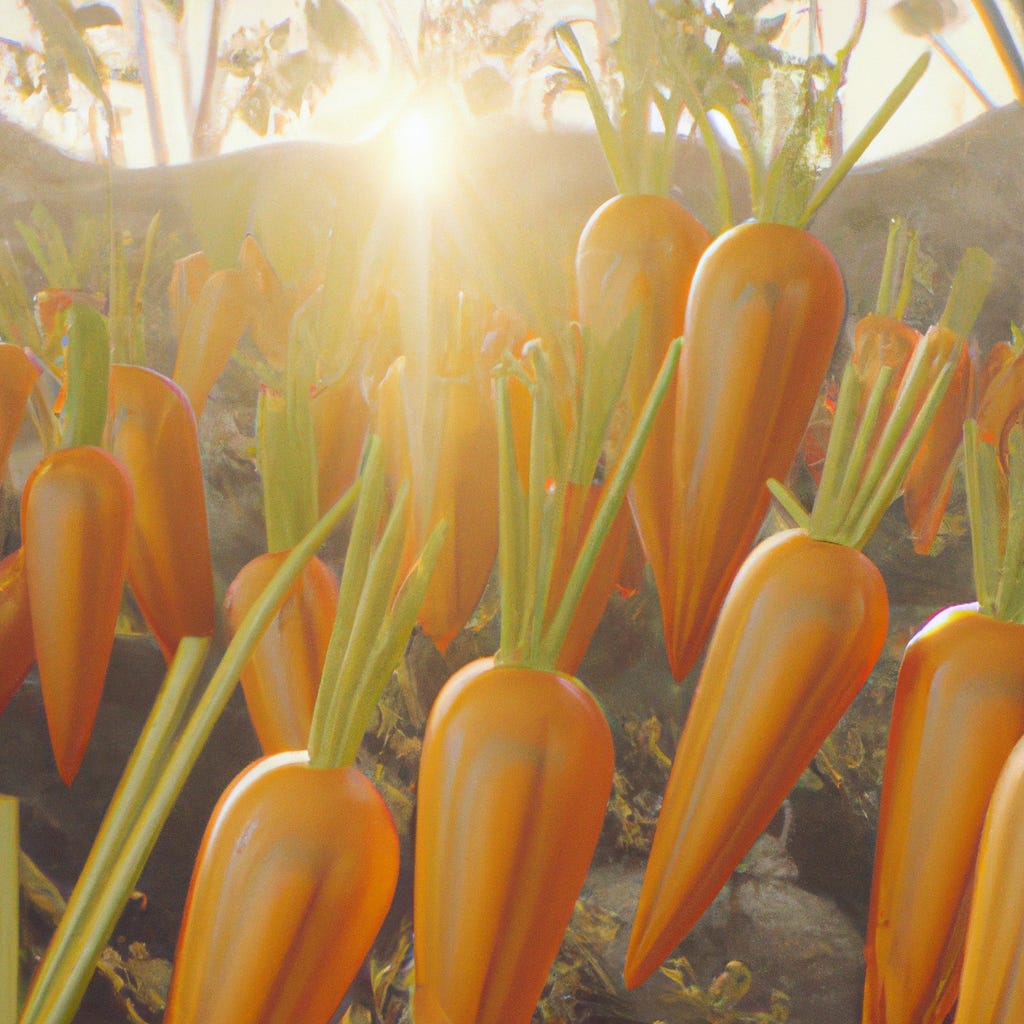 Understanding Beta-Carotene
Beta-Carotene: An In-Depth Analysis of its Role in Promoting Healthy Skin and Vision
Beta-carotene is an organic compound that is found in a range of fruits and vegetables, from pumpkins to papayas. Beta-carotene belongs to a group of pigments called carotenoids, which give these fruits and vegetables their vibrant hue. When consumed, beta-carotene is converted into Vitamin A in the body.
Beta-carotene is celebrated for its numerous health benefits. It plays an integral role in promoting healthy skin by protecting it from harmful UV radiation and environmental pollutants. Additionally, beta-carotene helps maintain healthy vision by supporting the eye's retina. Furthermore, researchers have also linked beta-carotene intake with a lower risk of chronic diseases such as cancer and heart disease.
In fact, renowned tennis player Rafael Nadal swears by the powers of beta-carotene for his athletic performance. He credits consuming foods rich in beta-carotene for improving his endurance levels while playing long matches.
Incorporating foods rich in beta-carotene into your diet can prove extremely beneficial for your overall health. Whether it's snacking on carrots or munching on mangoes - make sure they are a part of your daily diet to reap the benefits! Who needs an eye doctor when you have beta-carotene? This antioxidant promotes healthy vision and skin, making you look and see good.
Benefits of Beta-Carotene
To reap the benefits of beta-carotene, focus on promoting healthy skin and vision. Beta-carotene is an antioxidant that can help prevent and repair damage caused by free radicals. Promoting skin health and vision helps reduce the risk of chronic diseases associated with aging. Incorporate beta-carotene into your diet and enjoy the benefits of healthy skin and vision.
Promotes Healthy Skin
The consumption of Beta-Carotene has been linked to boosting the appearance and health of one's skin. This powerful nutrient acts as an antioxidant, helping to counteract damage caused by free radicals and UV rays - factors that can accelerate premature aging, lead to wrinkles, sunspots, and other skin imperfections. Additionally, it promotes the production of melanin - a pigment responsible for giving our skin its natural protective barrier against harmful UV rays.
Beta-Carotene does more than ward off external damage though. It also helps regulate cell growth and turnover within the epidermis - the outermost layer of our skin - promoting healthy regeneration that keeps it looking plump and supple. Furthermore, studies have shown that this nutrient has anti-inflammatory properties which can reduce swelling or discomfort associated with certain chronic conditions like acne or psoriasis.
Aside from incorporating Beta-Carotene-rich foods like sweet potatoes, carrots, spinach or kale into your diet, you can also try topical applications infused with this vitamin (e.g., serums or creams). Not only will they boost your internal nutrient intake but also provide additional support for your skin's health externally.
A friend once shared their story about how they suffered from eczema for years before discovering the benefits of Beta-Carotene. After adding more foods rich in this nutrient to their diet and trying out a Beta-Carotene-infused hand cream, they noticed a big improvement in their symptoms after just two weeks.
Looks like beta-carotene is the gold medalist in the body's absorption Olympics.
How Beta-Carotene is absorbed by the body
Beta-Carotene Absorption in the Body
Beta-carotene is absorbed by the body through the intestine's lining. Here, it is taken up by intestinal cells, where it is then metabolized into vitamin A and other carotenoids.
The following table highlights how Beta-Carotene is absorbed in the body.
Processing Stage Area of Occurrence Processed By Intestinal Uptake Intestine Intestinal Cells Conversion to Vitamin A (Retinol) Liver Enzymes in liver Storage of nutrient Adipose Tissue Fat Cells
It is worthy to note that for optimal absorption, beta-carotene must be consumed with dietary fats or oils.
Moreover, beta-carotene absorption rates may vary depending on one's gut health and genetic disposition to carotenoids.
Studies have found that cooking carrots can increase the bioavailability of beta-carotene by breaking down tough cell walls and improving its solubility.
Indeed, beta-carotene plays an essential role in our diet as a precursor to vitamin A. According to a study published in Nutrients Journal, it has been suggested that consuming foods rich in carotenoids can help reduce the risk of chronic diseases such as heart disease and cancer.
Who needs to slather on sunscreen when you can just load up on beta-carotene and become a human carrot?
How Beta-Carotene helps protect the skin from UV damage
Beta-Carotene, an antioxidant, is known for its ability to protect the skin against harmful UV damage. The natural pigment found in colorful fruits and vegetables reduces skin sensitivity to sunlight by improving the immune system's response to radiation. This protection minimizes sunburn and potential damage from exposure which can lead to a reduced risk of skin cancer.
Furthermore, Beta-carotene eliminates free radicals that attack healthy cells in the body, reducing inflammation and oxidative stress. This action leads to healthier and firmer-looking skin with improved elasticity and less visible signs of aging.
Getting sufficient amounts of beta-carotene daily can be achieved by eating carrots, sweet potatoes, butternut squash, spinach, kale, apricots and cantaloupes. Additionally, consuming these foods along with fat-rich meals increases absorption rates.
Embracing a healthy lifestyle that incorporates regular exercise, sufficient sleep and a balanced diet rich in Beta-Carotene may decrease the chances of getting skin damage caused by excessive sun exposure while also leaving overall beneficial effects on one's health. Don't miss out on the good things life has to offer.
"Who needs glasses when you can just load up on carrots? Beta-carotene promotes healthy vision and a future free of squinting like a confused grandpa."
Promotes Healthy Vision
Beta-carotene, a type of carotenoid, has been linked to promoting optimal eyesight and eye health. Its strong antioxidant properties help protect the eyes from macular degeneration and cataracts. Beta-carotene also aids in the production of rhodopsin, a pigment in the retina that allows the eye to see in low light conditions.
Furthermore, consuming foods with beta-carotene can improve overall vision health. Foods high in beta-carotene include sweet potatoes, carrots, spinach, kale, and cantaloupe.
It's important to note that beta-carotene supplements may not have the same effect on vision as natural food sources and can even be harmful at high doses. Therefore, it's recommended to consume a balanced diet rich in natural sources of beta-carotene for optimal eye health. Additionally, if you are experiencing any issues with your vision, it's always best to consult with an eye doctor rather than relying solely on dietary changes.
Without beta-carotene, you might as well be blind-folded and stumbling around like a drunk moose in the dark.
How Beta-Carotene is important for eye health
Beta-Carotene's Significance in Supporting Eye Health
Beta-Carotene, a type of antioxidant that our bodies convert into Vitamin A, plays a vital role in supporting eye health. Regular intake of Beta-Carotene may reduce the risk of age-related macular degeneration and cataracts. It helps protect the retina from oxidative stress that can damage cells and tissues caused by exposure to light. Proper nutrition is essential for optimal eye health.
To ensure proper amounts of Beta-Carotene for your eyes, incorporate foods like carrots, sweet potatoes, spinach, kale and fruits like mangoes, apricots, cantaloupe into your daily diet. Additionally, taking a supplement under medical guidance may support adequate intake.
For overall health and wellbeing beyond one's eyesight, balanced nutrition through whole foods should be prioritized over supplements.
When it comes to keeping your eyesight crystal clear, beta-carotene is like a superhero that wears a cape made of carrots.
How Beta-Carotene may help prevent age-related macular degeneration
Beta-Carotene, naturally obtained from fruits and vegetables, has shown potential in preventing age-related macular degeneration (AMD) - a condition that causes loss of central vision. Studies suggest that diets rich in Beta-Carotene reduce the risk of AMD by protecting the retina from oxidative stress and inflammation. Its association with reduced occurrence of cataracts further strengthens the belief. However, it's important to note that excessive consumption of supplements may increase the risk of lung cancer among smokers.
Adding Beta-Carotene to your diet can positively impact your eye health in multiple ways. Protecting against AMD is one of the key benefits linked to this dietary carotenoid, as supported by several studies over time. Inflammation arrested by Beta-Carotene acts as an eye-protective mechanism while its ability to absorb harmful light rays allows for optimal functioning of photoreceptor cells.
To ensure balanced intake, foods like sweet potatoes, apricots, mangos and carrots are a healthy way to consume Beta-Carotene as opposed to supplements. Emerging research suggests Vitamin C strengthens antioxidant properties which work synergistically with Beta-Carotene towards long-term ocular health.
Avoiding AMD is crucial in maintaining good visual acuity especially in old age - giving enough reason for everyone to consider incorporating Beta-Carotene into their daily diets. Don't miss out on this simple fix and protect your eyes today! If you're looking to add some color to your plate, try snacking on carrots, sweet potatoes, and spinach - they're not just good for your eyes, they're also packed with beta-carotene.
Food Sources of Beta-Carotene
To increase your intake of beta-carotene for healthier skin and better vision, explore the food sources of beta-carotene. Fruits and vegetables high in beta-carotene, as well as other sources of beta-carotene, can supplement your diet with this beneficial nutrient.
Fruits and Vegetables High in Beta-Carotene
Beta-Carotene is often found in an abundant amount in fruits and vegetables. These natural sources of beta-carotene provide various health benefits to the human body, including reduced risk of chronic diseases and improved immune function.
Here are some Fruits and Vegetables with High Beta-Carotene Content:
Sweet potatoes

Carrots

Spinach
Sweet potatoes, carrots, and spinach are excellent sources of beta-carotene, as they contain high levels of this nutrient. Incorporating these fruits and vegetables into your diet will help you obtain the beta-carotene your body needs.
It's worth noting that beta-carotene is responsible for giving certain foods their bright orange or yellow coloration. So, if you encounter a vegetable or fruit with vibrant hues like sweet cantaloupe melons or orange bell peppers, then it might just be a good source of beta-carotene!
Beta-Carotene was first isolated by Wackenroder and Mitscherlich in 1831. Since then, it has become increasingly popular as a dietary supplement due to its many health benefits.
Why did the carrot blush? Because it saw the beta-carotene content in this article.
Carrots
Carrots are a rich source of beta-carotene, which is a precursor to vitamin A. Beta-carotene plays a crucial role in maintaining good eyesight, healthy skin, and strong immunity. Here's a breakdown of the benefits of including carrots in your diet:
Carrots contain an abundant amount of beta-carotene which can help reduce the risk of cancer and cardiovascular diseases.

The high fiber content in carrots aids digestion, lowers cholesterol levels, and regulates blood sugar levels.

The antioxidants present in carrots also play an important role in improving brain function and preventing cognitive decline.

Aside from beta-carotene, carrots are also loaded with essential vitamins and minerals like vitamin C, potassium, folate, and manganese.
Interestingly enough, while orange carrots are well known for their beta-carotene content, other colored varieties such as purple and yellow also offer similar health benefits. In addition to their nutritional value, baby carrots make a great snack option for those looking to maintain good health on-the-go.
A friend of mine once shared how indulging in carrot juice daily improved her overall well-being. She noticed brighter skin complexion, reduced inflammation and improved digestion within weeks of including it in her diet. Truly impressive!
Who needs candy when you can indulge in sweet potatoes and get your daily dose of beta-carotene? It's like a guilt-free treat for your taste buds!
Sweet Potatoes
Sweet Potatoes are an excellent source of dietary beta-carotene, important for overall health and well-being. Here are four points about the benefits of consuming sweet potatoes:
Sweet potatoes contain higher amounts of beta-carotene compared to regular potatoes and are a good source of fiber, vitamins, and minerals.

Consuming sweet potatoes may reduce the risk of chronic diseases such as diabetes, heart disease, and obesity due to their low glycemic index.

The anthocyanin compounds present in purple or orange-fleshed sweet potatoes have potent antioxidant effects that help prevent cell damage caused by free radicals.

Regular consumption of sweet potatoes can boost immune function and support healthy skin and vision.
It is worth noting that the high cooking temperatures used in frying sweet potatoes can significantly decrease their nutritional content. Hence, it's best to consume them boiled or baked with the skins intact to retain essential nutrients.
To maximize the health benefits of sweet potatoes, try incorporating them into your diet in innovative ways. One great idea is swapping french fries with roasted or mashed sweet potato as a healthier side dish option. Additionally, add chopped raw sweet potato to salads or incorporate pureed sweet potato into soups for added flavor and nutrition.
Spinach: because Popeye needed a way to boost his beta-carotene and his muscles at the same time.
Spinach
Spinach is a green leafy vegetable that is rich in beta-carotene.

A half-cup serving of cooked spinach can provide 11,458 international units (IU) of beta-carotene.

Spinach also contains other important nutrients such as vitamin C, calcium, and iron.

This vegetable can be eaten raw or cooked and is commonly used in salads, smoothies, and soups.

For maximum beta-carotene absorption, it is recommended to consume spinach with a source of healthy fats such as olive oil or avocado.
In addition to being high in beta-carotene content, spinach is known for its high fiber content which aids digestion and promotes satiety. It's also a versatile vegetable that can be added to many different types of dishes for added nutrition.
One interesting fact about spinach is that it was popularized by the cartoon character Popeye who famously gained superhuman strength after consuming the vegetable. Looks like it's not just carrots that have good eyesight, other sources of beta-carotene have their sights set on keeping you healthy too.
Other Sources of Beta-Carotene
Beta-Carotene is vital for our body as it gets converted into vitamin A, which maintains a healthy immune system. Apart from the renowned food sources like carrots and sweet potatoes, there are numerous Other Sources of Beta-Carotene to explore.
Leafy Greens: Kale, spinach, and collard greens contain high amounts of beta-carotene per serving.

Squash: Pumpkins, winter squash and butternut squash have ample beta-carotene content.

Fruits: Mangos, cantaloupe, apricots are excellent fruit sources of beta-carotene.

Herbs: Parsley and cilantro are rich in beta-carotene.
Interestingly, certain factors may increase or decrease the absorption of beta-carotene. For instance, cooking or pureeing vegetables before consumption can enhance their bioavailability.
To make the most out of these Other Sources of Beta-Carotene, adding healthy fats like avocado or olive oil may help as they are fat-soluble nutrients. Taking supplements might be a convenient option for some people with specific nutritional requirements. Still, consuming these vibrant fruits and vegetables shall always remain the best pick due to their vast array of benefits.
Trying to get your daily dose of beta-carotene from supplements is like trying to get a hug from a cactus - painful and ineffective.
Supplements
Supplements are an alternative to the food sources of beta-carotene. Various supplements contain a higher concentration of beta-carotene in smaller doses compared to natural food sources.
For a comprehensive understanding, the following table showcases some common beta-carotene supplements with their corresponding dosage and the recommended daily intake limit:
Supplement Dosage Recommended Daily Intake Beta-Carotene Capsules 7mg per capsule Up to one capsule/day Multivitamins Varies Varies Vitamin A Capsules Varies Up to one capsule/day
While supplements can be useful in ensuring adequate intake, it is crucial to consult with a healthcare professional before starting any new supplement regimen due to potential risks of overdose or interactions with other medications.
It's essential to keep in mind that although rich in beta-carotene, supplements cannot replace the numerous other vitamins and nutrients found in whole foods.
An interesting fact is that according to studies, taking high levels of beta-carotene supplements may increase the risk of lung cancer in smokers.
Looking for a fortified food source of beta-carotene? Look no further than your local cereal aisle.
Fortified Foods
Amping up Your Beta-Carotene Intake with Fortified Foods
Incorporating fortified foods into your diet is an excellent way to boost your beta-carotene intake and increase your overall nutrient intake. Fortified foods are products that have added nutrients not naturally present in the food item. These products include cereals, orange juice, milk, and margarine.
To make it easier, we have created a table of commonly consumed fortified foods with their corresponding beta-carotene content per serving size:
Food Serving Size Beta-Carotene Content Cereal 1 cup 1879 mcg Orange Juice 8 fl oz 485 mcg Milk 1 cup 244 mcg Margarine 1 tbsp 964 mcg
While these aren't natural sources of beta-carotene, they can still contribute significantly to your daily intake. However, it's essential to check the nutrition labels before purchasing these products as some may also contain high levels of added sugar or unhealthy fats.
Don't miss out on boosting your beta-carotene intake by incorporating these fortified foods into your meals and snacks. Check the labels and start enjoying the benefits of added nutrients today!
Feeling orange today? Here's the scoop on how much beta-carotene you need to ingest to turn into a human-sized carrot.
Daily Recommended Intake of Beta-Carotene
To ensure you maintain an appropriate level of Beta-Carotene in your diet, the section on Daily Recommended Intake of Beta-Carotene with its sub-sections on How much Beta-Carotene do you need? and Risks of excess Beta-Carotene consumption will provide the solutions you need.
How much Beta-Carotene do you need?
Consuming the appropriate amount of Beta-Carotene plays a vital role in maintaining a healthy body. The recommended daily intake varies based on age, gender and overall health.
It is suggested that females should consume 2.4 mg and males should consume 3 mg of Beta-Carotene per day. However, individuals who have poor immune system, smokers, alcohol consumers or those with chronic diseases may require higher doses.
Apart from enhancing the immune system, Beta-Carotene also improves vision and skin health. To obtain this nutrient, one can incorporate foods like sweet potato, spinach and carrots into their diet.
Ensure optimal health by meeting your daily recommended Beta-Carotene intake. Don't let yourself miss out on its benefits! Eating too many carrots might turn you orange, but at least you'll be able to hide from the traffic cone thieves!
Risks of excess Beta-Carotene consumption
Consuming excessive amounts of Beta-Carotene may lead to a range of negative outcomes. While this carotenoid pigment is essential for eye and skin health, too much can cause yellowing of the skin or even harm the liver. In addition, excessive intake has been associated with an increased risk of certain types of cancer. Therefore, it is important not to exceed the recommended daily intake of Beta-Carotene and to consult with a medical professional before taking any supplements.
Interestingly, research has shown that smokers who take high doses of Beta-Carotene supplements are at greater risk for lung cancer than those who do not supplement. This unexpected finding highlights the complex interactions between nutrients and smoking habits and underscores the importance of understanding how different factors may impact overall health.
It is also worth noting that while Beta-Carotene is a powerful antioxidant, its effects are not always straightforward. For instance, in some cases it may actually increase oxidative stress rather than reduce it. In order to fully understand the effects of Beta-Carotene consumption, researchers must continue to study its various mechanisms and properties.
In 1986, two major studies were conducted involving Beta-Carotene supplementation as a method for preventing lung cancer among smokers. However, both trials were stopped early due to unforeseen negative results- patients in the treatment groups actually showed higher rates of lung cancer compared to placebo. This unexpected outcome was a valuable reminder that supplements should be carefully researched before widespread use is recommended.
Orange you glad you're getting your daily dose of beta-carotene to avoid looking like a carrot?
Skin Discoloration
Beta-carotene is recommended daily to prevent the occurrence of Hyperpigmentation, which are dark patches on the skin. This nutrient works by reducing the production of melanin, hence preventing discoloration.
Apart from reducing hyper-pigmentation, beta-carotene also helps in smoothening rough and dry skin to give it a youthful and glowing appearance. It's also worth noting that excessive consumption of beta-carotene can cause carotenodermia, a condition that results in yellow-orange discoloration.
Beta-carotene can be obtained from various food sources such as carrots, sweet potatoes, spinach, and cantaloupes. According to the World Health Organization (WHO), one should consume 25-30mg of beta-carotene per day to reap maximum benefits.
Studies show that consuming high levels of beta-carotene may help reduce lung and prostate cancer risk in individuals who smoke or are constantly exposed to other toxic substances [1]. Smokers, you might want to put down the cigarette and pick up a carrot, because the Daily Recommended Intake of Beta-Carotene just might save your lungs - but no promises.
Increased Risk of Lung Cancer in Smokers
Smokers who consume below-average levels of beta-carotene have an increased risk of developing lung cancer. Beta-carotene is a precursor of vitamin A and acts as an antioxidant, which may help protect cells from damage caused by free radicals. This protective effect may be especially important for smokers, as smoking releases harmful chemicals that can cause oxidative stress in the body.
Increasing daily intake of beta-carotene may help reduce the risk of lung cancer in smokers. However, it is important to note that taking high doses of beta-carotene supplements has not been shown to prevent lung cancer and may even increase the risk in certain populations, such as smokers who already have early signs of lung damage.
While beta-carotene is found naturally in fruits and vegetables such as carrots, sweet potatoes, spinach and kale, current dietary guidelines do not recommend supplementation with beta-carotene for cancer prevention.
The association between beta-carotene intake and lung cancer risk was first discovered in a study conducted on male smokers over 20 years ago. Since then, additional studies have both supported and contradicted this finding. However, it remains clear that smoking increases the risk of developing lung cancer, and consuming a diet rich in fruits and vegetables may help reduce this risk.
Adding some beta-carotene to your salad may just be the easiest way to keep your eyes healthy and your skin looking like a well-oiled carrot.
Conclusion: Incorporating Beta-Carotene into a Healthy Diet
Beta-Carotene's inclusion in a well-balanced diet can promote healthy skin and vision. Incorporating it can be done through consuming fruits and vegetables that are high in beta-carotene, such as carrots, sweet potatoes, and spinach. Additionally, supplementation options should also be explored.
One way to consume more beta-carotene is to increase intake of colorful produce. For example, adding sliced red bell peppers to salads or incorporating cooked sweet potatoes into main dishes can provide valuable sources. Supplementation may also be an option for those who do not consume enough beta-carotene through their diet alone.
It is important to note that excessive amounts of beta-carotene supplements have been linked to negative health effects – moderation is key. In addition to promoting healthy skin and vision, beta-carotene has also been studied for its potential role in reducing the risk of certain cancers and heart disease.
Early research surrounding beta-carotene found its link with cancer prevention – which led to a surge in supplement use – but later studies revealed potential harm from excessive intake. Despite this history, current research supports moderate consumption of beta-carotene through food sources as a part of a healthy diet.
Frequently Asked Questions
Q: What is beta-carotene?
A: Beta-carotene is a carotenoid, which is a type of pigment that gives fruits and vegetables their bright colors. Our bodies can convert beta-carotene into vitamin A, which is necessary for healthy vision and skin.
Q: What are some sources of beta-carotene?
A: Beta-carotene is abundant in leafy green vegetables such as spinach and kale, as well as in orange and yellow fruits and vegetables like carrots, sweet potatoes, and cantaloupe. It can also be found in supplements.
Q: How does beta-carotene promote healthy skin?
A: Beta-carotene helps protect the skin against UV damage and enhances its ability to retain moisture, which leads to more youthful, healthy-looking skin. It can also help reduce the appearance of wrinkles.
Q: Can beta-carotene help with vision problems?
A: Yes, beta-carotene is essential for healthy vision. It helps protect the retina and prevents age-related macular degeneration, which can lead to blindness in older adults.
Q: Are there any risks associated with taking beta-carotene supplements?
A: Taking high doses of beta-carotene supplements over a long period of time can increase the risk of lung cancer among people who smoke or have been exposed to asbestos. It can also cause yellowing of the skin if taken in excess.
Q: What are the recommended daily intake levels for beta-carotene?
A: The recommended daily intake of beta-carotene varies by age and gender, but adults generally need around 3-6 milligrams per day. However, it's best to get beta-carotene from whole foods rather than supplements whenever possible.