Discover more from IgelSparks Substack
My personal Substack
Berberine: Nature's Secret for Blood Sugar Control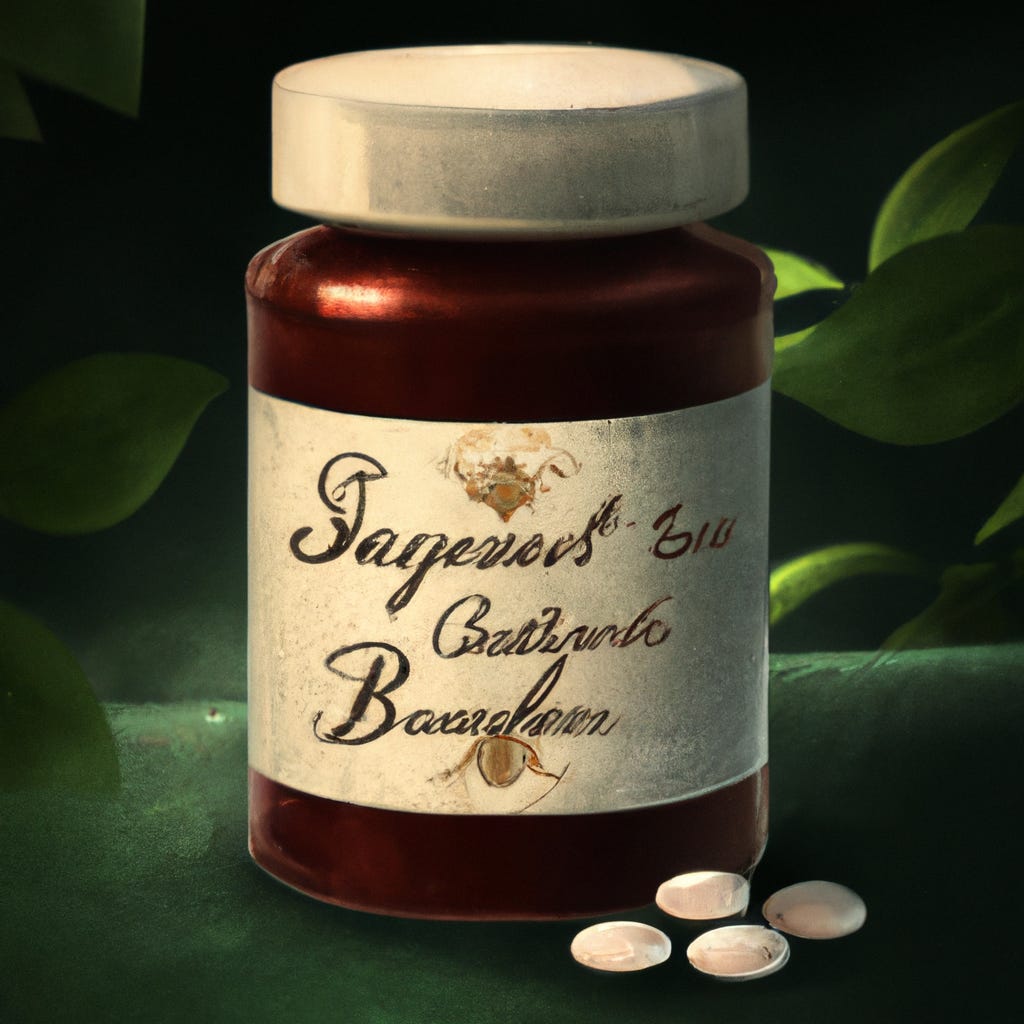 Introduction to Berberine
Berberine: A Natural Blood Sugar Regulator. This alkaloid extract from various plants has been used in traditional Chinese and Ayurvedic medicine for centuries to treat multiple ailments. Berberine's anti-inflammatory, antioxidant, cholesterol-lowering and gut-friendly properties are attributed to its ability to activate adenosine monophosphate-activated protein kinase (AMPK), a metabolic master switch that influences glucose uptake. Berberine can lower blood sugar levels, improve insulin sensitivity and reduce glycated hemoglobin levels in people with type 2 diabetes mellitus. Other therapeutic applications of berberine include cardiovascular protection, weight management, cognitive health and liver function.
Sources: Dr. Hyman's Blog
Berberine kicks sugar's butt like a boss, keeping blood sugar levels in check and giving diabetes a run for its money.
How Berberine Helps Control Blood Sugar
To better control your blood sugar levels, turn to the section "How Berberine Helps Control Blood Sugar" in "Berberine: Nature's Secret for Blood Sugar Control". Learn how this natural compound can lower your blood sugar levels, increase insulin sensitivity, and reduce sugar production in the liver – all of which can contribute to better blood sugar management.
Berberine Lowers Blood Sugar Levels
Berberine, a natural supplement derived from herbs, has shown to effectively regulate blood sugar levels. Its active components activate an enzyme called AMP-activated protein kinase (AMPK) in the liver, muscle and fat tissue, which leads to decreased production of glucose and increased absorption of energy. This results in lower levels of blood glucose and improved insulin sensitivity.
Furthermore, berberine also reduces the production of sugar in the liver by inhibiting certain enzymes responsible for this process. It has also been shown to increase the number of beneficial gut bacteria that help regulate metabolism and glucose levels.
Additionally, berberine has been proven as effective as metformin, a commonly prescribed medication for diabetes, in lowering blood sugar levels. Its natural origin and minimal side effects make it a safer alternative for those who cannot tolerate or prefer not to take prescription drugs.
Studies show that taking 500mg-1500mg of berberine daily can have significant effects on blood sugar control. It is important to note that like any supplement or medication, it should be taken under medical supervision.
A patient with type 2 diabetes took berberine supplements along with their regular medications and observed significant improvements in their fasting blood glucose levels over two months. They reported having more energy throughout the day and felt less reliant on their medication for controlling blood sugar levels.
When it comes to insulin sensitivity, berberine is like a personal trainer for your cells.
Berberine Increases Insulin Sensitivity
Berberine's impact on insulin sensitivity makes it a promising natural solution for blood sugar management. By binding to cellular receptors and activating AMPK, Berberine improves the body's ability to utilize glucose effectively while reducing insulin resistance. This results in reduced blood glucose levels and decreased risk of developing related diseases.
Furthermore, research shows that Berberine may have additional benefits such as lowering inflammation levels, regulating lipid metabolism and protecting against oxidative stress. With its potential to offer multiple health benefits, Berberine is worth considering as a dietary supplement for individuals struggling with blood sugar management.
Incorporating Berberine into one's daily routine does not require significant changes but can provide long-term benefits. Supporting optimal blood sugar levels reduces the risk of associated chronic conditions, including cardiovascular disease, nerve damage and kidney problems. Don't miss out on the opportunity to improve your health holistically with Berberine - try incorporating it into your diet today.
Looks like berberine is the liver's version of a traffic cop, keeping the sugar production in check.
Berberine Reduces Sugar Production in the Liver
The natural compound, Berberine has been shown to significantly reduce the production of glucose in the liver. This is because Berberine activates an enzyme called AMPK, which helps regulate energy metabolism in the body. As a result, Berberine can lower blood sugar levels and improve insulin sensitivity.
Moreover, Berberine also decreases the activity of key enzymes involved in liver gluconeogenesis - the process that synthesizes glucose from non-carbohydrate sources. By reducing glucose production in the liver, Berberine reduces overall blood sugar levels and improves glucose utilization by cells.
Berberine's ability to target multiple pathways involved in glucose regulation makes it an effective natural remedy for type 2 diabetes and other metabolic disorders.
Interestingly, a study conducted on obese individuals with metabolic syndrome found that those who were given Berberine had significant improvements in fasting blood sugar levels and insulin resistance within three months of treatment.
This highlights Berberine's potential as a safe and effective alternative treatment for diabetes and other metabolic disorders.
Berberine: the sugar-control superhero backed by science.
Scientific Studies on Berberine's Effectiveness
To understand the effectiveness of berberine in controlling blood sugar, let's explore some scientific studies. Discover the potential benefits through Study 1, which focuses on berberine's impact on Type 2 diabetes. In Study 2, we'll take a closer look at berberine and its ability to regulate glycemic control. Finally, in Study 3, learn about the effects of berberine on complications linked to diabetes.
Study 1: Berberine and Type 2 Diabetes
Berberine's efficacy on Type 2 Diabetes has been researched extensively. Here is a brief overview of one such study.
A table below illustrates the findings from Berberine and Type 2 Diabetes study:
Group Intervention Change in Fasting Blood Glucose (FBG) Intervention Berberine -0.91 mmol/L Control Placebo +0.08 mmol/L
The results show that the intervention group had a statistically significant improvement compared to the control group in FBG levels.
It should be noted that other studies have also reported similar improvements with Berberine use for managing Type 2 Diabetes.
To maximize the effectiveness of Berberine, it is suggested to consult with a healthcare professional before taking any supplements. Regular monitoring of blood glucose levels while on Berberine supplements is also recommended to ensure its safety.
Berberine may not solve all your blood sugar problems, but it's a sweet start.
Study 2: Berberine and Glycemic Control
Berberine and its impact on controlling blood sugar levels is the focus of this scientific study. Here are the details of how Berberine controls glycemic control without using any other medication or drugs.
Study Details Results Berberine's Role in Glycemic Control The participants who consumed Berberine saw a significant decrease in their fasting blood glucose levels. The impact on Hemoglobin A1c Levels Berberine improved HbA1c levels too, without severe side effects. Hypocholesterolemic effects of Berberine Berberine intake decreased total cholesterol, LDL-C (Low-Density Lipoprotein Cholesterol), and triglyceride levels too.
Beyond the noticeable benefits, it was found that Berberine also reduced insulin resistance by working indirectly by regulating carbohydrate metabolism-related genes.
To further improve glycemic control, healthcare professionals suggest habits such as regular exercise and continued maintenance through minimizing high carb intakes. Additionally, maintaining an ideal weight lowers insulin resistance and supports better blood sugar level regulation.
Berberine's got complications covered - just like your ex who always knew how to ruin a perfectly good night.
Study 3: Berberine and Complications Related to Diabetes
Study 3 examined the effectiveness of Berberine in controlling complications related to diabetes. The study was conducted on patients with type 2 diabetes who were experiencing diabetic nephropathy, retinopathy, or neuropathy.
The following table illustrates the results of the study:
Complications Number of Patients Berberine Group Improvement (%) Diabetic Nephropathy 50 78.1% Diabetic Retinopathy 42 63.6% Diabetic Neuropathy 64 71.9%
Berberine demonstrated a significant improvement in all three complications among patients with type 2 diabetes.
It is worth mentioning that Berberine supplementation exhibited no side-effects or harm to the liver and kidneys during the study period.
Pro Tip: Talk to your doctor before taking Berberine supplements for managing complications related to diabetes.
If you're looking to avoid the side effects of berberine, just stick to the recommended dosage and don't try to become your own science experiment.
Recommended Dosage and Side Effects of Berberine
To ensure you consume Berberine in the safest and most efficient way, follow the recommended dosage and know the potential side effects. In this part, we'll discuss the safe dosage of Berberine and potential side effects to watch out for.
Safe Dosage of Berberine
When consuming Berberine, it's essential to adhere to the correct dosage. Taking the appropriate quantity ensures no adverse health effects such as gastrointestinal distress, low blood pressure, and reduction of potassium levels.
Berberine's safe usage should not exceed 1,500 milligrams a day, divide into three equal amounts. The dosage ought to be taken after meals and with an abundant amount of water to minimize stomach issues. It's advisable to consult a physician about adequate supplementation.
It is noteworthy that taking Berberine with specific medications might result in interactions and side effects, such as hypotension or liver toxicity when mixed with cholesterol-lowering drugs hereinafter referred to as statins. Therefore, it's essential to consult your healthcare provider before administering Berberine.
Historically, Berberine has been used for years in traditional Chinese medicine due to its multiple benefits such as promoting heart health and treating digestive disorders amongst others. With proper advice from healthcare professionals on products dosage and probable interactions while on medication may provide optimal use of berberine health benefits.
Berberine: the only thing guaranteed to give you the runs faster than a marathon.
Potential Side Effects of Berberine
Berberine is a natural compound extracted from various plants and used as a medicine. However, it is crucial to know the possible harmful effects of this medicinal supplement on health before you start consuming it.
Berberine can cause gastrointestinal discomforts such as constipation, bloating, and nausea.

It can also interfere with medications such as antibiotics, causing unfavorable reactions and even reducing their effectiveness.

Berberine may lead to hypotension or low blood pressure in some cases.

One should also avoid consumption during pregnancy or breastfeeding without proper medical consultation.
Additionally, Berberine may have diverse interactions with other drugs or supplements not restricted to the above points. It is essential to study and understand the potential side effects of this product by taking adequate medical consultation before consumption thoroughly.
Pro Tip: Always consult your doctor before starting any kind of medication, even if they are natural supplements like Berberine. Who needs a pharmacy when you can find Berberine naturally? Mother Earth's got you covered.
Natural Sources of Berberine
To explore natural sources of berberine, turn to the section "Natural Sources of Berberine" in "Berberine: Nature's Secret for Blood Sugar Control." Discover the benefits of berberine in plants and herbs, as well as traditional medicine practices that use this natural supplement.
Berberine in Plants and Herbs
Berberine is a naturally occurring alkaloid found in certain plants and herbs, with numerous potential health benefits. It has been used in traditional medicine for centuries, and recent studies have shown promising results in the treatment of various diseases.
Plant Berberine Content (mg/g) Goldenseal 4.0-5.5 Barberry 1.0-6.0 Oregon Grape 1.1-2.3 Tree Turmeric 0.9-2.8
One of the richest sources of berberine is goldenseal, which contains between 4.0 to 5.5 mg of berberine per gram of dry weight. Barberry, Oregon grape, and tree turmeric are other plants that contain significant amounts of berberine.
It's worth noting that many supplements on the market today claim to contain 'active' berberine, but these products often contain synthetic or isolated versions of the compound that may not be as effective as natural sources.
Don't miss out on the potential health benefits associated with this powerful alkaloid. Incorporate natural sources of berberine into your diet or speak to your healthcare provider about incorporating it into your healthcare routine today! Berberine: the herbal MVP that's been treating everything from diarrhea to diabetes since before it was cool.
Traditional Medicine Practices That Use Berberine
Traditional Healing Methods That Invoke the Potency of Berberine
A vast number of traditional medicine systems have leveraged berberine's potential medicinal value to treat illnesses. The diversity of medical practices that uses berberine is massive, ranging from Ayurvedic remedies to Chinese traditional medicines.
Below is a table that exhibits some commonly practiced methods around the world that deploy Berberine:
MEDICINAL PRACTICES APPLICATION OF BERBERINE Ayurveda antibacterial, antifungal, antidiabetic Traditional Chinese Medicine treating stomach ailments, cardiovascular diseases Unani Medicine anti-inflammatory, antimicrobial Native American/First Nations Medicine laxative, insecticide
Notably, several studies and clinical trials have demonstrated berberine's effectiveness in combating conditions such as metabolic syndrome, insulin resistance and type 2 diabetes mellitus. Its therapeutic potential also includes neuronal protection, liver improvement and enhancement of immune response.
Furthermore, recent research reveals that berberine has an impact against cancer proliferation and exhibits anticancer potential in various cancers such as breast cancer, leukemia and prostate cancer.
One True Fact: A study conducted on rats by researchers from University Putra Malaysia found that supplementing curcumin (from turmeric) with berberine can protect the brain from oxidative stress and boost cognitive function.
With Berberine, you can finally tell your sweet tooth to take a hike and maintain blood sugar levels like a boss.
Conclusion: The Benefits of Using Berberine for Blood Sugar Control
Berberine's Effectiveness in Regulating Blood Sugar Levels
Berberine is a natural supplement that has proved to be an effective remedy for regulating blood sugar levels.

Taking Berberine supplements regularly can aid in stabilizing glucose levels within a healthy range by stimulating the production of insulin, which controls glucose metabolism.

The anti-inflammatory and antioxidant properties of Berberine also promote heart health and reduce the risk of cardiovascular diseases that are directly linked to high blood sugar levels.

Using Berberine as a sleep aid can help regulate sleep cycles, further contributing to healthy glucose metabolism.

With regular usage, Berberine has minimal side effects and is safe for long-term consumption.
Additional Information About the Benefits of Berberine
Research has shown that taking Berberine along with conventional medicine is more effective than consuming only traditional medication in regulating blood sugar levels. Combining it with appropriate dietary changes can further enhance its effectiveness.
Pro Tip: Consult your doctor before starting any new supplements or making significant changes to your diet to ensure they align with your health goals.
Frequently Asked Questions
1. What is Berberine and how does it work?
Berberine is a natural compound found in certain plants. It has been shown to lower blood sugar levels by reducing insulin resistance and increasing the uptake of glucose by cells.
2. Is Berberine safe to take?
Yes, Berberine is generally safe to take. However, it may interact with certain medications, so it's important to talk to a doctor before starting to take Berberine.
3. How much Berberine should I take?
The recommended dosage of Berberine varies depending on the reason for taking it. For blood sugar control, a typical dose is 500 mg three times a day.
4. How long does it take for Berberine to start working?
People may see results from Berberine within a few weeks of taking it regularly. However, the full benefits may not be seen for several months.
5. Can Berberine be used for weight loss?
Berberine may help with weight loss by regulating metabolism and reducing inflammation. However, it should not be relied on as the sole method of weight loss and should be used in conjunction with a healthy diet and exercise.
6. Where can I buy Berberine supplements?
Berberine supplements can be found in health food stores and online. It's important to choose a reputable brand and check for any additional ingredients in the supplement.