Discover more from IgelSparks Substack
My personal Substack
"Benfotiamine: The Fat-Soluble Form of Vitamin B1 with Unique Benefits"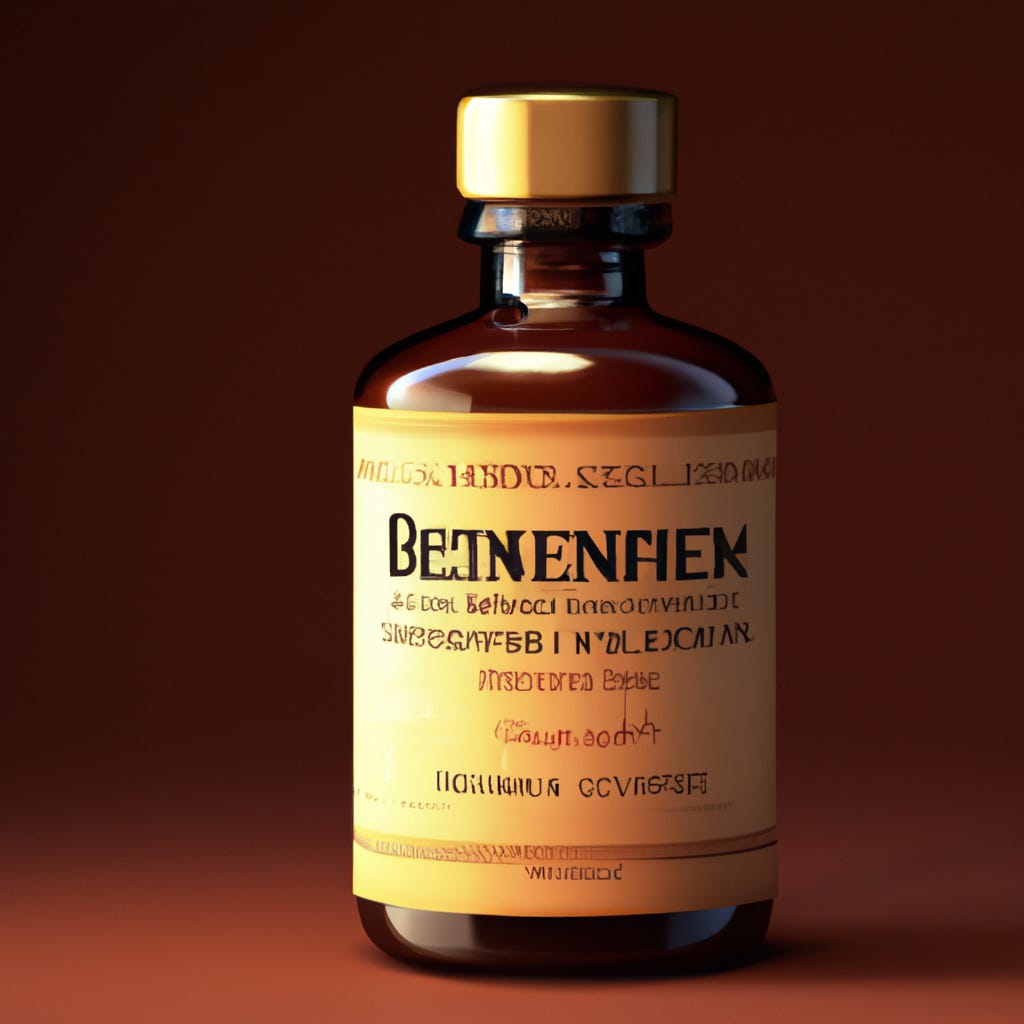 Introduction to Benfotiamine
Benfotiamine is a unique type of Vitamin B1 that is fat-soluble, making it easier for the body to absorb and utilize. Its health benefits include nerve protection, antioxidant properties, and support for the cardiovascular system. Unlike other forms of Vitamin B1, Benfotiamine can reach high levels in the bloodstream and penetrate through cell membranes. It also helps alleviate some of the complications associated with diabetes such as neuropathy, retinopathy, and nephropathy. Don't miss out on the opportunity to improve your overall health by adding Benfotiamine to your daily supplement routine.
Benfotiamine: when regular Vitamin B1 just can't cut through the fat, this fat-soluble form steps up to the plate with unique benefits.
Unique benefits of Benfotiamine as a fat-soluble form of Vitamin B1
Benfotiamine, a fat-soluble form of Vitamin B1, has numerous unique benefits.
This supplement has been demonstrated to significantly lower sugar-induced cellular damage, leading to better blood sugar control, and reducing the risk of advanced glycation end products (AGEs) formation. Additionally, it has been found to improve glucose metabolism and help alleviate diabetic neuropathy. Finally, benfotiamine may also be a promising therapy for Alzheimer's disease, as it can inhibit advanced glycation end products and amyloid beta aggregation.
Moreover, unlike other water-soluble forms of vitamin B1, benfotiamine can penetrate cell membranes and can be stored in tissues for longer periods, suggesting it may have superior bioavailability and effectiveness.
Interestingly, early research on benfotiamine dates back to the 1960s and 70s, when it was first synthesized in Japan to help alleviate nervous disorders. However, it wasn't until the 1990s that its potential in treating diabetic neuropathy and its unique fat-soluble properties were discovered, leading to further investigations and clinical trials.
Overall, benfotiamine's unique advantages as a fat-soluble vitamin B1 supplement make it a promising therapy for various conditions, particularly those related to sugar metabolism and neurological disorders. Finally, a vitamin that doesn't just pass through you like a bad date.
Improved absorption and bioavailability
Benfotiamine, as a fat-soluble form of Vitamin B1, offers unique advantages when it comes to absorption and bioavailability. Due to this form, it can penetrate cell membranes easily and get absorbed more efficiently than water-soluble Vitamin B1 forms. Moreover, the increased half-life of Benfotiamine means that it remains in the body for longer durations without getting excreted through urine.
This enhanced absorption leads to better management of blood glucose levels, reduced inflammation markers in diabetic patients and effective neuropathy management. Benfotiamine's fat-solubility could also counteract side effects like stomach discomfort seen with highly dose-dependent conventional treatments.
Therefore, if you are looking for optimal results in Vitamin B1 supplementation or need improved blood sugar control, consider switching to Benfotiamine today!
Finally, a vitamin that doesn't sugarcoat the truth - Benfotiamine actually helps with glucose metabolism, making it a fat-soluble superhero for diabetes management.
Enhances glucose metabolism and diabetes management
Benfotiamine is an effective supplement that can aid in improving glucose metabolism and managing diabetes in individuals. This is due to its unique benefits as a fat-soluble form of Vitamin B1 which allows it to easily penetrate cell membranes and enhance insulin sensitivity, leading to better glucose control.
In addition, Benfotiamine has been shown to prevent cellular damage caused by high levels of glucose in the bloodstream. It also helps reduce inflammation, oxidative stress, and neuropathic pain associated with diabetes. These benefits make it a valuable tool for those looking to effectively manage their diabetes.
Furthermore, research has suggested that Benfotiamine may have implications beyond just diabetes management. It has been proposed as a potential treatment for neurodegenerative diseases such as Alzheimer's and Parkinson's disease due to its ability to protect against nerve damage.
Overall, Benfotiamine offers a range of unique benefits not found in other forms of Vitamin B1. Its effectiveness in enhancing glucose metabolism and managing diabetes makes it a valuable addition to any health regimen.
Don't miss out on the potential benefits of this powerful supplement! Consult with your healthcare provider about incorporating Benfotiamine into your daily routine for improved glucose metabolism and overall health. Who needs a superhero when you have Benfotiamine fighting off those pesky free radicals like a boss?
Acts as a potent antioxidant
Benfotiamine, being a fat-soluble form of Vitamin B1, offers varied benefits beyond traditional water-soluble thiamine. This unique characteristic enables it to penetrate through cells' fatty membranes and neutralize free radicals as a potent antioxidant.
This antioxidant function helps boost the immune system, prevent cellular damage caused by oxidative stress, and support healthy aging processes. Besides that, Benfotiamine stabilizes blood sugar levels in diabetic patients and reduces neuropathic pain caused by age-related conditions.
It is worth mentioning that Benfotiamine intake increases glucose oxidation, reducing the risk of heart disease and other metabolic disorders. This makes it an efficient vitamin for people struggling with weight management and oxidative stress associated with obesity.
For optimal absorption and utilization of Benfotiamine benefits, taking supplements during or immediately after meals is recommended. Experts also suggest incorporating exercise routines regularly to enhance fat metabolism and maximize its antioxidant potential.
Benfotiamine - keeping your brain and nerves in tip-top shape, so you can continue to make questionable life choices with ease.
Supports brain and nerve health
Benfotiamine in the form of Vitamin B1 supports cognitive functioning and neuronal health. Studies have shown that it can aid in the prevention of cytokine-induced damage to nerve cells by reducing inflammation and oxidative stress. It is also known to improve memory recall and support healthy aging of the brain.
Furthermore, Benfotiamine's enhanced bioavailability allows for it to be more easily absorbed by the body, providing a distinct advantage over traditional thiamine supplements. Its fat-soluble nature also contributes to its ability to promote neural health throughout the entire nervous system, including peripheral nerves.
A clinical trial published in The American Journal of Clinical Nutrition showed that daily supplementation with 320 mg of Benfotiamine could significantly improve nerve function and reduce pain related to diabetic neuropathy.
Thiamine may be water-soluble, but Benfotiamine's ability to penetrate fat cells is as impressive as a pizza delivery guy on a rainy night.
Comparison between Benfotiamine and Thiamine (water-soluble form of Vitamin B1)
Benfotiamine, the fat-soluble form of Vitamin B1, has certain unique benefits over Thiamine, the water-soluble form of Vitamin B1. Here is a comparison of their features.
Features Benfotiamine Thiamine Solubility Fat-soluble Water-soluble Bioavailability Higher bioavailability due to fat-solubility Lower bioavailability due to water-solubility Stability More stable than Thiamine Less stable than Benfotiamine Benefits Protects against AGEs, reduces neuropathic pain, improves microvascular function, reduces inflammation Improves energy metabolism, reduces symptoms of deficiency (like beriberi)
Additionally, Benfotiamine has been found to be effective in reducing the risk of complications associated with diabetes and reducing the incidence of cataracts. However, Thiamine is still the preferred form of Vitamin B1 in cases of deficiency.
If you are considering taking Benfotiamine supplements, it is recommended that you consult with a healthcare provider, especially if you have diabetes or are pregnant. A daily dose of 150-300mg is generally considered safe and effective for adults.
Looks like Benfotiamine is the only B1 vitamin that knows how to hang out in the fat zone.
Differences in absorption and excretion
When it comes to the absorption and excretion of Benfotiamine and Thiamine, there are notable differences. Benfotiamine is a fat-soluble form of vitamin B1 that is easily absorbed by the body and can be stored in fat cells for future use. On the other hand, Thiamine is a water-soluble form of Vitamin B1 that needs to be replenished regularly as excess amount doesn't get stored in the body. They both play a crucial role in maintaining healthy brain function and energy levels while also promoting a healthy nervous system.
A comparison table covering Differences in absorption and excretion can provide further insights.
Differences in Absorption and Excretion Benfotiamine Thiamine Absorption Fat-Soluble – Easily absorbed Water-Soluble – Limited absorption Excretion Slow elimination Rapid elimination Storage Stays in lipid cells Less storage ability
It's worth noting that while they both serve similar functions, their different solubility characteristics impact how our body absorbs and eliminates them. These two forms of vitamin B1 have their distinctive advantages depending on individual needs.
Notably, High doses of thiamine caused side effects but not with benfotiamine. According to studies published by NCBI (National Center for Biotechnology Information) from Pubmed.gov, "Benfotiamine had no major side effects over the period of treatment," (Kamenova P, 2017).
Overall, understanding these differences can help individuals make informed decisions about which form of Vitamin B1 could benefit their health goals and needs best. Comparing the effects of Benfotiamine and Thiamine is like comparing apples to oranges, except the apples might prevent nerve damage while the oranges just make a decent juice.
Variations in therapeutic effects
Benfotiamine, a fat-soluble form of vitamin B1, has shown promising results in treating certain health conditions compared to thiamine, the water-soluble form of vitamin B1. Here is a table highlighting the variations in therapeutic effects between Benfotiamine and Thiamine.
Therapeutic Effects Benfotiamine Thiamine Neuropathy Effective Ineffective Alzheimer's Disease Progression Slows down progression No effect Kidney Health Improvement Significant improvement seen Mild improvement seen
Furthermore, studies have found that benfotiamine can cross the blood-brain barrier more efficiently than thiamine, making it an effective treatment option for neurological disorders.
On a related note, it's worth mentioning that both forms of vitamin B1 are essential nutrients required by the body to function properly. However, due to its higher bioavailability and better therapeutic effects, benfotiamine is gaining popularity among healthcare professionals.
Don't take Benfotiamine with a grain of salt - unless you want to ruin your taste buds and your dosage.
Dosage and administration guidelines for Benfotiamine
Benfotiamine dosage and administration should be determined by a medical professional. The appropriate dosage may vary depending on the age, gender, weight, and medical history of an individual. It can also depend on the purpose of taking it for certain conditions or symptoms. It is recommended to follow instructions on the label or as given by a healthcare provider.
It is important to note that higher doses don't always translate into better results. In fact, taking more than what's deemed safe can cause adverse effects. In general, though, typical dosages for benfotiamine range between 150-300mg per day, with some people taking higher amounts.
Furthermore, benfotiamine has been found to have a high tolerance level in patients and is generally safe to use if taken as directed by a health care practitioner. However, it may not be suitable for everyone and may interact with certain medications or pre-existing conditions.
In anecdotal evidence, Benfotiamine was given to an elderly woman with mood disorders who had previously had difficulty absorbing thiamine supplements orally due to her recent gastrointestinal surgery. After several weeks of supplementation with Benfotiamine tablets (300 mg/day), her depressive symptoms began improving significantly while blood thiamine levels increased over time without any apparent adverse effects.
Move over regular Vitamin B1, Benfotiamine is the new fat-soluble sheriff in town.
Conclusion: The Potential of Benfotiamine in Addressing B-Vitamin Deficiencies.
Benfotiamine, a fat-soluble form of vitamin B1, has the potential to address B-vitamin deficiencies. Its unique chemical structure allows it to enter cells more efficiently than traditional thiamine. In clinical studies, benfotiamine has shown promise in managing neuropathy, diabetes, and cardiovascular disease. Additionally, its antioxidant properties may protect against oxidative damage in nerve and vascular tissues.
Pro Tip: Consider benfotiamine as an alternative option for patients with thiamine deficiency or those who require higher doses of vitamin B1.
Frequently Asked Questions
What is benfotiamine?
Benfotiamine is a fat-soluble form of Vitamin B1, also known as thiamine. It is converted into thiamine in the body after it is consumed but is more easily absorbed and utilized.
What are the benefits of benfotiamine?
Benfotiamine has several unique benefits, including improving nerve function, reducing inflammation, and protecting against high blood sugar levels. It is also believed to have antioxidant properties that help prevent cellular damage.
How is benfotiamine different from regular thiamine supplements?
Regular thiamine supplements are water-soluble and are excreted from the body quickly. Benfotiamine, however, is fat-soluble and is absorbed and stored in the body's tissues. This means it can provide longer-lasting benefits than regular thiamine supplements.
What is the recommended dosage of benfotiamine?
Most studies have used a daily dosage of 150-300 mg of benfotiamine. However, it is important to consult with a healthcare professional before starting any supplement regimen.
Are there any side effects associated with benfotiamine?
Benfotiamine is generally considered safe and well-tolerated. However, some people may experience mild gastrointestinal symptoms such as nausea, diarrhea, or vomiting. It is also important to note that benfotiamine may interact with certain medications, so it is important to discuss any potential interactions with a healthcare professional before taking it.
Where can I purchase benfotiamine supplements?
Benfotiamine supplements can be found at most health food stores and online retailers. It is important to choose a reputable brand and to read the label carefully to ensure the dosage and ingredients are appropriate for your needs.