Discover more from IgelSparks Substack
My personal Substack
"Banana Flower: Discover the Nutritional Powerhouse Hidden in Nature"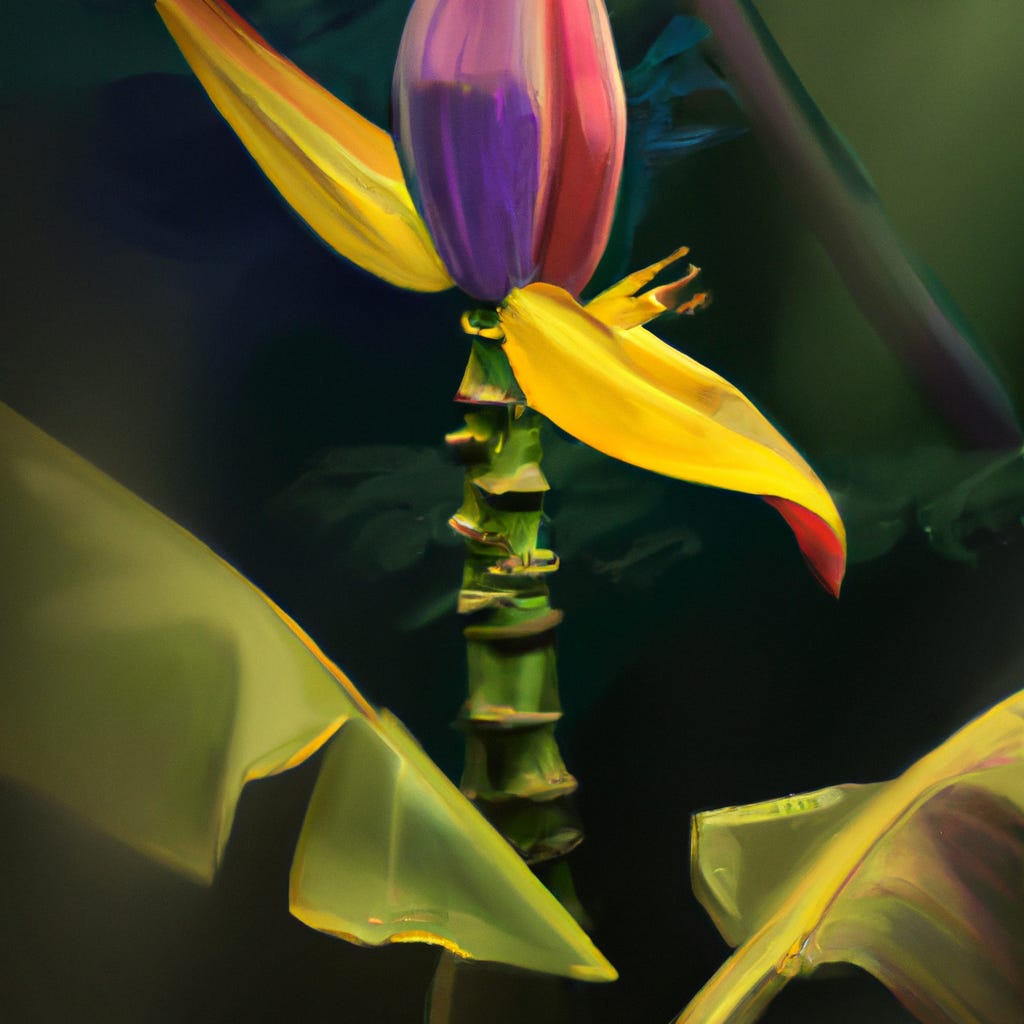 Introduction to banana flower as a nutritional powerhouse
The banana flower is a lesser-known part of the banana plant that packs a powerful nutritional punch. Here are five reasons why it should be on your radar:
Rich in vitamins and minerals including Vitamin A, Vitamin C, potassium, calcium, and iron.

Contains antioxidants which protect cells from damage and may reduce risk of chronic diseases.

Fiber-rich which aids in digestion and helps regulate blood sugar levels.

May have anti-inflammatory properties that can improve heart health

Low calorie and fat content making it a great addition to any diet.
Whether enjoyed fresh in salads or cooked into stews, the versatility of the banana flower makes it an exciting ingredient to experiment with.
Not only is the banana flower nutritious, but it also has unique cultural significance. In many Asian countries, it is considered a delicacy and is featured prominently in traditional dishes. One such story involves a family who traveled to Thailand and experienced their first taste of the local dish "Kanom Jeen Nam Ngiao," which featured banana flowers as its star ingredient. The dish was so delicious that they were inspired to learn how to make it themselves once they returned home. This inspiring tale showcases not only the deliciousness of the banana flower but also its potential for bringing people together through shared experiences.
Who needs supplements when you have a banana flower? This underrated powerhouse is packed with enough nutrition to make Popeye jealous.
Nutritional value of banana flower
The banana flower is a hidden nutritional powerhouse. The flower not only adds a unique flavor to dishes but also has numerous health benefits. Let's take a closer look at the nutrient content of banana flower.
Nutrient Amount per 100g Protein 3.6g Fiber 6.7g Vitamin C 9.8mg Potassium 601mg Copper 0.2mg
In addition to these essential nutrients, banana flower also has anti-inflammatory properties and can aid in digestion. It is found to regulate menstrual cycles in women and may also help manage diabetes.
One way to consume banana flower is to use it in salads, curries, or stir-fries. Another way is to blend it into a smoothie or juice. It is recommended to remove the tough outer layers before cooking.
By incorporating banana flower into our meals, we can benefit from its nutritional value and unique flavor. Give it a try and see how it can elevate your dishes and promote overall health. Who needs Metamucil when you can just chow down on some delicious banana flower?
High fiber content
Banana flowers are replete with diet fiber, and it is a vital element of our diet. The nutritional composition of this fiber-rich food is impressive and worthy of acknowledgment.
Banana flowers are exemplary sources of dietary fibers that help ease constipation.

The fibers in banana flowers control the rise of blood sugar levels and prevent type 2 diabetes.

The soluble fibers of banana flowers hinder the absorption of fat in the gut, making it a perfect food to avoid obesity.

Outstanding unique fiber components in banana flowers improve heart health by reducing cholesterol levels.

The presence of Protease inhibitors protects stomach from ulceration, inflammation and related diseases.

The gut-friendly characteristic acts as an excellent prebiotic for our gut bacteria. Bananaflower supports colon health and maintain friendly bacteria numbers.
An added benefit to consuming bananas is the abundance of essential nutrients present that we often tend to neglect or overlook, such as potassium, magnesium, iron, Vitamin C & E. These micronutrients act together with dietary fibers to guarantee fitness has several more facets than usual.
A recent study highlighted Neily Lobato's unprecedented journey through botany yielded some exciting outcomes as she discovered that certain varieties (such as Musaceae) have more benefits than others. After several trials conducted under controlled conditions using laboratory animals — namely rats with fibrocystic breast disease— inhibitory effects were observed on the development of mammary tumors upon ingestion of broth prepared from boiled extracts Banana flower inflorescences compared to other vegetative parts consumed by locals cuisines before this study .
Overall, it was fascinating to see how naturally available fruits can offer us such a diverse range of benefits- even outside what we may expect when enjoying them taste-wise! While watching your diet, don't forget to leave room for the edible bouquet that is the banana flower - packed with antioxidants to keep your insides glowing!
Rich in antioxidants
The banana flower is abundant in antioxidants, supporting a healthy and robust lifestyle.
Rich in antioxidants:
Antioxidants prevent oxidative stress in the body.

They neutralize free radicals that damage cells and contribute to age-related diseases.

Banana flowers are a rich source of flavonoids, phenolic acids, and tannin, which act as antioxidants.

The anthocyanins found in banana flowers have potent antioxidant and anti-inflammatory properties.

They also contain vitamin C, a well-known antioxidant that boosts immunity and protects against common colds and flu.

Regular consumption of banana flowers can lower inflammation, reduce the risk of chronic diseases and support overall well-being.
Notably:
The benefits of banana flowers don't end with antioxidants. Alongside their high nutrient content, they contain fiber for digestive health.
Suggestions:
Add them to stir-fries with other vegetables for a flavorful and nutritious meal.

Mix finely chopped banana flowers into dosa batter or use as a filling for parathas.

Boil or steam them and add to salads for added crunchiness.
By including banana flowers in your culinary adventures regularly, you can reap all the benefits that this superfood has to offer. Eating a banana flower may not make you superhero-strong, but its essential vitamins and minerals will give you a fighting chance.
Contains essential vitamins and minerals
Banana flower is rich in vital nutrients required for maintaining good health. The plant contains a diverse range of advantageous vitamins and minerals that contribute towards an individual's wellbeing.
It is a great source of Vitamin C, which is essential for boosting immunity and fighting against diseases.

The flower also contains high amounts of fiber, which helps in easing constipation and maintaining colon health.

In addition to this, it is packed with antioxidants like flavonoids, which eliminates free radicals from the body

Banana flower includes significant quantities of magnesium which has many therapeutic properties, including reducing inflammation and decreasing the risk of heart disease

The presence of potassium ensures the upkeep of optimal blood pressure levels thus ensuring cardiovascular health

It also has some iron content that enhances blood circulation by promoting red blood cell formation.
Moreover, Banana Flower has numerous benefits that have not been highlighted earlier. Consumption of banana flowers promotes lactation in nursing mothers leading to healthier babies. Also, women with menstrual issues can benefit from banana flowers as they help regulate menstrual cycles and reduce painful cramps.
A study conducted by the National Center for Biotechnology Information showed that incorporating banana flowers into regular diets demonstrated improved glucose levels among diabetic patients.
Eating banana flower may not give you the body of a Greek god, but it'll definitely help keep your insides in good shape.
Health benefits of consuming banana flower
Ingesting Banana Flower: Revealing the Top-notch Health Advantages
Banana flower is an edible blossom used for culinary purposes in many Southeast Asian countries. However, it offers more than just a delicious taste; it also has numerous health benefits.
High in Antioxidants: Banana flower is loaded with antioxidants that aid in preventing chronic diseases like heart disease and cancer.

Boosts Digestive Health: Banana flower is rich in fiber, aiding in the regulation of bowel movements, reducing constipation, and enhancing digestive health.

Lowers Blood Pressure: Banana flowers contain potassium, a mineral that helps to reduce blood pressure and promote a healthy heart.

Manages Diabetes: Banana flower is a great option for those with diabetes because it contains natural insulin, which aids in blood sugar regulation.
In addition to these benefits, consuming banana flower has been linked to a reduction in menstrual pain, as well as improved lactation in breastfeeding mothers.
Studies suggest that including banana flower in your diet can help in treating liver diseases, kidney stones, and urinary tract infections.
A true fact about banana flowers comes from a study done by the Indian Journal of Traditional Knowledge, which found that the flower has anti-inflammatory properties, indicating that it may be beneficial in treating inflammation-related diseases.
Helps regulate menstrual cycle
Consuming banana flower has been found to be beneficial for menstruating individuals. Its properties help in regulating the menstrual cycle and preventing conditions like irregular periods and excessive bleeding. Moreover, it promotes healthy blood flow and acts as a natural remedy for menstrual cramps.
Apart from these benefits, research suggests that banana flower is also effective in treating PCOS, a common hormonal disorder that affects menstruating individuals. The flower's high levels of antioxidants and anti-inflammatory compounds make it an excellent addition to any diet.
To reap the most benefits of banana flower consumption, try incorporating it into your regular meals or using it as a dietary supplement. Boiling the plant's petals before cooking makes them more tender and easier to digest. Additionally, consuming the plant with yogurt can enhance its nutritional value and improve gut health. Overall, adding banana flower to your diet can have positive effects on your menstrual cycle while also providing numerous other health benefits.
Eating banana flower not only lowers blood sugar levels but also raises your eyebrows at the thought of consuming something that doesn't taste like a banana.
Lowers blood sugar levels
Banana flower consumption is beneficial in regulating blood glucose levels. It contains flavonoids and tannins that have been shown to have hypoglycemic effects, which helps reduce insulin resistance. Eating banana flowers inhibits the breakdown of carbohydrates into sugars and reduces the amount of sugar released into the bloodstream.
Moreover, research has shown that consuming 100 grams of banana flower per day can lower fasting blood sugar levels and improve glucose tolerance in individuals with type 2 diabetes. Its high fiber content also slows digestion, preventing sudden spikes in blood sugar levels.
Notably, incorporating banana flower into your meals can do wonders for your overall health. Apart from regulating blood sugar levels, it also helps with digestion, promotes weight loss, and reduces inflammation.
Don't miss out on all these health benefits - add banana flowers to your diet today! Try incorporating them into stir-fries or curries for a delicious and healthy addition to your meals.
Eating banana flowers may make your heart skip a beat, but in a good way - it promotes heart health!
Promotes heart health
The banana flower is known for its numerous health benefits that can aid in promoting the well-being of an individual. Interestingly, this blossom has been linked to promoting a healthy heart. Here are some ways in which consuming banana flowers can help maintain a sound cardiovascular system:
Rich in fiber, which can support digestive function and help in reducing cholesterol levels that can lead to heart disease

Contains antioxidants that can protect the blood vessels from oxidative stress and inflammation

Abundant in potassium, a mineral that helps regulate blood pressure and prevent hypertension
Moreover, the nutrients found in the banana flower operate synergistically to provide optimal health benefits. The consumption of this exotic ingredient may also help balance blood sugar levels and enhance kidney function, among others.
Interestingly, Asian cultures have been using banana flowers medicinally for centuries, and it's only recently that Western cultures have touted its advantages. A burgeoning body of scientific evidence suggests that incorporating banana flowers into your diet promotes an overall sense of well-being and supports healthy organ function.
If you're tired of feeling like a bloated balloon, eating banana flower might just be the gas relief you need.
Aids in digestion
Consuming banana flower has been known to promote healthy digestion in individuals. This is due to the presence of dietary fiber, which aids in the movement of food through the digestive system. Additionally, the flower contains an enzyme called amylase, which breaks down complex carbohydrates into simple sugars that can be easily digested. As a result, consuming banana flowers can help prevent constipation and other digestive issues.
Furthermore, the high levels of antioxidants present in banana flower can help protect the digestive tract from damage caused by free radicals. The flower also has anti-inflammatory properties, which can help reduce inflammation in the gut and make digestion more efficient.
One unique benefit of consuming banana flowers is its ability to promote good gut bacteria. The flower contains prebiotics, which are compounds that feed beneficial bacteria in the gut. Having a healthy balance of gut bacteria is crucial for proper digestion and overall health.
To reap these benefits, it is recommended to consume banana flowers either raw or cooked. When cooking with them, it is recommended to remove the tough outer layer and soak them in water with lemon juice or vinegar to prevent discoloration. Adding them to soups or stir-fries is a popular way to incorporate them into meals.
Eating banana flowers is so versatile, you'll wonder why you ever bothered with other vegetables.
Different ways to incorporate banana flower into your diet
Paragraph 1 - The versatile banana flower is a powerhouse of nutrition, and adding it to your daily diet can be a smart move for a healthier lifestyle.
Paragraph 2 - Here are three delicious ways to incorporate banana flower into your diet:
Add it to your salads for a crunchy texture and a unique flavor.

Make a tasty curry with banana flower and enjoy it with rice or naan.

Create fritters or cutlets with mashed banana flower and spices as a tasty snack.
Paragraph 3 - Banana flower is a rich source of antioxidants and can help in reducing inflammation, improving heart health, and managing blood sugar levels. It is an excellent addition to a vegan or vegetarian diet due to its high protein content.
Paragraph 4 - According to folklore, the banana flower was initially utilized by ancient Southeast Asian communities for medicinal purposes. Over time, it evolved into a staple ingredient in traditional Asian cuisine due to its unique flavor and nutritional value.
Beware, this banana flower curry packs enough nutritional punch to knock your taste buds into submission.
Banana flower curry
A Delightful Meal: Banana Flower Curry
Banana flower curry is a delectable dish that will tantalize your taste buds. It is a popular South Indian dish, and it can be prepared in various ways - steamed, boiled or stir-fried. Here are six points to consider when preparing this delicious meal:
The banana flower should be cleaned and chopped finely before being cooked.

Add ginger, garlic, green chili, mustard seeds and curry leaves for flavour.

Use coconut milk or grated coconut as the base for the gravy.

Vegetables like carrots and beans can be added to the dish as an accompaniment.

It is served hot with steaming white rice or chapati.

Banana flower curry is both nutritious and low in calories.
Furthermore, banana flower has numerous health benefits such as improving lactation, reducing menstrual bleeding and treating kidney stones.
Did you know that banana flowers are called "hearts" because of their shape? They are loaded with essential vitamins and minerals such as Vitamin A, C and E, fiber, protein and potassium.
Enjoy this delightful meal while reaping its many health benefits! Think you don't like bananas? Think again, because this banana flower stir-fry will have you going bananas for more.
Banana flower stir-fry
Using Banana Flowers in Your Cooking: a Stir-Fry Idea
Incorporating banana flowers into your diet has never been easier or more delicious. Here's an idea for using this versatile ingredient: a mouth-watering stir-fry that is both healthy and flavorful.
First, prepare the banana flower by removing the outer layers until you reach the paler, tender center.

Cut the center into small pieces and soak them in lemon juice or water to prevent discoloration.

In a pan, heat up some oil and add your preferred veggies, like onions, garlic, and ginger.

Add your cut-up banana flower pieces to the pan and stir-fry for just a few minutes until they are cooked but not mushy.

Finally, season with salt, pepper, perhaps some soy sauce, and enjoy as an appetizing side dish or base for a protein-rich main course!
When you cook banana flowers this way, you'll appreciate how their texture becomes silky smooth while still retaining a satisfying crunch. Additionally:
This recipe works well with any type of vegetable you have on hand.

The lemon juice/water soak will get rid of any bitterness from the banana flower.

Eating banana flowers carries various health benefits such as improving digestion and reducing stress.
Try out this unique dish today and discover why cooking with banana flowers is such an enjoyable experience!
Who said salads had to be boring? Spice up your life and your taste buds with a banana flower salad that's sure to make your mouth water.
Banana flower salad
Here are some delicious dishes you can make with banana flowers:
Raw banana flower salad with lime dressing

Grilled banana flower salad with garlic sauce

Banana flower stir-fry with bean sprouts and shrimp

Banana flower fritters with spicy dipping sauce

Banana flower soup with chicken broth and vegetables.
In addition, banana flowers are rich in antioxidants, vitamins A and C, calcium, potassium and magnesium, making them excellent additions to any meal.
While some may find the preparation process quite time-consuming as they need to be cleaned thoroughly and separated skillfully, once prepared correctly, banana flowers can be used in various dishes such as salads, soups, stir-fries or even eaten raw.
A friend of mine recently shared her experience of using banana flowers in her diet. She was initially hesitant but was amazed by the tasty yet healthy options available. Since then, she regularly adds this ingredient into her meals for added nutrition.
Your banana flower won't wilt away if you store it right, unlike your hopes and dreams.
Tips for preparing and storing banana flower
Preparing and Storing the Nutritional Powerhouse of Banana Flower
To truly harness the nutritional benefits of banana flower, proper preparation and storage is key. Here are some tips to get the most out of this versatile plant:
Cleaning: Before use, thoroughly clean the outer leaves and petals by peeling them away until you see a fresh, light-colored section. Then cut off the top inch of the flower and remove any small black stamen in the center. Finally, soak in cold water mixed with a little lemon juice or vinegar to prevent discoloration.

Cooking: Boil or steam banana flower until tender. This usually takes around 15-20 minutes. Once cooked, add to salads, curries, stir-fries or soups for a healthy burst of flavor.

Storage: Leftover banana flower can be stored in an airtight container in the fridge for up to four days. If you plan on using it later, freeze it immediately after cleaning.
To really elevate your dishes with banana flower's unique nutrient profile and outstanding flavor capabilities, keep these tips in mind as you experiment with this delicious ingredient.
Don't miss out on all that banana flower has to offer! With its impressive nutrient content and tasty versatility, this is an ingredient that should definitely have a place in your diet. So try incorporating it into some meals today and experience all the benefits for yourself!
Adding banana flower to your diet isn't just a delicious addition, it's also a sneaky way to boost your nutrient intake and improve your health.
Conclusion: Encouraging people to try adding banana flower to their diet for its numerous health benefits and nutritional value.
Adding banana flower to one's diet can be highly beneficial due to its vast nutritional value. Its consumption can help maintain a healthy heart, control blood sugar levels, and aid in weight loss efforts. Furthermore, it is a rich source of antioxidants and valuable minerals like calcium and potassium.
Aside from its nutritional benefits, the banana flower is versatile in cooking and can be incorporated into numerous recipes such as salads, stews or curries. Thus, it provides a unique flavour profile for those looking for new foods to try.
For optimal health benefits and taste quality, it is recommended to use fresh banana flowers that have not been sprayed with pesticides. Also, before cooking the flowers section off the unwanted parts like stalks, bracts etc.
Incorporating banana flowers into the diet can be an exciting way of incorporating new flavours while enjoying numerous health benefits simultaneously.
Frequently Asked Questions
1. What is a banana flower?
A banana flower is the blossom of a banana tree. It is also known as a banana heart or a banana blossom.
2. How do you prepare a banana flower?
To prepare a banana flower, first remove the outer layers of bracts until you reach the core. Cut the core into small pieces and soak in water with lemon juice or vinegar to prevent browning. Boil the banana flower until tender, then drain and use in your favorite recipes.
3. What are the nutritional benefits of eating banana flower?
Banana flower is a nutritional powerhouse that is high in fiber, protein, and vitamins. It also contains antioxidants and has anti-inflammatory properties.
4. What can I make with banana flower?
Banana flower can be used in a variety of dishes, including curries, stir-fries, soups, and salads. It has a mild, slightly bitter taste and a meaty texture that makes it a versatile ingredient.
5. Where can I buy banana flower?
Banana flower can be found in Asian grocery stores and specialty food markets. You can also purchase it online.
6. Are there any precautions I should take when eating banana flower?
People with latex allergies or who are pregnant should avoid consuming banana flower. Additionally, some people may experience gastrointestinal discomfort when consuming large amounts of banana flower.