Discover more from IgelSparks Substack
My personal Substack
"Banaba Leaf: A Natural Remedy for Blood Sugar Control"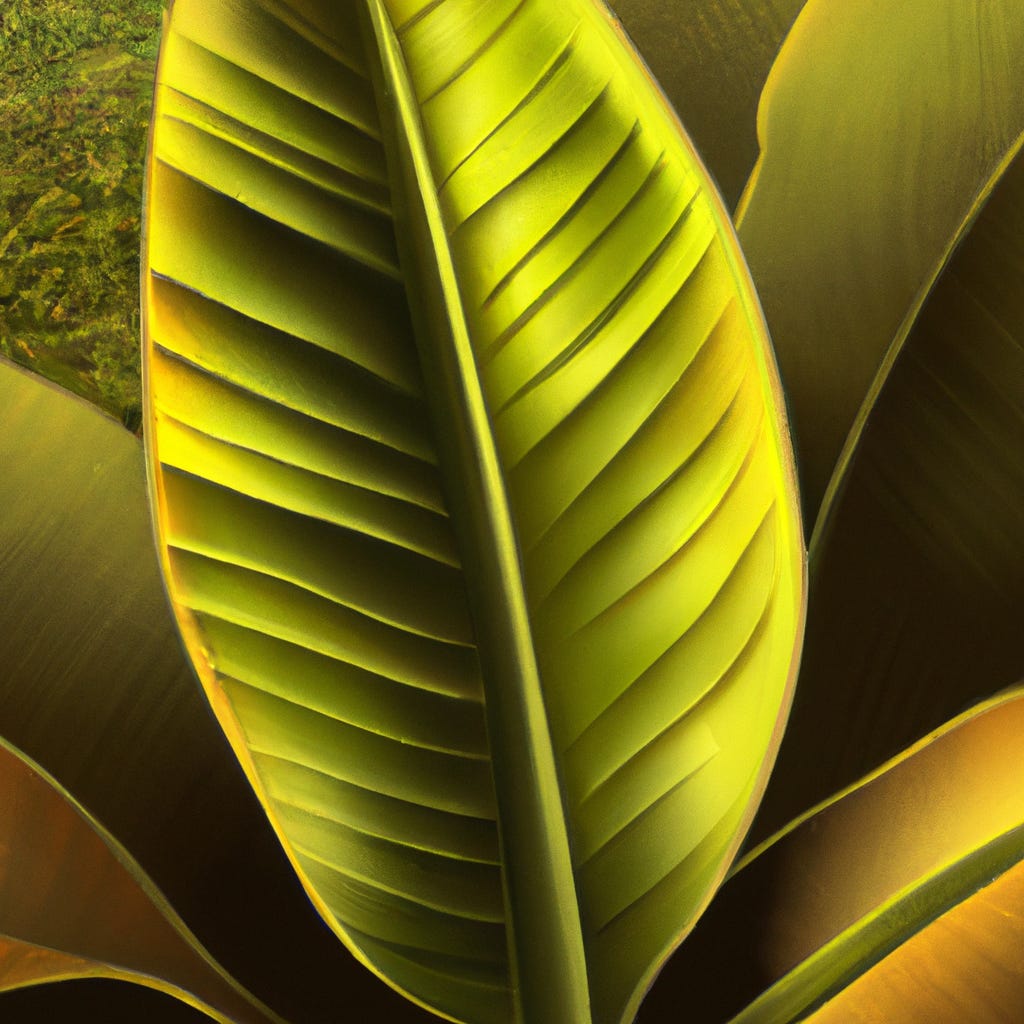 Introduction to Banaba Leaf and its Benefits
Banaba Leaf and its Health Benefits
The banaba leaf is a natural remedy that has been used for centuries to help with blood sugar control. It contains compounds such as corosolic acid, ellagitannins, and gallotannins. These compounds have been shown to help regulate blood sugar levels and promote overall health.
Discovering the Benefits of Banaba Leaf
Regulates Blood Sugar Levels

Reduces Inflammation

Lowers Cholesterol Levels

Helps Maintain Healthy Body Weight

Promotes Heart Health

Soothes Digestive Discomforts
The Efficacy of Banaba Leaf
Many studies have shown that taking banaba leaf supplements can help people with diabetes manage their blood sugar levels and reduce insulin resistance. Additionally, it has been found to be safe and effective for long-term use.
A True History of Banaba Leaf
Banaba leaves have been traditionally used in Asian medicine for many years. The first medicinal use can be traced back to the Philippine Islands, where it was commonly used by traditional healers. Today, it is widely available as a supplement all over the world due to its many health benefits.
Understanding your blood sugar levels might not be as exciting as a three-ring circus, but it's definitely more important for your health.
Understanding Blood Sugar Control
To understand how to control your blood sugar, you need to know how high blood sugar affects your body. Traditional methods are effective, but you could go for a natural remedy. In order to do that, this section covers the benefits of banaba leaf for blood sugar control. The following sub-sections will go over how high blood sugar affects the body and traditional methods of blood sugar control.
How High Blood Sugar Affects the Body
High levels of blood sugar can lead to various complications in the body. Excessive glucose in the bloodstream damages blood vessels and nerves, which results in decreased functioning of organs such as the heart, kidneys and eyes. Moreover, high blood sugar leads to increased risk of developing type 2 diabetes, which contributes to obesity, cardiovascular diseases and nerve damage. This metabolic disorder disturbs several biological pathways in the body, thus hampering overall bodily functions.
One significant issue resulting from elevated blood sugar levels is insulin resistance. When cells become resistant to insulin hormone action or when there is insufficient production of insulin by pancreas beta cells, it hinders normal glucose uptake into cells required for energy production. In turn, this affects metabolism processes like glycolysis and gluconeogenesis, upsetting glucose homeostasis and resulting in detrimental health conditions such as fatigue, dizziness, and long-term diabetes complications like neuropathy.
A balanced diet incorporating complex carbohydrates can regulate elevated blood sugar levels while consuming foods with a low glycemic index can also optimize glucose regulation. Furthermore, portion control during meals is crucial as excessive food intake leads to a spike in glucose level. One should avoid sugary drinks that contain substantial amounts of fructose or glucose syrup which can rapidly raise blood sugar levels above safe thresholds.
Pro Tip: Consistent low-impact exercise alongside healthy dietary patterns helps maintain optimal glucose regulation leading to reduced risk of developing metabolic disorders caused by hyperglycemia.
Who needs traditional methods when you can just eat a stick of butter and call it a day?
Traditional Methods of Blood Sugar Control
Controlling blood sugar traditionally involves the use of prescription medications, dietary changes, and regular exercise. Prescription medications such as insulin or metformin can help regulate blood glucose levels. Diets that limit carbohydrate intake can also control blood sugar. Furthermore, regular physical activity helps improve insulin sensitivity and aids in managing blood glucose levels.
Additionally, patients are advised to monitor their blood sugar regularly using a monitoring kit at home. This can help determine whether their current treatment is effectively controlling their glucose levels or if any adjustments need to be made.
Patients are recommended to work closely with healthcare providers as each individual's treatment plan may vary based on their unique needs. It is also essential to maintain a healthy weight, manage stress levels, and get sufficient sleep to support optimal blood sugar control.
Overall, traditional methods of blood sugar control involve medication management, lifestyle modifications such as diet and exercise changes, regular check-ins with healthcare providers, and consistent self-monitoring of glucose levels at home.
Who knew a leaf could have such a sweet effect on blood sugar control? Banaba leaf, nature's candy for your health.
Banaba Leaf as a Natural Remedy for Blood Sugar Control
To optimize your blood sugar, turn to banaba leaf. The science behind this natural remedy's ability to lower blood sugar is backed by research. Discover the benefits of using banaba leaf for blood sugar control. Explore the forms of banaba leaf supplements available in the market to reap the full benefits.
The Science behind Banaba Leaf's Ability to Lower Blood Sugar
Banaba Leaf's Potential in Regulating Blood Glucose Levels
The effectiveness of Banaba leaf is dependent on its natural compounds that combine to lower blood sugar levels. It contains corosolic acid, which regulates glucose uptake and insulin sensitization by activating AMPK. Other studies have also found that ellagitannins are responsible for boosting glucose control.
Components Mechanism Corosolic Acid Activates AMPK Ellagitannins Enhances glucose control
Notably, Banaba leaf has a variety of benefits beyond blood sugar control. In addition to improving weight loss, it can help lower cholesterol levels and prevent liver damage caused by oxidative stress.
To optimize the use of this natural remedy:
Consume banaba as an herbal supplement or tea.

Take it as advised by a healthcare provider, who understands your medical state and interacts with any medications that may affect its efficacy.
Banaba leaf: the secret weapon for sugar control that's sly as a fox.
Benefits of Using Banaba Leaf for Blood Sugar Control
Potential Health Benefits of Banaba Leaves for Blood Sugar Control
Banaba leaves, also known as Lagerstroemia speciosa, have been used to manage blood sugar levels naturally for centuries. Here are some potential health benefits of using banaba leaves for blood sugar control:
Reduces Glucose Levels: Banaba leaf extract contains corosolic acid which helps to improve glucose utilization and insulin sensitivity in the body.

Manages Diabetes: Studies have shown that consuming banaba leaf extract lowers fasting blood glucose and hemoglobin A1C levels in people with type 2 diabetes.

Prevents Insulin Resistance: The presence of ellagitannins in banaba leaves inhibits the development of insulin resistance; particularly among prediabetic or overweight individuals.

Aids in Weight Loss: Consuming banaba leaf extract may help in reducing weight by suppressing appetite, preventing weight gain, and promoting fat burning activities in the body.

Promotes Heart Health: The antioxidant properties of banaba leaves can help protect the heart by reducing cholesterol levels and lowering blood pressure.
Additionally, studies suggest that regular consumption of banaba leaf tea may have a positive impact on liver function.
If you're considering supplementing your diet with banaba leaves, it's essential to source high-quality organic products from reputable brands. Consult with a healthcare professional before including banaba leaves into your routine to avoid any harmful interactions or complications.
Incorporating natural products like banaba leaves can be a helpful addition to your management plan for better blood sugar control, but it should never replace medications prescribed by medical professionals.
Take your pick, from capsules to tea bags, Banaba Leaf is available in more forms than your ex's excuses.
Forms of Banaba Leaf Supplements Available in the Market
Banaba leaf extract is available in various forms to control blood sugar levels naturally. These forms cater to the unique preferences and requirements of different users.
The following table enlists the various forms of Banaba leaf supplements available in the market:
FormDescription CapsulesThese contain dried Banaba leaves in powdered form Tea bagsThese are ready-to-use tea infusions made from Banaba leaves TincturesThese are alcohol-based extracts of Banaba leaves Topical solutionsSome topical solutions use Banaba leaf extract for skin ailments like eczema, psoriasis, etc.
Some manufacturers offer specific formulations for diabetes type I or II patients.
Catherine, a 40-year-old woman who was diagnosed with Type II diabetes three years back, reported remarkable improvement after adding Banaba leaf capsules to her daily routine.
Remember, too much banaba leaf can lead to some pretty sweet results… like dangerously low blood sugar levels.
Dosage and Precautions when Using Banaba Leaf Supplements
To ensure proper utilization of Banaba Leaf Supplements to control blood sugar levels, a recommended dosage should be followed. However, there are certain precautions that need to be taken as well. In this part, we discuss the recommended dosage for Banaba Leaf supplements, as well as possible side effects and precautions that must be considered when using Banaba Leaf.
Recommended Dosage for Banaba Leaf Supplements
Banaba Leaf Supplements Dosage and Precautions
To get the maximum benefits from Banaba leaf supplements, it is essential to take them in appropriate doses. The recommended amount of dosage depends on factors such as age, overall health conditions, weight and other medication you are taking.
For adults, a standard dose for Banaba Leaf extract is 60-120 mg in every serving.

If using capsule or tablets forms of Banaba leaf supplements, take two capsules of 12:1 extract with a meal twice daily.

Please consult your physician if you want to use higher Dosages.

Children under the age of 18 should not take Banaba leaf supplements without consulting a physician first.

Avoid taking over-the-counter drugs while you're on medication for high blood sugar as this could affect your blood sugar levels.
It is imperative to understand that long-term usage can have side effects - please check with your physician before deciding to continue consuming them.
People who suffer from diabetes should also be careful with Banaba leaf supplements and must monitor their glucose levels regularly to avoid hypoglycemia.
A brief look back at the history shows that herbalists have been recommending Banaba leaf extracts for ages as an essential treatment for several conditions such as kidney disorders, urinary infections and even minor coughs and colds. With a little caution and diligence, incorporating these leaves into your supplement routine could assist in improving your wellbeing.
Banaba leaf supplements may have some side effects, but let's be real, have you seen the potential side effects for not eating pizza?
Possible Side Effects and Precautions when Using Banaba Leaf
When using Banaba Leaf supplements, it is important to be aware of potential adverse reactions and take necessary precautions. These may include digestive issues, allergic reactions or interference with diabetes medications. It is recommended to consult with a healthcare professional before use.
Furthermore, pregnant and breastfeeding women should avoid using Banaba Leaf due to the lack of research on its effects in this population. Additionally, children under 18 years old should not use Banaba Leaf supplements unless directed by a healthcare provider.
It is important to note that while Banaba Leaf supplements offer potential health benefits, they are not a substitute for proper medical care. Individuals should always prioritize maintaining a healthy lifestyle, including regularly scheduled doctor visits and following prescribed treatments.
Ultimately, taking precautions when using Banaba Leaf supplements can help ensure their safe and effective use. Don't miss out on the benefits of Banaba Leaf by neglecting these dosages and precautions.
Make like a tree and try Banaba Leaf for blood sugar control- it's a natural alternative that won't leaf you hanging!
Conclusion: Banaba Leaf as an Alternative to Traditional Blood Sugar Control Methods
The natural extract from Banaba Leaf holds promise as an alternative solution to traditional blood sugar control methods. With its active compound corosolic acid, Banaba Leaf can regulate blood glucose levels by stimulating insulin-producing cells and restricting the enzymes involved in glucose production. This method shows a significant reduction in fasting glucose levels with negligible adverse effects.
Moreover, Banaba Leaf's hypoglycemic properties have shown efficacy in treating type 2 diabetes mellitus-related symptoms such as excessive thirst, frequent urination, and weakness. Its affordability and ease of access allow for convenient integration into daily life without disrupting patients' routines or financial constraints.
In addition to its diabetic management benefits, the plant boasts antimicrobial and antioxidant properties that improve general health markers. Incorporating Banaba Leaf supplements into dietary measures may promote overall well-being for individuals looking to maintain glycemic control throughout their lives.
Pro Tip: Consult your medical practitioner before adding new supplements to your routine as they may interact with pre-existing medications or pose risks based on individual health factors.
Frequently Asked Questions
1. What is Banaba Leaf and how does it help control blood sugar?
Banaba Leaf is a natural herb that grows in Southeast Asia. It contains a compound called corosolic acid which helps to regulate blood sugar levels by increasing the uptake of glucose into cells.
2. Can Banaba Leaf be used to treat diabetes?
Banaba Leaf can be used as a natural remedy to help manage blood sugar levels in people with diabetes, but it should not replace medical treatment and advice from a healthcare professional.
3. Is Banaba Leaf safe to take?
When taken in recommended doses, Banaba Leaf is generally considered safe for most people. However, it may interact with certain medications such as insulin or blood sugar-lowering drugs, so it's important to speak with a healthcare professional before taking Banaba Leaf.
4. How do I take Banaba Leaf?
Banaba Leaf can be taken in various forms, including capsules, tea, and extracts. Follow the recommended dosage on the product label or consult with a healthcare professional for appropriate use.
5. Are there any side effects of Banaba Leaf?
Side effects of Banaba Leaf are rare, but may include stomach upset, dizziness, and low blood sugar levels. If you experience any adverse effects, stop taking Banaba Leaf and consult with a healthcare professional.
6. Can Banaba Leaf be used for weight loss?
Banaba Leaf may aid in weight loss by helping to regulate blood sugar levels, which can lead to decreased appetite and less snacking. However, Banaba Leaf should not be relied on as a sole weight loss tool and should be used in combination with a healthy diet and regular exercise.