Discover more from IgelSparks Substack
My personal Substack
"Astaxanthin: The Antioxidant for Skin Health and Eye Protection"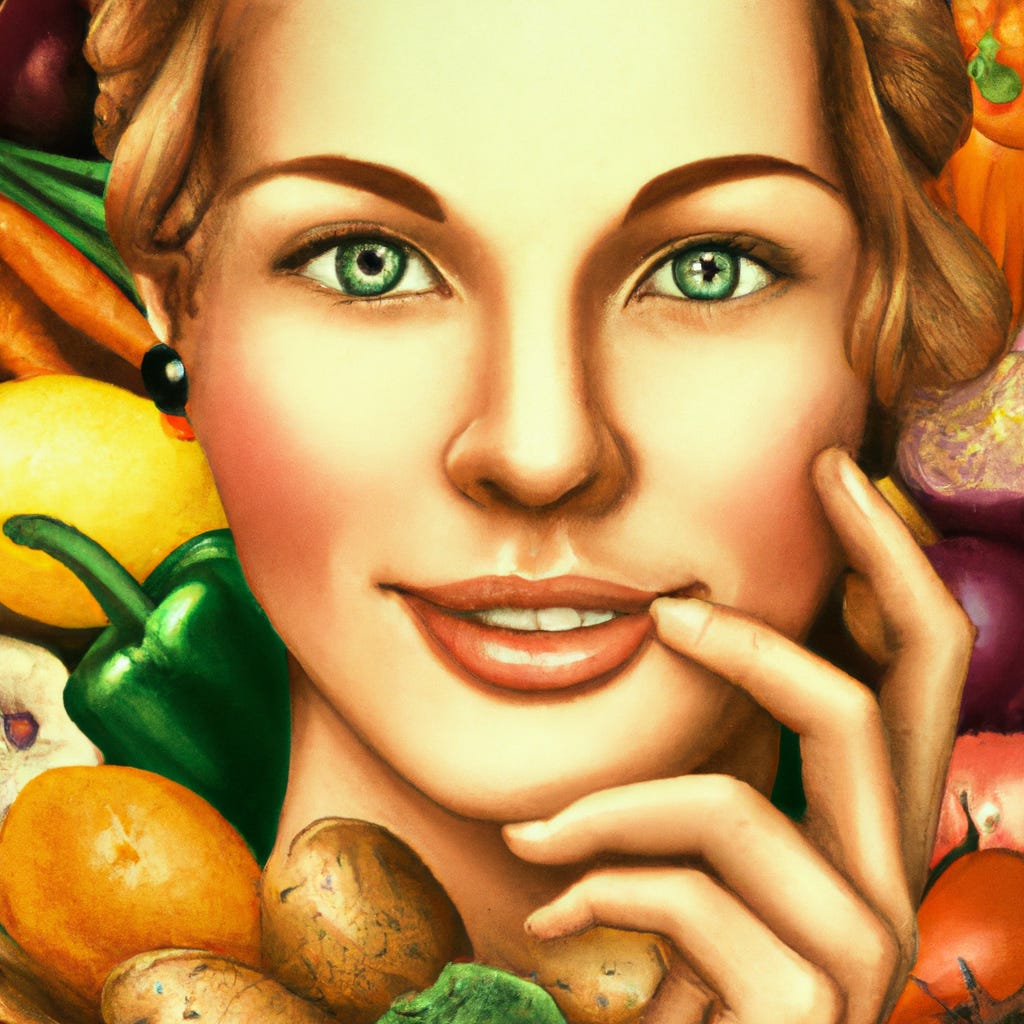 Introduction to Astaxanthin
Astaxanthin is a powerful antioxidant found in certain foods such as microalgae, salmon, and shrimp. Its unique molecular structure makes it superior to other antioxidants in terms of scavenging free radicals that cause cellular damage. It also has numerous benefits for skin health and eye protection due to its ability to neutralize harmful UV rays. Astaxanthin is gaining popularity as a supplement for overall wellness and disease prevention.
Finally, a product that lets you take a healthy dose of sun damage without feeling guilty - astaxanthin for skin health!
Astaxanthin for Skin Health
To improve your skin health, you need astaxanthin. The benefits of astaxanthin for your skin are aplenty, and it has a unique mechanism that protects your skin. To get astaxanthin for skin health, you can source it from several places.
Benefits of Astaxanthin for Skin
Astaxanthin has numerous benefits for skin health. Here are some of the positive effects it can have on your skin:
Reduces sun damage and improves skin tone: Astaxanthin is a potent antioxidant that can help reduce the damage caused by UV rays and improve skin texture and tone.

Improves moisture retention: Astaxanthin works to hydrate your skin and retain moisture, helping to prevent dryness and minimize the appearance of fine lines.

Helps combat aging: The antioxidant properties of astaxanthin make it an effective supplement in combating the signs of aging, including wrinkles, dullness and age spots.
In addition to these benefits, astaxanthin has also been known to reduce inflammation in individuals with acne-prone skin, helping to clear breakouts and prevent future blemishes.
To get the most out of astaxanthin supplements for your skin, it's recommended to take them daily as directed. Pairing this with a healthy diet filled with leafy greens, fruits, and other antioxidant-rich foods can also provide additional benefits for your overall health.
Who needs a superhero when you have astaxanthin protecting your skin like a boss?
Mechanism of Astaxanthin in Skin Protection
Astaxanthin shields skin cells from ultraviolet (UV) radiation by quenching reactive oxygen species, which curbs photodamage and inflammation. The pigment's hydrophobic nature channels antioxidant potential towards cell membranes, ensuring efficient sweeping of free radicals. Besides maintaining lipid peroxidation equilibrium, astaxanthin upregulates cellular defenses against oxidative stress, and improves collagen and hyaluronic acid synthesis for sustained dermal hydration and elasticity. Notably, astaxanthin has shown to protect against ageing through its multifaceted skin-friendly mechanisms.
Clinical studies attest to the potential of astaxanthin in photoaging prevention, following topical or oral administration. Researchers have investigated the safety profile of topical zinc/astaxanthin combination preparations as sunscreen agents in vivo. This experience showed the usage of such a preparation significantly curbed erythema compared to bare skin exposure and had no adverse effects on serum antioxidant concentrations.
In an in vitro study using human dermal fibroblasts also showed notable anti-inflammatory actions with peptide modulation protected against oxidative stress-associated cell death caused by UVB radiation-induced DNA damage.
The efficacy of astaxanthin in promoting healthy skin finds roots that stretch back centuries. Japanese folklore mentions salmon consumption for radiant complexion since these fish obtain their hue from eating algae rich in astaxanthin; this extract is now commercially prevalent as a dietary supplement for upkeep embryonic maintenance growth process among other benefits.
Who knew that the fountain of youth was hiding in algae and seafood? Sources of astaxanthin for skin health go beyond just supplements, and now I have an excuse to order sushi every week.
Sources of Astaxanthin for Skin Health
Astaxanthin's Potential as a Skin Health Aid is noteworthy. One can find this powerful antioxidant in some natural food sources or through supplements.
Sources of Astaxanthin for Skin Health:
Wild-caught salmon, trout, and shrimp

Microalgae, spirulina, and chlorella

Haematococcus Pluvialis algae extract
Apart from natural sources, one can also find astaxanthin in oral supplements and topical creams.
One unique detail about astaxanthin is its ability to block the harmful effects of UV radiation on the skin. This is due to its potent antioxidant properties that reduce oxidative stress within the cells.
Fun Fact: Haematococcus Pluvialis microalgae is considered one of the most concentrated sources of astaxanthin. Who needs an eye patch when you have astaxanthin to protect your peepers?
Astaxanthin for Eye Protection
To ensure your eyes stay healthy, Astaxanthin comes to the rescue! This section focuses on the power of Astaxanthin for Eye Protection. The sub-sections include the Benefits of Astaxanthin for Eyes, Mechanism of Astaxanthin in Eye Protection, and Sources of Astaxanthin for Eye Health.
Benefits of Astaxanthin for Eyes
Astaxanthin, a naturally occurring carotenoid found in certain marine organisms, has gained attention for its potential benefits to eye health. Astaxanthin helps protect the eyes from oxidative stress and inflammation caused by UV radiation, blue light exposure, and aging.
Astaxanthin improves visual acuity, contrast sensitivity, and depth perception.

It reduces eye fatigue and dryness by improving tear production.

Astaxanthin protects the retina from damage caused by excess blue light and may help prevent age-related macular degeneration (AMD).

It reduces inflammation associated with diabetic retinopathy and glaucoma.

Astaxanthin helps improve blood flow to the eyes, which is vital for proper eye function.

It enhances the immune response of ocular tissues to fight against infections and diseases.
Moreover, astaxanthin is a potent antioxidant that can cross the blood-eye barrier to protect the lens and retina. Multiple studies suggest that astaxanthin supplementation may benefit people suffering from cataracts, retinitis pigmentosa, or other vision disorders.
Pro Tip: Astaxanthin supplements are widely available in capsule form. However, it is important to consult your doctor before taking any supplements as overdosage can lead to adverse effects.
Who needs superhero powers when you have astaxanthin protecting your eyes like a boss?
Mechanism of Astaxanthin in Eye Protection
Astaxanthin, a powerful carotenoid antioxidant found in various foods and supplements, has been recognized for its potential to support eye health. It exerts its protective effects on the eye by reducing oxidative stress, inflammation, and improving blood flow to the retina. Astaxanthin's unique molecular structure allows it to penetrate deep into the cells of the eye and neutralize free radicals that can lead to cell damage. Furthermore, astaxanthin has been shown to improve visual acuity, contrast sensitivity, and reduce eyestrain associated with extended screen time.
Research conducted by Shigeki Inoue et al. published in the Journal of Clinical Therapeutics & Medicines supports that astaxanthin supplementation significantly improved eye fatigue symptoms in computer users. Additionally, their study showed that astaxanthin supplementation improved ciliary muscle function which contributes to near vision clarity.
Astaxanthin has become a popular choice for those seeking natural ways to boost their eye health due to its safe usage profile and notable beneficial properties observed from scientific studies.
Who needs carrots when you can get your daily dose of eye protection from seafood and microalgae? Astaxanthin's got your eyes covered.
Sources of Astaxanthin for Eye Health
Astaxanthin is a powerful antioxidant that has been shown to promote eye health and protect against age-related eye degeneration. Here are some sources of astaxanthin that can benefit your eyes:
Wild salmon

Shrimp

Crayfish

Red trout

Krill
These marine-based foods contain high levels of astaxanthin, which provides numerous benefits to our eyes.
Furthermore, astaxanthin is also available as a dietary supplement in both pill and powder form. This can be an excellent source of this powerful antioxidant for those who do not consume seafood, or those who want to ensure they are taking a sufficient amount of astaxanthin daily.
Pro Tip: When purchasing supplements, make sure to look for natural sources of astaxanthin and avoid synthetic forms.
It is important to understand that taking too much astaxanthin can cause a side effect known as "astaxanthin flush," which might make you start seeing everything in a shade of reddish-orange, including your doctor's face when you try to explain your dosage.
Astaxanthin Dosage and Side Effects
To ensure that you take the right amount of astaxanthin for its numerous health benefits, follow the recommended dosage guidelines and be aware of astaxanthin side effects and precautions. In this section, "Astaxanthin Dosage and Side Effects," you will get a better understanding of the recommended dosage of astaxanthin and the potential side effects and precautions associated with its consumption.
Recommended Dosage of Astaxanthin
Astaxanthin is a potent antioxidant that can offer numerous health benefits. To get the desired outcome from astaxanthin, it's important to take it in the right dosage. Here are some details about the recommended dosage of astaxanthin.
Age Group Dosage Dosage Format Children (0-12 years) Not Recommended N/A Teenagers (13-17 years) 2mg daily Capsule/Tablet Adults (18+ years) 4-12mg daily (depending on health goal) Capsule/Tablet or Liquid Form
It's crucial to note that as dosage might vary based on various factors like age, underlying health conditions, gender, etc., consulting a healthcare professional before consuming astaxanthin is highly recommended.
Consuming astaxanthin has minimal side effects due to its natural composition, making it safe for regular use. However, excess intake of astaxanthin may lead to digestive issues, such as diarrhea and stomach discomfort.
It's advisable not to solely rely on astaxanthin supplementation and maintain an overall healthy lifestyle by consuming nutrient-rich food and exercising regularly. Studies also show that taking Vitamins C and E alongside astaxanthin can enhance its potency.
Better watch out for those unwanted side effects of astaxanthin, unless you're into risking your health for a pretty pink hue.
Astaxanthin Side Effects and Precautions
Facts and Precautions About Astaxanthin
Astaxanthin, a powerful antioxidant found in many sources, has no known adverse effects even at high doses. In any case, the recommended dose for adults is 4-8 milligrams per day.
However, it is essential to be cautious when taking astaxanthin supplements while pregnant or breastfeeding. Additionally, consult a physician if you are taking blood-thinning medications or have a history of hormone-sensitive cancers like breast or prostate cancer.
While astaxanthin side effects are rare, some people may experience headaches or gastrointestinal issues at the beginning of supplementation. These symptoms typically disappear after a few days as the body adjusts to the new supplement.
Astaxanthin can be incredibly beneficial to our overall wellbeing but should be taken with precautions. A physician's consultation can also help mitigate any concerns about its use.
A friend of mine had noticed significant improvement with his joint and muscle pain by incorporating astaxanthin in his daily routine. However, he was initially wary of its use due to its antioxidants' significant potency. After researching proper dosage and consulting with his doctor, he decided to give it a try and has never looked back since.
Say goodbye to raccoon eyes and hello to eagle eyes with astaxanthin - the superhero of antioxidants!
Conclusion: Astaxanthin: The Antioxidant for Skin Health and Eye Protection
Astaxanthin: A Potent Antioxidant for Eye and Skin Health. This carotenoid has been scientifically proven to have impressive benefits for our health! Specifically, it has potent antioxidant properties that protect our eyes from harmful UV radiation and free radical damage. In addition, astaxanthin has been shown to improve skin elasticity, reduce hyperpigmentation, and overall promote a youthful appearance.
Astaxanthin is not only natural but also highly effective for maintaining healthy vision and skin. Given the importance of these two senses in our daily lives, incorporating this powerful antioxidant into your diet could be a proactive step towards better health and wellbeing. It's time to prioritize eye and skin health through the consumption of astaxanthin-rich foods such as salmon, trout, shrimp or supplements.
Take action today by adding astaxanthin-rich foods into your diet or supplement routine to prevent possible future eye and skin issues - don't wait until it's too late!
Frequently Asked Questions
Q: What is astaxanthin and how does it work?
A: Astaxanthin is a naturally occurring carotenoid pigment found in various aquatic plants and animals, such as salmon, krill, and microalgae. It works as a powerful antioxidant to protect cells from damage caused by free radicals, which can contribute to aging, disease, and other health issues.
Q: What are some of the benefits of using astaxanthin?
A: Astaxanthin has been shown to have numerous benefits for skin health, including reducing wrinkles, improving elasticity, and protecting against sun damage. It also has benefits for eye health, such as protecting against macular degeneration and improving visual acuity.
Q: How can I incorporate astaxanthin into my daily routine?
A: Astaxanthin is available in various forms, including supplements, topical creams, and as an ingredient in certain foods like salmon and shrimp. Consult with a healthcare professional to determine the best form and dosage for your specific needs.
Q: Are there any side effects of using astaxanthin?
A: Astaxanthin is generally safe for most people when taken in recommended doses. However, high doses may cause stomach upset or other digestive issues. It may also interact with certain medications, so it's important to talk to your healthcare provider before taking astaxanthin if you are currently taking any medications.
Q: Can astaxanthin help protect against skin cancer?
A: While astaxanthin has been shown to have protective properties against certain types of skin damage, including UV damage, it is not a substitute for proper sun protection measures such as wearing sunscreen and limiting exposure to direct sunlight.
Q: Is astaxanthin safe for pregnant or breastfeeding women?
A: As with any supplement, it's important to consult with a healthcare professional before taking astaxanthin if you are pregnant or breastfeeding. While there is no evidence to suggest that astaxanthin is unsafe in these populations, more research is needed to determine its safety and effectiveness during pregnancy and lactation.