Discover more from IgelSparks Substack
My personal Substack
"Ashwagandha: The Adaptogen Herb for Stress Relief and Vitality"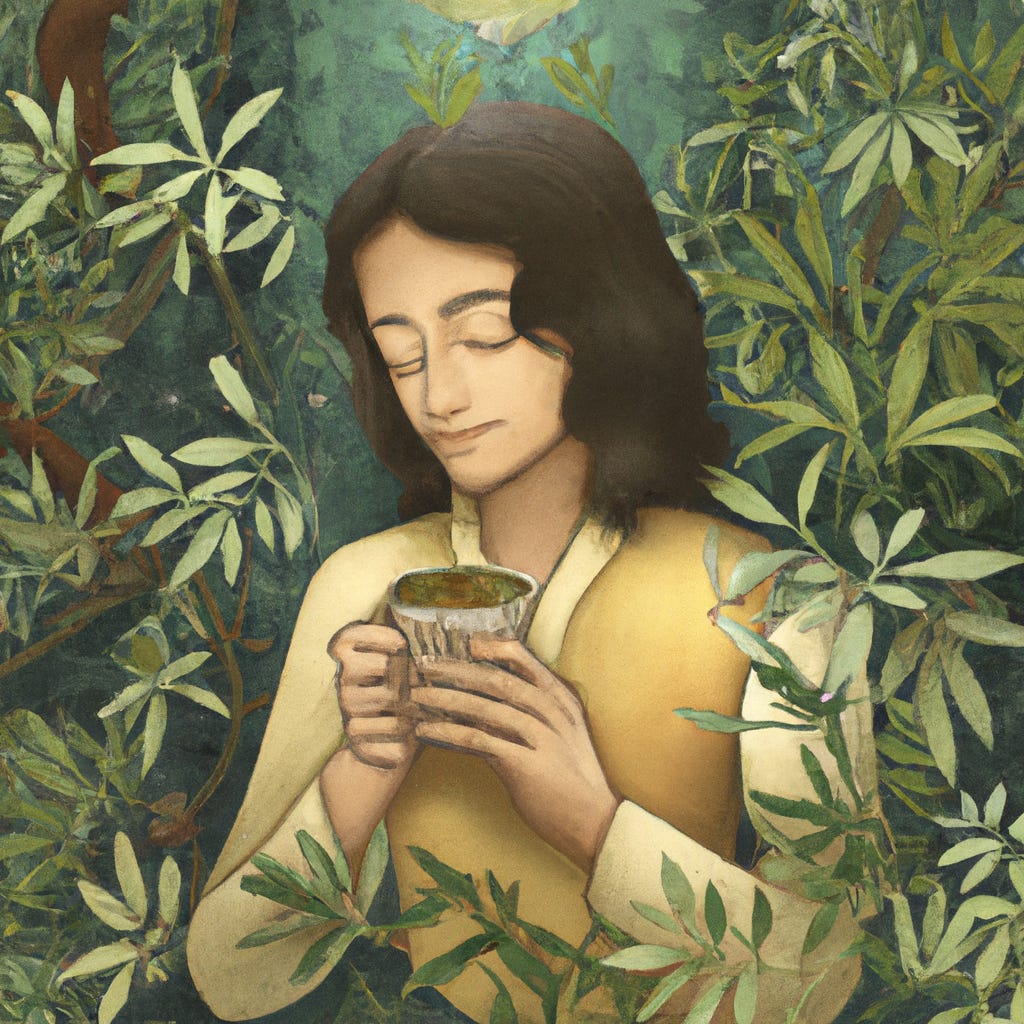 Overview of Ashwagandha
Ashwagandha, an ancient herb used in Ayurvedic medicine, is an adaptogen known for its stress-relieving and vitality-boosting properties.
It has been proven to help regulate hormones, relieve anxiety and depression, improve cognitive function, and support a healthy immune system.
Additionally, it aids in improving muscle strength and reducing inflammation, making it a useful supplement for athletes and bodybuilders. For optimal benefits, consume ashwagandha in pill or powder form as part of a balanced diet.
Pro Tip: Consult with a healthcare professional before incorporating any new supplements into your daily routine.
Want to relieve stress and boost vitality? Forget kale, try Ashwagandha - the herb that won't judge your Netflix and Chill habits.
Health Benefits of Ashwagandha
Ashwagandha provides a range of benefits to improve overall health. It has been found to enhance brain function, lower cortisol levels, reduce inflammation and enhance energy levels. Ashwagandha also helps in fighting symptoms of anxiety and depression, and may even increase fertility in men. Additionally, it has demonstrated potential to lower cholesterol and blood sugar levels, and may have anti-cancer properties. To reap the health benefits of Ashwagandha, it is recommended to take a standardized supplement daily.
Pro Tip: Consult with your doctor before taking any supplement to ensure it aligns with your individual health needs.
Stressed out? Ashwagandha's got your back, just like that friend who always knows when to bring over a bottle of wine.
Reducing stress and anxiety
Ashwagandha has shown promising effects in reducing stress and anxiety levels. It acts as an adaptogen and restores the body's natural balance by regulating cortisol levels and enhancing the body's ability to cope with stress. Studies suggest that ashwagandha extracts can significantly reduce symptoms of anxiety such as nausea, headaches, and insomnia.
Moreover, ashwagandha also helps boost brain function by reducing oxidative stress which is linked to various mental health disorders like depression and anxiety. Its anti-inflammatory properties help to eliminate free radicals that cause cell damage, preventing further damage to brain cells.
Additionally, ashwagandha supplementation or consumption of its roots in powdered form may enhance heart health by regulating blood pressure levels. Research indicates that it can reduce total cholesterol levels, lower triglycerides and LDL (bad) cholesterol levels in the blood.
To maximize the benefits of Ashwagandha for reducing stress and anxiety, taking regular doses of supplements or consuming it in root powder form with milk or water every day is advisable. It is a safe option for most people but consult a healthcare provider before consumption if you have an underlying condition.
Who needs a fancy degree when you can just add a teaspoon of ashwagandha to your morning smoothie?
Improving cognitive function
The potent adaptogen Ashwagandha exhibits great potential in boosting cognitive function. This herb contains compounds that enable the brain to fend off stress and anxiety, thereby promoting better cognitive health. Its active component Withanolide A boosts nerve regeneration and improves memory retention.
Moreover, studies suggest that Ashwagandha enhances information processing speed, attention span, and reaction time. It also aids in reducing cortisol levels- the hormone responsible for stress response - which may ultimately improve overall cognitive function.
Ashwagandha has been used in Ayurveda for centuries to improve brain function. According to ancient folklore, it was believed that consuming Ashwagandha powder with milk before bed induces sound sleep and enhanced brain power.
Move over steroids, Ashwagandha is here to pump you up (naturally).
Enhancing athletic performance
Ashwagandha has been found to possess properties that can enhance physical performance in athletes. Its adaptogenic nature helps to reduce stress and anxiety levels, which are the major inhibiting factors for athletic performance. Additionally, it can increase muscle strength, endurance, and overall stamina, leading to improved physical functioning. These qualities make Ashwagandha a sought-after supplement among athletes.
Moreover, Ashwagandha has been shown to increase the production of red blood cells in the body, which improves oxygen uptake and utilization. This property aids in preventing fatigue during high-intensity workouts leading to better athletic performance.
Athletes across various sports have reported positive results after consuming Ashwagandha supplements regularly. It is therefore considered an effective natural alternative for enhancing athletic performance.
According to a study published by the Indian Journal of Psychological Medicine, taking Ashwagandha extracts for twelve weeks led to significant improvement in aerobic capacity and endurance in healthy adults.
Managing depression is tough, but with ashwagandha, you can finally have a natural cure that doesn't involve drowning yourself in cheesy rom-coms and ice cream every night.
Managing symptoms of depression
The power of Ashwagandha extends to its ability to manage depressive symptoms. Studies have shown that the adaptogenic herb can help regulate levels of cortisol, the hormone associated with stress. This can lead to reduced feelings of anxiety and an overall improvement in mood. Additionally, Ashwagandha has been found to increase levels of serotonin, the neurotransmitter responsible for regulating emotions and mood. Therefore, incorporating Ashwagandha into your daily routine could potentially be helpful in managing depressive symptoms.
One unique aspect of Ashwagandha is its ability to improve cognitive function. Research has shown that the herb can enhance memory and attention span while decreasing reaction time. This could be especially beneficial for those struggling with depression as common symptoms include forgetfulness and difficulty concentrating.
Pro Tip: It's important to consult with a healthcare practitioner before including any new supplements or herbs into your routine, especially if you are currently taking medication for depression.
"I don't know the mechanism of action, but if Ashwagandha can make me feel as chill as a sloth on a hammock, I'm all for it."
Mechanism of Action of Ashwagandha
The Ashwagandha herb's mechanism of action is notable due to its ability to modulate several biological processes in the human body, resulting in stress reduction and improved vitality. It does this by impacting the hypothalamic-pituitary-adrenal axis, promoting GABA receptor activity, and increasing antioxidant status. This results in decreased cortisol levels, reduced anxiety, improved sleep quality, and enhanced energy levels.
Additionally, Ashwagandha's ability to regulate thyroid hormone production improves metabolism and increases energy levels. It also increases nitric oxide production, improves blood circulation, and strengthens the immune system. These unique effects make Ashwagandha a versatile adaptogen for various health benefits.
Recent studies have also demonstrated Ashwagandha's effectiveness against inflammation, cancer, and cognitive impairment, making it a promising therapeutic agent in various diseases.
According to a systematic review published in the Journal of Dietary Supplements, Ashwagandha's supplementation leads to significant reductions in stress, anxiety and cortisol levels in clinical trials.[1]
[1] Chandrasekhar, K., Kapoor, J., & Anishetty, S. (2012). A prospective, randomized double-blind, placebo-controlled study of safety and efficacy of a high-concentration full-spectrum extract of ashwagandha root in reducing stress and anxiety in adults. Journal of dietary supplements, 9(5), 297-311. doi: 10.3109/19390211.2012.734979.
Don't stress about cortisol levels, let ashwagandha take the chill pill for you.
Regulation of cortisol levels
Ashwagandha has been shown to regulate the levels of the hormone cortisol in the body. Cortisol is a stress hormone that, when produced excessively, can lead to various health problems. Ashwagandha has been found to reduce cortisol levels, thereby improving overall well-being.
Studies have shown that Ashwagandha and its bioactive compounds interact with the hypothalamic-pituitary-adrenal (HPA) axis, which controls the secretion of cortisol hormone. By interacting with HPA, Ashwagandha regulates cortisol levels and helps in managing stress-related disorders.
Moreover, Ashwagandha works by reducing inflammation in the body caused by stress and improving antioxidant defense mechanisms, which can also aid in regulating cortisol levels. Additionally, Ashwagandha possesses adaptogenic properties that help in restoring homeostasis and reducing physiological responses to stress.
To maximize the benefits of Ashwagandha for regulating cortisol levels, it is suggested to take it regularly as a supplement or as part of one's diet. Also reducing overall stress through meditation or exercise can work synergistically with taking Ashwagandha supplements.
Get ready to have your neurotransmitters modulated into submission by the power of Ashwagandha!
Modulation of neurotransmitters
Ashwagandha has a significant impact on the modulation of key neurotransmitters. It affects the levels of GABA, dopamine, and serotonin in the brain, leading to improved mood and reduced anxiety and stress levels.
Studies suggest that Ashwagandha increases GABA levels in the brain, which promotes relaxation and calmness. Furthermore, it helps to regulate dopamine levels, which influences motivation, pleasure, and attention span. Also, it boosts serotonin levels that affect mood regulation, sleep quality, and appetite.
Apart from its effects on neurotransmitters, Ashwagandha has neuroprotective properties. It protects neurons from oxidative stress caused by free radicals and other toxins. Its antioxidant effects also combat inflammation in the brain which can damage neural tissues.
To optimize the benefits of Ashwagandha for neuroprotection and modulation of neurotransmitters, it is essential to use standardized extracts with high concentrations of bioactive compounds like withanolides. Combining Ashwagandha with other supplements like Bacopa monnieri or Lion's Mane mushroom can amplify its cognitive-enhancing effects even further.
Therefore, Ashwagandha's modulatory effects on neurotransmitters have potential implications for treating a variety of neurological conditions such as depression, anxiety disorders, and insomnia. Integrating this adaptogen into our daily routine can significantly improve our overall well-being by stabilizing our mood and increasing cognitive performance.
Move over, Vitamin C. Ashwagandha is here to boost your immune system like a champ.
Enhancing immune system function
The use of Ashwagandha has been shown to boost the functioning of the immune system, which plays a critical role in maintaining good health and fighting infections. This natural herb can help defend against harmful pathogens by improving the body's resistance to diseases.
Moreover, Ashwagandha has potent antioxidant properties that may lower inflammation markers and prevent damage from oxidative stress, further enhancing its ability to support optimal immune function. By acting on multiple biochemical pathways, it can enhance different aspects of immunity, leading to better overall health outcomes.
Recent studies have also suggested that Ashwagandha could boost the effectiveness of conventional therapies for certain illnesses by improving immune system performance. Additionally, it may act as an adaptogen that helps reduce physical and mental stress levels, resulting in fewer instances of illness due to a weakened immune response.
Ashwagandha's benefits extend beyond just immune system enhancement; it is an essential ingredient in Ayurvedic medicine with numerous other benefits backed up by traditional knowledge and modern research alike. It is time-tested and deemed safe for long-term use when consumed within recommended doses.
Make sure you don't OD on Ashwagandha, unless you're looking to become a zen zombie.
Dosage and Administration of Ashwagandha
Paragraph 1 - Maintaining a consistent intake of the adaptogen herb ashwagandha is essential in managing stress and improving overall vitality. Here is a professional guide on how to properly dose and administer ashwagandha.
Paragraph 2 - A 4-step guide on how to dose and administer ashwagandha:
Consult with your healthcare provider to determine the appropriate dosage for you.

Take ashwagandha supplements with meals to aid in absorption.

Start with a lower dosage and gradually increase it to avoid any side effects.

Maintain a consistent intake for optimal results.
Paragraph 3 - For individuals with thyroid disorders, it is advisable to use ashwagandha supplements with caution. It can cause interactions with thyroid hormone replacement medications. Seek medical advice before taking ashwagandha if you have a thyroid condition.
Paragraph 4 - Sarah had been struggling with her energy levels for months and was unable to find relief despite trying various supplements and medications. After being introduced to ashwagandha by a friend, she tried it and was amazed by the improvement in her energy and stress levels. She now takes ashwagandha supplements regularly and is grateful for the newfound vitality in her life.
From capsules to powders, ashwagandha has more forms than a chameleon at a costume party.
Forms of ashwagandha supplements
Ashwagandha supplements come in various forms suitable for different needs.
Forms of Ashwagandha Supplements Description Capsules The most common form; easy to consume and precise dosing Powder Can be added to smoothies, foods, or hot liquids Tincture Liquid extract that can be consumed directly
It is important to note that the potency and concentration of ashwagandha may vary by brand and form. Therefore, it is recommended to follow the manufacturer's instructions and consult with a healthcare provider before consuming any supplement.
Pro Tip - To maximize the benefits, take ashwagandha supplements consistently as directed by the manufacturer or healthcare provider.
Whether you need stress relief or want to build muscle, ashwagandha has a recommended dosage for all your needs - just don't mix them up and accidentally end up with a jacked chill pill.
Recommended dosages for different uses
For Ashwagandha, proper dosages can vary depending on its intended use. Below is a breakdown of recommended dosages for different purposes:
Purpose Dosage Stress and Anxiety 240-600mg per day Sleep Aid 300mg to 500mg before bed Athletic Performance 500-1500mg per day Skin Health 600mg per day for eight weeks then reduced to 300 mg per day thereafter.
It is important to note that these are general recommended dosages and that individual needs may differ. Consult a healthcare provider before starting any new supplement regime, especially if you are pregnant or have underlying health conditions.
It is also worth noting that Ashwagandha supplements may interact with certain medications, like those used to treat thyroid issues or anxiety disorders. It is important to speak with a doctor or pharmacist about potentially harmful interactions.
One interesting fact about Ashwagandha comes from a study published in the Indian Journal of Psychological Medicine which found that Ashwagandha root extract improved memory and cognitive function in adults suffering from mild cognitive impairment.
Taking too much ashwagandha may lead to feeling so chill that you forget you have responsibilities.
Safety and Side Effects of Ashwagandha
Ashwagandha's safety profile is considered satisfactory, with minimal side effects at recommended doses. In rare cases, some people may experience allergic reactions or gastric disturbances. Ashwagandha interacts with drugs like benzodiazepines, immunosuppressants, and thyroid hormones, so caution should be exercised. Additionally, pregnant and lactating women should avoid ashwagandha as its effects on developing fetuses are not well established.
Ashwagandha may cause drowsiness, so it's best to avoid driving or operating machinery while using it. It may also cause a drop in blood sugar levels, so diabetic patients should monitor their blood sugar levels closely. Overall, it's always best to consult with a healthcare professional before taking any new supplement or herb.
It's important to note that ashwagandha should not be viewed as a cure-all for stress and anxiety. While it may help alleviate symptoms, it should be used in conjunction with other stress-management techniques like exercise, healthy eating, and mindfulness practices.
Pro Tip: When purchasing ashwagandha supplements, look for reputable brands that have been third-party tested for quality and purity.
Luckily, the only risk associated with ashwagandha is mispronouncing its name.
Adverse effects and risks associated with ashwagandha
Although generally safe and well-tolerated, the use of Ashwagandha can lead to adverse effects in some individuals. These may include gastrointestinal discomfort, fatigue, headache, and dizziness. It is critical to note that ashwagandha interacts with medications commonly used for diabetes and hypertension.
Moreover, prolonged high-dose consumption of ashwagandha has been linked to alterations in thyroid function tests. Breastfeeding or pregnant women are also advised not to consume it as there is limited information on its safety profile.
Notably, taking a full dosage of Ashwagandha without proper consultation with a healthcare provider or exceeding the prescribed amount can be potentially harmful to one's health. Therefore, it is necessary to take precautions and discuss with a professional before taking any supplements.
Individual experiences can vary significantly; some may feel striking results after using ashwagandha while others might encounter unwanted effects such as skin irritation or smell variations. It is essential to understand that potential risks exist in any supplement usage so one should be careful when consuming it.
It's important not to ignore the potential side-effects associated with the use of Ashwagandha and keep a keen eye on your body's response after consuming this herb. As per medical recommendations, only consider its use if you are experiencing specific ailments or conditions where it proves beneficial under professional advice. Don't risk your health by taking an unnecessary dietary supplement without proper guidance from a qualified health care practitioner.
Mixing Ashwagandha with other meds and supplements is like playing a game of pharmaceutical roulette - it's anyone's guess what the outcome will be.
Interactions with medications and other supplements
When taking ashwagandha, it is important to be aware of its potential interactions with other medications and supplements. This herb may increase the effects of sedatives and barbiturates, as well as interact with thyroid medications and immunosuppressants. Additionally, it may enhance the effects of drugs used for depression, anxiety, and blood sugar regulation. It's crucial to speak with a healthcare professional before taking ashwagandha, especially if already on any medication or supplement.
Moreover, ashwagandha may interact with supplements that act as pain relievers and anti-inflammatories. These interactions could cause adverse side effects such as a decrease in blood pressure or alertness. For people using these supplements or medicines regularly, consult your physician before taking ashwagandha.
It is significant to be extra careful when taking ashwagandha during pregnancy or nursing period because this herb has been shown to have adverse effects on developing fetuses. In rare cases, it can cause an allergic reaction; therefore, intake should be monitored medically.
Studies reveal that people incorrectly think all natural herbs are safe and do not require a doctor's consultation for consumption. Ashwagandha has many proven health benefits; however individuals need to stay informed about how it interacts with current prescription medication or any supplement already consumed when intake together.
Say 'Namaste' to stress and fatigue as Ashwagandha takes the lead in keeping you calm and collected.
Conclusion: Ashwagandha as an effective adaptogen herb for stress relief and vitality.
Ashwagandha is a revered adaptogen herb that provides stress relief and vitality support. It has been used for centuries to promote balance and wellness in the body. Its active compounds help the body manage stress by reducing cortisol levels, enhancing energy, and improving mental clarity. This herb also offers antioxidant benefits that protect cells from damage caused by free radicals. Its potential as an effective natural remedy for stress-related disorders has been researched extensively.
Ashwagandha can be consumed in various forms like capsules, powders, teas or tinctures. Its regular use can lead to positive results in managing anxiety, depression, fatigue, and other stress-induced conditions.
Ashwagandha's ability to modulate the body's stress response is a key reason why it is considered a powerful adaptogen herb for promoting vitality and overall wellness. It helps the system cope with both physical and emotional stressors without compromising other bodily functions put under pressure. Studies suggest that ashwagandha supplementation may benefit the immune system by increasing white blood cell production and cellular immunity responses.
In addition to its benefits as an adaptogen herb, ashwagandha also provides unique medicinal advantages like supporting thyroid function, lowering cholesterol levels, or reducing inflammation throughout the body. It is generally safe when taken as recommended but must be avoided by pregnant women or individuals with certain health conditions such as autoimmune disease or diabetes.
Research shows that ashwagandha's effectiveness as a natural remedy for stress relief is backed up by scientific evidence and clinical studies making it one of the most popular are known remedies for balancing the mind-body connection and promoting overall wellness.
Frequently Asked Questions
Q: What is Ashwagandha?
A: Ashwagandha is a traditional herb that has been used for centuries in Ayurvedic medicine for its adaptogenic properties, which help the body deal with stress and anxiety while also promoting overall vitality and well-being.
Q: What are the benefits of taking Ashwagandha?
A: Some of the main benefits of taking Ashwagandha include reducing stress and anxiety, boosting energy and endurance, improving brain function, reducing inflammation, and supporting overall immune function.
Q: How do I take Ashwagandha?
A: Ashwagandha is typically taken in capsule or powder form, with dosages ranging from 300mg to 600mg per day. It is best taken with food, and it is always recommended to follow the dosage instructions on the packaging or as recommended by a healthcare professional.
Q: Is Ashwagandha safe to take?
A: Ashwagandha is generally considered safe for most people to take. However, as with any supplement, it is always recommended to speak with a healthcare professional before beginning to take Ashwagandha, especially if you have any underlying health conditions or are taking any other medications.
Q: Can Ashwagandha help with sleep and relaxation?
A: Yes, Ashwagandha has been shown to have a calming effect on the body, making it an effective natural remedy for improving sleep quality and promoting relaxation.
Q: Is Ashwagandha vegan-friendly?
A: Yes, Ashwagandha is a plant-based herb and is therefore suitable for those following a vegan or vegetarian diet.