Discover more from IgelSparks Substack
My personal Substack
"Artichoke Extract: The Detoxifying Powerhouse for Liver Health"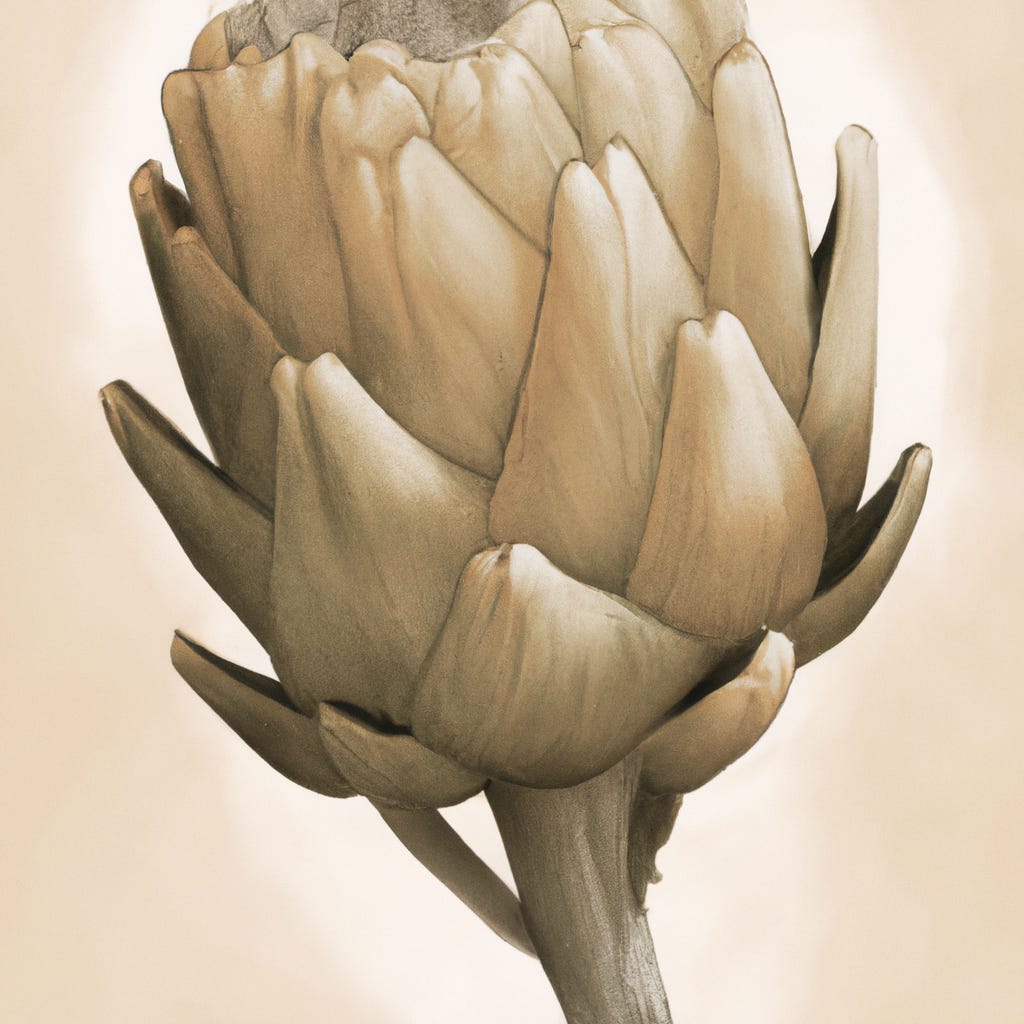 Introduction to Artichoke Extract
Artichoke extract is a mighty supplement that offers immense benefits for liver health. This powerful supplement is derived from the leaves of the artichoke plant, famous for their medicinal value since ancient times. Artichoke extract contains a high concentration of antioxidants and flavonoids, making it an excellent detoxifying agent for the human body.
Taking artichoke extract supplements has been shown to improve liver function by reducing inflammation and promoting bile production. Additionally, it can help lower cholesterol levels and maintain healthy blood pressure. It is also used as a natural remedy for digestive issues such as bloating, indigestion, and heartburn.
Artichokes have been grown and used as medicine in Italy since at least the time of ancient Rome. The first recorded use of artichokes was in writings by Pliny the Elder. Artichoke extracts were later found effective against heavy metal toxicity in workers exposed to lead and mercury during industrial processes popularized in the mid-twentieth century. Today, we continue to discover new ways artichoke extracts can benefit human health.
Detoxification process? More like a liver revival with artichoke extract.
Detoxification Process
To help your liver detoxify, use the detoxifying powerhouse of artichoke extract. Discover how this extract aids in detoxification and the benefits of this process for liver health, including a discussion of the benefits of how artichoke extract can help promote liver function.
How Does Artichoke Extract Help in Detoxification
Artichoke extract has a prominent role in detoxification. Its active ingredients, cynarin and silymarin, enhance liver function by promoting bile production and flow. This improves digestion and eliminates toxins from the body more effectively. Moreover, it helps to reduce inflammation and oxidative stress in the liver, further aiding detoxification.
Furthermore, artichoke extract acts as a diuretic, stimulating urine production and excretion of excess salts and waste materials. A healthy kidney function is crucial for efficient detoxification. Artichoke extract also increases antioxidant activity, protecting cells from harmful toxins.
Studies have shown that artichoke extract supplementation can lead to significant improvements in liver enzyme levels and reduction of liver fat content. Hence, it may be beneficial in managing conditions such as alcohol-induced liver damage and nonalcoholic fatty liver disease.
According to a study published in the Journal of Ethnopharmacology, artichoke extract has been traditionally used for centuries as a natural remedy for various ailments including gastrointestinal issues and hepatic disorders.
Detoxifying your liver is like hitting the reset button on a malfunctioning computer, except your liver doesn't require technical support.
Benefits of Detoxification for Liver Health
Detoxing for Optimal Liver Function
Our liver is a vital organ that plays many crucial functions in the body. Detoxification is a powerful way to support optimal liver function, allowing it to work efficiently and without unnecessary strain.
The benefits of detoxification for liver health are numerous:
Eliminates toxins and pollutants stored in the liver.

Reduces inflammation and oxidative stress.

Cleanses the blood of impurities and harmful substances.

Promotes better digestion and nutrient absorption.

Hastens the healing process of damaged cells and tissues in the liver.

Enhances overall energy levels by improving metabolism.
Detoxification also bolsters immune function, which protects us from illnesses caused by viruses or environmental toxins.
It's important to note that our body requires specific nutrients like vitamins, minerals, proteins, and fiber for proper functioning of these processes. Getting an adequate amount of these nutrients through a healthy diet can also lead to improved liver function.
One true story worth mentioning is that Polynesians used Noni, also known as Morinda citrifolia, as a traditional remedy for enhancing liver function. It contains many beneficial compounds including antioxidants like anthocyanins which prevent cellular damage caused by free radicals.
Give your liver the artichoke treatment, because let's face it, it's taken enough of a beating from all those wild weekend benders.
Artichoke Extract for Liver Health
To boost your liver health, turn to the detoxifying powerhouse of artichoke extract. Protecting liver cells, increasing bile production, and acting as an antioxidant, this powerful extract has a lot to offer. Discover the benefits of artichoke extract and how you can use it to support your liver health today.
Artichoke Extract to Protect Liver Cells
The potential of Artichoke Extract to fortify liver cells has been a subject of considerable study. Studies suggest its effectiveness in promoting bile production, which enhances digestion. Artichoke extract helps to prevent liver damage caused by alcohol consumption and toxic chemicals.
Research indicates that regular consumption of artichoke extract leads to decreased levels of fat in the liver and an increase in bile flow. These findings have led many experts to advocate for the inclusion of artichoke extract as one component of dietary supplements designed to promote liver health.
Furthermore, studies show that artichoke extract supplements can help reduce elevated cholesterol levels in the body, which is significant given the link between high cholesterol and fatty deposits on the liver.
Ancient Greeks and Romans traditionally used Artichoke extracts as a digestive aid. Despite being native to North Africa, several European countries have adopted it as their own and incorporate a variety of Artichoke-based components into their dietary habits. Its medicinal qualities span from nourishing effects on bodily organs like the liver to assisting with Type 2 diabetes management.
Looks like artichokes aren't just for salads, they're also the key ingredient to a smooth-operating liver!
Artichoke Extract to Increase Bile Production
Artichoke Extract for Enhancing Bile Production
Artichoke extract is known to possess a range of health benefits, among which it can enhance bile production. Some essential points regarding the same are:
Artichoke extract has been found to improve bile flow and stimulate bile production, aiding in better digestion.

The active ingredient in artichoke extract, cynarin, is responsible for triggering the liver to produce more bile.

A study showed that consuming artichoke extract for six weeks helped increase bile secretion by up to 127%.
Apart from these, artichoke extract also possesses antioxidant properties and can help reduce cholesterol levels.
A True Fact: According to a study in 2019 by the Journal of Evidence-Based Integrative Medicine, regular consumption of artichoke extract helps improve liver functions and promotes liver cell regeneration.
Who needs a superhero when you have artichoke extract to fight off those pesky free radicals?
Artichoke Extract as an Antioxidant
Artichoke Extract for Liver Health
Artichoke extract is a potent antioxidant that has numerous benefits, including liver health. The antioxidant properties of artichoke extract work to neutralize free radicals, which can cause oxidative stress that can harm liver cells.
Artichoke extract helps stimulate the production of bile in the liver, which aids in digestion and helps eliminate toxins from the body.

The flavonoids present in artichoke extract act as powerful antioxidants, reducing inflammation and preventing damage to liver cells.

Studies have shown that artichoke extract may lower cholesterol levels and reduce the risk of fatty liver disease, a condition that can lead to liver damage.
It is worth noting that artichoke extract may interact with certain medications, especially those used to treat high cholesterol or blood pressure. Therefore, it is important to consult with a healthcare professional before adding artichoke extract supplements to your diet.
To ensure optimal liver health and prevent potential liver damage, incorporating artichoke extract into a balanced dietary regimen may promote positive health outcomes. Who knew that a prickly vegetable could do more for your health than your ex?
Other Health Benefits of Artichoke Extract
To enhance your overall health, including liver health, explore the other numerous health benefits artichoke extract has to offer. In order to improve digestive health, cholesterol management and regulate blood pressure, we dive into the sub-sections of this section; Digestive Health, Cholesterol Management, and Blood Pressure Regulation.
Digestive Health
Artichoke Extract for Optimal Gastrointestinal Functions
Artichoke extract is a potent herbal remedy with an array of health benefits. It has been found to enhance the optimal functioning of the gastrointestinal system in various ways. The phytochemicals present in artichoke extract promote bile production, improve digestion, and reduce inflammation in the gut.
Additionally, artichoke extract is beneficial in treating irritable bowel syndrome and other digestive disorders. It can prevent constipation by acting as a natural laxative, thus, relieving bloating and discomfort associated with digestive issues.
Research shows that artichoke extract supplementation can increase the absorption of nutrients from food, leading to improved overall health. Its anti-inflammatory properties can also protect against ulcers and other inflammatory conditions.
Furthermore, incorporating artichoke extract into your regular diet can have long-lasting effects on your digestive well-being. Don't miss out on the potential health boost that artichoke extract can provide for your digestive system.
Artichoke extract: because lowering your cholesterol levels shouldn't have to involve boring salads and tasteless supplements.
Cholesterol Management
Studies suggest that Artichoke Extract has potential to help manage cholesterol levels. Artichoke Extract's active ingredient, Cynarin, has shown to increase bile production and reduce LDL cholesterol levels. This can potentially lower the risk of heart disease.
Artichoke Extract may also increase HDL or "good" cholesterol levels. This can further benefit individuals with high triglycerides. According to research, consumption of Artichoke Extract supplements for 4-6 weeks may result in significant improvement in lipid profiles.
In addition to improving cholesterol levels, Artichoke Extract also possesses antioxidant properties that protect against oxidative stress and inflammation. This can contribute to overall cardiovascular health.
Pro Tip: Consult a healthcare professional before incorporating Artichoke Extract supplements into your diet, especially if you have a pre-existing medical condition or are taking medication.
Who needs a blood pressure monitor when you can just sneak some artichoke extract into your meals?
Blood Pressure Regulation
The extract from the artichoke plant has been studied for its many health benefits. One of these is its effects on regulating blood pressure. Artichoke extract contains a compound called cynarin, which has been shown to reduce blood pressure by dilating blood vessels and increasing blood flow.
In addition to reducing blood pressure, studies have also found that artichoke extract may improve cholesterol levels, alleviate digestive issues, and even protect the liver from damage caused by toxins. The high antioxidant content in artichokes also supports overall health and can help reduce inflammation in the body.
It's interesting to note that artichokes were first cultivated thousands of years ago by the Greeks and Romans for their medicinal properties. Today, they remain a popular vegetable worldwide, valued not only for their taste but also for their potential health benefits. Who needs a salad when you can just sprinkle some artichoke extract on your pizza?
How to Incorporate Artichoke Extract in Your Diet
Artichoke extract can be an excellent addition to your diet, as it offers many health benefits. Here are some ways to incorporate this detoxifying powerhouse into your daily routine:
Add artichoke extract capsules or tablets to your supplement regimen.

Include artichokes in your meals by adding them to salads, pizzas, quiches, and dips.

Try drinking artichoke tea or juice for a refreshing and nutritious beverage option.
Additionally, incorporating artichoke extract into your diet may help reduce inflammation, improve digestion, and promote liver health.
Pro Tip: Consult with a healthcare professional on the appropriate dosage of artichoke extract for your specific needs and health concerns.
Don't worry about the side effects of artichoke extract, just remember: a little gas for a lot of liver love.
Precautions and Side Effects of Artichoke Extract Consumption
Consuming artichoke extract has numerous benefits, including liver detoxification. However, users need to be cautious of potential side effects. Here are a few precautions and side effects to keep in mind:
Those who are allergic to plants within the same family as artichokes (daisies, marigolds) should steer clear.

Artichoke extract can cause digestive discomfort such as diarrhea or bloating.

The use of artichoke extract may interfere with prescription medication for conditions like diabetes or high cholesterol.
It's important to note that these are not the only possible side effects and it is advised that users speak with their doctor before using artichoke extract. Additionally, long term usage of this extract has not been thoroughly studied.
Artichokes have been used for centuries for medicinal purposes--the Greeks and Romans held it in high regard. In the 16th century, Europeans believed that artichokes had aphrodisiac properties.
After reading about the detoxifying power of artichoke extract, I think it's time for my liver to finally retire from its party lifestyle.
Conclusion: Artichoke Extract as a Detoxifying Powerhouse for Liver Health
Artichoke extract is a potent liver detoxifier that supports optimal liver function. It helps to optimize the production and flow of bile, which assists with digestion, elimination of toxins, and maintenance of metabolic equilibrium. Moreover, it contains phytochemicals such as cynarin and silymarin which are known for their antioxidant properties and ability to promote the regeneration of damaged liver cells.
To receive maximum benefits from Artichoke extract, take it regularly as a supplement or include fresh artichokes in your diet.
Finally, always consult with healthcare professionals before starting any new supplements or dietary regimes.
Frequently Asked Questions
1. What is artichoke extract?
Artichoke extract is a supplement derived from the leaves of the artichoke plant. It contains high levels of antioxidants, including cynarin, which is known for its liver-protecting properties.
2. How does artichoke extract benefit the liver?
Artichoke extract stimulates the production of bile, which is essential for the digestion and absorption of fats. It also helps to protect the liver from damage caused by toxins and oxidative stress. Studies have shown that artichoke extract can improve liver enzymes and reduce inflammation in the liver.
3. How do I take artichoke extract?
The recommended dosage of artichoke extract varies depending on the product. It is usually taken in capsule form, and the dosage can range from 300 to 640 mg daily. Always consult with your doctor before taking any supplements.
4. Are there any side effects of artichoke extract?
Artichoke extract is generally safe for most people. However, some individuals may experience side effects such as upset stomach, diarrhea, or allergic reactions. If you experience any adverse effects, stop taking the supplement and consult with your doctor.
5. Can artichoke extract be taken with other supplements or medications?
Artichoke extract may interact with certain medications such as blood thinners, cholesterol-lowering drugs, and drugs that are broken down in the liver. Always consult with your doctor before taking artichoke extract with any other supplements or medications.
6. Can artichoke extract help with weight loss?
Artichoke extract may help with weight loss by reducing appetite and increasing fat metabolism. However, more studies are needed to confirm its effectiveness as a weight loss supplement. It should not be used as a substitute for a healthy diet and exercise.