Discover more from IgelSparks Substack
My personal Substack
"Arginine: Fuel Your Workouts and Boost Nitric Oxide Production"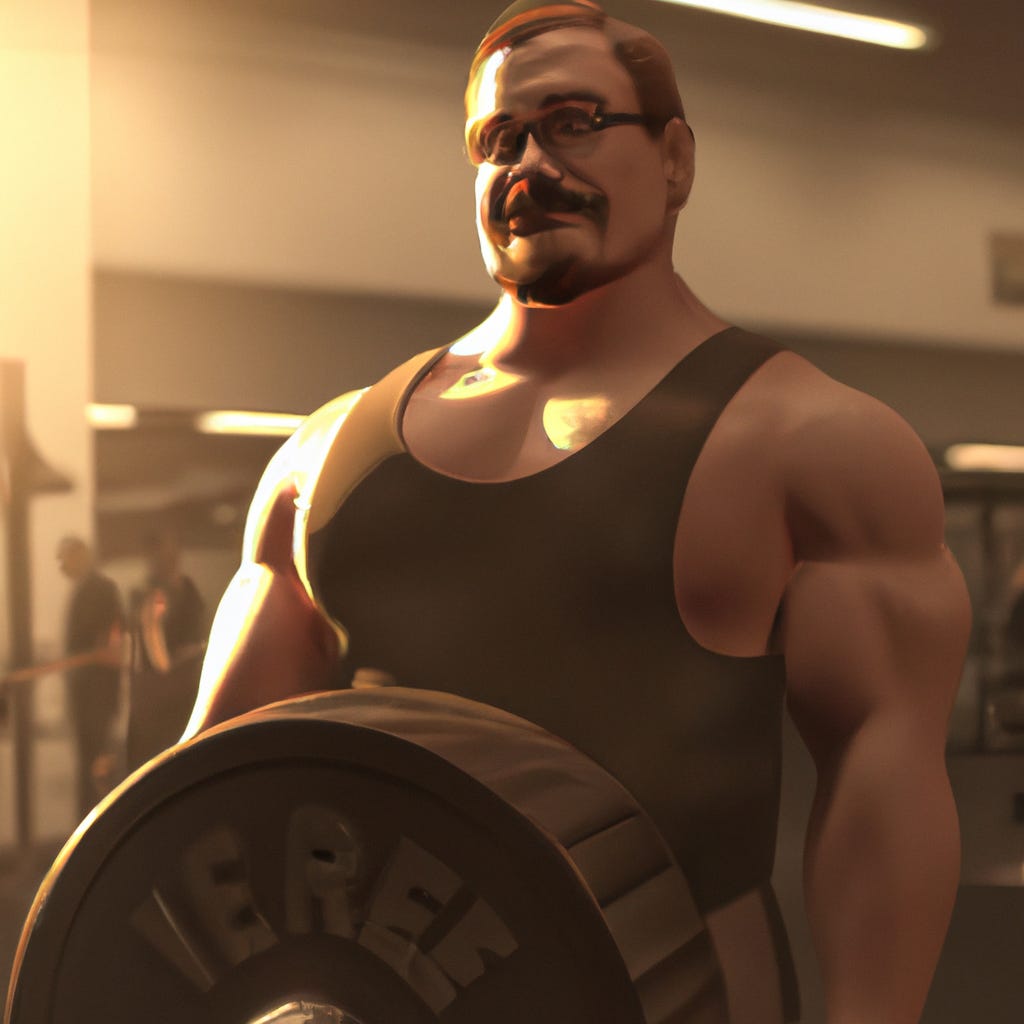 Introduction to Arginine and Nitric Oxide Production
Arginine, an amino acid, aids in boosting nitric oxide production and improving athletic performance. Its role in increasing blood flow to muscles provides a pre-workout boost. Nitric oxide production is essential for proper vascular function and aids in reducing blood pressure. Arginine-rich foods such as meat, chicken, fish and dairy products help in the body's natural ability to produce nitric oxide. The synergy between arginine and nitric oxide production affects cognitive function, cardiac health and immunity, making it crucial for overall health.
Pro Tip: To optimize arginine absorption, consume it on an empty stomach and avoid consuming caffeine or food high in fat before taking supplements containing arginine.
Get pumped for your gym sesh with arginine - because who needs pre-workout supplements when you have an amino acid that sounds like a Game of Thrones character?
Benefits of Arginine for Fueling Workouts
To fuel your workouts with arginine, explore its benefits which can boost nitric oxide production. By doing so, you can increase blood flow to muscles, enhance endurance and stamina, improve muscle recovery, and increase growth hormone production. These sub-sections each offer unique advantages to help you optimize your workout performance.
Increased Blood Flow to Muscles Through Nitric Oxide Production
One key benefit of Arginine is its ability to increase nitric oxide production, which results in increased blood flow to muscles. This enhanced blood flow helps provide the necessary nutrients and oxygen to the muscles during workouts, thereby increasing performance. Additionally, the boosted nitric oxide levels in the body also help reduce muscle fatigue and soreness post-workout.
To elaborate further, Arginine acts as a precursor to nitric oxide synthesis in the body. Nitric oxide is a potent vasodilator that relaxes smooth muscles in the blood vessels, leading to increased blood flow. This increased blood flow not only delivers more oxygen and nutrients but also aids in removing waste products like lactic acid from the muscles, delaying fatigue onset.
Moreover, with an increase in nitric oxide levels, there is a subsequent increase in nutrient uptake by the muscle cells. This enhances protein synthesis and leads to faster muscle recovery and growth following exercise. As Arginine increases natural hormone production such as Growth Hormone (GH), it could lead to an improved ratio of fat mass to lean mass along with other noted benefits such as higher immunity.
Incorporating arginine-rich foods like red meat, fish (salmon & tuna), nuts (almonds, peanuts), and seeds (pumpkin seeds) or supplements can help attain optimal nitric oxide levels for improved workout performance. However high Arginine intake should be monitored or advised under medical supervision due to possible complications when interacting with medication history especially for individuals with asthma or herpes infections amongst other such medical conditions.
Arginine offers numerous benefits related to exercise physiology and recovery. It's vital to note that moderation while incorporating novel dietary changes would ensure adequate safety whilst maximizing desired effects of this supplement on top of fulfilling macronutrient requirements meeting individual goals toward robust workout regimens.
Who needs a second wind when you have arginine - the fuel that keeps on giving.
Enhanced Endurance and Stamina
For those looking to improve their athletic performance, optimizing endurance and stamina is key. Arginine, a natural amino acid found in many foods and available as a supplement, has been shown to enhance these abilities.
Arginine improves blood flow, which provides greater oxygen and nutrients to muscles during exercise.

It also increases nitric oxide production in the body, leading to better vascular function.

Research has shown that arginine can decrease fatigue and improve recovery time.

It may also increase VO2 max, which is the maximum amount of oxygen the body can use during exercise.

Supplementation with arginine has been found to improve endurance in both trained athletes and sedentary individuals.
Additionally, arginine may have benefits beyond just athletic performance. It has been studied for its potential in reducing inflammation and improving heart health.
To maximize the benefits of arginine for enhancing endurance and stamina, it is recommended to take it before exercise on an empty stomach for optimal absorption. As always, it's important to consult with a healthcare provider before starting any new supplement regimen.
After a tough workout, the only thing I recover faster than my muscles is the pizza delivery guy.
Improved Muscle Recovery
Arginine Boosts Muscle Recovery
Arginine supplements boost nitric oxide production, which increases blood flow to the muscles. Improved blood flow means faster delivery of oxygen and nutrients to the muscle tissue. This promotes faster recovery after intense workouts, and decreases post-workout soreness.
Additionally, arginine has been shown to increase protein synthesis in the body. Protein synthesis is essential for muscle growth and repair. As a result, supplementing with arginine can aid in building lean muscle mass while improving muscle recovery time.
Studies have also demonstrated that arginine supplementation can help combat muscle wasting in elderly individuals and prevent muscle loss due to prolonged bed rest or immobility.
Pro Tip: To maximize the benefits of arginine for muscle recovery and growth, take it together with other key amino acids like glutamine and BCAAs (branched-chain amino acids) before or after exercise.
Who needs expensive workout supplements when you can just tickle your pituitary gland with arginine for a natural growth hormone boost?
Increased Growth Hormone Production
Arginine, a non-essential amino acid, has been known to trigger the secretion of growth hormones in the body. This hormone is vital in muscle development and can aid bodybuilders and athletes in their workouts.
Moreover, consuming arginine supplements can help increase the production of nitric oxide. Nitric oxide plays an essential role in dilating blood vessels, allowing more oxygen and nutrients to reach muscles during exercise. This leads to improved endurance and reduced fatigue, thus pushing past workout plateaus.
Additionally, studies have shown that combining arginine with exercise can lead to greater reductions in body fat mass due to increased energy expenditure and fat utilization during exercises. It also aids in improving insulin sensitivity than regular exercise alone.
Want to amp up your arginine intake? Skip the supplement aisle and hit up some watermelon or nuts instead.
Dietary Sources of Arginine
To learn about dietary sources of arginine, boost your workouts, and increase nitric oxide production, you should know what foods to eat. Fueling yourself with the right types of food is key. Discover the diverse options of meat and seafood, dairy products, nuts and seeds, and legumes and beans that are packed with arginine.
Meat and Seafood
For sources of arginine, animal-based products like red meat and seafood are highly recommended.
A table is an effective way to display the different foods that fall under this category. Some examples of meat products that contain high levels of arginine include beef, pork, chicken, and turkey, while seafood options include tuna, salmon, crab, and shrimp.
In addition to being great sources of arginine, these meats and seafood also contain valuable nutrients such as iron and omega-3 fatty acids.
Pro Tip: When preparing meats and seafood make sure to choose lean cuts to keep intake of saturated fats in check.
"Moo-ve" over, boring snacks, because dairy is udderly delicious and packed with arginine!
Dairy Products
This section explores the contribution of dairy to our dietary intake of arginine. Sources such as milk, cheese and yogurt have been identified as rich in arginine; these are widely available worldwide and constitute a major portion of our diet.
Food Arginine Content (g) per serving Milk 0.2-0.5 Cheese 0.3-0.7 Yogurt 0.2-1.5
In addition, some studies have shown that pasture-fed cattle produce milk with higher concentrations of arginine than grain-fed cattle.
Dairy products have been consumed historically; there is evidence that milk has been used by humans for thousands of years for its nutritional value and medicinal properties. In ancient cultures, dairy was considered a sacred food and was highly valued for its health benefits.
You could go nuts trying to find a better source of arginine than nuts and seeds.
Nuts and Seeds
Nuts and seeds are rich in arginine content, making them excellent dietary sources. Here are some details worth knowing:
Almonds are high in arginine content, with 1 cup providing approximately 4 grams.

Similarly, pumpkin seeds offer around 5 grams of arginine per cup, making them a great inclusion in the diet.

Walnuts are another nut that contains a significant amount of arginine; consuming just half a cup can provide up to 3.5 grams of this amino acid.

Sesame seeds are also perfect for boosting arginine intake since they have around 4 grams per cup.
Apart from these details, it is important to note that nuts and seeds also contain other essential nutrients like protein, healthy fats, fiber, and vitamins that make them even more beneficial for overall health.
Incorporating nuts and seeds into your regular diet may seem daunting if you're not used to eating them regularly. However, adding a handful of mixed nuts or seeds to your meals or snack time is an easy way to do so. Don't miss out on the numerous health benefits these small but mighty foods have to offer!
Beans, beans, they're good for your heart, and apparently they're also a great source of arginine - who knew?
Legumes and Beans
Leguminous crops and pulses are sources of amino acid arginine. Here are the top five legumes & beans that can supplement your arginine intake:
Black beans

Soybeans

Lentils

Chickpeas

Pinto beans
The aforementioned legumes and beans are rich in dietary fibers, heart-healthy nutrients, and proteins that aid digestion and weight management. For a more nutritious diet, replace processed foods with a variety of these sources.
Legumes & Beans are often overlooked for their nutritional benefits; however, they offer unique compounds that promote bodily functions. Such benefits from incorporating them into diets include enhanced metabolic activities, prevention against cardiovascular diseases, and improved blood sugar levels.
In ancient times, black-eyed peas were often cultivated by slaves as part of their nutritionally sparse diets. It was discovered later on as being an essential element in Southern Soul food cuisine. Its consumption is now widespread across the world.
Don't want to eat your arginine? No problem, just pop a pill and let science handle the rest.
Supplementation with Arginine
To supplement your workouts with arginine effectively, you need to know the right dosages and potential side effects. In order to make an informed decision, it's important to be familiar with the recommended dosages and precautions for individuals with medical conditions. Let's explore the benefits and potential drawbacks of arginine and how to get the most out of this supplement.
Dosage Recommendations
The Ideal Arginine Dose:
Supplementation with Arginine requires a proper dosage for maximum benefits. The following points will help one provide information regarding the appropriate amount of Arginine intake.
Recommended As per Individual Body Composition

General Dosage varies between 3-6g daily.

Athletes and Fitness Enthusiasts can take up to 10g per day in divided doses.

The body absorbs divided doses better than a single large dose.

Consultation with a medical professional is advisable before supplementation.

Cycling doses after every two weeks can avoid possible tolerance buildup.
Regarding Supplementation with Arginine, it's essential to note that not all individuals can receive equal amounts of supplements. Some medical conditions or individual body requirements need personalized advice for intake. Therefore, it's wise to seek medical consultation before attempting supplementation.
Pro Tip: Cycling the dose of arginine after two weeks of usage helps restore sensitivity to its effects and prevent tolerance buildup.
Arginine: where the potential blood thinning effects may have you feeling like a vampire in no time.
Potential Side Effects
Arginine Supplementation may have potential adverse effects that need to be considered. Some of the most commonly reported symptoms are:
Gastrointestinal Disturbances: Diarrhea, nausea, vomiting, and abdominal pain.

Allergic Reactions: Arginine can cause an allergic reaction in people sensitive to it, with symptoms like skin rash, itching, and shortness of breath.

Blood Pressure Abnormalities: Arginine can lower blood pressure in some individuals, leading to lightheadedness or dizziness.

Potential Interference with Certain Medications: Arginine might interfere with medications like antihypertensives, nitrates, and sildenafil that are used for treating cardiovascular disease.

Risk for Increased Cold Sore Outbreaks: People prone to developing cold sores may experience more frequent outbreaks.
It is essential to note that arginine supplementation is safe when consumed within the recommended dosages. However, attention must be given to these side effects before taking this supplement.
Pro Tip: Individuals who intend to take this supplement should consult their physician first as they can guide them accordingly on suitable dosage and potential interactions with other medications.
Before supplementing with arginine, check with your doctor if it's safe to do so - unless you enjoy playing medical roulette.
Precautions for Individuals with Medical Conditions
Individuals with underlying medical conditions should take extra precautions before supplementing with arginine. It is essential to consult a healthcare provider before using any new supplement, including arginine. Some precautions that should be taken include:
Avoid the use of arginine if you have asthma, low blood pressure, or herpes.

Patients on medications such as nitrates or antihypertensive medication should talk to their physician before starting arginine supplements.

Pregnant and breastfeeding women should also refrain from taking arginine supplements.

Individuals undergoing surgery should stop taking this supplement at least two weeks prior to the scheduled procedure since it increases the risk of bleeding.
It's worth noting that people with kidney disease should avoid high doses of Arginine given the toxic effect that an accumulation can have on their body.
One anecdotal story highlights how someone had been taking high doses of L-arginine for 15 years primarily as pre-workout only to develop adverse symptoms like tingling numbness for which he had developed neuropathy over time.
Add arginine to your fitness routine and watch your gains explode faster than a protein shake in a blender.
Conclusion: Incorporating Arginine into Your Fitness Routine
Arginine supplementation can play a significant role in enhancing your workouts and boosting nitric oxide production. By incorporating arginine into your fitness routine, you can ultimately experience improved blood flow, increased muscle mass and enhanced overall performance.
To gain optimal benefits from arginine, it is recommended to consume it before exercise or as part of a pre-workout supplement. Furthermore, combining it with other amino acids or supplements such as citrulline may yield even greater results.
It is important to note that arginine supplementation may not work effectively for everyone and individual results may vary. Additionally, it is best to consult with a healthcare practitioner before starting any new supplementation regimen.
While arginine has gained popularity in recent years as a workout supplement, its history dates back to the 1800s when it was first discovered in protein sources. Today, its usage has expanded beyond the fitness world and has become a common ingredient in various health supplements.
Frequently Asked Questions
1. What is arginine and what does it do?
Arginine is an amino acid, which means it is one of the building blocks of protein. It is involved in many functions in the body, including the production of nitric oxide, which helps to increase blood flow and improve exercise performance.
2. What are the benefits of taking arginine supplements?
Arginine supplements are commonly taken to help enhance athletic performance, increase muscle mass, and promote faster recovery after exercise. They may also improve cardiovascular health and help to lower blood pressure levels.
3. How much arginine should I take?
The recommended dosage of arginine supplements can vary depending on your individual needs and goals. As a general guideline, doses of 2-3 grams per day are commonly used for athletic performance enhancement, while higher doses may be required for more significant health benefits.
4. Are there any side effects of taking arginine supplements?
In general, arginine supplements are considered safe for most people when taken in moderate doses. However, some people may experience side effects such as nausea, diarrhea, or stomach cramps. Rarely, high doses of arginine may also cause allergic reactions or worsen asthma symptoms.
5. Can I get enough arginine from food sources?
While arginine is found in many protein-rich foods like meat, fish, and dairy products, it can be challenging to get enough from food alone to achieve significant performance or health benefits. For this reason, many athletes and fitness enthusiasts prefer to use supplements to ensure adequate intake.
6. When is the best time to take arginine supplements?
The timing of arginine supplementation may depend on your goals. Some people prefer to take it before exercise to help enhance performance, while others take it after exercise to aid in recovery. It can also be taken at other times of the day, such as in the morning or before bed.