Discover more from IgelSparks Substack
My personal Substack
"Arachidonic Acid: The Essential Fatty Acid for Muscle Growth"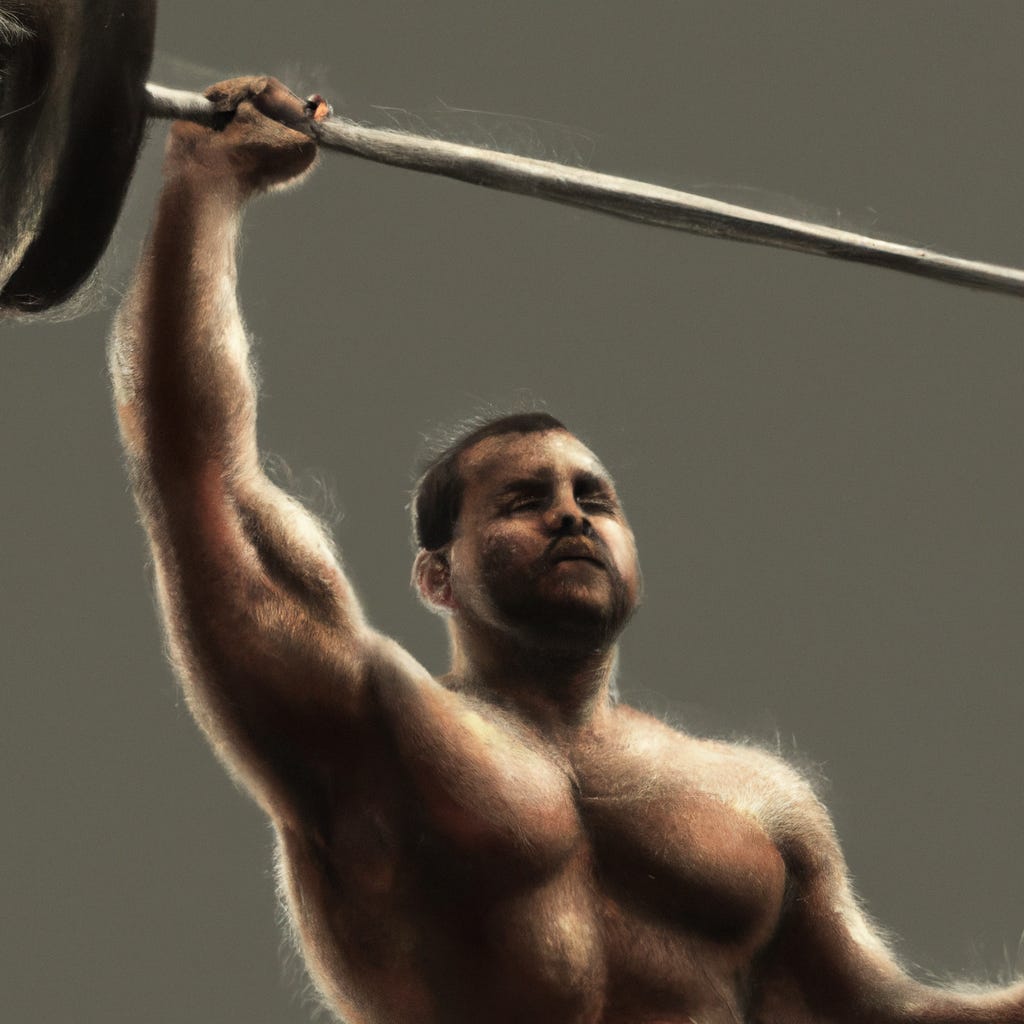 What is Arachidonic Acid?
Arachidonic Acid is a long-chain polyunsaturated fatty acid that is essential for muscle growth. It is produced in small amounts by our own bodies and can also be obtained from certain foods such as meat and eggs. This vital omega-6 fatty acid is important for the regulation of inflammatory responses, muscle repair and growth, energy, and endurance.
Research has shown that Arachidonic Acid supplementation in combination with strength training leads to significant gains in muscle mass and strength. The reason behind this magical effect is because Arachidonic Acid enhances the production of prostaglandins, which, in turn, lead to inflammation at the site of the muscles. This controlled inflammation triggers muscle growth by stimulating protein synthesis within the muscles.
Studies have also determined that taking a daily dose of 1-2 grams of Arachidonic Acid can result in improved athletic performance and decreased recovery time after intense workouts. This translates to better gains in muscle growth as well.
A real-life example of the effectiveness of Arachidonic Acid supplementation can be seen in competitive bodybuilding where many professional athletes take an Omega-3 supplement along with Arachidonic Acid prior to competitions for enhanced muscular definition and size.
Arachidonic Acid gives muscles the boost they need, but be warned - too much of it and you'll be feeling sore in places you didn't even know existed.
How Does Arachidonic Acid Impact Muscle Growth?
In order to understand the impact of arachidonic acid on muscle growth, you'll need to know how it affects inflammation and protein synthesis. We'll explore these two sub-sections in detail and outline the benefits of arachidonic acid in optimizing muscle growth.
Arachidonic Acid and Inflammation
Arachidonic Acid and the Inflammatory Response in Muscles
Arachidonic acid is known to impact muscle growth by stimulating the production of eicosanoids, which are involved in inflammation. When your muscles are stimulated through exercise or weightlifting, there is some degree of damage or breakdown that occurs at a cellular level. This triggers an inflammatory response from the body, which then recruits immune cells and proteins to the damaged area to initiate repair. Arachidonic acid is an essential fatty acid that is converted into prostaglandins and leukotrienes - two types of eicosanoids that play a crucial role in mediating this inflammatory response.
It has been suggested that supplementing with arachidonic acid can enhance the muscle-building process by effectively amplifying the inflammatory response within muscles. By providing more substrate for eicosanoid production, it could potentially accelerate recovery and tissue repair after strenuous exercise. However, studies have produced mixed results on whether these supplements actually lead to noticeable gains in muscle mass or strength.
Recent research has also shown that increasing levels of arachidonic acid may have an impact on other aspects of health beyond just muscle growth. There is evidence to suggest that high levels of this fatty acid may be associated with an increased risk of cardiovascular disease, as well as certain cancers. As always, it's important to speak with a healthcare professional before starting any new supplementation regimen.
In fact, my friend Tom began taking arachidonic acid supplements with hopes of enhancing his physique and performance in powerlifting competitions. While he initially noticed some improvements in his recovery time after workouts, ultimately, he didn't see any significant changes to his strength or size compared to natural training methods alone.
Arachidonic acid and protein synthesis: One helps muscles grow, the other helps you grow out of your pants.
Arachidonic Acid and Protein Synthesis
Arachidonic acid has a significant impact on the modulation of protein synthesis in the muscle tissues. It plays a crucial role in promoting muscle growth and repair of damaged muscles. Studies suggest that arachidonic acid supplementation can enhance protein synthesis, leading to increased muscle mass.
Muscle hypertrophy is a long-term adaptation that occurs due to repeated resistance training. The process involves an increase in protein synthesis, which requires essential amino acids and other nutrients like arachidonic acid. Arachidonic acid promotes muscle growth by activating certain signaling pathways that are responsible for stimulating protein synthesis.
Moreover, arachidonic acid acts as a precursor to several lipid mediators like prostaglandins and leukotrienes that play important roles in inflammation and tissue repair. These lipid mediators not only regulate protein synthesis but also enhance blood flow and nutrient delivery to muscles, improving their overall health.
Interestingly, research suggests that our ancestors had high dietary intake of arachidonic acid due to their consumption of lean meat from wild animals. However, modern diets are often deficient in arachidonic acid, leading to inadequate muscle recovery and growth.
Who needs supplements when you can just chow down on some chicken, eggs, or beef and get your daily dose of muscle-building arachidonic acid?
Food Sources of Arachidonic Acid
To discover food sources of arachidonic acid for muscle growth, you will find valuable information in this section with animal-based foods and supplements as solutions. Each sub-section presents a range of food options that can help you in building muscle mass.
Animal-Based Foods
Animal-Derived Sources of Arachidonic Acid
Arachidonic acid is an omega-6 fatty acid that is commonly found in animal-based foods. These sources of arachidonic acid are important for maintaining various physiological functions in the human body.
The following table provides a summary of different animal-derived foods that are good sources of arachidonic acid:
Food Amount Per 100g Beef liver 390mg Chicken liver 251mg Egg yolk 240mg Pork 107mg Chicken 78mg
It is important to note that the amount of arachidonic acid can vary depending on factors such as the animal's diet and living conditions. Additionally, it is recommended to consume these foods in moderation as excessive intake can lead to inflammation and other health issues.
Consuming a balanced diet with a variety of food sources can help ensure adequate intake of arachidonic acid. Supplementing with arachidonic acid capsules may also be beneficial for those who do not consume enough through their diet. It is recommended to consult with a healthcare professional before starting any supplement regimen.
With the abundance of arachidonic acid in supplements, who needs a diet rich in eggs, meat, and fish? Just swallow a pill and call it a day.
Supplements
Supplementation for Arachidonic Acid
Arachidonic acid can be obtained from various food sources, but supplementation may be required in some cases. Here are some key points regarding supplements:
Supplements containing arachidonic acid are available, primarily in the form of capsules.

It is important to consult a healthcare professional before taking any supplements to determine the appropriate dosage and potential side effects.

Some research has suggested that supplementing with arachidonic acid may benefit athletic performance and muscle growth.

However, the effectiveness of supplementation is still subject to ongoing research.
In addition to these key points, it's worth noting that arachidonic acid is naturally produced by the body and usually doesn't require supplementation. Nevertheless, certain individuals with specific medical conditions may benefit from supplementation. A healthcare provider can provide more tailored guidance on this topic.
For those looking to increase their levels of arachidonic acid through diet rather than supplements, incorporating foods such as meat, eggs, and fish can be helpful. Additionally, consuming a varied diet that includes healthy fats may provide adequate amounts of this essential fatty acid.
Eat your heart out, because the recommended daily intake of arachidonic acid will definitely give you some heartburn.
Recommended Daily Intake of Arachidonic Acid
To ensure optimal muscle growth, it is important to consume the appropriate amount of arachidonic acid daily. Below are the recommended daily intake levels of arachidonic acid for various age groups.
Age Group Recommended Daily Intake Infants 0-6 months 10 milligrams/day Infants 7-12 months 15 milligrams/day Children 1-3 years old 20 milligrams/day Children and Adolescents aged between 4 and18 years old Varies between sex and age groups; ranges from 20 milligrams/day to 40 milligrams/day Adults aged above18 years old One gram per day
For those who engage in regular strength training, doses of up to two grams per day may be used. Additionally, individuals on vegetarian or vegan diets may need to supplement with foods high in arachidonic acid such as egg yolks, meat, fish, and poultry. Studies have shown that adequate intake of arachidonic acid can lead to increased muscle growth and improved athletic performance. Daily requirement levels vary among individuals based on their age group and lifestyle habits. A young man who struggled with gaining muscle was advised by his trainer to increase his intake of arachidonic acid through a balanced diet that included meat, eggs, and fish. After following this dietary change for several weeks, he began noticing considerable gains in muscle mass. Be careful not to become too buff, you don't want to accidentally intimidate your friends into skipping arm day.
Potential Risks and Side Effects of Arachidonic Acid Supplementation
Supplementing with Arachidonic Acid has potential risks and side effects that one should be aware of. The following points highlight these concerns:
Elevated Liver Enzymes: Some studies have shown increased levels of liver enzymes, which can suggest liver damage in some cases.

Gastrointestinal Issues: Arachidonic Acid can cause frequent diarrhea, nausea and stomach pain in rare cases.

Blood Flow Changes: Supplementation may increase blood flow to injured or inflamed muscles; yet, it may also increase the risk of thrombosis for individuals with preexisting conditions.
Moreover, individuals with any medical condition must consult a doctor before starting supplementation as they might interact with existing medications.
Interestingly, a study by KU Leuven found that supplementing with Arachidonic Acid shows promising muscle-promoting results in male participants undertaking resistance training.
Therefore, while Arachidonic Acid supplements may seem like an attractive option for increasing muscle growth, it is essential to understand its associated risks and acknowledge any pre-existing health conditions before use.
Whether or not you believe in arachidonic acid's muscle growth benefits, one thing's for sure – spiders definitely aren't skipping leg day.
Conclusion: Is Arachidonic Acid Necessary for Muscle Growth?
Arachidonic acid, an essential fatty acid that is present in the cell membranes of our bodies, plays an important role in muscle growth. Its ability to stimulate protein synthesis and increase inflammation helps in the process of muscle hypertrophy. While its intake may not be necessary for moderate levels of muscle growth, it can significantly enhance muscle mass and strength in intense weightlifting programs.
Some studies have shown that supplementing with arachidonic acid can lead to an increase in lean body mass, power output, and muscle thickness. However, its benefits vary depending on individual factors such as training intensity and diet. It is crucial to consult a healthcare professional before incorporating supplements into your routine.
Overall, while not necessary for everyone, adding arachidonic acid supplementation to an intense weightlifting program could potentially improve muscle growth outcomes.
Pro Tip: Always remember to research and consult a healthcare professional before incorporating any new supplements into your fitness routine.
Frequently Asked Questions
Q: What is arachidonic acid?
A: Arachidonic acid is an omega-6 essential fatty acid that is critical for the growth and repair of muscle tissue. Q: How does arachidonic acid support muscle growth?
A: Arachidonic acid plays a key role in the inflammation process, which is essential for muscle growth and repair. It also helps to increase protein synthesis in muscle cells. Q: What foods are high in arachidonic acid?
A: Foods that are high in arachidonic acid include egg yolks, red meat, organ meats, and some types of fish, such as salmon and herring. Q: Can arachidonic acid supplements improve muscle growth?
A: Some studies suggest that supplementing with arachidonic acid can improve muscle growth and strength in trained athletes. However, more research is needed to fully understand its effects. Q: Are there any side effects associated with arachidonic acid supplements?
A: Some people may experience gastrointestinal discomfort or diarrhea when taking arachidonic acid supplements. It is always recommended to consult with a healthcare professional before starting any new supplement regimen. Q: Is arachidonic acid safe for everyone?
A: Arachidonic acid is generally safe for most people when consumed in moderation through food sources. However, individuals with certain medical conditions, such as liver or kidney disease or bleeding disorders, should avoid supplementation. It is always important to consult with a healthcare professional before taking any new supplement.