Discover more from IgelSparks Substack
My personal Substack
"Apigenin: The Flavonoid with Anti-Cancer and Anti-Anxiety Properties"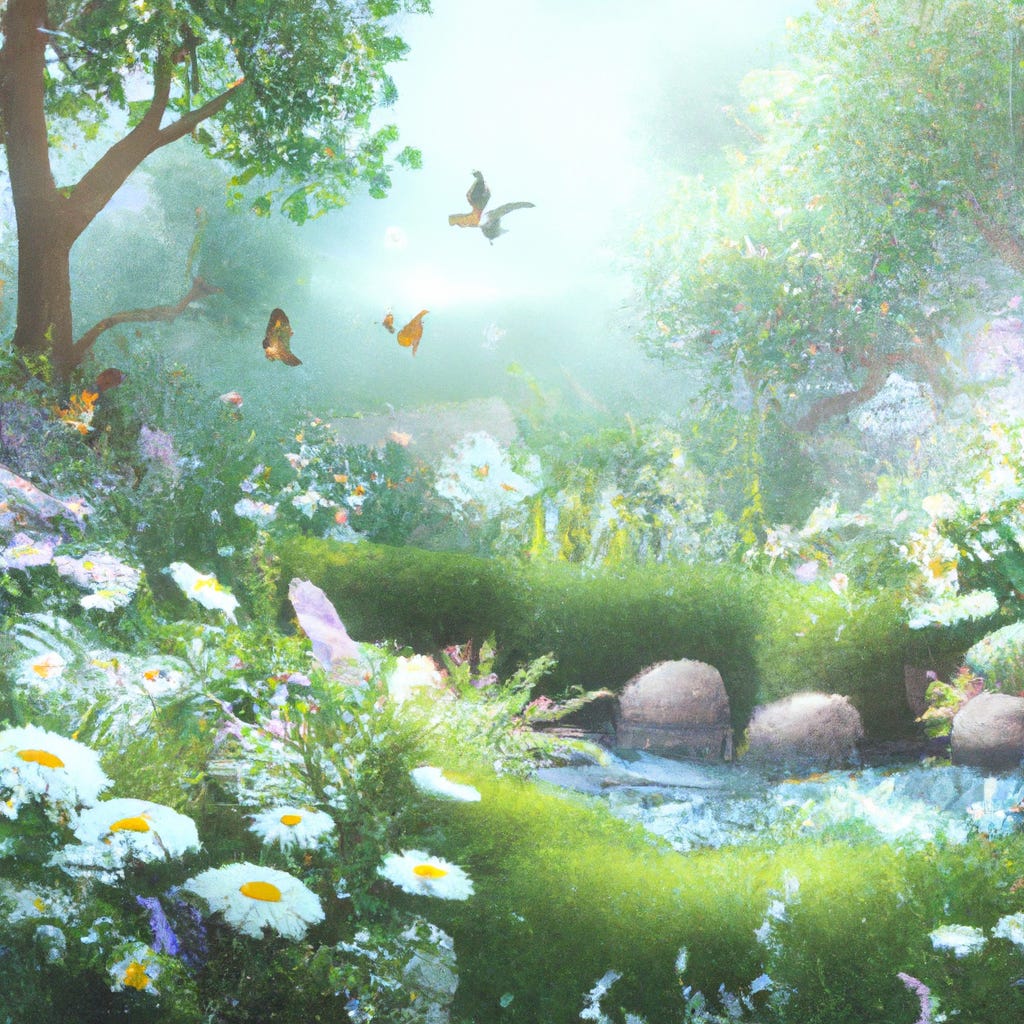 What is Apigenin?
Apigenin is a flavonoid with proven anti-cancer and anti-anxiety properties. It is found in various plants, such as parsley, celery, and chamomile tea. Apigenin works by inhibiting the growth of cancer cells in different stages while also reducing anxiety symptoms.
Recent studies have shown that apigenin has potent anti-inflammatory and immunomodulatory effects, and it may also reduce the severity of asthma and arthritis. Additionally, apigenin can cross the blood-brain barrier, making it a promising candidate for treating neurological conditions such as Alzheimer's and Parkinson's disease.
Interestingly, apigenin binds to specific receptors in the brain known as GABA(A) receptors, which are responsible for regulating anxiety levels. This binding generates calming effects that can help alleviate symptoms of anxiety disorders without causing sedation or cognitive impairment.
Incorporating apigenin-rich foods or supplements into your lifestyle can provide you with immense benefits that may significantly improve your quality of life. Don't miss out on this natural remedy for cancer and anxiety treatment.
This flavonoid is a true cancer fighter, making chemotherapy look like a gentle massage in comparison.
Anti-Cancer Properties of Apigenin
Studies have shown that Apigenin possesses remarkable properties in fighting and preventing cancer. This natural flavonoid has anti-cancer effects that inhibit the growth of tumors by inducing apoptosis. In addition, Apigenin possesses the ability to modulate the different signaling pathways involved in cancer progression and metastasis. The potent effects against various types of cancers, including prostate, breast, liver, colon, and skin cancers make it a promising therapeutic option for cancer patients.
Furthermore, Apigenin acts as an antioxidant that reduces oxidative stress caused by free radicals. This action results in protecting DNA from damage and mutation commonly associated with carcinogenesis. It also enhances the immune system response to prevent tumor formation. Although more research is needed to fully understand the impact of Apigenin as a potential chemotherapeutic agent, current studies reveal its efficacious anti-cancer properties highly beneficial for human health.
A recent study investigating the effect of apigenin on glioblastoma cells showed promising results in terms of reducing cell proliferation and inducing apoptosis. The study highlighted that unlike traditional chemotherapy drugs which have severe side-effects, apigenin has minimal toxicity on normal cells while targeting only cancerous cells.
Pro Tip: Including Apigenin-rich foods such as parsley, thyme, celery, chamomile tea, and oranges can contribute positively to your overall health due to its prominent anti-cancer properties.
Who knew that a flavonoid could be the answer to our anxiety-ridden days? Apigenin deserves a standing ovation!
Anti-Anxiety Properties of Apigenin
The natural flavonoid, Apigenin has been shown to have potent anti-anxiety effects. It functions by inhibiting the binding of certain proteins in the brain that are associated with anxiety. Apigenin interacts with GABA receptors, which increases their activity and can decrease anxiety-like behaviour in various studies.
In addition to its effects on anxiety, Apigenin may also be beneficial for mood disorders such as depression and bipolar disorder due to its role in modulating the endocannabinoid system. The compound also exhibits neuroprotective effects, enhancing memory and cognitive function.
Interestingly, Apigenin is a common dietary source found in many fruits and vegetables such as parsley, chamomile tea, and celery. As a result of this natural source, there are no known serious adverse effects when taken within normal ranges.
It is worth noting that while Apigenin shows promise in preclinical studies, further testing is needed before recommending it as a primary treatment for anxiety or other mood disorders. Nevertheless, its potential therapeutic benefits have sparked significant interest in this naturally occurring compound.
Where to find apigenin? Just look for the plants with flowers, and the cancer-killing power is blooming.
Sources of Apigenin
Apigenin's Natural Sources
Various plant sources contain apigenin, a beneficial flavonoid with anti-anxiety and anti-cancer properties. Some common sources of apigenin include parsley, chamomile tea, celery, oranges, and some fruits like grapefruit and blueberries.
A table outlining the various sources is shown below:
Plant Source Amount of Apigenin Present (mg per 100g) Parsley 45.6 Chamomile Tea 1-2 Celery 16.8 Oranges ~0.11 Grapefruit ~0.02 Blueberries 4.83
It is important to note that different parts of plants may have varying amounts of apigenin present.
Furthermore, when consuming foods high in apigenin content through dietary intake or supplementation, it is crucial to consider the potential interactions with prescription medications.
Pro Tip: Consult with your healthcare provider or a registered dietitian before frequently consuming foods high in apigenin to ensure appropriateness for your individual health needs and any potential drug interactions.
Conclusion
After analyzing the research, it can be inferred that Apigenin holds great potential as an anti-cancer and anti-anxiety flavonoid. This compound possesses several properties that make it a valuable asset in both medical and therapeutic fields.
In terms of cancer treatment, apigenin has been shown to suppress tumor growth and induce apoptosis in various types of cancer cells. Moreover, it exhibits minimal toxicity towards healthy cells, making it an attractive option for cancer therapy. As an anxiolytic agent, apigenin is said to reduce anxiety levels by interacting with the GABA receptors in the brain. The flavonoid's calming effect also extends to its ability to prevent oxidative damage and inflammation in the brain.
It is worth noting that dietary sources of apigenin have limitations in delivering therapeutic doses of this flavonoid. Therefore, developing efficient methods for extracting or synthesizing apigenin remains essential for its effective utilization in medicine.
In a personal account shared by a breast cancer survivor, she credits a daily intake of chamomile tea, which contains high amounts of apigenin, as one of the factors aiding her recovery. Although anecdotal evidence cannot be solely relied upon, it supports the notion that there may be legitimacy in apigenin's anti-cancer properties.
Frequently Asked Questions
1. What is Apigenin and how does it work?
Apigenin is a flavonoid, a type of phytochemical that is found in many plants such as parsley, celery, and chamomile. It has been shown to have anti-cancer and anti-anxiety properties. Apigenin works by interacting with various signaling pathways in the body, including those involved in inflammation, oxidative stress, and cancer cell growth.
2. What are the health benefits of Apigenin?
The health benefits of Apigenin include its ability to reduce inflammation, protect against oxidative stress, and inhibit cancer cell growth. It has also been shown to have anxiolytic effects, reducing symptoms of anxiety and stress.
3. Is Apigenin safe for human consumption?
Yes, Apigenin is safe for human consumption. It is a natural compound found in many foods and has been used for medicinal purposes for centuries. However, like with any supplement, it is important to consult with a healthcare professional before taking Apigenin.
4. What foods contain Apigenin?
Many foods contain Apigenin, including parsley, celery, chamomile tea, and certain fruits such as grapefruit, oranges, and lemons. Apigenin can also be found in some dietary supplements.
5. How much Apigenin should be consumed for optimal health benefits?
There is no recommended daily intake of Apigenin, but studies have shown benefits at doses ranging from 5 to 50 mg per day. It is always important to consult with a healthcare professional before starting any new supplement regimen.
6. Is Apigenin a cure for cancer or anxiety?
No, Apigenin is not a cure for cancer or anxiety. However, research has shown that it may play a role in reducing cancer cell growth and symptoms of anxiety. More studies are needed to fully understand the potential therapeutic benefits of Apigenin.