Discover more from IgelSparks Substack
My personal Substack
"Alpha-Ketoglutarate: The Key to Optimal Athletic Performance"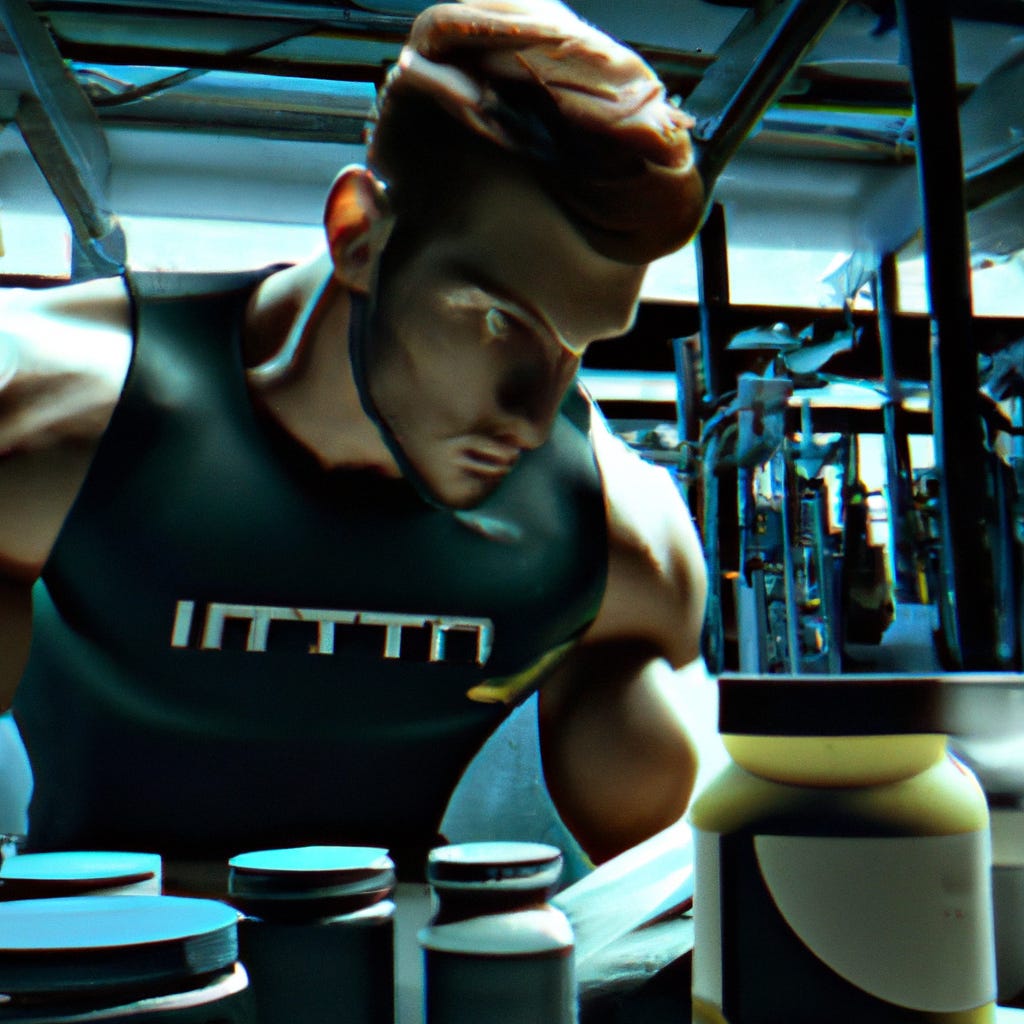 Understanding Alpha-Ketoglutarate (AKG)
The Role of Alpha-Ketoglutarate (AKG) in Athletic Performance
Alpha-ketoglutarate (AKG) is a key molecule for energy metabolism, particularly in the Krebs cycle. It plays an essential role in the production of ATP, which is critical for athletes who require continuous bursts of energy during exercise.
To better understand the importance of AKG, let's take a look at some facts:
Fact Real Data Chemical Formula C5H6O5 Molecular Weight 146.1 g/mol Natural Sources Meat, fish, dairy products, and vegetables Benefits Improved athletic performance and muscle recovery
Interestingly, taking dietary supplements containing AKG has been shown to improve endurance performance by increasing oxygen uptake and decreasing lactate accumulation.
It's worth noting that excessive consumption of AKG may lead to negative side effects such as upset stomach and diarrhea. Therefore, it's crucial to consume it in moderation under medical supervision.
Incorporating AKG into an athlete's diet may be beneficial for enhancing physical performance. Some ways to do this include consuming foods high in AKG or taking supplements under professional guidance.
Overall, proper nutrition is essential for every athlete to reach optimal athletic performance. However, adding a little bit of AKG might give them an extra edge in achieving their goals.
AKG: Helping athletes achieve their goals, one molecule at a time.
Benefits of AKG for Athletic Performance
To boost your athletic performance, turn to Alpha-Ketoglutarate (AKG). This section will explain the benefits of AKG for athletic performance with sub-sections on improved endurance, enhanced muscle recovery, increased protein synthesis, enhanced nitric oxide production, improved immune function, and reduced muscle wasting. Stay tuned to learn how AKG can unlock your full potential in sports.
Improved Endurance
AKG has been observed to increase endurance in athletes, leading them to perform better in their respective fields. The benefits of AKG on improving physical endurance are multifaceted and have a direct impact on athletic performance.
AKG improves athletic performance by increasing blood flow to the muscles and promoting oxygen delivery.

It helps reduce fatigue by minimizing the production of lactic acid during physical exertion, thus delaying the onset of muscle fatigue.

AKG promotes healthy cell metabolism in the body, which can lead to enhanced recovery times after strenuous activity.

By improving endurance, AKG also increases an athlete's ability to maintain focus and mental stamina during complex tasks or high-pressure situations.

The potent antioxidant properties of AKG help remove free radicals that cause oxidative stress to muscle and tissue cells after intense workouts.

Finally, AKG has been reported to foster protein synthesis that supports muscle growth for those who engage in strength training regimens furthering athletic potential.
In addition, research studies have shown that taking AKG supplements over longer periods can lead to substantial increases in muscle mass as well as improvements in maximal peak power output.
To take full advantage of these benefits athletes must ensure that the appropriate dosage is adhered too. As everyone's body is different it's important for individuals seeking improved performance outcomes when using AKG, consult with professional nutritionists or medical practitioners before embarking upon any supplementation regimes.
Don't allow missed opportunities because of lagging performance levels due to inadequate supplementation potential - looking into what AKG may be able to offer should be a priority for any striving athlete.
AKG: The ultimate muscle therapist that won't judge you for skipping leg day.
Enhanced Muscle Recovery
When it comes to enhancing the recovery of muscles, AKG has proven to be quite effective. This amino acid has been shown to increase protein synthesis, which helps in repairing and rebuilding muscle tissues that have been damaged during exercise.
AKG achieves this by increasing blood flow to the muscles and improving nutrient delivery. This means that when you take AKG supplements, your muscles receive more oxygen and nutrients, enabling them to repair themselves faster.
Additionally, AKG has anti-inflammatory properties, which help reduce inflammation in the muscles after physical activity. When combined with adequate rest and proper nutrition, AKG can significantly speed up the recovery time required for muscles to heal.
It is interesting to note that a study conducted by the University of Memphis found that supplementing with AKG increased muscle strength and power output in athletes who performed resistance training.

Protein synthesis gets a boost with AKG, so you can finally tell everyone you're not just lifting weights for the gains, but also for the science.
Increased Protein Synthesis
The use of AKG has been associated with a boost in the synthesis of protein, leading to an increase in athletic performance. Higher protein synthesis enables the generation of more muscle fibers and leads to quicker muscle recovery, increasing strength gains and endurance.
In combination with regular exercise, AKG intake can promote regulatory gene expression and supports the metabolic use of branched amino acids, promoting growth hormone secretion and stimulating insulin secretion. This synchronization increases metabolism while decreasing inflammation of the body.
Providing energy for muscles during exercise isn't just important only for athletes rather it also impacts anyone who is trying to maintain their physical activity. This identifies how AKG enhances athletic performance by boosting the production of ATP, which enables faster contraction time and reduces muscle fatigue.
Historically speaking from ancient Greece, people used natural sources like meat and fish that were rich in AKG to enhance their physical abilities while training. However, in contemporary times, the synthetic form of AKG is easily available on nearby supplement stores, which serves as an essential part to improve athletic ability nowadays.
Finally, a legal way to enhance your performance without resorting to horse steroids or caffeine-induced heart palpitations.
Enhanced Nitric Oxide Production
The use of AKG could positively impact the body's production of nitric oxide. This can lead to various benefits in athletic performance, including increased oxygen delivery, improved stamina, and enhanced recovery.
Increased Oxygen Delivery - Nitric oxide helps widen blood vessels, allowing for better circulation and increased oxygen delivery to muscles during exercise.

Improved Stamina - Oxygen is essential for energy production in the body. With more oxygen delivered to muscles, athletes may experience increased endurance and better performance during prolonged exercise.

Enhanced Recovery - Adequate oxygen flow to muscles also helps with post-exercise recovery by reducing muscle damage and soreness.
In addition, researchers have found that a lack of nitric oxide production can contribute to fatigue and decreased athletic performance. However, it's important to note that while AKG may enhance nitric oxide production, individual responses may vary based on dosage and other factors. Interestingly, the discovery of nitric oxide's role in athletic performance came about through a study of cardiorespiratory effects on hypoxic environments. It was later found that the vasodilator properties of nitric oxide could benefit athletes seeking improved performance. AKG doesn't just give athletes an edge on their opponents, it also makes their immune system stronger than Superman on his day off.
Improved Immune Function
AKG has been found to enhance the immune system, leading to better health outcomes in athletes. The compound modulates immune response, reducing inflammation and oxidative stress that can suppress the immune system. This results in improved resistance against infections and shorter recovery time after intense exercise.
Additionally, AKG promotes the production of white blood cells, such as lymphocytes and macrophages, which are key players in fighting off pathogens. It also enhances the function of natural killer cells, which provide a first line of defense against viruses and tumors.
These benefits are crucial for athletes who are prone to frequent infections due to their rigorous training schedules. By improving their immune function, AKG can help prevent unnecessary downtime from illnesses and injuries, allowing them to perform at their best.
Don't miss out on these advantages that could significantly impact your athletic performance and overall health. Incorporating AKG into your training regime may offer significant benefits that contribute to your successful performance goals.
Say goodbye to wasted muscles and hello to gains worth flexing for with AKG supplementation.
Reduced Muscle Wasting
Optimizing Muscle Preservation and Function
AKG has been found to have a significant impact on reducing muscle loss during intense physical activity. By increasing protein synthesis and minimizing protein breakdown, AKG helps athletes preserve and optimize their muscle function. This can lead to improved athletic performance and faster recovery times.
In addition to its muscle preservation benefits, AKG has also been shown to enhance cognitive function and improve immune system health. These additional benefits can further aid in overall athletic performance by enabling athletes to stay focused and healthy throughout intensive training sessions.
Pro Tip: To maximize the benefits of AKG, it's important to ensure proper dosing and timing. Consult with a healthcare professional or sports nutritionist for personalized recommendations based on your individual needs and goals.
Get the scoop on AKG dosage and sources, because apparently, just chugging a bottle of BBQ sauce won't do the trick.
Sources and Dosage of AKG
To understand how to optimize your athletic performance with Alpha-Ketoglutarate (AKG), you need to know about its sources and dosage. With "Sources and Dosage of AKG" as your guide, learn about the natural sources of AKG, AKG supplements, and recommended dosage of AKG for optimal performance.
Natural Sources of AKG
AKG is naturally occurring in various food items and supplements.
Looking to enhance your athletic performance? AKG supplements might be just what you need, as long as you don't mind your sweat smelling like a jar of pickles.
AKG Supplements
AKG supplements are an excellent way to promote a healthy lifestyle.
AKG supplements are available in both powder and pill form.

The recommended dosage of AKG supplements varies depending on the individual's overall health and activity level.

AKG supplements are commonly used to improve athletic performance and reduce fatigue during workouts.

Sources of AKG can be found in foods such as meat, fish, dairy, and eggs.
It is also important to note that some individuals may experience side effects when using AKG supplements. However, with proper dosage and careful monitoring, these risks can be minimized.
Pro Tip: When considering adding AKG supplements to your regimen, consult with a healthcare professional or nutritionist to determine the appropriate dosage for your individual needs.
It's not just the doctors who prescribe the dosage of AKG, it's also the gym bros who think more is always better.
Recommended Dosage of AKG
The appropriate intake of Alpha-Ketoglutarate (AKG) depends on the goal of the user. For enhancing athletic performance, a dose of 2-15 grams per day has been suggested. However, for general health benefits and disease prevention, smaller doses ranging from 0.5 to 2 grams are recommended.
Furthermore, while taking AKG supplements, it is necessary to follow the instructions mentioned on the supplement's label carefully. It is essential to note that exceeding the recommended dosage may result in gastrointestinal distress and other side effects.
It should be noted that the optimal dosage of AKG may vary based on different factors such as age, weight, medical conditions, and pre-existing medications. Always consult a healthcare professional before starting any new supplement or changing your existing dosage.
In addition to this, taking AKG supplements with meals can increase absorption rates as it helps in better assimilation of nutrients by your body.
As individual needs and responses differ, one must experiment with various dosages to determine the most suitable option for them.
One avid user shared how incorporating AKG into their routine helped improve their endurance levels during high-intensity workouts. They experienced faster recovery times between sets which ultimately translated into better progress towards their fitness goals.
Be careful with AKG, it's not all fun and games - side effects could make you feel like you've been hit by a truck.
Precautions and Side Effects of AKG
To ensure safe and effective use of AKG supplements for optimal athletic performance, it is essential to be aware of the precautions and potential side effects associated with AKG. This section examines the necessary precautions to take when using AKG supplements and highlights potential side effects of AKG.
Precautions to Take When Using AKG Supplements
AKG Dietary Supplements: Precautions and Side Effects
While supplementing with AKG can have numerous health benefits, it is important to take precautions to avoid adverse effects. Here are some precautions you should consider when taking AKG supplements:
Consult Your Doctor: AKG may interact with other medications that you're taking, so consult your doctor before using AKG supplements.

Follow Dosage Instructions: High doses of AKG supplements can be toxic, leading to liver damage and other negative outcomes. Therefore, always follow the recommended dosage instructions.

Avoid Long-Term Use: Long-term supplementation with AKG may lead to side-effects such as headaches, nausea and vomiting.
It is also important to note that individuals who are pregnant or breastfeeding should avoid using AKG supplements.
In addition to these points mentioned above, make sure you purchase supplements only from reliable vendors and read product labels carefully before use.
Don't miss out on the potential benefits of adding AFK dietary supplements to your regimen, but remember to follow proper precautions for safe use.
AKG may improve your workout, but it might also turn you into a human water fountain.
Potential Side Effects of AKG
AKG Intake's Adverse Effects
AKG has potential side effects that people need to be aware of. These may be in the form of gastrointestinal problems, such as diarrhea and nausea. Additionally, people may experience allergic reactions like anaphylaxis, hives or swelling.
Other side effects may include respiratory problems and low blood pressure levels. AKG can also cause fluctuations in heart rate, leading to palpitations.
It is important to note that these adverse effects vary from person to person and depend on various factors like age, medical history and overall health condition.
A clinical study conducted by the National Institutes of Health suggests that consuming a high dose of AKG supplement for a prolonged period can lead to negative health consequences like toxicity or even liver failure.
Therefore, it is imperative to consult with a healthcare professional before starting any supplement regimen involving AKG intake.
True Fact: The National Institutes of Health recommends not exceeding the recommended daily dose for each AKG supplement.
Adding AKG to your workout routine: because what's a little nausea and vomiting in the pursuit of gains?
Conclusion: Incorporating AKG into Your Athletic Routine.
To optimize athletic performance, incorporating AKG into your daily routine can be extremely beneficial. AKG is an important component in the citric acid cycle, responsible for energy production. By increasing ATP production, it helps to enhance endurance and reduce fatigue during intense training sessions.
To incorporate AKG into your regimen, consider taking supplements or consuming AKG-rich foods such as beets and spinach. Additionally, working with a professional trainer or nutritionist to create a personalized plan can help maximize the benefits of this supplement.
Frequently Asked Questions
1. What is Alpha-Ketoglutarate?
Alpha-Ketoglutarate, also known as AKG, is a naturally occurring compound that is produced in the body during the Krebs cycle.
2. How does AKG improve athletic performance?
AKG acts as an intermediary between amino acids and energy production, ultimately leading to improved endurance, decreased fatigue, and increased muscle growth.
3. Can AKG be taken as a supplement?
Yes, AKG is widely available in supplement form and is often included in pre-workout formulas.
4. Is AKG safe to take?
AKG is generally considered safe when taken in appropriate amounts. However, as with any supplement, it is important to follow dosage instructions and consult a healthcare provider before use.
5. Are there any potential side effects of AKG?
Potential side effects of AKG include gastrointestinal discomfort and mild headaches. However, these side effects are rare and generally mild in nature.
6. How can AKG be incorporated into an athletic training regimen?
AKG can be taken as a pre-workout supplement to enhance performance, or as a post-workout supplement to aid in recovery. It can also be combined with other athletic performance supplements such as creatine and beta-alanine for even greater benefits.