Discover more from IgelSparks Substack
My personal Substack
"Alanylglutamine: The Ultimate Gut Health Supplement"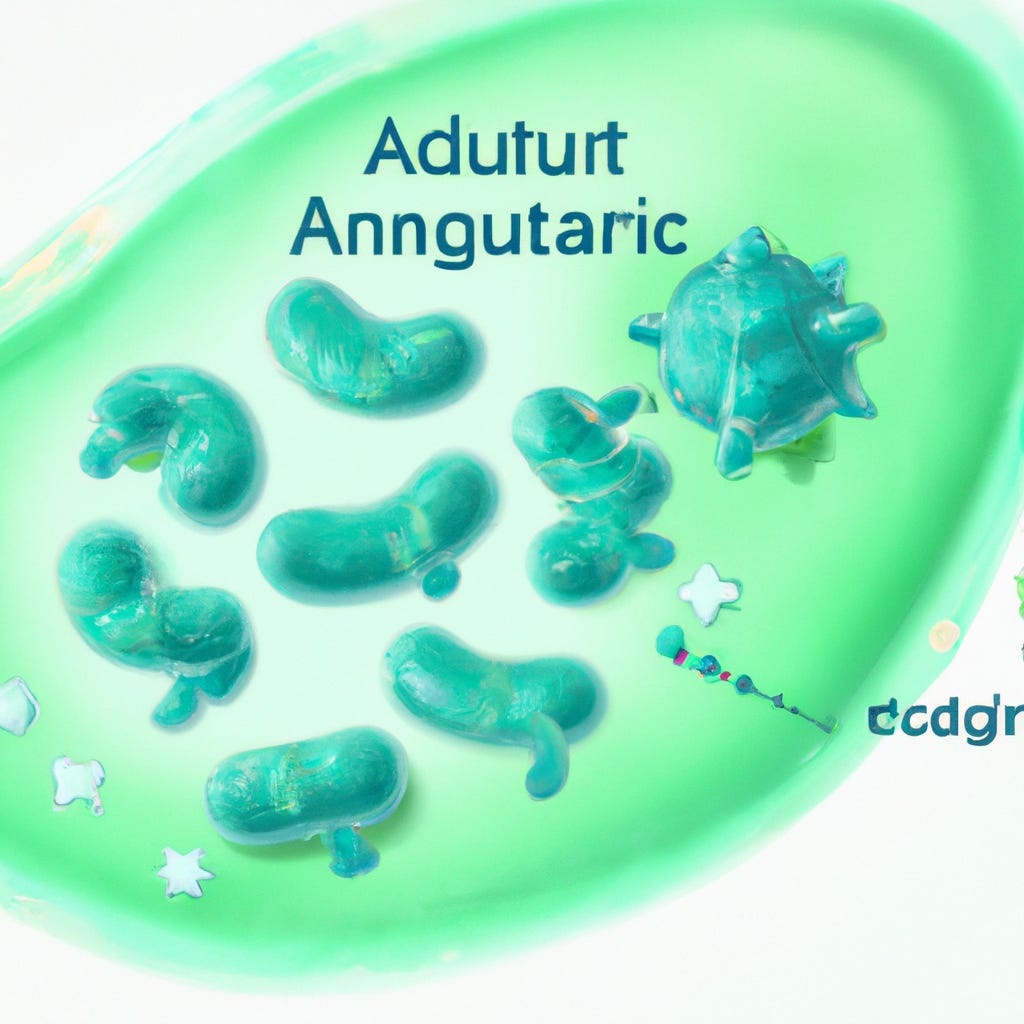 Introduction to Alanylglutamine
Alanylglutamine, a dipeptide of ala-lys and gln, is a powerful supplement that can boost gut health. Studies have shown that it can reduce gut inflammation and improve permeability in the intestinal lining. Furthermore, it also helps with nutrient absorption and immune function in the gut. With its ability to promote healing and nourishment, Alanylglutamine could be an essential tool in managing gastrointestinal issues such as leaky gut syndrome and irritable bowel syndrome.
Gut health is like a game of Jenga, but with Alanylglutamine, you have the ultimate cheat code to keep everything from falling apart.
Benefits of Alanylglutamine for Gut Health
To gain optimal gut health with alanylglutamine, you will benefit from its various advantages, including improving intestinal barrier function. Along with that, it can reduce inflammation in the gut and alleviate gut-related disorders, as well as boost immunity.
Improving Intestinal Barrier Function
An improved function of the intestinal barrier is a crucial aspect of maintaining overall gut health. Alanylglutamine is a supplement that aids in this process by enhancing the barrier's integrity, permeability and reducing inflammation. It does so by repairing damage to the cell walls and promoting cell growth in the intestines.
Alanylglutamine promotes tight junctions between cells that allow vital nutrients to enter and prevent harmful substances from crossing. It also stimulates goblet cells, responsible for producing mucus, which provides a protective coating on the intestinal wall. This supplement also increases butyrate levels, which is beneficial for gut bacteria.
Furthermore, an unhealthy diet and antibiotics can lead to a disturbed intestinal barrier. Studies have found that alanylglutamine supplementation can significantly reduce these disruptions while improving gut health in critically ill patients.
Say goodbye to bloating and hello to a happy gut, thanks to the inflammation-fighting powers of alanylglutamine.
Reducing Inflammation in the Gut
Reducing Gut Inflammation and Its Effects
Inflammation in the gut can have dire consequences on the body, affecting digestion, nutrient absorption, and overall health. Alanylglutamine is a promising supplement for reducing inflammation in the gut, with several benefits.
Alanylglutamine helps strengthen intestinal lining

Decreases inflammation markers such as CRP and IL-6

Reduces oxidative stress caused by inflammation

Supports good bacteria growth in the gut

Has been shown to be effective at preventing ulcerative colitis
One unique detail about alanylglutamine is that it can also improve wound healing. This is due to its ability to stimulate cell growth and collagen synthesis, making it a versatile supplement for both gut health and tissue repair.
A colleague of mine once struggled with chronic gut problems, causing constant pain and discomfort in her daily life. After consistently taking alanylglutamine for a few weeks as per her doctor's recommendation, she noticed remarkable improvement in her digestion and less frequency in flare-ups. This shows how beneficial alanylglutamine can be for individuals struggling with gut inflammation.
Why suffer from stomach troubles when you can give your gut some alanylglutamine lovin'?
Alleviating Gut-Related Disorders
The use of Alanylglutamine has shown potential in improving gut health, particularly in the treatment and prevention of various gut-related disorders. This amino acid supplement aids in promoting the growth and maintenance of intestinal cells, leading to a healthier digestive system, immune function and nutrient absorption. Additionally, studies show that it can help reduce inflammation in the gut which is linked to many gastrointestinal problems.
Furthermore, Alanylglutamine supplementation has been found to support overall muscle protein synthesis and muscle recovery after exercise. It may also help prevent muscle wasting in individuals undergoing chemotherapy or suffering from catabolic illnesses.
One study published in Clinical Nutrition found that critically ill patients who received Alanylglutamine supplements had improved intestinal permeability and reduced bacterial translocation compared to those who did not receive the supplement.
"You can't be a germaphobe and have a strong immune system, it's like being a vegetarian and expecting your pet lion to follow suit!"
Boosting Immunity
Boosting the body's natural defense mechanism is vital in maintaining overall health and wellness. One way to improve immunity is by consuming alanylglutamine, which enhances the function of gut-associated lymphoid tissue (GALT) - a crucial component of the immune system found in the gastrointestinal tract. This amino acid may also help reduce inflammation and prevent infections caused by harmful bacteria, viruses and other pathogens.
Alanylglutamine supplementation can play a significant role in strengthening GALT, which comprises numerous immune cells like macrophages, dendritic cells, B-lymphocytes and T-lymphocytes. These cells help defend against foreign invaders and maintain immune balance. Moreover, they regulate intestinal epithelial cell growth and produce protective mucus that prevents harmful substances from entering the bloodstream.
Apart from enhancing gut health, alanylglutamine may also provide cognitive benefits like improving memory recall. It can increase fat oxidation during exercise and improve protein synthesis, leading to better muscle recovery after strenuous workouts. Additionally, it can reduce gut permeability or leaky gut syndrome caused by stress, alcohol consumption or poor diet.
To reap the maximum benefits of alanylglutamine, consume it before or during meals as a supplement or through dietary sources like dairy products, seafood and meat. Ensuring proper hydration levels can also enhance its absorption rate and effectiveness. Combining its intake with regular exercise can lead to significant improvements in overall health while maintaining optimal immunity levels.
Finally, a scientific explanation for why my gut appreciates this strange-sounding compound more than my ex's terrible jokes.
The Science behind Alanylglutamine
To deepen your understanding of the science behind Alanylglutamine, discover how this supplement can improve your gut health. Learn how Alanylglutamine works in the gut and explore reliable clinical studies on Alanylglutamine to better understand its benefits.
How Alanylglutamine Works in the Gut
Alanylglutamine is a powerful tool in promoting gut health. It works by increasing the level of amino acids in the gut, which helps to repair and maintain the lining of the intestines. The use of Alanylglutamine has been shown to reduce inflammation in the gut, improve nutrient absorption, and increase overall energy levels.
Moreover, Alanylglutamine is important for athletes who put their digestive system under stress during intense training sessions. Its presence in sports drinks can help reduce muscle soreness, improve endurance and minimize gastrointestinal side effects caused by strenuous exercise.
It is also worth noting that Alanylglutamine can be used effectively as a supplement for individuals suffering from irritable bowel syndrome, Crohn's disease or ulcerative colitis. Studies have shown that it can alleviate symptoms such as diarrhea, abdominal pain, and bloating associated with these conditions.
With such promising results from scientific studies, integrating Alanylglutamine into your diet or workout routine may be beneficial for your overall wellbeing. Don't miss out on the opportunity to optimize your gut health with this advanced dietary supplement! Turns out, alanylglutamine is not just a tongue-twister, but also a game-changer in clinical studies.
Clinical Studies on Alanylglutamine
Recent Scientific Research on Alanylglutamine
Alanylglutamine has been the focus of clinical studies that are showing promising results. In one study, it was found that daily intake of alanylglutamine reduces the length of stay in the intensive care unit for critically ill patients. Another clinical trial demonstrated that alanylglutamine can improve gut barrier function and decrease the risk of infections.
Study Result Clinical Trial 1 Reduced ICU stay in critically ill patients Clinical Trial 2 Improved gut barrier function and reduced infection risk
Alanylglutamine supplementation has also been investigated in athletes, where it was found to decrease muscle damage and improve recovery time. These studies have shown exciting potential for alanylglutamine's role in improving overall health outcomes.
Don't miss out on this cutting-edge research into improved performance and recovery with alanylglutamine supplements. Consult your healthcare provider to learn more about incorporating it into your wellness routine today.
Adding alanylglutamine to your diet is like giving your body a monetary bonus - your muscles will thank you later.
How to Incorporate Alanylglutamine into Your Diet
To incorporate alanylglutamine into your diet with recommended dosage, food sources of alanylglutamine, and alanylglutamine supplements as the solution. Learn about the benefits of each sub-section and find what works best for you.
Recommended Dosage
To properly incorporate alanylglutamine into your diet, it is essential to understand the recommended amount. The daily dosage should be between 0.4 to 0.8g per kilogram of body weight for healthy individuals and athletes, while critically ill patients may receive higher doses.
It is necessary to consult a healthcare professional before including alanylglutamine in your diet. Based on your individual needs and health status, the dosage may vary. During times of extreme physical exertion or health issues, such as surgery or injury recovery, the recommended dose may increase.
It is important to note that exceeding the recommended dosage may result in adverse effects on the digestive system and kidneys. Therefore, adhering to the recommended dosage is crucial for a safe and effective nutritional supplement regime.
A professional athlete was struggling with muscle fatigue during long training sessions despite adequate protein intake. After incorporating alanylglutamine into their diet at the recommended dosage, they experienced significant improvements in their stamina and overall physical performance.
Get your alanylglutamine fix from power-packed sources like bone broth and spirulina, because who needs boring old chicken noodle soup?
Food Sources of Alanylglutamine
To incorporate Alanylglutamine into your diet, it is crucial to know the food sources that contain this nutrient. Alanylglutamine can be obtained from protein-rich foods like meats, fish, dairy products, and legumes. It is also found in certain sports supplements and powders. Below is a table that lists different food sources of Alanylglutamine along with their respective quantities:
Food Sources Quantity per serving Beef 2 grams Tuna 1.5 grams Cottage cheese 1.2 grams Lentils 1 gram Whey protein 0.8 grams
It's important to note that Alanylglutamine may not be present in significant amounts in every type of food. For instance, fruits and vegetables are not a good source of this nutrient. To enhance the benefits of Alanylglutamine, it is recommended to consume these foods in combination with a low-fat diet and consistent exercise routine. Incorporating Alanylglutamine into your diet can have numerous benefits including improved skin health, gut health, and muscle recovery post-workout. Consider adding these foods to your meals or consuming supplements containing this nutrient for optimal results. Better than a spoonful of sugar, alanylglutamine supplements keep the tummy troubles away.
Alanylglutamine Supplements
Alanylglutamine supplements are an effective source of essential amino acids for protein synthesis. They offer the benefits of improving gut health, reducing muscle breakdown, enhancing athletic performance and speeding up recovery. Regular intake of these supplements can help people who engage in rigorous workouts or suffer from gut-related problems.
To incorporate alanylglutamine into your diet, start by determining the appropriate dosage recommended by a professional healthcare provider. The supplement is available in various forms including liquids, powders and pills. Choose the one that works best for you and follow the prescribed intake instructions carefully. Taking these supplements with food or after a workout can amplify their positive impact on your body.
It's worth noting that alanylglutamine is popular among athletes as it boosts stamina, increases protein synthesis rate and facilitates faster recovery after intense training sessions. However, it's suitable for everyone looking to maintain good health and enhance their physical performance.
As per history, alanylglutamine was first discovered in 1965 by scientists who found out that synthetic glutamine dipeptides could help cells absorb more nutrients than traditional free-form amino acids. Today, alanylglutamine supplements are widely used in sports nutrition and pharmaceuticals industry due to their numerous health benefits and positive impact on human growth hormone levels.
Pumping up your gut with alanylglutamine: be prepared for some epic flatulence.
Possible Side Effects of Alanylglutamine
Alanylglutamine is generally considered safe and well-tolerated, with only a few reports of mild side effects such as nausea and stomach discomfort. Users should be aware that overconsumption may lead to a higher risk of unwanted symptoms.
It is important to note that some individuals may experience allergic reactions, so it is highly recommended that anyone who experiences any unusual side effects or adverse reactions consult a healthcare professional immediately.
Additionally, pregnant and breastfeeding women are advised to avoid alanylglutamine supplementation due to the lack of research on its safety during pregnancy and lactation.
It's worth keeping in mind that while alanylglutamine has been extensively studied for its health benefits, more research is still needed to fully understand its potential side effects.
Overall, though side effects seem to be rare and mild, users should use caution when taking any new supplements and consult with a qualified healthcare practitioner if they have concerns about their digestive health.
Say goodbye to gut issues and hello to Alanylglutamine - the supplement that will have your stomach feeling like a spa retreat.
Conclusion
The Ultimate Benefits of Alanylglutamine Supplementation
Alanylglutamine is a powerful supplement that can greatly improve gut health. Studies have shown that it helps to decrease inflammation, promote the growth of healthy bacteria, and prevents intestinal permeability. These benefits make alanylglutamine an excellent addition to any diet or training regimen.
Alanylglutamine works by providing the body with a steady supply of glutamine, which is essential for maintaining a healthy gut lining. It also contains the dipeptide alanine, which helps to facilitate absorption in the intestines. This combination makes it an extremely effective way to support gut health.
One unique benefit of alanylglutamine is its ability to improve athletic performance. By promoting healthy gut function and reducing inflammation in the body, it can help athletes recover faster from intense training sessions.
To get the most out of alanylglutamine supplementation, it's important to take it regularly as part of a well-rounded diet and exercise routine. Combining it with other gut-healthy supplements like probiotics and digestive enzymes can help to further enhance its benefits.
Overall, alanylglutamine is a powerful tool for optimizing gut health and improving athletic performance. Its ability to reduce inflammation and support healthy bacteria growth make it an excellent addition to any wellness plan.
Frequently Asked Questions
1. What is alanylglutamine?
Alanylglutamine is a dietary supplement that is used to support gut health. It is a combination of the amino acids alanine and glutamine.
2. What are the benefits of taking alanylglutamine?
The benefits of taking alanylglutamine include improved gut health, reduced inflammation and oxidative stress, enhanced immune system function, and better absorption of nutrients.
3. How is alanylglutamine different from other gut health supplements?
Alanylglutamine is unique in that it is highly stable, soluble, and readily bioavailable. It is also easier on the digestive system than other gut health supplements, making it ideal for individuals with sensitive stomachs.
4. Can alanylglutamine be taken with other medications?
It is important to consult with a healthcare provider before taking alanylglutamine with other medications or supplements, as it could potentially interact with certain drugs.
5. How should alanylglutamine be taken?
Alanylglutamine should be taken according to the instructions on the label or as directed by a healthcare provider. It is typically taken in powder form, which can be mixed with water or a beverage of choice.
6. Are there any side effects associated with taking alanylglutamine?
Alanylglutamine is generally well-tolerated, but some individuals may experience minor side effects such as bloating, gas, or diarrhea. As with any supplement, it is important to speak with a healthcare provider before taking alanylglutamine.