Discover more from IgelSparks Substack
My personal Substack
"Alanine: The Amino Acid for Muscle Growth and Recovery"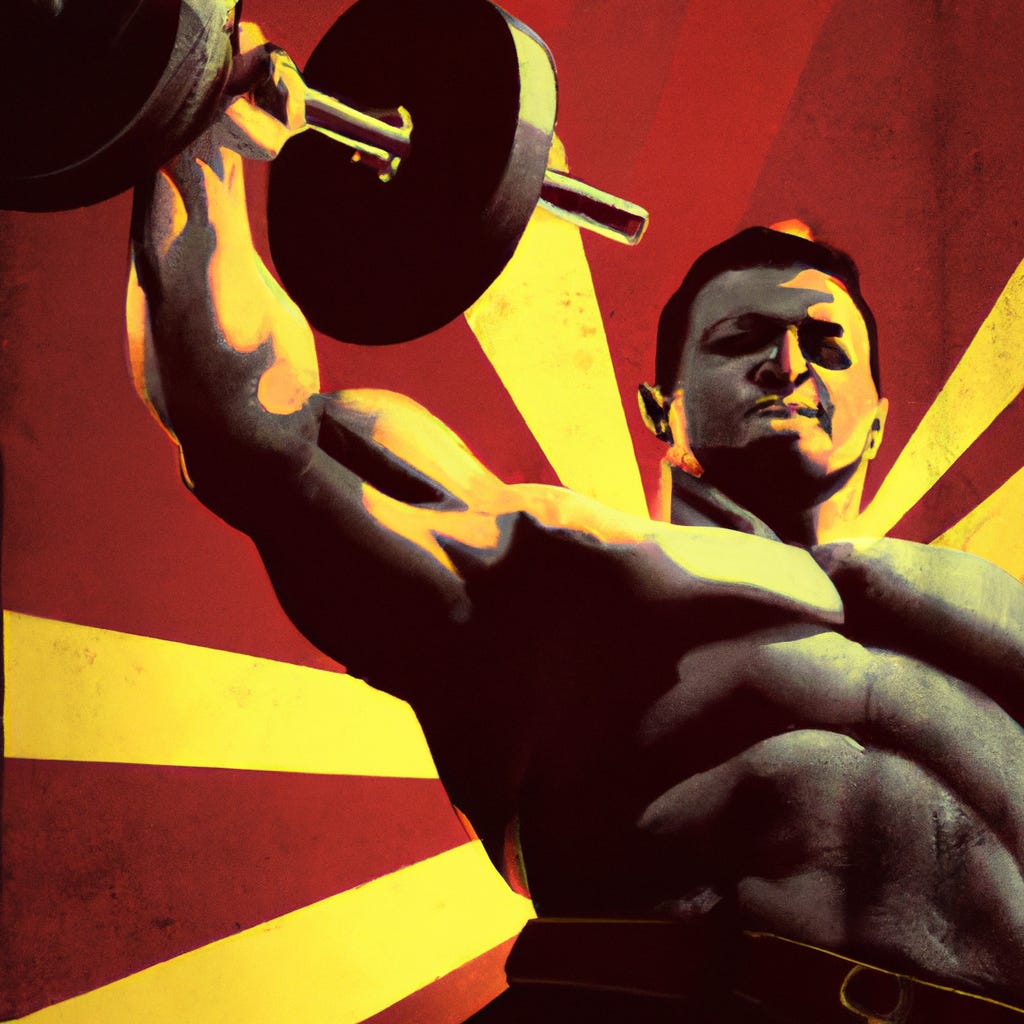 Introduction to Alanine as an Amino Acid
Alanine is one of the significant amino acids that play a crucial role in muscle growth, development and recovery. The body produces alanine naturally, and it is also present in different protein sources such as meat, dairy products and eggs. This amino acid helps to maintain protein balance in the body, thus improving the health of muscles during intense workouts.
In addition to its essential contributions to muscular health, alanine also boosts the immune system and supports glucose metabolism. It provides an energy source for muscle tissue by allowing them to convert glucose into a form of cellular fuel called pyruvate. Pyruvate is then transformed into alanine through a process known as transamination.
It is fascinating to learn that consuming alanine can enhance endurance levels during high-intensity exercises like weightlifting and sprinting. In a story shared by an athlete, who increased their squatting capacity within three months by incorporating alanine supplements in their diet.
Alanine - the wingman to your muscle growth goals, because let's be real, no one succeeds alone.
Alanine's Role in Muscle Growth
Alanine, an alpha-amino acid, plays a critical role in muscle growth. It is essential for the body's protein synthesis process and helps produce energy during exercise. In addition, alanine helps maintain the integrity of muscles by reducing muscle breakdown.
During high-intensity workouts or weightlifting exercises, the body relies on anaerobic metabolism to generate energy. This process results in the production of lactic acid, which can build up in muscles and cause fatigue. Alanine helps buffer this lactic acid, preventing a drop in pH levels and delaying fatigue.
Besides acting as a building block for protein synthesis, alanine also facilitates glycogen formation. Glycogen is an important source of fuel for muscle cells during intense workouts.
Individuals who want to maximize their muscle growth and recovery should consume foods high in alanine or consider taking supplements containing alanine. Along with proper diet and exercise, adequate consumption of alanine can help promote muscle growth and recovery from intense physical activity.
After a tough workout, Alanine is there to pick up the pieces... and help put them back together.
Alanine's Role in Muscle Recovery
Alanine plays a pivotal role in aiding muscle recovery by enhancing glycogen repletion. As an amino acid synthesized primarily by the liver, alanine is crucial in providing energy to the muscles during and following intense exercise. Through its supply of glucose to the bloodstream, it facilitates muscle tissue repair while also accelerating post-workout restorative processes. By elevating alanine levels, athletes can improve their capacity for exercise and hasten recovery rates.
Moreover, Alanine is one of the most potent detoxifiers present in the body. It helps combat debilitating metabolic stress caused by exercising beyond limits and influences lactate formation via the Cori cycle. Additionally, it promotes nitric oxide (NO) synthesis which increases blood flow to muscles thereby accelerating nutrient supply and oxygen delivery. This effect leads to improved endurance performance.
Professional triathlete Gwen Jorgensen attributes her Olympic Gold Medal win to her use of amino acids like Alanine in conditioning muscles for high-intensity training. She states that Alanine helped her retain vitality post-workouts that allowed her to get back into routine training quickly after extensive physical exertion towards achieving her goals.
Alanine may not give you superpowers, but it sure can make you feel like a muscle-building superhero.
Importance of Alanine for Athletes
Alanine is a crucial amino acid with great importance for athletes. It aids in muscle protein synthesis that promotes enhanced muscle growth, recovery and reduces muscle fatigue. Additionally, it fuels the synthesis of glucose during high-intensity workouts, providing energy to your body when required. Its inclusion as a supplement in pre-workout meals helps stimulate muscle growth and increases endurance capacity.
To ensure optimal performance, athletes require a constant supply of alanine to support their metabolic processes. They can obtain it from meat, fish, dairy products or through supplements specifically designed to meet their daily needs. A proper intake of alanine boosts athletic performance and improves overall fitness levels.
It's worth noting that while other amino acids are present in greater quantities in the human body; alanine has unique benefits that make it indispensable for athletes seeking maximum results from their training routine.
Pro Tip: Combining Alanine supplements with other essential amino acids can enhance absorption rates, boost uptake and promote maximum benefits for both post-workout recovery and muscle growth.
Skip the supplement aisle and hit up the meat section - natural sources of alanine are just a steak away.
Natural Sources of Alanine
Alanine is an important amino acid needed for muscle growth and recovery. It can be found in many natural sources. Here are some of the common sources of alanine:
- Meat: Beef, pork, chicken, turkey are rich sources of alanine.

- Seafood: Fishes like salmon and tuna contain high amounts of alanine.

- Dairy products: Milk, cheese and yogurt have notable amounts of alanine.

- Eggs: Yolk contains a significant amount of alanine.

- Legumes: Soybeans, lentils and chickpeas are plant-based sources of alanine.

- Nuts and seeds: Almonds, cashews and sunflower seeds also contain alanine.
Including these food items in your diet can help you consume adequate amounts of alanine that promote muscle growth.
Additional information:
Apart from being an important amino acid for muscles, alanine also helps in blood sugar regulation. Striving to consume recommended daily allowance (RDA) limits for all essential amino acids including alanine can improve overall health.
Suggestions to increase consumption include adding more meat, seafood and dairy products to your meals or considering supplements if recommended by a healthcare provider. Remember that balance is key - too much protein intake isn't good for health either.
Alanine supplementation: giving you muscles that say 'don't mess with me' and a recovery rate that says 'I'll be back tomorrow'.
Benefits of Alanine Supplementation
Amino acid supplementation has become increasingly popular in the fitness industry due to the potential benefits it offers. When it comes to muscle growth and recovery, Alanine is a critical amino acid that can provide significant advantages.
1. Alanine helps increase muscular endurance during high-intensity training, as it aids in the production of carnosine in muscles.

2. Alanine also plays a critical role in protein synthesis and can aid in building lean muscle mass.

3. Alanine can help reduce muscle fatigue by improving lactic acid clearance during exercise.

Finally, Alanine can enhance post-workout recovery by reducing inflammation and muscle soreness due to its antioxidant properties.
It's worth noting that Alanine is naturally found in some protein sources like meat and poultry. Nevertheless, additional supplementation may be required for those on vegetarian or vegan diets or following intense workout regimes.
While Alanine has been extensively studied for its performance-enhancing effects on athletic performance over the years, it remains an underutilized amino acid supplement among athletes.
Interestingly, initial research suggests that there could be more potential benefits of Alanine supplementation beyond just fitness-related gains.
Legend has it that ancient Roman gladiators would consume animal feed rich in barley gruel before combat to give them added strength and vigor. However, little did they know that barley contains the highest levels of alanine than any other grain!
Don't worry, taking Alanine won't turn you into the Hulk, but it might give you some serious gains.
Risks and Side Effects of Alanine Supplementation
Alanine Supplementation: Potential Risks and Side Effects
High levels of alanine in the body may cause several kinds of risks and side effects. Here are some of them:
Digestive discomforts: Large doses of alanine intake may lead to digestive issues such as constipation, bloating, nausea, and diarrhea.

Elevated blood pressure: Overconsumption of alanine may also increase blood pressure levels which can result in hypertension.

Risk of developing kidney stones: Some individuals who have excess alanine amounts may develop kidney stones.
It is crucial to note that while these risks exist with alanine supplementation, they are relatively uncommon. Moreover, if you experience any adverse side effects after taking alanine supplements, it is best to consult your healthcare provider immediately.
To mitigate the possibility of harm from alanine, it is recommended that you:
Stay within the safe dose range as suggested by your healthcare professional or product label.

Take amino acid supplements along with a balanced diet rich in protein to safeguard against possible deficiencies and overconsumption.

Prioritize hydration by consuming plenty of fluids throughout the day to prevent urinary issues caused by excess amino acids.
In summary, while there are potential risks and side effects associated with alanine supplementation at high doses, staying within safe ranges and consulting a medical professional can minimize them. Remember to prioritize balanced nutrition and hydration for optimal health outcomes.
Feeling weak? Take some Alanine and lift like a beast, just don't forget the dosage or you might end up lifting like a kitten.
Dosage and Administration of Alanine
Alanine is an essential amino acid that helps in muscle growth and recovery. To maintain the optimal level of alanine in the body, it is necessary to take it in proper dosage and administer accordingly.
The following information provides a detailed explanation of the recommended dosage and administration of Alanine:
Dosage Recommended Optimal Daily dose for increased physical activity 2-5 grams 10 grams per day Daily dose for athletic performance 3-6 grams 12-15 grams per day
Additionally, research suggests that supplementing alanine during exercise can enhance muscle endurance and reduce muscle fatigue. However, excessive intake may result in health complications like kidney stones or gout. Therefore, it is essential to follow the recommended dosage to avoid any potential side effects.
Studies have shown that individuals who took up to ten grams of Alanine daily have seen an improvement in their workout results. It is advised to divide your daily dosage into two servings; one before workout and the other after to ensure complete absorption by the muscles.
According to Healthline, taking Alanine supplements along with Vitamin B6 enhances its effectiveness as alanine synthesis creates pyruvate which can be transformed into glucose with Vitamin B6's help. As a result, this conversion leads to more energy production which is beneficial especially during high-intensity workouts.
Skip the steroids, go for alanine - because real muscles come from hard work, not shortcuts.
Conclusion and Recommendation for Alanine Use in Muscle Growth and Recovery.
Alanine has been shown to play an important role in muscle growth and recovery. Using Alanine as a supplement is recommended for athletes who partake in intense exercise routines. Its ability to buffer fatigue-inducing acids means that it aids in the maintenance of muscle mass while reducing muscle damage.
Furthermore, research has shown that consuming Alanine can improve endurance as well as reduce inflammation caused by exercise-induced stress. It also helps maintain proper nitrogen balance and increases protein synthesis, which are both essential factors needed for muscle growth.
For individuals who desire to build muscle mass or recover efficiently after workouts, incorporating Alanine into their diet is recommended. A daily dose of 3-5 grams taken before training can assist in increasing your workout's intensity and lowering muscle fatigue.
Pro Tip: Pairing Alanine with other amino acids like leucine or creatine may enhance its benefits even more.
Frequently Asked Questions
Q: What is alanine?
A: Alanine is a non-essential amino acid that is naturally produced by the body. It is also found in many foods, especially protein-rich foods like meat, fish, and dairy products.
Q: How does alanine help with muscle growth and recovery?
A: Alanine helps to build and repair muscle tissue by providing a source of energy to the muscles during exercise. It also helps to regulate blood glucose levels and reduce muscle fatigue, leading to faster recovery times.
Q: Can alanine supplements improve muscle growth and recovery?
A: Yes, alanine supplements can help to increase muscle mass and improve exercise performance. They are especially beneficial for athletes and bodybuilders who engage in high-intensity exercise and need to recover quickly.
Q: Are there any risks or side effects associated with alanine supplements?
A: Alanine supplements are generally safe and well-tolerated when taken in recommended doses. However, some people may experience mild side effects such as nausea, stomach upset, or diarrhea. It is important to talk to a healthcare provider before taking any new supplements.
Q: How should I take alanine supplements?
A: Alanine supplements are typically taken in powder or capsule form, either before or after exercise. It is important to follow the dosage instructions on the product label and consult with a healthcare provider before starting a new supplement regimen.
Q: Can I get enough alanine from my diet alone?
A: Yes, most people can get enough alanine from their diet alone by consuming protein-rich foods like meat, fish, and dairy products. However, athletes and bodybuilders may benefit from alanine supplements to enhance muscle growth and recovery.